Clashes between "antifa" on the far left and the alt-right have intensified.
People protesting controversial Breitbart writer Milo Yiannopoulos take to the streets on February 1, 2017 in Berkeley, California. (Photo by Elijah Nouvelage/Getty Images)
The election of Donald Trump has been a catalyst for releasing the pent-up tensions in the American society. The country is not only divided but the opposing sides are not finding much in common to talk about. While the violence has not been widespread and can be written off at this point as clashes between fringe groups, there is potential for things to boil over.
Groups united under the alt-right banner have made their presence felt at protests targeting pro-Trump speakers. But they have been increasingly confronted at these rallies by violence-minded protestors known as the "antifa" or "anti-fascists." 
The 2017 skirmishes between the alt-right and antifa included the infamous Nazi-punch when the white supremacist Richard Spencer was punched in the face by a masked passerby. Further confrontations happened during the protests against uber-troll Milo Yiannopoulos's speeches in Seattle's University of Washington, where an antifascist protester got shot, and at Berkeley University in California. The April 15th fight dubbed "The Battle of Berkeley" devolved into smashed windows and set fires, with 20 arrested and 11 injured.
There've been other clashes in April in Vancouver and in Portland, Oregon and a confrontation in Boston on May 13th.

So who is behind antifa?
According to The Nation, the movement has its roots in anti-fascist fighting predating World War 2. Anti-fascists organized in military brigades fought Franco in Spain in the '30s. An infamous "Battle of Cable Street" saw thousands of fascists fighting an even larger crowd of anti-fascists on the streets of London in October 1936. The antifa movement via groups like Anti-Racist Action (ARA) has been clashing with neo-Nazis in America since the 80s.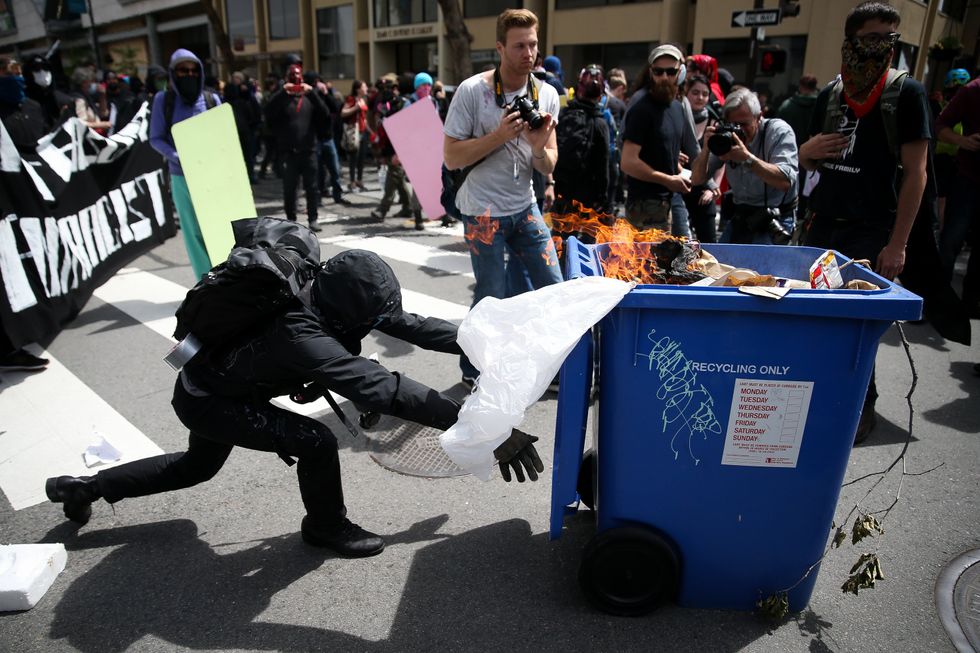 Protesters push a burning recycling bin at Trump supporters during a 'Patriots Day' free speech rally on April 15, 2017 in Berkeley, California. (Photo by Elijah Nouvelage/Getty Images)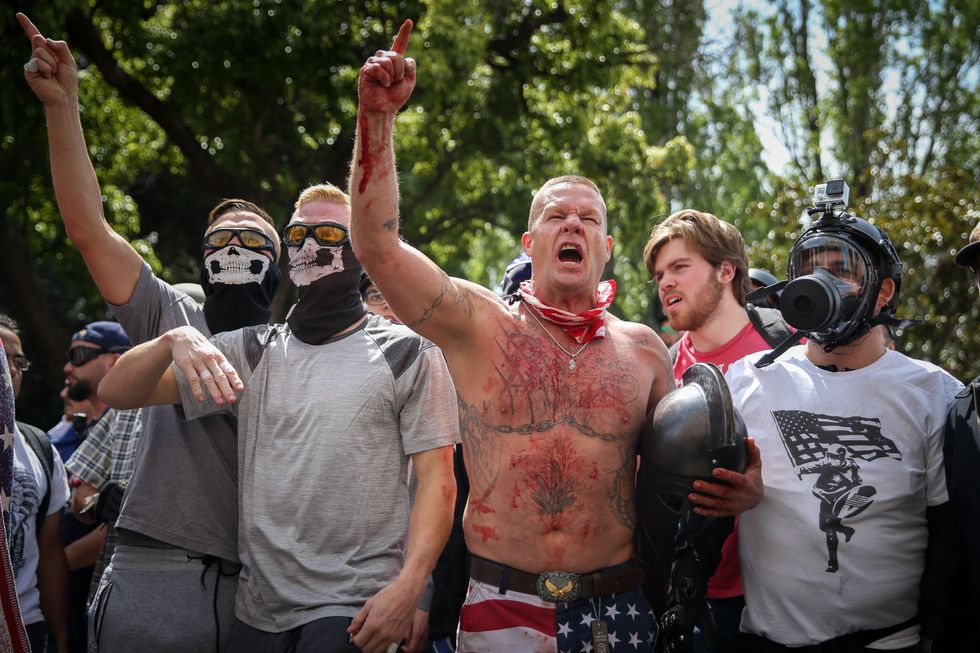 Trump supporters face off with protesters at a 'Patriots Day' free speech rally on April 15, 2017 in Berkeley, California. (Photo by Elijah Nouvelage/Getty Images) 
The modern antifa sees neo-fascists as actively trying to change the world and people's minds with their ideas and do not want to wait in the wings until things get worse. And they believe that the Trump movement has incorporated into itself radical far-right voices that now feel empowered to make themselves heard.
"For too long have our elected officials and our media placated these violent, toxic people. For too long have the enemies of democracy and rational, informed discourse been granted platforms to spew their rhetoric and earn notoriety for their movement. A warning to those who wish to destroy what we hold dear; We will resist you in the streets, in the poll booths and in the townhouses... We will not allow history to repeat itself. We will shut you down everywhere you go. We will block your marches. We will interrupt your speeches. We will protest your legislation. We will be the thorn in your side. The glass in your bread. The pain in your ass. We are ARA. We are watching." - wrote a Louisville, Kentucky ARA branch on its site.
This kind of tough talk has translated into genuine mini-riots when the opposing sides get together.
Here's how the April 15th melee at Berkeley looked [WARNING: STRONG LANGUAGE, VIOLENCE]:
Here's how it looked in Portland [WARNING: STRONG LANGUAGE, VIOLENCE]:
Another confrontation in May in Portland also got out of hand [WARNING: STRONG LANGUAGE, VIOLENCE]:
As far as the violence, it is not the only way in which antifa groups counteract their opponents, engaging in tactics like exposing the true identities of fascists and internet trolls, helping people join unions, advocating for issues like the environment. But some do see violence as intrinsic to fascism and as such regard resorting to violence as a necessary counterforce measure.
A representative for the Antifa NYC news site explained their mission more broadly to The Nation: "Antifa combines radical left-wing and anarchist politics, revulsion at racists, sexists, homophobes, anti-Semites, and Islamophobes, with the international anti-fascist culture of taking the streets and physically confronting the brownshirts of white supremacy, whoever they may be." 
Antifa protesters often wear black masks and black clothing - a "black bloc" force. Newsweek describes this as a tactic for anarchist protest which doesn't necessarily represent one group. It should be noted that antifa is far from just one organization and is a rather decentralized force (much like its alt-right counterpart). Antifa also includes militant groups outside of ARA. There's the Hoosier Anti-Racist Movement (HARM) in Indiana and Redneck Revolt and others.
Conservative commentators see antifa as agitators and anarchists. Kevin D. Williamson at National Review has dismissed antifa as an invented "gang" and "children" while at the same time painting the white nationalists and antifa as "two sides of the same very sad little coin." Williamson also doesn't see America as having a "budding fascist movement", which would of course make the existence of antifa unnecessary and nonsensical if you believe that.
From President Trump's standpoint antifa are troublemakers, with some of them being paid (probably by George Soros, the right-wing's favorite boogeyman). He tweeted a threat that federal funding could be pulled from Berkeley over the violence and suppression of free speech. There are petitions out from the right to designate "antifa" as a domestic terrorist organization. Liberal detractors, in their turn, are also paranoid that a small group of antifa agitators could start a chain of events whereby some sort of martial law would be instituted by the incensed Trump.
Could the fighting between the fringe groups get worse and go beyond the radical elements on both sides? If the rhetoric in the country doesn't improve and a wedge will continue to be driven between the two sides, who both listen exclusively to their own media outlets, nothing rosy is to be expected. Add to this the possibility that as the various investigations around Trump close in, knowing his penchant for doubling down on his positions and riling up his base, it's not inconceivable to imagine an America exploding in much stronger violence down the line.
A new study questions why some people support "free speech".
Vice Media co-founder and conservative speaker Gavin McInnes (R) reads a speech written by Ann Coulter to a crowd during a conservative rally in Berkeley, California on April 27, 2017. (Photo credit: JOSH EDELSON/AFP/Getty Images)
A new study says that some people who claim to be for "free speech" when defending racist language do not really care about all speech, just the speech which agrees with their point of view. In fact, the researchers say that in such cases it often comes down to "racists defending racists".
The study was carried out by the graduate student in psychology Mark H. White and psychology Professor Christian Grandall from the University of Kansas. They found "explicit racial prejudice" to be a pretty good predictor whether someone would use the "free speech defense" to defend racist attitudes.  
The study saw that those with high levels of prejudice were very concerned with freedom of expression. They were also less likely to defend "free speech" in principle when faced with non-racial scenarios, suggesting that "freedom of speech" was more of a convenient rhetorical point, utilized when it suited them. 
"When people make appeals to democratic principles — like 'freedom of speech' — they don't always represent a genuine interest in that principle," said White. "We think of principles as ideas we use to guide behavior in our everyday lives. Our data show something different — that we tend to make up our mind on something based on our attitudes — in this case, racial attitudes — and then decide that the principle is relevant or irrelevant. People do whatever best fits their pre-existing attitudes."
One way that people soften the appearance of their prejudices is by latching on to larger political causes like "free speech." This allows people, the study found, to "buffer racial and hate speech from normative disapproval". Basically, doing this can make it seem like your prejudice is ok and somewhat accepted by society. 
This conclusion is sure to be controversial for its implications. The balance between fighting prejudice and the necessity of free speech in a democracy has been increasingly tested in today's America. A number of high-profile rightwing speakers have met violent opposition on college campuses, which resulted in some speeches like Ann Coulter's being cancelled. Appearances by the white nationalist Richard Spencer have drawn much soul-searching and changed policies. Many in the conservative media (and even President Trump) defended such provocative personalities as Milo Yiannopoulos using the "free speech" position, after his appearance at Berkeley met with significant protests.
The study consisted of eight experiments with hundreds of participants, who were recruited from Amazon's Mechanical Turk service. They were made to respond to news of racist incidents or situations like someone getting fired for racist speech. The reactions were scored according to the standard Henry and Sears Symbolic Racism 2000 scale.  
The researchers observed a positive statistical correlation between racial prejudice and standing up for racist attitudes by arguing the need for "free speech". Interestingly, those who scored low on prejudiced opinions actually avoided standing up for free speech in race-related situations.
The researchers point out that it would be "irresponsible" to paint everyone who makes "free speech" arguments as somehow prejudiced. 
"However, our data do show that racial prejudice is one of the many attitudes that go into people deciding to make this argument. We should not ignore the 'free speech' defense, but we shouldn't assume that the motives are purely based on an abstract democratic principle, either," said White. 
You can read the study "Freedom of Racist Speech: Ego and Expressive Threats" in the Journal of Personality and Social Psychology.
The Middle Ages see a resurgence of interest among the alt-right and some conservative thinkers.
Of all the political and intellectual surprises that come at us every day now, one of the more unusual is the strange resurgence of the Middle Ages as an influence on our times.  A number of conservative thinkers have proposed that as modernity and liberalism led humanity to a dead end, we should look to the medieval period for inspiration on how to remake our world. This idea has been expressed through memes and writings of the alt-right and has found its way all the way up to Presidential advisors. 
One reason for the appeal of the Middle Ages can be seen in popular memes spread through alt-right online forums. They feature the Crusader battle call "Deus vult!" which basically translates to "God wills it". It is used as a Christian version of "Allahu akbar" - a call to action for the Western civilization in its supposed war against Islam.
Another way that the Middle Ages fascinate people has been proposed by a number of conservative blogs and thinkers - they are newly seen as a time of traditional values that celebrated god, masculinity, homogeneity instead of diversity, and traditional gender roles. 
The "Middle Ages" is generally considered to be the period of history that goes from the fall of the Roman Empire in the West in 476 CE to the fall of the Eastern Roman Empire in 1453, when Constantinople was sacked. Another way to mark the end of the medieval period is the beginning of the Renaissance in the 14th century.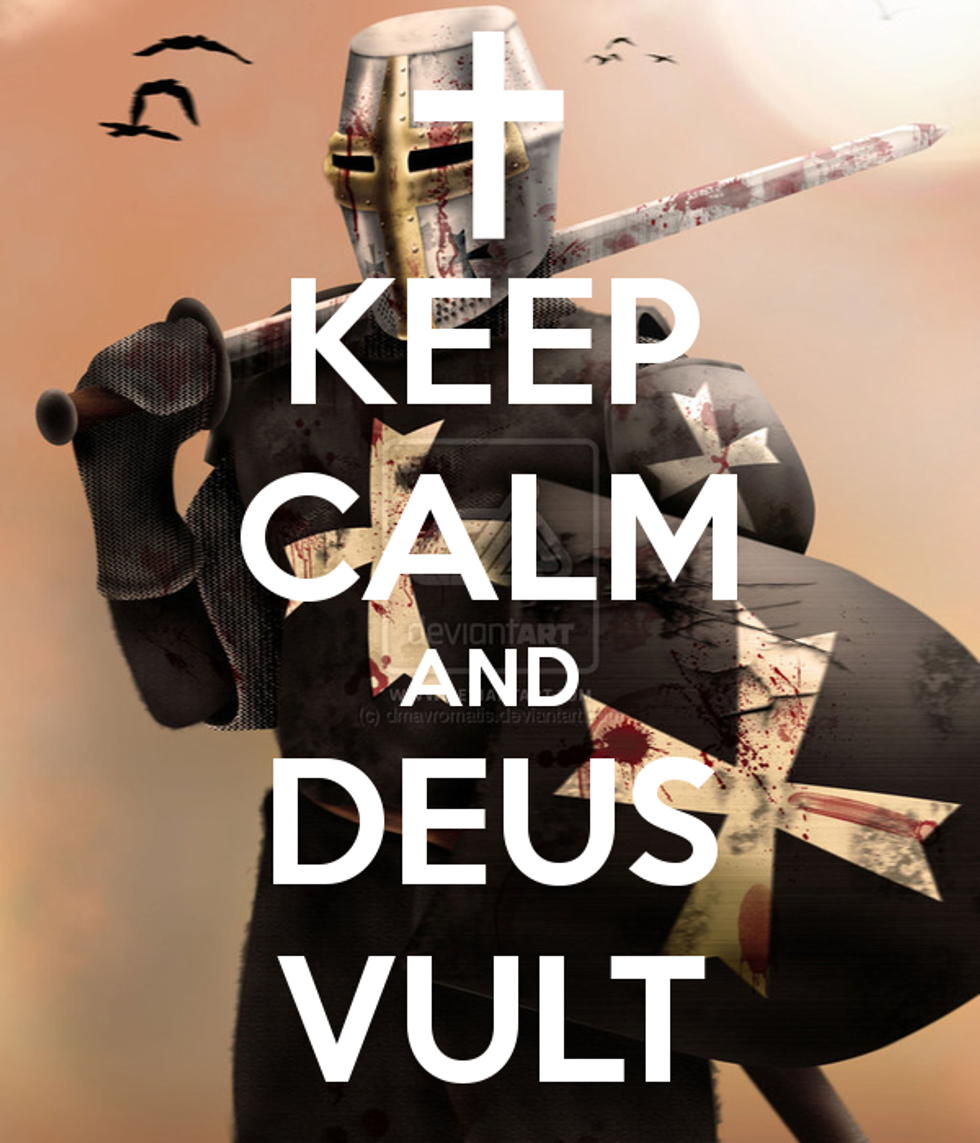 A Deus Vult meme image.
It's common to regard the Middle Ages as a dark period in human history, without many accomplishments. The historian Edward Gibbon, who wrote the "Rise and Fall of the Roman Empire," called the period full of "barbarism and religion". This historical time is also associated with the terrible epidemic of "Black Death" - the bubonic plague that killed 20 million people in Europe, 30% of its population at the time, in the middle of the 14th century.
This negative point of view on the Middle Ages has been challenged of late, with new scholarship pointing out that the era had some achievements, like the majestic Romanesque and Gothic Cathedrals that sprang all over Europe, leading to architectural and artistic innovation. The period also saw the eventual transformation of feudalism due to factors such as agricultural inventions, leading to increased population in city centers.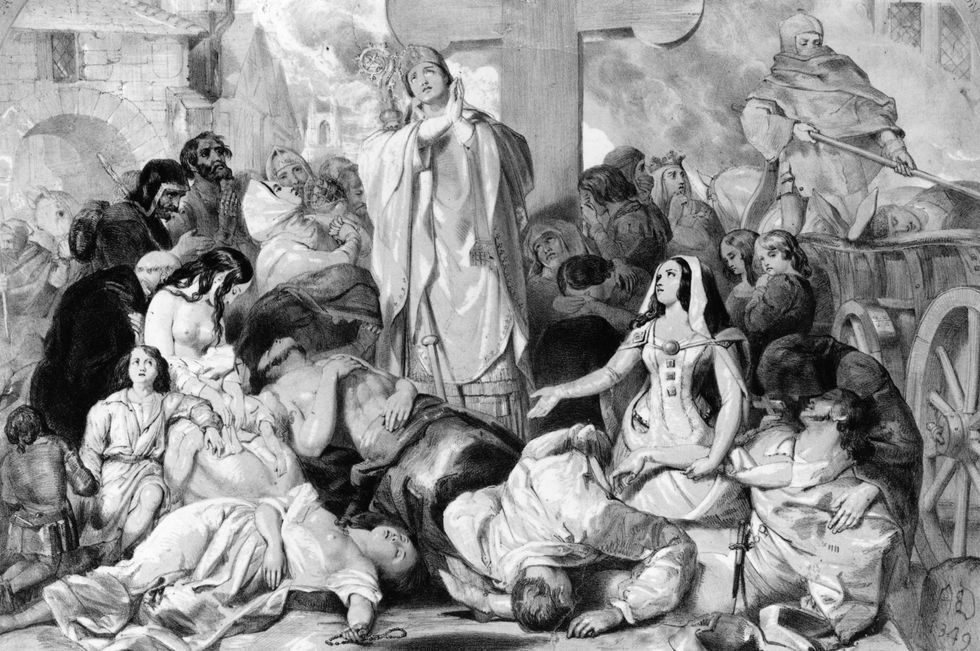 People praying for relief from the bubonic plague, circa 1350. Original Artwork: Designed by E Corbould, lithograph by F Howard. (Photo by Hulton Archive/Getty Images)
The Middle Ages were also a period of great growth of Islamic power. Muslim armies conquered the Middle East, with the Islamic world becoming three times as big as the Christian one during the height of its influence. The intellectual life that was missing from Europe was thriving in cities like Cairo, Baghdad and Damascus.
The spread of Islamic control resulted in the Catholic Church launching a series of Crusades - military expeditions to rescue the Holy Land from "infidels".  The Crusades were first began in 1095 AD, with Pope Urban II issuing the infamous "Deus Vult!" battle cry for Christians to raise an army and fight Muslims.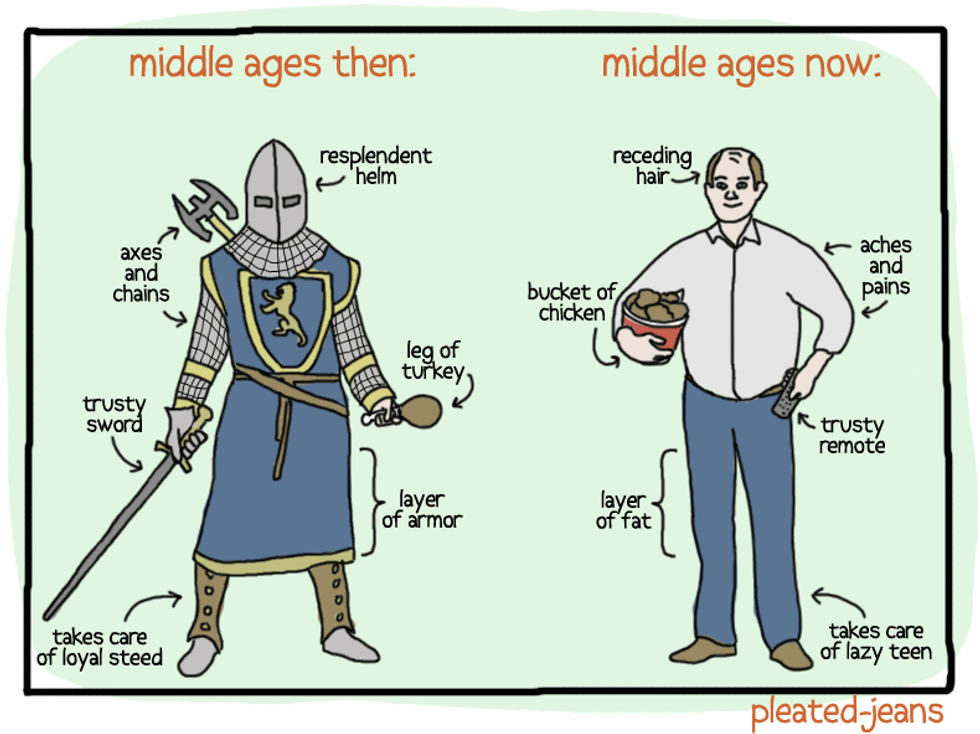 The "Deus Vult!" memes that spread through alt-right communities on 4chan, reddit and other social media harken back to the Crusader story. They are essentially calling for a modern-day Crusade against Islam.
The allure of the Crusader narrative is not only demonstrated by the alt-right Crusader memes, but is echoed in conservative intellectual circles.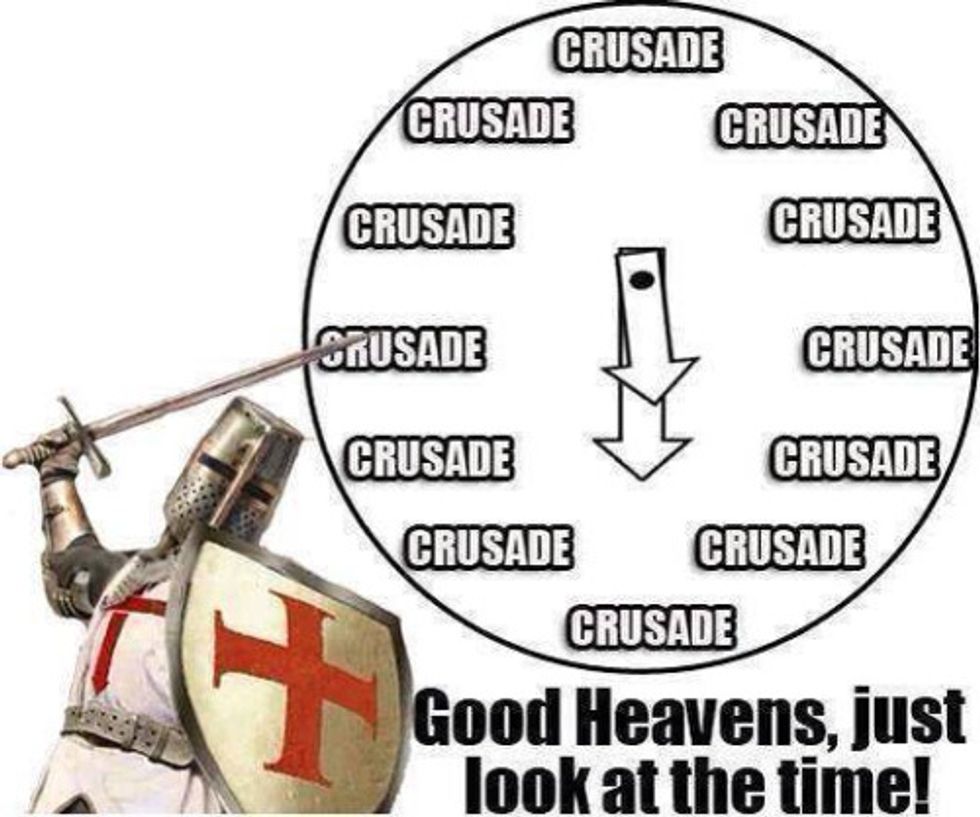 A Crusade meme image.
Having embraced the alt-right while at Breitbart, President Trump's chief strategist Steve Bannon has at times expressed apocalyptic rhetoric that seems to be anticipating a coming religious and class war. It is hard to really know all the nuances of what Mr. Bannon thinks as this somewhat reclusive figure rarely weighs in on events and issues publicly. But considering the access and intellectual heft Mr. Bannon is said to bring to the ear of the President, discerning his views is a very telling endeavor.
To that end, Mr. Bannon has spoken of the current period of time as a point of crisis, with capitalism and Judeo-Christian values under attack, especially from radical Islamists.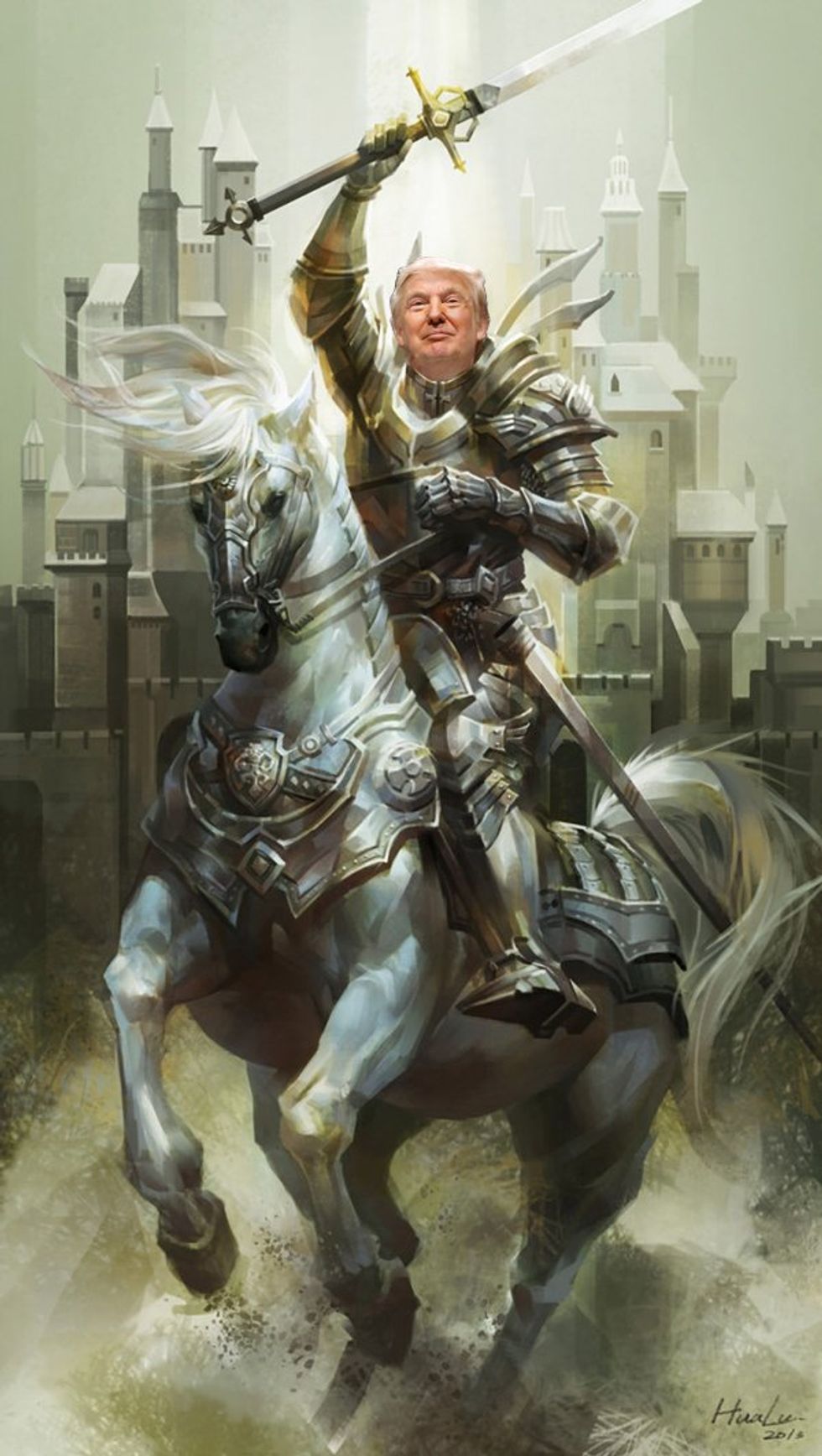 Trump Crusader meme.
Bannon's seemingly strong feelings on this subject were on display during his 2014 talk at the Vatican.
"And we're at the very beginning stages of a very brutal and bloody conflict, of which if … the people in the Church do not bind together and really form what I feel is an aspect of the Church Militant, to really be able to not just stand with our beliefs, but to fight for our beliefs against this new barbarity that's starting, that will completely eradicate everything that we've been bequeathed over the last 2,000, 2,500 years," said Bannon.
This certainly sounds like Crusader talk. He suggests that the Judeo-Christian idea is facing a grave enemy that can only be fought by armed Christians. Interestingly, in the same speech, he also paints the current age as the Dark Ages, another way the Middle Ages are described.
Bannon also spoke about the appeal of Putin, linking it to the Russian leader's support of "traditionalist" values, especially as he's advised by Alexander Dugin, a philosopher who follows the work of the controversial Italian thinker Julius Evola. Bannon's remarks seemed to indicate that while he does not support Putin's kind of government, there was some merit in his approach.
"We the Judeo-Christian West really have to look at what he's [Putin] talking about as far as traditionalism goes — particularly the sense of where it supports the underpinnings of nationalism — and I happen to think that the individual sovereignty of a country is a good thing and a strong thing," said Bannon.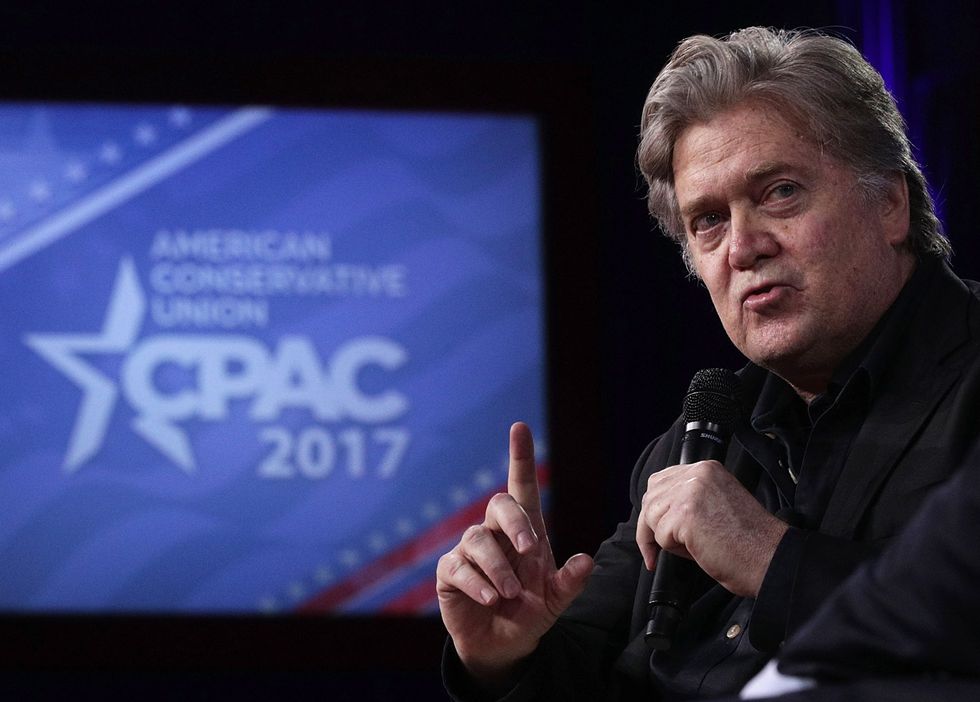 White House Chief Strategist Steve Bannon participates in a conversation during the Conservative Political Action Conference at the Gaylord National Resort and Convention Center February 23, 2017 in National Harbor, Maryland. (Photo by Alex Wong/Getty Images)
Julius Evola was considered a leading proponent of Traditionalism, a philosophy that sees the idea of equality-oriented liberalism and "progress" as mistaken, advocates traditional gender roles and seeks a return of hierarchical social structures like castes. Evola saw European feudalism during the Middle Ages as a great example of such a society.
Anti-Semitic and sexist Evola is known for inspiring Italian fascists, including Benito Mussolini himself, modern neo-Nazi and nationalist parties in Europe, as well as the far right movements in the United States.
"Julius Evola is one of the most fascinating men of the 20th century," said the white nationalist leader Richard Spencer. 
Mr. Spencer also found it very significant that Mr. Bannon knew who Evola was. 
"Even if he hasn't fully imbibed them and been changed by them, he is at least open to them," he said. "He at least recognizes that they are there. That is a stark difference to the American conservative movement that either was ignorant of them or attempted to suppress them," said Spencer. 
If you think knowing about Evola is not the same as supporting his ideas, an article by Breitbart from when it was run by Bannon listed Evola as one of the foundational thinkers of the alt-right movement. It was co-written by another alt-right standard bearer - Milo Yiannopoulos.
Alexander Dugin, another philosopher mentioned by Bannon at the Vatican, is called by some "Putin's Brain." He is a Russian thinker known for his close associations with the Kremlin. Dugin espouses an Evola-influenced philosophy that also ties into Traditionalist values, seeing the Renaissance and everything that followed, including technological progress, as a debasement of human nature. His goal would be to return to the values of the Middle Ages and restore a Eurasian empire on the basis of the former Soviet Union, with Russia at the head.
"Returning to the Middle Ages or turning to them to look for inspiration, and I am not speaking of merely reproducing – that's impossible to do. But we have stood on the path of modernity. We've stood on the path of modern totalitarianism regardless of whether of the first, second, or third theory. We've exhausted all of their possibilities, built all three models. We've built liberal civilization, communist civilization as part of such an experiment, and we've even built fascism. We can now compare everything before us. And if all of this does not satisfy us, this means that the most important mistake was made not in the 20th century and not even in 1991," said Dugin in an interview.
While history is always important to study, what does one make of this unexpected brew of racist and sexist ideologies inspired by fascist and radical Russian thinkers combined with American Christian white nationalism? Sounds like an explosive cocktail.
If you don't have enough Crusader spirit, here's a video that can get you into just such a state:
Cover image: Circa 1250, A crusader is shot by a Muslim warrior during the Crusades. (Photo by Hulton Archive/Getty Images)