The space tourism company Virgin Galactic teams up with Rolls Royce to create a new Mach 3 supersonic aircraft.
Credit: Virgin Galactic
Richard Branson's Virgin Galactic has announced a partnership with Rolls Royce.
The space tourism company will create a new supersonic jet for super-fast travel on Earth.
The aircraft will travel at Mach 3 – three times the speed of sound.
Virgin Galactic made the hearts of all speed enthusiasts beat faster by announcing a new agreement with Rolls-Royce to create a supersonic passenger jet.
The space tourism company founded by billionaire Richard Branson revealed an enticing look at the aircraft's design, which would not be taking people to the edge of space but between points on Earth. The move allows the company to leverage its space technology for super-fast travel across the planet. Crucially, the craft would utilize sustainable, next-generation fuel.
The concept for the supersonic jet, which can potentially disrupt commercial airline travel, has undergone a NASA review. Next, the company is planning to work with the FAA to create a framework for certifying the new aircraft for flight.
Virgin's Galactic's partner in this venture, the British company Rolls-Royce, is, of course, no stranger to supersonic aircraft-making, having built engines for the famous Concordes.
The first aircraft built will be targeted the speed of Mach 3, which is three times the speed of sound. In other words – a blazing 2300 mph. The plane will be able to carry from 9 to 19 people, cruising at an altitude of over 60,000 feet.
Virgin Galactic's chief space officer George Whitesides was bullish on the company's achievement:
"We have made great progress so far, and we look forward to opening up a new frontier in high speed travel," he said in a statement.
Credit: Virgin Galactic
The company has also made great strides in the development of its spacecraft. Check out the recently-released interior of its SpaceShipTwo Unity cabin:
Virgin Galactic Spaceship Cabin Design Reveal
Astronaut company Virgin Galactic will become first to be publicly traded.
Photo by In Pictures Ltd./Corbis via Getty Images
Richard Branson's Virgin Galactic will go public later this year.
People will be able to buy shares when Virgin Galactic merges with a shell company.
The company aims to raise enough capital through investment to sustain itself until profitability.
Many may dream of space but have no viable paths towards it. Becoming a government agency astronaut is for the select few or you need to shell out hundreds of thousands for nascent space tourism. But now comes an opportunity for you to reach past our stratosphere at least vicariously by purchasing stock in billionaire Richard Branson's space company Virgin Galactic.
While this news does not necessarily mean you are going to the stars in the near future, it does bode well for the space industry as a whole. Later in 2019, Virgin Galactic will become the first publicly listed company that sends human to space, beating out Musk's SpaceX and Bezos's Blue Origin.
As reported by the Wall Street Journal, the deal to make this happen involves having a specially-designed acquisition company Social Capital Hedosophia Holdings Corp. investing about $800 million in Virgin Galactic to get a 49% ownership stake. Through the publicly-traded shell Social Capital Hedosophia, Branson's company will be open to the people.
Why do this now? Virgin Galactic thinks this will net it enough money to keep the business going until its spaceships will start bringing in profits.
SpaceShipTwo.
Virgin Galactic.
Branson expressed his rationale for the decision to be making sure "we can enable as many people in the world as possible to become astronauts."
So far, Virgin Galactic sold about $80 million worth of seats on future spaceflights to 600 people. Overall, it raised over $1 billion since 2004 (but mostly from Branson himself).
In February, Virgin Galactic sent 3 people past the edge of our stratosphere in its SpaceShipTwo vessel. The test flight reached 56 miles above the Earth.
Richard Branson Imagines the Future
The British entrepreneur's plan to populate outer space.
Hyperloop Transportation Technologies recently unveiled the Quintero One, a hyperloop passenger capsule that can travel at a top speed of about 760 mph.
Hyperloop Transportation Technologies
Hyperloop Transportation Technologies, or HTT, is one of several companies seeking to build the world's first hyperloop.
HTT's new passenger pod can carry about 30 to 40 people, and the company plans to test it at a track in France.
The CEO hopes to have a full-scale hyperloop up and running in about three years.
Hyperloop Transportation Technologies, one of several companies racing to build the world's first hyperloop, unveiled a prototype of a full-scale passenger capsule recently in Spain.
Dubbed the Quintero One, the sleek passenger pod measures 105 feet long, weighs about five tons and is capable of carrying between 28 and 40 people at a time. It's been described as an airplane without wings, an apt description considering the pods would levitate above a magnetic track in a tube that's virtually free of friction, a technique called electromagnetic propulsion. This would allow each pod to travel at speeds exceeding 700 mph, fast enough to travel the 380 miles from San Francisco to Los Angeles in about 30 minutes.
Artist rendering of a passenger capsule on track.
Image: HTT
HTT CEO Dirk Ahlborn hopes to have a full-scale hyperloop running in a few years.
"In three years, you and me, we can take a hyperloop," he told CNBC, adding that widespread implementation of hyperloop systems could occur within five to 10 years. "It's definitely much sooner than anybody would expect," Ahlborn said.
Based in California, HTT has said it wants to be the first company to build a hyperloop in the U.S. In February, the company published a video teasing the possibility of building a hyperloop that would connect Cleveland to Chicago, though Ohio officials said they'll need to complete a months-long feasibility test before HTT could potentially pursue the plans.
Artist rendering of a hyperloop station.
Image: HTT
HTT plans to test Quintero One at a track in Toulouse, France. The company has already signed agreements with China, Ukraine and the United Arab Emirates to build full-scale hyperloops in the coming years.
In addition to HTT, two other companies are vying to build the first full-scale hyperloop in the U.S.: Richard Branson's Virgin Hyperloop One, which he hopes to have ready within three years; and Elon Musk's Boring Company, which recently began building a prototype of a tunnel system that could someday connect residential garages to a hyperloop.
It turns out Winston Churchill wrote an essay of predictions titled 'Fifty Years Hence'—and while he was off on the timing, some are finally coming true.
Humans have been tinkering in laboratories for millennia. Before then nature was—in many ways, remains—a laboratory itself. Agriculture was a hard-fought discovery that's still being understood through trial and error. Given agriculture's role in climate change, our understanding of lab work is shifting again. 
We remain between two worlds, that of nature and that of meddling with nature. Sometimes a harmonious relationship exists; often it is fraught with danger. A "back to the earth" movement persists in social consciousness. The same thinkers who believe we've destroyed ecosystems and animal populations often welcome scientific intervention—lab-grown meat and leather are two ideas animal rights activists and environmentalists alike applaud. 
Foreseeing the future is not particularly challenging in our digital age. If it can be dreamed it can be produced (or reproduced). But understanding which predictions will have large-scale consequences is another story. Richard Branson has long relied on foresight, and he sees lab-grown meat not only impacting agriculture and economics, but actually replacing animal consumption: 
"I believe that in 30 years or so we will no longer need to kill any animals and that all meat will either be clean or plant-based, taste the same and also be much healthier for everyone."
Branson is no speculative ideologue; he has a financial stake in lab-grown meat, with recent investments in Memphis Meats. Yet just as his vision of space travel could net him profits, technology and emerging markets are old bedfellows. In this case, a boon for companies that reduce suffering and carbon emissions is a win for everyone. 
Today what could have taken decades seems to occur in months. Life seems to be speeding up. Nearly a hundred years ago—December, 1931, to be exact—Winston Churchill knew time is fluid, or, as he puts it in an article titled 'Fifty Years Hence', published in Strand Magazine, "constantly quickening." Churchill witnessed civilized nations rising above the need for the bare necessities of survival to experience what he calls "culture." Cultures have to keep progressing, he insisted, as sliding backwards would be devastating: 
"Mankind has gone too far to go back, and is moving too fast to stop. There are too many people maintained, not merely in comfort but in existence, by processes unknown a century ago, for us to afford even a temporary check, still less a general setback, without experiencing calamity in its most frightful form."
Churchill's anthropological reckoning on the economics of past societies has been updated by recent research. Yet he was an ardent devotee of history. He expresses particular adoration for Tennyson's "Locksley Hall," of which he said the poet's predictive couplets have come to pass—a slightly premature assessment, given the coming world war. Churchill uses Tennyson as a springboard for his own predictive powers, which he says combines historical education and scientific instinct. 
Churchill proved (or is proving) prescient in his social sorcery. In an ode certainly pleasing to animal rights activists, he knew food production was about to take a serious turn: 
"We shall escape the absurdity of growing a whole chicken in order to eat the breast or wing, by growing these parts separately under a suitable medium. Synthetic food will, of course, also be used in the future… The new foods will from the outset be practically indistinguishable from the natural products, and any changes will be so gradual as to escape observation."
Frozen, processed foodstuffs would be next, however, changing the face of the planet as World War II raged on. Rather than creating foods, manufactures utilized chemistry to delay the spoiling of existing foods while injecting animals with antibiotics and growth hormones to increase their yield. If Churchill foresaw this he gave no hint, for his vision is more Paradiso than Inferno. If lab-grown meat is on the horizon, as it appears to be, it took the clearing of a large roadblock to arrive.
Production in many forms is Churchill's great hope of the future. Not only food, but work will change dramatically. Nuclear energy replaces coal. Engines and machinery make slavery unnecessary. Robots will offer us more leisure time and less physical strain. So great is our mechanical engineering, in fact, he saw all of nature bowing to us: 
"Geography and climate would obey our orders."
True, they have, the problem being we weren't aware what orders we've been giving. Churchill might have missed greenhouse gases because his focus was on the structural side. He believed sunlight would be inconsequential when food is grown with "artificial radiation." Agricultural bunkers would shorten the distance between city and country, as urbanites gain acres:
"Parks and gardens will cover our pastures and ploughed fields. When the time comes there will be plenty of room for the cities to spread themselves again."
Churchill was even clued into the development of artificial life. A London play clued him into the possibility of test tube babies. Humanoid creatures will be developed for the purpose of employment "without other ambitions." He believed Christian civilization would prevent such an ethically indeterminate development, but we'd better stay upon on the technology as Russians might welcome robotic human beings. He writes, with more than a hint of disdain, 
"There is nothing in the philosophy of Communists to prevent their creation." 
Churchill's apocalyptic message remains timely. Sure, there were oversights: Our brains are quite different than those of our ancestors "millions of years ago," and the idea that "modern man we know so well will do the most terrible deeds, and his modern woman will back him up" would not even go over even a decade later when the women's rights movement picked up steam during the Second World War. 
Yet Churchill knew science changes the world, just as he knew that we're doomed without an understanding of history. These messages remain particularly meaningful in a world being ravaged by climate change, piece by piece by piece, as well as tribal infighting fueled by nationalistic anxiety across the globe. 
Materialistic progress is irrelevant if humans can't get along. Not so much a prediction as Churchill simply opening his eyes. He knew technology and science offer both "Blessing and Cursing," that we are ultimately the deciders of our fate. Optimist he was, he concluded with a sense of hope, which is sometimes all we have to keep us pressing forward.
"No material progress, even though it takes shapes we cannot now conceive, or however it may expand the faculties of man, can bring comfort to his soul. It is this fact, more wonderful than any that Science can reveal, which gives the best hope that all will be well."
--
Derek is the author of Whole Motion: Training Your Brain and Body For Optimal Health. Based in Los Angeles, he is working on a new book about spiritual consumerism. Stay in touch on Facebook and Twitter.
Stephen Hawking has accepted an offer to go to space. He's one of the world's most famous scientists, who's been paralyzed due to ALS for much of his life.
Dr. Stephen Hawking delivers a speech entitled 'Why we should go into space' on April 21, 2008, at George Washington University's Morton Auditorium in Washington, DC. (Photo by Paul. E. Alers/NASA via G
Stephen Hawking gave an interview to Piers Morgan on "Good Morning Britain", where he confirmed that he'll be going to space on Richard Branson's Virgin Galactic spaceship. Branson actually offered him the trip in 2015 for free, and Hawking says "since that day, I have never changed my mind."
When the flight will be we don't yet know. Virgin Galactic's SpaceShipTwo was previously slated to launch at the end of 2017, but no hard date has been announced yet.
Hawking's spaceflight will be an amazing feat for the 75-year-old scientist, known for his work in physics and cosmology, adding another chapter to an already remarkable life. When he was only 21, he was diagnosed with amyotrophic lateral sclerosis (ALS) also known as Lou Gehrig's disease. This rare neurogenerative disease is deadly and Hawking was told he had 2 years to live. 
50+ years later, Hawking is still going strong (and going to space). Paralyzed and confined to a wheelchair, speaking through a specially-designed computer system since 1985, the scientist has achieved more than most do in a lifetime, not letting the debilitating disease slow him down. 
Hawking has done groundbreaking work on black holes, discovering (along with James Bardeen and Brandon Carter) four laws of black holes mechanics.
His 1974 "Hawking radiation" theory that black holes are slowly evaporating due to particles robbing them of energy can still land him a Nobel Prize as recent research appears to prove it.
He has also done outstanding work on gravitational singularities, one-dimensional points that have infinite mass in infinitely tiny spaces. Cooperating with mathematician Roger Penrose, Hawking proved the existence of singularities and proposed key theorems on their origins.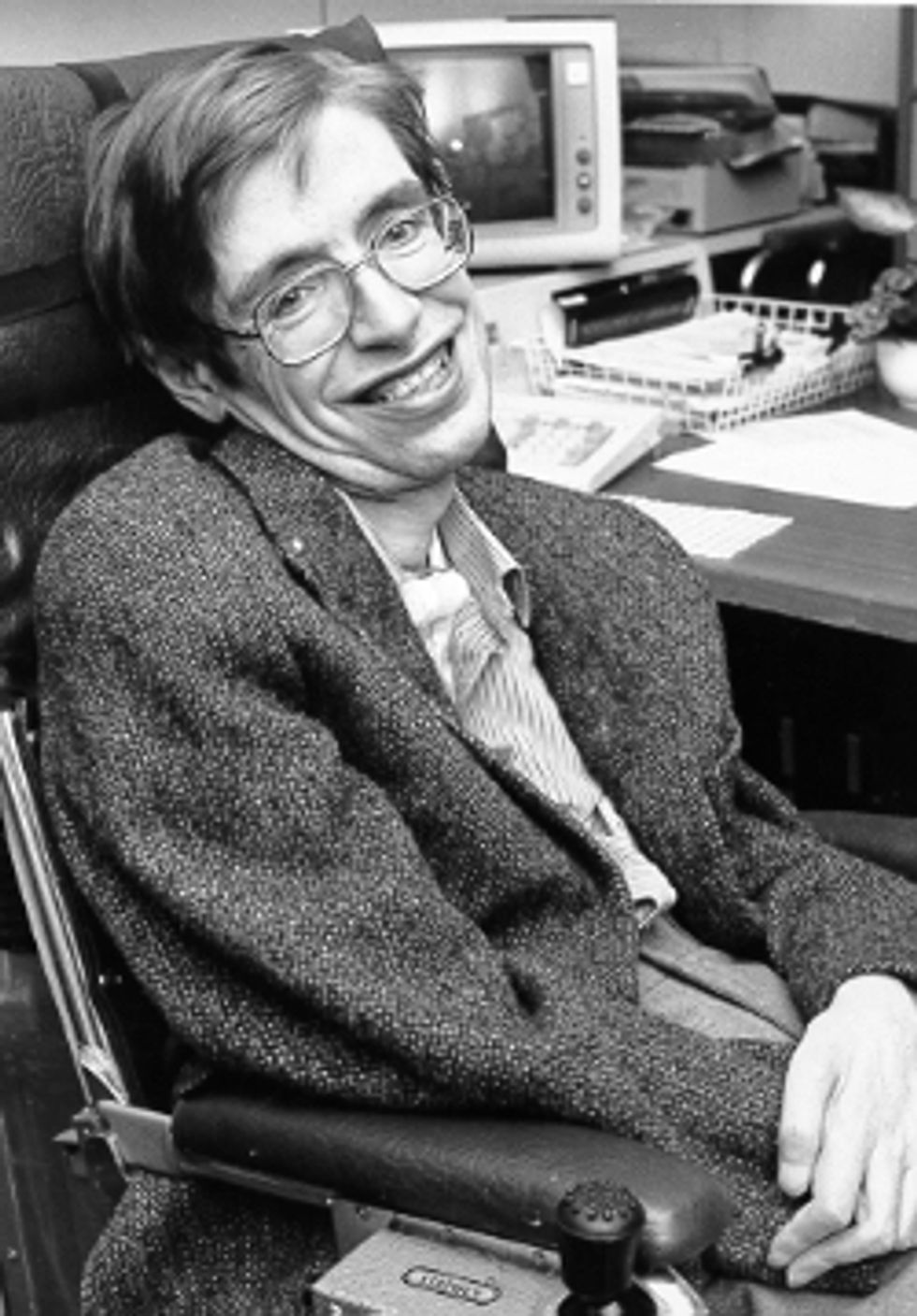 Stephen Hawking, date unconfirmed but likely in 1990s. Courtesy: NASA, Starchild Learning Center.
His other scientific achievements include pioneering work on cosmic inflation and the early state of the universe (which Hawking proposed had no time or beginning). 
Hawking is also famous for being one of the world's most popular science educators, writing numerous books like the bestseller "A Brief History of Time," which sold more than 10 million copies. 
How did Hawking, who also has been a professor of mathematics at University of Cambridge for the 30 years, thrive despite the illness? In an interview with Scientific American, ALS expert and professor of neurology Leo McCluskey, called Hawking "an outlier". His case is exceptional and probably represents just a few percent of ALS patients. If Hawking developed the disease while still a teenager, it could be a "juvenile-onset" variant that progresses very slowly. He has also had great care.
How will Hawking fare in space? We don't know the details of Virgin Galactic flight yet but Hawking seems quite enthusiastic: 
"I can tell you what will make me happy, to travel in space. I thought no one would take me but Richard Branson has offered me a seat on Virgin Galactic and I said yes immediately."
You can see this segment from the interview here: