Explore the many different iterations and times of New Year's celebrations around the world.
The majority of countries around the world follow the Gregorian calendar, but still have special days to celebrate their cultural or religious New Year's celebrations.
Some calendars are based off of the lunar cycle or a mix of the lunar and solar cycle, which the Chinese use. They then dedicate an entire two weeks for celebration.
Thailand's New Year hosts a huge water fight on their New Year that people around the world flock to.
The New Year's holiday is largely a secular celebration held around the same time worldwide, as nearly the entire world uses the Gregorian calendar as their only civil calendar. But many disparate calendars are based on religious myths and other cultural tradition.
The beginning of the new year always comes with a unique set of celebrations with rituals, great parties and unique customs. Here are some of the celebrations from one culture to the next.
Chinese New Year
Getty Images
Each year brings about a new changing date for the Chinese New Year. It usually falls somewhere between January 21st and February 21st, depending on how the new moon of the first lunar month arises.
In China, there is a fifteen day observance for this holiday that has recently been cut down to around seven days. It is one of the most important of the traditional Chinese holidays and it's also known to many as the "Spring Festival." Many Chinese activities include the usual rounds of putting up decorations, blasting off fireworks and giving gifts. In major Chinese cities, traditional performances like dragon dances and lion dances are performed, while red Chinese lanterns are hung throughout the streets.
The Chinese New Year tradition was born out of a great legend. It was said that a wild beast named Nien would appear at the end of each year and kill villagers. Eventually this led to the rambunctious festivities we see today in which villagers were told the noise and raucous they made would scare the beast away. From gifting hong bao (money in red envelopes), dancing, blasting off fire trackers and dragons – the New Year's celebration caps off with a wild lantern ceremony.
Rosh Hashanah 
Celebration of Rosh Hashanah
Getty Images
The Jewish New Year is celebrated in autumn and is based usually around the first two days on the seventh month of the Hebrew Calendar – called Tishrei. For the Jewish people, it is a time to reflect on the year that has passed and see what can be done to change their life for the better in the year to come. Most celebrations of Rosh Hashanah center around food. Jewish families light many candles and recite blessings over their wine and bread. The challah is shaped into a circle to symbolize the cycles of life. Traditional breads and apples dipped in honey symbolize the hopes for a prosperous and sweet New Year.
Most of the day is spent worshipping in the synagogue, as this is one of the most holy days for the Jewish faith. A time of introspection and rejoicing, the Jewish New Year ushers in the ten days of repentance which end in the major fasting day of Yom Kippur.
Hijri New Year
Muslim pilgrims circle the Kaaba at the Grand mosque in Mecca, Saudi Arabia
Getty Images
The Islamic New Year occurs on the first day of Muharram, the first month of the Islamic calendar. Also widely celebrated as Eid al-Adha, it marks the climatic point of the hajj pilgrimage in Mecca, Saudi Arabia.
The Islamic calendar is based on a 30 year cycle, so the Hijri New Year will fall on different times each year. It is celebrated differently by each separate Muslim sect and for those not making the pilgrimage, will celebrate in their own local communities at home.
Hindu New Year 
Gudi Padwa Festival
Getty Images
There are a number of Indian New Year's days surrounding the Hindu faith. Many of these celebrations occur on the first Hindu month, Chaitra. The month of Chaitra is another New Years holiday that is associated with the coming of spring and bases itself off the Lunar calendar. The Gudi Padwa festival is celebrated on the first day of the Chaitra month. Everyone dresses up in extravagant new clothes and goes to family gatherings. Special dishes are made from the bitter leaves of the neam tree.
During this month, fifteen days are dedicated to fifteen different deities. The month is also representative of the month in which all of creation of the universe was started as well.
Songkran 
Songkran Festival
Getty Images
The Thai New Year is celebrated from April 13th to 15th. Songkran, also known as the Thailand water festival marks the traditional Thai new year. During Songkran, the Thais use this time to purify, clean and symbolize a fresh new start. When it comes to the more traditional aspects, Buddhists will all go to their temples to celebrate something called Wan Nao and build sand chedis, which look like little Buddhist temples.
Houses and places of worship are meticulously cleaned. Buddha statues are carried through the streets in parade processions to be cleaned with flower scented water. Elders are honored and their hands are washed with other special scented water. There's no shortage of wild water fights either. Hoses, water guns and mounted elephants litter the streets as over half a million people engage in water fights.
Does the thought of death make you anxious? A new study suggests that the fear of mortality isn't really about the afterlife at all.
Pope Francis and Richard Dawkins, both positively cheery in the face of death.
Socrates warned against fearing death. He thought it irrational—the fear of death causes you to believe you're wiser than you actually are. "No body knows death; no body can tell, but it may be the greatest benefit of mankind; and yet men are afraid of it, as if they knew certainly that it were the greatest of evils," he concluded. His real aim may have been the religious who expressed faith in an afterlife with utmost certainty, a trend still going strong today. 
No mere mortal knows what occurs after death, yet that hasn't stopped many from speculating. Though Socrates expressed unkind words toward the religious, turns out those who strongly believe in religion fear death less than the less religiously inclined—until you get to atheism, that is. A new study published in Religion, Brain & Behavior discovered a U-shaped curve toward contemplating death, with the most religious and atheists enjoying the least fear of mortality.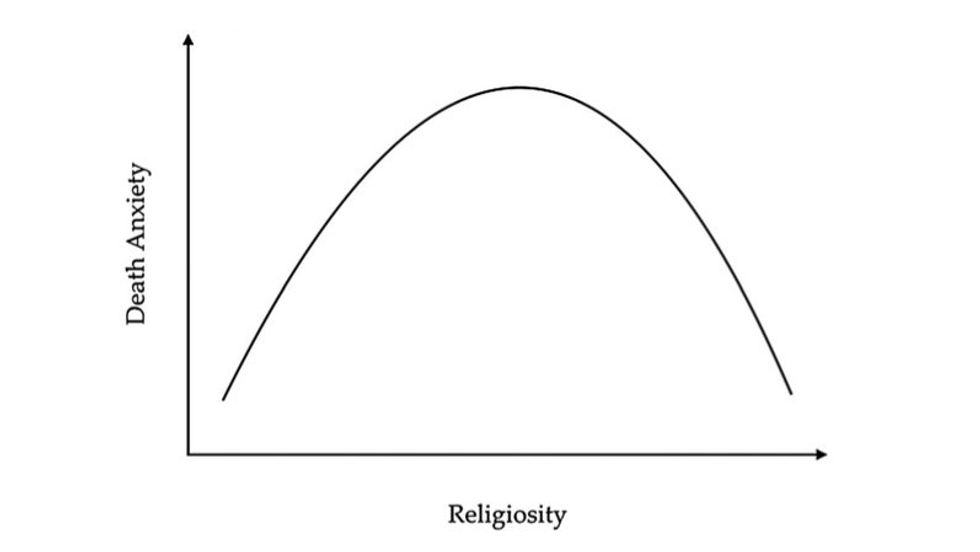 Figure 1: Predicted inverted U-shaped curve. Both religious and atheistic worldviews may serve to mitigate death anxiety.  
A team led by Coventry University research fellow Dr. Jonathan Jong scoured a hundred data articles over a half-century period representing over 26,000 people to uncover who feared death most, and least. At heart, this study is more about fear than death, as Jong makes clear in his proposed relationship between religion and fear:
First, that fear motivates religious belief, and second, that religious belief mitigates fear. 
Jong and team cite Ernest Becker, whose 1973 book, The Denial of Death, was awarded a Pulitzer the following year—ironically, two months after the author died from cancer. Becker postulates that civilization is actually a defense system against mortality, with our numerous rituals invented to offer an illusion of permanence. Perhaps what humans crave, he wonders, is a guarantee of eternity, a craving filled by dualism, the belief that a separate essence exists beyond flesh and fascia.
Becker understood that we desire a glimpse of eternity, some sort of contract that persists when blood stops flowing. Instead of confronting the illusion that drives societies forward, we create even more elaborate ruses:
Modern man is drinking and drugging himself out of awareness, or he spends his time shopping, which is the same thing. As awareness calls for types of heroic dedication that his culture no longer provides for him, society contrives to help him forget. 
Enter botox. Enter resveratrol. Enter the afterlife. Jong points out that Becker calls religion "the 'best' illusion under which to live," and that all preceding illusions are "functional facsimiles" to a belief in forever after. 
Yet our forever afters are suspect considering how varied they are. In some circles it's good form to poke fun at the idea of being promised dozens of virgins upon entering the afterworld, a notion scoffed at in a country where the predominant number of people think a beatific paradise built of gold will soon be theirs.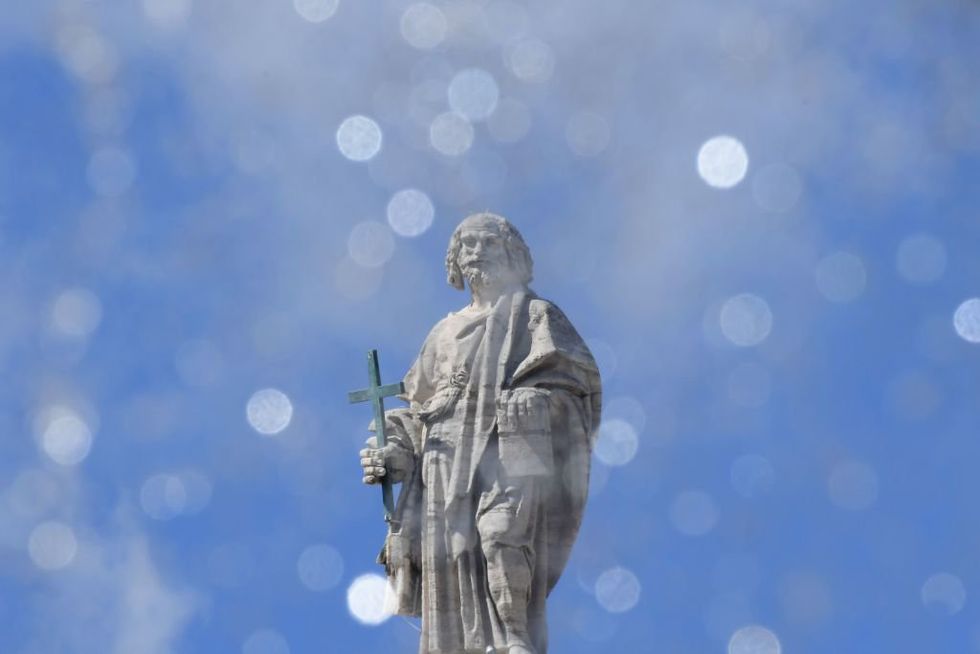 Joseph Campbell famously expressed that he didn't believe people are looking for a meaning to life but rather an "experience of being alive." We miss that point when focusing too far ahead. Jong and team found that complete cessation is the real issue: that once life ends there is, well, nothing at all. "I" stop existing—an approach actively encouraged in systems like certain forms of Buddhist meditation. While the fear of actual death—painfully, slowly—is apparent, the existential crisis encountered at the prospect of nothingness appears to cause the most anxiety. 
An active acceptance to death appears to be healthy. In Elementary Forms of Religious Life, French sociologist Emile Durkheim writes that collective mourning helps alleviate the trauma of losing a loved one and bonds the community together. Such an acceptance of death might help explain why atheists fear it less than the religiously uncertain: when you do not fear transience, life is no longer so frightening — or serious. This is a longstanding link between Buddhism and atheism, which is why those two systems are not dissimilar in certain regards. 
To be more discerning, Jong differentiates between extrinsic and intrinsic religiosity. Those displaying extrinsic religiosity partake in rituals more as a buffer between their lives and potential oblivion rather than as a matter of deep faith, which is expressed by the intrinsically religious. Unfortunately existential anxiety is not alleviated when only going through the motions. Much the same can be said for agnosticism. 
Which, ironically, leaves the edges of religious thought as the least fearful. While Socrates might disagree with the approach, certainty appears to help the extremely faithful and those who don't think much about faith at all. While the distance between these two approaches is vast, there's no denying the power of confidence. 
Jong and team acknowledge shortcomings in their research. It was mostly focused on America, with contributions coming from the Middle East and East Asia. Nearly half the work researched showed no link between religiosity and death. As our relationship to death is usually more cultural than personal (though it might not feel that way) a broader study could shed more insight on the best approach to contemplating death. "More cross-cultural data are required before we can make general claims about the relationship between death anxiety and religion," says Jong. 
Blaise Pascal famously wagered that it's better to believe than not believe, just in case. This is an extrinsic argument. Perhaps a better wager would be to enjoy every moment as it happens, which is more aligned with Buddhism. Sure, there might be something to clean up after all is said and done, but since all we are truly certain of is the present, a less fearful approach to the short time we have here together might be in all of our best interests.
--
Derek's next book, Whole Motion: Training Your Brain and Body For Optimal Health, will be published on 7/4/17 by Carrel/Skyhorse Publishing. He is based in Los Angeles. Stay in touch on Facebook and Twitter.