Norway's decision to push drug felons through treatment is a huge step forward.
The question of whether to punish criminals or attempt to reform them is not new. While some are for maximum enforcement, including solitary confinement and the death penalty, others take the more humane route of trying to rehabilitate criminals to integrate back into society. 
This question is especially heated when discussing drugs. America's war has been a continual failure, from crack in the eighties through to opioids today. Defining what a drug is, how it can and can't be used, and who can use it has proven to be more about politics and corporate interests than biology. Sugar is the most potent and deadly drug on the planet today, yet it is widely available, cheap, and celebrated. 
So integrated into the fabric of society has sugar become that even the mention of it as a "drug" is certain to incite scoffs and sneers. We know alcohol is a drug, yet since it's also wildly sanctioned (and wildly taxed) we consider it not to be that bad. Ditto cigarettes, even if those two kill hundreds of thousands more people a year than marijuana. Pull back far enough and everything we ingest is a drug, since everything results in a chemical reaction in our bodies. 
Some countries are realizing this. Norway recently voted to completely decriminalize illegal drugs, as well as send offenders through treatment instead of prison. While parliamentary support for this bill has passed, it still must find its way through the government. 
Sveinung Stensland, a deputy chairman of the Storting Health Committee, commented on the decision:
The change will take some time, but that means a changed vision: Those who have a substance abuse problem should be treated as ill, and not as criminals with classical sanctions such as fines and imprisonment. 
This is no sudden decision; Norwegian politicians have been debating this for years. In 2001, Portugal decriminalized drugs, which has resulted in a drastic reduction in HIV infections, overdoses, and drug-related crime. In 2001, for example, HIV infection affected 104.2 new cases per million; by 2015 that number had dropped to 4.2 cases. 
Another big reaction was in social stigmatism. As The Guardian reports: 
The language began to shift, too. Those who had been referred to sneeringly as drogados (junkies)—became known more broadly, more sympathetically, and more accurately, as "people who use drugs" or "people with addiction disorders." This, too, was crucial.
João Goulão was one of two men behind Portugal's first CAT (Centros de Atendimento a Toxicodependentes, a rehab facility) in 1988. He helped draft legislation for decriminalization in 1997. He notes that Portugal is a conservative country. The decision was more financial and social than about liberty and freedom. But drug use in the eighties and nineties had spread to affect every family in the nation: 
There was a point when you could not find a single Portuguese family that wasn't affected. Every family had their addict, or addicts. This was universal in a way that the society felt: 'We have to do something.'
Twenty years later American families are struggling with an opioid epidemic that is still gaining force—fentanyl deaths increased 540 percent between 2014-2016. The 2017 data so far are not promising. 
It is well known that Richard Nixon tied addiction to crime in order to suppress minorities and political radicals in the seventies. That mindset forced American legislators—and the American public—to relate certain substances as bad and others as good, or least benign. Since opioids are tied to the white working class, there has been much criticism of opioids being treated as an opportunity for compassion and understanding while crack, an inner city problem, was seen as a blight to be eradicated. 
Full decriminalization might be the only way to sift through the scattered and conflicting reports on how substances act in our bodies. By understanding what drugs do and how they are either helpful or harmful, we can make appropriate decisions on how to treat their users.
Psychedelics such as psilocybin, MDMA, and LSD—all considered Schedule One substances, meaning they supposedly have no medical value—are proving to be clinically relevant for treating anxiety, depression, and end-of-life care. Marijuana is quickly becoming decriminalized on a state-by-state level as the positive effects of cannabinoids continue to roll in. 
Norway's decision to push felons through treatment is a step forward, though hopefully more detailed consideration of what drug each person is caught with will be taken into consideration. Heroin makes for a good candidate; marijuana, not so much, unless abuse level is truly crippling. That's the problem with blanket regulations on disparate substances: you're unfairly equating dissimilar drugs. 
That said, progress is progress. Let's hope America follows suit. First decriminalization, then a government-funded increase in technology and sugar addiction centers to combat our two main culprits. 
One can dream.
--
Derek Beres is the author of Whole Motion: Training Your Brain and Body For Optimal Health. Based in Los Angeles, he is working on a new book about spiritual consumerism. Stay in touch on Facebook and Twitter.
A new Credit Suisse report shows 27% growth since 2008 in the world's wealth, with a disproportionately large share going to the already wealthy.
(CREDIT SUISSE RESEARCH INSTITUTE)
Unless you're one of a fortunate handful of people, it may surprise you to learn that the world's economy has not only recovered from the global financial meltdown of 2008, but has grown 27% since then, to $280 trillion, according to a new report from Credit Suisse Research Institute. (All graphics in this article are by Credit Suisse, and all figures are presented as USD or percentages.)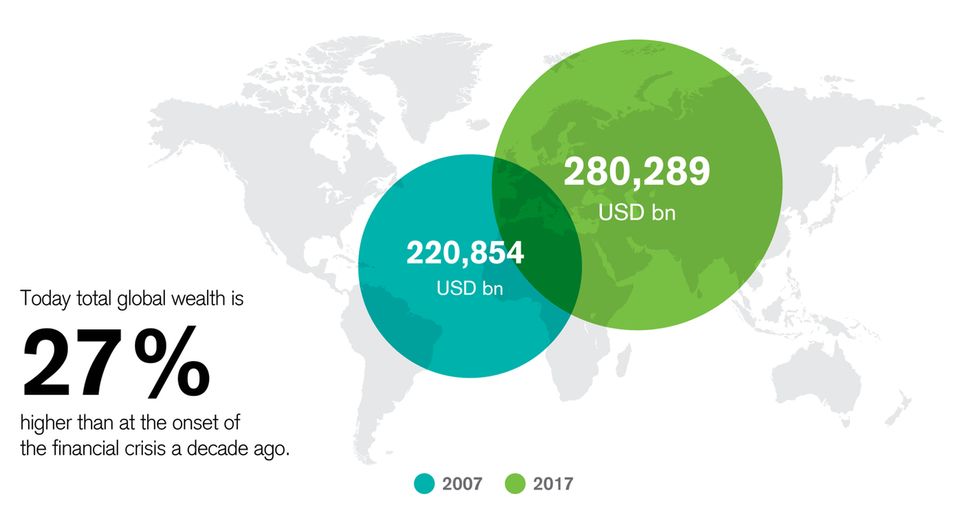 In the past 12 months in alone, it's grown by 6.4%.
Most of this growth has even been in the U.S., $8.5 trillion's worth out of the last year's $16.7 trillion.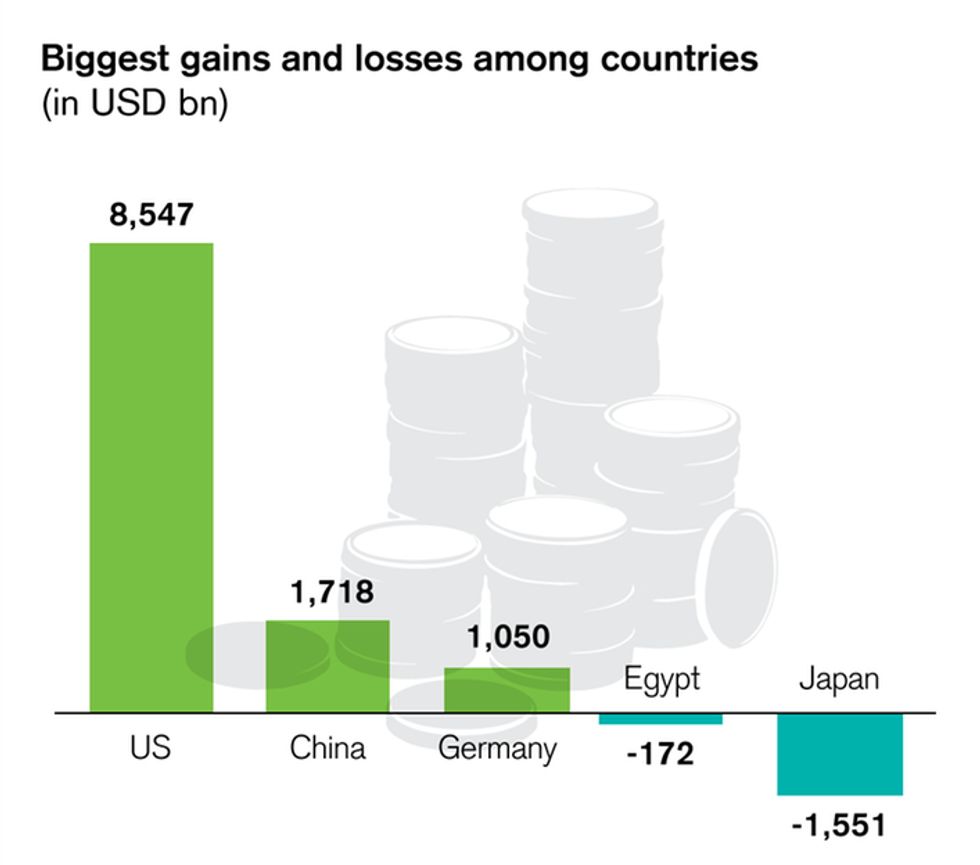 Interestingly, in terms of household income, Poland's doing the best during this period.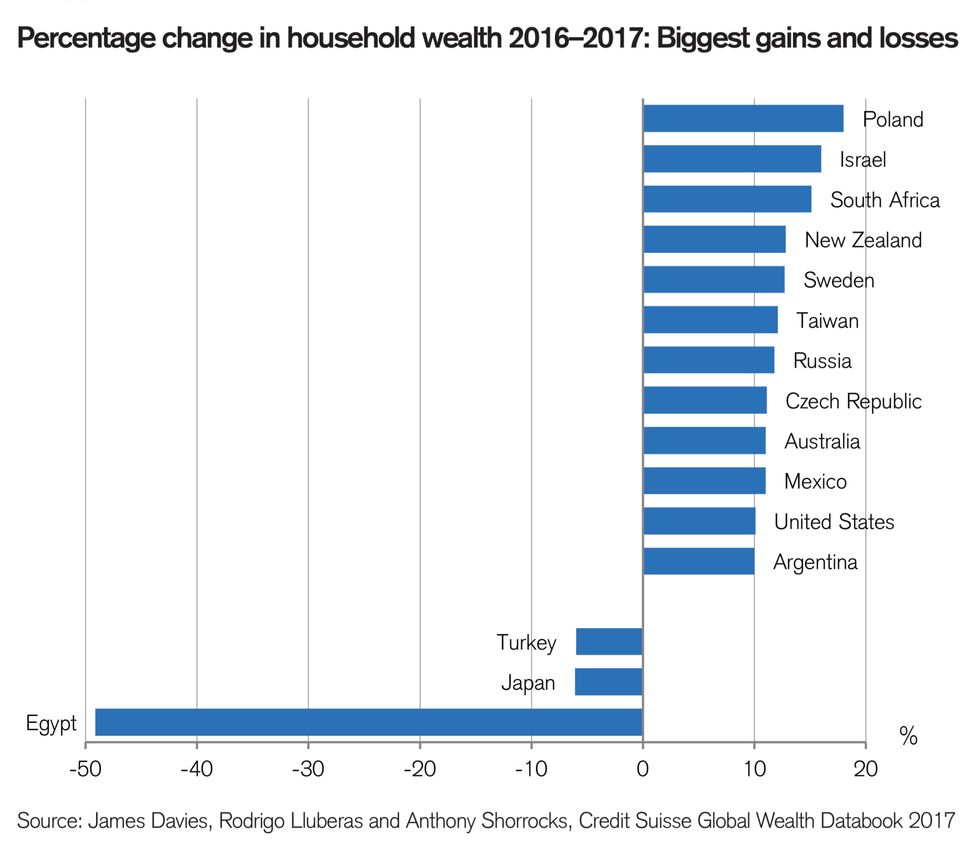 Here's the distribution of money across the globe as it stands now.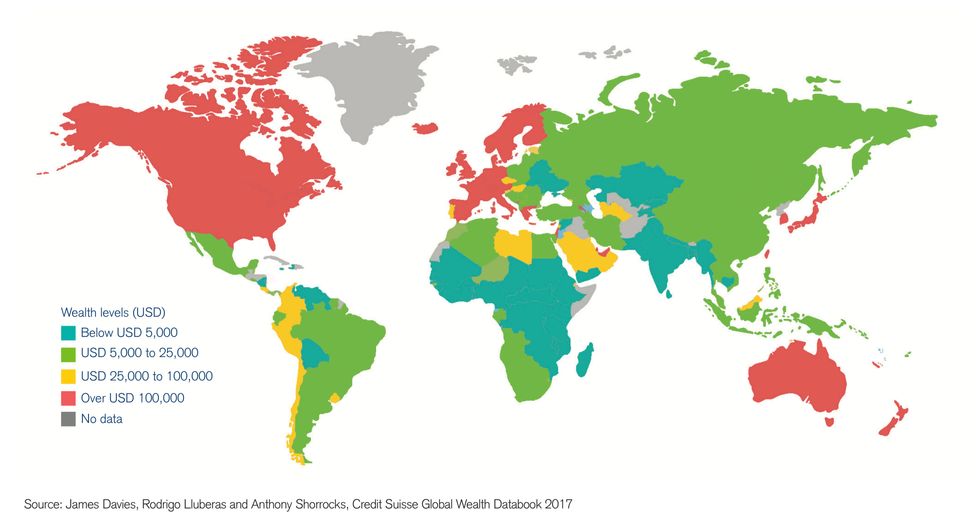 So if so much of the world — and the U.S. in particular — is rolling in money, why doesn't life feel any easier for most of us? After all, Credit Suisse says there are 8,740,000 million new millionaires since 2008, and the average wealth per person has hit a new mean of $56,540.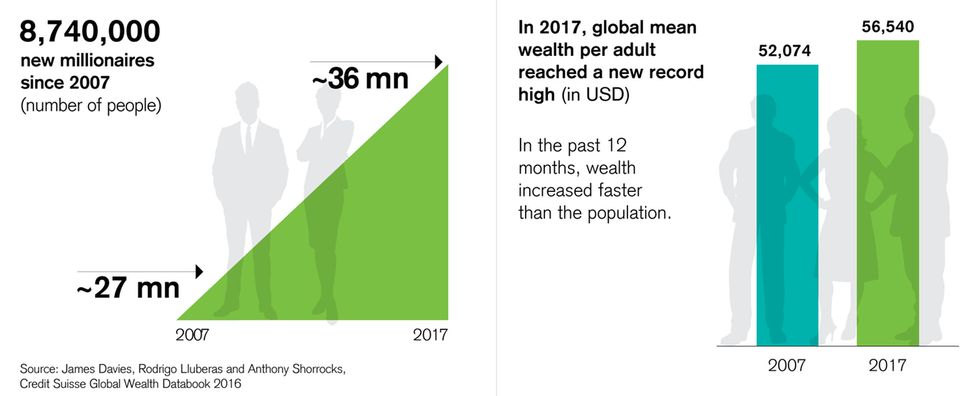 The trick is in that word "mean." That average figure includes everyone, including the wealthiest people. And there's the troubling disconnect. It's a big one, and it's gotten worse since 2008. Right now just 1% of the world's population — the aforementioned rich — own just over half, 50.1%, of all of the world's wealth. That's up from 45.5% in 2001.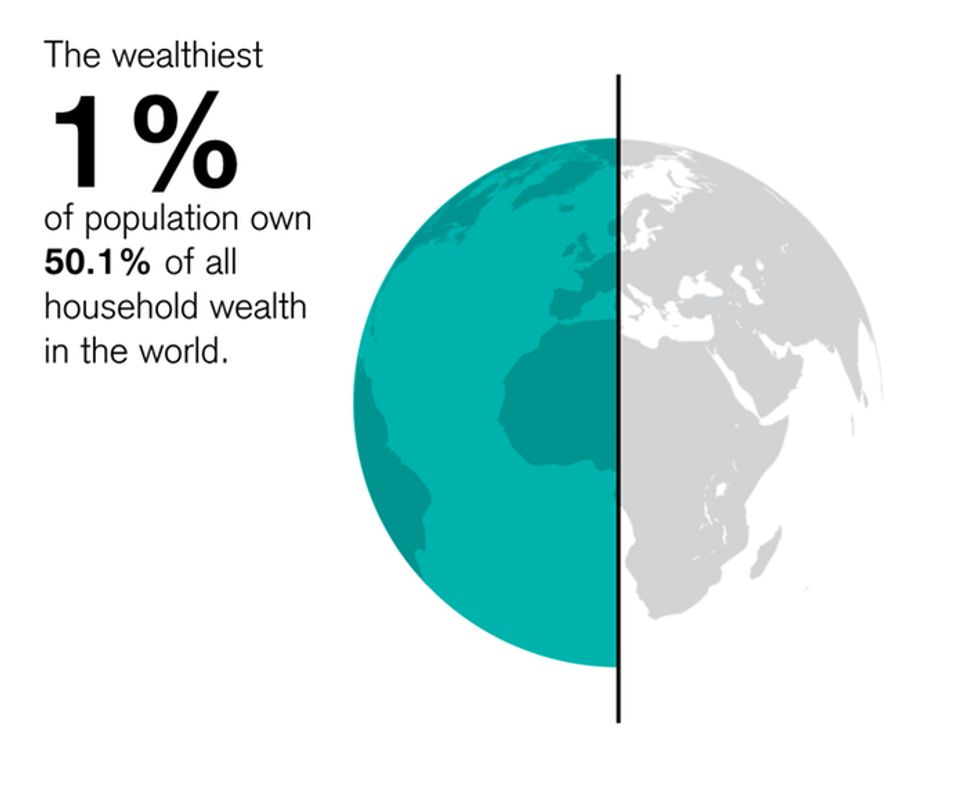 From 2000 to 2007, the wealth of the better-off half of the world grew by 7%, while everyone else's worth grew by 12%. But the crisis upset that balance, reducing the world's overall wealth by 12.6% and setting us down a path to ever-growing financial inequality during the recovery.
The report devotes an entire section to the disadvantages faced by those it calls the "unlucky millennials," especially those in North America. Entering the job market during the high-unemployment aftermath of 2008, this group, particularly in their 30s, is struggling with often back-breaking student debt.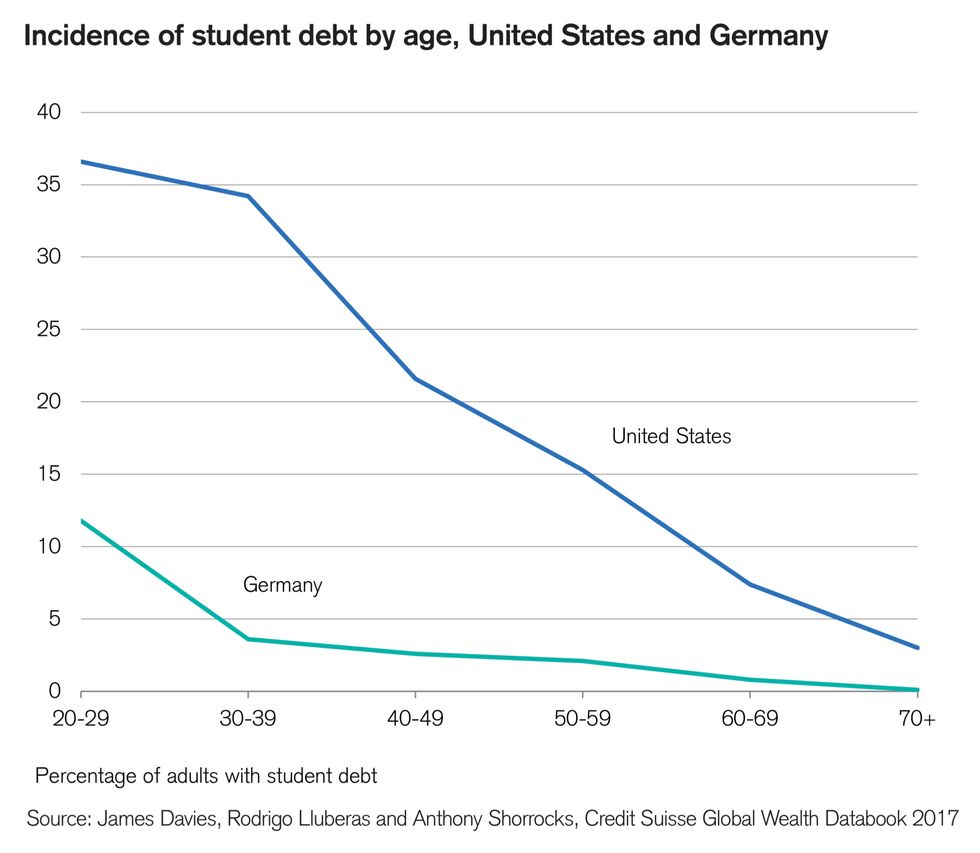 The Credit Suisse report summarizes, "Millennials are doing less well than their parents at the same age, especially in relation to income, home ownership and other dimensions of well- being assessed in this report. While Millennials are more educated than preceding generations…we expect only a minority of high achievers and those in high- effectively overcome the 'millennial disadvantage.'"
For those who believe that more money for the top 1% means more jobs for everyone else, the Credit Suisse's report should be eye-opening. It clearly suggests otherwise, with this group only accelerating their own acquisition of wealth.
The Actors' Gang Prison Project has spent ten years proving that teaching prisoners self-worth and emotional intelligence pays off.
Ten years ago, actor Sabra Williams had an experimental idea: she wanted to bring The Actors' Gang Theatre Company into prisons to work with non-actors, and offer them emotional training to recover from the trauma of incarceration, and the events of their lives that landed them there in the first place. With an incredibly low recidivism rate of just 10% among her students, Williams' experimental idea has proven its worth and now operates in ten prisons across California, which is where Sabra Williams met former inmate and Actors' Gang student Wendy Stag. Wendy recently shared her personal story of learning to cope with trauma and negative emotion at the Los Angeles Hope Festival, a collaboration between Big Think and Hope & Optimism. The Actors' Gang conducts weekly and seven-day intensive programs inside the California prison system, a weekly re-entry program in the community, as well as a program in juvenile facilities, and soon to be a program designed for correctional officers. Head here for more information on The Actors' Gang Prison Project.
The pharmaceutical industry excels at exploiting the free market by making recovery often inaccessible.
Photo by Joe Raedle/Getty Images
The September issue of Harper's features juror excuses for why they were unfit to serve on the Martin Shkreli case. One called him the "most hated man in America," for good reason: in 2015 his company, Turing Pharmaceuticals, raised the price of Daraprim by 5,000 percent. Over 200 potential jurors were excused. The responses were telling.
Who does that, puts profit and self-interest ahead of anything else?
I'm aware of the defendant and I hate him.
My kids use those drugs.
You'd have to convince me he was innocent rather than guilty. 
I think somebody that's dealt in those things deserves to go to jail. 
Shkreli didn't help himself by being so outspokenly arrogant. While my favorite reply from the selection process is "he disrespected the Wu-Tang Clan," his case points to something deeper in the human psyche: profiting from people's sickness is gross. Shkreli is not the only one to have done it. Most prefer to fly under the radar.
Take one of the nation's greatest problems, opioid addiction. I've covered this often on this site, having had a family member and friends succumb to this addiction—thankfully, all have pulled through and recovered, at least for now. But addiction is insidious, and research on technology addiction has shown that everyone is vulnerable; there is no "addiction gene." Regardless, we didn't need the president to announce it as a national crisis, as it's been the case for years. 
In his book, The Power of Habit, journalist Charles Duhigg writes that addiction involves a three-step loop. First there's a trigger informing your brain what habit to pursue. The following routine leads to the reward, which is how your brain remembers what routine to use when a cue is presented. So, trigger-routine-reward. He writes,
When a habit emerges, the brain stops fully participating in decision making. It stops working so hard, or diverts focus to other tasks. So unless you deliberately fight a habit—unless you find new routines—the pattern will unfold automatically. 
This pattern explains opioid addiction: I don't like the way I'm feeling. This pill makes me feel better. I feel better. Repeat. Duhigg argues that unless you find new routines to achieve a similar reward as offered by, in this case, opioids, you're unlikely to break the chain of addiction. 
There are other routes, however. One is Suboxone, a combination of buprenorphine and naloxone. An interesting and somewhat controversial method, as Suboxone can also be addictive: buprenorphine is an opioid while naloxone blocks the pain relief and other effects of opioids. There is evidence that Suboxone could get you high, though probably not as much as, say, heroin. Many side effects exist, though for some the drug works like a nicotine patch: lower dosages until you free yourself from the grip of addiction. 
There's a larger issue, however: cost. While the patent on Suboxone expired a while ago, the price remains prohibitive. As University of California professor Robin Feldman writes,
Oral film strips now cost over US$500 for a 30-day supply; even simple tablets cost a whopping $600 for a 30-day supply.
How is this possible for a generic? Patents offer corporations an opportunity to recoup money spent on research for their products. You have twenty years to earn your money back, plus, if you're smart about it, some on top. But pharmaceutical companies delay expiration through a variety of means: slight changes in the medicine's dosage or formulation; refusing to sell generics to other companies; petitions for further research that are merely stalling tactics. If you've got a blockbuster, you don't want to lose out. 
Few industries have exploited the concept of free market capitalism like pharmaceutics. As Feldman reports, 80 percent of profit growth in 2015 for the top twenty companies were from price hikes. And America is their favorite target audience. As she reports, 
The liver failure drug Syprine, for example, sells for less than $400 a year in many countries; in the U.S., the average list price is US$300,000. Gilead's hepatitis C drug, Sovaldi, reportedly sells for the equivalent of $1,000 abroad – in the U.S., it sells for $84,000.
One contentious paragraph in a minor study from 1980 kicked off the opioid epidemic. The graph claimed opioids were not addictive. Our understanding of addiction has changed much, but unfortunately opioids remain highly profitable for doctors and corporations. As long as they earn a profit on both ends—relieving pain then slowing the ensuing addiction—they'll want to maximize their bottom end. 
Sadly, for us, the bottom is where too many end up. While the black market and pill-happy doctors continue to prescribe a feasible route to addiction recovery remains inaccessible thanks to expense and blocked access to generic companies. The epidemic is showing no signs of slowing, and the industries that are supposed to be helping are doing everything but.
--
Derek is the author of Whole Motion: Training Your Brain and Body For Optimal Health. Based in Los Angeles he is working on a new book about spiritual consumerism. Stay in touch on Facebook and Twitter.
The worst year of former tennis pro James Blake's life was tragic—professionally and personally. Here's how he got back on his feet after multiple setbacks.
When breaking the bone that binds your body together is described as a "good thing", you're undeniably having the worst year of your life. For former tennis pro James Blake, that was 2004, the year he broke his neck, lost his father to cancer, and came down with a stress-related virus that paralyzed his face and affected his balance, hearing, and eyesight. So how, two years later, did Blake manage to recover medically, and be ranked the #4 tennis player in the world? At a time when he couldn't even make contact with the ball on a serve, it didn't occur to Blake that he would ever play a tournament like the US Open again. The dream seemed too big, and so he focused on micro goals: trying to move his eye fast enough to follow the ball; exercising the muscles in his face to regain the ability to smile; spending five minutes on the court, then two days off recovering. For Blake, the key to bouncing back after a tragic series of setbacks was to not look further than his feet, working at small goals rather faraway wishes—and when he was on the court facing Andre Agassi in the men's quarter finals of the US Open in 2006, it just felt like the next step in a progression of manageable victories. James Blake is the author of Ways of Grace: Stories of Activism, Adversity, and How Sports Can Bring Us Together.