This new pill could make it easier for people to stick to the treatment.
Indian social activists and children release ribbons and balloons during an event to mark World AIDS Day in Kolkata on December 1, 2014. (Photo credit: DIBYANGSHU SARKAR/AFP/Getty Images)
Replacing daily pills with a weekly regimen could help patients stick to their dosing schedule.
Anne Trafton | MIT News Office
Researchers at MIT and Brigham and Women's Hospital have developed a capsule that can deliver a week's worth of HIV drugs in a single dose. This advance could make it much easier for patients to adhere to the strict schedule of dosing required for the drug cocktails used to fight the virus, the researchers say.
The new capsule is designed so that patients can take it just once a week, and the drug will release gradually throughout the week. This type of delivery system could not only improve patients' adherence to their treatment schedule but also be used by people at risk of HIV exposure to help prevent them from becoming infected, the researchers say.
"One of the main barriers to treating and preventing HIV is adherence," says Giovanni Traverso, a research affiliate at MIT's Koch Institute for Integrative Cancer Research and a gastroenterologist and biomedical engineer at Brigham and Women's Hospital. "The ability to make doses less frequent stands to improve adherence and make a significant impact at the patient level."
Traverso and Robert Langer, the David H. Koch Institute Professor at MIT, are the senior authors of the study, which appears in the Jan. 9 issue of Nature Communications. MIT postdoc Ameya Kirtane and visiting scholar Omar Abouzid are the lead authors of the paper.
Scientists from Lyndra, a company that was launched to develop this technology, also contributed to the study. Lyndra is now working toward performing a clinical trial using this delivery system.
"We are all very excited about how this new drug-delivery system can potentially help patients with HIV/AIDS, as well as many other diseases," Langer says.
"A pillbox in a capsule"
Although the overall mortality rate of HIV has dropped significantly since the introduction of antiretroviral therapies in the 1990s, there were 2.1 million new HIV infections and 1.2 million HIV-related deaths in 2015.
Several large clinical trials have evaluated whether antiretroviral drugs can prevent HIV infection in healthy populations. These trials have had mixed success, and one major obstacle to preventative treatment is the difficulty in getting people to take the necessary pills every day.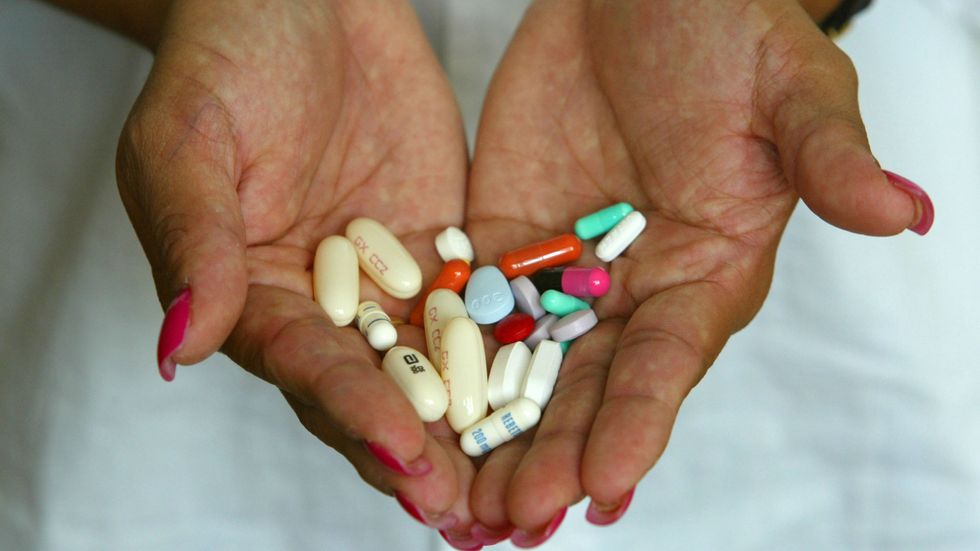 Alba Cerrato displays her cocktail of 14 different AIDS medications that she takes three times a day July 11, 2002 in Miami, Florida. Cerrato contracted the disease in 1994 from her boyfriend who passed away in 1999.
The MIT/BWH team believed that a drug delivery capsule they developed in 2016 might help to address this problem. Their capsule consists of a star-shaped structure with six arms that can be loaded with drugs, folded inward, and encased in a smooth coating. After the capsule is swallowed, the arms unfold and gradually release their cargo.
In a previous study, the researchers found that these capsules could remain in the stomach for up to two weeks, gradually releasing the malaria drug ivermectin. The researchers then set out to adapt the capsule to deliver HIV drugs.
In their original version, the entire star shape was made from one polymer that both provides structural support and carries the drug payload. This made it more difficult to design new capsules that would release drugs at varying rates, because any changes to the polymer composition might disrupt the capsule's structural integrity.
To overcome that, the researchers designed a new version in which the backbone of the star structure is still a strong polymer, but each of the six arms can be filled with a different drug-loaded polymer. This makes it easier to design a capsule that releases drugs at different rates.
"In a way, it's like putting a pillbox in a capsule. Now you have chambers for every day of the week on a single capsule," Traverso says.
Tests in pigs showed that the capsules were able to successfully lodge in the stomach and release three different HIV drugs over one week. The capsules are designed so that after all of the drug is released, the capsules disintegrate into smaller components that can pass through the digestive tract.
Daniel Kuritzkes, a professor of medicine at Harvard Medical School and the chief of infectious diseases at Brigham and Women's Hospital, says that with further safety studies and tests of different drug combinations, this approach could provide another tool to help doctors treat HIV infections and prevent new ones.
"It's a very interesting approach and certainly something that's worth further development, and potentially human trials to see how workable this is," says Kuritzkes, who was not involved in the research.
Preventing infection
Working with the Institute for Disease Modeling in Bellevue, Washington, the researchers tried to predict how much impact a weekly drug could have on preventing HIV infections. They calculated that going from a daily dose to a weekly dose could improve the efficacy of HIV preventative treatment by approximately 20 percent. When this figure was incorporated into a computer model of HIV transmission in South Africa, the model showed that 200,000 to 800,000 new infections could be prevented over the next 20 years.
"A longer-acting, less invasive oral formulation could be one important part of our future arsenal to stop the HIV/AIDS pandemic," says Anthony Fauci, director of the National Institute of Allergy and Infectious Disease, which partly funded the research.
"Substantial progress has been made to advance antiretroviral therapies, enabling a person living with HIV to achieve a nearly normal lifespan and reducing the risk of acquiring HIV. However, lack of adherence to once-daily therapeutics for infected individuals and pre-exposure prophylaxis (PrEP) for uninfected at-risk people remain a key challenge. New and improved tools for HIV treatment and prevention, along with wider implementation of novel and existing approaches, are needed to end the HIV pandemic as we know it. Studies such as this help us move closer to achieving this goal," Fauci says.
The MIT/BWH team is now working on adapting this technology to other diseases that could benefit from weekly drug dosing. Because of the way that the researchers designed the polymer arms of the capsule, it is fairly easy to swap different drugs in and out, they say.
"To put other drugs onto the system is significantly easier because the core system remains the same," Kirtane says. "All we need to do is change how slowly or how quickly it will be released."
The researchers are also working on capsules that could stay in the body for much longer periods of time.
The research was also funded by the Bill and Melinda Gates Foundation, Bill and Melinda Gates through the Global Good Fund, the National Institutes of Health, and the Division of Gastroenterology at Brigham and Women's Hospital.
--
Reprinted with permission of MIT News
A supervised learning algorithm can predict clinical depression much earlier and more accurately than trained health professionals.
Aaron Gillies, a.k.a @TechnicallyRon, uses his sense of humor to open up frank discussion about depression.
One of the more surprising, and upsetting, uses of social media has been suicides performed on Facebook Live. Though reasons for suicide are complex, the mere threat is often a cry for help, acceptance, or recognition. During the two years I worked as a patient monitor in an emergency room, I discovered most people that attempt to take their own lives desire a pair of ears to listen to their problems more than anything else.
It's hard to gauge a person's reality based on social media habits, however. Those who spout vitriolic rhetoric are often quite approachable and reserved in person. We can't read inflections and temperament from words on a screen, or take into consideration that the person might just be having a bad day.
That said, social media can be a powerful indicator of those at risk for suffering from mental health disorders, a new study published in Scientific Reports suggests. A team led by Andrew Reece, in the Department of Psychology at Harvard, collected Twitter data from 204 individuals. Of those, 105 suffered from depression, with a control of 99 healthy subjects. The team then used a supervised learning algorithm to see if changes in language predicted clinical depression.
The answer is yes. Depressed patients used more words like death, no, and never, while posting fewer positive words—like happy, beach, and photo—in the lead-up to their diagnosis.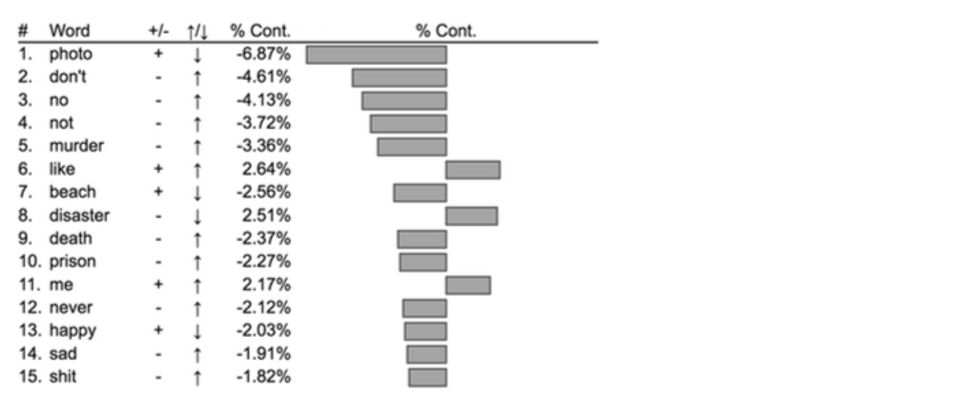 Figure 4. Depression word-shift graph revealing contributions to difference in Twitter happiness observed between depressed (5.98) and healthy (6.11) participants. In column 3, (−) indicates a relatively negative word, and (+) indicates a relatively positive word, both with respect to the average happiness of all healthy tweets. An up (down) arrow indicates that word was used more (less) by the depressed class. Words on the left (right) contribute to a decrease (increase) in happiness in the depressed class. [Credit: Andrew G. Reece et. al.]
A second group pf 174 Twitter users was also studied. Of these, 63 suffered from PTSD. Again, changes in language revealed that they were likely to be diagnosed.
These results are not perfect. In both situations there was a preselected pool of Twitter users with a close ratio of healthy to unhealthy, which does not reflect society as a whole. Add to this fact that many depressed people or those suffering from PTSD do not use social media. It would be hard to acquire firm numbers based on these shortcomings.
That said, Reece and his team are borrowing this predictive model from similar early warning systems in place for hard-to-detect cancers, disease outbreaks, and regional dietary health issues. Diseases like addiction and suicidal ideation have already been studied through social media. While this trend of using public facing data to detect potential cognitive disorders is new, cries for help might be detected, and treated, much sooner.
Reece and team believe they have found if not a silver bullet for predicting depression and PTSD, at least a shinier one than has so far been developed:
Our findings strongly support the claim that computational methods can effectively screen Twitter data for indicators of depression and PTSD. Our method identified these mental health conditions earlier and more accurately than the performance of trained health professionals, and was more precise than previous computational approaches.
With the current rise in depression and anxiety, especially among teens, a particularly vulnerable group that has now fully grown up on social media, such predictive tools could prove to be a valuable source of therapy and recovery moving forward.
"We hope that our research will eventually help improve mental health care, for example in preventive screening," Stanford researcher Katharina Lix told Digital Trends. "We could imagine clinicians using this technology as a supporting tool during a patient's initial assessment, provided that the patient has agreed to have their social media data used in this way. However, before we get to that point, the technology needs to be validated using a larger sample of people that's representative of the general population. We want to emphasize that any real-world application of this technology must carefully take into account ethical and privacy concerns."
--
Derek is the author of Whole Motion: Training Your Brain and Body For Optimal Health. Based in Los Angeles, he is working on a new book about spiritual consumerism. Stay in touch on Facebook and Twitter.
Though the sample size was small, the results are compelling.
Currently, there's no objective way to pick up on whether someone is contemplating suicide. Even for the most seasoned professional, it comes down to experience and guesswork. A therapist, if he or she suspects, simply asks the patient if they are having suicidal thoughts.
The problem is, many people hide it well. Among those who've completed the act, 80% denied such thoughts at their last visit with a mental health professional. Because of this, researchers at Carnegie Mellon University wondered if they could find an objective way to detect such thoughts, by picking up the brain activity patterns that coincide with them.
The need is great. 44,000 Americans commit suicide each year, and it's the second leading cause of death among young adults. Having an objective way to measure for such thoughts could help us develop more effective intervention methods.
Using a machine learning algorithm and an MRI scanner, Carnegie Mellon University researchers believe they've isolated the brain signature for suicidal thoughts. The scientists found they could predict who was thinking about suicide with 91% accuracy. They could even separate who'd attempted suicide previously and who had just thought about it. The results of the study were published in the journal Nature Human Behavior.
It's very important to note that this was a very small sample size. Certainly a larger scale study must be conducted before these findings are considered firm. Still, they're compelling.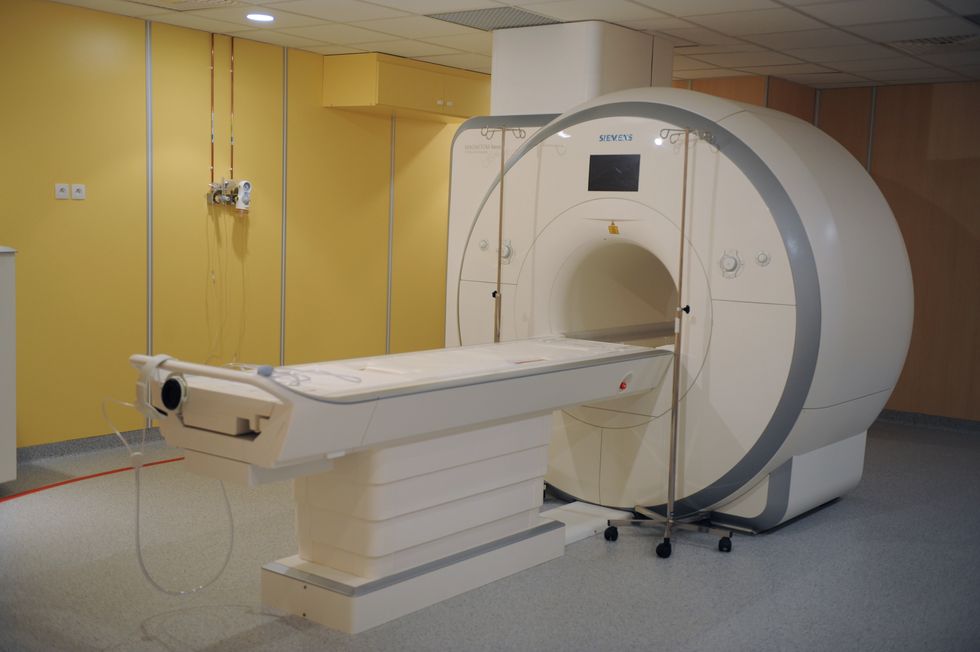 Using an MRI and machine learning, researchers were able to identify the neural signature for suicide. Credit: Getty Images.
Scientists, led by Dr. Marcel Just, have over time collected a number of neural signatures for different thoughts and emotions. They can now tell what a person is feeling or what kind of social interaction they're thinking about, as each has its own particular pattern.
In this latest study, Just and colleagues wondered if certain thoughts would be altered if a person was ruminating over or contemplating suicide. They recruited 34 volunteers and stuck each into an MRI machine. Seventeen of them were selected for their history of suicidal thoughts, and the other 17 stood as a control group.
Participants sat in the machine for 30 minutes while life and death-related words were projected on a screen inside. These included: death, trouble, cruelty, good, praise, and carefree. The negative words were the focus, because researchers thought they might elicit a neural pattern associated with suicidal thoughts. Each word appeared singularly for three seconds, while researchers recorded the associated brain activity.
Next, all the MRI scans were fed into a computer. A machine learning program examined the data and began to notice differences between typical brain patterns and the kind those with suicidal thoughts or tendencies have. After some practice, the program got good at distinguishing between the two. Those with suicidal thoughts tended to register different readings when death-related words came up, just as suspected. The areas of the brain affected included the left superior medial frontal area and the medial frontal/anterior cingulate. These regions are responsible for thinking about one's self.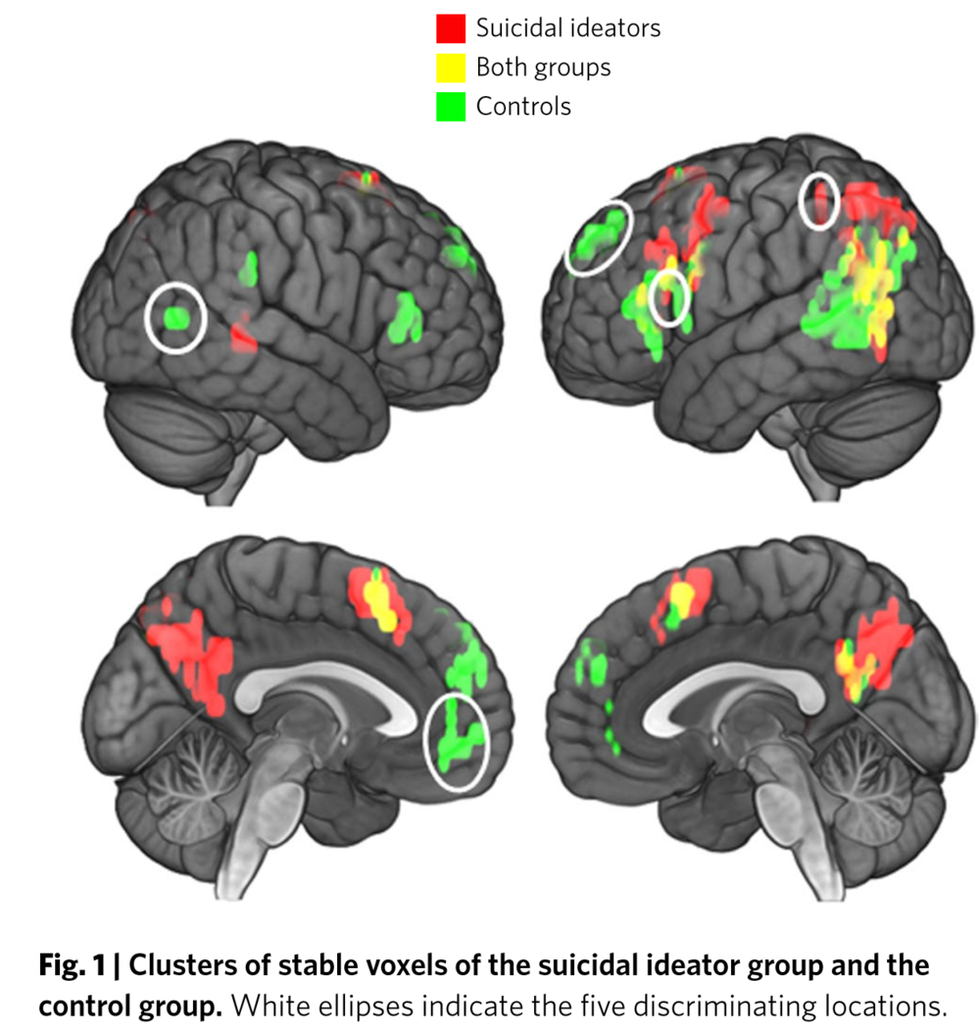 Credit: Nature Human Behavior.
Dr. Just told New Atlas, "People with suicidal thoughts experience different emotions when they think about some of the test concepts. For example, the concept of 'death' evoked more shame and more sadness in the group that thought about suicide. This extra bit of understanding may suggest an avenue to treatment that attempts to change the emotional response to certain concepts." The study was even able to detect with 94% accuracy the nine suicidal ideators who had made a suicide attempt in the past from the eight who had not.
Even so, a couple of things have to be worked out before more interest and research dollars move in that direction. Besides the small sample size, it was already known beforehand that certain volunteers were suicidal. That was important for training the computer to recognize the brain signature for suicidal thoughts. But can the results be repeated with people whose minds are less open to probing? There is great stigma surrounding suicide, so what would be clinically useful is being able to detect suicidal ideation when the subject isn't forthcoming or won't admit to it.
We haven't entered the age of the mind-reading machine just yet, according to Dr. Just. "If somebody didn't want others to know what they are thinking, they can certainly block that method," he said. They would just simply not cooperate. "I don't think we have a way to get at people's thoughts against their will," he said. Another problem is the equipment is very expensive, in the millions of dollars.
"It would be nice to see if we could possibly do this using EEG," Just said. "It would be enormously cheaper. More widely used." Of course, technology over time gets less expensive. But still, critics wonder if the technique will ever be clinically useful. Perhaps in the future, brain readings along with medical records, genomic data, lifestyle data, and more, could be fed into a supercomputer in order to be able to calculate one's risk of all kinds of physical and mental health maladies, including their risk of suicide.
To learn more about this study, click here: