There's a trillion-dollar underground economy hiding in plain sight, says Steven Kotler, and it can be measured in dopamine.
What really fuels the economy? It's not trade, free spending, or good old-fashioned elbow grease – it's something much smaller and harder to see: dopamine. Along with high-performance expert Jamie Wheal, Steven Kotler has spent the last four years interviewing and researching trailblazers like Elon Musk, Eric Schmidt, Amy Cuddy, and institutions like Nike's innovation team, the Navy SEALs, and the United Nations' Headquarters. What did he find? That these bright people and teams are using altered states of consciousness – like 'flow' – to boost their inspiration, ability, and impact. Winning feels good, as does reward. It all boils down to dopamine. Many of us may not be consciously aware of the the neurochemical, altered-state highs we seek on a daily basis. Kotler runs through three ways we chase dopamine, and questions the ethics of these unchecked habits. For example, when you check your phone for a text, the uncertainty or "magic of maybe" in what the text might deliver results in a 400% spike in dopamine – roughly the same amount of dopamine as a person gets from cocaine. "We're essentially putting highly addictive drugs into the hands of kids before they have any natural defenses against them," says Kotler. Steven Kotler's and Jamie Wheal's book is Stealing Fire: How Silicon Valley, the Navy SEALs, and Maverick Scientists Are Revolutionizing the Way We Live and Work.
Steven Kotler's and Jamie Wheal's book is Stealing Fire: How Silicon Valley, the Navy SEALs, and Maverick Scientists Are Revolutionizing the Way We Live and Work.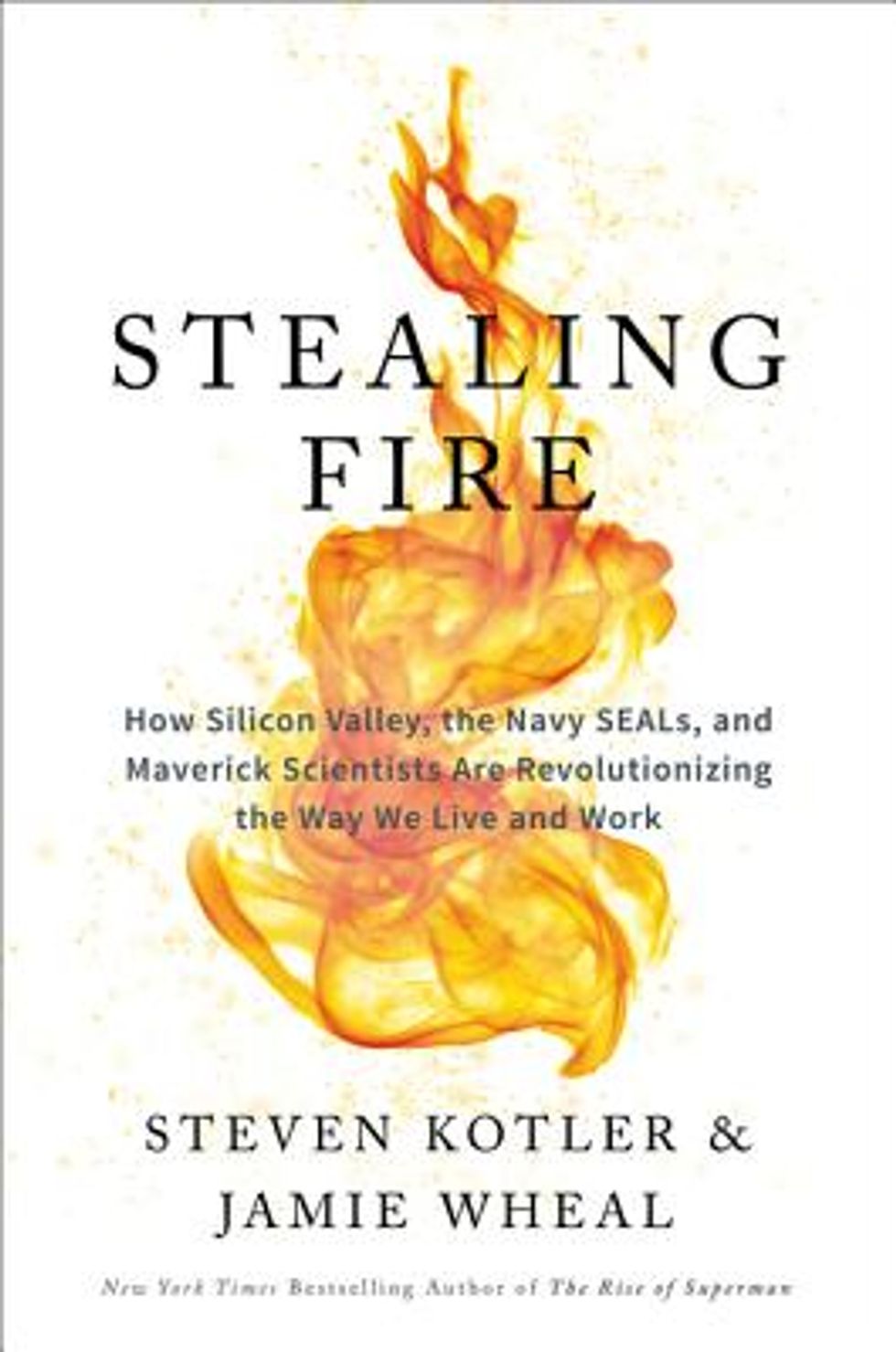 The UK government is discussing legislation that would require all internet service providers to block websites with "adult content", specifically those without age verification.
Hands off. (Photo credit TIZIANA FABI/AFP/Getty Images)
When asked if five dollar pornography on the street corner was too high a price to pay for free speech The West Wing's President Bartlet, as played by Martin Sheen, replied, "No... On the other hand, I think that five dollars is too high a price to pay for pornography".
The notion of how much access to pornography people should be allowed to have is a moral question that has been a bother for ages. Today we have, perhaps, the simplest and most extensive access to it we have ever had. The supply of free pornography on the internet is so great that even Playboy magazine has abandoned showing frontal nudity, on the grounds that it cannot compete in the new market.
In response to the unfiltered access to such media online, the government of the United Kingdom has proposed legislation which would require all internet service providers to block websites with "adult content", specifically those without age verification. The proposal will be added to the upcoming Digital Economy Bill 2016-17.
While the manner of how the internet will be regulated exactly if the bill is passed and how it will be applied in law is new and specific to this case, the question of the morality of pornography and the attempt to control its distribution is nothing new.
In the United States, the Comstock laws prevented the mailing of pornography, contraceptives, personal letters of a sexual nature, or any information relating to said items via the postal system. These laws, passed in 1873, remained in effect until 1957. The law was so broadly defined that anatomy textbooks were occasionally unable to be sent by mail. For his part, Mr. Anthony Comstock, for whom the laws were named, was a radical moral activist both loved and loathed. He was later lampooned in BioShock Infinite, with the puritanical villain taking his name.
Ethically, there are many ways to view the question of the availability of pornography in society. For some it is an issue of temperance; others see it as an issue of purity. There are still others who find it objectionable, but see the idea of the state interfering with access to be anathema. In this case, the issue is tied to "how free is too free" speech, as the stated goal is to make it more difficult for children to access such images.
While this bill is geared towards fixing a hole in British internet law. The wording of it has a few proponents of free speech alarmed. In particular, they are concerned that the wording of the bill and its use of the term "adult content" is too vague and could lead to censorship beyond that of the original intention.
Jim Killock, Executive Director of the Open Rights Group, said about the bill:
"This could lead to tens of thousands of websites being blocked, despite their content being perfectly legal. In no way should this proposal be legislated for in this bill. There has been no thought or consultation, and the government has not even begun to define how blocking might be attempted. They have no idea if it would work well or badly, or whether there is serious enough harm to justify such a massive restriction on UK adults access to legal material."
On the other hand. Karen Bradley, Secretary of State for Culture, Media and Sport claimed in response:
"The Government is committed to keeping children safe from harmful pornographic content online and that is exactly what we are doing. Only adults should be allowed to view such content and we have appointed a regulator, BBFC, to make sure the right age checks are in place to make that happen. If sites refuse to comply, they should be blocked." 
At the time of writing, the bill is still being discussed. The question of if it passes or not is still up in the air. The actual ability of the British government to regulate such traffic remains in question, as a simple image search can produce some remarkably risqué images if requested. In any case, the question of free speech vs public morality rages on, and will continue to do so.
What is masculinity? Should gentlemen watch pornography? How do we raise sons to be better than their fathers? What's for dinner? Comedian Jim Gaffigan mulls over these big questions and more.
"I haven't slept in seven years," says Jim Gaffigan, in reference to having his fourth child. "I didn't always look like this – I'm actually Puerto Rican, but the wear and tear parenting… " he trails off, exhausted.
This is a bit from his 2012 stand-up comedy special Mr. Universe, and by now Gaffigan actually has five children. "Big families are like waterbed stores; they used to be everywhere, and now they're just weird," he jokes.
It's only natural that many of Gaffigan's jokes are about kids and family life. His 2013 book is called Dad is Fat, which took its title from the full sentence his kid ever wrote. His TV series The Jim Gaffigan Show is a hilarious meditation on one man's struggle to find balance between fatherhood, stand-up comedy and an insatiable appetite. Jim Gaffigan knows fatherhood, or if that's too arrogant, then at least he knows the complexities fatherhood brings.
And yet, he finds it a difficult subject to talk about because of its enormity. It is such a deep human experience, with lines cast out to all corners of life. Being a father made Gaffigan re-examine his masculinity, his ethics, his comedy, his sexual attitudes, his gender biases. By his own admission, it turned him into a better human.
In the video above, Gaffigan discusses the drastic changes that have reshaped the meaning of manhood in the last couple of decades, and emphasizes that you can't begin to talk about masculinity without talking about women. The behaviors of men and women have always been reactions to one another, and as society views and treats women becomes in a more respectful and progressive manner, the concept of manhood also moves forward and becomes less of a caricature.
So how do you raise children in the wake of that enlightenment? From pornography and gentlemanly passion, to the changing role of fathers and the growing respect for women, Jim Gaffigan shares his thoughts on how to raise a generation that is better than the last.
Tune in to the The Jim Gaffigan Show. Jim Gaffigan's book is Dad is Fat.