It's no secret that American income inequality is at its worst point since the gilded age. So how do we stop this rampant inequality?
It's no secret that American income inequality is at its worst point since the gilded age. To break it down for you, there's a very small yet super-rich class at the top (the 1%), and there's the rest of us (the 99%) who are duking it out in a type of capitalist serfdom. Chris Hughes, a Facebook co-founder, will be the first to tell you that he's a super lucky guy that happened to benefit massively from this system that makes the rich richer and the poor stay the same. He's come with a plan — give $500 a month to every working adult making less than $50,000 a year — to help reinvigorate the American economy and the American dream that we can pull ourselves up. If the American dream is dead, he says, then what are we fighting for in the first place? His fascinating book is Fair Shot: Rethinking Inequality and How We Earn.
Just by looking at satellite images, AI can predict your income bracket, and tell us what wealth and poverty look like from space.
Image: NASA
What does wealth look like… from space? This is the question researchers from Carnegie Mellon University wanted to answer when they built Penny. Penny is an AI built on machine learning using neural networks. Through an interactive website Penny lets you browse satellite images of New York City and St. Louis and see how different kinds of features make an area look wealthy or poor to the AI.  
To build Penny, the researchers used household income data from the U.S. Census Bureau, mapped it, and overlaid it with satellite imagery. They color-coded areas to represent different income brackets. In the picture below, green represents areas with the highest quartile of annual income (averaging $71,876 and above), red represents areas with the lowest annual income (averaging $34,176 and below) and orange and yellow represent the middle levels of income (averaging between $34,176 and $49,904, and $49,904 and $71,876, respectively).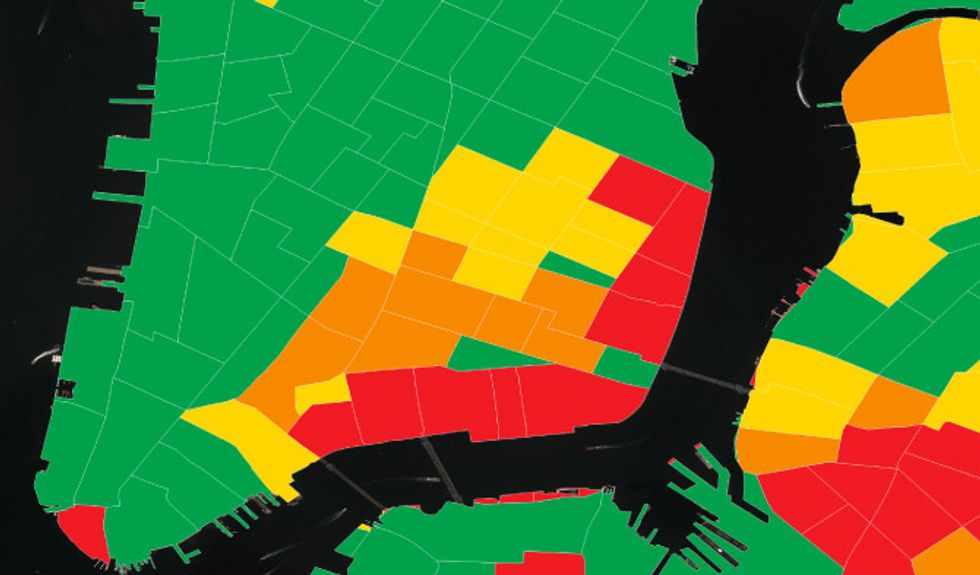 Census data mapped and color coded / penny.digitalglobe.com
The two layers of data — the color-coded map and the satellite images — were then given to a neural network which was trained to predict the average household incomes in any area in the city. The AI looks for patterns in the imagery that correlate with census data. Over time, the neural network learns what patterns best predict high and low income levels. The model can then be used to predict income levels for a place, just by looking at a satellite image. 
So, what do wealth and poverty look like from space? Some of the correlations that Penny found were that lower income areas, for example, tend to have baseball diamonds, parking lots, and large similarly shaped buildings (such as housing projects). In middle income areas there were more single-family homes and apartment buildings. Higher income areas tend to have greener spaces, tall shiny buildings, and single-family homes with lush backyards.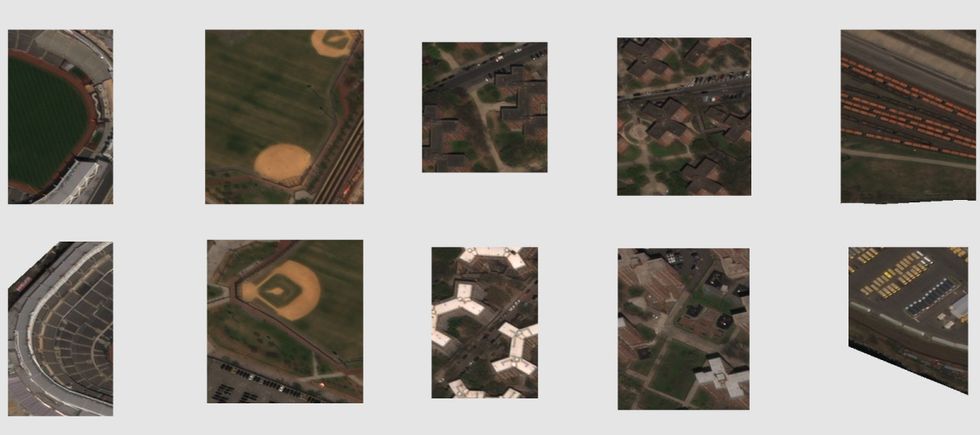 Patterns of low-income areas / penny.digitalglobe.com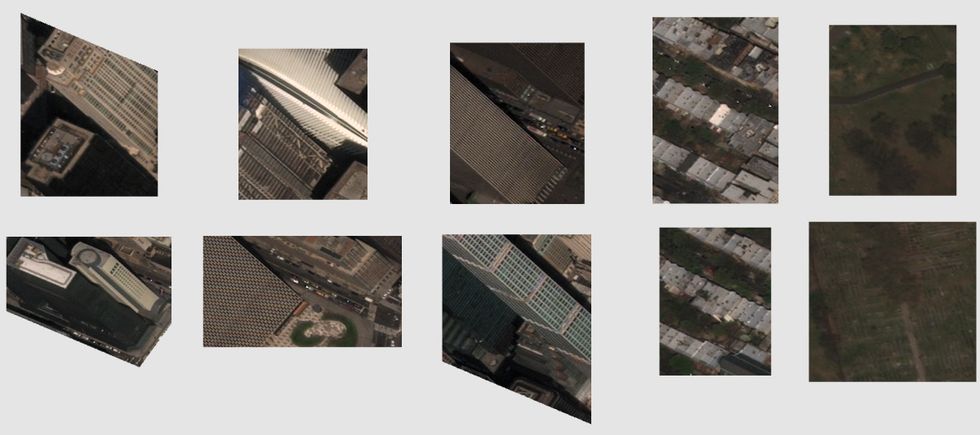 Patterns of high-income areas / penny.digitalglobe.com
There has also been other research concerned with estimating wealth from satellite data. Scientists from the University of Konstanz found that it is possible to make inferences about the wealth of a region, as well as individual settlements, by measuring the amount of nighttime illumination.
An interesting feature of Penny is that the tool lets you play around with the landscape of the city, by adding and removing urban features like buildings, parks, and freeways. After making the changes, Penny makes a new estimate on the income  bracket of the block.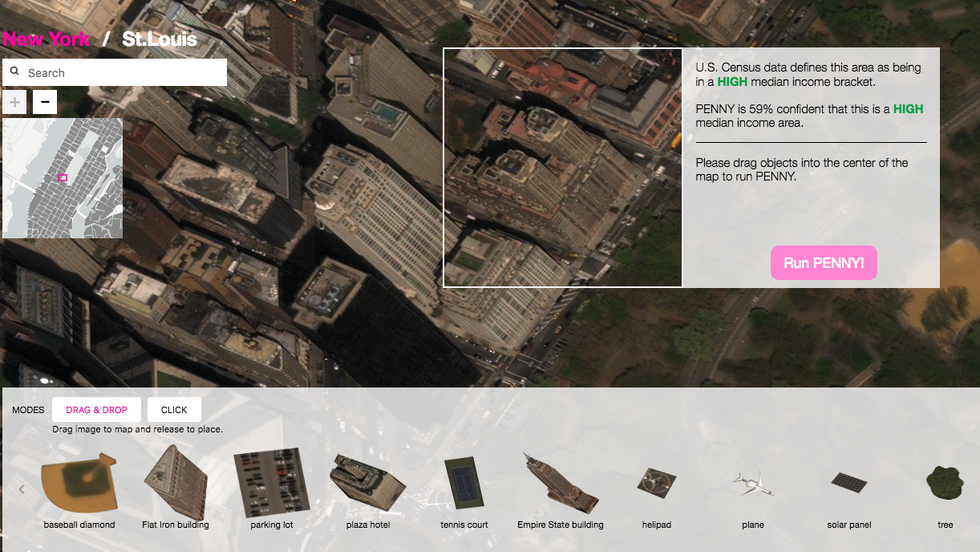 Penny's interface allows the users to drag and drop urban features on the map. / penny.digitalglobe.com
The researchers are hoping to spark a conversation about artificial intelligence, machine learning, cities, infrastructure, satellite imagery, and big data. The way machines understand these things has increasingly important implications for how we understand patterns of urbanization, wealth, and the human condition.
Canada puts its money where its mouth is and prepares for a 'no strings attached' basic income trial that it hopes will break the cycle of poverty.
Photo by Spencer Platt/Getty Images
Ontario is poised to become a testing ground for basic income in 2017 as part of a pilot program. Hugh Segal is the special advisor to the Canadian province and a former senator. He believes a supplemental income of $1,320 a month could provide a viable path to poverty abatement—effectively replacing welfare programs and a system he described as "seriously demeaning" in a paper discussing this basic income pilot project.
Segal suggests this pilot project would provide real evidence to whether basic income is the solution to poverty many governments have been seeking. It would answer many of the burning questions and concerns regarding such a system:
Can basic income policies provide a more efficient, less intrusive, and less stigmatizing way of delivering income support for those now living in poverty?
Can those policies also encourage work, relieve financial and time poverty, and reduce economic marginalization?
Can a basic income reduce cost pressures in other areas of government spending, such as healthcare?
Can a basic income strengthen the incentive to work, by responsibly helping those who are working but still living below the poverty line?
In the United States, welfare programs are the staple of big government—a Republican nightmare. Paul Ryan has indicated he wants to phase-out these entitlement programs, however, he's also concerned about solving the poverty issue in America. If Ontario's proposed three-year project provides compelling evidence that basic income could do both, we may have a bi-partisan solution.
Segal is a conservative. In his view, welfare programs help alleviate some of the symptoms of poverty, but provide no long-term program to get people out.
"Testing a basic income is a humane and useful way to measure how so many of the costs of poverty (in terms of productivity, health, policing, and other community costs, to name only a few) might be diminished, while poverty itself is reduced and work is encouraged," Segal says in the report.
A guaranteed income would provide a floor no one would fall beneath and citizens would receive it regardless of employment status. Conservatives like it because it provides an elegant solution that could replace the welfare state and the left love it because it provides a greater social architecture.
However, many question how giving people free money could fix many of our socio-economic issues. But we won't know if we don't try—if we don't do the research to find a solution, which is what Segal suggests.
"There cannot be, nor should there be, any guarantees about what results a pilot might generate," Segal writes. "The objective behind this endeavor should be to generate an evidence-base for policy development, without bias or pre-determined conclusion."
This test of basic income won't be the first. Researchers and governments across the globe have started implementing similar tests to see what happens when you give people no-strings-attached cash. Finland, the Dutch city of Utricht, and Kenya all have plans to create programs to test this system. Segal believes a program in Ontario could add to this growing body of research.
"This Ontario initiative takes place at a time when other jurisdictions, in Canada and abroad, are working in different ways toward a Basic Income approach to better reduce poverty," he wrote. "The opportunity to learn from and engage with these other initiatives should not be overlooked, nor should approaches being tested elsewhere be necessarily re-tested here."
A study in Manitoba, Canada done back in the 1970s provides us with an idea of what a community receiving basic income would look like. Many believe people would stop working, and become lazy. They would be half right, some people did stop working in Manitoba. But when you look at the data a little closer, we begin to see how poverty starts at an early age and how basic income could help them get out.
Allow me to explain: People in the town received a set income of $9,000 a year (by today's standards) from the government. Evelyn Forget, an economist and professor at the University of Manitoba, who looked over the data from the study says there was a 9% reduction in working hours among two main groups of citizens.
Here's the kicker: New mothers were using their additional income to extend their maternity leaves and spend more time with their infants, and teenage boys were using that income to stay in school.
"When we interviewed people, we discovered that prior to the experiment, a lot of people from low-income families, a lot of boys in particular, were under a fair amount of family pressure to become self-supporting when they turned 16 and leave school. When Mincome came along, those families decided that they could afford to keep their sons in high school just a little bit longer," Forget told PRI in an interview.
Poverty affects all of us in some way (at some point 3 in 5 Americans experience it personally in their lifetime). All of us pay for its upkeep through taxes and can see how it wears down the institutions within our local communities. Basic income could be the solution. We have some data; we need more in order to make the proper call.
Ontario's experiment will show what would happen if people between the age of 18 to 65, living below the poverty line, received a monthly income of $1,320 ($1,820 if they are disabled). Would they be better able to save and find work?
"There's no magic bullet," said Jennefer Laidley of the Income Security Advocacy Centre. "So it's key that government is now exploring various solutions — reforming existing social assistance programs, improving the quality of work, and considering basic income."
There's a lot missing from debates and policy surrounding poverty but the biggest deficit, according to Dr C. Nicole Mason, is in honesty. Impoverished people aren't poor because they're lazy, they're poor because social mobility is institutionally suppressed.
Dr C. Nicole Mason was born in Los Angeles, raised by a beautiful but volatile 16-year-old single mother. Early on, she learned to navigate between an unpredictable home life and school where she excelled. Having figured out the college application process by eavesdropping on the few white kids in her predominantly Black and Latino school, and along with the help of a high school counselor, Mason eventually boarded a plane for Howard University, alone and with $200 in her pocket.
Mason found a path out of poverty – something that only 4% of America's impoverished population are able to do. An alarming majority will never rise into the middle class, and so it seems that in the US, if you're born poor, you stay poor. And no one is being very honest about this invisible caste system.
Mason is a vocal advocate against the presumption that the poor are poor simply because they don't help themselves enough. "[In college] we heard a lot of things about welfare queens, people living off the system, not wanting to work, women being lazy, having multiple children. And that really wasn't the reality for the women who were actually impoverished." Mason found that the policies were detached from reality, and in fact the barriers built into the system (some intended to motivate people) – such as time limits, additional child penalties, and few provisions for childcare – were ineffective and suppressed social mobility. "What was excluded from that policy was a clear pathway out of poverty, like education," she says.
When people think of poverty they think in terms of money and material resources, but a large part of being poor is suffering from a lack of social connections and networks, and living in a low-income area with no infrastructure that enables the leap up to the middle class.
If institutions and leaders want to support and elevate poor communities, Mason argues that they need to provide better infrastructure (like libraries, parks, good grocery stores, and hospitals) as well as bridging programs both within the community and, very importantly, outside of it, so people can get in contact with people outside of their normal social network. "We just need to be honest about what it really takes for everybody to have a fair shot at the American Dream," she says.
Dr. C. Nicole Mason's new book is Born Bright: A Young Girl's Journey from Nothing to Something in America.