Could it simply be pleasure for its own sake?
A dog performs tricks during a dog dance session at the pet fair in Berlin on November 2, 2012. Photo: ODD ANDERSEN/AFP/Getty Images
A Jack Russell terrier tears in and out of its doggie door, skidding and sliding on a hardwood floor, only to repeat the performance over and over again. A Border collie in the park leaps to catch a ball, runs and drops it back at the owner's feet with a look of anxious anticipation. There's no food treat in store for these animals, no pats on the head – they seem to do it out of sheer playful exuberance. But what are they really up to? What does it mean for a dog to 'play'?
Konrad Lorenz, Nikolaas Tinbergen and Karl von Frisch, founders of the field of ethology (the study of animal behaviour) shared a 1973 Nobel Prize for their demonstration that, just like physical shape and structure, the patterned movements of animals in time and space are evolutionary adaptations. These 'motor patterns' are products of natural selection that enable animals to meet the fundamental challenges of life: to acquire energy by feeding, to avoid hazards to life and health, and to successfully reproduce.
However, when we look at puppies enthusiastically chasing and nipping at each other, or chewing on a favourite rubber toy and tossing it in the air, it's hard to find any biologically adaptive value in the activity. If anything, it often looks just like fun to us, a joyful waste of time and energy.
Could the goal simply be pleasure for its own sake? The problem is that this doesn't fit into the classical model of Darwinian natural selection, which we assume is the main force that drives adaptive change. Dogs chasing each other in the park probably aren't going to get more food than their less lively peers; chewing a rubber ball yields no calories at all. Indeed, playing is energetically wasteful. It doesn't help young animals to avoid dangers such as predation, and it doesn't produce more offspring. So what's the (biological) reason for play?
Hypotheses abound. Could it be, for example, that play behaviour is a way for young animals to practise skills they'll need in adulthood? It does seem to contain parts of adult behaviour – 'playing' animals often chase and capture things as if they were engaged in mock hunting, for example. Perhaps play helps young animals learn how to deal with aggression more effectively, or to interact more successfully with potential sexual partners. There isn't any immediate fitness benefit, no calories to be gained, but maybe the adaptive pay-off is that you'll eventually be a more effective adult, ultimately with a greater chance of reproductive success. 
In our recent book How Dogs Work, we come to a different conclusion: 'play' is not, at its heart, an adaptive form of behaviour at all. Instead, it simply emerges as an artefact of the way that animals develop over the course of their lifetimes. Mammals, for instance, must make a profound and far-reaching change from being a dependent newborn, through a juvenile stage, into an independent adult in its own right. The adult has a new form and a new behavioural repertoire: it has changed from a nursing, care-soliciting neonate into a foraging, courting adult with the ability to escape from predators without help. 
As a newborn grows over time, its behaviour, like its physical form, needs to be 're-modelled'. In effect, it has to undergo a physical and behavioural metamorphosis into an adult. Not unlike the transformation of a caterpillar into a butterfly, the structures of the newborn mammal are partly disassembled and then ultimately reconstructed into the adult. This transitional metamorphic form is often called a juvenile. As development unfolds, the animal's whole physical system, along with its behavioural repertoire, must constantly be re-integrated so that the organism can continue to work as a functioning whole. 
In the course of this metamorphosis, a juvenile animal still exhibits some of its newborn behaviours at the same time that it is developing a set of adult motor patterns. Until it is fully adult, it has only partial sequences of these patterns. Many of these are still non-functional. Juvenile canids for example (say a dog or a wolf) might eye, stalk and chase things but they have not yet developed the grabbing and killing-bite motor patterns that will make them effective adult predators. Some of the necessary pieces of behaviour are present in the juvenile, but they are not yet fully in place, and often they aren't assembled together in the proper order. (That's one reason why we're skeptical of the 'play as practise for adulthood' theory.)
Juvenile mammals – the archetypal playing animal – are organisms in the midst of this radical transformation. As they grow, they tend to randomly combine bits and pieces of waning newborn behaviour and emerging adult behaviour. These combinations are often repetitive, and sometimes quite novel, but rarely adaptive in the standard Darwinian sense. They are the accidental product of interacting behavioural systems that are re-modelling as the animal develops over time.
Dogs have longer periods of juvenile development than rats or cats; mammals in general have a much longer and more varied 'metamorphosis' than birds or reptiles. So dogs appear to play more than many other animals, not because there is an advantage in dogs playing more frequently, or because they enjoy it more, or because they want to please us more, but simply because they grow at different rates and in different ways.
Development has another effect on apparently playful activity. Many motor patterns require a 'releaser', something in the world that triggers the animal to behave in a characteristic way. In many cases, the response to these stimuli is instinctive, built-in and automatic. But sometimes an animal needs a little experience in the course of development to get it just right. A colleague of ours once watched a big wolf pup on a frozen lake doing a 'fore-foot stab', a classic carnivore motor pattern where the animal jumps at prey with an outstretched front paw. But the object of this pup's attention wasn't a mouse or vole: it was pouncing over and over again on little bubbles under the ice. 
Normally, detecting a small running rodent should trigger the movement since it's an adaptive, evolutionary and ancient behavioural response that leads to food. As we observe a wolf pup jumping at bubbles, or a dog leaping to catch a Frisbee, it looks for all the world as if these are simply animals happily at play. But they are instead simply expressing a developing motor pattern that is directed to an inappropriate stimulus. Think of dogs chasing cars instead of sheep, or kittens eyeing and stalking a ball of string. 
Lots of so-called play, we think, might simply be the playing-out of developmentally incomplete, cobbled-together behaviours that are sometimes mistakenly triggered by inappropriate or misidentified stimuli. Perhaps these behavioural mistakes feel pleasurable to animals. Maybe they ultimately will contribute to adult fitness. But, in our view, playlike behaviour doesn't need to be explained by an evolutionary history of adaptation, and it doesn't have a special biological purpose. 'Play' is simply a byproduct of the way that young animals grow and develop.

Raymond Coppinger & Mark Feinstein
--
This article was originally published at Aeon and has been republished under Creative Commons.
What are you capable of? David Goggins' amazing and grueling feat of persistence shows how tough the human mind can be.
What could almost destroy the body and mind of the only person to complete Navy SEAL training (including two Hell Weeks), Air Force tactical air controller training, and U.S. Army Ranger School? David Goggins is tough, but in an effort to raise money for the Lone Survivor Foundation, he took on a challenge that tested him more than any of his military experiences: the Badwater 135. This is an ultra-marathon event that requires participants to run 135 miles in 24 hours in the peak heat of Death Valley. Goggins wasn't a runner at the time; he was a bulky power lifter, and he only had four days to prepare for the qualifying race. He needed to run 100 miles in under 24 hours. So how did he do? Here, he tells the story and in doing so shares a lesson on human potential, mental toughness, and why you won't grow as a person if you always choose the path of least resistance. You can follow David on Twitter and Instagram @davidgoggins and Facebook.
Everybody wants to be happy, right? Who wouldn't try to get as many pleasurable experiences as they could? Well, if this philosopher is right. You wouldn't.
Can people living in a simulated reality, even a perfect one, be said to have a "good life"?
What is the key to the good life? Is it something we all want?  Everybody wants to be happy, right? But what is happiness? How do we get it?
That question has puzzled people for ages. But one answer that comes up often is pleasure. Of course, what "pleasure" means is another debate itself. For some philosophers, this is the only true good in life, all other things are only part of the good life as they give pleasure to the individual. Such an belief is referred to as Hedonism, and is as ancient as ideas come, with a history going back to the earliest civilizations.
After all, when we do something we enjoy, or otherwise encounter something good, does it not bring us pleasure? Sure, there are other things we might say we like: religion, virtue, beauty, or something else. But hedonists say these things are only good because they bring us pleasure. The only true good, and the vital key to a good human life; they say.
Hedonism is both scorned and loved, some view it as a poor way to live, marked by vice and indulgence. Others see it as the honest way of looking at things. Some, like Epicurus, were hedonists who viewed temperance and moderation as the keys to pleasure. And then there are those who just love pleasure, and seek to maximize the pleasure they experience however they can.
But if you agree with Hedonism, think about this.

Suppose tomorrow you were told that a new machine had been built: the experience machine. This machine is capable of generating a virtual reality for you; one so real you could not tell the difference between reality and fantasy. The machine is fail-safe, and will never suffer an error or a mechanical failure.
The only setting is to "paradise", and you would experience endless pleasure if you enter. No real experience could possibly compete with the machine in terms pleasure gained. All you need to do is sign a form or two, and get plugged into the machine. They can even preset the machine to give certain experiences, or to include certain people if you wish.
Do you get in?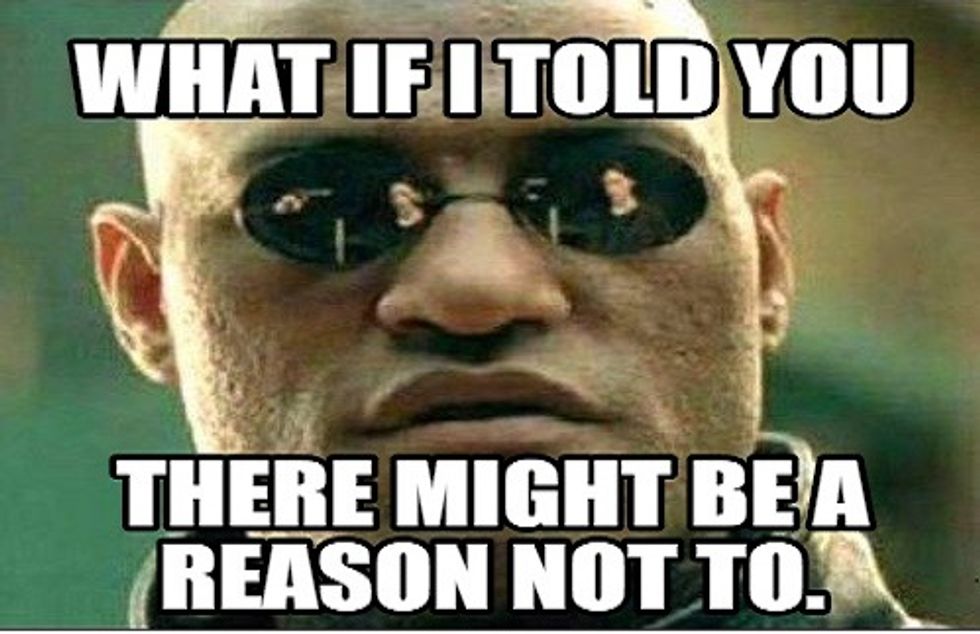 The author of the problem, American philosopher Robert Nozick, says you won't. Pointing out that most people value having experiences in reality, or that the person that gets in will only be thinking that they do anything, when in fact they are merely sitting down all the time. They instead desire to be a certain kind of person, which requires actually doing things.

Nozick claims that because we value something other than pleasure, evidenced by rational people deciding not to get into the machine, the idea that pleasure is the only good must be false.
Even if you suppose that we derive pleasure from the reality of something, remember: it can't compete with going into the machine. We must value it for its own sake rather than as a path to pleasure if we reject the machine. So much for Hedonism then, if we agree with Nozick.
However, some philosophers say we would, and should, get into the machine. The founder of Utilitarianism, Jeremy Bentham, believed firmly that there was only one good, pleasure, and one evil, which is pain. With his early version of utilitarianism, going into the machine becomes a no brainer. The math is clear. The fact that the experiences aren't real is no concern of his.
There are, of course, other ideas and experience to support and reject hedonistic ideas other than the machine. Aldous Huxley's Brave New World is often interpreted as a rejection of the Hedonistic Utopia, while Infinite Jest shows the absurdity of creating the perfect pleasure-causing film—people would do nothing but watch it to death.
In support of Hedonism, the first novel ever written, The Epic of Gilgamesh, has an argument for it, making this perhaps the oldest philosophy known. Some authors have even proposed moving civilization into a Matrioshka brain. If well built and placed, this would allow for a perfect world to be created in a computer simulation and run for trillions of years.
The idea of the experience machine makes us ask ourselves what we value. If we only value pleasure, then we should agree to go in. If don't want to get in, then we must value something else. Even the most devoted hedonists might pause to wonder if they value their pleasure being "real" before entering the machine. Those who suppose there are other valuable parts of a good life other than pleasure would have less trouble deciding.
So, ready to get in? Or would you rather suffer out here with us?