Studying philosophy has had a major impact on the power players of Silicon Valley.
Zeno of Citium and the new Apple campus in Silicon Valley. Credit: Getty Images/Wikipedia
Silicon Valley is an ultra-competitive environment that comes up with the most exciting technological advancements of our modern life. Understandably, its executives are under constant pressure to deliver something new that will capture and better yet, disrupt, markets. To alleviate the stresses and open their minds, the execs have been known to experiment with microdosing on psychedelics, taking brain-stimulating nootropics, and sleeping in phases. What's their latest greatest brain hack? Philosophy.
Some philosophers are finding Silicon Valley employment teaching "practical philosophy" that you can use in business and everyday life. Andrew Taggart is one champion of this movement, offering philosophical counseling to tech leaders and anyone in need. The guidance focuses on using reason and logic to unmask illusions about your life or work. You can try philosophical counseling yourself, if you'd like, as Taggart offers Skype conversations. 
Taggart rails against what he sees is the "problematization of the world" - the idea that all the obstacles we encounter during our life, from drinking too much coffee to death, are problems in need of solutions to be discovered. He thinks that approach can obscure the true understanding of human life. In an interview with Quartz, he says that rather than ask "How can I be more successful?" it's actually more important to ask - "Why be successful?"
On the more practical side, Taggert thinks philosophy can also help zero in on what a startup should build and, more generally, he advocates using the philosophical skills of critical inquiry to figure out the "bullshit".
"Philosophers arrive on the scene at the moment when bullshit can no longer be tolerated," says Taggart to Quartz. "We articulate that bullshit and stop it from happening. And there's just a whole lot of bullshit in business today."
On the other hand, he also thinks that stopping BS is not the chief objective of philosophy. Rather, he warns against the dangers of "total work" - the all-consuming obsession with having to be productive and spend most of our time working rather than contemplating.
"Total work is always on the clock. Ever behind, always in a rush toward, or just behind, an approaching, encroaching deadline. Philosophy occurs when clock time falls away. It seeks to put us in the presence of eternity," says Taggart in a blog post.
In fact, he thinks the commitment to "total work" allows the market to control too many aspects of our life. He cites a startup cofounder he interviewed who "asserted unequivocally his view that all human relationships are transactional." Taggert thinks philosophy can open up this kind of thinking to a less solipsistic view that introduces thought and balance to people's lives.
Outside of Taggart's efforts, philosophy has always had a strong presence in Silicon Valley. Another philosopher who has made inroads with the tech crowd is Ryan Holiday, a proponent of stoicism, an ancient Greek school of thought that emphasizes limiting negative emotions and self-control to find the true purpose of one's life.
Peter Thiel, the legendary venture capitalist behind some of Silicon Valley's biggest successes like Paypal and Facebook, was a philosophy major in college. He described the importance of philosophy in helping him learn "thinking for yourself":
"Convention cannot be a shortcut for truth. Silicon Valley is filled with conventional thinking... The future is what they are focused on and people are not sure about it with just a few markers. They will find shortcuts listening to someone else without knowing or figuring it out. The question of thinking for yourself and breaking convention is very important in Silicon Valley and other places."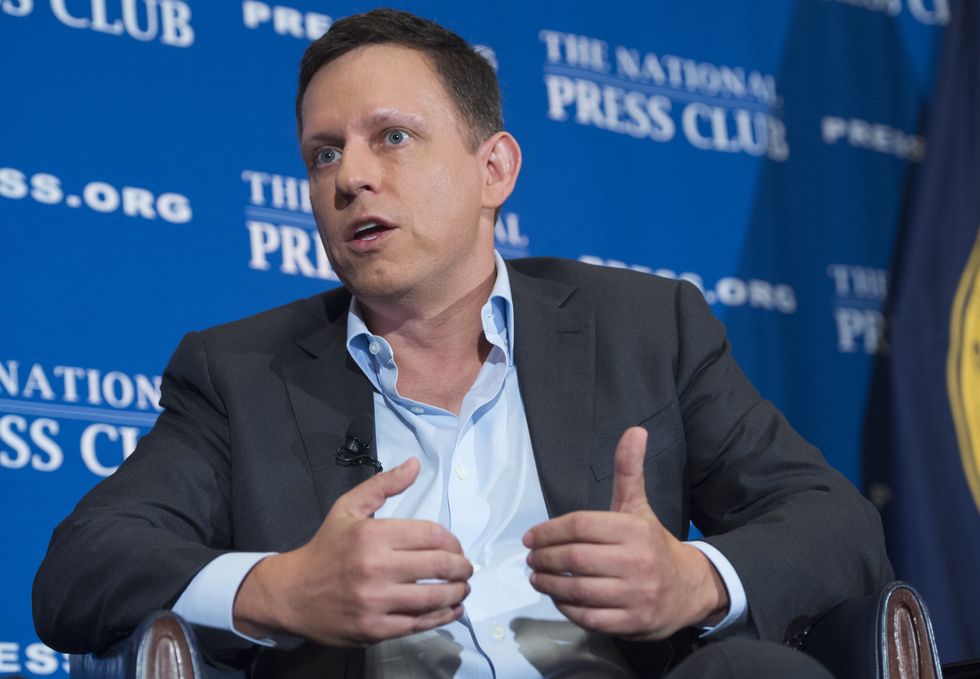 Peter Thiel, PayPal founder-turned-venture-capitalist, at the National Press Club in Washington, DC, October 31, 2016. (Photo credit: SAUL LOEB/AFP/Getty Images)
Other Silicon Valley philosopher-execs include Stewart Butterfield, the CEO of Slack, who has two philosophy degrees. Paul Graham, the co-founder of the world's first Y Combinator, a pioneer of startup funding and development, was also educated in philosophy. Reid Hoffman, the founder of LinkedIn, has a Masters in philosophy from Oxford. Carly Fiorina, former CEO of Hewlett-Packard and a recent Presidential candidate, was a philosophy major (along with medieval history) at Stanford. The founder of Facebook, Mark Zuckerberg, also appears to read philosophical texts and has previously recommended "The Structure of Scientific Revolutions" by the philosopher of science Thomas S. Kuhn to his millions of followers.
Elon Musk's growing relationship with President Trump can result in revolutionizing the country's aging infrastructure.
Elon Musk recently surprised many by tweeting out support for Rex Tillerson, President Trump's Secretary of State nominee. Seen as a champion of clean energy, Musk seemed unlikely to get so publicly behind Tillerson, given his past as the CEO of ExxonMobil, a fossil fuel powerhouse. While the support for Tillerson appears influenced by Musk's recent meeting with Trump, one issue in particular may explain why Musk would offer his endorsement - carbon tax.
He singled that out in a Twitter interview with Gizmodo, where he first noted that Tillerson was a "competent" executive: 
"Also, he [Rex Tillerson] has publicly acknowledged for years that a carbon tax could make sense. There is no better person to push for that to become a reality than Tillerson. This is what matters far more than pipelines or opening oil reserves. The unpriced externality must be priced."
Indeed, Tillerson has supported carbon tax since at least 2007 as a preferred form of environmental regulation. In a 2009 speech he called it "predictable, transparent, and comparatively simple to understand and implement."
What would the carbon tax do? It would essentially be a fee tied to the carbon content of fuels, levied for releasing carbon dioxide into the atmosphere. Its proponents think it would reduce such emissions and slow down climate change and be a simpler form of environmental regulation. Some forms of carbon tax have so far been enacted in Australia, Sweden and other countries.
Elon Musk elaborated on why the carbon tax is necessary by describing the production of carbon dioxide (CO2) as consumption of the common good, an action that should have a reasonable price. 
"The problem is the age-old tragedy of the commons. The common good being consumed is atmospheric and oceanic carbon capacity, which currently has a price of zero. This results in an error in market signals and far more CO2 is generated than should be. We won't ever go to zero CO2, but the rate over time should be dropped far below what it is today," said Musk.
In a previous interview at Sorbonne in France, Musk compared the carbon tax to garbage collection, with the tax being necessary to reflect the cost of the consequences of consuming carbon.
"It's not as though we should say, in the case of garbage, 'Have a garbage-free society.' It's very difficult to have a garbage-free society. But it's just important that people pay for the garbage collection." 
As to how exactly the carbon tax would be effective, Musk thinks a gradual approach will have the right impact.
"Start low and increase it until the desired outcome is achieved. This can be offset by a reduction in other taxes, like sales tax, which is quite regressive. This is analogous to taxing cigarettes and alcohol more than fruits and vegetables, which everybody agrees makes sense. We should have higher taxes on the things that science says are probably bad for us than those that are probably good for us," explained Musk.
What's more, Elon Musk apparently brought up the carbon tax in his meeting with Trump. With Musk said to enjoy a burgeoning relationship with Trump, united by big thinking and potential overlapping interests in infrastructure projects like updating the electrical grid, his championing of the carbon tax may prove crucial. Will President Trump embrace it? So far there is little indication this would happen but it's also just the beginning of the new administration's term.
Musk's take on updating the electrical grid includes making it smart, with a plan existing for Tesla to at some point offer grid services through batteries that can be added to the grid.
Other infrastructure projects from Musk's head that could appeal to President Trump include his SpaceX business, with plans to colonize Mars, his new tunneling business, and even Hyperloops. Musk's proposal for superfast travel via hyperloops is nearing reality, with a full test coming in the next three months.
The unlikely pairing of two iconic figures of the modern age could result in a relationship that benefits American infrastructure for generations to come. Another visionary and controversial billionaire Peter Thiel, who has been close to both men, called them surprisingly similar - a factor that might prove deciding in such a partnership.
"I'm going to get in trouble, but they are [similar], actually," Thiel told the New York Times. "They're both grandmaster-level salespeople and these very much larger-than-life figures."
Cover photo:
U.S. President Donald Trump (C) greets Wendell Weeks (R) of Corning, Elon Musk of SpaceX (L) and other other business leaders as he arrives for a meeting in the Roosevelt Room at the White House January 23, 2017 in Washington, DC. (Photo by Chip Somodevilla/Getty Images)
Silicon Valley's entrepreneurial trends go through births and deaths, revolutionizing business attitudes before turning stale. Tim Ferris explains two trends: one near its death, the other very much alive and kicking.
There are two start-up trends that are sweeping Silicon Valley and beyond: one, says Tim Ferriss, needs to be redefined, and the other needs to be more widely activated. The first has gained so much popularity it has become a motto: "fail fast, fail forward". Ferriss is concerned that we're fetishizing failure as something harmless that only leads upwards, when in reality in some industries it can be quite deadly. The second is the practice of absurd questions. Billionaire investor Peter Thiel will look at a business plan and say to its creator: "Why can't you accomplish your ten-year plan in the next six months?" Asking seemingly crazy questions, and setting hypothetical limits (such as, "how would you hit your goal in the same time by working only 2 hours per week?"), forces divergent thinking and can prompt you to actually do what once seemed unthinkable. Tim Ferriss is the author of Tools of Titans: The Tactics, Routines, and Habits of Billionaires, Icons, and World-Class Performers.
Tim Ferriss' most recent book is Tools of Titans: The Tactics, Routines, and Habits of Billionaires, Icons, and World-Class Performers.