How exactly is COVID-19 affecting the opioid crisis?
(Photo by Drew Angerer/Getty Images)
Drug overdose deaths hit a record high in 2019, according to recent data from the Centers for Disease Control and Prevention.
The pandemic seems to be worsening the opioid crisis, possibly due to users' reluctance to visit hospitals, mental health problems, and disruptions to drug supply.
Still, it's too early to know exactly how the pandemic is transforming drug use in the U.S.
Opioid deaths in the U.S. are soaring amid the COVID-19 pandemic. Health experts say the overdose crisis is worsening as states with dwindling revenues cut funding for treatment programs.
At least 35 states have reported increases in fatal opioid overdoses this year, according to a recent report from STAT. Nationally, relapse rates and use of new synthetic opioids are on the rise, while drug overdose deaths have risen by an average of 13 percent, according to data obtained by The New York Times. In Chicago, officials have already logged 773 opioid deaths between January 1 and July 13. That's up from 605 during the same period last year.
Alarmingly, the opioid crisis was already worsening before the COVID-19 pandemic. In 2019, the U.S. logged nearly 71,000 drug overdose deaths, more than half of which were attributed to opioids, according to preliminary data released Wednesday by the US Centers for Disease Control and Prevention's National Center for Health Statistics. That's about a 5 percent increase from 2018.
Facing falling revenues due to economic turmoil caused by the pandemic, some states are cutting funding for treatment programs and other addiction-related services. STAT reports, for example, that Georgia, New Jersey, Florida and Utah have already cut millions in funding for future drug treatment programs.
Meanwhile, nearly half of syringe service programs in the U.S. have reported closures or other service disruptions since the pandemic began, according to a survey from the North American Syringe Exchange Network.
CDC
"Policymakers are faced with impossible choices," Jodi Manz, project director for chronic and vulnerable populations at the National Academy for State Health Policy, told STAT. "Leaders are being put in situations where they thought they had really significant revenue from the prior year, and just overnight were faced with a very, very different revenue situation."
The side effects of the pandemic may be worsening the problem, too. For example, stay-at-home orders may put Americans at higher risk of using or relapsing drugs, especially when you consider widespread job losses.
"Social isolation has always been a huge component of drug overdose risk," Traci Green, an epidemiologist at Brown University who studies drug addiction, told The New York Times. "So much of what we've been trying to do has been completely unraveled."
But perhaps more concerning amid the pandemic is drug users' reluctance to visit hospitals. In Illinois, for example, emergency rooms across Cook County Health have reported a surge in opioid deaths, but no corresponding surge in emergency-room visits for opioids.
A deposit box for used hypodermic needles stands in a park in the South Bronx on March 13, 2019 in New York City.
Photo by Spencer Platt/Getty Images)
"This is extremely alarming because an opioid overdose patient will likely live if given naloxone in the ambulance and opioid overdose deaths in the emergency department are a rare event," Dr. Steve Aks, division chair of emergency medicine and toxicology at Cook County Health, told ABC 7 Chicago.
"Due to the pandemic, we asked individuals to stay at home unless it is an emergency — an overdose is an emergency."
Another reason the pandemic may be exacerbating the opioid crisis is that it's disrupting regular habits and drug supply. For example, cash-strapped users may be taking unusually long breaks between taking opioids, which would lower their tolerance. This would also increase their risk for overdose.
Still, it's still too early to determine exactly how the pandemic is affecting the opioid crisis in the United States.
"Nobody has hard data yet; they just don't," Patrick Trainor, a spokesman for the Drug Enforcement Administration in Philadelphia, told The New York Times.
What the addiction treatment community does know, however, are some basic steps that help to save lives, as journalist Maia Szalavitz told Big Think in 2019:
"I think in order to help deal with opioid addiction, for one we need to have naloxone in every first aid kit. There is absolutely no reason why people who are surrounded by other people should ever die of an overdose. If you are injecting and other people are there—which is the case 50 to 60 percent of the time—naloxone should be there.
"And this is not going to encourage more drug use, because it's an awful experience to get awakened with naloxone, but it will save lives. And so that's one way we can turn the tide on this.
"The other way that I think we can turn the tide on opioid addiction is we really need to provide greater access to drugs like methadone and Suboxone, which is also called buprenorphine."
This could lead to new pain relievers that mute the sensation without increasing the risk of addiction.
The Sopranos. Credit: Getty Images.
Pain is the body's way of protecting itself, and communicating to our conscious mind that something is terribly wrong. We all have varying sensitivity to it. Recent research has found that how sensitive or tolerant you are to pain depends on your genetic makeup. Today, 25 million Americans suffer from chronic pain. That's about 11% of the population. This is moderate to severe pain occurring every day for three straight months. 
Experts say the chronic pain epidemic has contributed heavily to the opioid crisis. Because of this, medical researchers have been looking to find a pain control method that isn't addictive. Unfortunately, we don't have a good grip of all the ins and outs of pain and how it works in the central and parasympathetic nervous system. But advancements in this understanding are happening all the time. For instance, we've recently learned that genes may have more to do with it than we thought.
Take the curious case of an Italian family who can hardly feel pain. Researchers at University College London (UCL) recently identified the Marsili family and the genetic underpinnings of a condition they all share, congenital insensitivity to pain (CIP). The family includes a 78-year-old grandmother, her two daughters and their three children.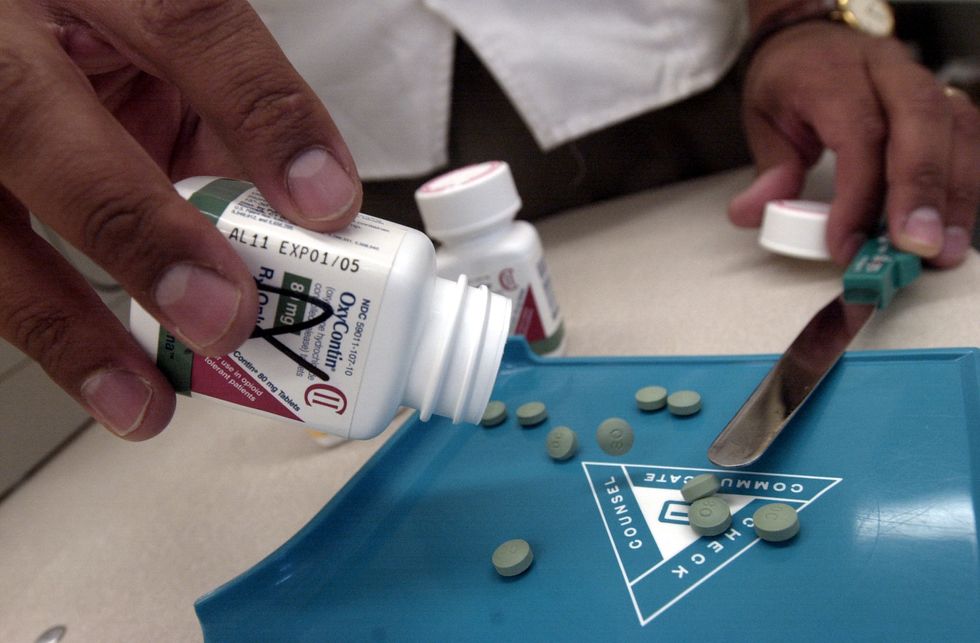 Since our understanding of pain is limited, we rely on opioid painkillers for chronic pain. But these are highly addictive and not very effective long-term. Credit: Getty Images.
Those with CIP hardly feel any pain at all. While that may sound like a euphoric lifestyle, the condition means people can easily hurt themselves, very seriously, without even noticing it. Children with it have little to prevent them from taking part in reckless behavior. Moreover, should one be unlucky enough to develop a health problem where pain is the symptom that tells that something is wrong, that illness can develop until it's in a late stage, unbeknownst to the person who has it.
When UCL experts examined the family, they found that some of them had fractures they weren't even aware of. James Cox was one researcher on this project. He hails from the University's Wolfson Institute for Biomedical Research.
Cox told New Scientist, "Sometimes they feel pain in the initial break but it goes away very quickly. For example, Letizia broke her shoulder while skiing, but then kept skiing for the rest of the day and drove home. She didn't get it checked out until the next day." Cox said they can burn themselves and not feel a thing. And for those who enjoy the spicy tingle a chili pepper delivers, pity the poor members of the Marsili family, who are immune to such a sensation.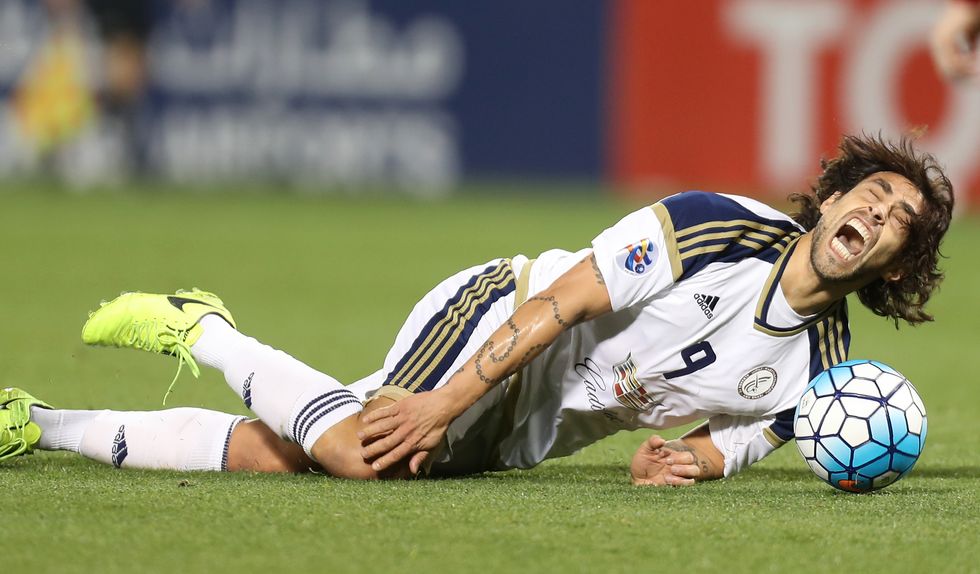 Not feeling the pain sensation sounds heavenly. Yet, we would miss recognizing when the body has been seriously injured. Credit: Getty Images.
Led by Cox, the researchers team conducted a series of experiments on the family. They found the Italians had a normal level of nerves on the surface of their skin, what's known as intra-epidermal nerve fiber density. Next, they studied the genomes of family members. Here, the scientists hit pay dirt. They found a mutation in the gene ZFHX2.
Next, they bred special mice without the gene. Cox and colleagues discovered they were far more tolerant to pain than normal mice. But counterintuitively, they became more sensitive to heat. This tells Cox and colleagues that the gene may play a role in regulating what pain sensations an individual experiences. This gene seems to control the activity of 16 of its counterparts, scientists say.
The next piece is to sort out how each gene involved in this network contributes or what role it plays. Cox and his team say more than one gene is involved. But this allows for the discovery of a new target, which could lead to the development of a novel, non-addictive pain reliever. As for the Marsili's, Cox and colleagues told them they might be able to knock out the mutation and give them normal pain sensations, but the family said they're good. They want to stay as they are.
Want to learn about a non-pharmaceutical method pain control? Click here:
A new report suggests Colorado's legalization of recreational marijuana might be reducing opioid deaths in the state.
David McNew - A budtender pours marijuana from a jar
One way for states to curb the opioid crisis might be to completely legalize another drug: marijuana.
According to a report set to run in November's edition of the American Journal of Public Health, the amount of opioid-related deaths dropped by 6.5 percent in Colorado during the two years following the legalization of recreational marijuana in 2014. 
"This reduction represents a reversal of the upward trend in opioid-related deaths in Colorado," the researchers wrote in the report. "Legalization of cannabis in Colorado was associated with short-term reductions in opioid-related deaths."
The researchers — from the University of North Texas, University of Florida and Emory University — analyzed opioid-related deaths in Colorado from the start of 2000 to the end of 2015. To determine whether it was recreational or medicinal marijuana that was potentially impacting opioid death rates, researchers compared data from Colorado with data from Nevada and Utah — states where only medicinal marijuana was legal during the time periods considered for the study.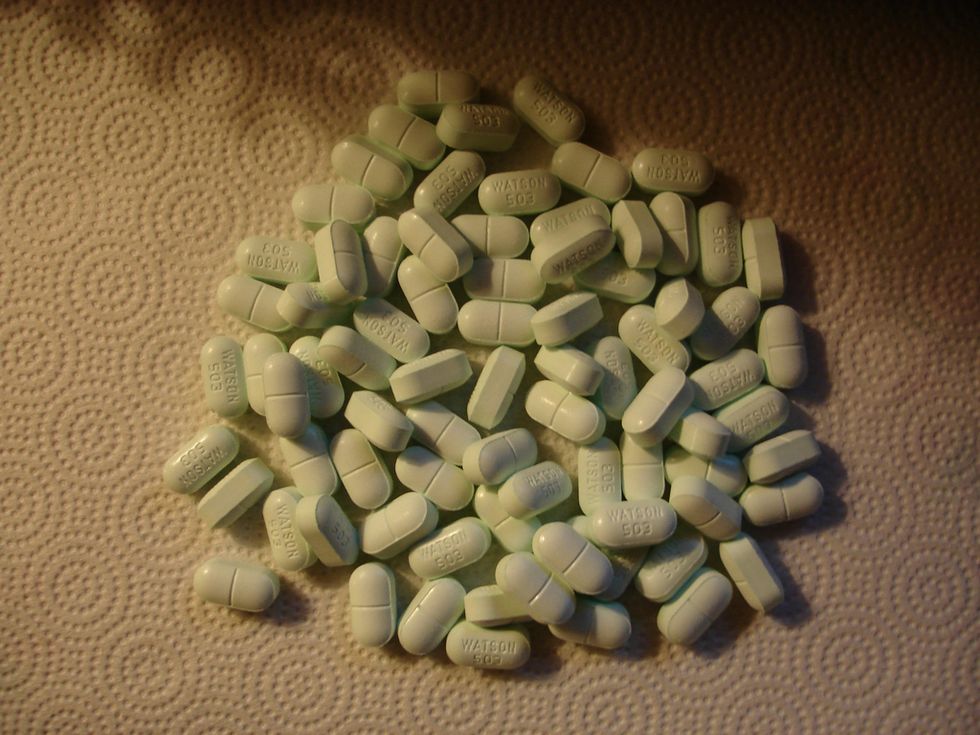 They also tried to account for changes in Colorado's prescription-drug-monitoring program, which in 2014 began requiring those prescribed opioids to sign up for, but necessarily use, the program.
While results showed a 6.5 percent reduction in opioid-related deaths — about one less death per month than in previous years — the researchers cautioned that further research is needed before drawing any strong conclusions.
"Although we found an apparent public health benefit in a reduction in opioid-related deaths following recreational cannabis legalization in Colorado, we note that expanded legalized cannabis use is also associated with significant potential harms," the authors wrote. "For policymakers to balance the potential beneficial and deleterious effects of these laws, researchers must continue to examine the full range of health effects in both clinic- and population-level research."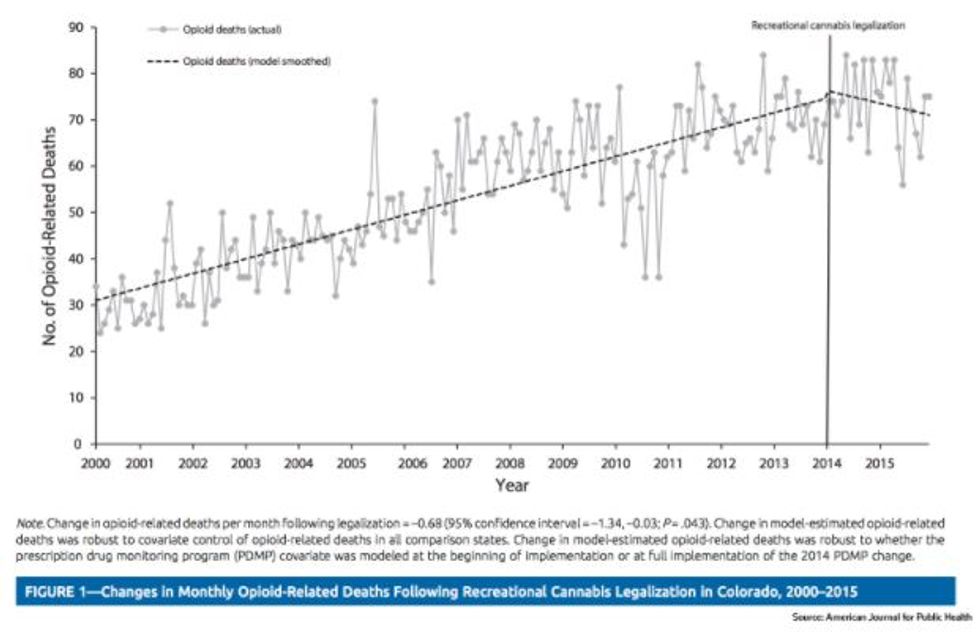 It's not the first study to look at the interaction between marijuana and opioids at the state level. A 2014 report showed that states that legalized medicinal marijuana had lower opioid-related deaths, and other research has shown that medicinal marijuana is effective at mitigating chronic pain. But the new report offers the first glimpse of how the accessibility of recreational marijuana might affect opioid abuse rates.
Still, some experts are wary of the conclusions people may draw.
"The whole thing is so convoluted, with so many different things going on in the marketplace," said Robert Valuck, professor at the University of Colorado-Denver's School of Pharmacy and Pharmaceutical Sciences and director at the Colorado Consortium for Prescription Drug Abuse Prevention, to the Denver Post. "It's virtually impossible to assign cause and effect or credit and blame to any one thing."
Valuck noted other factors in 2014 that could have contributed to the reduction: increased public education about the dangers of opioids, and "wider distribution of the overdose-reversing drug naloxone."
Another explanation for the downturn in opioid deaths is that people could be simply switching from one substance to another, namely heroin: deaths by heroin overdose doubled from 2011 to 2015, and the amount of heroin seized by police jumped by 1,562 percent during the same period.
The opioid crisis nationwide
The data on opioid-related deaths is startling. According to death rates released by National Center for Health Statistics, 59,520 people have died from opioids from September 2015 to September 2016. That's enough people to fill Chicago's Soldier Field, as the Washington Post notes. Opioid abuse kills about 100 people every day in the U.S., accounting for about six out of every 10 drug overdose deaths.
The future doesn't look any better. Most projections say opioid abuse will claim about 500,000 lives over the next decade, and that death rates won't begin to curb until at least 2020.
"It took us about 30 years to get into this mess," Valuck said to health news website STAT. "I don't think we're going to get out of it in two or three."
After consulting public health experts at 10 universities nationwide, STAT compiled a worst-case projection for opioid deaths over next decade that assumes doctors will continue freely prescribing the drugs.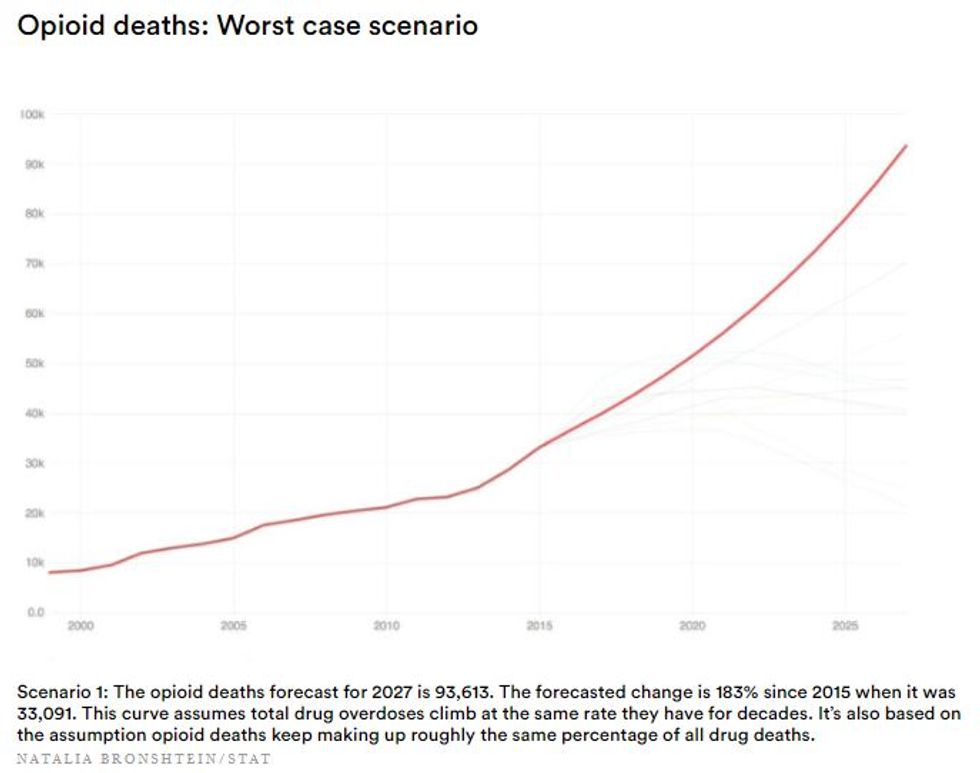 The publication also offered a best-case scenario, but cautioned that reaching those numbers "would require a major public investment in evidence-based treatment options and a concerted push among medical providers to control pain with non-narcotic therapies before trying prescription opioids."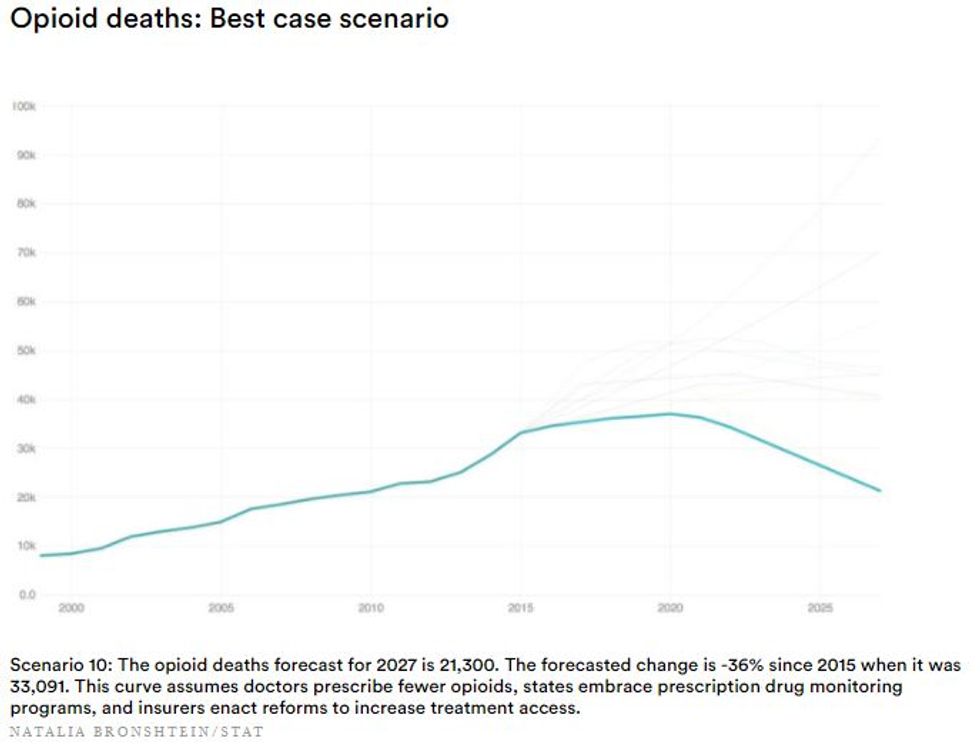 The recent report on Colorado may have stirred excitement, but most seem to agree that more evidence is needed before other states decide to legalize recreational marijuana for the purpose of reducing opioid abuse.
"Everybody wants the answer now because we want to know if this is a good idea or not," Valuck said to the Denver Post. "But the truth is we don't have the answer, and it's going to be a while until the jury comes back in."
Melvin Livingston, a co-author of the Colorado report, echoed that sentiment:
"Policy change shouldn't be based on the results from a single study of a single outcome."