Norway's decision to push drug felons through treatment is a huge step forward.
The question of whether to punish criminals or attempt to reform them is not new. While some are for maximum enforcement, including solitary confinement and the death penalty, others take the more humane route of trying to rehabilitate criminals to integrate back into society. 
This question is especially heated when discussing drugs. America's war has been a continual failure, from crack in the eighties through to opioids today. Defining what a drug is, how it can and can't be used, and who can use it has proven to be more about politics and corporate interests than biology. Sugar is the most potent and deadly drug on the planet today, yet it is widely available, cheap, and celebrated. 
So integrated into the fabric of society has sugar become that even the mention of it as a "drug" is certain to incite scoffs and sneers. We know alcohol is a drug, yet since it's also wildly sanctioned (and wildly taxed) we consider it not to be that bad. Ditto cigarettes, even if those two kill hundreds of thousands more people a year than marijuana. Pull back far enough and everything we ingest is a drug, since everything results in a chemical reaction in our bodies. 
Some countries are realizing this. Norway recently voted to completely decriminalize illegal drugs, as well as send offenders through treatment instead of prison. While parliamentary support for this bill has passed, it still must find its way through the government. 
Sveinung Stensland, a deputy chairman of the Storting Health Committee, commented on the decision:
The change will take some time, but that means a changed vision: Those who have a substance abuse problem should be treated as ill, and not as criminals with classical sanctions such as fines and imprisonment. 
This is no sudden decision; Norwegian politicians have been debating this for years. In 2001, Portugal decriminalized drugs, which has resulted in a drastic reduction in HIV infections, overdoses, and drug-related crime. In 2001, for example, HIV infection affected 104.2 new cases per million; by 2015 that number had dropped to 4.2 cases. 
Another big reaction was in social stigmatism. As The Guardian reports: 
The language began to shift, too. Those who had been referred to sneeringly as drogados (junkies)—became known more broadly, more sympathetically, and more accurately, as "people who use drugs" or "people with addiction disorders." This, too, was crucial.
João Goulão was one of two men behind Portugal's first CAT (Centros de Atendimento a Toxicodependentes, a rehab facility) in 1988. He helped draft legislation for decriminalization in 1997. He notes that Portugal is a conservative country. The decision was more financial and social than about liberty and freedom. But drug use in the eighties and nineties had spread to affect every family in the nation: 
There was a point when you could not find a single Portuguese family that wasn't affected. Every family had their addict, or addicts. This was universal in a way that the society felt: 'We have to do something.'
Twenty years later American families are struggling with an opioid epidemic that is still gaining force—fentanyl deaths increased 540 percent between 2014-2016. The 2017 data so far are not promising. 
It is well known that Richard Nixon tied addiction to crime in order to suppress minorities and political radicals in the seventies. That mindset forced American legislators—and the American public—to relate certain substances as bad and others as good, or least benign. Since opioids are tied to the white working class, there has been much criticism of opioids being treated as an opportunity for compassion and understanding while crack, an inner city problem, was seen as a blight to be eradicated. 
Full decriminalization might be the only way to sift through the scattered and conflicting reports on how substances act in our bodies. By understanding what drugs do and how they are either helpful or harmful, we can make appropriate decisions on how to treat their users.
Psychedelics such as psilocybin, MDMA, and LSD—all considered Schedule One substances, meaning they supposedly have no medical value—are proving to be clinically relevant for treating anxiety, depression, and end-of-life care. Marijuana is quickly becoming decriminalized on a state-by-state level as the positive effects of cannabinoids continue to roll in. 
Norway's decision to push felons through treatment is a step forward, though hopefully more detailed consideration of what drug each person is caught with will be taken into consideration. Heroin makes for a good candidate; marijuana, not so much, unless abuse level is truly crippling. That's the problem with blanket regulations on disparate substances: you're unfairly equating dissimilar drugs. 
That said, progress is progress. Let's hope America follows suit. First decriminalization, then a government-funded increase in technology and sugar addiction centers to combat our two main culprits. 
One can dream.
--
Derek Beres is the author of Whole Motion: Training Your Brain and Body For Optimal Health. Based in Los Angeles, he is working on a new book about spiritual consumerism. Stay in touch on Facebook and Twitter.
There is no end to philosophies on living a good life, just as there is no end to those wanting to sell you a program for doing so.
Photo by Yingchou Han on Unsplash.
There is no end to philosophies on living a good life, just as there is no end to those wanting to sell you a program for doing so, in the form of a book or through coaching. The world moves so fast, the story goes, and so we need to reconnect with nature. Forest bathe. Long walks. Declutter. Meditate.
Not that I'm disagreeing with such practices. I like the philosophy of slow food even if I find taking eighty bites challenging and tedious. Long walks in the woods? Whenever I can. Meditation? A little every day, some days more successfully than others. Relaxing our pace is necessary. In a world of perpetual marketing I often remind myself the discipline does not depend upon the salesman. 
Few cultures have put forward a lifestyle as chillaxing as the Danes. In 2016 hygge, a word that means "a form of everyday togetherness" in both Danish and Norwegian, was the runner-up word of the year in Collins English Dictionary. (It lost to the anxiety-ridden Brexit.) The general idea is to create cozy atmospheres in order to promote well-being—KonMari sans mystical obsessiveness.
A lifestyle, of course, is a way of being that accrues benefits over time. Yet in our trendy world of "next best thing" Vogue has already announced that the hygge phenomenon is waning. Cozying is for cold months; we now want something for the swelter. And the winner is friluftsliv.
Friluftsliv was dreamed up by Norwegian playwright Henrik Ibsen in an 1859 poem. It translates as "free air life." Like forest bathing—you'll find the most information about it on shinrin-yoku websites—the concept promotes well-being through activities like camping and hiking. TheGuardian says there's a bit more to it: 
Practitioners say it's more complex than that, and though it covers everything from walking and dancing outdoors to sleeping under the stars, it is in some profound way about communing with nature.
This is where snark is pushed aside for the reality of engaging with the environment. I've lived in cities my entire adult life: New Brunswick, Hackensack, Jersey City, Brooklyn, and Los Angeles, all places that make it quite easy to avoid nature. Fortunately growing up in a New Jersey suburb offered me access to somewhat rural regions of East Brunswick and Monroe, while working in Princeton as a reporter pushed me deep into South Jersey. I've done my best to stay connected with the actual earth, and not only on surfaces we've laid over it, whenever possible.
Los Angeles is certainly easier to accomplish this in than Brooklyn, considering you can't miss the mountains or ocean. Yet still I come across people who live blocks from the Pacific whose feet never touch sand. Topanga State Park is only 15 minutes away and many—most—never climb up it. When roads are paved and climate is controlled with buttons Americans default to the path of least resistance. Yet we have much to learn from our Nordic friends. 
Being an urbanite does not by necessity equate to sticking to level ground. One blogger puts it this way: 
Although only 20% of Norwegians live in rural areas, even those who reside in large cities such as Oslo are surrounded by parks, woodland and fjords. It's said that you only have to walk for an hour out of a city centre to be surrounded by wilderness.
Few people walk in Los Angeles, which is part of the problem. If it's not part of your everyday it's going to be hard to inspire longer versions of what you never do to begin with. Another problem is the lack of public parks in LA, a phenomenon Malcolm Gladwell takes to task in the first episode of the second season of his podcast, Revisionist History. 
What's missed in the selling of the lifestyle instead of the living of it is that nature takes work. Our ancestors didn't always enjoy loafing on riverbanks and in trees. They were battling their environment every step of the way. In some parts of the world that's still the case. Yet in leisure cultures we'll take a hike provided we don't have to work that hard or drive that far to get to it. And that's a tragedy. 
I'm a fan of cities. I like the diversity of people who live in them. I prefer to live in so-called blue districts for the simple fact that a chorus of voices and nations are represented in them. But it's too bad that for the most part these areas are filled with buildings and roads and cars and excessive populations. There are plenty of trees in my hood, but let's be honest: trees don't naturally grow from two-foot wide strips of sod wedged between roads and sidewalks.
Adopting a trend is vastly different than living a lifestyle, and it's hard to push against the grain of your immediate surroundings. Part of the key is finding people supportive of outdoor culture, which for me means annual trips to Portland and the Oregon Coast to soak in a tribe that lives for climbing tall surfaces. Emma Lavelle, the blogger from above, finds the same sense of purpose in Norway: 
There's also a general ethos of wellbeing that is ingrained in Norwegian society. It's understood how being among nature can reduce stress, boost creativity and increase happiness; exercising outdoors is actively encouraged. Flindall talks about how family activities and socialising within work are centred on friluftsliv.
While publishers are battling over whether hygge or friluftsliv will sell more high-end coffee table books, the benefits of well-being accumulate from practicing the philosophy, not reading about it or presenting it for others to see. What matters is living it, not declaring it a lifestyle that will only be usurped by another next season. 
There's irony in even calling "the outdoors" a lifestyle, considering it's where we all originate. Of course we're happier and healthier in an environment that birthed us. Time to turn off the screen and return to where we belong. 
--
Derek's is the author of Whole Motion: Training Your Brain and Body For Optimal Health. Based in Los Angeles he is working on a new book about spiritual consumerism. Stay in touch on Facebook and Twitter.
The Svalbard Global Seed Vault holds the world's largest collection of seeds, for safekeeping.
A man drops a precious parcel of seeds at the Svalbard Global Seed Vault (SGSV) in the Arctic. (Photo: JUNGE, HEIKO/AFP/Getty Images)
This is Svalbard, Norway.
Image source: ginger_polina_bublik/Shutterstock
It's about midway between mainland Norway and the North Pole. It's frigid up there, and polar night lasts from October 26th to February 14th. Deep down underground, within the permafrost, it's about -18° C (-0.4° F). That's where the "Doomsday Vault" is. It's the world's backup supply of seeds in the event of catastrophe. There are currently 930,821 samples stored down there, with 50,000 seeds from around the world having just been deposited in mid-February 2017.
Image source: ginger_polina_bublik/Shutterstock
The storage facility is officially the Svalbard Global Seed Vault (SGSV), and it can hold up to 4.5 million varieties of crops — each of which contains an average of 500 seeds — for a maximum of 2.5 billion seeds. And there are actually three vaults, only one of which is in use so far. That vault holds the world's largest collection of crops.

Svalbard is a global cooperative effort to provide a fail-safe for the earth's food supply, and protector of the world's agricultural genetic diversity. It's operated by the Global Crop Diversity Trust — the samples in the vault are from nearly every country. The SGSV's goal is to allow us to grow the foods we depend on whatever happens, including climate change or a malfunction at, or destruction of, any of the world's 1,700-plus local genebanks.
Among the 50,000 seeds added in February are replacement seeds from Syria, the first country to make a withdrawal from Svalbard. They made it in 2015 as the approaching battle in Aleppo threatened the International Center for Agricultural Research in the Dry Areas (ICARDA) there. ICARDIA decided for safety's sake to continue its breeding program in Morocco and Lebanon, far from the conflict, and so they withdrew their seeds. The deposit this week restores them, along with seeds from the UK, Benin, India, Pakistan, Mexico, the Netherlands, the US, Bosnia and Herzegovina, and Belarus.
SGSV opened in February 2008, and it's designed to withstand basically everything its planners could think of: earthquakes, bombs, even global warming.
It's ideally situated for a few reasons. It's sited in the side of a geologically stable mountain, well above sea level so even if the arctic ice melts, its contents should be fine. It's also dry and naturally cold enough that if the power goes out and the refrigeration system ever fails, the permafrost can take care of the seeds. And finally, Svalbard is the northernmost location that a person can reach on a scheduled flight, making it internationally accessible.
Upon arrival, the seeds are transported down through three corridors, each one colder than the last, to the vault area, 120 meters (393.7 feet) below the surface.
The vault uses a "black box system." All seeds are deposited in sealed packages and their depositors retain ownership and control access to them — the technicians and engineers at Svalbard never open them. Each packet is numbered and part of a database that identifies its contents. Only seeds shared under the Multilateral System, or seeds that originated in the depositor's country are accepted. And no GMO seeds.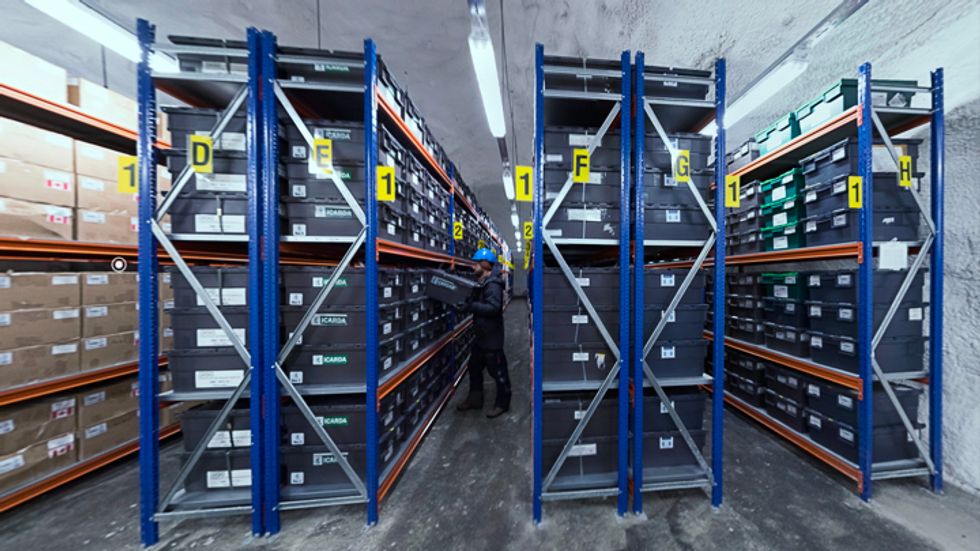 Simple, cold, and dry. (SGSV)
Having a backup like Svalbard isn't an inexpensive operation — Norway paid the original $9 million construction bill – but it may be well worth it, a hedge against a tragic loss of crop diversity and against destructive forces doled out by humankind and nature.
Surveys reveal the least religious, most atheistic population centers in the world.
Whether you fervently believe in a deity or flat our reject any religious teachings, opting for an atheist mindset, chances are you would rather be surrounded by like-minded people. Outside of the extreme religious control exercised by ISIS or the state-mandated atheism of countries like North Korea, most places are somewhere in between on the religiosity scale. But if you wanted to know what is the most "godless" place you can live, where would you go?
This place is most likely a city, at least according to how some scientists have described atheists. 
"Those with no religious affiliation have been found to be younger, mostly male, with higher levels of education and income, more liberal, but also more unhappy and more alienated from wider society," said Benjamin Beit-Hallahmi, professor of psychology at the University of Haifa, about atheists in a psychological profile.
To biopsychologist and author Nigel Barber, these people are more likely to be in a major population center, and not a rural area, because cities tend to be more prosperous, and as such their inhabitants will feel less need for religion. In fact, he thinks that by 2038 most countries will have less than 50% of their populace thinking that religion is important to them, crossing what he calls "the atheist threshold". 
What are some places that have already passed this point?
In a WIN/GALLUP survey from 2015, China was declared the world's least religious country, with twice the amount of "convinced atheists" (at 61%) than any other country. Following it was Japan at 31% and the Czech Republic at 30%. In general, Western Europe was the least religious area according to the survey, with 51% of the population either not religious or decidedly atheist. Scandinavia, in particular, often leads the way in such polls, as Sweden, Denmark and Norway have large populations of non-believers. 
What about specific cities?
Berlin has been called the "atheist capital of Europe" since 60% of Berliners do not associate with any religion. 
As far as the U.K. is concerned, according to a 2011 Census, Norwich had the most people (42.5%) marking "no religion". This is compared with 25.1% for the whole of England and Wales.
In the U.S., the American Bible Society's rankings for 2016 point to Albany/Schenectady/Troy area in New York State as being the least "Bible-minded," which means only 10% of the respondents there read the Bible in the last week and lead their lives accordingly. Boston was the least Bible-minded city in the survey, with just 11% of its population having the book as a part of their lives.  
The most Bible-friendly city? Chattanooga, Tennessee. Not surprisingly, the South leads the U.S in religiosity, with cities in Tennessee, Alabama, Virginia and Louisiana topping the chart. 
In a separate survey, the 2016 Public Religion Research Institute identified Portland, Seattle and San Francisco as the least religious cities in America, with 37% of the people there practicing no religion. Boston was number 8 in their findings. 
So what is the least religious city in the world? While the numbers could surely vary based on how you define religiosity, the largest city in China, the least religious country in the world, would likely be the most atheist population center in the world. And that would be Shanghai, a city of 24 million people of whom 86.9% say they are not affiliated with any religion. That could amount to about 21 million atheists. 
Cover photo: A man flies kite at The Bund on December 5, 2013 in Shanghai, China. Heavy smog hit northern and eastern parts of China, disturbing the traffic, worsening air pollution and forcing the closure of schools. (Photo by VCG/VCG via Getty Images)
Norway, Europe's largest petroleum producer, makes an unprecedented commitment to green energy.
Norway's major parties agreed to a proposal to ban the sale of new gasoline and diesel-powered cars starting in 2025. This hasn't yet become law, but marks the first time a nation has taken such a dramatic step towards green energy.  
While 20-24% of Norway's cars are already fully electric, this still marks a significant transformation for a nation that is Europe's largest petroleum producer, with 20% of its GDP and 45% of its exports consisting of fossil fuels.
Who is most excited about this turn of events? Elon Musk tweeted some enthusiastic support, as his electric car company Tesla would certainly benefit from such a seismic shift.
Just heard that Norway will ban new sales of fuel cars in 2025. What an amazingly awesome country. You guys rock!! pic.twitter.com/uAXuBkDYuR
— Elon Musk (@elonmusk) June 3, 2016