It's never too late to start strengthening your brain.
Photo: Shutterstock
Cognitive reserve is your mind's ability to resist damage to your brain.
Brain reserve refers to the brain structures that provide resilience against neurodegenerative diseases.
A certain number of people with Alzheimer's pathology never show symptoms; there are methods for developing this skill.
Not all brains are built equally. How you treat what you're given, however, matters. Around the world, 50 million people suffer from diseases of dementia. Ten million new cases appear every year. The neurodegenerative Alzheimer's disease accounts for 60-70 percent of these cases, making it one of the elderly's greatest challenges.
Fortunately, there are methods for keeping dementia at bay. Some people with Alzheimer's pathology never show symptoms of the disease. It all has to do with building up a brain reserve.
What are brain reserve and cognitive reserve?
Cognitive reserve is an individual's ability to avoid cognitive symptoms even when affected by a pathology such as Alzheimer's disease. This concept refers to one's ability to improvise in order to maintain healthy cognition, which requires co-opting other brain regions to accomplish new tasks. Your brain is flexible enough to change operational patterns to deal with challenges in novel ways.
Brain reserve specifically references individual differences in the brain's structural properties that affords one resilience against neurodegenerative diseases. An individual with a substantial brain reserve is able to tolerate age-related changes without showing clinical symptoms of disease.
Specifically, "The term 'cognitive reserve' is thus meant to represent physiological robustness within functional brain networks, while the term 'brain reserve' refers to differences in available structural neural substrates." Another way to think about it: consider brain reserve the hardware while cognitive reserve is the software running inside of it. The term that encompasses both is global reserve.
What you can do to prevent Alzheimer's | Lisa Genova
What is the physiology of brain reserve?
The cerebellum is one brain structure that contributes to brain reserve. Located at the rear of the brain, the cerebellum plays an essential role in motor control in humans. It is also involved in attentional capabilities, emotional control, and language processing. Damage to this region can result in poor motor and postural control.
The cerebellum is also the brain region that contains the highest number of neurons. This is important as numerous forms of brain plasticity occur there. This is what allows the brain to "change itself," as psychiatrist Norman Doidge phrased it. This skill—your brain's ability to change itself throughout your life through its ability to transfer functions to different regions—is the basis of cognitive reserve.
How it protects against Alzheimer's and other dementias
In a word: neuroplasticity. Doidge writes about a nun who, after suffering a stroke, continued to solve complex crossword puzzles until the day she died. There are other instances of teachers returning to work after having a stroke even though brain tissue associated with cognitive tasks has been destroyed. Their brains routed those tasks through other regions. People who are adept at any or all of the six skills below have a strong brain reserve, and therefore can recover from insults to the brain such as neurodegenerative disease.
Photo by David Matos / Unsplash
Six ways you can beef up your brain reserve
As with anything, the earlier you begin best practices, the better. That said, there is evidence that neuroplasticity is possible at any age. Maintaining optimal health through exercise, diet, maintaining strong social ties, getting enough sleep, not smoking, and limiting alcohol use are always important for brain health. The following six practices can help you build a strong brain reserve.
Never stop learning
As noted above, one nun kept her brain healthy by doing crossword puzzles. Learning a new language or musical instrument have also been shown to help keep your brain working optimally. As with physical exercise, brain exercises keep your neural connections growing. Curiosity is an essential trait for maintaining strong brain health as well. Remaining curious is one of the strongest protective measures for staving off diseases of dementia.
Sense matters
Utilizing all of your senses is crucial. That means stopping to smell the flowers. That also means being a tactile toucher—well, maybe not at the current moment, but in general. Listening to music is its own skill. Again, curiosity matters: if you're not an avid smeller, take a course in wine or perfumery. You're not only expanding a sense, you're helping strengthen your entire neurological structure.
Have faith…in yourself
Your relationship to aging matters. When middle-aged or older volunteers were exposed to negative stereotypes about aging, they performed worse on memory tasks. How you frame the inevitability of aging affects how you age. Resilience is a mindset. If you need inspiration, consider Tao Porchon-Lynch, who continued teaching yoga and ballroom dancing until her recent death at the age of 101. Whenever I practiced with her, she would laugh and say age is only a number, and her life proved it.
Make priorities
While offloading memory to your phone can have detrimental effects, doing so in order to prioritize things you have to remember—or to free up cognitive space to learn new skills—is a great use of technology. Keep your life simple by letting repetitive tasks be on auto-pilot so you can engage new challenges with full attention.
Say it aloud
There's an old trick that sometimes works when meeting someone new: say their name three times to remember their name. Not as in, "John, John, John." That's a quick way to lose a potential new friend. Think, "Nice to meet you, John." A little later, "Where do you work, John?" When departing, "Take care, John, hope to see you again." This trick not only applies to new people, but with everything you know. By repeating a fact or idea aloud or by writing it down, you're more likely to imprint it to mind.
Take your time
In the above example, repeating "John" three straight times is less effective than saying it three times over five minutes. If you commit a factoid to memory, space out the time you repeat it. Cramming overnight for an exam never works; studying for a half-hour every day for a week does. Take your time learning new skills as well as recalling what you already know. Your memory will thank you.
--
Stay in touch with Derek on Twitter and Facebook. His next book is "Hero's Dose: The Case For Psychedelics in Ritual and Therapy."
The case of a 7-year-old Australian boy who was supposed to lose sight at two weeks old but can still see has stunned scientists.
Credit: Inaki-Carril Mundinano, Juan Chen, Mitchell de Souza, Marc G. Sarossy, Marc F. Joanisse, Melvyn A. Goodale, James A. Bourne.
Researchers in Australia recently presented a study of a 7-year-old boy who is missing most of his visual cortex but surprisingly can still see. It is the first known case of this kind.
When he was only two weeks old, the boy suffered serious damage to his visual cortex, the part of the brain that manages sensory nerve impulses from our eyes, as a result of a rare metabolic disorder called medium-chain acyl-Co-A dehydrogenase deficiency. This condition prevents tissues from converting some types of fats into energy.
The boy, referred to only as "B.I." by the researchers from the Australian Regenerative Medicine Institute at Monash University, ended up without of his visual cortex. This is usually a situation that would result in cortical blindness, an illness where the brain can still get visual input but cannot process what it is seeing, making the person feel like they have sight but not actually allowing them to see. The boy, however, can see almost anything on par with other kids his age, able to play soccer or video games and read emotions on people's faces. 
The scientists studied the unusual case, hoping to understand what makes B.I.'s condition so unique. Through MRI-scanning they found a remarkable instance of the brain's neuroplasticity, with the boy's visual pathway of neural fibers in the back of the brain enlarged. This adaptation means that the pathway allows the boy to see by doing the work of the visual cortex.
"Despite the extensive bilateral occipital cortical damage, B.I. has extensive conscious visual abilities, is not blind, and can use vision to navigate his environment," write the researchers in the study.
You can read their study here.
It's the 1st observed psychedelic-caused molecular changes inside human neural tissue.
Neural organoid or "mini-brain." Credit: Johns Hopkins Bloomberg School of Public Health.
Yet, little is actually known about them from a scientific standpoint. The CIA conducted experiments in the mid-20th century to find out if psychedelics could make hypnosis easier, or help a soldier better withstand "privation, torture, and coercion."
Ken Kesey, author of the classic One Flew Over the Cuckoo's Nest, was one such test subject. The influence of the experience helped him and others birth the counterculture movement of the 1960s, which ultimately stood against the very system that had tested them in the first place.
There was a short window in the late '50s and early '60s where psychedelics were used in the psychiatric community to help patients overcome certain disorders. Iconic Hollywood actor Cary Grant is known to have undergone 100 such therapy sessions.  
Since the '60s, psychedelic drugs have become taboo and highly illegal. It's feared they cause psychosis, despite little actual data suggesting so. In recent years, a small but growing number of studies have returned to the pre-counterculture outlook—that they might help treat certain disorders. LSD, ayahuasca brew (containing DMT), and MDMA have all been shown to exhibit anti-inflammatory and antidepressant properties.
Did ancient shamans of North and South America know something that science is only catching onto? DMT, sometimes called the "spirit molecule," has been a part of shamanic traditions for hundreds of years. The chemical used in this study is a variant of DMT.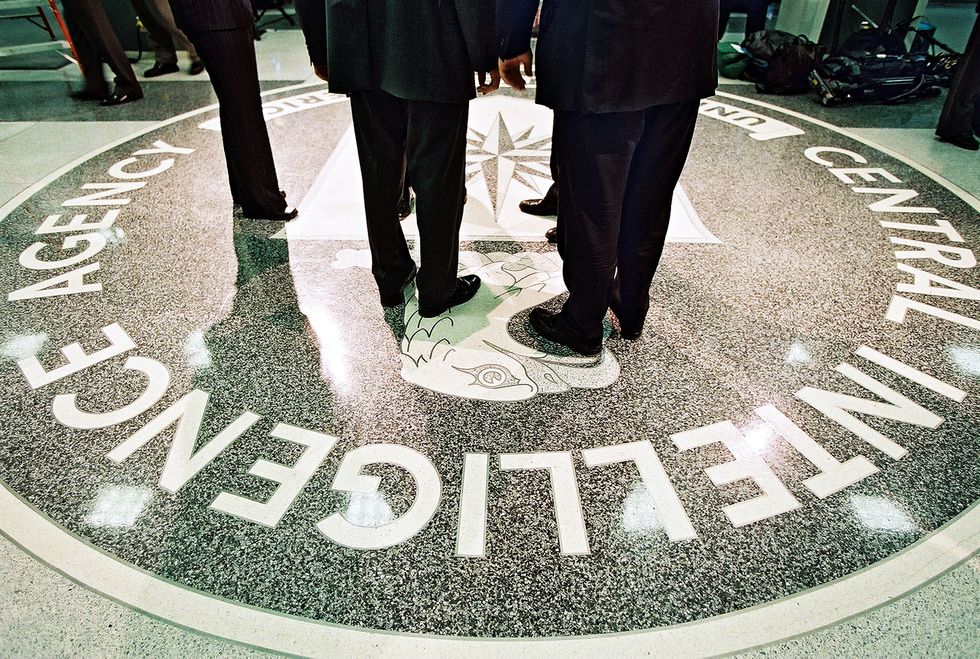 The CIA tested psychedelics on unsuspecting subjects to try and gain an edge during the Cold War. Credit: Getty Images.
So what's the breakthrough? Brazilian researchers have identified the signaling pathways that DMT takes in order to engage neuroplasticity (or changes inside the brain). The results of the study were published in the journal Scientific Reports.
Overall, scientists try to uphold things like research ethics. Plus, it's illegal to smoke DMT inside an fMRI machine. Or anywhere. So instead, investigators observed the effects the psychedelic had on so-called "mini-brains." These cerebral organoids are made up of 3D cultures of neural cells. They're grown from stem cells. Each mimics a brain inside a human fetus.
These neural organoids were first developed last year at Johns Hopkins University. Since they're lab grown, there aren't any thorny ethical issues to deal with. After dosing the mini-brains with DMT, scientists identified the neural pathways the chemical traveled which were later found to be associated with neurodegeneration and inflammation.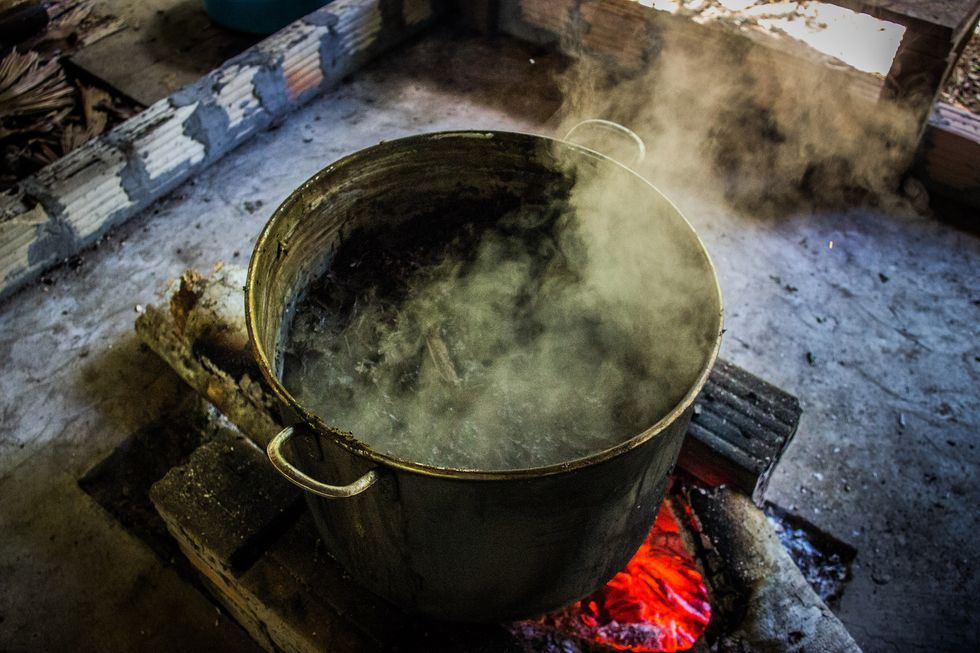 Many Westerners today are seeking out shamans to produce ayahuasca tea for their own psychological benefit. Science may back this up. But there could still be dangers. Credit: Apollo. Flickr.  
Researchers at the D'Or Institute for Research and Education conducted the study. They were led by Stevens Rehen, a professor at the Federal University of Rio de Janeiro (UFRJ). Prof. Rehen said, "For the first time we could describe psychedelic-related changes in the molecular functioning of human neural tissue."
He added, "Our study reinforces the hidden clinical potential of substances that are under legal restrictions, but which deserve attention of medical and scientific communities." Identifying these pathways has been a priority in the study of psychedelics. A lack of understanding exactly how these substances affect the brain has stunted the field, thus far.
Each mini-brain was given a single dose of the psychedelic 5-MeO-DMT. This compound comes from the dimethyltryptamine family. One might ingest it after licking a certain kind of toad, Incilius alvarius.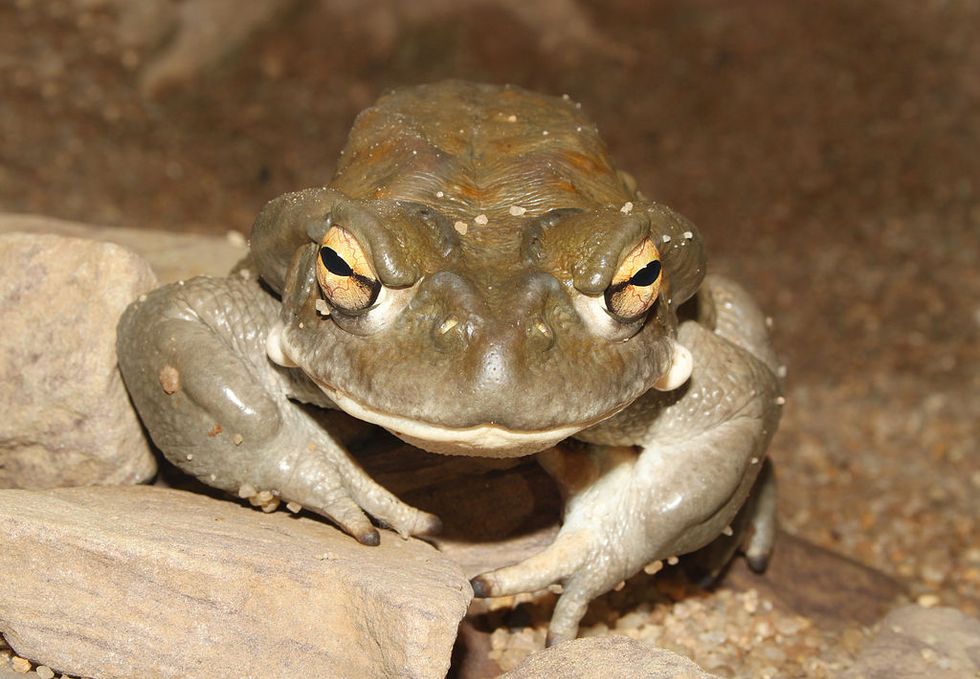 Colorado River toad toad (Incilius alvarius). Credit: H. Krisp [CC BY 3.0], via Wikimedia Commons.
Researchers used a technique known as mass spectrometry-based proteomics to analyze the mini-brains, once dosed. Nearly a thousand proteins were altered by the chemical, they found. Some were upregulated while others were downregulated. Then the scientists took these proteins and traced them back to what role they play inside the brain.
Prof. Rehen and colleagues found that this psychedelic may ward off brain lesions and inflammation, and inhibit neurodegeneration. This suggests it would be helpful as an antidepressant. Sidarta Ribeiro was a co-author on the study. He's the director of the Brain Institute at the Federal University of Rio Grande do Norte (UFRN). Ribeiro said, "Results suggest that classic psychedelics are powerful inducers of neuroplasticity, a tool of psychobiological transformation that we know very little about."
We still don't know enough about these substances, however. So no one should take them on their own, as they may have other downsides we just aren't privy to yet, and affect each person differently. More research is required before we can fully understand how these substances change the brain.
Given the high rate of depression these days, new treatment options are sorely needed. Perhaps someday a psychedelic, a derivative of one, or a synthetic based on one, will help patients overcome certain psychiatric disorders.
To learn more about science's rejuvenated interest of psychedelics, click here:
Here's why you should try to fit less—not more—into each day.
The other day a friend mentioned that he's looking forward to autonomous cars, as it will help lower the accident and fatality rates caused by distracted driving. True, was my initial reply, with a caveat: what we gain on the roads we lose in general attention. Having yet another place to be distracted does not add to our mental and social health. 
Little good comes from being distracted yet we seem incapable of focusing our attention. Among many qualities that suffer, recent research shows creativity takes a hit when you're constantly busy. Being able to switch between focus and daydreaming is an important skill that's reduced by insufferable busyness. As Stanford's Emma Seppälä writes: 
The idea is to balance linear thinking—which requires intense focus—with creative thinking, which is borne out of idleness. Switching between the two modes seems to be the optimal way to do good, inventive work.
She is not the first to point this out. Neuroscientist Daniel Levitin made a similar plea in his 2014 book, The Organized Mind. Information overload keeps us mired in noise. In 2011, he writes, Americans consumed five times as much information as 25 years prior; outside of work we process roughly 100,000 words every day. 
This saps us of not only willpower (of which we have a limited store) but creativity as well. He uses slightly different language than Seppälä—linear thinking is part of the central executive network, our brain's ability to focus, while creative thinking is part of our brain's default mode network. Levitin, himself a former music professional who engineered records by the Grateful Dead and Santana, writes: 
Artists recontextualize reality and offer visions that were previously invisible. Creativity engages the brain's daydreaming mode directly and stimulates the free flow and association of ideas, forging links between concepts and neural modes that might not otherwise be made.
Engaging creatively requires hitting the reset button, which means carving space in your day for lying around, meditating, or staring off into nothing. This is impossible when every free moment—at work, in line, at a red light—you're reaching for your phone. Your brain's attentional system becomes accustomed to constant stimulation; you grow antsy and irritable when you don't have that input. You're addicted to busyness. 
And that's dangerous for quality of life. As Seppälä points out many of the world's greatest minds made important discoveries while not doing much at all. Nikola Tesla had an insight about rotating magnetic fields on a leisurely walk in Budapest; Albert Einstein liked to chill out and listen to Mozart on breaks from intense thinking sessions. 
Paying homage to boredom—a valuable tool in the age of overload—journalist Michael Harris writes in The End of Absence that we start to value unimportant and fleeting sensations instead of what matters most. He prescribes less in the course of a normal day.
Perhaps we now need to engineer scarcity in our communications, in our interactions, and in the things we consume. Otherwise our lives become like a Morse code transmission that's lacking breaks—a swarm of noise blanketing the valuable data beneath. 
How to disconnect in a time when connection is demanded by bosses, peers, and friends? Seppälä makes four suggestions:
1. Make a long walk—without your phone—a part of your daily routine
2. Get out of your comfort zone
3. Make more time for fun and games
4. Alternate between doing focused work and activities that are less intellectually demanding
That last one is also recommended by Cal Newport, author of Deep Work. Newport is not on any social media and only checks email once a day, perhaps, and even that time is strictly regimented. What seems to be lost in being "connected" is really irreplaceable time gained to focus on projects. Without that time, he says, you're in danger of rewiring your neural patterns for distraction.
Spend enough time in a state of frenetic shallowness and you permanently reduce your capacity to perform deep work. 
That's not a good sign for those who wish to perform creatively, which in reality is all of us. Research shows that the fear of missing out (FOMO) increases anxiety and takes a toll on your health in the long run. Of all the things to suffer, creative thinking is one of our greatest losses. Regardless of your vocation a flexible mindset open to new ideas and approaches is invaluable. Losing it just to check on the latest tweet or post an irrelevant selfie is an avoidable but sadly sanctioned tragedy.
--
--
Derek is the author of Whole Motion: Training Your Brain and Body For Optimal Health. Based in Los Angeles, he is working on a new book about spiritual consumerism. Stay in touch on Facebook and Twitter.
That's a big yes, as an incredible new study from University of Melbourne researchers found.
Symbols matter. Companies spend tons of money and many patient months developing logos that represent the soul of their mission. The idea is to associate that mission with a visual symbol so that every time a consumer views the mark those ideals are inseparable from the graphic.
Could such a symbol affect personal creativity, however? That's what researchers aimed to find out when briefly exposing over 300 students to the Apple and IBM logos. By design, Apple wanted its brand to suggest creativity, whereas IBM has long been a stalwart of responsibility and integrity.
After subliminally exposing students to each logo researchers administered the unusual uses test, a measure for creativity in which you're shown an everyday object to test how many different applications you can dream up. Sure, a paper clip binds papers, but would you imagine it as an earring? One measure of the test is that it must be realistic—circumnavigating the planet flying on your magic clip is not an acceptable response.
As it turned out the students who were exposed to the Apple logo scored higher. As marketing and psychology professor Adam Alter writes: 
Merely exposing people to a symbol that implies creativity for less than a tenth of a second can cause them to think more creatively, even when they have no idea they've seen the symbol. 
Creativity is associated with ways of seeing, to borrow a phrase from John Berger, but could our actual visual perception affect creative output? That's what three Australian researchers tried to find out. Trading course credit for their time, 134 undergrads at the University of Melbourne were tested on binocular rivalry. Using a guide to five major personality traits, the researchers were especially interested on openness, which "predicts real-world creative achievements, as well as engagement in everyday creative pursuits."


Binocular rivalry. Image: Luke Smillie and Anna Antinori, University of Melbourne.
Two different images—in this case, a green patch and a red patch—were simultaneously presented to each eye of the participant. In some cases, "rivalry suppression" occurred, in which both images seem to blend to form one patchwork image. The researchers concluded: 
Across three experiments, we found that open people saw the fused or scrambled images for longer periods than the average person. Furthermore, they reported seeing this for even longer when experiencing a positive mood state similar to those that are known to boost creativity.
The more open you are, the more you see, which is why researchers have long used the following video to highlight the dangers of inattentional blindness—being so focused on one task you engage in a sort of tunnel vision (like stopping your car in the middle of the street to text). 
Thanks to neuroplasticity reorienting perception is possible at any age. How we see influences what we see, a bi-directional process that involves both inner beliefs and outside stimulation. As it turns out, our eyes have more influence over our mind than we might have believed. As psychiatrist Norman Doidge writes:
In the visual system, neuroplastic change begins not in the brain but in the eyes.
Doidge warns that too much screen time is limiting our perceptual relationship with the world, which therefore impedes our brain's ability to change. You cannot isolate your mental processes from your environment. By the same logic, your environment greatly influences your thoughts. Creativity is only one example of how we process stimulation, but it proves to be an important one for both survival and sheer enjoyment. If you want to be more creative, you have to open your eyes.
The Australian researchers cite cognitive training interventions and even psilocybin as potential catalysts for cultivating openness and thereby stimulating creativity. They also warn that too much openness has its own attendant dangers, such as hallucinations and other aspects of mental illness. As in the unusual uses test, your visions have to have some potential application in reality to be of any use.
--
Derek's next book, Whole Motion: Training Your Brain and Body For Optimal Health, will be published on 7/17 by Carrel/Skyhorse Publishing. He is based in Los Angeles. Stay in touch on Facebook and Twitter.