A neural network was trained to create its own cookbook recipes, resulting in some strange and unappetizing concoctions.
Do androids dream of cooking? That's the question Tom Brewe asked on GitHub after he successfully trained a neural network to invent its own cookbook recipes. 
Here are the ingredients for a dish called HAWAILIGELED PIE – sounds good, right?
  4 Carrots; finely chopped, drained   -- margarine chopped   1 c Sugar, diced (optional)   1 cn Ice Cream (cleaned)   Spread of fish slices   1 ea Green onions; chopped   2 oz Margarine, coarsely chopped   2 tb Sugar   1/2 c Olive oil   2 sm Eggs
The directions read "Cut into balls. The lettuce in a 10-inch baking sheet and serve with aluminum foil and dice."
The neural network generated other recipes for dishes like BARBARA PULP0ICE, BUFTHA DINGS and CHOCOLATE RANCH BARBECUE. 
Like the example above, the recipe directions are often just as absurd as the ingredients – one instructs you to beat butter until it's smooth and then drain on both sides of the refrigerator. 
How exactly does the network generate these bizarre ideas? Mostly by trial and error.
Artificial neural networks are computational models that learn by defining associations between things — images, words, letters — similar to how the human brain does. A recurrent neural network, the kind of network that was used to generate the cookbook recipes, analyzes the data it's given (cookbook recipes, in this case) and attempts to mimic it by generating text.
It then looks at what it's already said and uses probability to guess what to say next. The network learns through trial and error, improving with each iteration, like a toddler learning to speak.
"It's constantly making guesses, checking its guesses, refining its own internal neuron connections based on whether it's guessing right or now," said Janelle Shane, a research scientist who runs the blog lewisandquarks.
Shane thought the neural network-generated recipes were hilarious, like the one that called for a half-cup of shredded bourbon. She wanted to see what other kinds of recipes a neural network could conjure.
Someone is teaching a neural network to cook. And now I can't breathe. https://t.co/FXWrjR73b9 pic.twitter.com/TqRZumTmCx
— Justin Warren (@jpwarren) March 29, 2017
do androids dream of cooking?
They may look odd, but it's all part of Google's plan to solve a huge issue in machine learning: recognizing objects in images.
Google's artificial neural networks produce some trippy images thanks to its Deep Dream program (photo credit: Michael Tyka/Google)
When Google asked its neural network to dream, the machine begin to generating some pretty wild images. They may look odd, but it's all part of Google's plan to solve a huge issue in machine learning: recognizing objects in images.

To be clear, Google's software engineers didn't ask a computer to dream, but they did ask its neural network to alter the images based on an original photo they fed into it, by applying layers. This was all part of their Deep Dream program.
 
The purpose was to make it better at finding patterns, which computers are none too good at. So, engineers started by "teaching" the neural network to recognize certain objects by giving it 1.2 million images, complete with object classifications the computer could understand.

These classifications allowed Google's AI to learn to detect the different qualities of certain objects in an image, like a dog and a fork. But Google's engineers wanted to go one step further, which is where Deep Dream comes in, which allowed the neural network to add those hallucinogenic qualities to images.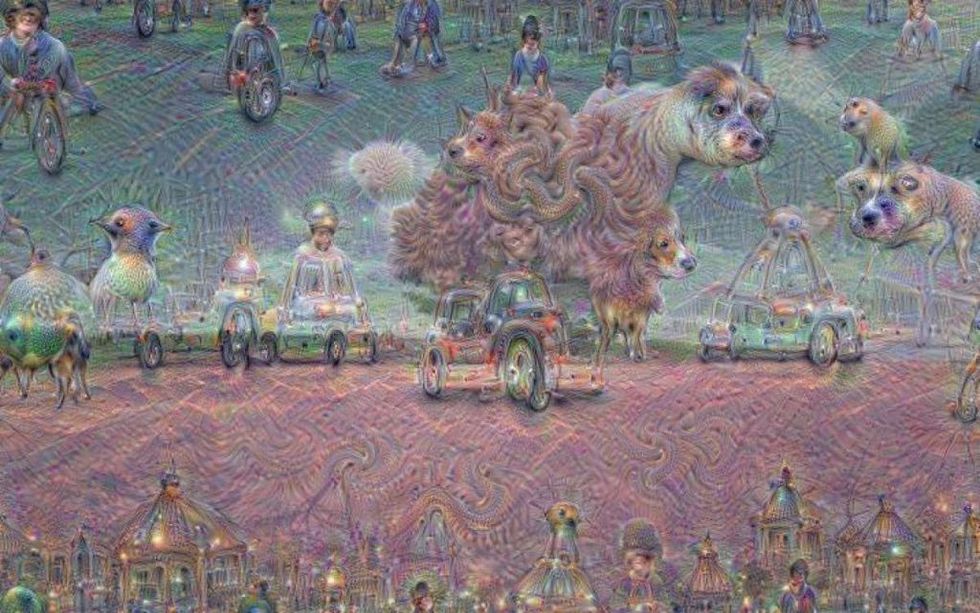 Google wanted to make its neural network better at detection to the point where it could pick out other objects in an image that may not contain that object (think of it as seeing the outline of a dog in the clouds). Deep Dream gave the computer the ability to change the rules and parameters of the images, which in turn allowed Google's AI to recognize objects the images didn't necessarily contain. So, an image might contain an image of a foot, but when it examined a few pixels of that image, it may have seen the outline of what looked like a dog's nose.

So, when researchers began to ask its neural network to tell them what other objects they might be able to see in an image of a mountain, tree, or plant, it came up with these interpretations: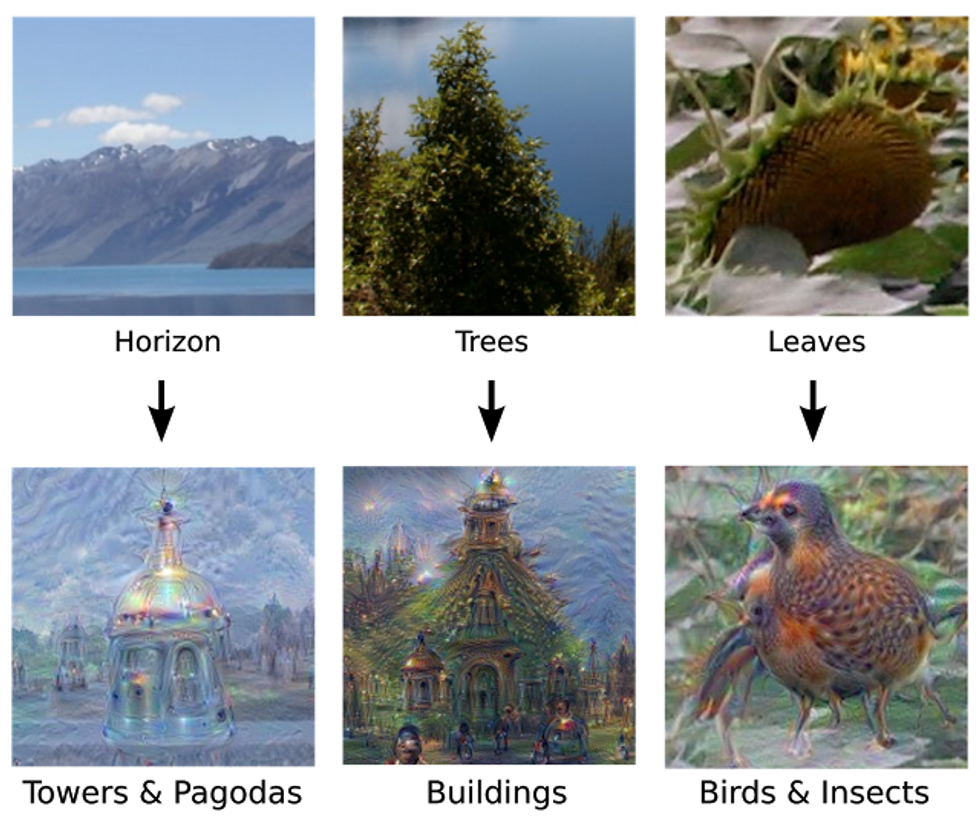 (Photo Credit: Michael Tyka/Google)
"The techniques presented here help us understand and visualize how neural networks are able to carry out difficult classification tasks, improve network architecture, and check what the network has learned during training," software engineers Alexander Mordvintsev and Christopher Olah, and intern Mike Tyka wrote in a post about Deep Dream. "It also makes us wonder whether neural networks could become a tool for artists—a new way to remix visual concepts—or perhaps even shed a little light on the roots of the creative process in general."
Just for fun, Google has opened up the tool to the public and you can generate your own Deep Dream art here: deepdreamgenerator.com
the-future-of-machine-learning