A thought experiment from 1867 leads scientists to design a groundbreaking information engine.
Their engine is the fastest ever such contraption, using information as "fuel."
The application of the technology may lie in nanotechnology and nano-biology.
Inspired by an 1867 thought experiment, researchers design an information engine.
Can information become a source of energy? Scientists from Simon Fraser University (SFU) in Canada devised an ultrafast engine that claims to operate on information, potentially opening up a groundbreaking new frontier in humanity's search for new kinds of fuel. The study, published in Proceedings of the National Academy of Sciences (PNAS), describes how the researchers turned the movements of tiny particles into stored energy.
Practical demon-keeping
How would an information engine even work? The idea for such a contraption, which at first sounds like it would break the laws of physics, was first proposed by the Scottish scientist James Clerk Maxwell back in 1867. Colorfully named "Maxwell's demon," such a machine would theoretically achieve something akin to perpetual motion. Maxwell's thought experiment was meant to show that it may be possible to violate the second law of thermodynamics, which basically states that the amount of entropy, or disorder, always increases.
Maxwell imagined a hypothetical creature, a demon, who would control the opening and closing of a tiny door between two gas chambers. The demon's goal would be to send fast-moving gas particles into one compartment and the slow ones to another. By doing this, one compartment would be hotter (containing faster molecules) and one cooler. The demon would essentially create a system with greater order and stored energy than what it started with. Without expending any energy, it would seemingly accomplish a decrease in entropy.
A 1929 paper on Maxwell's demon by the Hungarian physicist Leo Szilard actually showed that the thought experiment would not violate the second law of thermodynamics. The demon, proved Szilard, has to exert some amount of energy to figure out if the molecules were hot or cold.
Over 150 years later, researchers built a system that operates according to the ideas in Maxwell's thought experiment, turning information into "work."

SFU physics professor and senior author John Bechhoefer, who was involved in the experiments, explained in a press statement that their group "wanted to find out how fast an information engine can go and how much energy it can extract, so we made one."
SFU physics professor David Sivak, who led the theorists on the project, said their team made a significant advance in the design of the information engine, having "pushed its capabilities over ten times farther than other similar implementations, thus making it the current best-in-class."
Designing an information engine

Their design is akin to a microscopic particle that is submerged in water, while being attached to a spring that is, in turn, connected to a stage that can be moved up. The researchers, playing the role of Maxwell's demon, observe the particle going up or down due to thermal motion, then move the stage up if the particle randomly bounced upward. If it bounces down, they wait. As
elaborated
by PhD student Tushar Saha, "This ends up lifting the entire system using only information about the particle's position."
Caption: Schematic of the information engine. (A) Ratcheted spring-mass system under gravity. (B) Experimental realization using horizontal optical tweezers in a vertical gravitational field. Feedback operations on the right side in A and B are indicated by the small red "swoosh" arrows.Credit: TK Saha et al., PNAS, 2021.
Of course, a particle is too small to attach to a spring, so the actual set-up utilized an instrument known as an optical trap, which "uses a laser to create a force on the particle that mimics that of the spring and stage." As they repeated the process, without pulling the particle directly, the particle was raised to a "great height," storing up a large amount of gravitational energy, according to the researchers.
PhD student Tushar Saha working on the information ratchet, an experimental apparatus that lifts a heavy microscopic particle using information.Credit: Simon Fraser University
The amount of power this system generates is "comparable to molecular machinery in living cells," with "speeds comparable to fast-swimming bacteria," said postdoctoral fellow Jannik Ehrich.

While applications of this still-developing technology are yet to be fully explored, the researchers see potential uses in nanotechnology and nanobiology. Improving computing speed may also be a potential avenue to pursue, according to the researchers
Researchers design microdevices that can gradually deliver medicine by latching on to intestines.
Credit: Johns Hopkins University
A research team from Johns Hopkins University designs microdevices that can deliver medicine.
The tiny robots are based on parasite hookworms.
The machines can latch on to the intestines and gradually release pain-relieving drugs.
Researchers created tiny devices that can deliver drugs to the body by attaching themselves to a person's intestines.
The research team was led by engineering professor David Gracias and gastroenterologist Florin M. Selaru from Johns Hopkins University. The scientists took inspiration from the hookworm – parasitic worm that is known to dig its sharp teeth into the intestines of the host. The scientists created shape-shifting microdevices called "theragrippers" that can mimic the worm and latch on to the intestinal mucosa of a patient.
The six-pointed devices, each as large as a dust speck, are made of metal and thin film that can allow them to change shapes. They are covered by a heat-sensitive paraffin wax and have the potential to release a drug gradually into the body. This method improves upon other extended-release drugs that tend to go all the way through the gastrointestinal tract before fully dispensing all medicine.
"Normal constriction and relaxation of GI tract muscles make it impossible for extended-release drugs to stay in the intestine long enough for the patient to receive the full dose," explained Selaru." We've been working to solve this problem by designing these small drug carriers that can autonomously latch onto the intestinal mucosa and keep the drug load inside the GI tract for a desired duration of time."
The scientists say that thousands such devices can be let loose in a GI tract. As the wax coating on tiny robots matches the body's inside temperature, theraggrippers automatically close and latch on to the wall of the colon. As they do so and dig into the mucosa, they start slowly releasing the stored medicine. In time, the devices lose their grip on the intestine tissue and leave the organ through usual gastrointestinal function.
March of the microscopic robots
The very small robots don't rely on electricity or wireless signals, and don't have room for batteries, antennas, or any external controls, explained Gracias. Instead, the grippers work like "small, compressed springs with a temperature-triggered coating" which releases the stored energy.
In the trial, the researchers managed to fit about 6,000 such devices on a 3-inch silicon wafer. Experiments on rats showed a successful dispersion of pain-relieving drugs into the bloodstreams.
Check out the new study published in Science Advances.
Harvard engineers make a breakthrough polarization camera.
Harvard researchers create a tiny camera that can see polarization.
Seeing the invisible light can help in numerous applications, from self-driving cars to satellites.
The scientists used nanotechnology to achieve this feat.
Scientists from Harvard University created a device that offers us a view into a normally unseen world. Their new compact polarization camera promises to achieve in one shot an imaging of the direction of vibrating light, invisible to our eyes. While some polarization cameras currently exist, they are very bulky, with expensive moving parts and limited uses.
The thumb-size Harvard camera's creators see it as a breakthrough, with wide usefulness, from self-driving vehicles to satellites, planes, facial recognition, security and chemistry applications.
The research was carried out by a team from the Harvard John A. Paulson School of Engineering and Applied Sciences (SEAS).
Federico Capasso, professor of applied physics and senior researcher in electrical engineering at SEAS as well as senior author of the paper, called their study "game-changing for imaging."
"Most cameras can typically only detect the intensity and color of light but can't see polarization," he said. "This camera is a new eye on reality, allowing us to reveal how light is reflected and transmitted by the world around us."
Paul Chevalier, a postdoctoral fellow at SEAS and co-author of the study, explained that because polarization is a trait of light that changes when reflected from a surface, it can be helpful to reconstructing objects in 3D, allowing for better estimates of depth, texture and shape.
The team's accomplishment was in employing metasurfaces, nanoscale structures that have interaction with light at the scale of wavelengths, shared Harvard's press release.
Building upon new knowledge of how polarized light works, the team was able to create a metasurface that directed light and formed four images. Combined, these gave a full, pixel-deep snapshot of polarization.
Another advantage of the device – it's just 2 centimeters in length and can be worked into existing imaging systems like cell phone cameras.
Check out how the camera works here:
You can read the new study "Matrix Fourier optics enables a compact full-Stokes polarization camera" in Science.
One researcher called it "the ultimate in the miniaturization of machinery."
Arm of a molecular robot. Photo: Nature.
We marvel at movies like Ant Man, Inner Space, and Fantastic Voyage, where someone or something can shrink down to the nanoscale and navigate a microscopic world. Although shrinking something down with some type of laser or energy field is all but impossible today, we are beginning to exact more and more control over tinier and tinier environments.
The new and growing branch of nanotechnology promises much. In the near future, experts predict that nanosensors will be used inside our bodies to monitor our health and alert us to disease or even an oncoming health crisis. Nanosensors could also monitor the environment. Another exciting application is creating the next generation of materials with novel properties.
These can include gaining electrical properties in fabric-based items. Consider clothing that can conduct electricity; your outfit could have electronics built into it, or even a wireless charger for your phone. Nanotech can also help create the next generation of bullet-proof and explosive-resistant materials. We will be able to imbue materials with other properties as well such as water-resistance, anti-corrosive properties, anti-fogging, anti-abrasion, and more.
Imagine self-healing materials. Tear your jacket? No problem. It just grows back. In the realm of energy, nanotech could be used to improve solar cells and develop ultra-capacitors for energy storage, which could help us embrace green energy and jettison fossil fuels. In total, scientists believe nanotech can help us to develop multi-component systems that are smart, autonomous, and adapt to the environment or changing circumstances.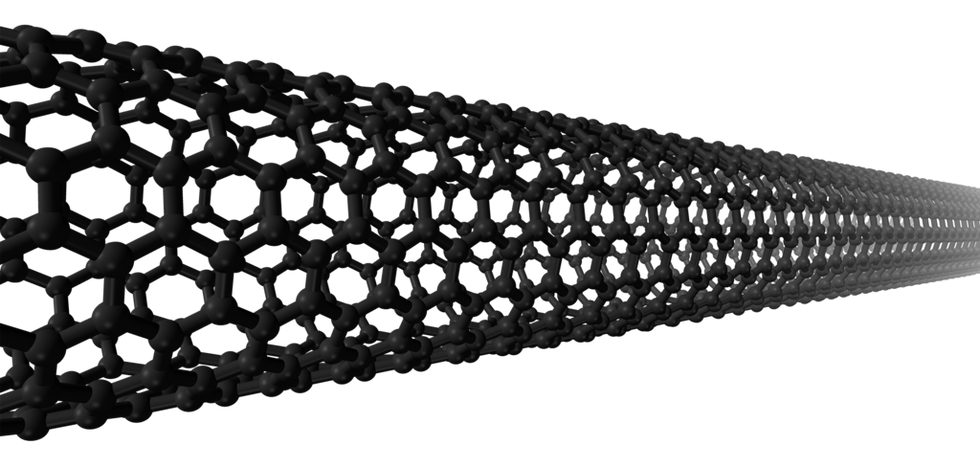 Carbon nanotubes strung together can make some of the strongest material on Earth. Wikipedia Commons.
But what about actual machines? The field of nanorobotics is young but growing rapidly. One research team is working on self-aware nanobots that can deliver drugs inside the body, right where they're needed. Another group at Rice University built a nanocar. A collaboration of several US universities recently announced the creation of a photodynamic nanodrill. When it encounters light or a laser, it spins and can drill right down into a cancer cell, killing it.
Now, a team at the University of Manchester in the UK has reached another milestone. It's developed a robot so small it operates on the molecular level. This is the world's first molecular robot, and it has an arm which can manipulate individual molecules or move them in clusters.
The thing is a millionth of a millimeter in size. To give you an idea of the scale we're talking about, one quintillion (a billion billion) of them piled together would be about equal to a few grains of salt. Each machine is comprised of 150 atoms. That includes carbon, hydrogen, oxygen, and nitrogen atoms. Though small, these machines could offer us incredible capabilities, such as to work in tiny, molecular factories, in order to manufacture the next generation of materials and products.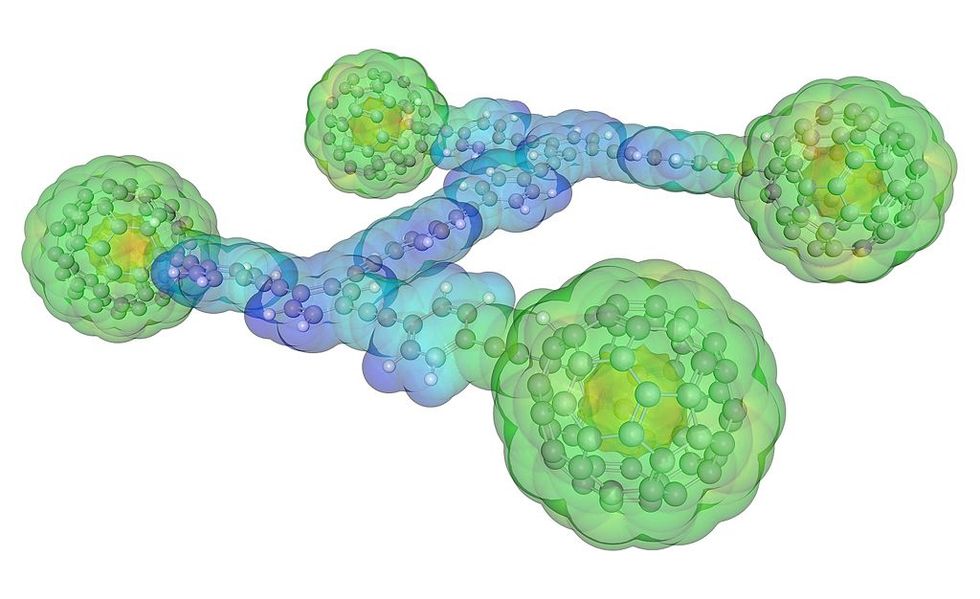 This 2016 Nobel Prize-winning Nanocar was created at Rice University. Edumol, Molecular Visualizations. Wikimedia Commons.
Certain biological processes move atoms individually or in clusters all the time to serve an organism's needs. Previous to this study, some experts argued that doing so artificially was all but impossible. Professor David Leigh of University of Manchester's School of Chemistry led the study. He called this, "the ultimate in the miniaturization of machinery." The chemist explained how he and his team approached the project.
Leigh said:
Our robot is literally a molecular robot constructed of atoms just like you can build a very simple robot out of Lego bricks. The robot then responds to a series of simple commands that are programmed with chemical inputs by a scientist. It is similar to the way robots are used on a car assembly line. Those robots pick up a panel and position it so that it can be riveted in the correct way to build the bodywork of a car. So, just like the robot in the factory, our molecular version can be programmed to position and rivet components in different ways to build different products, just on a much smaller scale, at a molecular level.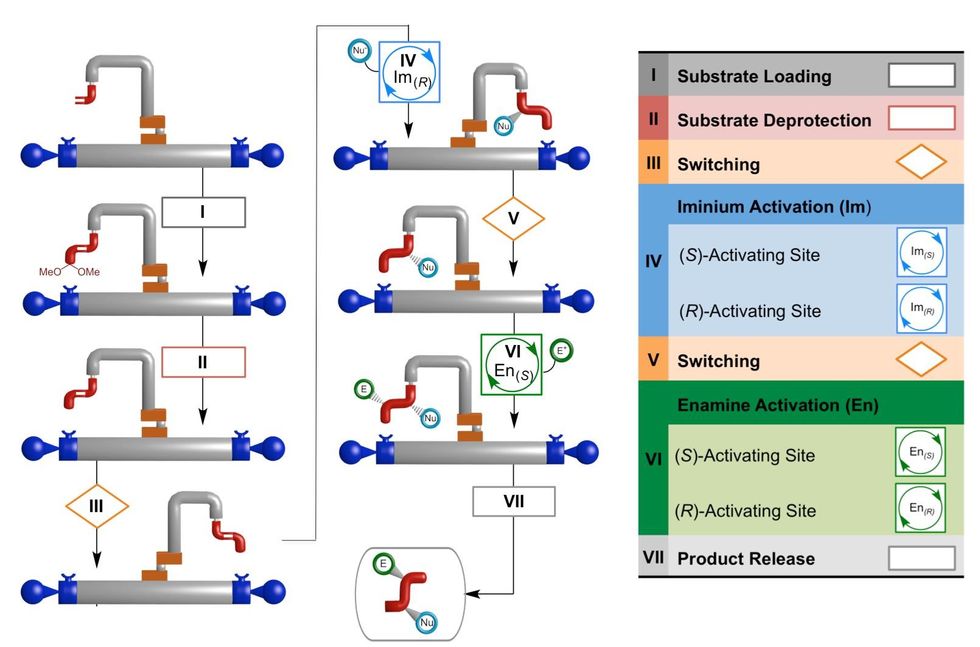 Detailed visualization of the molecular robot. Credit: Nature.
While most nanobots are extremely complex to build, this one operates on simple, well understood chemical processes. Prof. Leigh said, "This is the science of how atoms and molecules react with each other and how larger molecules are constructed from smaller ones." He added, "It is the same sort of process scientists use to make medicines and plastics from simple chemical building blocks. Then, once the nano-robots have been constructed, they are operated by scientists by adding chemical inputs which tell the robots what to do and when, just like a computer program."
The cost of materials, particularly to make electronics, is going through the roof. The beauty in using such robots instead of life-sized equipment is that everything operates on such a small scale, once the price of the actual tech comes down, it'll make the ability to create materials more cost-effective. It could also improve the quality of products. It may even help increase the rate of miniaturization. We'll be able to make smaller, more agile devices more easily. Such a robot could also help improve the process of discovering new drugs as well.
"Our aim is to design and make the smallest machines possible," Prof. Leigh said. "This is just the start but we anticipate that within 10 to 20 years molecular robots will begin to be used to build molecules and materials on assembly lines in molecular factories."
The results of this study were published in the journal Nature.
To get an interesting look at the "nanobots" that already operate inside your body, click here: 
--
This could end the days of suffering through cancer treatment.
Nanomachine destroying a prostate cancer cell. Notice the cytoplasm bubbling out. Rice University.
Anyone who has gone through cancer treatment or known someone who has, has seen how detrimental the side effects can be. My mother happens to be going through chemotherapy right now for breast cancer. Although it was an aggressive variety, they caught it early. It was surgically removed and she's going through chemo only to avoid recurrence. Though I'm thankful for that, the chemo still makes her dreadfully nauseous and weak.
There are drugs to offset its effects, but unfortunately she, like many others, can't take them. The side effects were so severe that now, she's getting half the dose originally prescribed. If they stuck with the full dose, she might not survive, the doctor said. My mom is halfway through and after four more treatments, she'll have radiation to look forward to. Fortunately, her doctors have given her a 90% chance it won't come back. Others are not so lucky.
The problem is that treatments like chemo and radiation attack healthy and malignant tissue indiscriminately. Because of this, researchers have been seeking out ways to target cancer cells while leaving healthy ones alone. Photodynamic therapy is one approach. Here, an inert drug is usually inserted inside a tumor then activated by light or a laser, destroying the cancer while minimizing collateral damage. Another method just starting to be explored is employing nanotechnology.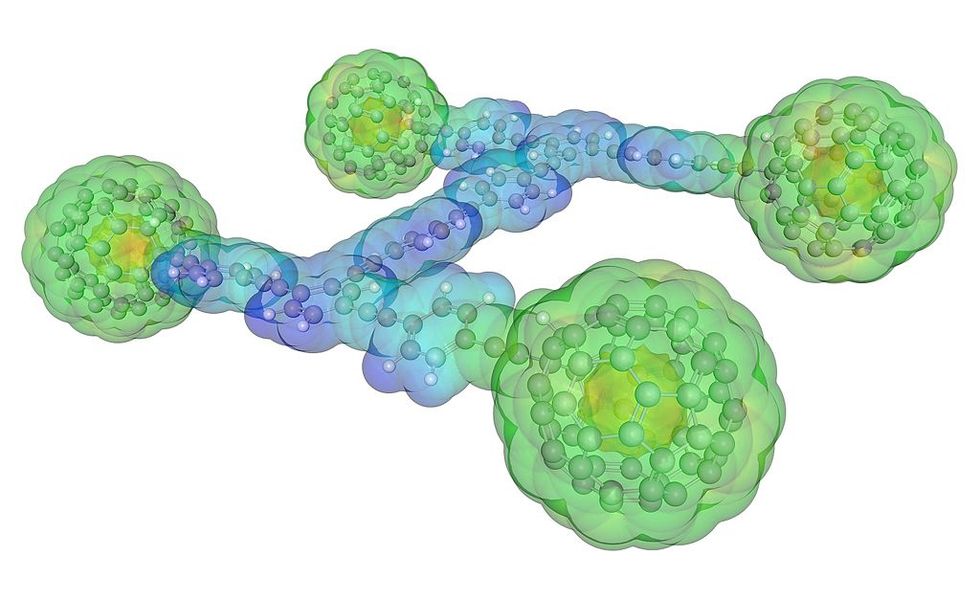 Nanocar designed by Rice University. Edumol Molecular Visualizations. Wikimedia Commons.
Now, a collaborative effort among researchers at Rice, Durham, and North Carolina State Universities is getting a lot of attention. Their novel method could eliminate the suffering cancer patients go through today. They've developed molecular machines which can drill into and destroy cancer cells, leaving health ones untouched. The results were published in the journal Nature. These drills are miniscule. 50,000 of them end-to-end would equal the width of a human hair. They're also photodynamic.
The way they work is, once in place, the nanomachines are activated via ultraviolet light. They drill down into a cancer cell, killing it. It was only last year that Bernard Feringa won the Nobel Prize for creating the world's first electric drill on a nanoscale. These researchers built theirs off of that design. Feringa's was a thousand times smaller than the diameter of a hair, which although still impressive, seems huge by comparison.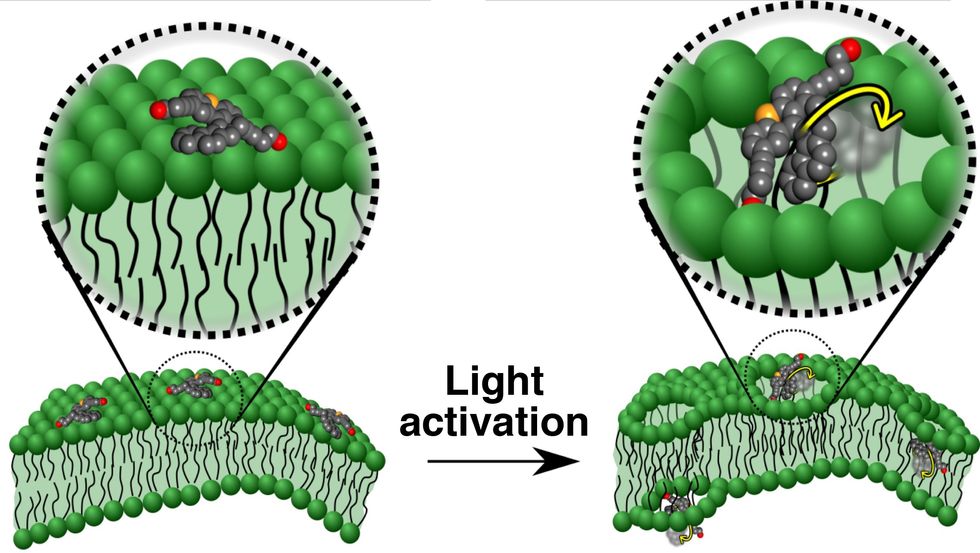 On the left, the nanodrill sits atop a cell membrane. On the right, it's been activated. Rice University.
These latest nanomachines are each a single rotor which completes 2-3 million rotations per second. Previous prototypes spun slower, but they had a hard time overcoming Brownian motion. This is the forceful erratic movement of microscopic particles within fluid, due to a constant bombardment on many sides by surrounding particles.
Besides its powerful drilling capability, each nanomachine carries a certain peptide with it to ensure the cancer's demise. These nanodrills were tested on prostate cancer cells. It took between one to three minutes for the drill to break through each cell's membrane and demolish it.
See them in action here:
Dr. Robert Pal led the study. He hails from Durham University in the UK. "Once developed," he said, "this approach could provide a potential step change in non-invasive cancer treatment and greatly improve survival rates and patient welfare globally." Not only would it be used to treat a wide variety of cancers, it could end the days of suffering through side effects.
So far, tests on human and animal cells have been successful. But years of further research lie ahead, before these nanodrills are introduced into the clinical sphere. Next will be tests on microbes and small fish, followed by mice and rats. If all goes well, human trials will follow. Researchers say that not only are these nanomachines useful for killing cancer, in the future, such machines may also engage in cell repair as well.
Nanotech, when it really comes of age, is likely to disrupt not only medicine but the energy sector and others as well. Could nanotech lead to a kind of utopia, free of pollution, disease, and even want?
See what one theoretical physicist thinks here: