A new study finds that talking to yourself in the third person may help deal with stress.
credit: Getty Images
If you are feeling stressed, try talking to yourself silently in the third person. That can help you control difficult emotions, says the first-of-its kind study by psychology researchers at Michigan State University (MSU) and the University of Michigan.
What they found is that talking to yourself in the third person during stressful moments may work better than giving yourself a first-person talk. Let's say your name is John and you are very upset. Asking "Why is John upset?" would cause less emotional reaction than "Why am I upset?" and allow you to start dealing with the underlying emotions.
Jason Moser, MSU associate professor of psychology, explained why this approach works:
"Essentially, we think referring to yourself in the third person leads people to think about themselves more similar to how they think about others, and you can see evidence for this in the brain," pointed out Moser. "That helps people gain a tiny bit of psychological distance from their experiences, which can often be useful for regulating emotions."
The study involved two experiments, with one requiring participants to react to neutral or disturbing images in both the first and third person. Their brain activity was monitored during that time by an electroencephalograph. When the subjects were shown disturbing photos like a man holding a gun to their heads, their emotional brain activity decreased quickly (within 1 second) if they they referred to themselves in the third person.
The researchers also found employing third-person speech is no more taxing on your brain than talking in first person. In comparison, other forms of emotional regulation, like mindfulness, require considerable mental effort, said Moser.
Another experiment had participants recounting painful experiences from their past, using first and third person language, while they were undergoing fMRI imaging. 
Similarly, when talking in third person, participants had less activity in the brain region used for reflecting on painful emotional situations. 
"What's really exciting here is that the brain data from these two complimentary experiments suggest that third-person self-talk may constitute a relatively effortless form of emotion regulation, " said University of Michigan psychology professor Ethan Kross. "If this ends up being true – we won't know until more research is done – there are lots of important implications these findings have for our basic understanding of how self-control works, and for how to help people control their emotions in daily life."
You can read the study here, published in Scientific Reports.
We're ranked behind Saudi Arabia and Korea in empathy. Surprised?
Map of Global Empathy. Source: Michigan State University.
Empathy is something that is measurable, and researchers at Michigan State University have done just that, for the first time.
If you had to guess, where do you think the United States ranks in empathy, worldwide? 
I'll give you a minute. 
I'll even give you a visual aide — the darker the red shading, the more empathy a country has: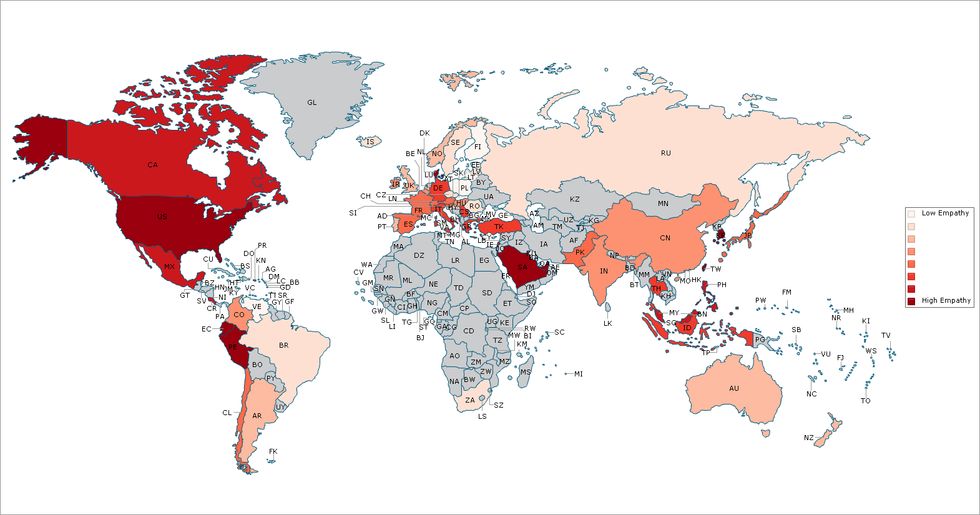 (Click map for more detail. Countries with small sample sizes were not included — hence the grey for a number of countries.)
Looks pretty high for the Good Ol' U S of A, eh? Get ready to shout, "We're number 7! We're number 7!"
That's behind Ecuador, Saudi Arabia, Peru, Denmark, United Arab Emirates, and Korea. Rounding out that top-10 list after the United States are Taiwan, Costa Rica, and Kuwait.
And we could lose even more ground, based on a number of factors. Or gain ground, depending on how things go. 
The study is based on responses from an online study that reached 104,000 people around the world and measured both compassion for others and the ability to imagine points of view of other people. 
One of the interesting things about the study is that it doesn't separate whether that empathy is for people from other countries or just people in our own. I highly suspect we'd slip even further down the list if that data were to be captured, given some of the extreme xenophobia we've seen arise over the last 18 months.
(Thumbnail via YouTube, captured from Star Trek, Season 3, Episode 12: The Empath.)
Forget multi-vitamins, pick up a happy spouse instead. This study suggests the enormous upward effect of having a partner who has a happy nature.
A study of 1,981 middle-aged heterosexual couples revealed that people who had happy spouses were notably more likely to report better health over time.
"This finding significantly broadens assumptions about the relationship between happiness and health, suggesting a unique social link," said the study's principal investigator Professor William Chopik, who teaches psychology at Michigan State University. "Simply having a happy partner may enhance health as much as striving to be happy oneself."
Building on the previous findings that happy people are generally healthy, Chopik wanted to zero in on the effects that interpersonal relationships have on health. He sees at least three reasons why a happy partner might make you healthier (even if you are not happy yourself): happy partners can provide more support, they might get the unhappy people involved in healthy activities like sleeping and eating well, as well as exercising. And lastly, it's just easier to deal with happy people.
"Simply knowing that one's partner is satisfied with his or her individual circumstances may temper a person's need to seek self-destructive outlets, such as drinking or drugs, and may more generally offer contentment in ways that afford health benefits down the road," said Chopik.
The study's six-year survey involved couples from 50 to 94, with 84% of the participants being white, 8% African-American and 6% Hispanic. There were no differences shown between husbands and wives. 
The authors themselves caution that more research needs to be done. In particular, the paper warns that "causality cannot be definitively discerned with these data" and hopes that future studies will also look at different groups of people, not just the mainly older white married couples. The researchers also propose that new studies on the subject could benefit from using data that is gathered in a more objective way than being self-reported. 
You can find the study here, in the journal of the American Psychological Association.