Even some teachers suffer from anxiety about math.
Image credit: Getty Images
I teach people how to teach math, and I've been working in this field for 30 years. Across those decades, I've met many people who suffer from varying degrees of math trauma – a form of debilitating mental shutdown when it comes to doing mathematics.

When people share their stories with me, there are common themes. These include someone telling them they were "not good at math," panicking over timed math tests, or getting stuck on some math topic and struggling to move past it. The topics can be as broad as fractions or an entire class, such as Algebra or Geometry.
The notion of who is – and isn't – a math person drives the research I do with my colleagues Shannon Sweeny and Chris Willingham with people earning their teaching degrees.
One of the biggest challenges U.S. math educators face is helping the large number of elementary teachers who are dealing with math trauma. Imagine being tasked with teaching children mathematics when it is one of your greatest personal fears.
Math trauma manifests as anxiety or dread, a debilitating fear of being wrong. This fear limits access to life paths for many people, including school and career choices.
While math trauma has multiple sources, there are some that parents and teachers have power to influence directly: outdated ideas of what it means to be good at math. These include speed and accuracy, which were important in decades past when humans were actual computers.
But research has confirmed what many people share with me anecdotally: Tying speed with computation debilitates learners. People who struggle to complete a timed test of math facts often experience fear, which shuts down their working memory. This makes it all but impossible to think which reinforces the idea that a person just can't do math – that they are not a math person.
What's more, students who succeed at tests of timed math facts may believe that being good at math means simply being fast and accurate at calculating. This belief can lead to a fragile math identity. Students fear revealing they don't know something or aren't that fast, so may shy away from more challenging work. No one wins.
The myth that fast recall of basic math facts is good for learning has deep and pernicious roots. It comes from the best of intentions – who wouldn't want kids to be good at calculating? But research shows that fact fluency – the ability to easily recall facts, like 3 x 5 = 15 – is best developed from first making sense of arithmetic operations. In other words, the first step in building a mathematical memory is understanding how that math works.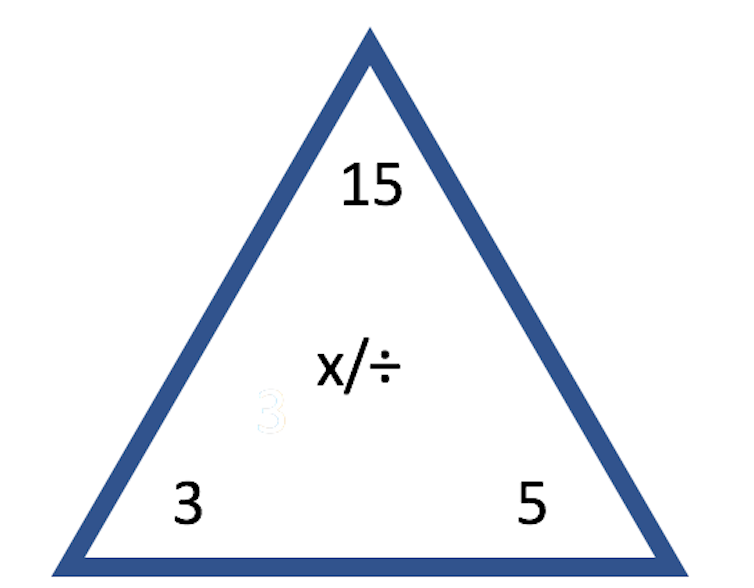 A deeper understanding of the concepts like multiplication and division allow people to see patterns in numbers. For example, 3, 5 and 15 are in a triangular relationship, where 3 x 5 = 15, 5 x 3 = 15, 15 ÷ 5 = 3, and 15 ÷ 3 = 5. Jennifer Ruef, CC BY
Skipping the sensemaking step makes for fragile understanding and cognitively expensive memorization. When someone only memorizes, every new fact is like an island unto itself, and is more readily forgotten. In contrast, understanding patterns in math facts compresses the cognitive load required to recall related facts. Sensemaking promotes deep, robust and flexible understanding, allowing people to apply what they know to new problems.
So what can parents and teachers do to support fact fluency?
First, find the wonder and joy. Games and puzzles that get people playing with numbers, such as Sudoku, KenKen or certain card games, create an intellectual need to use math facts that helps kids develop fact fluency. Asking kids to explain their thinking – using words, pictures or objects – validates the importance of their ideas.
Reframe mistakes as explorations. Not having a correct answer doesn't mean all thinking is incorrect. Asking kids to explain their thinking also helps in understanding what they know now, and what they might learn next. Questions about how a kid got an answer can get them thinking about what does not quite work and is worthy of revision. When you ask these questions, it's good to have a poker face; if you broadcast that an answer is wrong or right, it can reinforce the belief that only right answers count.
Second, do no harm. It's important that parents avoid giving kids messages that they are not math people. This can have a negative impact on kids' beliefs about their own ability to learn. Also, beware claims that kids must suffer to learn mathematics.
For many adults, today's math classes are very different from those we experienced. U.S. schools have moved away from speed and accuracy – sometimes called "drill and kill" – and toward discussing and making sense of mathematics. Mathematics teacher educators are in agreement that these are good things. Look for the deeper meaning in what your child is learning, knowing that deeper understanding comes from connecting multiple ways to solve problems.
If you recognize that you are a survivor of math trauma, take heart. You are not alone, and there are ways to heal. It starts with understanding that mathematics is broad and beautiful – most of us are much more mathematical than we think.

Jennifer Ruef, Assistant Professor of Education Studies, University of Oregon
This article is republished from The Conversation under a Creative Commons license. Read the original article.
A new study reveals that people naturally fall into 4 different personality types while making decisions: Optimist, Pessimist, Trusting, or Envious.
Optimist, Envious, Trusting, and Pessimist.
According to a new study, 30% of you reading this sentence have jealousy issues.
Published in the journal Science Advances, the study concludes that 90% of the entire human population can be classified into four basic personality types: Optimistic, Pessimistic, Trusting and Envious. Envious is the most common, making up 30% of the total population. Optimists, Pessimists, and Trusters are all 20% each. The remaining 10% of people are combinations of all four types.
Credit: Laurie Vázquez/Big Think
How the heck did the study come up with those numbers? As Science Daily reports, researchers from Universidad Carlos III de Madrid gathered 541 random volunteers and ran simulations with them using game theory. As we've told you before, game theory is a mathematical modeling system for human behavior. Game theory tests how people interact with each other when they have to work together to solve a problem. That's where the four personality types in the chart above come into play: people are either optimistic, pessimistic, trusting, or envious when forced to make decisions with strangers. For more on game theory, check out Yale Professor Barry Nalebuff's breakdown:
Using that idea, the researchers paired the volunteers off in random combinations to play several rounds of four games: Prisoner's Dilemma, Stag Hunt, Snowdrift, and the Harmony Game. All games force players to choose between cooperating or betraying the partner they're paired with. Cooperation was rewarded with lottery tickets. All games had varying levels of risk and reward for each player, with Snowdrift posing the harshest penalties for betrayal and the Harmony Game posing the least. "These [sic] pairs change, not only in each round, but also each time the game changes. So, the best option could [sic] be to cooperate or, on the other hand, to oppose or betray," study author Anxo Sánchez explained in a press release.  
What the researchers discovered over the course of playing these games was that the volunteers were not making rational choices -- meaning, they didn't always choose the option that was in their best interest. Rather, volunteers chose to either cooperate or betray their partner in each round of each game because of their personal beliefs rather than any incentive within the game itself. The study explains:
There is a group that mostly cooperates in HG, a second group that cooperates in both HG and SG, and a third one that cooperates in both HG and SH. Players in the fourth group cooperate in all games, and finally, we find a small group who seems to randomly cooperate almost everywhere, with a probability of approximately 0.5.
Check out the chart below for a breakdown of these results by game (HG = Harmony Game; SG = Snowdrift Games; SH = Stag Hunt; PD = Prisoner's Dilemma):
"For every cluster, a column represents a player belonging to his or her corresponding cluster, whereas the four rows indicate the four average cooperation values." Credit: Science Advances
The results are surprising, and not only because of how cooperation decisions were made. The biggest surprise of this study was that these personality types emerged organically from the data. The volunteers naturally created the Optimist, Pessimist, Trusting, Envious personalities through their interactions. The researchers simply identified and labelled them. "By analyzing our data with an unsupervised clustering algorithm, we find that all the subjects conform, with a large degree of consistency, to a limited number of behavioral phenotypes (envious, optimist, pessimist, and trustful), with only a small fraction of undefined subjects," the study authors explain.
"The results go against certain theories," adds Yamir Moreno, a senior researcher at Universidad de Zaragoza, in the press release. "The one which states that humans act purely rationally for example, and, therefore, they should be taken into consideration in redesigning social and economic policies, as well as those involved in cooperation. [This study is] important because [it] improves existing theories on human behavior by giving them an experimental base." That's new. And that means that math can predict our personalities – to an extent.
Striking as these conclusions are, take them with a grain of salt. We aren't just the sum of our interactions with others; we're also who we present ourselves to be. You are the choices you make on your own, as University of Texas psychology Sam Gosling explains:
Keep that in mind the next time you play a game.