Some experts take issue with Elon Musk's frightening warning about AI taking over.
(FROGDNA)
One way to develop a reputation as a visionary is to come up with a well-known, startlingly prescient prediction that proves true. Another way is to gain immense wealth and fame through the development of a breakthrough product—say, PayPal—or two—maybe Tesla—or three—SpaceX—and then use your well-funded megaphone to cast prognostications so far and wide and so often that the world comes to simply accept you as someone who sees the future. Even better if you can start a public debate with other famous visionaries, say Facebook's Mark Zuckerberg, Bill Gates, and Stephen Hawking. This is what Elon Musk has just done at the U.S National Governors Association meeting in July 2017.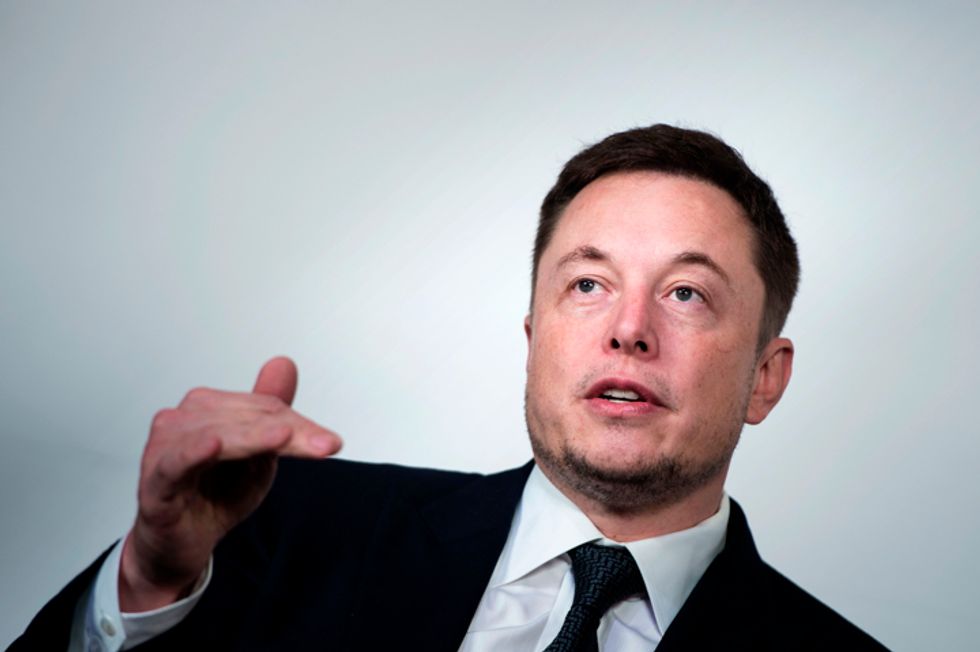 Elon Musk (BRENDAN SMIALOWSKI)
Musk's comments about artificial intelligence (AI) were startling and alarming, beginning with his assertion that "robots will do everything better than us." "I have exposure to the most cutting-edge A.I.," Musk said, "and I think people should be really concerned by it."
His vision of the potential conflict is outright frightening: "I keep sounding the alarm bell but until people see robots going down the street killing people, they don't know how to react because it seems so ethereal."
Musk's pitch to the governors was partly about robots stealing jobs from humans, a concern we've covered on Big Think, and partly a Skynet scenario, with an emphasis on humanity's weak odds of prevailing in the battle on the horizon. His point? "A.I. is a rare case where I think we need to be proactive in regulation [rather] than be reactive."
It was this dire tone that caused Facebook's Mark Zuckerberg to take issue with Musk's position when asked about it in a Facebook Live chat. "I think people who are naysayers and try to drum up these doomsday scenarios—I don't understand it," said Zuckerberg. "It's really negative, and in some ways I think it's pretty irresponsible."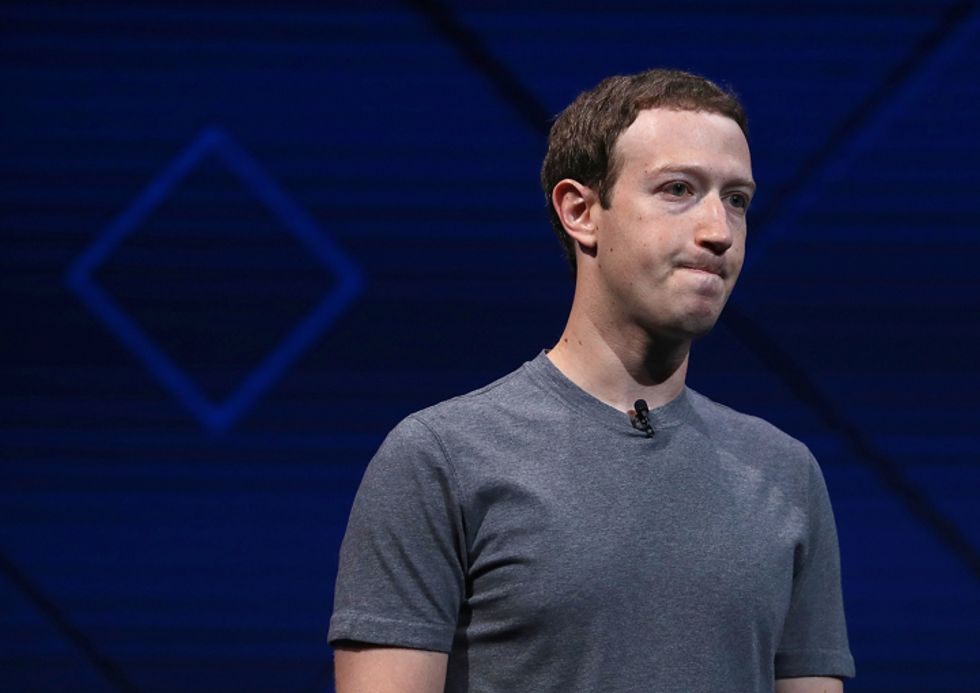 Mark Zuckerberg (JUSTIN SULLIVAN)
As CEO of Facebook, Zuckerberg is as cranium-deep into AI as Musk, but has a totally different take on it. "I'm really optimistic. Technology can always be used for good and bad, and you need to be careful about how you build it, and what you build, and how it's going to be used. But people are arguing for slowing down the process of building AI—I just find that really questionable. I have a hard time wrapping my head around that."
Musk tweeted his response.
I've talked to Mark about this. His understanding of the subject is limited.
— Elon Musk (@elonmusk) July 25, 2017
Elon Musk and many top CEOs condemned President Trump's decision to pull out of the Paris Agreement on climate change.
Elon Musk speaks at the 2015 Automotive News World Congress January 13, 2015 in Detroit, Michigan. (Photo by Bill Pugliano/Getty Images)
President Trump announcement that the U.S. is going to pull out of the Paris Agreement on climate change has prompted a strong backlash from business leaders. Many have urged Trump to stay in the environmental pact, like the other 194 nations that signed it, and are now expressing their disappointment. Elon Musk, the CEO of Tesla Motors, SpaceX and Neuralink, has previously warned that he would have to leave the President's councils if Trump pulled out of the Paris accord. And now that he did, Musk is out.
"Am departing presidential councils. Climate change is real. Leaving Paris is not good for America or the world," said Musk in his tweet.
Musk was part of an economic advisory board Strategic and Policy Forum and the Manufacturing Jobs Initiative. He has taken flak previously for seemingly legitimizing Trump's ideas by serving in such a capacity, a decision Musk defended by saying he used the access to the President in order to influence him not to leave the Paris Agreement and to institute a carbon tax to fight emissions.
Am departing presidential councils. Climate change is real. Leaving Paris is not good for America or the world.
— Elon Musk (@elonmusk) June 1, 2017
Studying philosophy has had a major impact on the power players of Silicon Valley.
Zeno of Citium and the new Apple campus in Silicon Valley. Credit: Getty Images/Wikipedia
Silicon Valley is an ultra-competitive environment that comes up with the most exciting technological advancements of our modern life. Understandably, its executives are under constant pressure to deliver something new that will capture and better yet, disrupt, markets. To alleviate the stresses and open their minds, the execs have been known to experiment with microdosing on psychedelics, taking brain-stimulating nootropics, and sleeping in phases. What's their latest greatest brain hack? Philosophy.
Some philosophers are finding Silicon Valley employment teaching "practical philosophy" that you can use in business and everyday life. Andrew Taggart is one champion of this movement, offering philosophical counseling to tech leaders and anyone in need. The guidance focuses on using reason and logic to unmask illusions about your life or work. You can try philosophical counseling yourself, if you'd like, as Taggart offers Skype conversations. 
Taggart rails against what he sees is the "problematization of the world" - the idea that all the obstacles we encounter during our life, from drinking too much coffee to death, are problems in need of solutions to be discovered. He thinks that approach can obscure the true understanding of human life. In an interview with Quartz, he says that rather than ask "How can I be more successful?" it's actually more important to ask - "Why be successful?"
On the more practical side, Taggert thinks philosophy can also help zero in on what a startup should build and, more generally, he advocates using the philosophical skills of critical inquiry to figure out the "bullshit".
"Philosophers arrive on the scene at the moment when bullshit can no longer be tolerated," says Taggart to Quartz. "We articulate that bullshit and stop it from happening. And there's just a whole lot of bullshit in business today."
On the other hand, he also thinks that stopping BS is not the chief objective of philosophy. Rather, he warns against the dangers of "total work" - the all-consuming obsession with having to be productive and spend most of our time working rather than contemplating.
"Total work is always on the clock. Ever behind, always in a rush toward, or just behind, an approaching, encroaching deadline. Philosophy occurs when clock time falls away. It seeks to put us in the presence of eternity," says Taggart in a blog post.
In fact, he thinks the commitment to "total work" allows the market to control too many aspects of our life. He cites a startup cofounder he interviewed who "asserted unequivocally his view that all human relationships are transactional." Taggert thinks philosophy can open up this kind of thinking to a less solipsistic view that introduces thought and balance to people's lives.
Outside of Taggart's efforts, philosophy has always had a strong presence in Silicon Valley. Another philosopher who has made inroads with the tech crowd is Ryan Holiday, a proponent of stoicism, an ancient Greek school of thought that emphasizes limiting negative emotions and self-control to find the true purpose of one's life.
Peter Thiel, the legendary venture capitalist behind some of Silicon Valley's biggest successes like Paypal and Facebook, was a philosophy major in college. He described the importance of philosophy in helping him learn "thinking for yourself":
"Convention cannot be a shortcut for truth. Silicon Valley is filled with conventional thinking... The future is what they are focused on and people are not sure about it with just a few markers. They will find shortcuts listening to someone else without knowing or figuring it out. The question of thinking for yourself and breaking convention is very important in Silicon Valley and other places."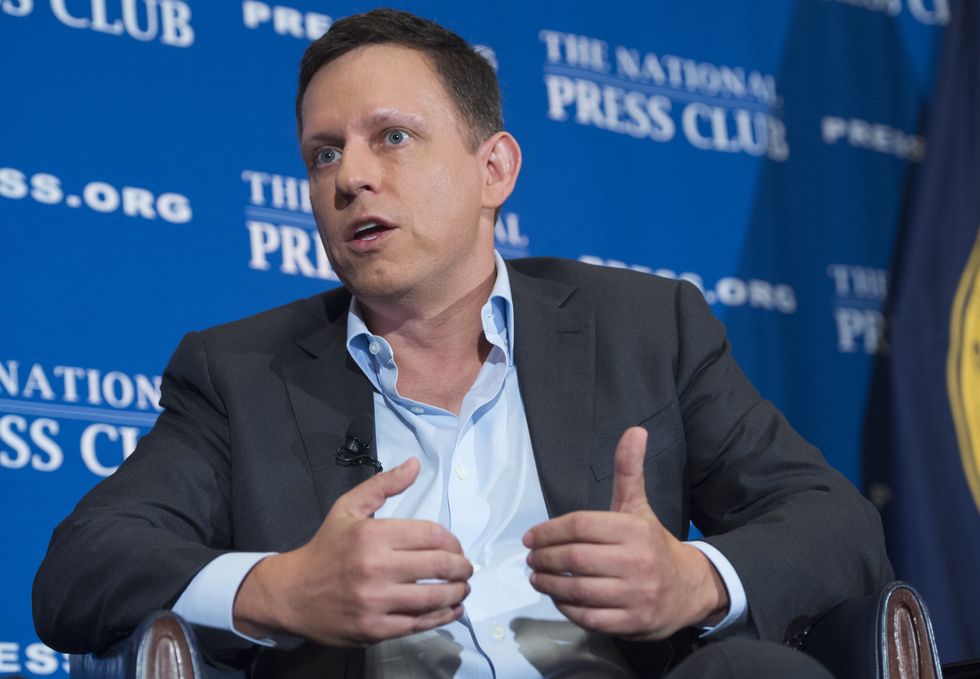 Peter Thiel, PayPal founder-turned-venture-capitalist, at the National Press Club in Washington, DC, October 31, 2016. (Photo credit: SAUL LOEB/AFP/Getty Images)
Other Silicon Valley philosopher-execs include Stewart Butterfield, the CEO of Slack, who has two philosophy degrees. Paul Graham, the co-founder of the world's first Y Combinator, a pioneer of startup funding and development, was also educated in philosophy. Reid Hoffman, the founder of LinkedIn, has a Masters in philosophy from Oxford. Carly Fiorina, former CEO of Hewlett-Packard and a recent Presidential candidate, was a philosophy major (along with medieval history) at Stanford. The founder of Facebook, Mark Zuckerberg, also appears to read philosophical texts and has previously recommended "The Structure of Scientific Revolutions" by the philosopher of science Thomas S. Kuhn to his millions of followers.
Nowhere is anti-intellectualism more warmly incubated or does misinformation spread faster than in the online community, which is why Facebook – the third most-visited website in the world – has such a weighty responsibility.\r\n
Perhaps we should subtitle all fake news with the facts, half-jokes French philosopher-activist Bernard-Henri Lévy. The anti-intellectualism movement has swept the United States and Europe in the last 12 months, but it has been a long time coming. Trump is not the author of it, but rather the product, notes Lévy. While intellectuals relish debate, the hashing-out and exchange of ideas is what the anti-intellectual movement fears most. "Debate now, truth tomorrow," says Lévy. It's funny then that social media is the hotbed of modern debate, but it's also a cradle of life for anti-intellectualist sentiment. Nowhere are idiots more warmly incubated or does misinformation spread faster than in the online community, which is why Facebook – the third most-visited website in the world – has such a responsibility to support verified information and not publicize fake news as equal on the platform. Trump may be the heart of the anti-intellectual movement, but social media is the mechanism, says Lévy. Bernard-Henri Lévy's most recent book is The Genius of Judaism.
Bernard-Henri Lévy's most recent book is The Genius of Judaism.
Facebook can flip your digital identity on and off at the switch; that is way too much power for any corporation to have, says Oliver Luckett — and we handed it to them.
It's likely that most of us signed up to Facebook before we truly knew how powerful it was or would become. Many of us were too young, or inexperienced in the digital world, to realize that, at the end of the day, we were and are the product Facebook is really selling. We are sorted, packaged and prompted to act (by giving likes, clicking ads, and sharing emotional states and information) so that a supremely valuable commodity – our attention – can be more profitably sold to advertisers. It's how we end up in echo chambers of like-minded people, and it's this illusion of agreeability that started to tear in the wake of the election result.
We're responsible for handing over our data to Facebook, there's no question about that, but now that users are becoming more informed of data harvesting and algorithmic practices – by outside sources, not by Facebook itself, notes technology entrepreneur Oliver Luckett – we should seriously give thought to building our digital identities independently of Facebook.
Luckett takes issue with Facebook for its lack of transparency and its monopoly on power. Mark Zuckerberg is the most powerful editor-in-chief in the world, and that terrifies Luckett. From his own personal experience, Luckett tells a story of how his account was instantly shut down when he sent an image from a medical textbook to a friend over Facebook messenger. He received a notification that he was under review, and was denied access to his account until further notice. With that, he also lost access to websites and apps that were connected to his Facebook profile – Instagram, Soundcloud, Spotify. Imagine losing access to sites and resources you really depend on. "Someone can just be erased from a system without any recourse… That's too much power," Luckett says.
More worrying than switching off your online identity network is the lack of transparency in Facebook's algorithms and social experiments. Luckett explains these in depth in the video, illuminating how little we know about the way Facebook turns algorithmic dials up and down without our knowledge (but we did press 'I Agree' on the T&Cs;, so yes, that's on us), affecting who and what we see. This is particularly significant for businesses who have invested money in audience visibility through Facebook – 44% of the U.S. population accesses news on the social platform, according to a 2016 study by the Pew Research Center and the Knight Foundation. People and businesses are becoming heavily dependent on Facebook and powerless to its decisions.
The safeguard is remembering that Facebook is a choice; carve out your identity and your business so that if Facebook were pulled out from under your feet, it wouldn't devastate you or your livelihood. Enjoy it for the amazing service that it is, but be wary and informed of how it works beneath the interface.
Oliver Luckett and Michael J. Casey's book is The Social Organism: A Radical Understanding of Social Media to Transform Your Business and Life.