Have you been feeling like democracy is in trouble lately? According to this report, you're right.
A woman confronts riot police during a protest in Caracas on December 28, 2017. (Photo: Getty Images)
But, unpopularity might be the least of democracy's problems.
The annual Democracy Index report by the Economist Intelligence Unit shows that democratic governments are in trouble everywhere. Of the 167 countries ranked this year, 89 of them received lower scores than last year. The scores reflect a wide range of liberties, attitudes, and norms that are vital elements of a free society.
How does it work?
The report ranks countries on a scale of 0-10 in the categories of electoral process and pluralism, civil liberties, government functionality, political participation, and political culture. Each of those categories is further composed of a dozen, more concrete, indicators. The scores are then aggregated to create a single score for the state of freedom and democracy in that country.
A country's overall score then places it in one of four categories: full democracy, flawed democracy, hybrid regime or authoritarian regime. The map which shows how each country ranks is rather interesting.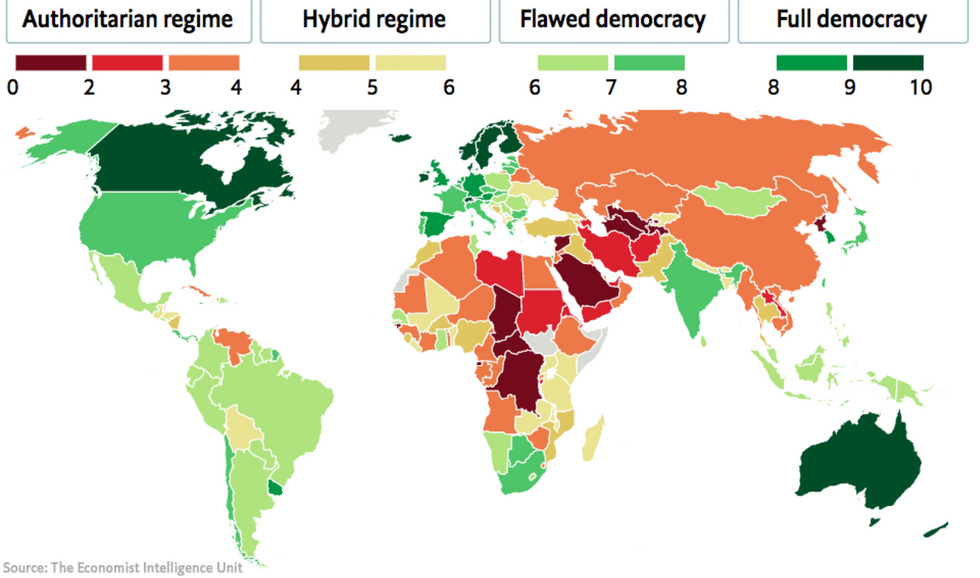 As you can see, darker greens correspond to higher scores for the health of a democracy. Red and yellow countries are hardly democratic at all. Credit: The Economist Intelligence Unit.
So, how bad is it?
This year less than half of the world's population lives in a democracy "of some sort." While the margin is thin, a one percent swing would tip the scale; it is symbolic of the decline of democracy over the last decade. One-third of the global population lives in outright authoritarian regimes, primarily due to the massive population of the People's Republic of China. The percentage of the world's population that lives in a "full democracy" fell to less than five percent.
Asia was a significant driver behind this decline. India, a democracy since independence, saw a substantial fall in its score due to increasing religious and ethnic unrest. Myanmar, Cambodia, and Vietnam all descended further into authoritarianism, and the recent religiously focused election for the governor of Jakarta caused Indonesia to see a major drop in its score.
The average Asian country is now a hybrid regime, as opposed to the full democracies which are typical in Europe and North America. The average Latin American country is a flawed democracy, although Uruguay has the distinction of being the only developing country which is also a full democracy.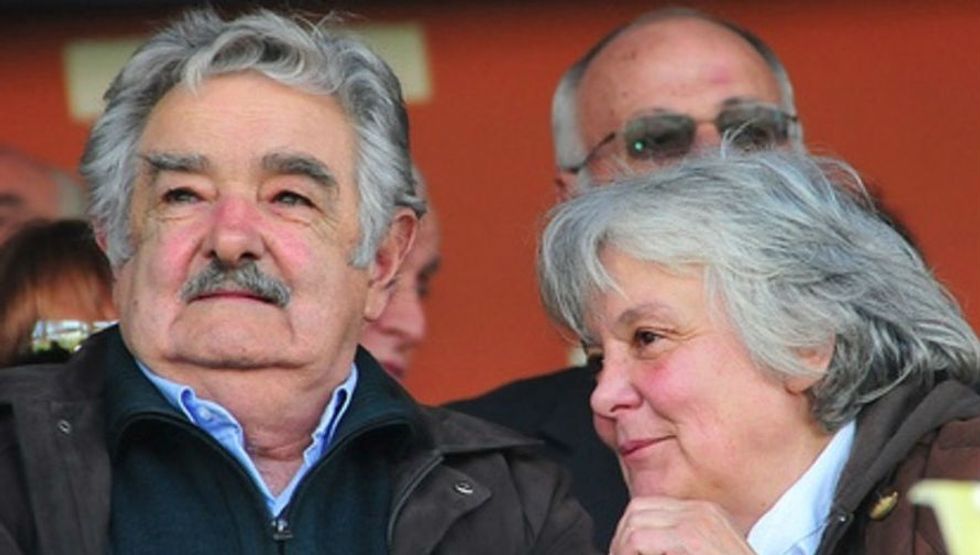 Uruguay's government is already rather unusual. As former president Jose "Pepe" Mujica donated nearly his entire income to charity. 
Why did this happen?
While some of the global decline is attributable to the gratuitous use of authoritarian tactics, such as the Spanish response to the ever-rebellious Catalonia or the crackdowns on dissent in Venezuela, some of it was due to much more subtle problems in the established democracies.
The report cites a "serious decline" in trust for governmental institutions for the decay of the United States' score, which fell low enough in 2015 to earn the title of "flawed democracy." The authors suggested that the decline was caused by factors which go back to the 1960s and helped facilitate the election of Donald Trump.
The authors also warn that many elements of a falling score can create vicious cycles, such as increasing polarization preventing government functionality. The decline in functionality almost inevitably leads to further erosion of confidence in public institutions.
Is there any good news in the report?
Some nations managed to improve their scores. The Gambia, in particular, saw so much improvement that it was promoted to a hybrid regime. Norway can celebrate its eighth year at the top of the list, scoring 9.87 points after a slight drop from last year.
It is also important to remember that while many nations are listed as "flawed" democracies, being even a hundredth of a point below the cut off is the same as being a full point below it. This year the United States tied with Italy at 7.98 points, making both nations "flawed" democracies. 
The authors also see some reasons to be optimistic. "If 2016 was notable for the populist insurgency against mainstream political parties and politicians in the developed democracies of Europe and North America, 2017 was defined by a backlash against populism," they write. As the decline in democratic norms in many nations was the result of populism gone mad, the reversal of the trend might offer hope for democratic norms in those places.
Last year was a difficult year for democracy around the world. Between direct challenges to freedom in places like China, Vietnam, and Venezuela and a deterioration in democratic norms in places like the United States, the world became a little less safe for democracy. If this report will be the beginning of a new trend or a blip on the march of democracy is yet to be seen.
Many great minds have plenty of bad things to say about democracy, but what about the people who think it is great?
Pericles, the great Athenian leader, speaks of the greatness of liberty to the people of Athens.
Socrates had several issues with democracy, most of them stemming from events that took place during his lifetime in Athens. Some of the decisions made by the Athenian democracy were rather insane and made by a body politic that had no business trying to determine foreign policy. Socrates is depicted in Plato's Republic as favoring a totalitarian regime managed by iron-fisted philosopher kings, in which all citizens are raised to fit a particular role, the state regulates bedtime stories, and harmony between individual and society reigns supreme. 
His objections to democracy are countered in the works of John Stuart Mill, whose love of democracy is as great as Socrates' hatred of it.
John Stuart Mill was an English philosopher in the 19th century who is best known for his work on utilitarianism, though his writings span an incredible range of topics. His ideas on democracy, liberty, and the benefits of both are laid out in two of his works; On Liberty, and Considerations on Representative Government.
What does he have to tell us?
While Mill agrees that the unwashed masses should not have absolute power, in Considerations on Representative Government he argues for a giving the votes of the educated more weight than anybody else's; he counters Socrates' idea of the philosopher king with an observation on what happens to the citizens of a "good" despotism. Seeing the society they would rule as being:
"One man of superhuman mental activity managing the entire affairs of a mentally passive people. Their passivity is implied in the very idea of absolute power. The nation as a whole, and every individual composing it, are without any potential voice in their own destiny. They exercise no will in respect to their collective interests. All is decided for them by a will not their own, which it is legally a crime for them to disobey. What sort of human beings can be formed under such a regimen? What development can either their thinking or their active faculties attain under it?"
The population living in a despotic society would be reduced to unthinking drones who need only enough mental capacity to get their daily chores done. Only a democracy can produce citizens capable of enough cognitive power to maintain a democracy, argues Mill, by requiring them to use that mental ability. He notes with envy that while the typical English voter only had to be prepared to vote and serve on a jury, the typical Athenian had to be ready to serve in nearly any office that existed. Mill sees this as a mostly good thing, as it requires the Athenian to be more fully developed as a person in order to fill those roles.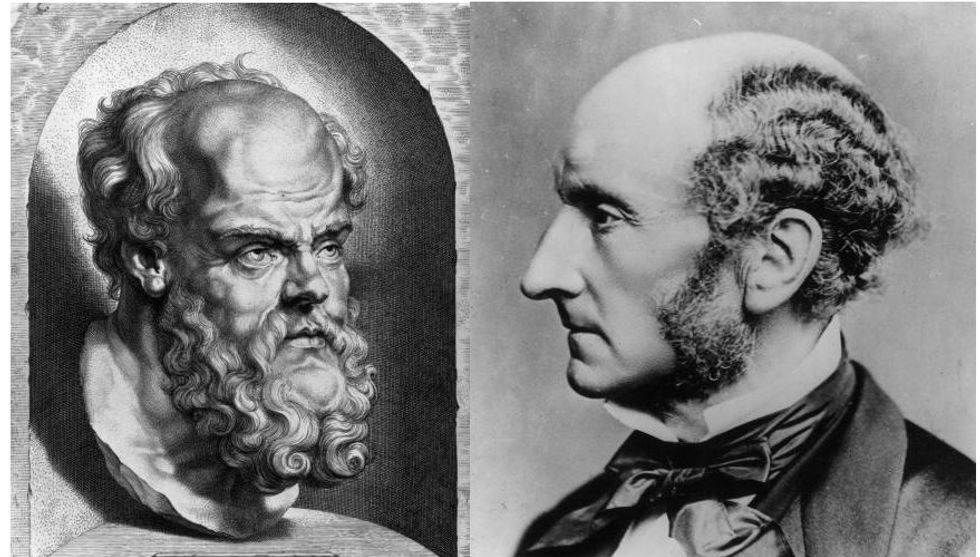 Could a Socrates have been produced in Sparta? Mill thinks not, despite Socrates' praise for the Spartan government. 
Democracy is great and all, but why is freedom good?
In On Liberty, Mill argues that we all need the freedom to choose our lifestyles. This is vital, as without this liberty people will be stifled and unable to explore new ideas, make discoveries, and fully develop as people. In a society where we must all follow the same religion, value the same things, and enjoy the same hobbies, individualism can never flourish. Mill sees this as a horrible situation, explaining that:
"It is only the cultivation of individuality which produces, or can produce, well developed human beings." and "In proportion to the development of his individuality, each person becomes more valuable to himself, and therefore capable of being more valuable to others."*
In Considerations on Representative Government, he notes that the best defense of liberty is an active population working inside of a democratic system. Mill allows us to connect the dots. Only a democratic government can safeguard freedom, and only a free society can hope to promote the development of the individual. The development of the individual is both good by itself and as a means to other ends. We, therefore, need democracy to help individualism and self-development to flourish and the world to progress.
But democracy can lead to such dangerous outcomes! Look to Athens and their mob!
Mill understands that people might make bad choices when they vote. However, he points out that the United Kingdom and the United States of the 19th century were doing rather well compared to the authoritarian states of Eastern Europe and Asia. He also reminded us that Athens, even with occasional lapses in judgment, produced much greater men than did any of the other Greek city-states. Liberty gives positive results, so it seems.
So, was Socrates just wrong about everything?
It is important to remember, however, that Mill was a progressive. He saw the march of history as moving ever forward and the ideal society as one that understood this progress was possible and promoted it. The ancient Greeks were interested in harmony, and in the Republic Plato built a utopia that would remain harmonious for the longest time possible. They even went so far as to define justice as harmony between parts of the whole, both for people and cities. The goals of Mill and Socrates differ considerably, and this must be remembered when comparing their worldviews.
Socrates offers us some excellent critiques of democracy. The problem of properly educating the voters, the threats of demagoguery, and the insistence that the people with direct power should be enlightened are all valuable insights. However, Mill shows us how democracy, flawed as it may be, offers us the best opportunity for growth as individuals and as a society. If, of course, we are willing to do what it takes to make democracy work.
*Mill was a utilitarian. He firmly believed that democracy and freedom lead to better outcomes and more happiness than tyranny. A common objection to utilitarian endorsements to democracy is that if it could be proven that oppression leads to better results, we would be morally obligated to institute that instead. Mill does dodge this problem, somewhat, by placing a high value on individualism. A high enough value, perhaps, to always make the math come down on the side of liberty. If this solves the problem or not is another issue. 
Here's how the government improves your life without you knowing it.
One of the best policies in America might just have the worst name: libertarian paternalism. Fortunately it's better known as 'nudge theory', and it has saved billions of dollars, huge numbers of lives, and subtly increased the nation's standard of living. How does it do all that? Harvard Law School professor Cass Sunstein explains that libertarian paternalism uses tested behavioral science to present people with choices that could improve their lives. It's why your credit card statement has clear information about how to avoid interest charges, it's why savings plans are opt-out rather than opt-in, and it's why 11 million U.S. kids below the poverty line get free school meals without even having to ask. These nudges and automatic enrollments give Americans all the help, with none of the treading on me (hence the 'libertarian' paternalism). They are, as Sunstein explains, liberty preserving and perhaps best of all, considering the current political climate, nudge theory is met with bipartisan enthusiasm. Cass Sunstein's research is cited in The Influential Mind: What the Brain Reveals about Our Power to Change Others byTali Sharot.
It's time to get real about key ideas that run our lives, which have been taking laughable liberties with human nature – and with the logic of livable liberty.
Illustration by Julia Suits, The New Yorker cartoonist & author of The Extraordinary Catalog of Peculiar Inventions
1. Our way of life takes liberties with human nature. It uses Enlightenment ideas about reason which Samuel Hammond says psychologists know are "very unrealistic" (if not laughable).
2. Hammond's essay on liberalism (=workable liberties sought by lefties and conservatives) makes many crucial points, but isn't entirely realistic about reason's role.
3. Key principles of workable liberty are discovered, not invented. For instance, Hammond says, church/state separation and multicultural religious toleration were discovered in 1590s India under Islamic rule. And in 1640s Europe after many wars. (Aside, the supposed "failure of multiculturalism"isn't universal).
4. Certain behavioral rule patterns (like the Golden Rule, or property rights) are discoverable by any perspective-taking game-theoretic thinking.
5. Game theory enables "mathematical…ethics" with patterns as provable as geometry. And like geometry, game theory takes teaching (try rediscovering Euclid). But cooperation-preserving game theory matters far more than geometry.
6. Hammond mentions the badly taught Prisoner's Dilemma game. If the strategy labeled "rational" produces bad results, is it rightly called rational?  That the Golden Ruled or god-fearing beat "rationalists" suggests we need to rescue "rationality."
7. "Experts play a vital role" says Hammond. Yes, but only if they're properly motivated. If experts (or leaders) aren't loyal to something above self-gain, like the public good, they're buyable and unreliable (see Plato on greed-driven politics, + original idiocy).
8. Hammond feels that "reason can help establish… cooperative norms." But they're also established, transmitted and internalized emotionally (see paleo-economics). Social emotions evolved partly for cooperation, as did language (we've got evolved social cooperation rule processors, akin to our tacit grammar rule processors).
9. Darwin saw that in humans workable cooperative norms work like natural-moral selection. Your way of life discovers them, or it dies out (see needism, + negative telos).
10. Hammond advises "reason and persuasion, not fear-mongering or other emotive strategies." But persuasion often requires emotion (see Aristotle's rhetoric). The trick is to recruit emotions for "good," not to ignore them (see Plato's emotive Chariot, + facts versus fears).
11. Many besides psychologists know that the Enlightenment's reason-reliance is laughably unrealistic. Only the unobservant or "experts" educated into "rationalist delusions" or "theory induced blindness" (like model-mesmerized economists) could believe otherwise.
12. Some Enlightenment thinkers understood; Hobbes—>"Reason is not...born with us…but attained by industry," Hume—>"Reason Is and Ought Only to Be the Slave of the Passions:"
13. But less realistic ideas won, and "Enlightenment errors," though unempirical, still underpin democracy and economics.
14. Three unempirical "Enlightenment errors," rationalism, individualism, and hedonism, are particularly seductive because they're partly truth. However their elegant oversimplifications exclude much that matters. They're typically empirically complex compositions hybridized with their opposites (emotional and relational rationality, self-deficient individualism, painstaking mattering and meaning-seeking).
15. No workable liberty can permit freedom to harm what your community depends on. Yet "logic" that pits self-interest against collective self-preservation lurks among the market-mesmerized.
16. Ways of life built on unempirical views of emotions or reason aren't sustainable. Hammond makes progress by using empirically sounder psychology (e.g., mentioning System 1 + System 2). But long-lived liberty requires "behavioral politics" and "better behaved behavioural models."
-- 
Illustration by Julia Suits, The New Yorker cartoonist & author of The Extraordinary Catalog of Peculiar Inventions