In 2017, conflict was stronger between red and blue than it was between black and white.
Wikicommons: Ferguson, MO Riots
In 2017, conflict was stronger between red and blue than it was between black and white.
A new Pew Research Center survey shows that 86 percent of Americans said conflicts between Democrats and Republicans are strong or very strong. In comparison, just 65 percent of Americans said the same for race relations between black and whites, while 60 percent reported strong conflicts between the poor and rich.
The respondents didn't, however, report feeling nearly as strong of a conflict between rural and urban Americans – a dichotomy that some suggested played a role in the election of President Donald Trump – with only 37 percent saying there were strong or very strong conflicts between the groups.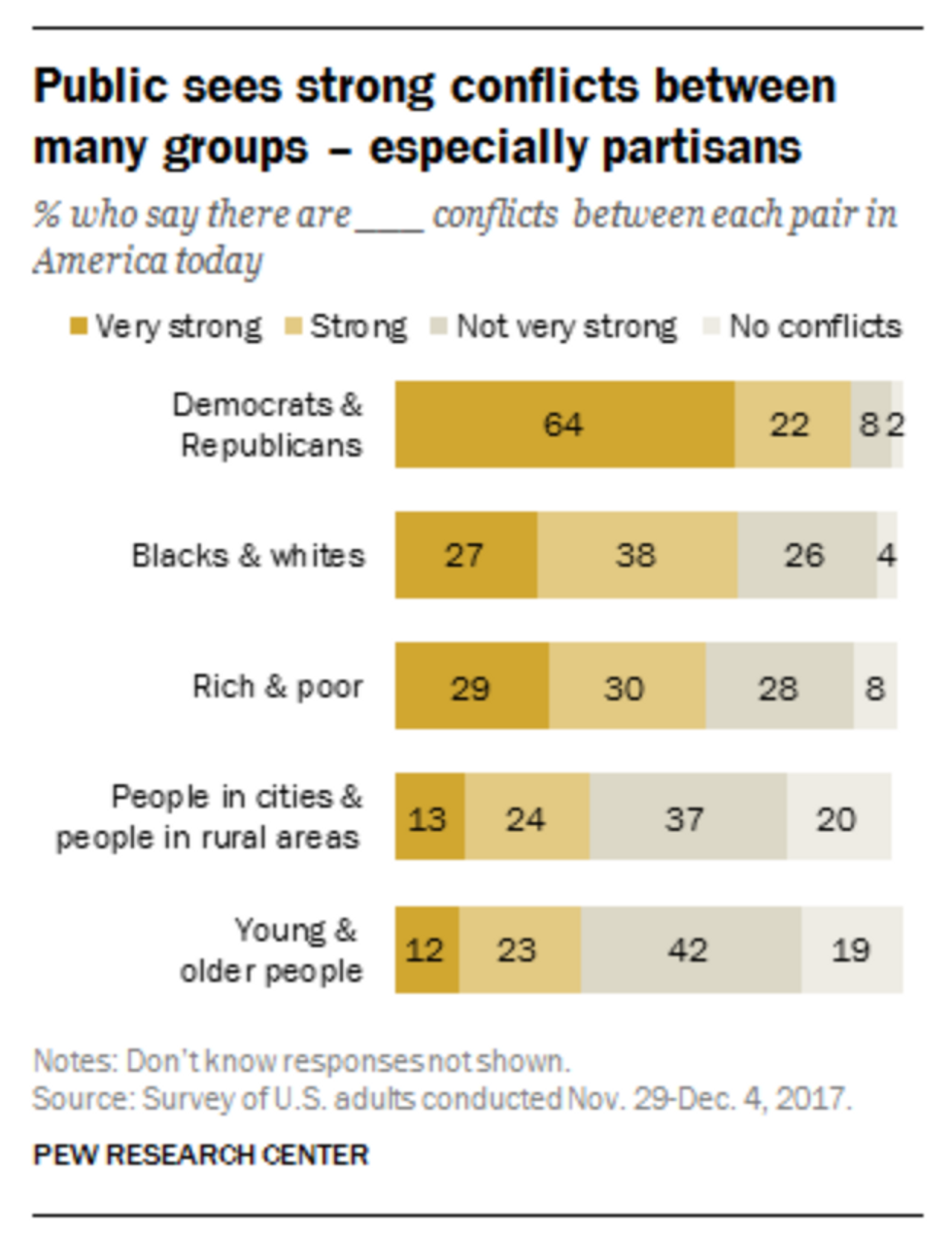 Both conservatives and liberals felt the discord: 90 percent of Democrats and 86 percent of Republicans reported a sense strong or very strong conflicts, representing a higher total rate than Pew Research Center recorded for 2016 or 2012. And the two parties appear to be more divided than ever when it comes to fundamental political issues. Pew Research Center reports that:
On 10 questions that the Center has asked in surveys since 1994 through summer 2017, the average gap between Democrats and Republicans has risen from 15 percentage points to 36 points. This gap is now much wider than the average gap on the same questions between people of different races, ages, educational backgrounds and other demographic factors.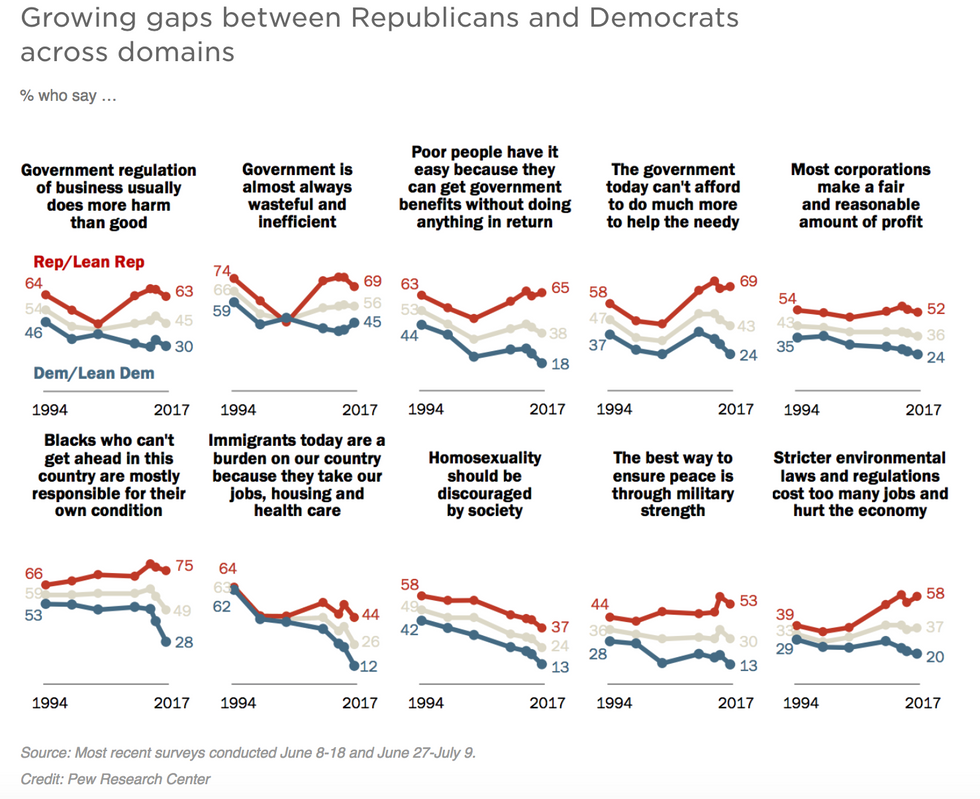 Interestingly, Democrats were more likely than Republicans to perceive the presence of strong conflict between every set of groups listed in the survey: rich and poor, white and black, rural and urban, and Democrat and Republican. Similarly, blacks were more likely than whites to perceive conflicts between every group measured.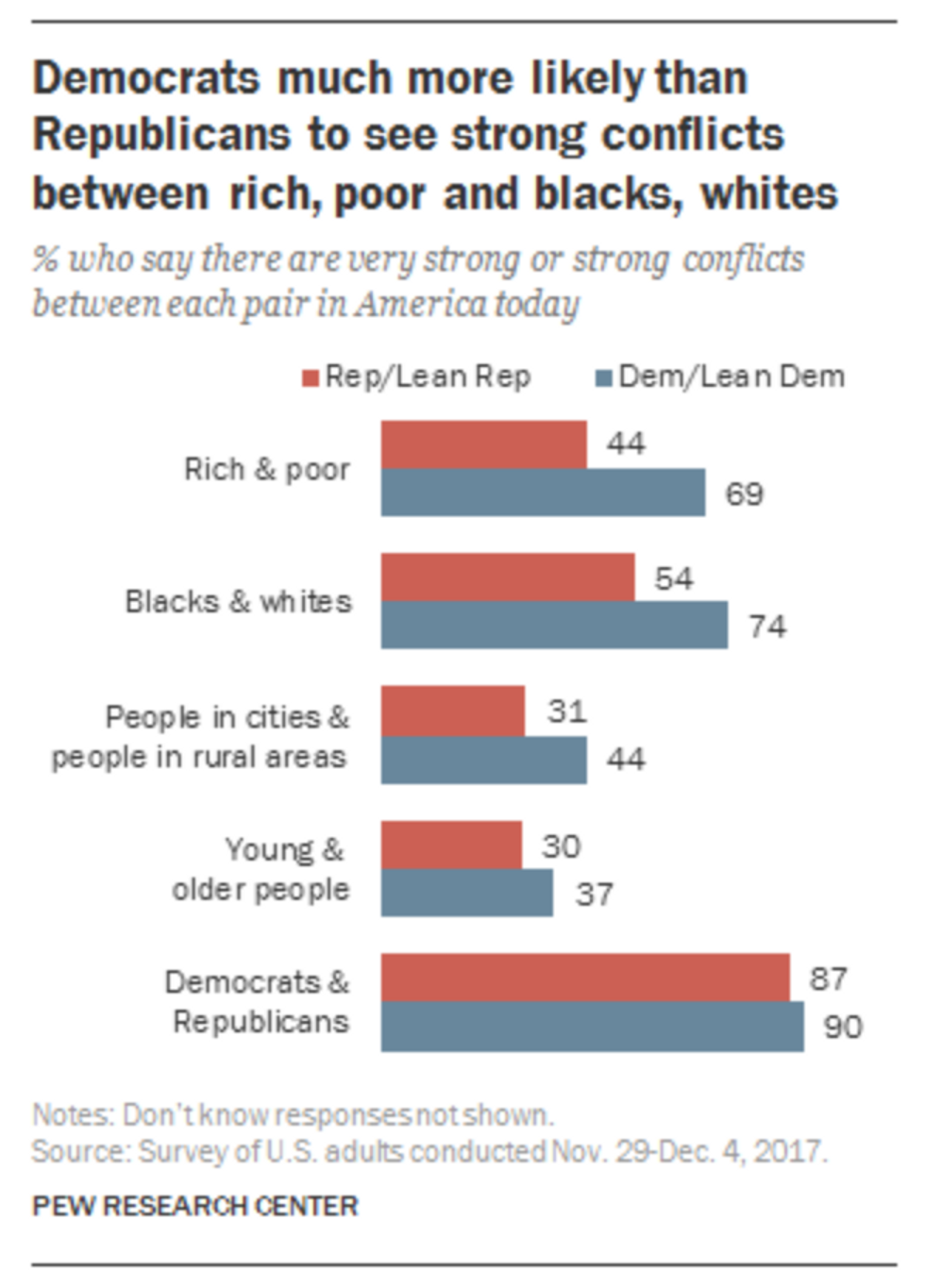 Making matters more complicated is the division and infighting within the two parties. In October 2017, the Pew Research Center published a report that describes the subgroups that have taken shape within each party in the wake of President Donald Trump's election. 
On the left:
Solid Liberals – "Largely white, financially comfortable and highly educated (most are college graduates and nearly a third have postgraduate degrees), Solid Liberals overwhelmingly express liberal attitudes on virtually every issue."
Opportunity Democrats "Agree with Solid Liberals on major issues. But Opportunity Democrats are less affluent, less politically engaged and less liberal – both in their attitudes on issues and in how they describe themselves politically."
Devout and Diverse "[this group] faces even tougher financial hardships than Disaffected Democrats. Devout and Diverse also are the most politically mixed typology group (about a quarter lean Republican), as well as the least politically engaged."
Disaffected Democrats "have very positive feelings toward the Democratic Party and its leading figures. Their disaffection stems from their cynicism about politics, government and the way things are going in the country. This financially stressed, majority-minority group supports activist government and the social safety net, but most say government is 'wasteful and inefficient.'"
And on the right:
Core Conservatives – are "in many ways the most traditional group of Republicans" and are "financially comfortable, male-dominated group overwhelmingly supports smaller government, lower corporate tax rates and believes in the fairness of the nation's economic system."
Country First Conservatives – represent a "much smaller segment of the GOP base, are older and less educated than other Republican-leaning typology groups. Unlike Core Conservatives, Country First Conservatives are unhappy with the nation's course, highly critical of immigrants and deeply wary of U.S. global involvement."
Market Skeptic Republicans – "support raising tax rates on corporations and large businesses. An overwhelming share (94%) say the economic system unfairly favors powerful interests, which places the view of Market Skeptic Republicans on this issue much closer to Solid Liberals (99% mostly unfair) than Core Conservatives (21%)."
New Era Enterprisers – "are fundamentally optimistic about the state of the nation and its future. They are more likely than any other typology group to say the next generation of Americans will have it better than people today. Younger and somewhat less overwhelmingly white than the other GOP-leaning groups, New Era Enterprisers are strongly pro-business and generally think that immigrants strengthen, rather than burden, the country."
Check out more about the subdivisions within each party in Pew Research Center's exhaustive report.
"If all that liberals can do in response is continue to lie about the causes of terrorism and lock arms with Islamists, we have some very rough times ahead," writes Sam Harris.
Sam Harris espouses liberal politics, yet he's received his share of criticism from the left for his views on Islam. He has long warned of the dangers of embracing the Muslim religion without caveats. While he's sometimes labeled Islamophobic, his concerns are not without merit. 
In Harris's reply to Trump's executive order on immigrants, the neuroscientist and philosopher argues the so-called Muslim ban is terrible policy. It is unethical to refugees and green card holders and will do little to staunch the slow bleed of terrorist activity; in fact, it might hasten it.
Yet Harris is duly concerned with the left's reaction to the ban, which he writes is "contaminated by identity politics and liberal delusion." He continues:
The Left seems determined to empower the Right by continuing to lie about the problem of Islamism. As David Frum recently wrote, "When liberals insist that only fascists will defend borders, then voters will hire fascists to do the job liberals won't do." I have been saying as much for more than a decade—and am vilified by my fellow liberals whenever I do.
An inability to think critically about complex subjects knows no party. The majority of Muslims will live peacefully and never incite violence while remaining opposed to terrorist organizations. Most religions confine punishment and retribution to personal faith. If they follow what they deem to be a righteous path, that is enough.
Yet outliers exist across the board. The very first fracture in Islam at the time of Muhammad's death has kept the religion battling ever since, with the Judeo-Christian lineage as much as internally. Today many more Muslims are victims of terrorism than Westerners. In America you're much more likely to die at the hands of a texting driver. Since that's a predominantly sanctioned (or at least under-policed) activity it does not strike fear in our hearts the way a terrorist hidden in the shadows does.
To Trump's advantage, he called out Islamic terrorism by name — something President Obama and Hillary Clinton largely avoided. In their focus on the more progressive and unifying aspects of Islam they consistently missed opportunities to address the real problem. Trump observed that opportunity and exploited it, and continues to exploit it now that he's in power.
This is dangerous not only in regards to immigrants and social tension, but in what it hides as well. Cautionary tales abound. As I warned last June, Hungarian Prime Minister Viktor Orbán's ascension to power eerily mimics Trump's own. In 1998 Orbán was the youngest PM ever voted into power in Hungary. He lost the following election, vowing to return, which he did in 2010. He plans on remaining there indefinitely.
Formerly liberal, Orbán noticed populist sentiments beyond Budapest. He lead an anti-Communist charge in the eighties, but by the time of his re-election he started using that party's tactics. When his Fidesz party won two-thirds of parliamentary seats in 2010, Orbán cut the number of seats in half and gerrymandered the entire country all at once. In the next election his support dwindled from 53 percent to 44 percent. Thanks to redistricting he, along with every official in his party, remained in power.
Orbán punishes journalists and media institutions critical of him while rewarding those that sing his praises. He's arrested opposition party members and fired judges he doesn't care for. Most inspiring to his fans, he constructed a 110-mile long, thirteen-foot high fence on the Serbian border to keep Syrian refugees from entering the country.
The parallels are striking, especially as Orbán and Putin recently met to share their disdain for American sanctions on Russia. With Rex Tillerson in place as Secretary of State those sanctions are threatened. Terrorism is a convenient carrot to dangle in front of everyone's eyes, as real a problem as it is.
Nationalism always makes for a convenient myth when distractions are needed—the dream of racial and ethnic purity that once existed, even if only in the social imagination. Naomi Klein understood this when writing in The Shock Doctrine:
The ideologies that long for that impossible clean slate, which can be reached only through some kind of cataclysm, are the dangerous ones.
Liberals, as Harris argues, are guilty of clean-slate fetishism when lashing out at any criticism of Islam. David Frum offers similar criticism:
Trump's executive order has unleashed chaos, harmed lawful U.S. residents, and alienated potential friends in the Islamic world. Yet without the dreamy liberal refusal to recognize the reality of nationhood, the meaning of citizenship, and the differences between cultures, Trump would never have gained the power to issue that order.
As Orbán is proving, nationalism pays dividends. The swamp might not be drained, but the melting pot certainly is. If you don't note which ingredients are being added you'll never know what the outcome will be. This is what Harris has been warning of for years: blind allegiance to an illusion comes with its own perils.
--
Derek's next book, Whole Motion: Training Your Brain and Body For Optimal Health, will be published on 7/4/17 by Carrel/Skyhorse Publishing. He is based in Los Angeles. Stay in touch on Facebook and Twitter.
The ranking of empathy from highest to lowest goes liberals, conservatives, libertarians. But the difference is minor, says Paul Bloom. Typically the debate isn't all over whether or not to empathize – it's over who to empathize with.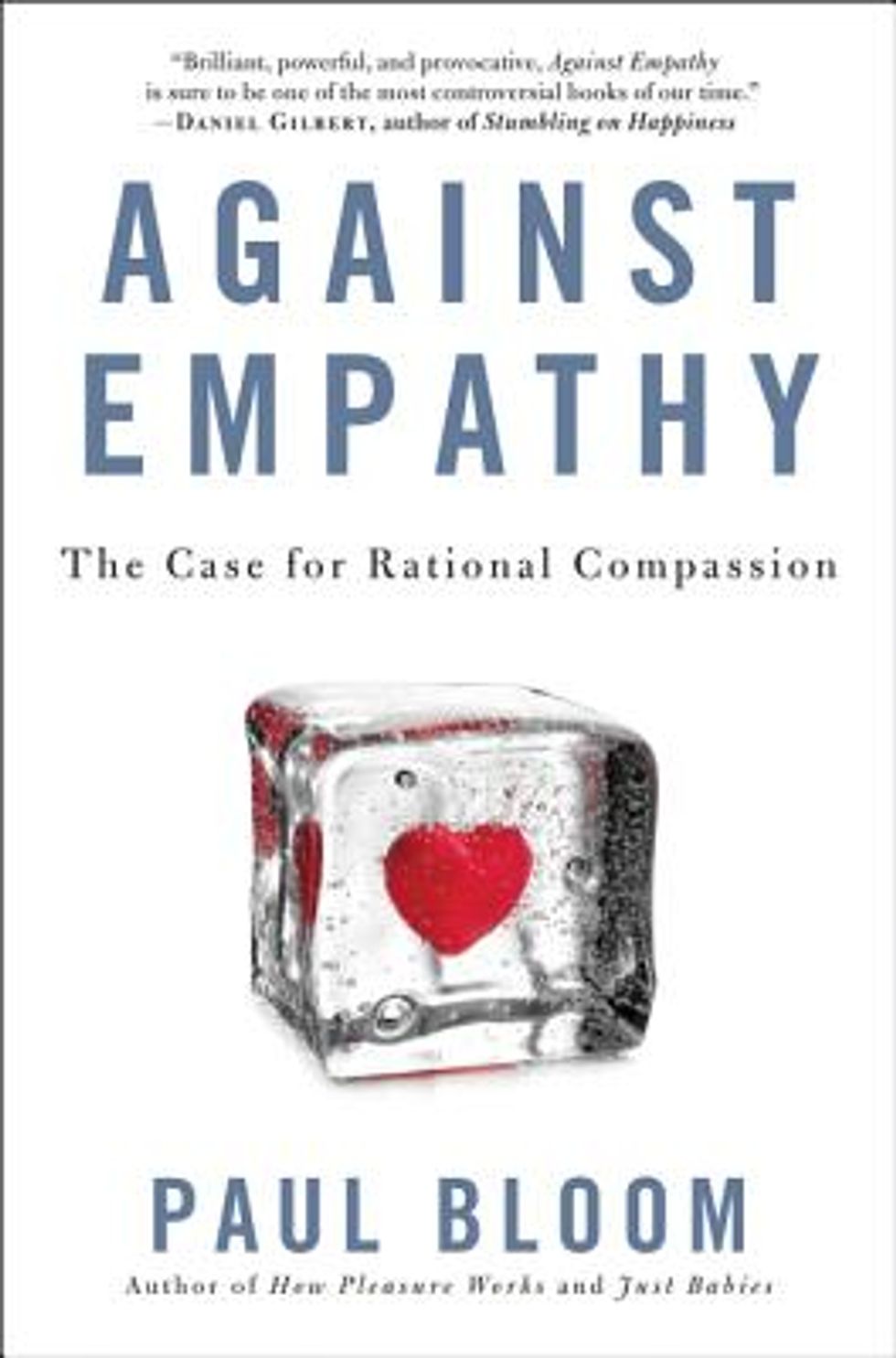 The title of Paul Bloom's latest book may ruffle a few feathers; it's called Against Empathy. Empathy has come into its own of late, held on a pedestal as one of the most glorified emotional skills – but Bloom argues that at times it can cloud our judgement. When it comes to political debates, typically the debate isn't all over whether or not to empathize, it's over who to empathize with, he says. There are some political issues, such as climate change and free speech, in which empathy favors one side of the issue, and encourages inaction over action.
Democracy needs a new PR team. Polls about the way US millennials view democracy seem shocking, but analyzing their reasoning brings about an unsettling truth. 
Photo by Monika Graff/Getty Images
2016 was a wild year, politically speaking. British voters elected to leave the European Union in a populist upset, sending markets spinning and rendering the phrase "sound as a pound" outdated as the currency lost 5% of its value against the dollar in a single day's trading. Americans selected Donald Trump by a minor victory, again shocking the world. In Austria, the candidate of the right-wing populist Freedom Party narrowly lost the presidency to a 72-year-old Green.

Meanwhile, in Turkey – a member of NATO, potential EU member, and often cited example of stable Democracy in the Middle East – the military attempted a coup d'etat in July in the name of "constitutional order, human rights and freedoms, and the rule of law". The defeat of the coup has lead to a massive crackdown on academia, journalists, and police officers.
It is perhaps understandable then that a new study by Yascha Mounk and Roberto Stefan Foa, shows that many young people have increasingly un-liberal and un-democratic views about how governments need to operate. Only a third of US millennials see civil rights as "absolutely essential" in a democracy, compared to 40% of older citizens. Poll results are slightly higher, but similar, in Europe.

Likewise, only 20% of millennials agreed to the statement "a military takeover is not legitimate in a democracy". A full 25% of American millennials said that democracy is a "bad" or "very bad" way to run a country, up 10% from 20 years ago, and double the rate at which European millennials responded in the same way.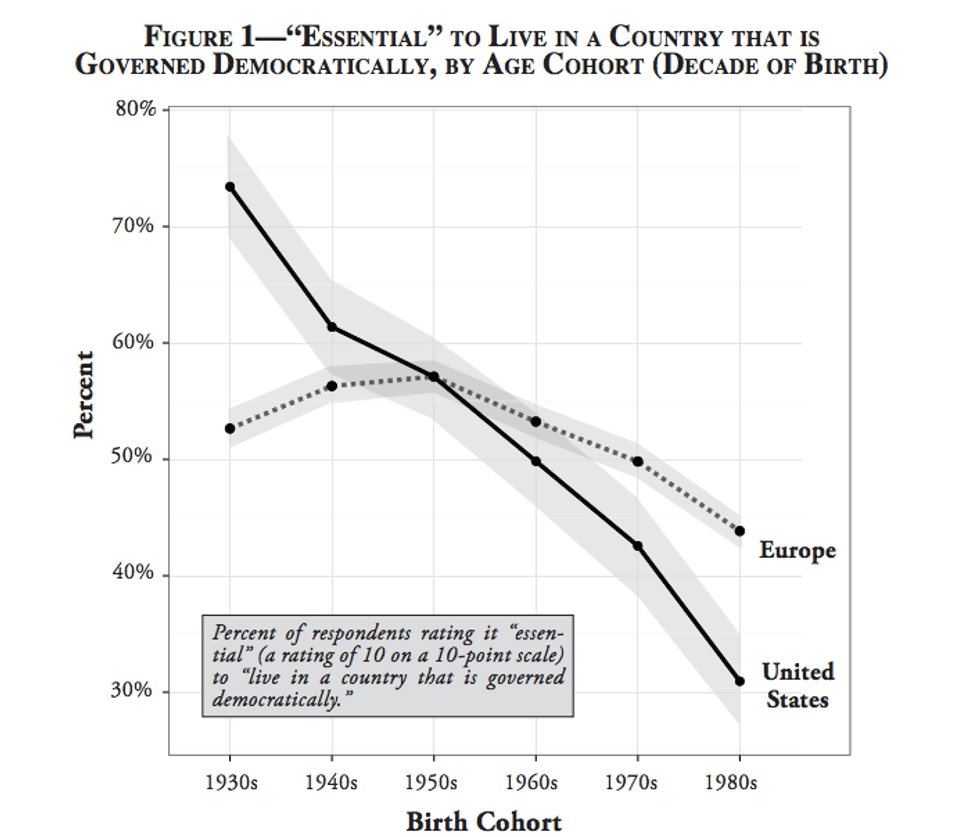 Source: Roberto Stefan Foa and Yascha Mounk
Why might they think this way? The polls show younger people are the most inclined to have casual attitudes towards anti-liberal viewpoints, as opposed to their older counterparts. These millennials can only remember a time after Francis Fukuyama declared the "End of History" and the triumph of Western Liberal Democratic Capitalism. To some extent, they may take the social order for granted and not see much of an issue with reduced liberties, having no memory of the great totalitarian regimes of the past.
On the other hand, these same people have seen democracy "fail" in several ways in their lifetimes. An American of 24 would have seen seven presidential elections in their lifetime, two of which were won by the person who lost the popular vote, and four by a person who didn't even get half the vote. Similarly, In the United Kingdom the most recent general election results were the worst ever in terms of actual voting results in comparison to who got into office. Only 36% of votes cast were cast for the Conservative party, which was able to form a majority government as a result.
It would be simple to view these events, and then perhaps conclude that your political rights and participation were of little importance.
If you thought that a decline in faith in democracy was enough, Bank of England Governor Mark Carney has warned that people will turn their backs on free and open markets if nothing is done to make those systems work for everyone. Carney, who supports capitalism and open markets has made clear his belief that:
"We need to move towards more inclusive growth where everyone has a stake in globalization" and has expressed his fear that, "Globalization is associated with low wages, insecure employment, stateless corporations and striking inequalities" and warns, "Turning our backs on open markets would be a tragedy, but it is a possibility". He does propose a notion for a solution, saying, "It can only be averted by confronting the underlying reasons for this risk upfront."
It is not hard to see that he may have a point about the popular view of globalization. In the United States both Donald Trump and Bernie Sanders offered populist economic appeals, one of a social-democratic variety and one of a protectionist-nationalist type. Both argued against the TPP trade deal, which is now dead in the United States, but for differing reasons; both sides of the political spectrum agreed in rejecting the deal.
Carney's points are of great concern as polls show an increasing dissatisfaction with free trade, open markets, and capitalism in general. An increasing numbers of people in polling show they have less faith in the capitalist system than even a half decade ago.
Millennials, again, show the most dramatic break with the past as more people under 30 hold a favorable view of socialism then do capitalism. It may be noteworthy that the socialism that young people have a favorable view of is probably not the Soviet model, but the Nordic Model. This model is not hard left, but the traditional fear of Americans to the term socialism being tossed aside perhaps shows the beginnings of new political unrest in the United States.
So, is this the end of liberal-democratic capitalism? Is a new world order soon to be at hand?

Perhaps not; while the western model may be wobbling, there is still little in the way of viable competition. Dr. Fukuyama, who has long backed away from his previous stances, still argues that there is no high functioning alternative system as "neither Islamist theocracy nor Chinese capitalism cuts it". Liberal democracy is liable to carry on as the dominant form of society for some time.
However, these systems only work if there is popular faith in their ability to improve the common condition. While some politicians are taking action to explicitly try to restore this faith, the exact nature of the remedies, how much is needed, and if we can avoid a repeat of what happened last time faith in democracy was tested, remains to be seen.
If hate is a virus, the U.S. has got it bad. Oliver Luckett presents a fascinating perspective on how the 2016 election divided America, how social media mimics biology, and how the U.S. can start to rebuild.
If you ask tech entrepreneur Oliver Luckett, he'll tell you we're at a very interesting phase in the U.S.'s social development. The 2016 election propelled things forward drastically, and the catalyst for that largely has been social media, and specifically Trump's raw Twitter feed. This forward propulsion? It's not a good thing – unless you look at it from an 'if you want to make an omelet, you gotta crack some eggs' perspective. Sometimes you have to break down in order to build up. "Evolution is not necessarily progress," says Luckett, "it's one of the biggest themes of the book that I hope that people understand… just because something is evolving and changing doesn't mean that it's moving forward in a progressive manner."
In the new book The Social Organism co-authors Luckett and Michael J. Casey offer an intriguing idea: that social networks mimic the rules and functions of biological life. In Big Think's chat with Luckett above, he weaves an intricate picture of the social virus that has gripped the United States, one that was coaxed out over the course of the 2016 presidential election, externalizing hateful emotions that were buried under the surface – not at all different from the way the HIV virus hides itself in dendritic cells. Concealment makes a virus impossible to kill. It must be ferreted out and the virus triggered.
Liberal America really didn't see it coming; it was shielded from reality by selective reading and the algorithmic segregation that feeds people mostly content that appeals to their sensibilities, rather than challenges it. The exposition of the nation's true feeling was shocking for some, but the silver lining is that at least the U.S. has now received its diagnosis. "I think that we're now starting to see everything for what it is. I think that we're actually starting to reabsorb our society and we're starting to see it and now we have these individual decisions to make at a very granular level that I don't think we ever thought of before," Luckett says.
Now that liberals are free from their echo chamber and the virus, as it were, is out in broad daylight, we can recognize the fundamental issues that landed the U.S. here and turn it into a moment that leads to action – to the kind of evolution that Luckett hopes will be progressive.
Luckett and Casey's book is The Social Organism: A Radical Understanding of Social Media to Transform Your Business and Life.