The exploding popularity of the keto diet puts a less used veggie into the spotlight.
Purple cauliflower. (Photo: Shutterstock)
The cauliflower is a vegetable of choice if you're on the keto diet.
The plant is low in carbs and can replace potatoes, rice and pasta.
It can be eaten both raw and cooked for different benefits.
Of all the ubiquitous diet trends, the keto diet is probably the one with the most current buzz. While the long-term health benefits of this low-carb approach are debatable, keto has thrust one vegetable into the spotlight. Welcome to the age of the cauliflower.
What's made the cauliflower, the bane of kids everywhere, experience such a burst in popularity? The keto (or ketogenic) diet calls for getting rid of high-carb foods in favor of fatty foods rich in protein. The goal is to get your body into a state of ketosis, where it will burn fat for fuel instead of sugar. The short-term weight loss that ensues has been the reason for the diet's growing amount of followers.
The biggest reason for cauliflower's resurgence? It is very versatile and has only 3 grams of net carbs (from 5 grams of carbs) per a 100-gram cup. That makes it an excellent low-carb vegetable substitute in many recipes that call for things like potatoes, rice or pasta.
What's also great about this under-utilized veggie is that a cup of cauliflower would have only 25 calories while giving you 77% of the daily allowance of vitamin C and high levels of vitamin K and B6. It also contains omega-3 fatty acids, fiber, choline, biotin, phosphorus, magnesium, manganese, niacin, pantothenic acid, vitamin B1, B2 and protein. You can search its full nutritional values in this expansive USDA report. Suffice to say, the cauliflower is chock-full of nutritional goodies.
This plant, which has its origins in Cyprus and the Asia Minor region, with first historical mentions going to back to around 600 B.C., has also been found to have anti-carcinogenic properties.
This is what a cauliflower mac 'n cheese looks like. The recipe can be found at MinceRepublic.com.
So what can you do with cauliflower ? You can cook it in a variety of ways: sautéing, roasting, steaming, you name it. Interestingly, a case can be made both for eating it raw and cooked. For one, the organic compound indole, which helps kill precancerous cells, is formed when the cauliflower is cooked. Another reason why cooking may be the way with this veggie, besides making it taste better, is that it's more likely to cause gas, bloating and other gastrointestinal distress in its raw form. On the other hand, fresh cauliflower has up to 30% more nutrients and antioxidants, says Dr. Marlynn Wei.

Check out this plethora of cauliflower recipes for those on the keto diet. Keep in mind, research shows that it's not a diet that is beneficial over the long term. No more than three months of ketogenic dieting is about the length to aim for.
While short-term results are positive, there is mounting evidence against staying in ketosis for too long.
Recent studies showed volunteers lost equal or more weight on high-carb, calorie-restricted diets than low-carb, calorie restricted diets.
There might be positive benefits to short-term usage of a ketogenic diet.
One dietician warns that the ketogenic diet could put diabetics at risk for diabetic ketoacidosis.
A few weeks ago I stopped by the Korean stand at my local farmer's market. I was picking up fermented daikon and tempeh when the seller tells me about a woman that had just stopped by to ask if tempeh has protein. The look on my face answered his non-question. He continues to tell me that she's on a "no protein" diet because, well, at this point, I just give up.
Humans can be absurd in our dietary beliefs. Every other animal eats due to necessity and availability. Our relative luxury has afforded us the opportunity to partake in eating plans that thwart basic biological needs. Some plans seem to make sense until science steps in.
For a minute it appeared the keto diet had traction. Advocates were seeing drastic weight loss. By their telling, "Big Food" is waging a longtime conspiracy to inject as many big carbs into our bodies as possible. (Not that excess carbohydrates, especially in the form of sugar, isn't a problem.) My personal experience with keto, which lasted roughly three months, was successful in certain regards. Weight loss wasn't the intended goal, though that did happen; I did it to address chronic GI issues.
As it turns out, I might have inadvertently nailed the timing, at least according to one doctor that never puts his clients into ketosis for more than three months. Let's face it: our ancestors never purposefully restricted carbohydrate intake. They just didn't have a Whole Foods to shop at. Macronutrients weren't on their minds as they had no awareness of the building blocks of calories to begin with. The question was never "What's my meal plan this week?" but rather, "What can I catch today? What plant is ripe to forage?"
Now that more research is emerging, the news on keto isn't good. Scientists leading one 2016 study, led by National Institutes of Health obesity researcher Kevin Hall, confined 17 volunteers to a hospital for a two-month stay. This is important, as self-reported studies are always at risk of being invalidated by faulty data. In this study, volunteers ate plenty of sugary carbs for the first month; during the second they received the same caloric load, replacing the bulk of those carbs with fats.
Vox Media
At the end of the two months, Hall was unimpressed.
In this case, we saw daily insulin secretion drop substantially within the first week and stay at a low level. But we only saw a small transient increase in energy expenditure during the first couple of weeks of the [low-carb] diet, and that essentially vanished by the end of the study.
Despite what some expected, it took the volunteers on the high-fat diet 28 days to lose as much weight as those on the baseline diet lost in 15 days. (All volunteers were overweight; the mechanism for their weight loss was lower daily caloric intake.) To be fair, there was no control group and calorie restriction generally has a bigger impact during the first month on any diet. That said, this study provided a serious blow to low-carb advocates.
As dietician Bonnie Taub-Dix told Well + Good, there should be an emphasis on eating the right carbs, such as whole grains. She's also not a fan of diabetics getting into ketosis, even though this community is specifically targeted by advocates. "It can cause DKA, diabetic ketoacidosis," she said. "This happens when your body is producing a lot of ketones and can lead to vomiting, diarrhea, feeling faint, and being [excessively] thirsty."
Yagi Studio / Getty Images
The Internet is filled with anecdotal tales of triumph thanks to ketosis. The diet should not be completely written off, as other studies — on mice — have shown positive benefits, such as weight loss and memory improvement. Again, these are short-term fixes, not longitudinal proof.
Besides, a 2018 study, published in JAMA, found that low-carb and low-fat diets were equally effective for weight loss. This isn't the only evidence of this fact. A 2015 meta-analysis found that low-carb diets barely outperformed low-fat diets.

As Taub-Dix notes, balanced dieting is "boring." People always want the next great thing, be it a shamanically-blessed Amazonian berry or a supercharged Pacific Northwestern mushroom. I recently had dinner with a fellow who talked about his nootropics regimen, which greatly increases his focus, yet he checked his cell phone every five minutes during our two-hour meal. The distance between our brain and our gut remains too long to traverse.
--
Molecular biologists are hopeful about the results, but a long road lies ahead—so far this diet has only worked proven wonders on mice.
Ketogenic diets are this year's weight-loss silver bullet. While we should approach every diet with a healthy dose of skepticism, the more studies being conducted on ketosis—the state your body enters when producing elevated amounts of ketone bodies, which are constructed via fatty acid metabolism in your liver—the more the benefits are accruing. 
Weight loss is a continually trending topic, though such popular pastimes sometimes lead to deeper inquiry. In the case of ketogenic diets, two new studies published in Cell Metabolism show how cutting back carbohydrates and intermittent fasting not only helps with weight, but may stretch out your life while improving your memory along the way—in mice, at least. 
A quick primer: your body burns fat as well as carbs for energy. Since our culture lives on carbs, with pretty much every processed food from a box or wrapped in plastic being carb- or sugar-dominated (which equates to the same thing once the saliva begins breaking down the nutrients in your mouth), we use the carbs and store the rest as fat. Hello obesity levels. Remove the carbs and your body turns to fat for energy. Burn the fat, weight loss follows. 
Unfortunately your brain can't burn fat for its outsized energy needs. It requires sugar. Or ketone bodies if you decide to starve your body of glucose. Eat lots of fat, consume fewer carbs, and voila. While I'm not overweight I dropped ten pounds in weeks when experimenting with ketosis. Ever since I've maintained this weight, not by fasting—a popular ketogenic method is to fast for between 12 and 18 hours every day—but by keeping carb consumption down and fat intake high, also supported by recent research on 135,000 adults. 
Anecdotes are just that, personal stories, so let's turn to the research. In the first study, mice were fed three diets: zero carbohydrates, a nutrient-balanced diet (the control group), and a high fat diet with just 15 percent carbohydrate intake, a percentage arrived at when researchers slowly added carbs to a carb-restricted diet to find the baseline in which mice remain in ketosis. After 15 percent their bodies suppressed ketosis, and would be little different than the control group. 
The mice were put on a cyclic ketogenic, high-fat, or control diet in mid-life. The cycle was one week, so they would eat this way for a week, then every mouse would spend a week on their respective diets. (Ketogenic- and high-fat only mice did not fare as well.) Interestingly, the high-fat group ended up heaviest, though the ketogenic and high-fat groups both had a higher caloric intake than the control group. In terms of longevity, the ketonic group proved most successful, at least through midlife. After thirty months of age, their mortality rate was the same as the control and high-fat groups. 
As for memory, the researchers write: 
In healthspan testing, we found a striking effect of Cyclic KD [ketogenic diet] on memory as well as more modest effects on a broader range of measures. We saw consistent memory improvement in two distinct tasks over 6 months.
The ketogenic group showed normal cognition wear with aging, but performed better in a visuospatial learning and memory test than the other groups, in which the mice learned to avoid (or not) an electric shock. The KD mice also showed improvement in late middle age (28-30 months) in novel object recognition.
Game-changer? Not quite. But anything that helps memory in aging bodies is a boost, especially given the crippling rates of dementia affecting millions of humans each year. An increase in midlife mortality rates means we'd be healthier during our prime.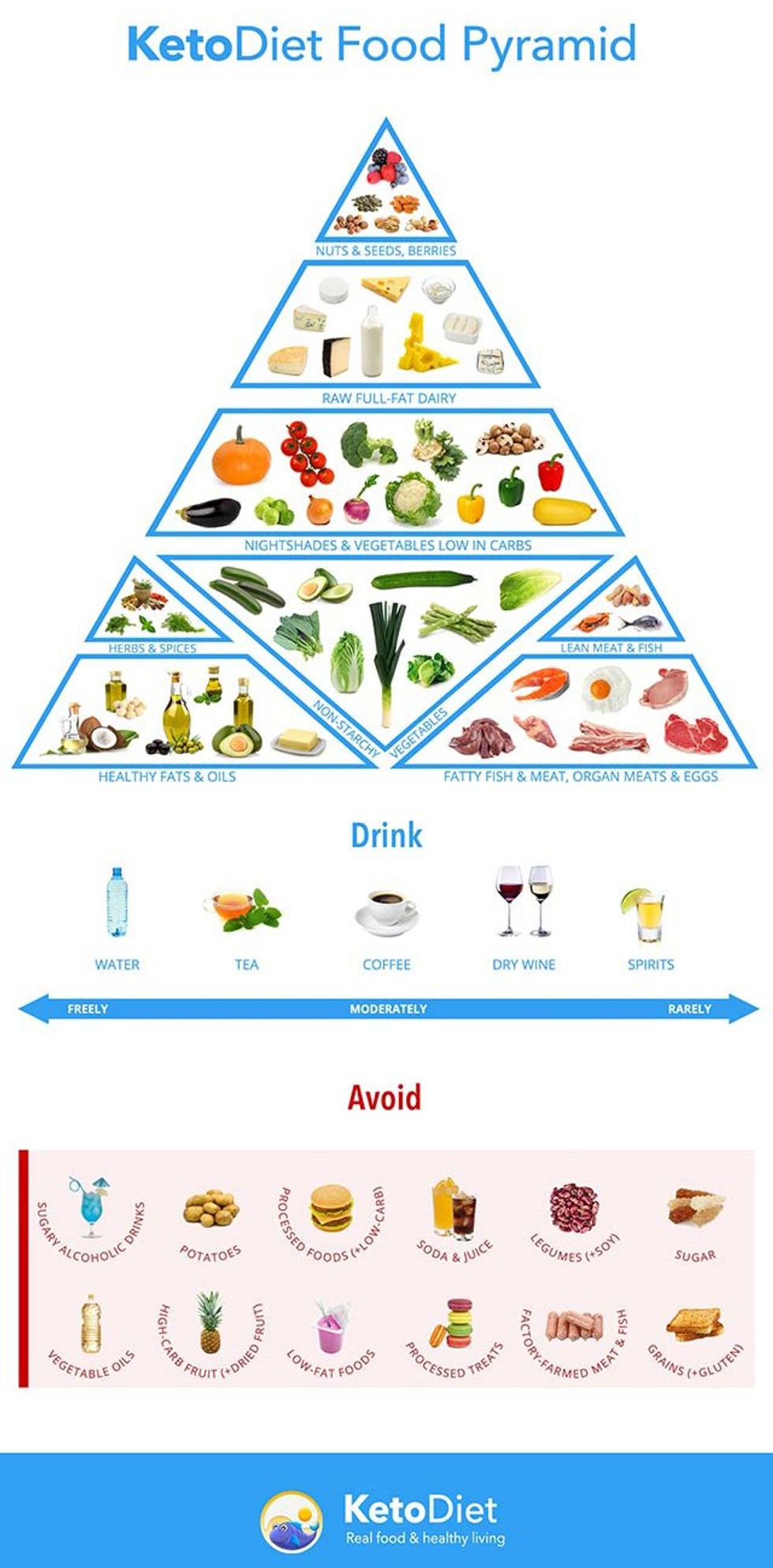 Image: ketodietapp.com
The second study also began at 12 months of age. It focused on calorie restriction, which, coupled with carbohydrate restriction, promotes production of ketone bodies. This study also featured the same three dietary guidelines: no carbs, low carbs, and a control group. While the first study showed better rates of midlife mortality, this one offered an optimistic view of longevity: 
The results clearly demonstrate that lifespan is increased in mice consuming a KD compared to a standard control diet. 
More tellingly, perhaps, is how the ketogenic group showed even better results in memory: 
Our results show that a KD slows cognitive decline and preserves motor function in aging mice. It should be noted that although the LCD [low carbohydrate diet] did not significantly differ from the ketogenic group in longevity, the two diets differed in their ability to preserve physiological function with age. This suggests that ketones may be necessary to elicit an extension of healthspan.
The role of ketones is playing a bigger role not only in general research but at pharmaceuticals companies as well. Researchers from these studies are interested in the physiological mechanisms behind ketones in hopes of isolating them for usage in pill form. If their protective effects can be better understood, perhaps humans won't have to fast or restrict carbs to reap the cognitive and longevity benefits. 
As one researcher, molecular biologist Eric Verdin puts it, these results are hopeful, but a long road lies ahead—mice aren't humans. Our diet and relationship to our environment has changed greatly over the last few hundred thousand years, while mice have been mice for a long time. As he states:
We're very excited to see such a profound effect on brain function. Our results don't imply this is going to work in humans. For that, we'll need extensive clinical trials.
Until then read this extensive article on ketosis and fasting. We might not have conclusive results, but the data trickling in from varied confirmed sources is pointing in one direction: cut down on carbs.
--
Derek is the author of Whole Motion: Training Your Brain and Body For Optimal Health. Based in Los Angeles he is working on a new book about spiritual consumerism. Stay in touch on Facebook and Twitter.