Ketosis is known to work wonders in terms of short-term weight loss. But what about the diet's effects over the long term?
Maybe it's time to start eating bread again. (Image: Creative Commons/Big Think)
The ketogenic diet is one of the latest dietary fads to sweep the U.S., promising rapid weight loss, enhanced brain function and sustained energy throughout the day.
These effects are achieved by replacing high-carb foods with fatty, protein-rich foods that will eventually put the body in ketosis: a natural metabolic state in which the body burns fat for fuel instead of carbohydrates.
Ketosis is known to work wonders for short-term weight loss. But what about the diet's effects over the long term?
An American research team wanted to know which combination of diet and exercise has the most beneficial results on metabolic syndrome in 10 weeks.
Bacon, or jog? Ideally both. (Images: Left, Cookbookman17 via Flickr. Right, Shutterstock)
Myths die hard—especially bad ones, it seems. In the last few months I've attended fitness classes in which the instructor told us that if we finish the upcoming workout, we're allowed to eat whatever we want that night; that this class will take care of the holiday weekend; that this exercise will eradicate flabby arms and tummies. Some were expressed jokingly, yet the verbiage still points to an overarching misunderstanding about our bodies: that exercise cures the ravages of bad dietary habits. 
This is especially true in terms of obesity. There are very fit people who appear to be carrying a few extra pounds, while there are tons of trim people who are hardly healthy at all. Weight is generally a terrible marker for fitness—no excuse for not staying in shape, however. Humans are biologically designed for movement. When we don't meet a basic threshold, we suffer. 
How exercise and nutrition fit into the jigsaw puzzle called health is debatable. I've heard it expressed as 75 percent nutrition, 25 percent exercise, a vague statistic I've used myself when students ask my opinion. It's not necessarily a precise number, but it does give more weight to the food side, which is the point. My forty-five minute kettlebell class is not going to "erase" the pizza and six-pack you consumed last night. 
Which is why researchers need to better understand ratios, such as an upcoming study—'Induced and Controlled Dietary Ketosis as a Regulator of Obesity and Metabolic Syndrome Pathologies'—to be pushed in the journal, Diabetes & Metabolic Syndrome: Clinical Research & Reviews. The results are fascinating. 
Ketogenic diets are all the rage right now. The onslaught of ketone-fueled protein powders and exogenous ketones has begun, which might prove to be more marketing hype than credible science. (Nutritional ketosis is the gold standard. Pills and powder might help jumpstart the process, but they are no excuse for overloading on carbs.)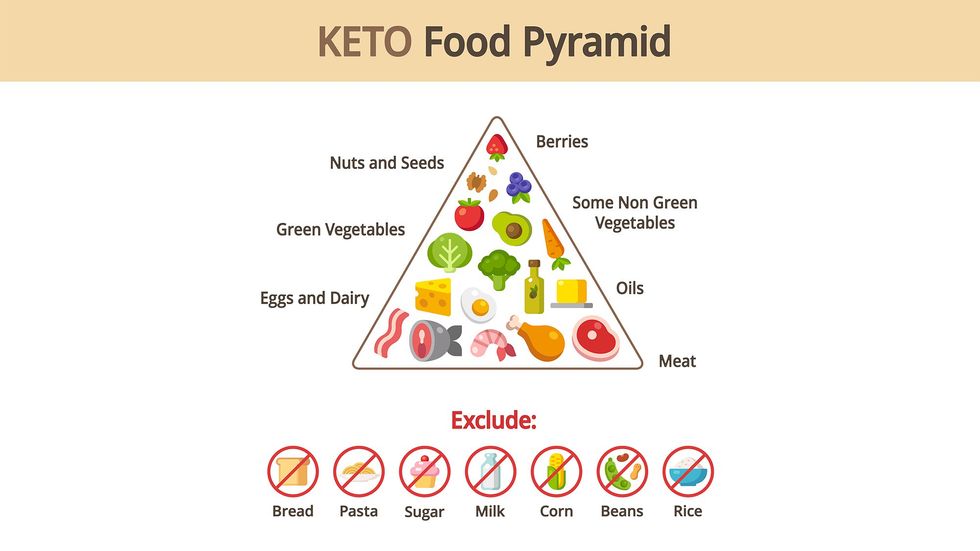 Taking advantage of our evolving knowledge of carbohydrate restriction, the research team, led by Madeline Gibas, an assistant professor at Bethel University focused on Human Bioenergetics and Applied Health Science, wanted to know if a ketogenic diet with no exercise was more beneficial to diabetics and sufferers of metabolic syndrome than the standard American diet with exercise. 
Three groups were assembled, comprised of women and men between the ages of 18 and 65. All had previously been diagnosed with metabolic syndrome, pre-diabetes, or Type II diabetes. Their body mass index (BMI) was greater than or equal to 25 (or waist circumference above 37 for men and 31.5 for women) and body fat percentage above 30 percent. 
Participants were randomly assigned to three groups, in the order they signed up for the study. For ten weeks the first group consumed a diet of less than 30 grams of carbohydrates per day and did not exercise; the second ate their normal diet and also did not exercise; the third ate their normal diet but exercised for three to five days per week for 30 minutes a session. 
Gibas and her research partner, Kelly J. Gibas, Doctor of Clinical Behavior Sciences at Bristlecone Behavior Health in Maple Grove, Minnesota, focused on five biomarkers of metabolic syndrome, including "elevated triglycerides with excess muscle fat accumulation (IMTG), impaired maximal aerobic capacity (VO2), declined resting metabolic rate (RMR) and elevated body mass index (BMI) along with elevated hemoglobin."
After ten weeks the data were clear: 
The results show that while ample evidence indicates that exercise is beneficial, unlike a sustained ketogenic diet it did not have the ability to significantly alter the metabolic imbalance that accompanies metabolic syndrome over the course of the ten-week study.
Following a ketogenic diet, even with no exercise, proved statistically significant for weight, body fat percentage, BMI, A1C (glycated hemoglobin), and ketones. Some of the results were dramatic: 
The resting metabolic rate in the ketogenic group also produced sizable change in the magnitude of the slope, more than ten times the other two groups.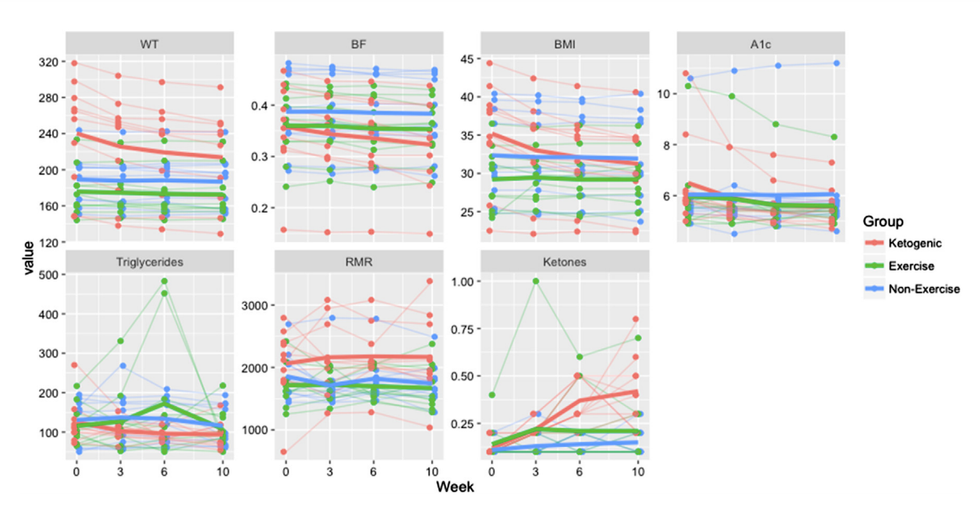 The drastic influx of carbohydrates and sugar in the American diet has created innumerable physical and mental diseases that are easily prevented when an addiction to certain foods is curbed. We know overcoming any addiction is challenging, but until the medical industry treats our obesity epidemic as such, we're unlikely to make major advances. 
So it remains the work of researchers like the Gibases to present such data. In their study they point to 2015 research from 26 MDs and PhDs explaining our evolved awareness of nutrition, facts that still have not been implemented in many doctors' offices around the nation: 
 1. Carbohydrate restriction has the greatest impact on decreasing blood glucose levels.
2. The benefits of carbohydrate restriction do not require weight loss.
3. Dietary total and saturated fat do not correlate with risk for cardiovascular disease.
4. Dietary carbohydrate restriction is the most effective method (other than starvation) of reducing serum triglycerides and increasing HDL.
Carbohydrate restriction—often in combination with fasting, though the science on how long is up for debate—is a non-pharmaceutical response that could help alter the fact that some 70 percent of our national medical costs could be avoided through better diet. (And yes, exercise does matter.) As the authors conclude:
Physiological ketosis has clinical utility for prevention, reduction and reversal of metabolic syndrome and its progression into obesity, pre-diabetes and diabetes and is therefore a noteworthy modality of alternative care.
--
Derek is the author of Whole Motion: Training Your Brain and Body For Optimal Health. Based in Los Angeles, he is working on a new book about spiritual consumerism. Stay in touch on Facebook and Twitter.
Molecular biologists are hopeful about the results, but a long road lies ahead—so far this diet has only worked proven wonders on mice.
Ketogenic diets are this year's weight-loss silver bullet. While we should approach every diet with a healthy dose of skepticism, the more studies being conducted on ketosis—the state your body enters when producing elevated amounts of ketone bodies, which are constructed via fatty acid metabolism in your liver—the more the benefits are accruing. 
Weight loss is a continually trending topic, though such popular pastimes sometimes lead to deeper inquiry. In the case of ketogenic diets, two new studies published in Cell Metabolism show how cutting back carbohydrates and intermittent fasting not only helps with weight, but may stretch out your life while improving your memory along the way—in mice, at least. 
A quick primer: your body burns fat as well as carbs for energy. Since our culture lives on carbs, with pretty much every processed food from a box or wrapped in plastic being carb- or sugar-dominated (which equates to the same thing once the saliva begins breaking down the nutrients in your mouth), we use the carbs and store the rest as fat. Hello obesity levels. Remove the carbs and your body turns to fat for energy. Burn the fat, weight loss follows. 
Unfortunately your brain can't burn fat for its outsized energy needs. It requires sugar. Or ketone bodies if you decide to starve your body of glucose. Eat lots of fat, consume fewer carbs, and voila. While I'm not overweight I dropped ten pounds in weeks when experimenting with ketosis. Ever since I've maintained this weight, not by fasting—a popular ketogenic method is to fast for between 12 and 18 hours every day—but by keeping carb consumption down and fat intake high, also supported by recent research on 135,000 adults. 
Anecdotes are just that, personal stories, so let's turn to the research. In the first study, mice were fed three diets: zero carbohydrates, a nutrient-balanced diet (the control group), and a high fat diet with just 15 percent carbohydrate intake, a percentage arrived at when researchers slowly added carbs to a carb-restricted diet to find the baseline in which mice remain in ketosis. After 15 percent their bodies suppressed ketosis, and would be little different than the control group. 
The mice were put on a cyclic ketogenic, high-fat, or control diet in mid-life. The cycle was one week, so they would eat this way for a week, then every mouse would spend a week on their respective diets. (Ketogenic- and high-fat only mice did not fare as well.) Interestingly, the high-fat group ended up heaviest, though the ketogenic and high-fat groups both had a higher caloric intake than the control group. In terms of longevity, the ketonic group proved most successful, at least through midlife. After thirty months of age, their mortality rate was the same as the control and high-fat groups. 
As for memory, the researchers write: 
In healthspan testing, we found a striking effect of Cyclic KD [ketogenic diet] on memory as well as more modest effects on a broader range of measures. We saw consistent memory improvement in two distinct tasks over 6 months.
The ketogenic group showed normal cognition wear with aging, but performed better in a visuospatial learning and memory test than the other groups, in which the mice learned to avoid (or not) an electric shock. The KD mice also showed improvement in late middle age (28-30 months) in novel object recognition.
Game-changer? Not quite. But anything that helps memory in aging bodies is a boost, especially given the crippling rates of dementia affecting millions of humans each year. An increase in midlife mortality rates means we'd be healthier during our prime.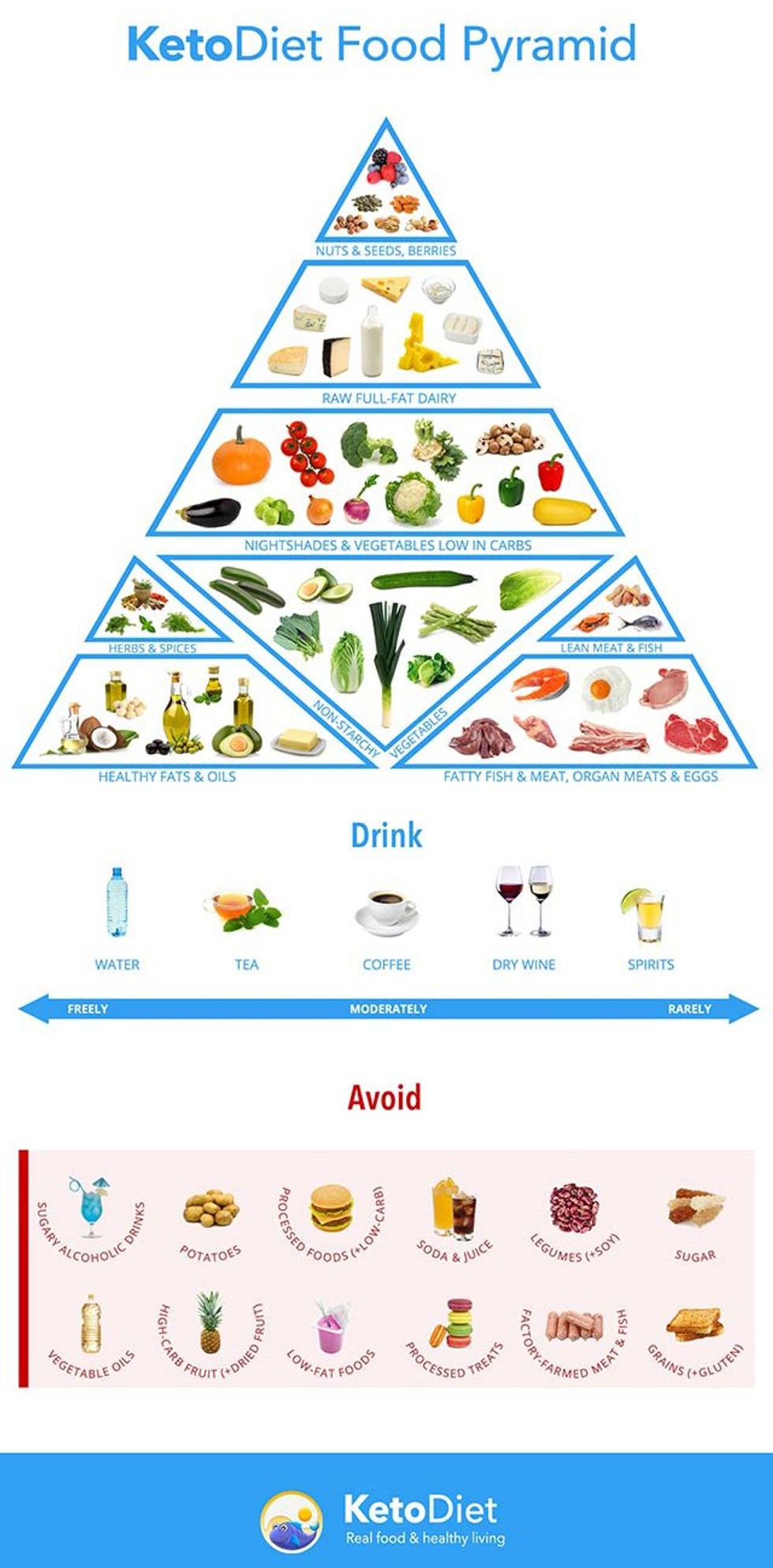 Image: ketodietapp.com
The second study also began at 12 months of age. It focused on calorie restriction, which, coupled with carbohydrate restriction, promotes production of ketone bodies. This study also featured the same three dietary guidelines: no carbs, low carbs, and a control group. While the first study showed better rates of midlife mortality, this one offered an optimistic view of longevity: 
The results clearly demonstrate that lifespan is increased in mice consuming a KD compared to a standard control diet. 
More tellingly, perhaps, is how the ketogenic group showed even better results in memory: 
Our results show that a KD slows cognitive decline and preserves motor function in aging mice. It should be noted that although the LCD [low carbohydrate diet] did not significantly differ from the ketogenic group in longevity, the two diets differed in their ability to preserve physiological function with age. This suggests that ketones may be necessary to elicit an extension of healthspan.
The role of ketones is playing a bigger role not only in general research but at pharmaceuticals companies as well. Researchers from these studies are interested in the physiological mechanisms behind ketones in hopes of isolating them for usage in pill form. If their protective effects can be better understood, perhaps humans won't have to fast or restrict carbs to reap the cognitive and longevity benefits. 
As one researcher, molecular biologist Eric Verdin puts it, these results are hopeful, but a long road lies ahead—mice aren't humans. Our diet and relationship to our environment has changed greatly over the last few hundred thousand years, while mice have been mice for a long time. As he states:
We're very excited to see such a profound effect on brain function. Our results don't imply this is going to work in humans. For that, we'll need extensive clinical trials.
Until then read this extensive article on ketosis and fasting. We might not have conclusive results, but the data trickling in from varied confirmed sources is pointing in one direction: cut down on carbs.
--
Derek is the author of Whole Motion: Training Your Brain and Body For Optimal Health. Based in Los Angeles he is working on a new book about spiritual consumerism. Stay in touch on Facebook and Twitter.