Does happiness require a rebellion against evolution?
Illustration by Julia Suits, The New Yorker cartoonist & author of The Extraordinary Catalog of Peculiar Inventions
1. Science is confirming key Buddhist ideas. So reveals Robert Wright's very enlightening book, Why Buddhism Is True.
2. Wright means "true" because evolutionary logic and brain science now fit Buddhism's ancient naturalistic (non-reincarnation-y) aspects. Consider some of Wright's mind-stopping sentences and essentially delusion-illuminating ideas.
3. Evolution "doesn't care about our… happiness." It wants us anxiously striving, thus life brings suffering (=Buddhism's dukkha = "unsatisfactoriness"). So feeling happy requires "rebellion" against evolution's values.
4. Evolution's sole goal (="purpose") is gene spreading. So life feels strongly about and "values" the needs of its gene "vehicles" ( = bodies).
5. Feelings arose to enact evolution's vehicle-centered values (=personalized go-forth-and-multiply mission). And all feelings are elaborations of basic evolutionary good-or-bad approach-or-avoid judgments.
6. "Judging is what we're designed to do." Our heads are full of feeling-generating "modules," constantly running backstage (System 1) that judge (assign affective adjectives to) things in our environment.
7. "There's no such thing as an immaculate perception" or conception (the cognitive, not sexual kind). All come bundled with feelings (feelings = biochemical judgments + attached stories, see "Darwin's Hindoo").
8. Brain science backs Buddhism's "not-self" doctrine—"thoughts think themselves"—there's no "CEO" module. Ordinarily, which feeling-thought-story bundles "bubble up" into awareness depends on the intensity of outputs of competing modules.
9. Buddhism calls these feeling-thought-story bundles "delusions" because they arise from misplaced "essentialism." Your perceptions about X may seem like essential attributes of X, but they result from "interdependent co-arising." Like color, they're co-constructed, "caused" by properties of the object, lighting, our physiology, and even language (color ="secondary quality" in Western philosophy).
10. Science calls essentialism about people the "fundamental attribution error" (blaming dispositional traits over situational factors). But this error varies by culture, Jerome Kagan says Asian psychologists wouldn't ever dream up the "Big Five" personality traits (e.g., Korean uses act-plus-context as the basic "unit").
11. Buddhists don't fight feeling-delusions directly. Rather they "R.A.I.N." them in—recognize, accept, inspect, and nonidentify (feelings aren't an essential part of you).
12. Mindfulness meditation trains you in metacognitive skills (thinking about thinking) that weaken unhelpful feelings and empower calmer ones.
13. Buddhist language like "nothing possesses inherent existence" can seem to go too far, since our unobjective "delusions" are often accurate enough.
14. But Buddhism beat Einstein to relativity's core insight, that there's no "view from nowhere," or God's-eye view (even the truths of physics are relational, perspectival).
15. Evolution's save-your-own-skin values tend to inculcate the perspective that we're "special." But perhaps these evolution-given values are more like food than air (the former far more culturally configurable than the latter).
16. Wright feels our evolutionary "vehicle stops at the skin," but that view is shifting—every vehicle needs "multitudes," and "every self is a society."
17. Our "extended vehicles" raise broader "vehicular viability" issues (see "universal survivor logic"). And beyond the personal practical benefits meditation offers, Wright feels a "Metacognitive Revolution" could save the planet (Buddha and the art of vehicles maintenance).
Illustration by Julia Suits, The New Yorker cartoonist & author of The Extraordinary Catalog of Peculiar Inventions
Recent research suggests what we thought we knew about social trust judgements may be all wrong.
Social trust, the expectation that people will behave with good will and avoid harming others, is a concept that has long mystified both researchers and the general public alike. Trust and cooperation is critical to social success, with neuroscientist Kelly Clancy suggesting that life operates by an undercurrent law of Survival of the Friendliest: evolution is about more than just rivalry, we need relationships. So, how trusting are you? Would you let a stranger borrow your phone in an emergency? Would you lend your friend money if they couldn't make rent? Have you ever been kinder to a stranger than you are to your sibling?
Many of us have undoubtedly sat in contemplation of what molds our trust in friends and strangers. What makes us inclined to give some people the benefit of the doubt, but occasionally cast a skeptical eye on others. And is there a relationship between how closely we trust people and how well we know them?
In 2016, Markus Freitag and Paul C. Bauer published their study, 'Personality Traits and the Propensity to Trust Friends and Strangers' in The Social Science Journal. Substantial research has already been conducted in the realm of social trust, however, Freitag and Bauer contend that endemic methodological shortcomings have consistently yielded inconclusive data.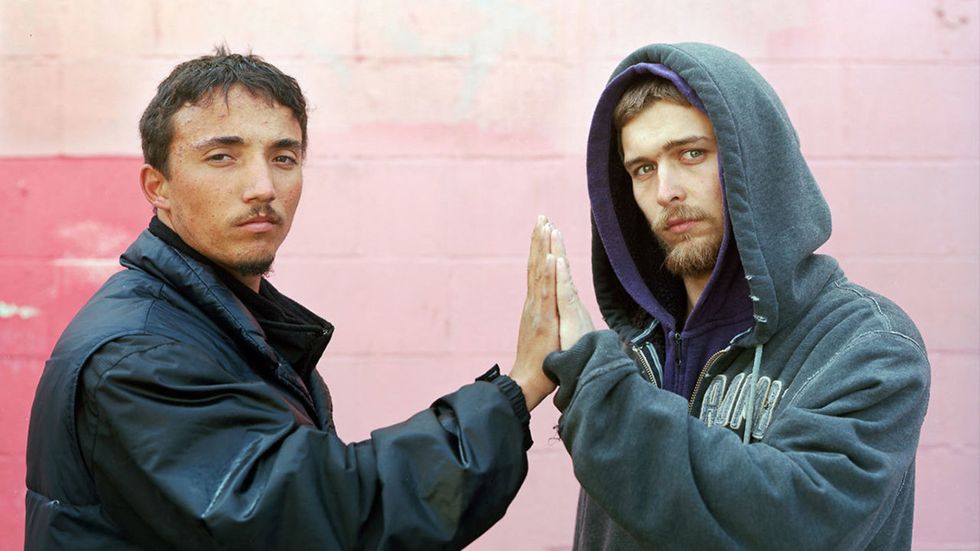 Photo by Richard Renaldi, from his 'Touching Strangers' photo project.
To avoid these recurring pitfalls and place our understanding of this phenomenon on a more empirically illuminating trajectory, Freitag and Bauer initiated an investigation which examined the role of personality on individuals' levels of exhibited social trust, rather than merely looking at environmental factors and prior experiences as drivers of social trust.
Deviating from common research designs which plied respondents with unspecific lines of questioning that often clouded the distinction between generalized trust (strangers) and particularized trust (friends, neighbors, co-workers), Freitag and Bauer implemented a process that clearly differentiated classes of trustees, posed realistic and relatable questions, asked respondents to answer using numerical probabilities, and defined personality values using psychology's "Big Five" personality traits (agreeableness, openness to experience, extraversion, conscientiousness, and neuroticism-emotional stability) which were tailored to individual respondents. Moreover, they erected controls for sex and age.
Through randomly surveying 1,157 Swiss adults via computer-assisted telephone interviews, researchers asked respondents, "Please imagine a probability scale running from 0 to 100%. 0% means that the event will certainly occur. Imagine losing your wallet (with identity card) containing, among other things, 200 Swiss Francs. On a scale from 0 to 100%, how likely is it that the wallet will be returned to you if it is found by... a friend; a stranger that you don't know?"
So what steers our trust judgements? The study results showed that people often trust total strangers more than they trust their friends. Why? Essentially because we know better. When people know the trustee they base their decisions on their prior history with that person. When people don't know the trustee, there is no bank of information to draw from, so their judgements are a reflection of their personality traits. The study indicated that of the 'big five' personality traits, conscientiousness and openness were important attributes for determining trust in both strangers and friends, but agreeability played a significant role in determining the level of trust invested in strangers. If you're generally agreeable (defined as believing the best of others and rarely suspecting hidden intents, cooperative, warm, kind, and avoid conflicts) you will assume the best in others. The authors write:
... Our empirical analyses show that the effect sizes of the personality traits are larger for trust in strangers than in the case of trust in friends. Thus, in the absence of information about the trustee, our trust judgments seem to be contingent on our personality... If we agree that personality traits are, to a certain extent, rooted in biology and that certain personality traits affect trust judgments, it also means that trust is also inherited to a certain degree.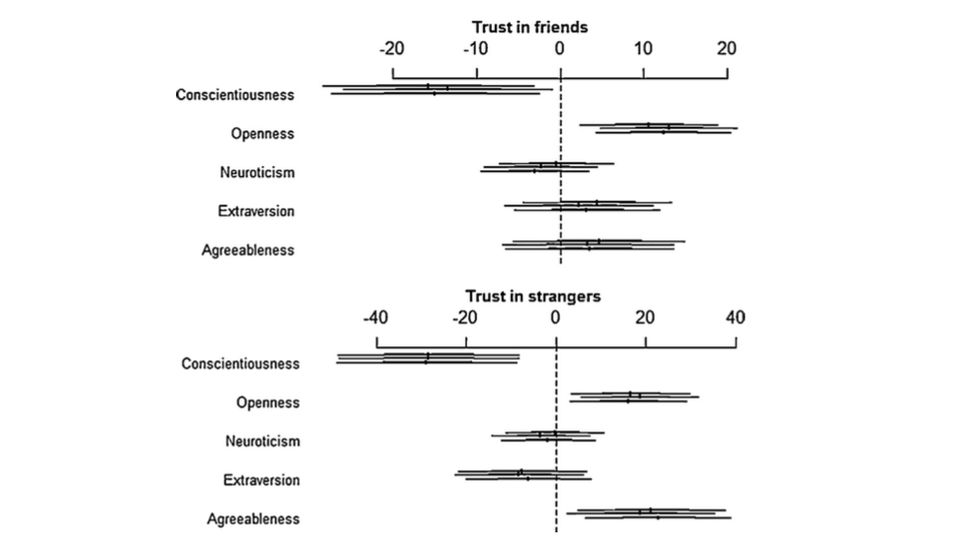 Fig.1. Regression coefficients for personality traits on trust in friends and trust in strangers (with and without controls).
Freitag and Bauer did highlight the limitations of their research. They expressly cautioned that the role of education, our networks, and our trust in institutions, matter and cannot be underestimated. Prior studies have clearly indicated that social trust correlates to corruption and crime, which demonstrates that environmental factors do indeed influence levels of social trust. To that end, the authors reiterate that their study is but an initial single nation foray into a grossly underdeveloped facet of social trust research, and that if our understanding of this societal issue is to evolve, theorems and empirical analyses need to further explore and account for personality and biological impacts.
If you want to know how a stranger might perceive you, here's psychologist Heidi Grant Halvorson on first impressions:
Amy Herman teaches visual intelligence to doctors, intelligence analysts and the NYPD. Here she runs through how to make decisions you can defend under questioning: ones that are perceptive and informed.
Amy Herman created and conducts all sessions of 'The Art of Perception', an education program that was initially used to help medical students improve their observation skills. Often in diagnostics, you're not looking for what you can see, but what you can't – this is called the 'pertinent negative'. The same goes for investigations, and so the program was adapted for the New York City Police Department, and other intelligence agencies. Really, Herman says, it's about fine-tuning something we take as a given: our visual intelligence. This refers to the concept that we see more than we can possibly process. What we register is just a fraction of the world around us, so how can we see more? Like any other skill or muscle, to get the most and best use out of it, it needs training.
According to Herman, we need to think more consciously about what we see and deliberately take information in so that we can do our jobs more effectively and live our lives more purposefully. To that end, she runs us through a building block of 'The Art of Perception' course: The Four A's.
Tune into the video above for four practical steps to make more perceptive and informed decisions. Amy Herman is the author of Visual Intelligence:Sharpen Your Perception, Change Your Life.
There's more to intuition than meets the eye.
Wolf of Wall Street / Universal Pictures
If you don't make decisions by "going with your gut," you may want to start now.
Why? According to research published in Scientific Reports in 2016, researchers from the University of Cambridge and Sussex discovered that the more aware of your "gut feelings" you are, the more accurately you'll make high-risk decisions.
First of all, "gut feelings" are interoceptive sensations that guide behavior. Rather than gathering data and making decisions about the outside world with our senses, interoceptive sensations gather data and make decisions about our bodies. They "can report anything from body temperature to breathlessness, racing heart, fullness from the gut, bladder and bowel," and "they underpin states such as hunger, thirst, pain, and anxiety," according to Science Daily. Neurobiologist Antonio Damasio explains the whole thing to us here:
It's that last ability of interoceptive sensations that makes them useful in high-risk decision making. Research shows that high-risk choices are accompanied by subtle physiological changes like a faster heartbeat. Those physiological changes are known as somatic markers, and "such autonomic responses feedback on the brain to bias our decisions, steering us away from gambles with negative expected returns and towards ones with positive returns," as the study reports.
London researchers decided to test that theory with the most high-risk decision makers they could find: hedge fund traders. The team gathered 18 high-frequency male traders and tested their ability to silently count their own heartbeats without touching their chests or pulses. The team measured the traders' results against a control group of 48 male students. The traders "performed significantly better… the mean score for traders was 78.2, compared to 66.9 for the controls," the study reports.
Stronger still, the most accurate traders were the ones with the most job experience in high-frequency trading. In many cases, a trader's heartbeat counting score indicated the number of years he had survived as a trader.
"Traders in the financial world often speak of the importance of gut feelings for choosing profitable trades — they select from a range of possible trades the one that just 'feels right,'" says John Coates, study co-author and former Wall Street trader. "Our findings suggest they're right — they manage to read real and valuable physiological trading signals, even if they are unaware they are doing so."
While those findings are striking, they also confirm a long-held secret of the stock market: it's driven by emotion, not logic. "Stock traders make decisions based on psychological factors, including emotions, and may place undue weight on specific information at the expense of other relevant data," explains Psychology Today. "Different emotional states can have unpredictable effects on decision-making at different times. Mood can have an impact on cognitive performance and expectations, while factors such as a series of gains or losses can have an effect on traders."
A 2002 study published in the Journal of Cognitive Neuroscience monitored the heart rate, blood pressure, and sweat production of 10 professional traders during their normal work day. While the team measured the traders, they also collected real-time financial information, recording the prices and trends of "13 foreign currencies and two stock futures that the traders were eyeing and manipulating," the study reports. They found that "even veteran traders with a reputation for logical cold decisions had heart palpitations during volatile events, and less experienced traders reacted emotionally to a broader swath of market behavior," the study reports. Essentially, stock market trades are made based on how the traders react to the data, not because of the data itself.
That said, there are caveats with the Cambridge study. Financial traders are really good at reading their heartbeats compared to most people because they've got lots of practice at it; other people who regularly make high-risk decisions, such as police or firefighters, might be equally as good. Furthermore, other research has shown that heartbeat detection ability increases with stress levels regardless of occupation. All the Cambridge study demonstrates for certain is a correlation between heartbeat detection accuracy and accurate high-risk decision making; it does not show causation. "It's a starting point for more controlled science," Coates admitted to the New York Times. "There's a part of our brain that sends signals to our body, and it's really smart. It doesn't succumb to the mistakes of behavioral finance."
Add to that the fact that the study was only done on men and I see another immediate avenue for testing. I couldn't find any research comparing women's stress levels to men for this kind of test and I'm curious as to how that would have affected the correlation factor. I would also have liked to see the traders measured against men their own age who might have similar experience making high-risk decisions rather than undergraduate students to get a more accurate read on the heartbeat detection ability.
Still: there is enough research out there to safely say that you shouldn't use cold, hard Spock logic to make high-risk decisions. Poker player and former trader Brandon Adams backs it up and explains why here: