Everyone loves a laugh now and then, except for most of the philosophers you've heard of.
Adobe Stock/BigThink
People like things that make them laugh, but have we considered if that is a good thing?
Some philosophers, including Plato, thought comedy was bad for you.
Most modern thinkers tend to get away from that, but still debate what should and shouldn't be laughed at.
Most people enjoy a laugh now and then. Some have posited that laughter is the best medicine. Others have achieved fame and fortune by making people laugh. Laughter is one of the great universals of the human experience, even if people from different cultures tend to find different things funny. With that knowledge, it may surprise you to learn that most philosophers have taken a negative view of comedy, laughter, and humor throughout history.
Today, we'll look at that history and what modern thinkers have to say about it. Using these insights, we can then try and make sense of the never-ending debate over what should and should not be the subject of a joke.
The Philosophy of Humor
Believe it or not, the same people who debated the existence of chairs for two millennia had some differing ideas on what humor was and if it was good or not. Plato famously thought that comedy was bad, vicious even, and that most if not all laughter came at somebody else's expense. He viewed laughter as a "passion," and considered being taken by it as a loss of self-control, as did many philosophers before him. In "Republic," he proposes that in his utopian city certain important people should never laugh and that strict censorship should keep objectionable, presumably hilarious works away from people.
Several centuries later, the great stoic philosopher Epictetus encouraged people to "Let not your laughter be loud, frequent, or unrestrained" and, allegedly, never laughed once in his life, which he considered a point of virtue.

Most of Western Philosophy took its cues from Plato and the stoics for a very long time and spoke poorly of humor as a result. Many famous thinkers, such as Thomas Hobbes and Rene Descartes, attributed most laughter to a sense of superiority over others.

However, Immanuel Kant, the famously boring philosopher, went in another direction. He supported the idea that laughter was caused by the incongruity of what we expect to happen and what happens. A good joke, he reasoned, builds up expectations, which it then resolves "into nothing." This idea, that humor is based on differences in expectations and reality, is prevalent in both philosophy and psychology.

He even provided a series of jokes to explain himself, the best example being:

"The heir of a rich relative wished to arrange for an imposing funeral, but he lamented that he could not properly succeed; 'for' (said he) 'the more money I give my mourners to look sad, the more cheerful they look!'"
Despite this, Kant and the philosophers who agreed with him didn't think comedy was "good" per se. They're just suggesting that laughs not based on malice are possible. It has only been recently that philosophers have paid much attention to the pro-comedy minority. This becomes even stranger when you realize how many heavy hitters are on that team.
Aristotle, the most famous student of Plato, continued his policy of disagreeing with this teacher by deciding that comedy could be okay. He argued that living a good life requires that you enjoy yourself from time to time and that humor is a part of that. He further maintained that being witty is a virtue.
St. Thomas Aquinas, a great philosopher in his own right, largely agreed with Aristotle and expanded on these notions. He argued that, as sleep provides physical rest, laughter provides psychological rest. He also noticed the social benefits of laughing with other people. These ideas have been expanded on by other writers up to the present day.
We have even reached a point where many public intellectuals will incorporate wit into their work on purpose. Most notable among these people are Slavoj Žižek, who makes enough jokes to fill a book, and Bertrand Russell, whose quotes include moments of absolute hilarity.

While most people probably wouldn't consider being funny a "virtue" in the same way that Aristotle did, his ideas on humor, often called the "play" theory, are likely the foundation of most people's understanding of what humor is and if it is of any use or not.

Of course, even if you take the view that humor is a good thing, or even just that it isn't inherently bad, there is still the question of how to use it properly. For this, we'll have to turn to the never-ending debate over the ethics of humor.
  To joke, or not to joke, that is the question.
Even after addressing the problem of whether comedy is good, bad, or neutral, the issue of what can be the subject of laughter still has to be resolved. As we've seen, this issue goes back to Ancient Greece. It should surprise nobody that we still debate it. But what should and shouldn't we joke about? Is there a clear line? Does context matter? Professor John Morreall of William and Mary can provide us some guidance. He has worked in the philosophy of humor for decades and has written several essays, articles, and books on the subject.

He restates in his essay "The Good, The Bad, and the Funny: An Ethics of Humor" a proposal that he has made before; that a general principle can be applied to humor, "Don't play with something which you should take seriously."

This seems like a simple enough idea; if matches aren't something to be played with, then perhaps racial stereotypes aren't either? But where is the line in cases like this?
To explain how this might be used, he offers examples of broad categories of jokes that rely on making fun of certain types of people. In the classic "Dumb Blonde" joke, the idea that all blondes are a bit slow is entertained. However, Dr. Morreall argues that to find the joke funny doesn't require that we really believe that blondes are stupid nor that anybody thinks the moon is closer than Florida.
It is possible to play with these notions without taking them seriously or coming away from the joke with a bias towards blondes. Other jokes cross the line, though. Some harmful stereotypes that people believe can be kept in circulation through jokes, or reinforced in a way that causes harm later. In these cases, it may be morally objectionable to use the stereotype for laughs due to the harm it can cause elsewhere. A similar line of reasoning exists for jokes that utilize issues of deadly seriousness; some things should not be made light of for fear of causing us not to take them seriously.

An example of a line crosser Dr. Morreall cites in several of his essays is the cover of National Lampoon's "Dessert Issue." In a spoof of the cover of the "Concert for Bangladesh" album, the magazine depicts a starving child in the form of a partially eaten chocolate statue.
The argument here is that by making the cover of a famous aid concert the subject of mockery, we can belittle the severity of the issue of the humanitarian crisis it refers to.

On the other hand, Dr. Morreall also argues that there are many positives humor can bring. He mentions the joy it can bring, the social benefits of being able to laugh with friends, the ability of a good pun to lower tensions, and the ability of many jokes to let us step back and consider the absurdities of a topic we don't notice when we're too close to the situation.

Given the universality of laughter, humor seems to be one of the more important elements of the human condition. While philosophy has taken a strangely negative view of it for most of its history, more recent thinkers have begun to tout the benefits of a laugh now and then.
So go on, enjoy a lousy pun. It's probably virtuous.
John Cleese was in super sarcastic form during his recent Reddit AMA.
John Cleese as Basil Fawlty, Graffiti in Lisbon, Portugal.
When Bill Maher asked John Cleese how he treats fans, his response was not exactly suited for print on this site. "Awful fawning creatures," he started in. Maher teed him up well, saying that once you've reached 60 you're allowed to be cranky in public. Cleese, 75 during this particular show, agreed. 
john-cleese-advice-to-novice-actors-and-writers
Yet Cleese loves Americans, or at least America, his home away from the UK because, as he told The Nightly Show, his bucket list is down to one item: "Never being cold again." On top of that the 77-year-old writer, actor, "and tall person" finds it easy to make a lot of money in the States due to how much we love Monty Python. He isn't wrong about that. 
Whether or not he loves or hates his fans, he replied with good cheer to a recent Ask Me Anything on Reddit in preparation for the 2017 Monty Python tour. Below are a few of the highlights. 
John Cleese on Confirmation Bias 
Q: Hi John. I saw your recent talk in Dublin. I completely agree with what you say about confirmation bias, so I thoroughly enjoyed it. On that subject, are you aware of tools like 'DuckDuckGo' — an alternative to Google that explicitly does not tailor its results to what it thinks you personally are most likely to click? How do you educate yourself about view outside your 'bubble'?
A: That is a very good joke, but the bozos reading all this won't get it. Secondly, I don't think you should educate yourself outside your bubble, because it would confuse marketing people.
Confirmation bias is a growing problem in the digital information age. As Daniel Levitin writes, our brain is a "giant pattern detector." If we read something that coincides with what we already believe we're more likely to give it credence, while the opposite is not true. Thinking critically about a topic, as Cleese suggests, also makes us terrible consumers, with companies and marketing agencies preferring to easily predict our patterns. 
John Cleese on Superstition
Q: Mr. Cleese, What do you think is the most IMPORTANT joke you've ever written?
A: This is the most important joke I've ever heard. Niels Bohr, the founder of Quantum Physics, had a friend to dinner. As the friend left, he noticed a horseshoe nailed above Bohr's front door. He said to Bohr, accusingly, "Niels, you're a great scientist. You can't believe in superstitions." Bohr answered, "I don't, but apparently it works anyway."
As with confirmation bias, we tend to lean toward superstitions that benefit us, as this last season of Game of Thrones proved. Proof of efficacy? None needed. Otherwise they wouldn't "work."  And as astrophysicist Neil deGrasse Tyson likes to say: "The good thing about science is that it's true whether or not you believe in it."
John Cleese on Death 
Q: Greetings, John the Entertainer! What request would you like to have honored at your own eulogy, and by whom?
A: I would like to do my own eulogy, and then shoot myself and then get in the coffin.
George Carlin once called for an uprooting of all cemeteries (and golf courses) to make room for low-cost and homeless housing. Cleese appears to want to visit the underworld, however, perhaps as a harbinger of the next question. Though, we have to ask, maybe he could come back as a reef ball?
John Cleese on the Afterlife
Q: Can you tell us something about yourself that we may find surprising?
A: Yes. I believe there is an afterlife. But don't ask me for details.
Think you're coming back? You'd have to figure out who "you" are first, which is a whole other can of worms. Michael Shermer is skeptical this is possible, for three reasons. 
John Cleese on Anxiety
Q: Hi Mr. Cleese, A lot of us redditors suffer from some form of depression & Anxiety. Have you ever experienced this? And if so, what did you do to see the brighter side of life?
A: Never. And I wish you wusses would stop whining about your unhappiness. I'm really fed up with it. Pour yourself a scotch and pull yourself together. Go out and shoot something!
Apparently Cleese is a "pull yourself up by your bootstraps" person. Very British of him. In this instance, Americans could probably learn a lot from our cousins across the pond. Too bad Cleese didn't recommend which Scotch, though. Further commenters noted Cleese's own Americanness in his final sentence. For those wondering how to deal with anxiety and depression, the first thing to consider is what you're putting into your mouth. 
John Cleese on Bitcoin
Q: What is your take on Bitcoin and decentralization of financial power?
A: 10 percent.
Cleese might not have too much to say on the topic, but John McAfee does. He's come out as a strong proponent for cryptocurrency since Jamie Dimon called it a "fraud." After an initial drop last week Bitcoin prices are climbing, for all you crypto advocates. 
John Cleese on The Princess Bride
Q: Is there a project you passed on that you wish you had taken, or vice versa? Thanks for all the years of entertainment!
A: There are three roles I was asked to do that I really regret not taking. The Robin Williams role in The Birdcage, the butler called Stevens in The Remains of the Day and the clergyman in charge of the marriage service at the end of The Princess Bride.
We all regret him not being The Impressive Clergyman. No disrespect to Peter Cook.
John Cleese on Monty Python
Q: Will there ever be a Python movie again?
A: Only when the others are dead. Then I will make the definitive one.
But I thought there was an afterlife? Python will never be dead, and Cleese knows it.
john-cleese-on-political-correctness
--
Derek is the author of Whole Motion: Training Your Brain and Body For Optimal Health. Based in Los Angeles, he is working on a new book about spiritual consumerism. Stay in touch on Facebook and Twitter.
A study surveyed 821 people to find the funniest words in the English language.
Photo by David Silverman/Getty Images
Which word is funnier: porridge or oatmeal?
That was the question that inspired a new study that ranks the funniest words in the English language.
"Apparently my supervisor's kids couldn't stop laughing at 'porridge' one morning during breakfast," Engelthaler said. "He was really confused because 'porridge' and 'oatmeal' are the same thing, but they sound different. He thought 'porridge' was funnier, I thought 'oatmeal' was funnier. So, we decided to make a study to kind of settle the argument."
Engelthaler and his colleagues at the University of Warwick asked 821 people in the U.S. to rate 200 words, which were chosen from a list of 5,000. 
The top 12 words, in order of funniest, were:
booty, tit, booby, hooter, nitwit, twit, waddle, tinkle, bebop, egghead, ass and twerp.
At the other extreme, these were the words respondents found least humorous:
rape, torture, torment, gunshot, death, nightmare, war, trauma, rapist, distrust, deathbed, pain.
The researchers' main objective was to establish a data-set to be used in future humor studies. Still, the results showed some interesting trends, particularly in the differences between what men and women consider funny.
"Men find more dirty words funnier," Engelthaler said. "Women kind of prefer humor that's sound-driven and innocent. So, women find words like giggle and beast funnier, whereas men find words like orgy and bondage funnier."
As far as the words both sexes found similarly funny? Chug, fluff, scrotum, jabber, joke, buttocks, boon, yank, tinker, prance. 
The results also showed that both sexes tended to consider strange words funnier. 
"We found that words that are really infrequent, so words people are unfamiliar with, are funnier on average," Engelthaler said. "I think you're less used to them, so you find them strange and funny."
Engelthaler thinks this might be explained by the benign violations theory, which suggests that we find something funny when it deviates from our expectations, but only in a way that's not too offensive. That might explain why curse words didn't top the list.
"They end up being somewhere closer to the top," Engelthaler said. "But they're not at the very top, which is because, I guess, they offend a slight fraction of the people they're presented to."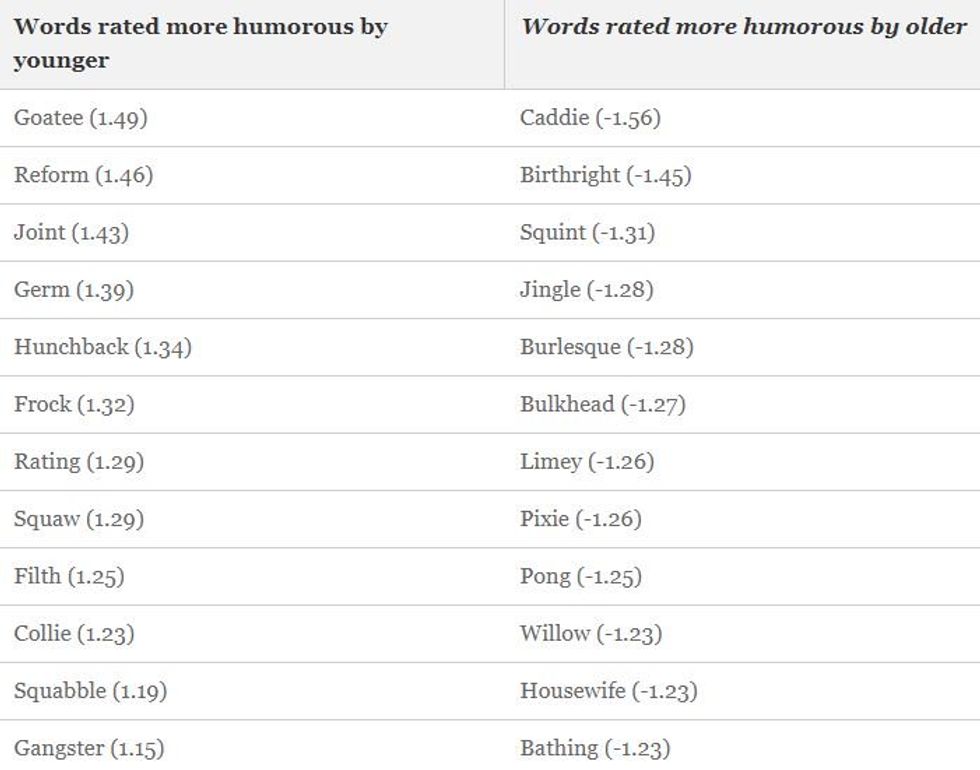 Strange words could also be funny for a different reason.
"One thing we want to look into is the sounds of the words, because there have been studies that have taken a look nonsensical words," Engelthaler said . "They found that certain sounds in the words and sound patterns make them really funny. So even though the word has no meaning at all, they still can be funny words."
Although the words were rated by people in the U.S., the U.K. researchers didn't notice much of a difference between what people in the two countries consider funny.
"As long as something's slightly naughty and slightly dirty, and not too negative, you would find funny in both the U.K. English and the U.S. English," Engelthaler said.
The Onion founding editor Scott Dikkers says every joke can be categorized in one of 11 "funny filters."
Will Ferrell laughs at a ceremony. (Photo: Robyn Beck)
Scott Dikkers has written and edited countless jokes during his tenure as the longest-serving editor-in-chief of The Onion. But in all those years, he's never come across a joke that didn't fall within one of 11 categories – or "funny filters."

Dikkers was planning a curriculum for a comedy writing class at Chicago's Second City when he first put this idea into words.
"I had never articulated them before, I just knew them from doing this for years and years and years," Dikkers said on The Rob Cressy Show podcast. "It was kind of weird to finally articulate these things that were in my head that didn't have words attached to them. They were just things that you did. And I'm very pleased to say they've been around now for a few years, and I still — I wouldn't change a thing. I wouldn't say, 'Oh yeah, there's actually 12,' or, 'These two could be the same, so there's only 10.' And I've never encountered a joke or something that was funny that did not employ one of these 11 literary devices." 
Dikkers' 11 funny filters are listed below, using notes from Rob Cressy and satirical headlines from The Onion as examples.
1. Irony – Intended meaning is opposite of literal meaning
Alcoholic Father Disappointed In Pothead Son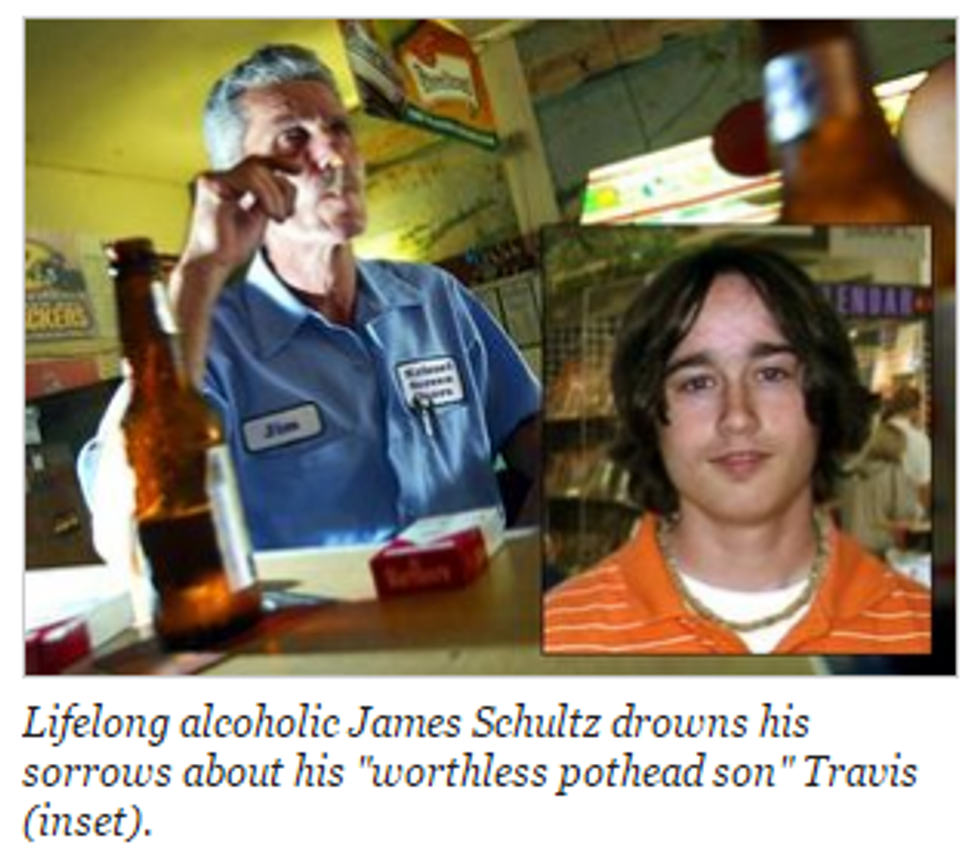 2. Character – Comedic character acting on personality traits
Mom Thinks You'd Enjoy Restaurant She Can't Remember Name Of Right Now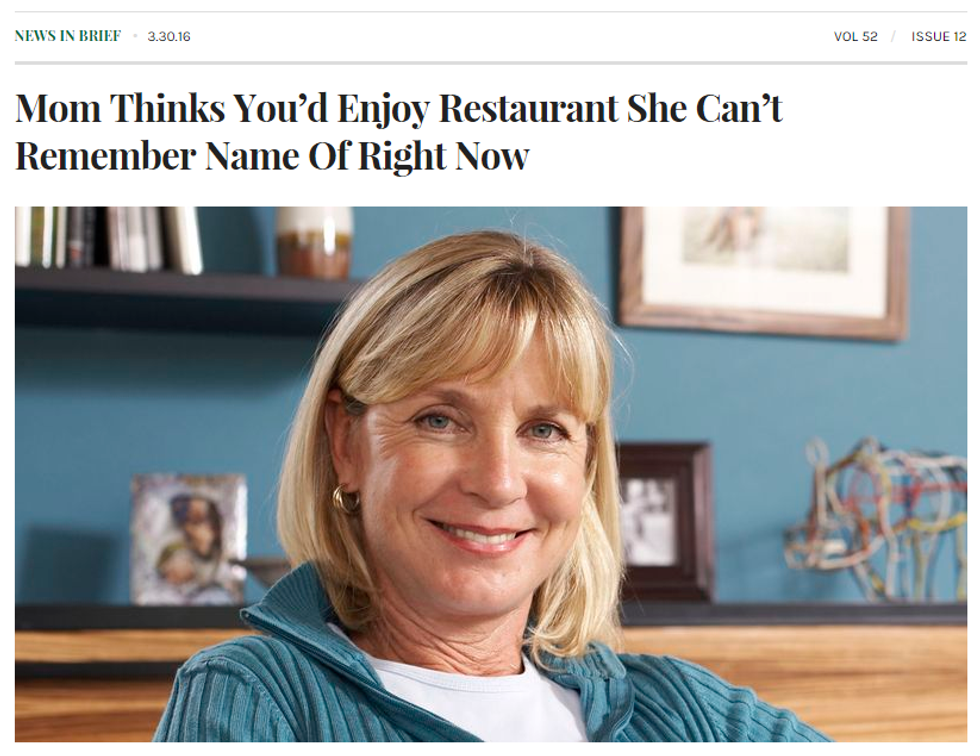 3. Reference – Common experiences that audiences can relate to
Day Chalked Up As Loss By 10:15 A.M.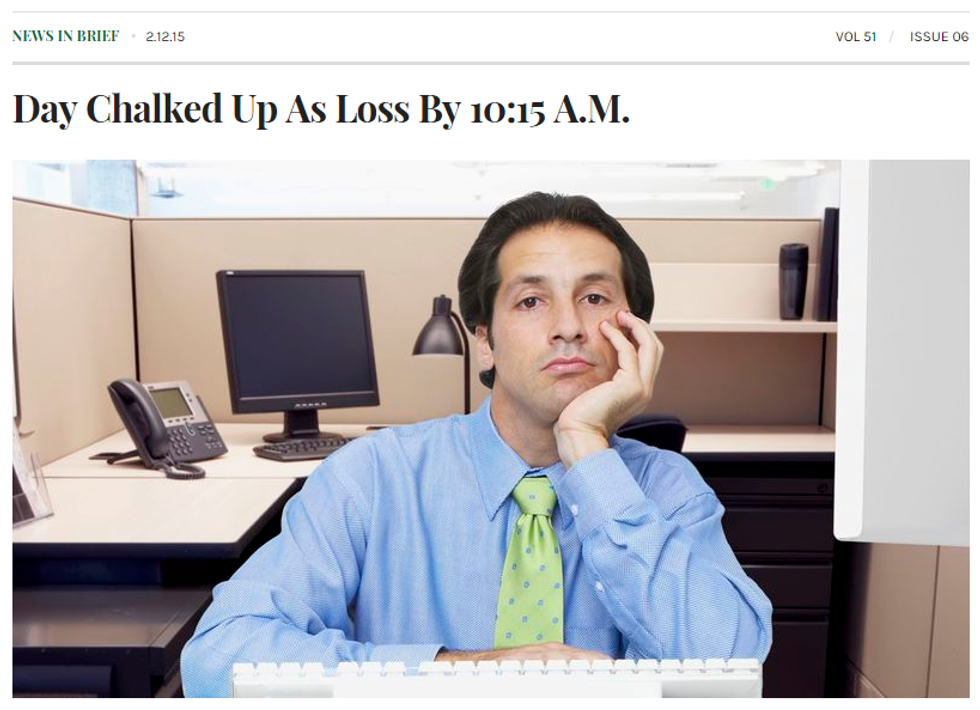 4. Shock – Surprising jokes typically involving sex, drugs, gross-out humor, swearing
Holy Shit, Man Walks On Fucking Moon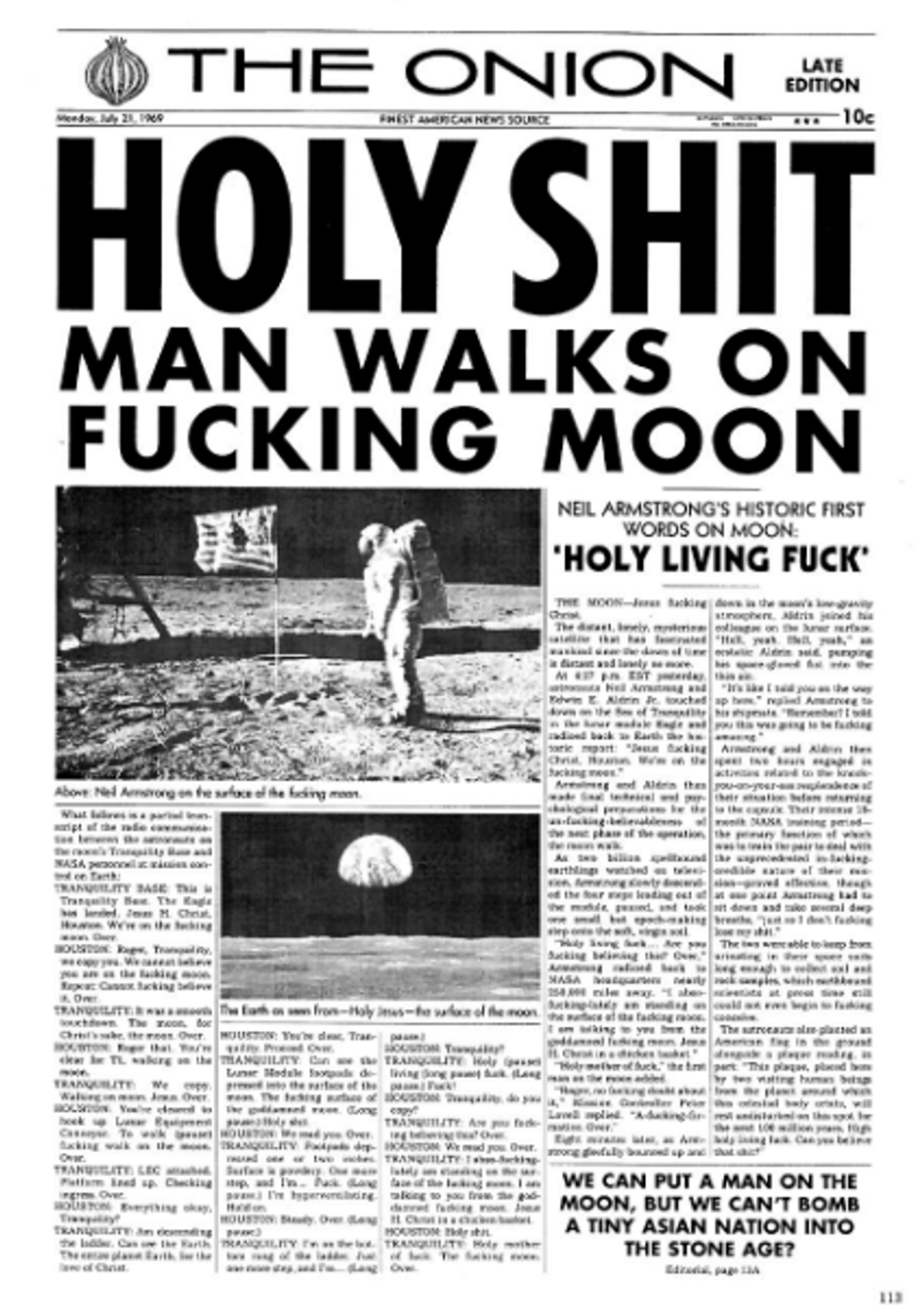 5. Parody – Mimic a familiar character, trope or cliche in an unfamiliar way
Al Gore Places Infant Son In Rocket To Escape Dying Planet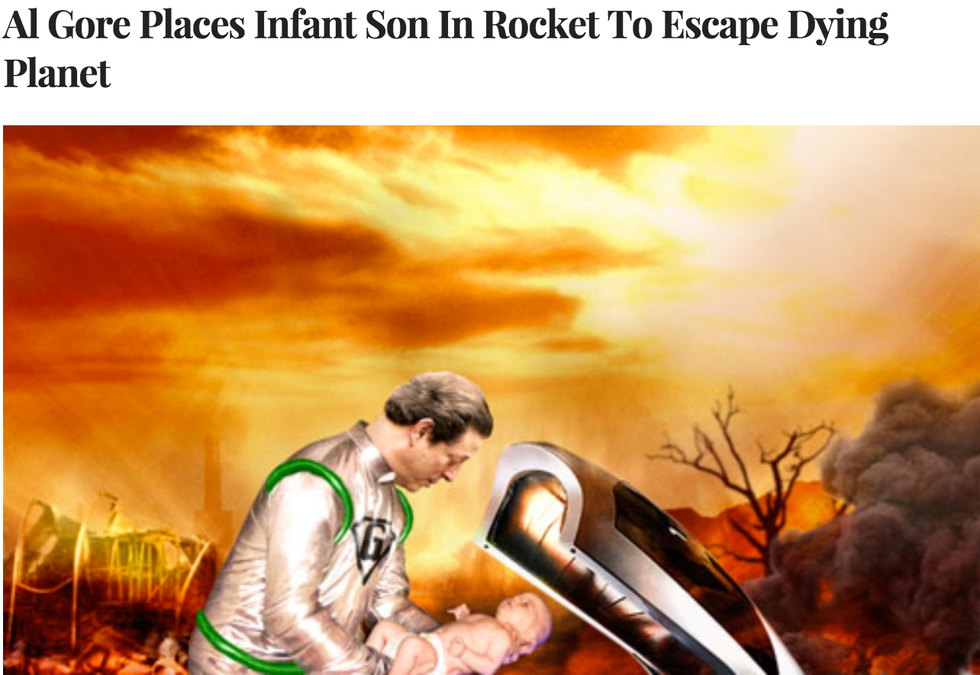 6. Hyperbole – Exaggeration to absurd extremes
Magnanimous Boss, King Of Kings, Allows Employees To Watch World Cup In Office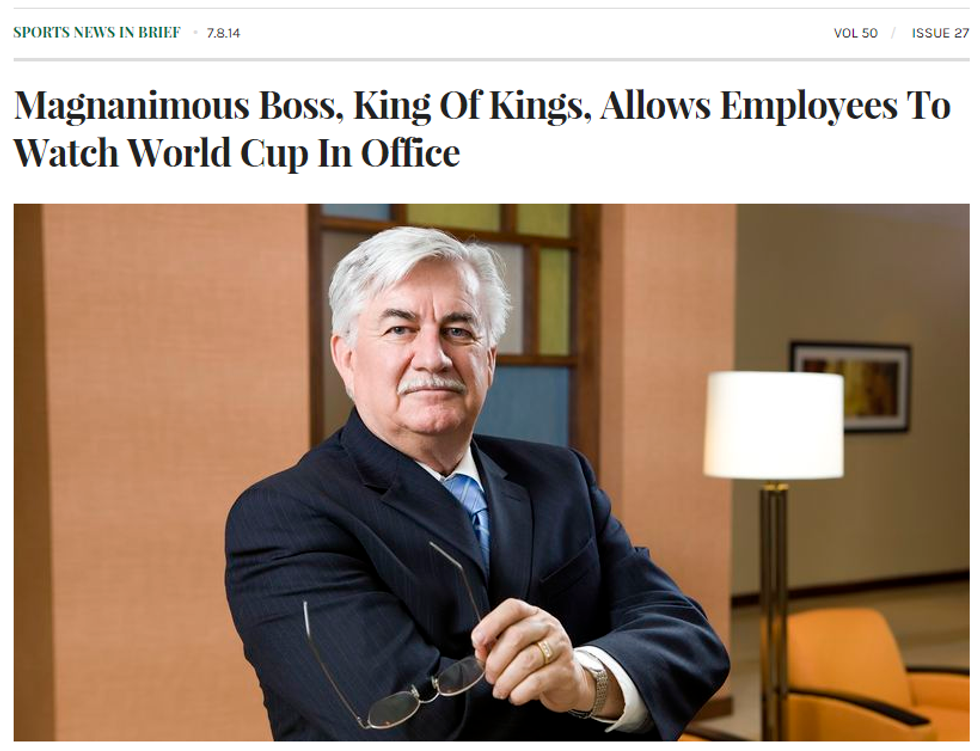 7. Wordplay – Puns, rhymes, double entendres, etc.
Fritolaysia Cuts Off Chiplomatic Relations With Snakistan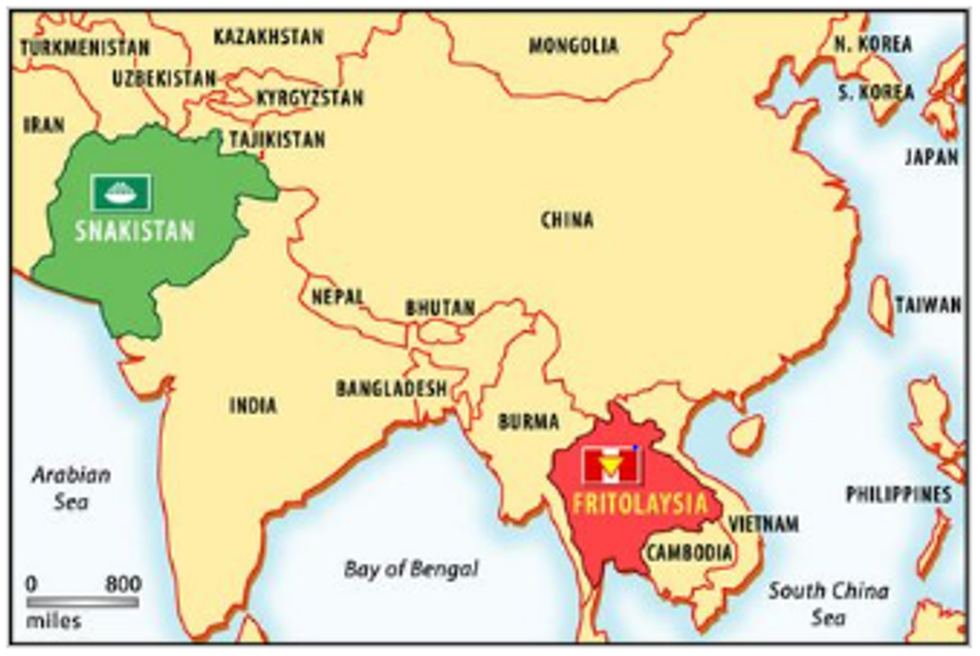 8. Analogy – Comparing two disparate things
Man Approaches Unfamiliar Shower Knobs Like He Breaking Wild Stallion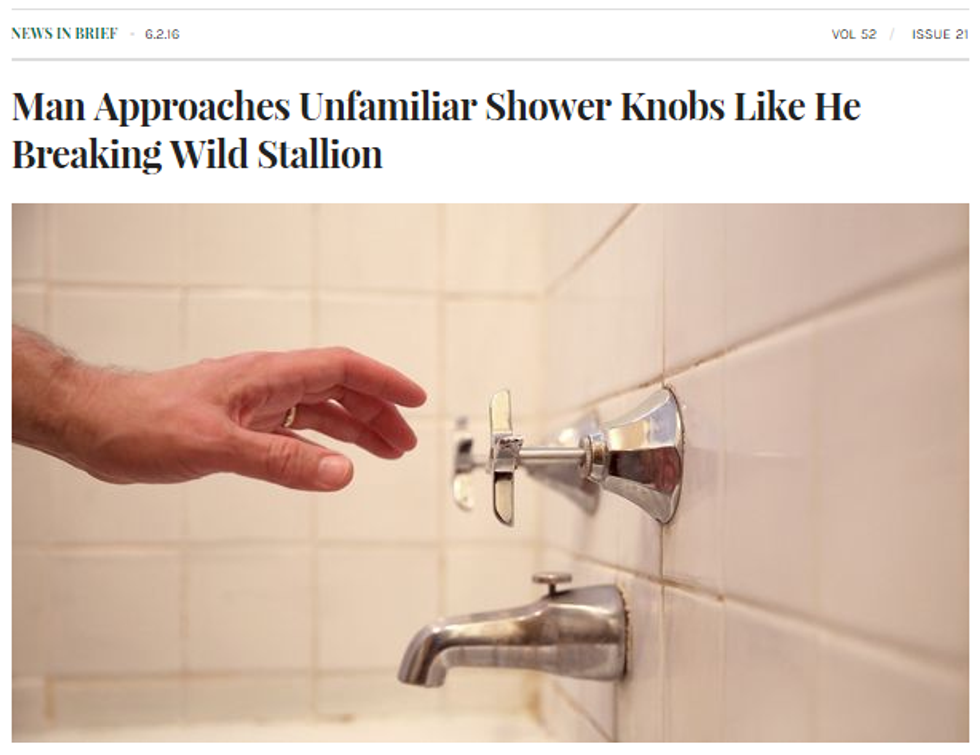 9. Madcap – Crazy, wacky, silly, nonsensical 
Wheelchair Basketball Players Stunned By Thunderous Slam Dunk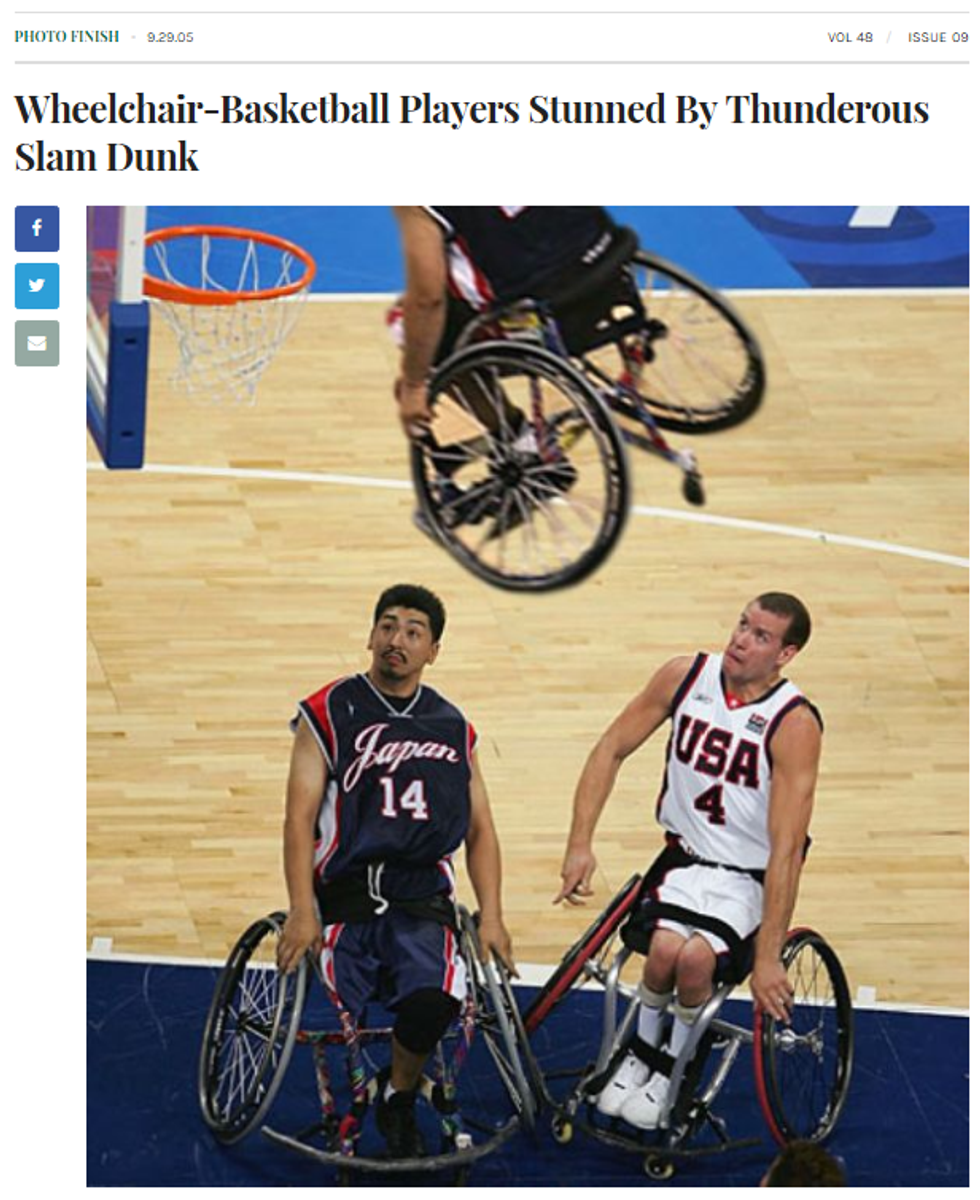 10. Meta-humor – Jokes about jokes, or about the idea of comedy
It Sadly Unclear Whether This Article Will Put Lives At Risk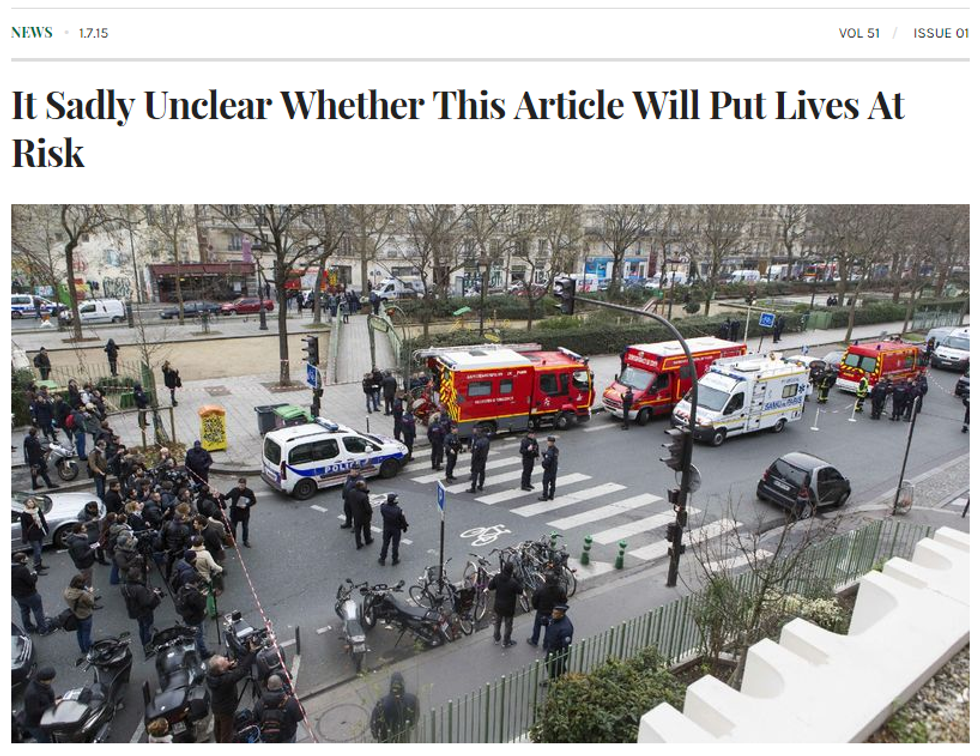 11. Misplaced Focus – Attention is focused on the wrong thing
Really Fun Toy Banned Because Of 3 Stupid Dead Kids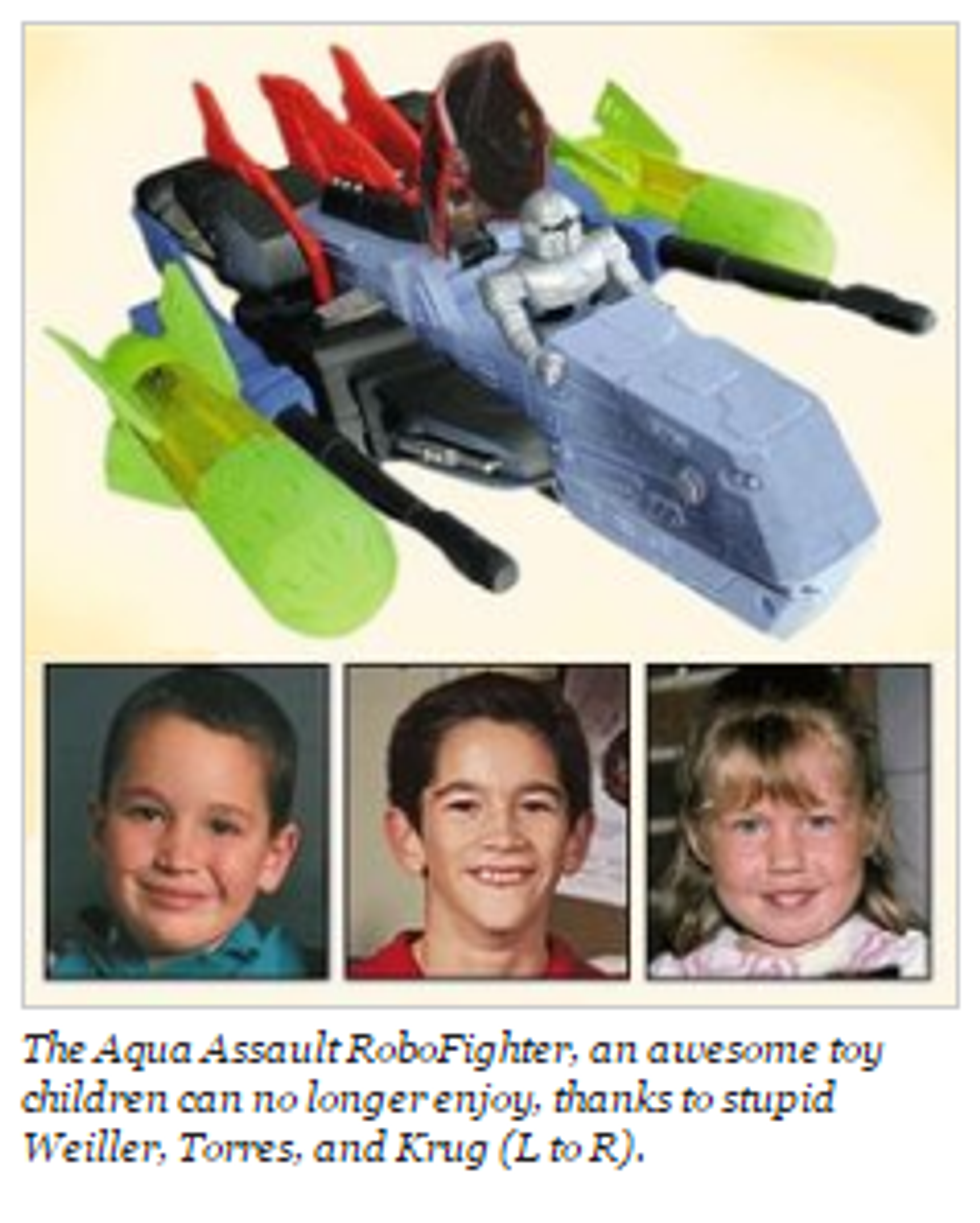 --
The filters apply to all jokes, not just headlines from The Onion. Take this joke from stand-up comedian Anthony Jeselnik as an example.
"Yesterday I accidentally hit a kid with my car. It wasn't serious – nobody saw me."
This joke uses misplaced focus. Jeselnik makes you think he's concerned about the kid. But then he reveals the only reason the accident wasn't "serious" was because there were no witnesses. You could also say this joke uses shock — it's surprising to hear someone talk so callously about hitting a kid with their car.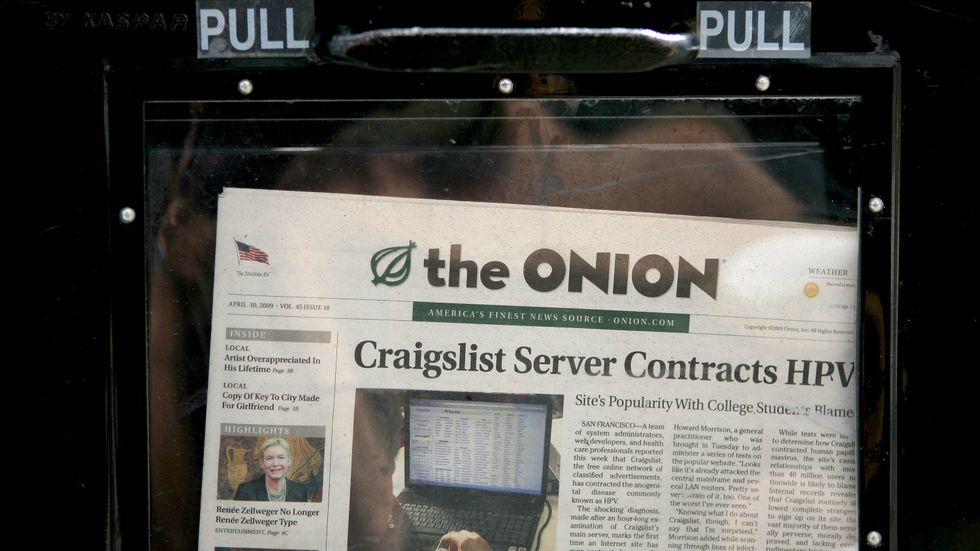 (Photo: Justin Sullivan)

In addition to categorizing jokes, Dikkers said the filters can also help comedians take a rough idea and find the best way to express it.
First, you start with a premise — say, childbirth is not a miracle. Then you run that premise through each filter, producing different kinds of jokes. Maybe you try out the character filter, and get a joke about how God, an expert on miracles, is decidedly unimpressed by childbirth. Scrap that. You try a few more. Finally, you run the premise through the irony filter and get: Miracle Of Birth Occurs For 83 Billionth Time. 
At least, you might go through all that trouble to write an eight-word joke if you work for "the most powerful and influential organization in human history." 
 --
Check out more comedy writing advice in Scott Dikkers' book "How To Write Funny: Your Serious, Step-By-Step Blueprint For Creating Incredibly, Irresistibly, Successfully Hilarious Writing."
The "Philosopher-King" of comedy is Louis C.K. You may know his work, but you might not realize there is some serious philosophy behind some of the best jokes.
Louis C.K. arrives at the premiere party for FX's 'Wilfred' and 'Louie' on June 20, 2011 in Los Angeles, California. (Photo by Katy Winn/Getty Images)
Remember a great comedian who made you both laugh and think? George Carlin perhaps? Richard Pryor? Or maybe Bill Hicks? Only the best comedians can do that, and when you manage to find one that can do both, it is a moment to always recall with a smile. If only there was someone today whose comedy matched the philosophical edge of the old comedy gods.
Allow us to suggest for you a new Clown Prince of Philosophy.
The "Philosopher-King" of comedy is Louis C.K. You may know his work, but you might not realize there is some serious philosophy behind some of the best jokes.
On his hit television broadcast Louie, Louis C.K plays a slightly fictional version of himself, who is overweight, aging, depressive, bald, and divorced. Basicly he plays himself, but a more depressing version. In the show, despite meeting a series of hilariously absurd roadblocks to happiness, Louie basically enjoys life, despite it all, including his tendency to be a bit depressed.

"Oh no, I know the darkness," Louie says in one episode. At the same time, he demands that we understand how good life is. Replying to his daughter, who says she's "bored," Louie responds:
"'I'm bored' is a useless thing to say. I mean, you live in a great, big, vast world that you've seen none percent of. Even the inside of your own mind is endless; it goes on forever, inwardly, do you understand? The fact that you're alive is amazing, so you don't get to say 'I'm bored."
Louis' character, and to some extent the real man, are manifestations of what is often called "The Absurd Hero", first described by Albert Camus. Who is this hero? The man who understands that life is absurd and meaningless, but who finds joy in it anyway. Louie, in encouraging us to laugh at such horrible topics as death, meaninglessness, and the problems of doing the right thing, is a kind of hero in this way.
Death is, indeed, a favorite topic of his. Covered brilliantly in many of his best stand up routines. Louis' system of stand up writing is perfectionistic, and only the best jokes which appeal to all of us make it to his standard line up; only to be removed after one year's use. Since death comes for us all, this subject often makes the cut.
As was explained by Martin Heidegger, death is the one thing we all move towards at all times.  Louis, similarly, hardly goes a minute into a routine based around death before reminding the audience a few times about that fact. The subject of death was a major one for the existentialist philosophers, Nietzsche, Sartre, and Heidegger among them, who saw the end of life as the major problem in understanding it, and a focus of all of their work.
Louis takes this and runs, showing us how death can be hysterically funny, especially when we know it is inevitable but try to avoid it or ignore it anyway. He points out the pointlessness of this attitude, and makes death as mundane an issue as playing hide and seek with a child. Not to belittle either event, but to show us that both are inevitable, relatable, and unintentionally hilarious.

A great comedian can make you laugh until you cry. The best comedians can make you laugh until you think. As the above jokes show you, Louis is one of the best. In the course of giving us what Time magazine called "reflections on what it means to be human" he makes us laugh, forget our troubles for a bit, and then return to our lives better able to face the problems he just made fun of so well.
 --