While it can often be tempting to unfollow friends who have differing political views than you, one philosopher tells us why we should embrace, rather than shun, such challenges to our worldviews.
Facebook posts about politics got you down?
We've all done it, unfollowed that conspiracy spouting friend we have on Facebook rather than endure one more post about how the Earth is flat and Obama was born on Neptune. Sometimes we go a step further, removing those with opposing political views from our friend lists. After all, social media is for fun! Why should I have to see my nutty uncle's viewpoints when I am looking for pictures of cute cats?
This problem has been discussed here at Big Think before and Eli Pariser gave an excellent Ted Talk on the subject. While the issue is often viewed as one of immaturity or tribalism, it has another dimension. Rarely do we think of it as the problem of our moral development it is.
It is a major part of that development, at least according to philosopher John Stuart Mill.
In On Liberty, his defense of a liberal democratic society, Mill argues brilliantly for the necessity of the freedom of speech. While he references our dependence on it for the success of a free society, he also points out it has another, vital, function; it allows us to make steady progress towards the truth that is otherwise impossible.
Mill suggests that any viewpoint can be one of three things; true, false, or a little of both. He further reminds us that humans are never sure of anything and that we are often wrong when it comes to knowing if our ideas are the whole truth or not. He explains that:
"First, if any opinion is compelled to silence, that opinion may, for aught we can certainly know, be true. To deny this is to assume our own infallibility. Secondly, though the silenced opinion be an error, it may, and very commonly does, contain a portion of truth; and since the general or prevailing opinion on any subject is rarely or never the whole truth, it is only by the collision of adverse opinions that the remainder of the truth has any chance of being supplied."
When you are living in your bubble falsehoods don't get checked. New truths are never considered if you unfollow those who offer them. Comforting lies can get passed from person to person without anybody noticing that they cannot be true. Progress towards better ideas can be stalled as there is no active questioning of the ideas you have.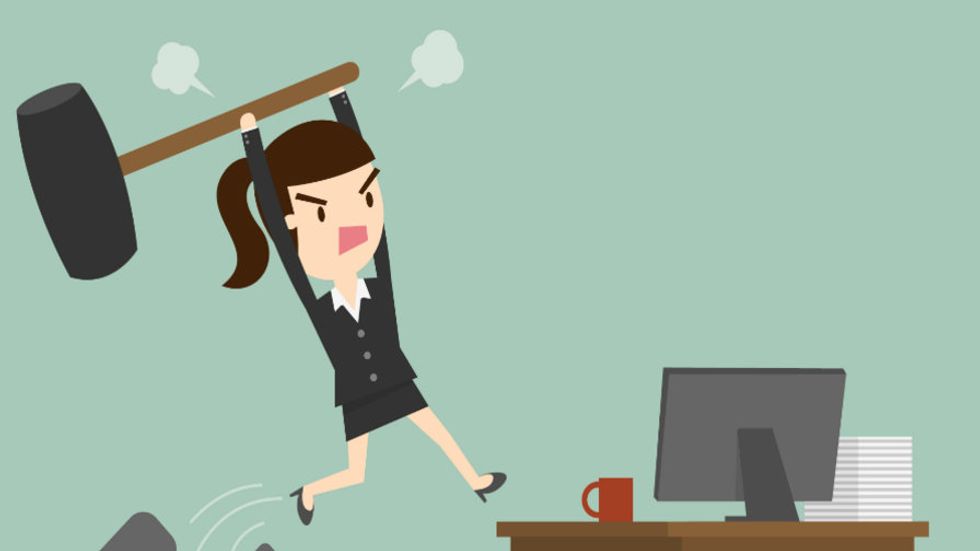 To be fair, we have all felt this woman's rage at a post before. Maybe some people should be unfollowed?
Of course, sometimes we know which side is correct with as much certainty as is possible. If you have a Facebook friend who is a flat-earther, it is clear that they are very wrong when they try to explain that the Earth is flat. Censoring them from your feed can't be too terrible, right? Mill disagrees, he argues that testing our true beliefs with rational debate is essential.
"Thirdly, even if the received opinion be not only true, but the whole truth; unless it is suffered to be, and actually is, vigorously and earnestly contested, it will, by most of those who receive it, be held in the manner of a prejudice, with little comprehension or feeling of its rational grounds. And not only this, but, fourthly, the meaning of the doctrine itself will be in danger of being lost, or enfeebled, and deprived of its vital effect on the character and conduct: the dogma becoming a mere formal profession, inefficacious for good, but cumbering the ground, and preventing the growth of any real and heartfelt conviction, from reason or personal experience."
If we don't occasionally interact with objections to our ideas, even if our thoughts are already correct, they will lose a bit of their punch and decay into mere dogma. Debate keeps our ideas fresh; it reminds us of why we support one side over the other and stimulates our intellect. For Mill, who saw personal development as a stop on the road to a just and happy society, this is all but a moral imperative.
So, how can we get back to challenging our ideas? How can we pop the bubble?
Luckily, there are lots of ways to do it. While not all of us can bear to see our family's political posts every time we log in, we can still expose ourselves to challenging viewpoints that keep us from becoming too trapped in our echo boxes.
The KIND foundation has the Pop Your Bubble campaign which adds a simple extension to your browser that determines what kind of person you are, demographically speaking. It then suggests pages for you to follow on Facebook that differ from what pages you are likely to see already. While the effectiveness of it seems variable, it is a simple way to add new viewpoints to your feed.
There is also the option of patience. Waiting for your friends with differing viewpoints to post, viewing those posts, and then getting on with your life is a rather simple, yet effective, method. Some people are going to disagree with you, but this is no reason to shut them out of your circle. For each political post you manage to dodge by unfollowing someone, an apolitical post about their newborn could be missed as well.
While it can be tempting to banish opposing viewpoints from your screen, it isn't good for us. Preventing yourself from seeing different opinions, even more than the internet does already without you knowing, can reduce your worldview to mere dogma and even your ability to form a reasoned opinion. While enduring the posts of family members who tend to make Thanksgiving political isn't always enjoyable, it does pay off in the long run.
Many great minds have plenty of bad things to say about democracy, but what about the people who think it is great?
Pericles, the great Athenian leader, speaks of the greatness of liberty to the people of Athens.
Socrates had several issues with democracy, most of them stemming from events that took place during his lifetime in Athens. Some of the decisions made by the Athenian democracy were rather insane and made by a body politic that had no business trying to determine foreign policy. Socrates is depicted in Plato's Republic as favoring a totalitarian regime managed by iron-fisted philosopher kings, in which all citizens are raised to fit a particular role, the state regulates bedtime stories, and harmony between individual and society reigns supreme. 
His objections to democracy are countered in the works of John Stuart Mill, whose love of democracy is as great as Socrates' hatred of it.
John Stuart Mill was an English philosopher in the 19th century who is best known for his work on utilitarianism, though his writings span an incredible range of topics. His ideas on democracy, liberty, and the benefits of both are laid out in two of his works; On Liberty, and Considerations on Representative Government.
What does he have to tell us?
While Mill agrees that the unwashed masses should not have absolute power, in Considerations on Representative Government he argues for a giving the votes of the educated more weight than anybody else's; he counters Socrates' idea of the philosopher king with an observation on what happens to the citizens of a "good" despotism. Seeing the society they would rule as being:
"One man of superhuman mental activity managing the entire affairs of a mentally passive people. Their passivity is implied in the very idea of absolute power. The nation as a whole, and every individual composing it, are without any potential voice in their own destiny. They exercise no will in respect to their collective interests. All is decided for them by a will not their own, which it is legally a crime for them to disobey. What sort of human beings can be formed under such a regimen? What development can either their thinking or their active faculties attain under it?"
The population living in a despotic society would be reduced to unthinking drones who need only enough mental capacity to get their daily chores done. Only a democracy can produce citizens capable of enough cognitive power to maintain a democracy, argues Mill, by requiring them to use that mental ability. He notes with envy that while the typical English voter only had to be prepared to vote and serve on a jury, the typical Athenian had to be ready to serve in nearly any office that existed. Mill sees this as a mostly good thing, as it requires the Athenian to be more fully developed as a person in order to fill those roles.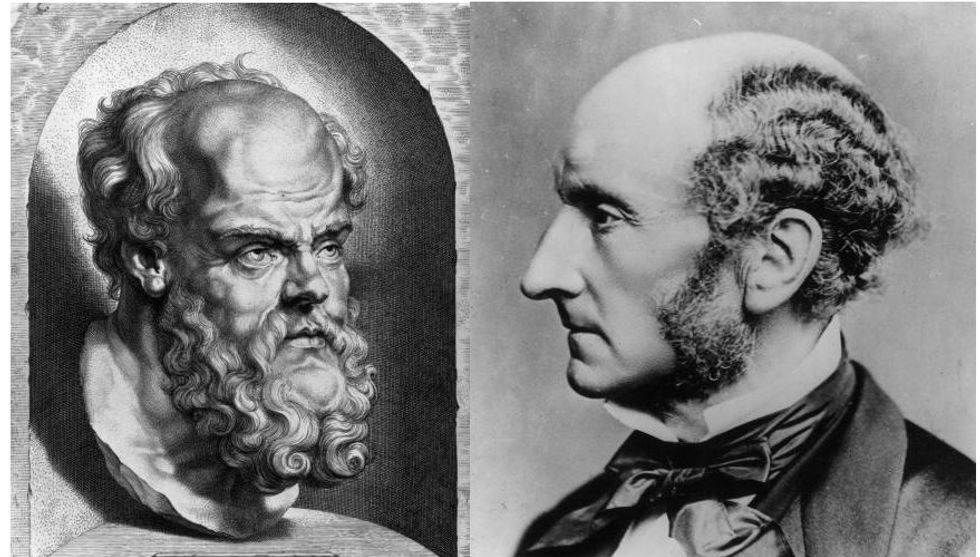 Could a Socrates have been produced in Sparta? Mill thinks not, despite Socrates' praise for the Spartan government. 
Democracy is great and all, but why is freedom good?
In On Liberty, Mill argues that we all need the freedom to choose our lifestyles. This is vital, as without this liberty people will be stifled and unable to explore new ideas, make discoveries, and fully develop as people. In a society where we must all follow the same religion, value the same things, and enjoy the same hobbies, individualism can never flourish. Mill sees this as a horrible situation, explaining that:
"It is only the cultivation of individuality which produces, or can produce, well developed human beings." and "In proportion to the development of his individuality, each person becomes more valuable to himself, and therefore capable of being more valuable to others."*
In Considerations on Representative Government, he notes that the best defense of liberty is an active population working inside of a democratic system. Mill allows us to connect the dots. Only a democratic government can safeguard freedom, and only a free society can hope to promote the development of the individual. The development of the individual is both good by itself and as a means to other ends. We, therefore, need democracy to help individualism and self-development to flourish and the world to progress.
But democracy can lead to such dangerous outcomes! Look to Athens and their mob!
Mill understands that people might make bad choices when they vote. However, he points out that the United Kingdom and the United States of the 19th century were doing rather well compared to the authoritarian states of Eastern Europe and Asia. He also reminded us that Athens, even with occasional lapses in judgment, produced much greater men than did any of the other Greek city-states. Liberty gives positive results, so it seems.
So, was Socrates just wrong about everything?
It is important to remember, however, that Mill was a progressive. He saw the march of history as moving ever forward and the ideal society as one that understood this progress was possible and promoted it. The ancient Greeks were interested in harmony, and in the Republic Plato built a utopia that would remain harmonious for the longest time possible. They even went so far as to define justice as harmony between parts of the whole, both for people and cities. The goals of Mill and Socrates differ considerably, and this must be remembered when comparing their worldviews.
Socrates offers us some excellent critiques of democracy. The problem of properly educating the voters, the threats of demagoguery, and the insistence that the people with direct power should be enlightened are all valuable insights. However, Mill shows us how democracy, flawed as it may be, offers us the best opportunity for growth as individuals and as a society. If, of course, we are willing to do what it takes to make democracy work.
*Mill was a utilitarian. He firmly believed that democracy and freedom lead to better outcomes and more happiness than tyranny. A common objection to utilitarian endorsements to democracy is that if it could be proven that oppression leads to better results, we would be morally obligated to institute that instead. Mill does dodge this problem, somewhat, by placing a high value on individualism. A high enough value, perhaps, to always make the math come down on the side of liberty. If this solves the problem or not is another issue. 
The question isn't "are you happy"... but rather "what kind of happy are you"?
Spreadshirt.com
Quick question, are you happy? If you need more than two seconds to answer it, I can wait. For many people, happiness is the end all meaning of life; that rare and beautiful thing that they long for more than anything. If you can't answer that you are happy, don't worry; you're in good, if glum, company.

But maybe the question would be easier if we asked: what kind of "happy" are you?

When people talk about "happiness", there can be more than a few things we are really talking about. The most common understanding of it is "feeling good". This relates to hedonistic happiness and the seeking of pleasure while avoiding pain. It is a common approach to happiness, one which has been enshrined in the philosophy of Utilitarianism. It is not, however, the only way to be happy.
Eudaimonic Happiness, for example, is rather different. Eudaimonia means "flourishing"and is the idea of having a worthwhile life rather than an explicitly pleasant one. The idea goes back to Socrates and the Stoics who argued that being virtuous was enough to assure a good life even; if it was less pleasurable than a life of vice.
The idea was also the foundation of Aristotle's virtue ethics, though he argued that a truly excellent life also required a few external goods as well as virtue; money, friendship, beauty, and a decent amount of luck among them. For Aristotle the most worthwhile life is the life of reason, to live virtuously and intellectually is far superior to living otherwise, even if it can be less fun.
More recently, the idea was given a psychological reboot with Maslow's hierarchy of needs. A person who has reached the apex of the pyramid, self-actualization, and self-transcendence, can be said to be living a Eudemonic life. One where they seek to fulfill their potential and life their lives to the fullest.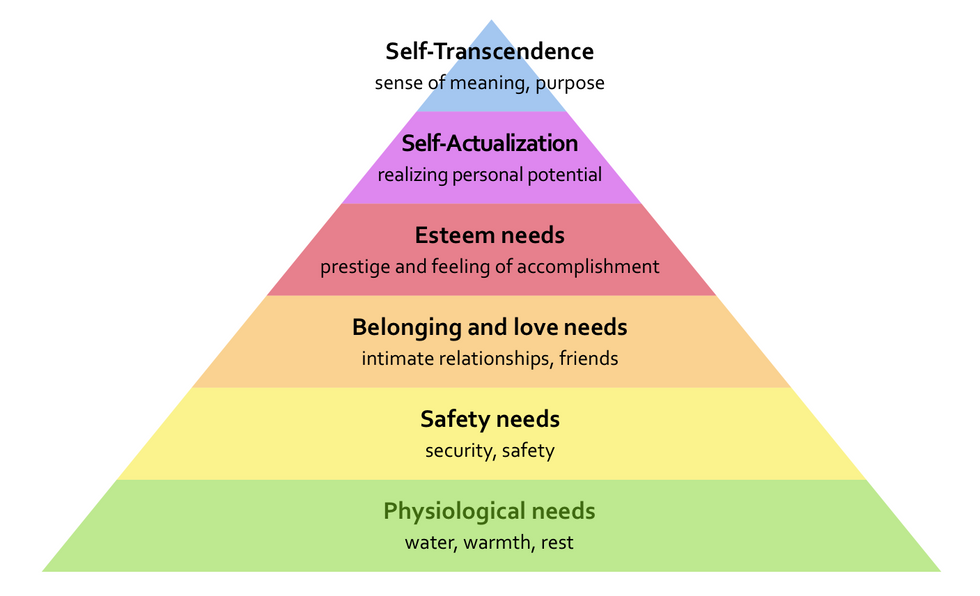 There is also the idea of Evaluative Happiness. This idea is fairly straightforward, social scientists ask people on questionnaires to rate their happiness on a scale from 1-10.  This kind of happiness is most closely tied to "life satisfaction" and the fulfillment of goals. Given that it can be measured very simply and doesn't make assumptions about what will make the person answering the question happy, it is considered the gold standard of well-being metrics.
How can I be happy then? Is there a guide to reaching each form of happiness?

Hedonism can be the easiest kind of happiness to conceptualize, just chase pleasures while running away from pain as fast as you can. However, this isn't going to work for you in the long run. This was the key insight of the Buddha, the Stoics, and other thinkers throughout history.
The Greek hedonist Epicurus argued that the key to hedonistic happiness was moderation. Living a life of simple pleasures, he thought, would maximize pleasure experienced over the long run. For example; while we might be tempted to live richly even for a short time before returning to a typical lifestyle Epicurus argues that this will make us less happy than if we just lived moderately all along- as then we cannot miss luxury.

For the less than stoic we have John Stuart Mill, the greatest of the Utilitarian philosophers. He expanded on the idea of hedonism being more than the life of base pleasure seeking. In his work, Utilitarianism, he argues that some pleasures are higher than others. For a person who could do both, reading Shakespeare will give more pleasure than drinking heavily, so Mill postulates. Though the accuracy of this statement has been debated for some time; to really achieve hedonistic happiness Mill would have us develop our intellectual abilities and find pleasure in their use rather than seeking the "happiness of a pig".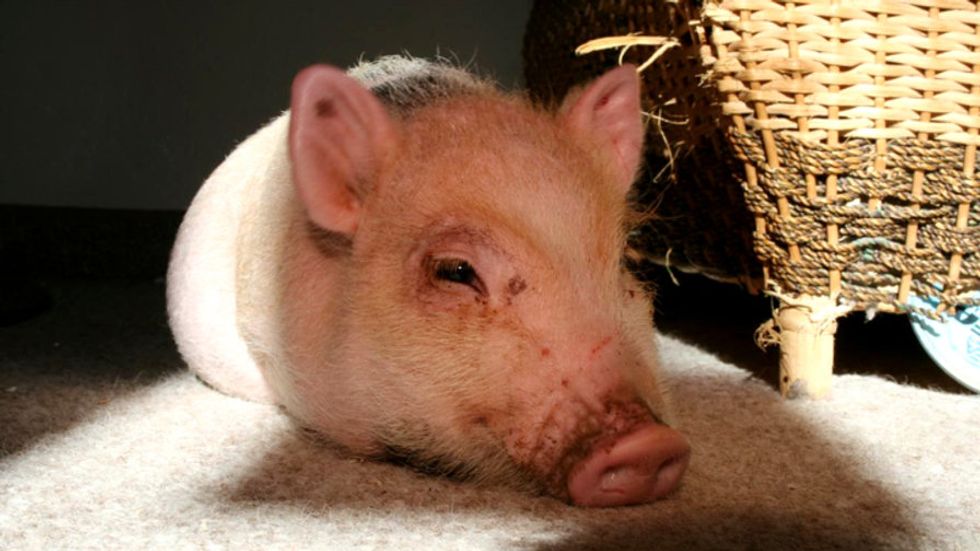 Though, he does look contented. 

For Eudaimonia, Aristotle left us a how-to guide in the form of the Nicomachean Ethics. Suggesting that each virtue is the median between one vice of deficiency and one of excess. He argues that we can, by practice, come to embody virtue and become "flourishing" people, given the good fortune of having the necessary external goods as well.
The difficulty with Eudaimonia, as opposed to other forms of happiness, is that it not only requires most of a lifetime to really get right, but there is still a great deal of debate over what "right" is. Maslow's hierarchy of needs has been criticized as being of use only to a person living in an individualistic society, what a constitutes a flourishing person, and how you personally can reach your potential, is different for each everybody. Learning what your potentials are is an art in itself.
There is also the criticism that most Eudaimonic theories all but require the individual to be reasonably well off to be successful in reaching their goal. Recognizing this, American philosopher Martha Nussbaum has written on how the Scandinavian countries, with their generous social programs that assure people's basic needs are fulfilled, are best able to allow their citizens to flourish. The consistently high scores of those nations in happiness rankings suggests they may be on to something.
Evaluative happiness is also very open to individual choice. What makes you happiest is up to you, the problem is going out and getting it. Places with high scores for this kind of happiness can be quite different from one another. Singapore scores very high on happiness tests, but for differing reasons than does Costa Rica. However, people who do have this kind of happiness tend to have things in common; like financial security, status, pride in their work, and feeling as though they are living their values. This, like Eudaimonia, can take decades to truly achieve, and can also be very dependent on having a decent amount of luck.

There is more than one way to be happy. Each of the three kinds we considered here is valuable in its own way. By better understanding the ways we can be happy we have a better chance of doing it. Before you despair too much at how long it might take you to become "happy" based on these three schools, remember this quote by the American psychologist Carl Rogers, "The good life is a process, not a state of being". 
Students at an English university have demanded that their curriculum be "decolonized". What does that mean?
A woman looks at a giant sculpture featuring a pile of books by famous German writers and philosophers opposite Berlin's Humboldt University. (Photo credit JOHN MACDOUGALL/AFP/Getty Images)
Name a few philosophers. I'll wait. You probably named a few Greeks, maybe a German or two. More frequent readers may have included an Arab or a Persian. But can you name many, or even any, thinkers from Africa? How about South Asia? Can you name a non-white philosopher from the last century at all?

Many people will say no, and a group of students at a University of London college thinks that is a problem. The student union of School of Oriental and African Studies (SOAS) is requesting that a majority of philosophers studied at the college be of an Asian or African background at the expense of more commonly studied European philosophers.
Now, before you get too riled up. The student union's statement is to the effect of increasing diversity rather than the outright banning of white philosophers. They also seek to have philosophers be viewed in the context they lived in. In addition, they want to highlight how colonialism may have influenced what ideas are seen as "canon" and what is seen as "marginal" thought.  All this is as part of a "decolonization" of the curriculum that the student union supports.  
Also the university claims it is "the only higher education institution in Europe specialising in the study of Asia, Africa and the Near and Middle East". So mere desire to increase the number of non-European thinkers included in the curriculum would seem reasonable to most.
Now, some philosophy clearly reflects the times it was devised in. John Stuart Mill, utilitarian, liberal, and feminist philosopher, argued often for imperialist practices. Not surprising for a man living in England at the height of the Empire and employed for decades by the East India Trading Company.  Other examples exist, often on a more positive note. It is unlikely that we would have heard of the radical thinker Spinoza had he not lived in the tolerant Dutch Republic, where his writings would get him excommunicated, but not imprisoned.
However, in a strictly academic sense. One cannot toss out a key philosopher from their education and hope that it does not ruin the process. The impact of Immanuel Kant on later thought is difficult to overstate. To remove or reduce him on anti-colonial grounds, which philosopher Sir Roger Scruton has dismissed as absurd, would harm students' ability to understand later thought, ranging from relativity and quantum mechanics to modern political philosophy.
Of course, non-European thought is often underrepresented in philosophy. The rich histories of India, China, the Islamic world, and Africa are often seen as footnotes and side ventures to the thinkers of Europe. While European thought is of great use, the influence of African ideas on Freud, the influence of Maoism on many French philosophers, and the refinement of Greek ideas by Islamic thinkers cannot be denied.
Does philosophy need to be decolonized? The student union as SOAS thinks so. Its desire to reduce the focus given to the mainstays of European philosophy has earned it the ire of many online news sources. However, the union raises a fair point. If students in a globalized world are going to understand the world they live in, should they not be armed with the ideas and philosophies of that world? Even at the cost of the traditional curriculum?
Can you legislate for good human behavior, or does proposing laws to imprison those who use racial slurs distract from actual progress?
(Photo: RODGER BOSCH/AFP/Getty Images)
Last week, the South African government proposed a draft law to criminalize hate speech. The proposed law would place a first time offender in jail for up to three years, while a repeat offender could be sent for up to ten years. Currently, South African law allows for hate speech to be dealt with as a civil issue; last month a judge ruled a man who used an epithet in an argument owed the insulated party 7,000 U.S dollars.
The incident that prompted the drafting of this law, in which a woman lashed out at black police officer with the word "kaffir", a slur on par with the "n-word" in South Africa. A video taken of the incident has spread like wildfire on the internet and sparked condemnation from all elements of South African society. Of course, the proposed law also has portions of South Africa in a similar uproar.
The proposed law would define hate speech broadly, as: "direct or electronic communication that advocates hatred, incites violence or causes contempt or ridicule". Critics of the law suggest that it will do little to curb racist sentiment while eroding the freedom of expression. The director of the Freedom of Expression Institute, Tusi Fokane, said of the proposed law: "You cannot legislate for good human behavior; you cannot legislate for social cohesion".

But why does this idea trouble us so? What about the idea of Free Speech makes us uncomfortable with regulation of hate speech?
where-does-freedom-of-speech-end
Most Americans are familiar with a Millsian idea of free speech. In his work "On Liberty", Mill proposed that the only limit to personal freedoms that can be justified is a restriction on activity which causes harm to others. This restriction is called, simply enough, the "harm principle".
For Mill, as for many people, this means that the only speech that can be limited is that which would directly and immediately cause harm to others. An idea incorporated later into American law by the Supreme Court as the "clear and present danger" and the "imminent danger" standards.
Mill tied his idea of free speech to the Utilitarian notion of the greatest total happiness as a goal of the state.  While some speech is false, misleading, or even detrimental to society, the banning of it would be worse. We are made happier in the long run, he supposes, by allowing objectionable speech in all instances where it causes no harm.
However, while America only tends to regulate speech that is an immediate danger to others, many other nations have laws that go further. Many countries in Europe have laws against denying the reality of the holocaust in public speech. Canada and several Western European nations already have hate speech listed as a criminal offense.

There is evidence that the use of hate speech causes real harm to the targeted groups. Work by the American author Mari J. Matsuda has argued that hate speech can cause "direct physical and emotional changes" in targeted groups. If this is the case, and the data suggests that it is, the "harm principle" would support the prohibition of hate speech. The idea that certain treatment can cause lasting harm to a group was the basis of the ruling in Brown vs. The Board of Education, with the court ruling that discrimination "generates a feeling of inferiority as to... status in the community that may affect their hearts and minds in a way unlikely ever to be undone."
The debate also raises old questions about power distribution in South Africa. Since the end of apartheid the ultra-majority black population has held political power. However, cultural and economic power remains in the hands of the less than 10% of the population that is white. Critics suggest that the law will not only do little to reduce prejudice, but may even divert attention from structural issues promoting racism across the country. Issues which go beyond the use of slurs.
South Africa is a country with deep-seated racial tensions, and the recent incident is but one of many similar events to plague the nation over the years. The recent discussion to limit free speech with regulations on hate speech has ironic echoes of the extreme social conservatism implemented to help enforce apartheid, for example: television has only been available there since 1976. The discussion of how free speech should be is relevant not only there but everywhere.
And on US soil, it's more relevant now than ever: