A cheat sheet containing what really works.
800 hiring managers reveal their preferences in a survey by NetQuote.
Infographics help unearth the worst words to use in an interview, most important questions, and ideal resume length.
Figuring out how to present yourself just got easier.
Congratulations. You got the interview. You've already done better than all of the other job applicants whose piles of resumes have lead nowhere. But watch out. A hiring manager holds your future in their hands, so the interview is a do-or-die chance to get where you want to go. NetQuote decided to ask 800 hiring managers what, to them, makes for a successful interview. Or not. Infographics from that data have just been published as Most Important Interview Questions.
All visualizations in this article are by NetQuote.
About your resume
If you've got an interview already, you may be past the resume phase, at least for this job. But what got you there? (And maybe you're still hoping to get an interview.)
Getting your resume's image right
According to NetQuotes' respondents, when racing through a bunch of resumes, your story's visual presentation can prove to be an instant turn-on, or -off.
42% of hiring managers aren't fond of headshots, for example. Ditto for unconventional, flashy resumes—they're not necessarily a good way to stand out, at least not to the 65% of hiring managers who aren't impressed with them.
Still, the reactions vary by industry; head shots are poison for government, legal, and health care jobs, but popular when you're after a tech-oriented position. And not shockingly, non-standard, artistic resume layouts are more likely to be appreciated in industries peopled by non-standard artistic types.
Is a long resume impressive or a problem?
Hiring managers are busy, and don't really care about your life story. If a resume is even just two pages long, 23% of hirers say it's too long. Bump that up by one more page, and it's 51% of them bugged by your verbosity.
Another thing that can be a red flag, depending on the industry, are periods not covered by a job. In IT, for example, an employment gap of 13 months or more means you've probably got a problem.
Landmine language
So, you're in the room—or on Skype or the phone. Someone once said, "I never sound as stupid as when I'm trying to sound smart," and this is definitely an interview hazard. You may think business-speak buzzwords like "synergy," "low-hanging fruit," and "ideation" make you sound cool. Not so much.
Before the show starts...
In an interview, yours isn't the only performance going on, and some hiring managers are sketchy about playing their own roles. They may try to impress you by tweaking the job description or the company's outlook. And only about 60% actually read your resume before talking—which is to say 40% know basically nothing about you as the interview starts. 29% are wasting your time anyway, since they already know they're not hiring you.
Typical questions and how much they actually mean
Of all the questions commonly asked, four stand out as most important. Two reflect on your character in the workplace: How you deal with conflict and how you learn from mistakes. The third inquiry reveals you as either an ambitious forward-looker or a disagreeable malcontent: Why did you leave your last job? Then there's that moment where you're asked to list your strengths—more about this below.
Interestingly, one classic query doesn't seem to matter much at all: What you're into outside of work.
The best personal strengths to mention
Okay, this one's kind of the master cheat sheet. Don't lie in your interview, but here's what you're supposed to say.
Are you being interviewed by a woman or man?
The list above notwithstanding, women and men have slightly different priorities in what qualifies as applicant's most important personal strengths. It seems close to a cliche, but female hiring managers are more concerned with quieter, inner-focused skills while males are interested in outward-going traits. Discuss.
Meeting specific industry needs
Here's a helpful infographic. Different strengths matter to different industries, and this shows the three most important strengths in each type of operation. For government work, discipline's hot; in construction, it's important to manage time well and to be patient. Who'd guess that the industry that most values creativity is the legal industry?
The importance, or not, of follow-up
Hiring managers also have feeling about your actions after the interview. 67% expect to be asked questions, and they consider doing that to be important. Slightly less than half expect any worthwhile applicant to follow up by email or by phone. As far as handwritten followup notes go, while they're important to 17% of hiring managers, more than double that percentage said don't bother.
Forewarned is forearmed
Whether you're heading into the hot seat in the near future, or just hoping to be asked to interviews, you now have some insight as to what the interview process looks like to hiring managers. Now go and get that job!
The best advice to getting hired it also something you were told in middle school: be yourself. Can you guess the other two great tips?
The best advice to getting hired is also something you were told in middle school: be yourself. "Likability leadership expert" Michelle Tillis Lederman believes that if you're not yourself during your interview, you probably won't be a great fit for the job. Interviewers are far more likely to want to see someone real rather than someone projecting an image of a perfect person. Michelle makes a stellar observation that the interview often starts long before the actual sit-down interview itself. Michelle Tillis Lederman's new books are Nail the Interview, Land the Job and The 11 Laws of Likability.
Knowing how to tell a good story is like having mind control. Alan Alda shares some incredible tips for captivating a crowd—or nailing your next job interview.
People who are natural storytellers make it look easy, but cut to the moment you're in the hot seat—at an interview, a conference, or even in a social setting—and suddenly the suave-ness is not so forthcoming. So what is the key to telling a story that grips a crowd, and takes them emotionally from point A to point B? This has been a point of focus for actor and author Alan Alda throughout his career, and here he draws on two examples from his life: the first about a brilliant nano-scientist who couldn't get anyone to care about his breakthrough invention until he let slip that it was a total accident; and the second is a simple but astounding demonstration that involves a person carrying a glass of water across a stage. Not exactly riveting? Watch and learn, young grasshopper. Alan Alda's most recent book is If I Understood You, Would I Have This Look on My Face?
.
It's illegal, yet usually a subconscious act. So how can we scrub bias from the hiring process?
Interviewers have an inherent bias, whether they know it or not. Getty Images.
Say you go to a job interview and sometime after, the interviewer sends you a friend request on Facebook. Would you accept it? The question gives us pause. It's a paradox, really. On the one hand, not accepting might mean you have something to hide. On the other, if you accept, you could be evaluated on far more than your CV. Though the unemployment rate just took another dip, it's still hard to find a good job nowadays, one that can sustain us and lead to a solid future.
Unfortunately, more and more interviewers are sending friend requests, giving candidates the jitters and leaving them wondering if they made the right choice, either accepting or rejecting. By law, it's illegal to ask about one's religion, sexual orientation, or marital status at an interview. Unless you're wearing signifiers like a hijab, a cross, or a wedding ring, the interviewer may never pick up on these things. But on social media, the information is just a few clicks away.
So what's the big deal? Evaluating someone on the basis of say religion is illegal, right? The problem is, these decisions are often made subconsciously. The hiring manager may not even know they are doing it. After all, don't we go with our gut in such situations? And doesn't that allow for inherent bias to slip in?
This all rests on social identity theory. We, each of us, identify with certain groups. This theory states that we, overtly or subconsciously, value and put our own group above others. The in-group we identify with could be a social class, an ethnicity, religion, one's own family, a sports team, and more. A study, recently published in The Social Science Journal, found that people naturally use race and religion as part of their interpersonal judgments.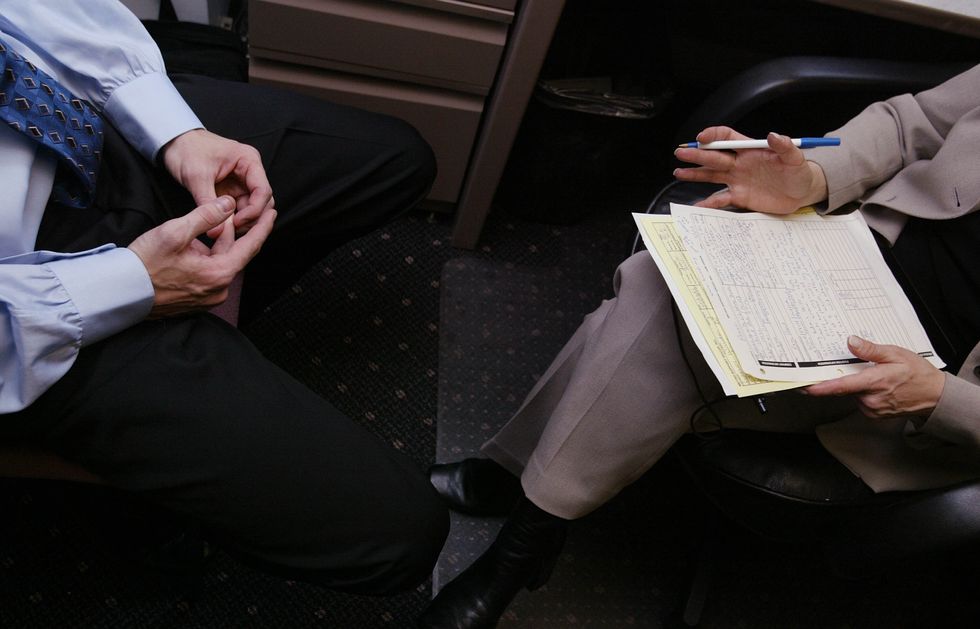 A new study shows that an applicant's religion and race played a role in whether they were hired. Getty Images.
Here, researchers set out to know if a job candidate's religion and/or race, played any role in if they were hired or not. 175 participants were recruited for this study. All identified as black and Christian. They each viewed five possible job applicants for a fictitious position. Candidates were identified as either black or white, and Christian, Muslim, or atheist.
32% of participants said they used an application's religion to evaluate them. There was overwhelming support for Christian candidates, who researchers reported were in the participants' "in-group." Muslim or atheist candidates therefore, constituted the "out-group." Only 1% used race as a factor.
What scholars found compelling was that those who didn't lean toward a candidate because of religion, in other words less religious candidates, showed an in-group bias for race, instead. A study out of Carnegie Mellon University supports this one.
It found that nationwide, Muslim applicants received 17% fewer callbacks than candidates of other faiths. But it may not be that interviewers are exercising bias on purpose. Several studies point to hiring managers subconsciously selecting those in their in-groups over out-groups, when making hiring decisions.
Race is a hard thing to cover up. But one's religious or ideological bend isn't always picked up, offline. Online, scanning ones social media pages can quickly give away their faith or outlook. You could just get off social media altogether, however unlikely that sounds. But you'd be hurting your prospects.
77% of employers today use it as a recruiting tool, according to the Society for Human Resource Management. Several large firms have banned the use of friend requesting candidates. Congress is even weighing whether or not to make such a ban federal law.
Yet, currently, the rules on friending someone up for a position haven't been spelled out. The Equal Employment Opportunity Commission has, to date, avoided weighing in. For now, be careful what you put on social media, if you're looking for a job, because legally, the issue remains stuck in a gray area.
This is just another example of technology darting past the law. One answer might be intermediary firms, who can search for illegal or disturbing behavior applicants might post online, but block out any illegal considerations from hiring managers' eyes. Social Intelligence is one firm doing exactly that.
To learn more about our inherent biases, click here: