The winner of the Royal Statistical Society's first "International Statistic of the Year" award provides a shocking insight into the real threats Americans face.
Which of the following best completes this sentence: Over the past 10 years, _____ killed the most Americans.
Islamic jihadist terrorists
Far right-wing terrorists
Lawnmowers
If you chose either kind of terrorist, you were wrong – by a long-shot. It turns out that lightning, lawnmowers, armed toddlers, buses, and simply falling out of bed were all independently more frequent annual causes of death than all kinds of terrorism combined on average over the past decade.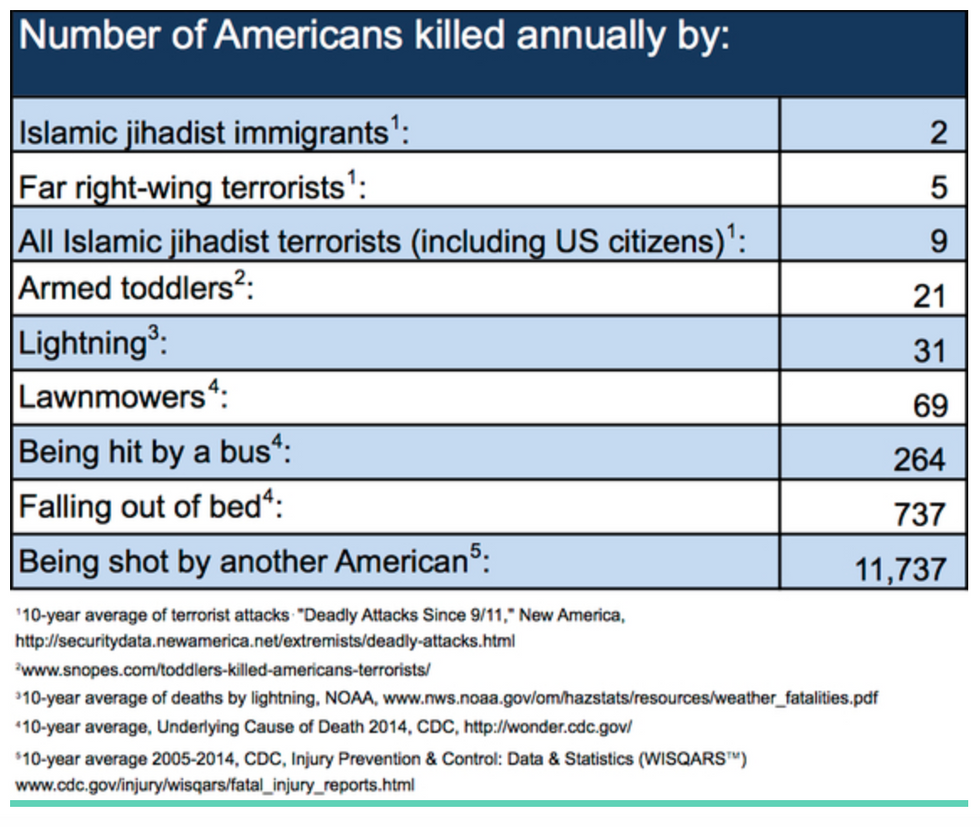 The chart comes from a Huffington Post article by Todd R. Miller, and it was chosen as "International Statistic of the Year" by the Royal Statistical Society, an organization based in the U.K. that began the competition in 2017 to highlight the importance of statistics in society. It was also featured in a tweet by Kim Kardashian that was retweeted more than 194,000 times. 
The Royal Statistical Society wrote that the chart:
"...successfully highlighted the huge disparity between (i) the number of Americans killed each year (on average) by 'immigrant Islamic Jihadist terrorists' and (ii) the far higher average annual death tolls among those 'struck by lightning', killed by 'lawnmowers', and in particular 'shot by other Americans'."
Liberty Vittert, a member on the panel who selected the stat as the winner for 2017, said:
"Everyone on the panel was particularly taken by this statistic and its insight into risk - a key concept in both statistics and everyday life. When you consider that this figure was put into the public domain by Kim Kardashian, it becomes even more powerful because it shows anyone, statistician or not, can use statistics to illustrate an important point and illuminate the bigger picture."
The Royal Statistical Society listed several honorable mentions for stat of the year on its website:
7.7 billion – "In June 2017, the number of active phone connections (7.7 billion) exceeded the world's population for the first time ever."
403.3 – "New figures, released in October 2017, showed that the concentration of carbon dioxide (CO2) in the atmosphere has now exceeded the symbolic threshold of 400 parts per million, reaching 403.3ppm - its highest level for around 800,000 years."
21.0 – "According to figures publicized this year, the under-18 conception rate in the UK in 2015 was 21.0 conceptions per thousand women aged 15 to 17. This is the lowest such rate recorded since comparable statistics were first produced in 1969."
Your mind is built to process contradictory, irrational ideas. Use that to reach new intellectual heights.
We know it's a myth that "humans only use 10% of their brains," but there might be a function of your mind that you're neglecting to use: its sandboxes. Eric Weinstein borrows this term from computer science to explain the potential of experimental thinking. A sandbox in computing is a secured place where untrusted software can run without controlling the computer or accessing its vital resources. Security specialists, for example, use sandboxes to analyze how malware behaves. Once they see and understand how it works, they can then devise a strategy to defeat it, and strengthen their own system to prevent it from getting in again.
Your mind has sandboxes for the same purpose: a safe space to metaphorically play with dangerous or seemingly irrational ideas that are inconsistent with your worldview. Without the ability to fully understand these problems, we cannot hope to solve them or react appropriately. Weinstein uses the example of a jihadi sandbox: how can we effectively fight Islamic terror if we don't understand the forces behind it? If an idea appalls you, do not shut it out. Build a sandbox and investigate it thoroughly by running an emulation of a jihadi's mind (or an atheist, or a devout Christian, or a racist, or a dictator, or a righteous liberal): "Can we run that mind well enough to understand it, to empathize with it and to argue and spar with it to achieve some kind of better outcome where we are actually able to turn foes into dancing partners?" asks Weinstein.
A rational, one-track mind cannot solve humanity's biggest issues, but the ability to process seemingly irrational ideas might allow us, as individuals and as a species, to reach new intellectual and behavioral heights.