There are three types of intelligence that are necessary for success in life, says the noted psychologist Robert Sternberg.
credit: Pixabay
How do we know someone is intelligent? Is it their ability to ace tests or crunch numbers? Psychologist Robert J. Sternberg sees intelligence not as a narrow, monolithic quality that makes you good at chess or getting top grades, but as an interplay between the analytical, practical and creative aspects of your mind. He calls this "the Triarchic theory of intelligence."
Analytical intelligence is what you probably imagine it is - the pure brain power with which you process information. It is invoked when you need to analyze something or solve problems. This is the type of braininess measured by IQ tests, which in Sternberg's view are woefully inadequate in determining someone's overall intelligence as they focus only on the analytical side. 
Creative intelligence comes into play when people need to think creatively and adjust effectively to new situations. This kind of intelligence is also responsible for synthesizing information and gaining insights. Another way to think about this is having the ability to use the knowledge and skills you already have to manage novel or unusual situations. 
Practical intelligence involves the ability to deal with daily tasks in the real world. You can call it "street smarts" that show how well a person relates to the external environment. It is also directed towards goals which seek to adapt to or transform the world around you. "Intelligent behavior involves adapting to your environment, changing your environment, or selecting a better environment," wrote Sternberg.  
When you measure this type of intelligence, you are looking not just for mental prowess, but factors such as emotion and attitude that also influence how well the person makes decisions. A leader, who has a strong ability to understand and motivate people as well as to delegate responsibility to the right individuals would score high in practical smarts. 
An important aspect of practical intelligence is the ability to learn. To gain knowledge, it's not enough to have experiences, but to glean from them the key information that can be adapted in other situations. 
Sternberg, who is a professor at Cornell University, sees an intelligent person as someone who can find the right balance between the different mental abilities while they solve problems they encounter. Sternberg also believes that it's possible to excel in more than one type of intelligence. Many people use all three at a high level. This can often be the reason for their success in life.
In an interview, Sternberg points out that people who reach success are usually the ones who "found something they do really well". And that area of excellence can really vary from person to person. It's also important, according to Sternberg, to identify what you don't do so well and find help to make up for those deficiencies. 
Here's how Sternberg explains his views on intelligence:
I prefer to refer to it as "successful intelligence." And the reason is that the emphasis is on the use of your intelligence to achieve success in your life.   So I define it as your skill in achieving whatever it is you want to attain in your life within your sociocultural context. Meaning that people have different goals for themselves, and for some it's to get very good grades in school and to do well on tests, and for others it might be to become a very good basketball player or actress or musician. So, it's your skill in obtaining what you want in life within your sociocultural context [which] means that if you want to be an axe murderer it wouldn't count--by capitalizing on your strengths and compensating for, or correcting, your weaknesses.
While adapting to weaknesses is one smart thing to do, another is to know when to quit. Sternberg points out that to be "successfully intelligent means knowing when you're in the wrong place at the wrong time - the wrong job, the wrong relationship, the wrong place to live." 
It's also worth noting that being considered intelligent in one culture does not necessarily mean you're intelligent in another, according to Sternberg. Whatever your circumstances, you just have to find the best place and activity for you to maximize your abilities.
Initially driven by his distaste for tests in developing a broader model of intelligence, Sternberg developed his own measure of how a person uses intelligence under his model. Check out a study on the effectiveness of the Sternberg Triarchic Abilities Test (STAT). You can also read Sternberg's book on the Triarchic theory of intelligence. 
Standardized testing is like bringing a knife to a gun fight. It's not totally useless, but it does misunderstand the situation. The Imagination Institute's Scott Barry Kaufman suggests a more three-dimensional search for intelligence.
You can apply this to almost every field and human pursuit and it's still true: too much of one thing rarely yields a positive outcome. Scott Barry Kaufman, scientific director of The Imagination Institute, thinks the US has fallen into this trap with standardized testing, which lacks insight into the breadth of intelligence.
Giving everyone the same test is advantageous for measuring learning outcomes, but when that data is used to label intelligence and identify gifted students it gets into questionable territory. It's a limited radar that leaves bright minds by the wayside. Kaufman has developed an alternative theory of personal intelligence, where someone's potential is assessed not by a single, assumed measure of intelligence like a standardized exam or IQ test, but by the combination of traits that in each person is as unique as a fingerprint. Someone with so-called "average" smarts may enhance their potential with extraordinary grit or perseverance that could see them succeed more than someone whose intelligence technically measures higher. What makes us complete beings is this interplay of all our characteristics, not merely how we may present on paper. The hazard of the standardized method is that it can obscure – and squander – potential with its one-dimensional approach. Kaufman isn't prepared to throw out the baby with the bathwater however; there is still value in standardized testing, but it cannot stand alone.
Our education system suffers from the illusion that gifted minds are a rarity, but the more likely scenario may be that our current testing methods are grossly inefficient at finding it.
Scott Barry Kaufman's book is Wired to Create: Unraveling the Mysteries of the Creative Mind.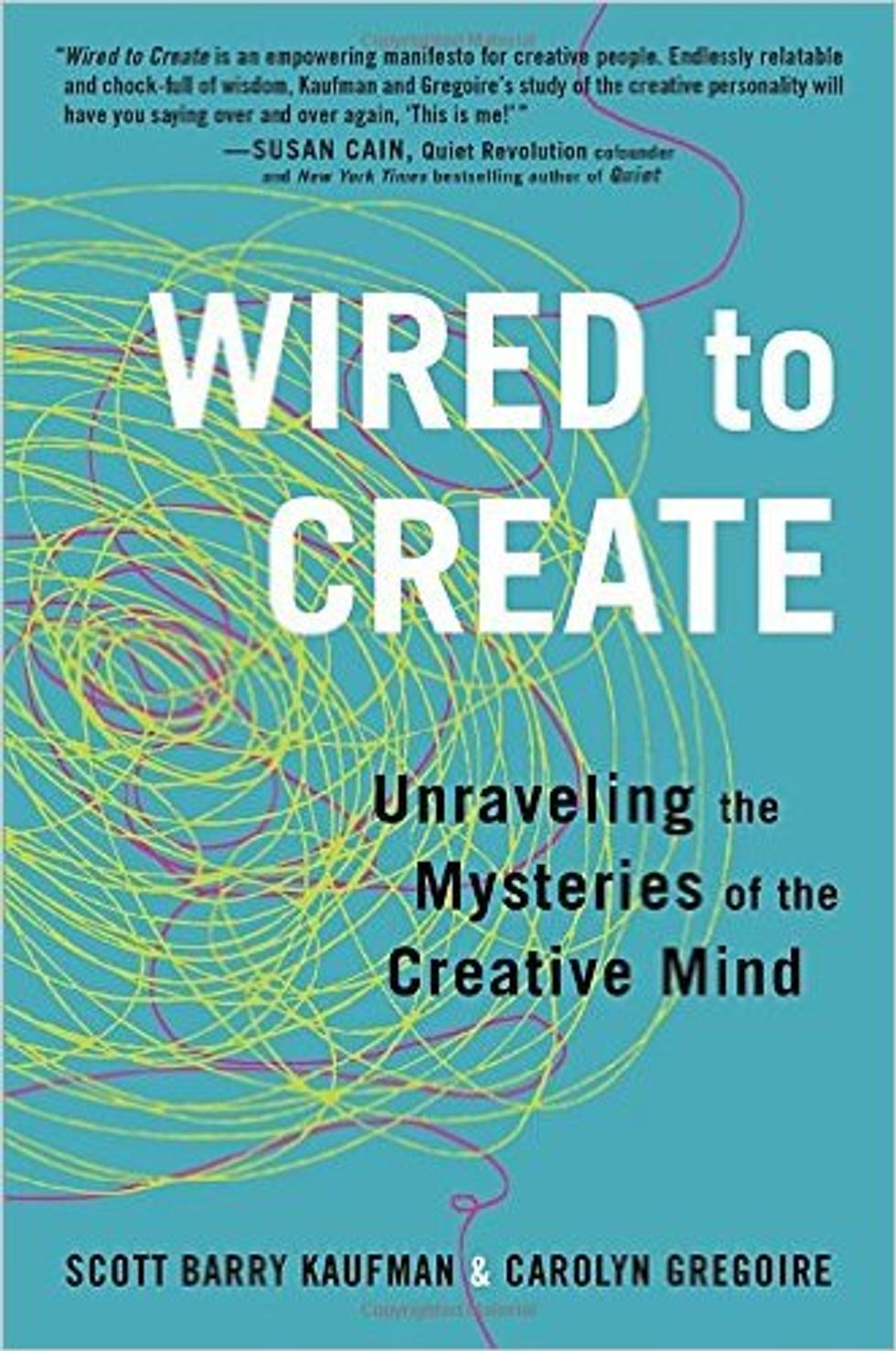 The IQ test is the most widely known measure of intelligence, but are the 'twice exceptional' and other gifted members of society slipping between the cracks?
Most of us know about the IQ test, whether you've taken one, read about it, or seen that episode of Seinfeld, it's part of the lexicon when we talk about intelligence.
Conversely, here's a less common term: 'twice exceptional', which is often abbreviated to 2e. This refers to those who have some form of disability but are also intellectually gifted (contrary to quick-fire biases, the two aren't mutually exclusive). It's this group – and people all across the intelligence and creativity spectrum – that misses out when aptitude is measured by what experts like Scott Barry Kaufman consider to be a fairly narrow test.
The IQ test was developed in the early 20th century, spring-boarding off the work of French psychologist Alfred Binet. It involves a series of standardized tests that measure a person's mental age score, which is divided by their chronological age, and that fraction is then multiplied by 100 to obtain the IQ score. But the test has evolved over the 100 years since its inception, and even Binet's work, which is often thought of as seminal, points to methods that he borrowed from other scholars. This mish-mash of tests has fluctuated over the years to reflect the values of the era, dropping tests that are seen as bad and retaining the ones that are considered good measures of intelligence.
But it has plenty of shapeshifting still to do, according to Kaufman. Intelligence takes many forms, and the IQ test doesn't capture the full complexity of the human mind. Billionaire business magnate Richard Branson is an excellent example: "I was dyslexic, I had no understanding of schoolwork whatsoever. I certainly would have failed IQ tests. And it was one of the reasons I left school when I was 15 years old."
The IQ test doesn't measure for factors like creativity, emotional sensitivity, real-world rationality, social intelligence and skills-based acumen. There are many ways to be gifted, and those who are twice exceptional or intellectually advanced outside of the normal parameters, can miss out on the developmental attention needed to cultivate their intellect to its full potential. Kaufman suggests retaining components of the IQ test to identify where people do well and spot intelligence patterns, but to also utilize new methodologies, and solicit parent and teacher readings as they are in a position to observe intelligence indicators day by day, such as deep sensitivity, questioning assumptions, or signs that a child is bored with their work. The more you can triangulate information from different sources, the better the measure of true intelligence will be.
If you're now itching to know how you would perform on an IQ test, you can take one here, but don't be too buoyed or disheartened by the results – intelligence is a sprawling entity that scientists are still mapping, and the IQ test is a well-worn but ultimately narrow path to tread.
Scott Barry Kaufman's book is Wired to Create: Unraveling the Mysteries of the Creative Mind.