Some say that great ideas come out of thin air. Neuroscientist David Eagleman posits that perhaps all great ideas are simply built upon old ideas, because thats what fuels the creative brain.
"All ideas have a genealogy," says David Eagleman. A writer, neuroscientist, and adjunct professor at Stanford University, he's definitely clued in to what makes ideas click. He posits that the brain craves something new so much that if you give someone the same thing over and over that after a certain amount of time you'll begin to see diminished returns in excitement. But sometimes "new" isn't necessarily new at all. He points out that although the iPhone is a revolutionary product it bears heavy similarity to an invention from IBM... from two decades ago. New ideas tend to be built upon similar ones, David Eagleman says, because "what we're doing is building on the foundations of what has come before us." David's new book is The Runaway Species: How Human Creativity Remakes the World.
Albert Einstein's famous thought experiments led to groundbreaking ideas.
Albert Einstein during a lecture in Vienna in 1921. Photo by F. Schmutzer.
Albert Einstein is widely considered one of the smartest people who ever lived, significantly impacting our understanding of the world around us. His General Theory of Relativity has redefined what we know about space and time and is one of the pillars of modern physics. What's also remarkable about Einstein's achievements is that they relied largely on his mental powers and the intricacy of his imagination. He was able to discern and relate very complex scientific concepts to everyday situations. His thought experiments, that he called Gedankenexperiments in German, used conceptual and not actual experiments to come up with groundbreaking theories.
CHASING A BEAM OF LIGHT
One of Einstein's most famous thought experiments took place in 1895, when he was just 16. The idea came to him when he ran away from a school he hated in Germany and enrolled in an avant-garde Swiss school in the town of Aarau that was rooted in the educational philosophy of Johann Heinrich Pestalozzi, which encouraged visualizing concepts. 
Einstein called this thought experiment the "germ of the special relativity theory." What he imagined is this scenario - you are in a vacuum, pursuing a beam of light at the speed of light - basically going as fast as light. In that situation, Einstein thought, that light should appear stationary or frozen, since both you and the light would be going at the same speed. But this was not possible in direct observation or under Maxwell's equations, the fundamental mathematics that described what was known at the time about the workings of electromagnetism and light. The equations said that nothing could stand still in the situation Einstein envisioned and would have to move at the speed of light - 186,000 miles per second.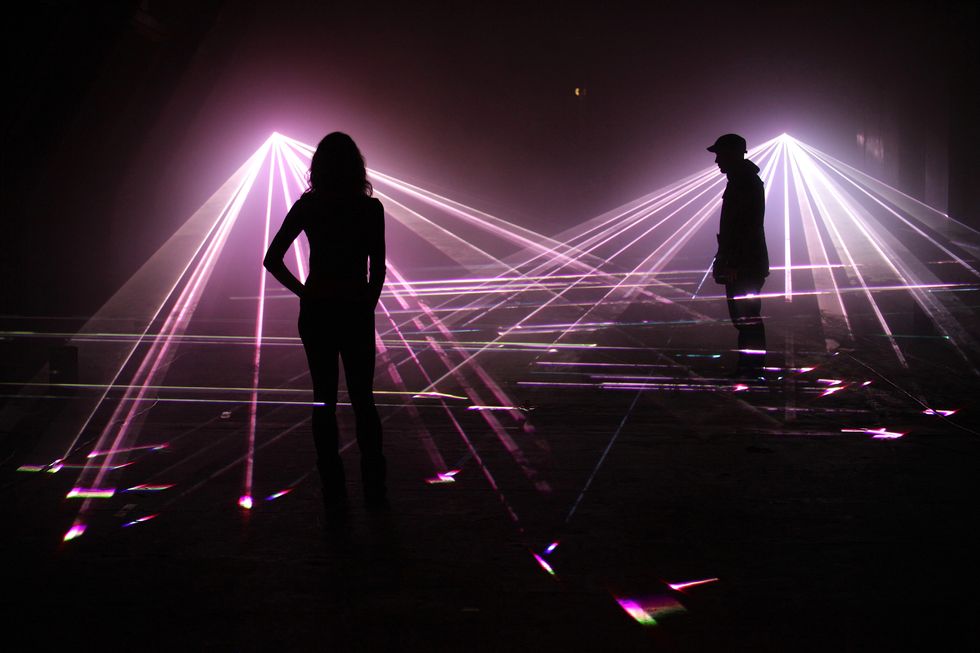 Artists pose in a laser projection entitled 'Speed of Light' at the Bargehouse on March 30, 2010 in London, England. (Photo by Peter Macdiarmid/Getty Images)
Here's how Einstein expanded on this in his Autobiographical Notes:
"If I pursue a beam of light with the velocity c (velocity of light in a vacuum), I should observe such a beam of light as an electromagnetic field at rest though spatially oscillating. There seems to be no such thing, however, neither on the basis of experience nor according to Maxwell's equations. From the very beginning it appeared to me intuitively clear that, judged from the standpoint of such an observer, everything would have to happen according to the same laws as for an observer who, relative to the earth, was at rest. For how should the first observer know or be able to determine, that he is in a state of fast uniform motion? One sees in this paradox the germ of the special relativity theory is already contained."
The tension between what he conceived of in his mind and the equations bothered Einstein for close to a decade and led to further advancements in his thinking.
LIGHTNING STRIKING A MOVING TRAIN
A 1905 thought experiment laid another cornerstone in Einstein's special theory of relativity. What if you were standing on a train, he thought, and your friend was at the same time standing outside the train on an embankment, just watching it go by. If at that moment, lightning struck both ends of the train, it would look to your friend that it struck both of them at the same time.
But as you are standing on the train, the lighting that the train is moving towards would be closer to you. So you would see that one first. It is, in other words, possible for one observer to see two events happening at once and for another to see them happening at different times. 
"Events that are simultaneous with reference to the embankment are not simultaneous with respect to the train," wrote Einstein. 
The contradiction between how time moves differently for people in relative motion, contributed to Einstein's realization that time and space are relative.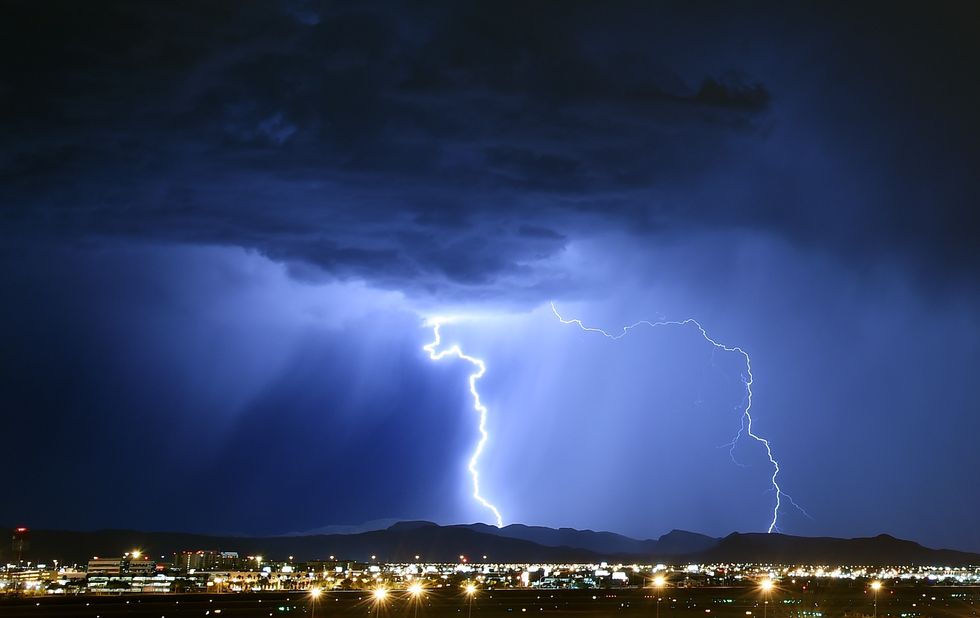 Lightning strikes during a thunderstorm on July 6, 2015 in Las Vegas, Nevada. (Photo by Ethan Miller/Getty Images)
MAN IN FALLING ELEVATOR
Another thought experiment led to the development of Einstein's General Theory of Relativity by showing that gravity can affect time and space. Here's how he described it happened:
"I was sitting in a chair in the patent office at Bern when all of a sudden a thought occurred to me," he remembered. "If a person falls freely, he will not feel his own weight." He later called it "the happiest thought in my life."
A 1907 thought experiment expanded on this idea. If a person was inside an elevator-like "chamber" with no windows, it would not be possible for that person to know whether he or she was falling or pulled upward at an accelerated rate. Gravity and acceleration would produce similar effects and must have the same cause, proposed Einstein. 
"The effects we ascribe to gravity and the effects we ascribe to acceleration are both produced by one and the same structure," wrote Einstein.
One consequence of this idea is that gravity should be able to bend a beam of light - a theory confirmed by a 1919 observation by the British astronomer Arthur Eddington. He measured how a star's light was bend by the sun's gravitational field.
THE CLOCK PARADOX AND THE TWIN PARADOX
In 1905, Einstein thought - what if you had two clocks that were brought together and synchronized. Then one of them was moved away and later brought back. The traveling clock would now lag behind the clock that went nowhere, exhibiting evidence of time dilation - a key concept of the theory of relativity.
"If at the points A and B of K there are clocks at rest which, considered from the system at rest, are running synchronously, and if the clock at A is moved with the velocity v along the line connecting B, then upon arrival of this clock at B the two clocks no longer synchronize but the clock that moved from A to B lags behind the other which has remained at B," wrote Einstein. 
This idea was expanded upon to human observers in 1911 in a follow-up thought experiment by the French physicist Paul Langevin. He imagined two twin brothers - one traveling to space while his twin stays on Earth. Upon return, the spacefaring brother finds that the one who stayed behind actually aged quite a bit more than he did.
Einstein solved the clocks paradox by considering acceleration and deceleration effects and the impact of gravity as causes of the for the loss of synchronicity in the clocks. The same explanation stands for the differences in the aging of the twins. 
Time dilation has been abundantly demonstrated in atomic clocks, when one of them was sent on a space trip or by comparing clocks on the space shuttle that ran slower than reference clocks on Earth.
How can you utilize Einstein's approach to thinking in your own life? For one - allow yourself time for introspection and meditation. It's equally important to be open to insight wherever or whenever it might come. Many of Einstein's key ideas occurred to him while he was working in a boring job at the patent office. The elegance and the scientific impact of the scenarios he proposed also show the importance of imagination not just in creative pursuits but in endeavors requiring the utmost rationality. By precisely yet inventively formulating the questions within the situations he conjured up, the man who once said "imagination is more important than knowledge" laid the groundwork for the emergence of brilliant solutions, even if it would come as a result of confronting paradoxes.
Astrophysicist Neil deGrasse Tyson explains the nature of time and the conundrums of time travel in a recent interview.
Fresh snow fallen on the clock park, a sculpture by artist Klaus Rinke made of 24 station clocks, in Duesseldorf, western Germany, on March 7, 2016. (Photo credit: MAJA HITIJ/AFP/Getty Images)
Astrophysicist and science educator Neil deGrasse Tyson gave a fascinating interview recently to Jake Roper of Vsauce3, where he talked at length about the nature of time and the possibility of time travel.
Tyson thinks the most dramatic impact on our current understanding of time came from Einstein's discovery of general relativity. Time stopped being a linear, necessarily sequential idea where "we are all participating in the same ticks of the clock," as Tyson says. With relativity, time became a more fluid concept, dependent on the observer.
Because of relativity, we learned that there is no "absolute time".
"Time is relative, so time can be stretched, for me relative to you. So, time has multiple, sort of, parallel rates at which it flows, depending on the state of who's making the measurement and the state of who's in motion, and what conditions they are in," said Tyson (0:53).
Tyson rather thinks of time as a dimension, calling us "prisoners of the present". What he means is that we don't have an ability to jump into the past or the future on our individual timelines. But what if we could do just that?
If time travel was feasible, we'd open ourselves up to some potentially mind-bending situations and logic puzzles. 
"Suppose you could move around in your timeline with the same flexibility as moving left and right, up and down, forward and backward. If that's the case you can revisit your own timeline. Under those conditions you do not die. You are always dying. You are not born. You're always being born. That's another kind of interesting way to think about time," explained Tyson (1:34).
Some classic time paradoxes come out of this thinking. They revolve around the changes that can be imagined by suddenly being able to go back and forth in time.
If you jumped into the future, would you then know and remember everything that would have happened to you had you stayed in your original timeline and let events take place naturally?
And if your timeline already exists, could you change your fate by changing aspects of your future, if you managed to travel to it, like in the classic sci-fi movie franchise "Terminator".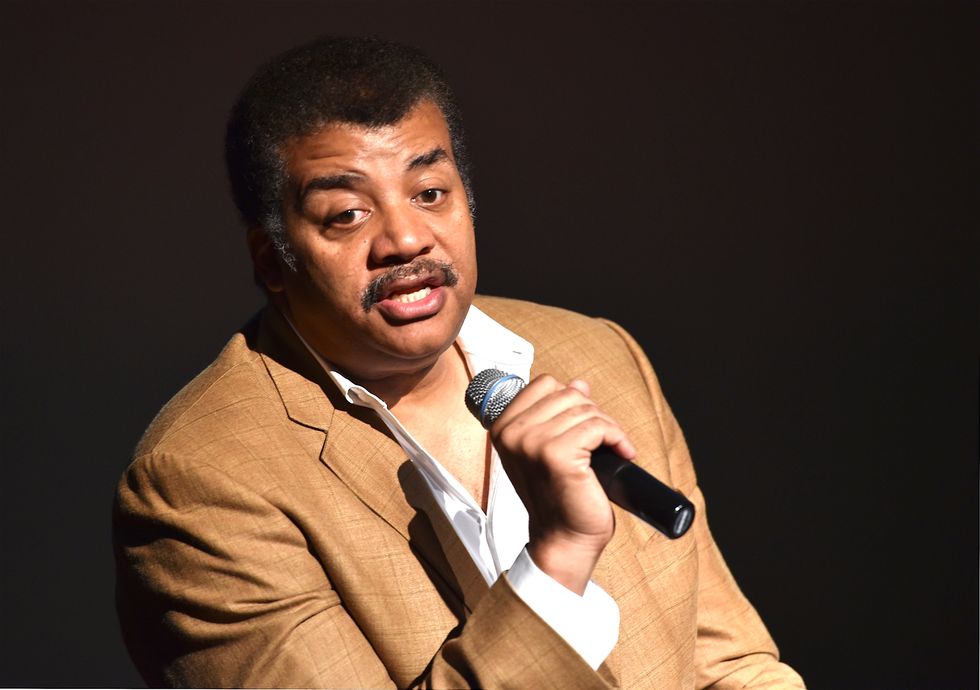 Neil deGrasse Tyson, astrophysicist, 'Cosmos' television show host and Frederick P. Rose Director of the Hayden Planetarium at the American Museum of Natural History speaks August 4, 2014 after a screening of James Cameron's 'Deepsea Challenge 3D' film at the museum in New York.  (Photo credit: STAN HONDA/AFP/Getty Images)
 Tyson hypothesizes that maybe you could alter your timeline, creating a new one as part of a "very complex, sort of, fractal structure". And if this was possible, Tyson really doesn't agree with some of the unnecessarily complicated plot choices of the "Terminator":
"So, what gets me about Terminator is he's got to kill everybody who might be the mother of the future of the person who overthrows the thing… You can go further back [in time] just have one little thing change and everything after that would change."
In an example of another strange conundrum, Tyson also explores the idea of a particle that is never created nor destroyed and only exists in a time loop, a concept called "the Bootstrap Paradox". In the time-travel movie "Somewhere in Time", this "self-created" object was a locket which the lead character received as a gift from an old woman who told him to meet her back in time. He figures out how to go back in time, meets her when she's young and gifts her the same locket that she gave him back in the future. Once he did that, the origin of the object became uncertain and it got trapped in the time loop.
Another potentially big player in time travel - the infamous Butterfly Effect. It's a concept from chaos theory which basically says that small initial causes can create large ripple effects. If you were time traveling, could you too easily change the course of history?
Tyson isn't so sure that if you, let's say, go back and kill baby Hitler that you'd really change anything.
"You pivot everything on this one thing and tell me that all of civilization will be different. I'm not buying it. Civilization is more robust than that. And if Hitler were killed as a child, then no, maybe not - the Germans were ripe to have somebody rise up and take control of their psyche. And maybe the circumstances made Hitler - not Hitler making the circumstances," pointed out Tyson (10:27).
In the end, Tyson doesn't believe that travel back in time is possible, agreeing on that with Stephen Hawking. He thinks that at some point, physicists will discover a new law that will explain what prevents backwards time travel, adding "we don't know what that law is or why it must exist but everything we can imagine that allows it totally messes everything up." 
While this is still just a hypothetical discussion, Tyson sees definite value in speculating about time travel. On the other hand, he takes comfort in living a "fixed" life in a linear timeline, adding his opinion of free will:
"If it is being a prisoner of the present transitioning from the past to the future, I have the illusion of free will. And I'm happy to live in that illusion in the knowledge that I don't." (13:15)
Watch the whole interview here:
The notion of brainstorming can sometimes elicit eye-rolls – usually because it's fundamentally misunderstood. Apple alumnus and Stanford Executive Director of Design, Bill Burnett, says we're only scratching the surface of its potential.
Brainstorming is on the endangered words list, at risk of slipping into 'buzzword' territory any day now – although some would argue it's already there. That's because everyone is doing it, but many of us don't quite know how to. According to Bill Burnett, Executive Director of the Design Program at Stanford University, the process is fundamentally misunderstood – it's about more than sitting in a group expecting genius to unfold. What's missing from most brainstorming sessions is the notion that this is a skill, not a magic trick.
Here are 3 practical suggestions that Burnett has put forth In the past: start brainstorming with games and improv activities to limber up creative team thinking; create an environment that encourages wild ideas without any negative feedback or reality checks; have a realistic expectations for a team to improve over time. How many garage bands sound good at their first practice? How many chefs get a Michelin star for their first meal? You don't win Olympic Gold straight off the couch. It's a popular and true sentiment that it takes 10,000 hours to become an expert at something, and while most of us will never have to time to build up that mother of a timesheet, fortunately we can borrow the wisdom that Burnett has cultivated over his many years at Apple and Stanford.
In this video, Burnett explains how to use brainstorming in an actionable way, why crazy ideas are so necessary to break out of thought clusters (which the human mind is wired to get stuck in), and how to ultimately make a conceptual leap forward to your next brilliant idea.
Bill Burnett and Dave Evans' book is Designing Your Life: How to Build a Well-Lived, Joyful Life.
Author Jonathan Safran Foer on the two surprising qualities successful writers need.
Here are two things you never thought a writer would need – agility and stamina. American author Jonathan Safran Foer (the literary talent behind works such as Extremely Loud and Incredibly Close, Everything Is Illuminated, Eating Animals) knows writing and therefore he knows writer's block. The feeling of being stuck can strike in any creative field. Safran Foer points out that often it feels like it's because of a lack of ideas, but that's a red herring. You do have ideas, you just don't care enough about them enough. Nothing you're making feels important to you. You think 'Who would want to read this?' or 'This will never sell.'
But Safran Foer urges writers to stop thinking about the publishing process so much. It's face-palming, obvious advice but sometimes we need to be told: focus on the actual writing. If there's something you care about, write it. "The worst that can happen is it's a book that will be for nobody but you, but that is actually a much better fate than writing a book that lots of people like that isn't for you." Writers have written about such nuanced, strange, unassuming things that millions of people have found a way into and loved intensely. Susan Orlean's The Orchid Thief? Who cares about flowers, right? Well, she made orchids seem like the most fascinating thing on the planet. Floating Gold: A Natural (and Unnatural) History of Ambergris by Christopher Kemp is about nothing more than whale excrement. And it's brilliant. Enthusiasm is contagious – we all know and have felt that.
Safran Foer's advice is that if something feels important or just fun, even if it's a deviation from your plans, follow it. If a background character elbows their way to the foreground, let it. You have a new protagonist now. Be agile in your practice. Even if you're 60 percent into a project, if the voice of a new idea or pathway can't be silenced, then you should probably follow it. When you work on something you don't care enough about, stuck on a set course to finish it, it can make you incredibly unhappy, he says.
Find what makes you singular as a writer. Find what is unique about you that no other writer could offer – a story, a character, a voice, a style, a form. According to Safran Foer, the way to become a successful writer isn't to agonize over one idea for the perfect book, but to write constantly, even if no one will ever see it. Cultivate stamina. Hang onto the comet tail of good ideas, even if it means abandoning a previous idea. And always be ready to latch onto the next comet. Be the writer who doesn't stop.
Jonathan Safran Foer's latest novel is Here I Am.