Despite doubts from the healthcare industry, Watson recently identified a surprisingly high number of potential cancer treatments for real-life patients.
Wikicommons
IBM's Watson is helping doctors identify treatment options for cancer patients — and it's even suggesting solutions that humans failed to see.
Researchers at the University of North Carolina (UNC) Lineberger Comprehensive Cancer Center had the supercomputer Watson analyze "large volumes of data," including past studies, databases, and genetic information, in an attempt to identify treatment options for 1,018 patients with "tumors with specific genetic abnormalities." The researchers then compared Watson's treatment choices with those made by a board of cancer experts.
The results were surprising. Not only did Watson confirm the 703 cases in which the expert panel identified "actionable genetic alterations," its cognitive computing discovered "potential therapeutic options" for 323 additional patients. Human doctors had not identified "recognized actionable mutations" in 96 of these patients.
"To be clear, the additional 323 cases of Watson-identified actionable alterations consisted of only eight genes that had not been considered actionable by the molecular tumor board," the report's corresponding author, William Kim, MD, an associate professor at UNC's medical school, said to the university.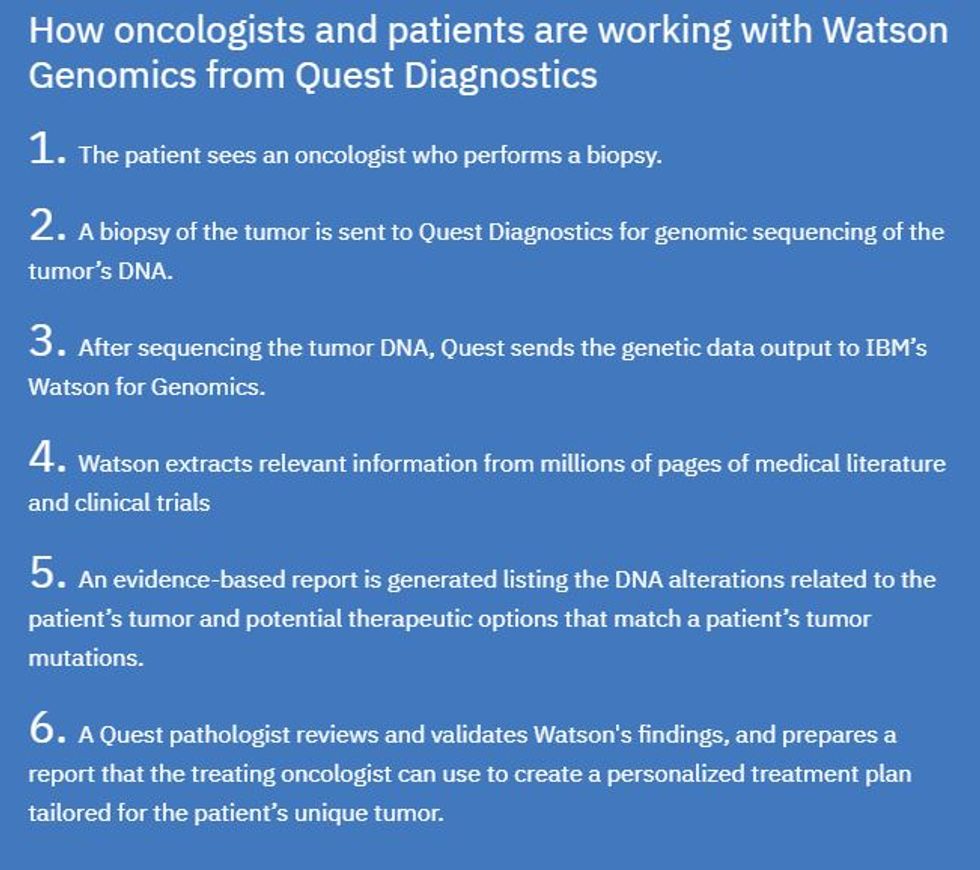 Although the doctors hadn't considered those eight genes, Watson identified clinical trials for most of those patients — including one that began within a week of the computer analysis.
"Our findings, while preliminary, demonstrate that cognitive computing might have a role in identifying more therapeutic options for cancer patients," Kim said. "I can tell you that as a practicing oncologist, it's very reassuring for patients to know that we're able to explore all possible options for them in a very systematic manner."
The results are promising for the future of precision cancer care, which treats the disease by developing an individualized plan based on each patient's genetic information.
"To my knowledge, this is the first published examination of the utility of cognitive computing in precision cancer care," Kim said. "I'm optimistic that as we get more sequencing data, well-annotated treatment information, as well as therapy response, tools like Watson for Genomics will begin to show their true promise. But, of course, we still need to formally answer these questions."
Imagine data delivered by light. This is an important benchmark toward the development of a whole new computer.
Imagine taking lightning and turning it into thunder. That's how University of Sydney researchers explain their latest breakthrough. They've converted light into sound energy, a world first—and it all took place inside a special microchip they've designed. Computing power is going to run out; if we're going to keep doubling computing power every 18 months, as Moore's Law suggests, we're going to have to outgrow the silicon microchip.
Electromagnetic systems generate a lot of heat. Besides an aspect to deal with when designing communication systems, it also means they lose a lot of energy. A silicon microchip can only become so efficient—and it can only get so thin until the power needed to run it fries it completely. What's more, the electromagnetic system is easily disrupted through interference. A light-based system wouldn't get hot. It would be super-efficient and transmit information at light speed. This step is a benchmark toward such a computer, one that would be 20 times faster than current computers.
Dr. Birgit Stiller is a research fellow at the University of Sydney. She along with doctoral candidate Moritz Merklein were the lead authors, and both hail from ARC Centre of Excellence for Ultrahigh bandwidth Devices for Optical Systems (CUDOS). Part of CUDOS, the Australian National University's Laser Physics Centre, created the chip.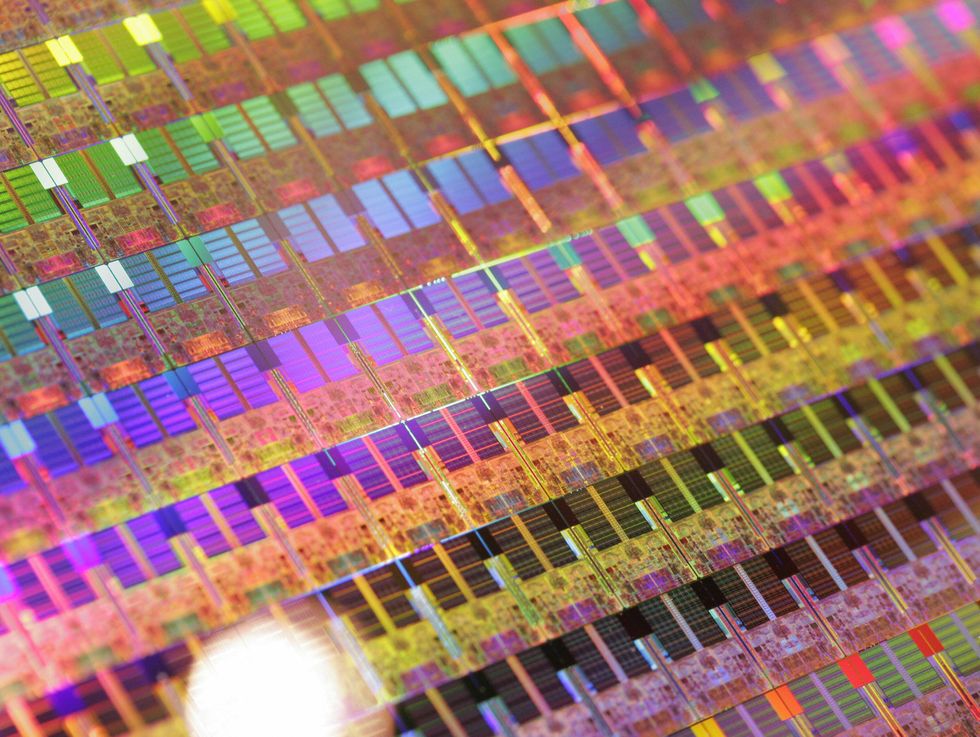 A light-based system would be five orders more efficient. Getty Images.
According to Dr. Stiller, "The information in our chip in acoustic form travels at a velocity five orders of magnitude slower than in the optical domain." She was the one who compared this feat to changing lightning into thunder. Stiller and Merklein's results were published in the journal Nature Communications. IBM, Intel, and other tech giants are already working on photon-based computing systems, so this study may help them broach certain shortcomings.
Fiber-optic wires and some aspects of cloud computing already use photon-based systems. The trouble is photons move fast (duh!), too fast for a computer to read. So the advantage that they bring in one area bogs things down in another. According to Dr. Stiller, "Unlike previous systems this allows us to store and retrieve information at multiple wavelengths simultaneously, vastly increasing the efficiency of the device."
The hope is that the energy could be received as light then converted into acoustics, slowing it down long enough for the computer to read, process, and manage it, and then converted back into light, in order to enable quick retrieval and transmission.
Professor Benjamin Eggleton is another co-author and the CUDOS director. He said: "This is an important step forward in the field of optical information processing as this concept fulfils all requirements for current and future generation optical communication systems."
See a model of how the microchip works here: 
Google is closing in on achieving a major quantum computing milestone.
9-qubit quantum processor. Credit: Julian Kelly/Google.
In theory, quantum computers could be vastly superior to regular or "classical" computers in performing certain kinds of tasks, but it's been hard to build one. Already a leader in this field, Google is now testing its most powerful quantum chip yet, a 20-qubit processor, which the company looks to more than double in power to 49 qubits by the end of 2017.  
Google's qubit devices are built on integrated circuits and can perform calculations using the physics of quantum mechanics. Qubits (or quantum bits) are units of quantum information that can be a mix of 0 and 1 at the same time, making them better suited than classical bits for encoding large amounts of data.
Last year, Google actually released a plan on how it will achieve what it called "quantum supremacy" - getting quantum computers to do something the classical computers cannot, like factoring very large numbers. The paper says that if the processors manage to get to 50 qubits, quantum supremacy would be possible.
One big issue for Google to resolve - figuring out how to simulate what randomly arranged quantum circuits would do. Even a small difference in input into such a system would produce extremely different outputs, requiring a great amount of computing power that doesn't currently exist.  
"They're doing a quantum version of chaos," is how Simon Devitt from the RIKEN Center for Emergent Matter Science in Japan described Google's challenge. "The output is essentially random, so you have to compute everything." 
Computational difficulties aside, Google and other companies like IBM are moving along quicker than expected in their development. While they figured out the science necessary to create the qubits, the next challenges lie in scaling down their systems and reducing error rates.
The engineer Alan Ho from Google's quantum AI lab revealed that his team's current 20-qubit system has the error measure also known as "two-qubit fidelity" of 99.5%. The goal for the 49-qubit system would be to reach 99.7% fidelity.
It might take until 2027 until we get error-free quantum computers, according to Ho, meaning that usable devices are still some time away.
For more on how quantum computing works, check out this video:
Researchers found what all viruses have in common and created a therapy that should work on any kind, and will outsmart viral mutation.
Photomicrographs of the drug AZT, which is thought to help prevent the replication of HIV. If IBM's new method proves effective, it will do so much more than just prevent viral replication; it could clear it from the body. (Image: Larry Ostby / National C
If you lined up everything alive on the planet today and counted them one-by-one, you'd find that viruses are the most common creatures by far. Pervasive, pathogenic varieties are notoriously hard to treat, as the recent Ebola outbreak and the Zika pandemic attest. Why is that? Well first off, they are incredibly small, a hundred times smaller than your average human cell. Though they cannot take the immune system head on, they can infiltrate your body, hijack cells and use them to replicate.
Once inside, a virus splices its own DNA into that of the host cell. It takes over and uses the cell's own machinery to replicate itself. Those viruses move on to other hosts, and in this way a virus infects the body. Today, we have antiretroviral drug therapy (ART) such as is given to HIV patients, which inhibits viral replication. A person can live normally, without the virus taking over. But ART doesn't clear it from the body. To do that, medications would have to target host cells while leaving healthy ones alone, a feat medical science has yet to accomplish.
Another issue is that viruses mutate, meaning what may work with one variety may not with another. To understand viruses better, researchers at IBM's Institute of Bioengineering and Nanotechnology (IBN) in Singapore, sought to find what all viruses have in common. Now, they believe they've fashioned a molecule that could not only treat any virus successfully, but also create a viable vaccine.
Instead of targeting them on the genetic level, which differs from one strain to the next, investigators looked at certain proteins common to any virus, known as glycoproteins. These are located on the outside of the body and allow a virus access into cells in order to hijack them. Understanding this, researchers moved to formulate a macromolecule, which is basically a large molecule made up of many smaller ones.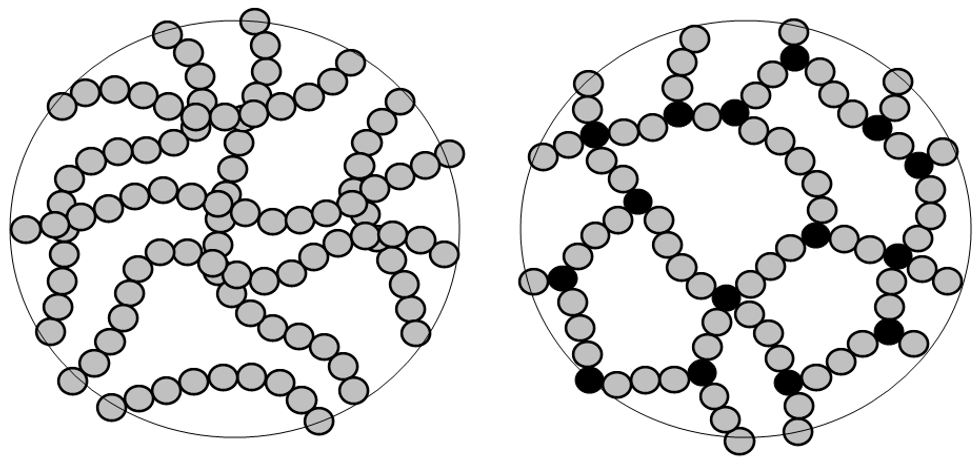 Macromolecules. Image by Cjp24 (Own work) CC BY-SA 3.0, via Wikimedia Commons
Using an electrostatic charge, the macromolecule is able to draw a virus in and bond to it, making it unable to enter a host cell. After that, it alters the pathogen's pH level, turning it acidic, and so far less likely to replicate. What's more, the macromolecule also has a way of protecting the immune system. It disperses a sugar called mannose which bonds to immune cells, inhibiting the virus's ability to enter them.
So far Ebola and dengue have been tested, and the results, published in the journal Macromolecules, are encouraging. What's more, a computer model finds the technique effective against Ebola, the flu, chikungunya, dengue fever, and herpes simplex 1, among other viruses.
This research has reached a mere proof-of-concept level. Far more studies will be required to confirm its efficacy and safety in humans. If successful, it might become a medication, a disinfectant wipe, or spray cleaner, even a hand sanitizer that can ward off viral infection. Adding it to a room containing Ebola could quickly clear it of the deadly virus. Even though there is a long road ahead, scientists are encouraged by these findings. So much so that the Watson supercomputer will be employed to help develop this exciting breakthrough.
To learn about another possible method, click here: