While we often criticize the humanities for not providing an education that leads directly to employment, one philosopher argues they have an even more important role to play in our societies.
Yet another history major who can't find a job? (Norman Rockwell, The Freedom of Speech)
We've discussed before that Socrates, one of the greatest things to come out of Athens, hated Athenian democracy. While he had many reasons to do so, one of the primary ones was that the typical Athenian had no idea what they were discussing, and were prone to using emotion over reason when making important political decisions. They lacked both the skills for critical thinking and viewing the world outside their own perspective to be proper democratic citizens.

But, as philosopher Martha Nussbaum argues, we can avoid those problems by placing a high value on an education in the humanities. A high value which today is often difficult to find.
In her book Not for Profit, Why Democracy Needs the Humanities, Nussbaum lays out the case that a job oriented education, one focused on preparing students for work, is far from enough to assure that the students will also be able to function as democratic citizens in a pluralistic, modern, and globalized, society.

While she doesn't deny the need for technical education; she argues that a purely job oriented education, or even one which is highly focused on a narrow field of study, does not promote the development of critical thinking skills, the ability to consider differing viewpoints, an understanding of people vastly different from themselves, or strong methods for finding truth for themselves that people need as citizens.
These skills, she argues, are best found in the arts and humanities as promoted by a liberal arts education at all levels. While the United States is doing well at the university level of teaching these things, she contests that we are often unwilling or unable to do so at the grade school or high school level. If we do not assure students have access to the arts and humanities, she posits, we are likely to fall victim to demagoguery and lose the benefits of a modern democratic society.

Well, what's wrong with our current method of teaching the humanities? Why write a whole book on this?

A major issue in modern American education she discusses is the increasing use of standardized fill in the bubble tests, and the tendency of teachers to "teach to the test". It isn't impossible to teach the humanities in a way that can be easily tested, the treatment of philosophy as a test subject for the A and O level exams in the United Kingdom has shown that much, but Nussbaum shows us how a multiple-choice test is unlikely to encourage any skills other than the regurgitation of information. They aren't even that good at what they claim to do anyway.

With the national focus increasingly given to education for employment and competitiveness those parts of education which seem unlikely to lead to employment are the most simple to justify cuts to. Nussbaum laments this, and notes that at her own university advertising geared towards new students focuses nearly exclusively on those programs seen as practical and leading to employment. She dubs the combination of funding cuts and lack of attention a "crisis of massive proportions" which is still underway.

Suppose we just got rid of the humanities. Can't we be a free people without them?
The myriad examples of tyrants attacking the arts and humanities suggests we might be wise to hold on to them. She cites, among other events, the prohibition of teaching the Korean language in public schools and the crackdown on Confucian education in general during Korea's occupation by Imperial Japan. All a key part of the plan to reduce the Korean people to servants of Japanese imperialism, a role which had no need for a non-technical education.
Nussbaum later argues that the most cartoonish and often horrifying mistakes made by the Athenian democracy, which caused thinkers like Socrates, Plato, and Aristotle to reject democracy, could have been easily avoided if the population had any of the skills an education in the humanities provides.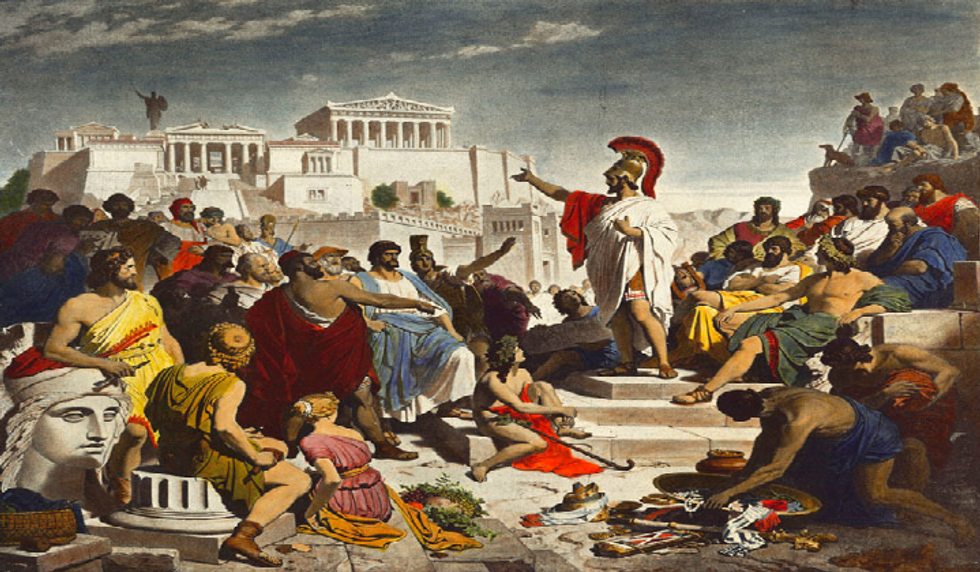 The Funeral Oration of Pericles, an example of the Athenians being led by a populist working in their interest. Often, they were only led astray.

Is she alone in these ideas? Does anybody else argue that a democracy requires these skills?

Socrates, as depicted in The Republic, favored an intensive education for the philosopher kings he saw as the ideal rulers of his utopia. While his proposed curriculum is not the liberal arts education Americans know today, it is one that promotes the search for truth with the use of reason and logic and assures that the leaders of the city state will know not only how to lead, but how to approach the problems they may face as leaders. While he didn't wish for the majority to lead a nation, it is clear he understood that those who do lead must have certain intellectual skills. In a democracy, these leaders are the people.

Aldous Huxley, philosopher, author of Brave New World, and noted psychonaut, made a similar observation in Brave New World, Revisited. Where he noted with terror that the world was moving towards his dystopia much faster than he had predicted and proposed education for democracy as a key tool to prevent this. He later elaborated on his proposed curriculum for a free people in his utopian work Island.

Okay, what does our situation look like now?
We presently have a better education system than the people of Athens; who ended their formal education in adolescence and denied it to women and non-citizens. Often inspired by Socrates and his pedagogy, today's students can find a humanistic education in the American, Scottish, and (increasingly) Korean education systems dedicated to making them fully rounded individuals and citizens.
While Nussbaum warns us to be on the lookout to attacks on and financial cutbacks to the liberal arts model of education, we have reason to be optimistic as well. She mentions many excellent programs in American schools, such as Future Problem Solvers, as examples of democratic education done correctly and in a way that assures continued support.  

The study of the humanities can have many practical uses. It can even be used to find employment, no matter what the nay-sayers might tell you. More importantly, they have an intrinsic value in allowing us to fully develop as individuals. In today's climate, they also take on the role of helping us make democracy possible. Without a proper education in the humanities, where we learn how to understand people we may never meet, how to evaluate arguments and charged rhetoric, and imagine differing scenarios from those we see every day, we may be doomed to the fate of many a failed democracy before us.  

But, if we utilize the fantastic tools we have access to, rise to the challenge of giving everyone the education they need, and emphasize all vital subject matter-even if it seems impractical, Nussbaum argues that we have much reason for optimism and the chance for the continued success of democracy all over the world.
If you would like to improve your humanities background, several Ivy League schools offer free classes you can take online. A selection can be found here and here. 
To understand ourselves, our creativity and emotions, we must grapple with our pre-human existence.
Creativity might just be the defining trait that makes us human, says E.O. Wilson, two-time Pulitzer Prize winner and acclaimed 'Father of Biodiversity'. But what exactly is the modern Homo sapiens, anyway? Wilson calls us an evolutionary chimera, picking up things from every age without fully transitioning out of any one era. That's why we are a complicated mix of paleolithic emotions, medieval leftovers like banks and religion, and now the latest addition: God-like technology. Those are the influences we know about, but creativity may actually predate our language, writings, and art—Wilson believes it's hundreds of thousands of years older than we assume. How can we discover the deepest roots of what has made us so human? Wilson says the humanities need to up their game and help the sciences unlock our creative origins. E.O. Wilson's new book is The Origins of Creativity.
Through an incredible anecdote, Earl Lewis demonstrates why STEM can't do it alone. Scientists and humanists needs each other, and institutions have a responsibility to continue to fund and nurture the humanities.
Earl Lewis, President of The Andrew W. Mellon Foundation, believes we have two important terms confused: skills development and education. The first is all the practical abilities that will equip a person for their first job – can you read and write, can you code, do you know the most current techniques of your field? The latter is much harder to quantify and teach: can you think autonomously, and go down a path where the endpoint hasn't been set out for you? Can you pore through a vast array of information and come up with a new answer, entirely your own?
Lewis was around to see the birth of STEM (science, technology, engineering and math), and tells an amazing anecdote about a few stumbles in the making of that acronym. He then tells a second story, to illustrate that while STEM certainly feels like a priority over other disciplines and trades in the U.S. right now, it's pivotal that institutions continue to fund and nurture the humanities and that it too holds esteem in public perception.
Lewis tells of a village in West Africa, where contaminated river water was a big problem for the locals. Women would trek down to the river each day and bring preventable infections back with them in their vessels. To remedy this danger, an international agency funded and drilled a well in the center of the village – everyone now had access to safe, clean water. Only the women walked right past the well every day and continued to go to the river bank and bring back contaminated water. The engineers couldn't understand it, so they brought in anthropologists and gender experts to talk to the women and ask them why they were ignoring this perfect, accessible water?
It turns out the women knew the well water was safer, but it was an important daily ritual for them to be able to walk to the river; to them it was valuable time away from the men and children in the village, and was a scenic and social break from their otherwise domestic existence. On paper, the engineers had put the well in the perfect place, but in practice, they had not understood the complexity of these women's needs.
It's the perfect example of how STEM and humanities depend on one another. To fix our world's most challenging issues, Lewis says, we're going to need a well-rounded stable of experts from all fields, working as a team.
Earl Lewis and Nancy Cantor recently edited Our Compelling Interests: The Value of Diversity for Democracy and a Prosperous Society.
As a society we place a high value on the practical nature of science and business degrees. But what about the practical nature of the humanities?
Liberal Arts students graduating from Barnard College during the Columbia University 2016 Commencement ceremony in New York May 18, 2016. (Photo credit TIMOTHY A. CLARY/AFP/Getty Images)
No matter where you look in today's world you see people encouraging students to study the STEM fields and to get out of the humanities. From universities, job fairs, to attempts by a bank to get teens to learn financial literacy. Even Obama and presidential candidates get in on the bashing. As a society we tell ourselves that studying the humanities will lead to a life of poverty and unemployment. Since the 1990s the number of students in the humanities has been on a decline, no doubt a sign of the stigma associated with going into fields seen as less than practical. 
Often the concern is seemingly noble; work is supposedly easier to find as a scientist than as a historian. The concept of the philosopher as impoverished goes back even to ancient Greece, when Socrates was portrayed as a barefoot nut teaching students how to get out of paying bills by contemporary playwrights. As someone who tended to study in coffee shops, I can recall several occasions where complete strangers offered advice on the vital need for me to abandon the study of philosophy. "I am concerned for your ability to find a job," they would tell me. What good Samaritans they must have thought themselves to be.
Where those people on to something? Are humanities majors doomed to lives of menial jobs and reduced income? Is the monetary value of a humanities degree too low to warrant getting it at all?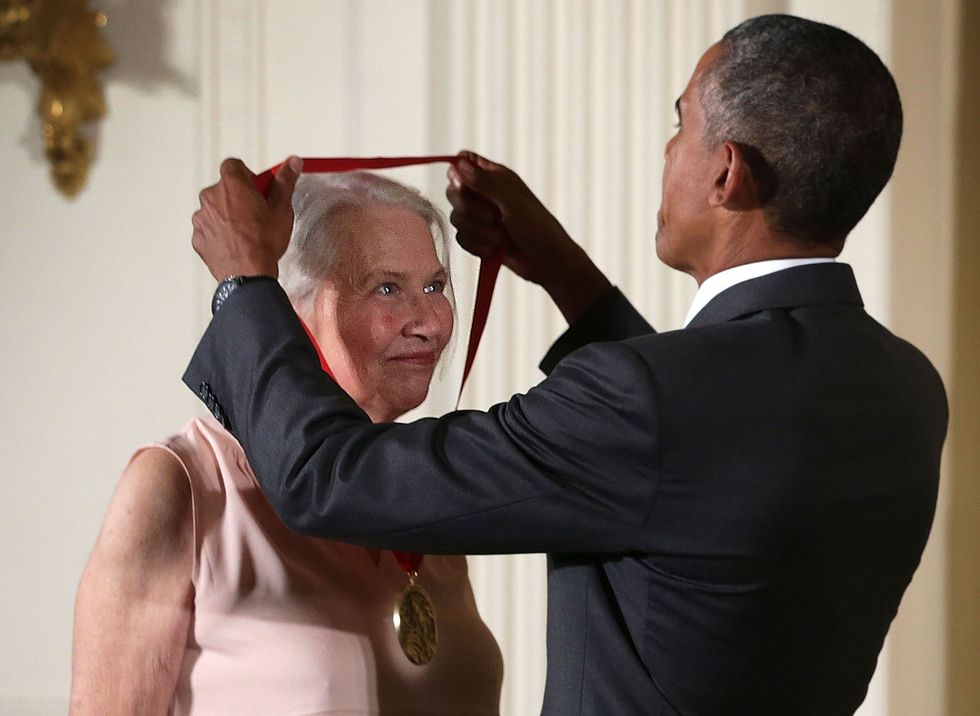 U.S. President Barack Obama presents the 2014 National Humanities Medal to Annie Dillard, for her profound reflections on human life and nature in poetry and in prose. (Photo by Alex Wong/Getty Images)
Data from PayScale shows that art, theatre, language, history, and philosophy majors can all expect to make above the median income by mid career. While the estimated income values are lower than for STEM fields they are still higher than the income of most Americans and indicate a high return on investment for most students. According to a 2013 study by Georgetown, the unemployment rate for humanities majors is lower than the national average. Of course, not all work done by graduates requires a degree at all; but the idea of the chronically unemployed philosophy major appears to be an exaggeration.  
Perhaps more interestingly, students of philosophy tend to get higher marks on the GMAT than do many business-oriented students. Humanities students also have higher rates of medical school acceptance then many science majors. So much for the idea that those majors won't be able to compete with the STEM students.

Of course going into the humanities for money is only one reason why a person might do so. One that can't be on the minds of most undergraduates when they select their classes on medieval literature. The humanities add to the joys of personal life in other ways. They also have tremendous impact on our daily lives and on our societies. As we ask ourselves what studies we value and seek to promote in our society, we should have an eye to the pragmatic aspects of education. However, we must also not rely on poor data and stereotypes when doing so.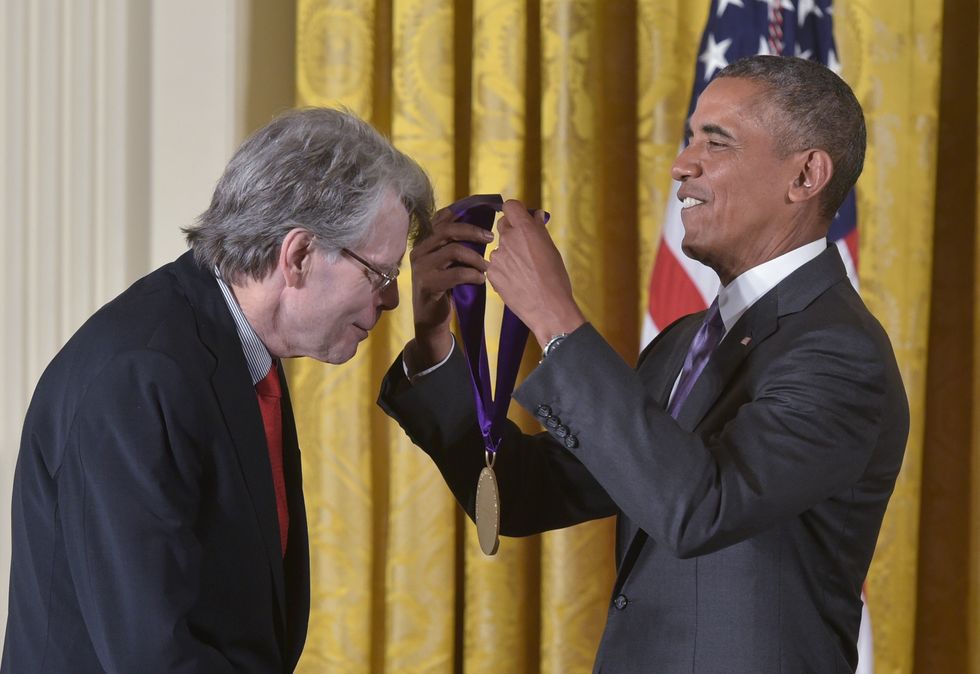 US President Barack Obama presents the 2014 National Medal of Arts to author Stephen King during a ceremony in the East Room of the White House on September 10, 2015 in Washington, DC. (Photo credit MANDEL NGAN/AFP/Getty Images)