A new study shows how interbreeding of modern humans and Neanderthals boosted our genomes.
Homo Sapiens mated with Neanderthals when they left Africa for Eurasia.
Neanderthals developed key genetic adaptations to fighting diseases.
Modern humans have 152 genes inherited from the Neanderthals that interact with viruses.
We tend to think of the human-like people before us, like the Neanderthals, as part of our biological history that's so far removed that it has little bearing on our current lives. After all, you don't get to meet Neanderthals in the street. Or do you? For one, from 1.8% to 2.6% of the DNA in most modern people comes from the Neanderthals. A new study provides another important link - Neanderthals passed on a key genetic adaptation that kept us protected from killer viruses.
Sex between Neanderthals and homo sapiens is the reason for our genetic connection. The humans were on their way out of Africa into Eurasia, when they met the Neanderthals. Thanks to sharing a common ancestor about 500,000 to a million years prior, the sex between the species produced viable offspring.
What the new study found is that before they hooked up with modern humans, Neanderthals were in Eurasia for hundreds of thousands of years fighting off pathogens. As a result, their genomes developed an ability to survive viruses, which they gifted to us.
The study's co-author David Enard, Ph.D. from the University of Arizona explained to Inverse that interbreeding was like a quick "antidote" for the homo sapiens to protect themselves. They suddenly faced an onslaught of new viruses.
Incorporating the genetic material that was already pre-adapted from the Neanderthals gave the homo sapiens a "fast-track route for adaptation", shares Enard, adding "instead of 'reinventing the genetic wheel,' we just borrowed it from the Neanderthals."
"Neanderthal genetic material was like a protective antidote because Neanderthals had likely been infected for a long time by the same viruses that were now harmful to modern humans," says David Enard. "This long exposure means that Neanderthals had plenty of time to adapt against these viruses before modern humans showed up."
Of course, not everything went smoothly when these two species met in the distant past. The scientists think they likely infected each other with the pathogens from their environments – in what's called "the poison-antidote" model of exchanging genes. The sexual unions produced the antidote.
Poison-antidote model.Credit: Cell magazine.
The research involved creating a list of over 4,500 genes of modern humans that are involved in defending against viruses and contrasting that with the database of sequenced Neanderthal genes. The scientists found 152 genes in modern humans that were also in the Neanderthal genome. The researchers believe that these genes we got from the Neanderthals are those that interact with RNA viruses of today like hepatitis C, HIV, and influenza A.
Notably, while these genes were instrumental in human survival over time, they are not really protecting us any longer from modern viruses. This points to the fact that evolution is "an arms race," as Dr. Enard called it. It's a process where even if we manage to overcome some of them, scores of new viruses constantly spring up to attack us. It was very sobering realization for Dr. Petrov and I that our work likely implies that humans had to adapt to hundreds, if not thousands of different harmful viruses over million years of evolution," related Dr. Enard.
It also bears pointing out that modern humans get depression and cigarette addiction from the Neanderthals.
Enard co-authored the study with Dmitir Petrov, Ph.D. of Stanford University. You can check out their study published in Cell.
A reappraisal of the Chinese Dali skull suggest a more prominent role for China in early human history.
The Dali skull. (Photo: Wu, Athreya, et al.)
A nearly complete human skull was found in Dali County of Shaanxi Province, China in 1978. A recent reappraisal of the skull has led some scientists to a hypothesis which, if proven true, turns the accepted history of early Homo sapiens upside-down.
Anthropologists largely agree that Homo sapiens first emerged about 200,000 years ago in Africa. It was originally believed that this occurred near Omo Kibish in East Africa, until remains recently uncovered in Jebel Irhoud, Morocco made the exact location of our exact African birthplace less certain. Nonetheless, there's been agreement that Homo sapiens came from somewhere in Africa and then moved outward to, among other places, East Asia. A handful of anthropologists, though, believe East Asia played a more important role. A new study says that our attributes emerged over time as the result of intermingling between African and Asian hominins. This would mean that Africa would no longer deserve the right to be thought of as the area from which we emerged, but rather that Africa and East Asia would share that honor.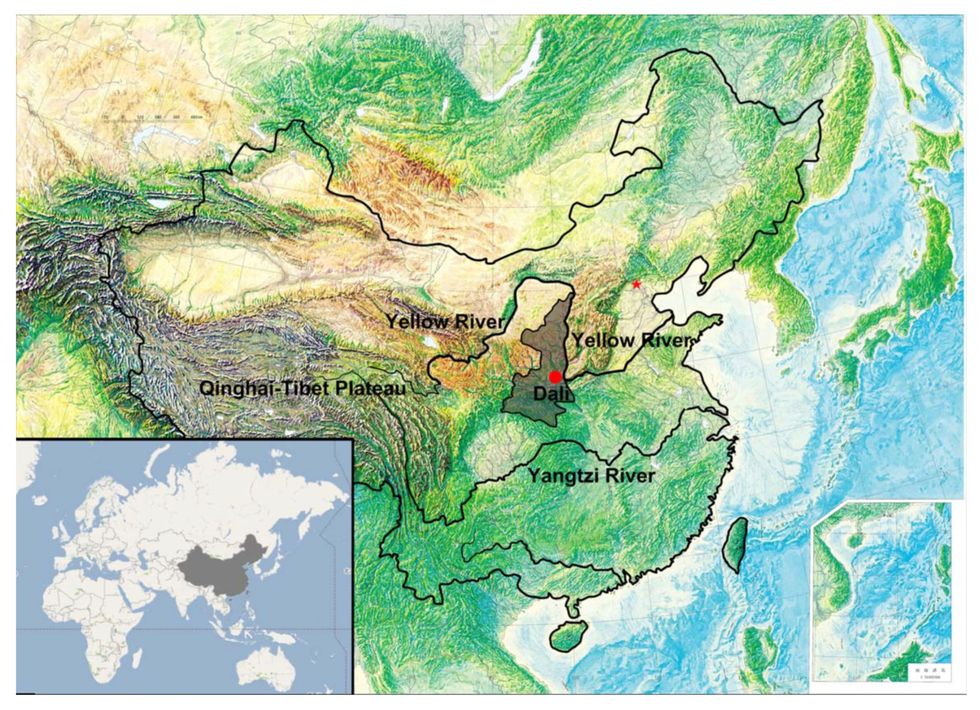 Where the Dali skull was found (WU, ATHREYA, ET AL)
In any event, the skull, known as the Dali skull, is unusually intact, offering scientists an especially promising chance of understanding what they're seeing in it. Its face and brain case are thought to be virtually unchanged since the individual's death.
The skull was first identified in 1979 as being a transitional species between Neanderthals and Homo erectus. However, by 1981 Xinzhi Wu, who's also one of the authors of the new study, had complied "a long list of traits on the neurocranial and facial skeletons that aligned Dali with both early and recent H. sapiens."
The new study, co-authored with Sheela Athreya , says that the Dali skull takes after different hominins depending on what's being observed:
When its face is considered, Dali resembles the Middle-Paleolithic Homo sapiens even more than those from the African or Eurasian Middle Pleistocene.
Considering its neocranium, Dali is most like African and Eastern Eurasian specimens, but not those from the Western European Middle Pleistocene. 
Taken together, the study concludes that Dali most closely resembles early Homo sapiens from Northern Africa and the Levant.
For Wu and Athreya, the next phase of this research involves making further detailed studies of the similarities between the Dali skull and the most recent find in Morocco.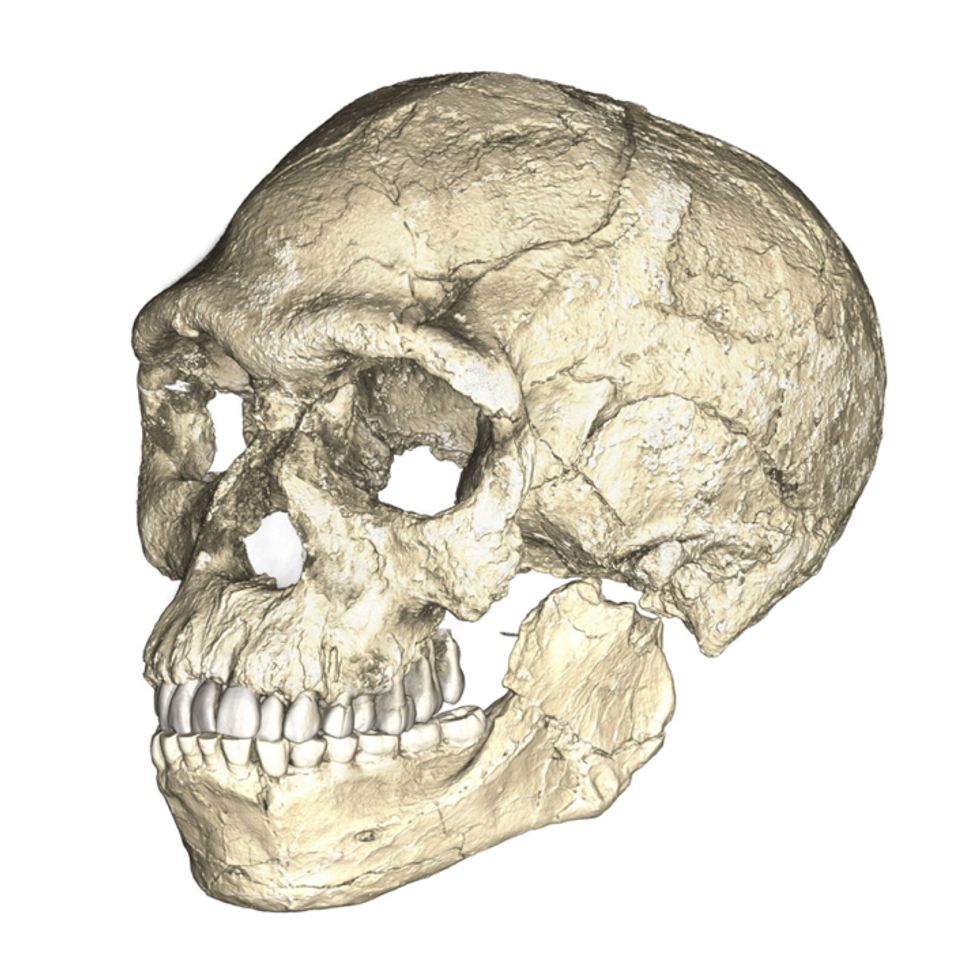 The Moroccan skull (PHILIPP GUNZ/MAX PLANCK INSTITUTE FOR EVOLUTIONARY ANTHROPOLOGY)
The researchers feel the acquisition of Homo sapiens traits was a gradual one that occurred in both Africa and China, at times in isolated groups, and at others through interbreeding. And this would mean that some of what makes us human comes from Asia and not from Africa.
Specifically, we propose that Pleistocene populations in China were shaped by periods of isolated evolutionary change within local lineages at certain times, and gene flow between local lineages or between Eastern and Western Eurasia, and Africa at other times, resulting in contributions being made in different capacities to different regions at different times. 
This is undoubtedly not the end of this controversial topic for anthropologists, a few of whom have accused the authors of seeking to embroider China's importance to early human history.
To understand ourselves, our creativity and emotions, we must grapple with our pre-human existence.
Creativity might just be the defining trait that makes us human, says E.O. Wilson, two-time Pulitzer Prize winner and acclaimed 'Father of Biodiversity'. But what exactly is the modern Homo sapiens, anyway? Wilson calls us an evolutionary chimera, picking up things from every age without fully transitioning out of any one era. That's why we are a complicated mix of paleolithic emotions, medieval leftovers like banks and religion, and now the latest addition: God-like technology. Those are the influences we know about, but creativity may actually predate our language, writings, and art—Wilson believes it's hundreds of thousands of years older than we assume. How can we discover the deepest roots of what has made us so human? Wilson says the humanities need to up their game and help the sciences unlock our creative origins. E.O. Wilson's new book is The Origins of Creativity.