Don't worry about grammar rules at first. They'll only trip you up.
Learning a language can be a tricky process, but it's important to remember that it is a process.
Having learned 20 languages so far, Canadian polyglot and LingQ founder Steve Kaufmann's advice is to not focus on the grammar. Constantly thinking about the rules while attempting to speak only makes it harder.
Investing time (often several months) into listening, reading, and practicing words before trying to speak a language will help you feel more comfortable with it. You will make mistakes, but you will learn from them and people will be patient with you.
Now is the perfect time to take up a new language. Self-motivation and commitment are key to mastering this fun and useful new skill.
Canadian polyglot Steve Kaufmann has learned parts of 20 languages. He's come up with seven tips to help anyone attempting to learn a new language in their spare time.
First, you must commit the time and keep motivated. If you don't enjoy the process of learning a language, you probably won't get very far. Maintaining a positive attitude is key.
The sense of achievement in mastering a language is a profoundly positive experience. Focusing, at first, on vocabulary rather than grammar will help you in the long run.
Ever wanted to describe precisely how crummy you feel after a bad haircut?
English is a phenomenal language, but there are circumstances where words seem to fail us.
Often, other languages have already found a solution to expressing the complicated ideas that can't be succinctly conveyed in English.
If you've ever wanted to describe the anguish of a bad haircut, the pleasure of walking in the woods, or the satisfaction of finding your life's purpose, read on.
Don't get me wrong. The English language has some very excellent words. There's petrichor, the pleasant smell of the first rain after warm and dry weather. Paraprosdokian—which describes sentences that end surprisingly, forcing the reader to reinterpret the first half—is both oddly specific and fantastic to say out loud. I'm even a fan of new inventions, like tweetstorm, even if I'm not a fan of the experience.
But English-speaking culture—like any culture—has a limited perspective on the world. Just like English, Japanese also has some five-star words that English could stand to borrow. The Japanese have an entirely different perspective on the world than many English-speaking cultures—as proof, it's tough to imagine that the politely reserved Japanese have a word for defenestrate, or the act of throwing somebody out of a window. Here's the top 7 Japanese words that we could use in English.
1. Ikigai
(Flickr user Raul Pacheco-Vega)
Literally translating to "life value," Ikigai is best understood as the reason somebody gets up in the morning—somebody's reason for living. It's a combination of what you are good at, what you get paid to do, what you love to do, and what the world needs.
We often find our ikigai during flow states, which occur when a given task is just challenging and absorbing enough that we forget time has passed, that "in the zone" sensation. But it's more nuanced than something that is simply absorbing or a passion; it's a fulfilling kind of work that benefits oneself and others.
2. Karoshi
Karoshi, or death from overwork, provides a nice contrast to the concept of ikigai. Japan's work culture is so over the top that dying from working too hard is not uncommon. This word covers a range of ailments from heart failure to suicide, so long as the root of their cause is in working too hard.
As another hardworking nation, the U.S. could stand to better appreciate the dangers of overwork. Americans put in an average 47 hours a week, which is demonstrably bad for our health.
3. Shinrin-yoku
(Flickr user jungle_group)
This word translates to "forest-bathing," which sums up the activity fairly well. It's getting outdoors to de-stress, relax, and promote well-being. While the concept is familiar, we clearly don't place enough importance on getting outdoors to honor it with its own term.
According to the Environmental Protection Agency, Americans spend about 87% of their time indoors, which is clearly too much. Meanwhile, being in nature is associated with a slew of benefits, like improving memory, reducing stress and anxiety, and even lowering inflammation. Scotland has the right idea—doctors in Shetland can now prescribe nature to their patients.
4. Shikata ga nai
Used interchangeably with shouganai, this term roughly means "it cannot be helped." You can think of it as the Japanese equivalent of c'est la vie´or amor fati. It's the idea that one should accept things outside of one's control with dignity and grace and not implode from the pressure of having no control over a terrible situation.
This concept is a bit controversial. During the U.S. internment of Japanese-Americans after the bombing of Pearl Harbor, many Japanese-Americans resigned themselves to their mistreatment, characterizing the situation as shikata ga nai.
On the other hand, when a tsunami devastated Japan in 2011, many outside observers commented upon the stoic way the Japanese carried on with their daily lives, an example of the positive side of shikata ga nai.
5. Tsundoku
(pexels.com)
While it's a little less high-minded than the previous words on this list, it's certainly one that I and others could use. A combination of tsunde-oku (letting things pile up) and dukosho (reading books), tsundoku is the practice of buying a book you swear you're going to read, obviously not doing that, finding a new book you swear you're going to read, and then letting these abandoned books pile up in your house until it's a certifiable fire hazard.
6. Irusu
Garden State (2004)
You're in a terrible, anti-social mood and don't want to see anybody at all today. Suddenly, your doorbell rings; you lie as still as possible in your bed (surrounded by the hordes of unread books you purchased), praying the unwanted visitor leaves. This is the practice of irusu, or pretending not to be home when somebody rings your doorbell. It's a very common experience, although maybe the modern-day equivalent is responding "Sorry, I just got this" hours after you actually saw a text.
7. Age-otori
Not everybody practices tsundoku, and I'm sure some extroverts are entirely unfamiliar with practicing irusu, but everybody can identify with getting a bad haircut. Age-otori is the feeling one gets after leaving a barbershop looking worse than you did going in. It's an ingenious word for the unique blend of regret, suffering, and shame you feel after you foolishly trusted your elderly barber when he said "Yeah, I can do a hard part."
Bonus words
While Japanese has some phenomenal words, there are some that the English language probably doesn't have need of. For example, a nito-onna is a woman so obsessed with her job that she doesn't have time to iron her blouses and so resorts to wearing knitted tops constantly. It's a wonderfully specific word, but its specificity probably doesn't translate to English-speaking contexts.
There's also the hikikomori, a mostly Japanese phenomenon involving modern-day hermits that don't leave their bedrooms for years and years. People like this exist in English-speaking contexts, but we generally characterize these as people suffering from anxiety, as loners, or hermits. In addition, part of what makes a hikikomori is the high pressure and highly ritualized nature of Japanese society, a feature that is mostly absent in English-speaking contexts.
So, write to our good friends Merriam and Webster. Let's see if we can pack a little more utility into the English language.
Loop quantum gravity gets the ancient atomist back into the loop, showing how black holes might explode, and that the Big Bang might be a Big Bounce.
Illustration by Julia Suits, The New Yorker cartoonist & author of The Extraordinary Catalog of Peculiar Inventions
1. Objective physics "misled" us—"reality is relational," so says Carlo Rovelli in Reality Is Not What It Seems. We must loop back to a 2,300-year-old idea (perhaps humanity's "greatest") to stop cutting against the grain of the universe.
2. Democritus's ancient logic of atoms says you can't divide things ad infinitum—below some cutoff you can't cut anymore. Reason shows reality is "atoms, and the void" ("atomos" means uncuttable).
3. Uncuttableness seemed to resolve recursive puzzles like Zeno's you'll-never-get-there paradox, and it cast the cosmos as an "endless dance" of the invisible and indivisible.
4. Ancient atomists saw writing as a "visible model" of invisible cosmos-organizing processes: Text made language visible, illuminated its workings (parts + combination rules), and provided new thinking tools.
5. Greeks had the "first true alphabet": a "universal" writing system that used a few letters to encode the infinite variety of all possible utterances. Similarly, all matter is written in a "language… of atoms."
6. Rovelli extends Democritus's atoms-are-matter's-alphabet metaphor by characterizing physics as the  "grammar of the world," describing its parts and combination rules."
7. But other syntaxes dominate science, per Plato's belief that mathematics is the best world-grasping language. Math brings its own grammatical forms/rules. (Plato's predecessor Pythagoras believed "numbers were literally gods"— expressing immortal patterns.)
8. Science's Platonic-math lust has produced powerful results, but also "pathological situations" of unclear, even absurd, meanings. For instance…
9. "Quantum field theory… is full of mathematical absurdities" (routinely computing infinite values).
10. Mysterious "meanings" still surround 100-year-old quantum mechanics equations (e.g., between interactions particles exist only as a "cloud of probability").
11. And particle physics equations work only in "absurdly convoluted" ways (yielding nonsensical infinities).
12. Reusing Democritus's infinite-recursion-evading trick, Rovelli works on taming these plaguing infinities. "Loop quantum gravity" atomizes the void. Space itself has indivisible grains.
13. Therefore you can't compress things ad infinitum. Approaching the space-grain size a "quantum pressure" resists. That suggests aging black holes might explode in possibly detectable ways, and the Big Bang might = a Big Bounce.
14. Philosophy might be "footnotes to Plato," but physics hasn't finished footnoting Democritus. (He lived before Plato's formative math-morphism.)
15. Lost in our lust for math-structured thinking are useful subtleties of Democritus's atoms-as-letters vision. Beyond the grammars of geometry and algebra lies a domain of not math-like but text-like compositions and meanings (of semantics beyond mathematics).
16. Here the ancient fallacy of composition has math-specific applications: Some traits combine and aggregate in math-friendly ways, some don't. You can't grasp the meaning or function of text or DNA by counting letters or measuring lengths or quantity of ink. Their meaning/function/grammar is relational and sequential and word-like. The information encoded in matching sequential text-like compositions matters (DNA—>RNA, letters—>"social cartesian" lexicon).
17. Word and world both have grammars that don't fit our available mathematical rules.
18. Reality is relational, and not entirely objective. Subject and object aren't separable, they're entangled, inescapably. "Objective" is always relative to some other system/observer. 
-- 
Illustration by Julia Suits, The New Yorker cartoonist & author of The Extraordinary Catalog of Peculiar Inventions
Why do Shakespeare's plays have such a dramatic impact on readers and audiences? Philip Davis shows how Shakespeare's use of language creates heightened brain activity, or what he calls "a theater of the brain."
The theatre of the brain
Shakespeare's literary career, which spanned a quarter century roughly between the years 1587 and 1612, came at a time when the English language was at a powerful stage of development. The great fluidity of Early Modern English gave Shakespeare an enormous amount of room to innovate. 
In all of his plays, sonnets and narrative poems, Shakespeare used 17,677 words. Of these, he invented approximately 1,700, or nearly 10 percent. Shakespeare did this by changing the part of speech of words, adding prefixes and suffixes, connecting words together, borrowing from a foreign language, or by simply inventing them, the way a rapper like Snoop Dogg has today. (Another exemplary instance is the way HBO's series The Wire has integrated slang into our contemporary vernacular.)
What's the Big Idea?
In the past, most brain experiments would involve the study of defects, and use a lack of health in the brain to show what it can do. Professor Philip Davis from the University of Liverpool's School of English is approaching brain research in a different way. He is studying what he calls "functional shifts" that demonstrate how Shakespeare's creative mistakes "shift mental pathways and open possibilities" for what the brain can do. It is Shakespeare's inventions--particularly his deliberate syntactic errors like changing the part of speech of a word--that excite us, rather than confuse us.
With the aid of brain imaging scientists, Davis conducted neurolinguistic experiments investigating sentence processing in the brain. The experiments showed that when people are wired they have different reactions to hearing different types of sentences. 
One type of measured brain responses is called an N400, which occurs 400 milliseconds after the brain experiences a thought or perception. This is considered a normal response. On the other hand, a P600 response indicates a peak in brain activity 600 milliseconds after the brain experiences a quite different type of thought or perception. Davis describes the P600 response as the "Wow Effect," in which the brain is excited, and is put in "a state of hesitating consciousness."
It should be no surprise that Shakespeare is the master of eliciting P600s, or as Davis told Big Think, Shakespeare is the "predominant example of this in Elizabethan literature." The visualization of the experiment looks like this: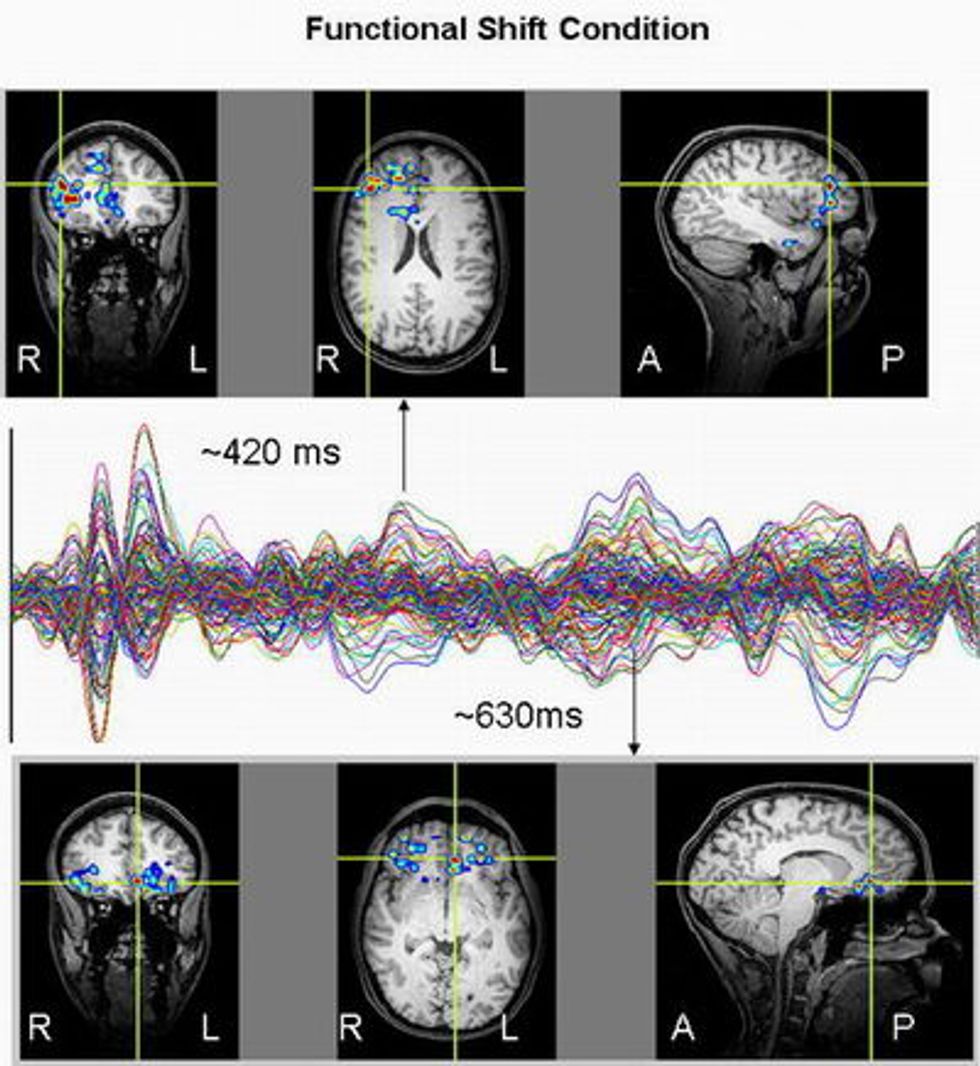 But how is poetic language different from normal language? Consider these examples, in which Shakespeare grammatically shifts the function of words:
An adjective is made into a verb: 'thick my blood' (The Winter's Tale)
A pronoun is made into a noun: 'the cruellest she alive' (Twelfth Night)
A noun is made into a verb: 'He childed as I fathered' (King Lear)
As Davis's experiments have shown, instead of rejecting these "syntactic violations," the brain accepts them, and is excited by the "grammatical oddities" it is experiencing. While it has not been fully proven that we can localize which parts of the brain process nouns as opposed to verbs, Davis says his research suggests that "in the moment of hesitation" brought on by the stimulative effects of functional shift, the brain doesn't know "what part to assign the word to." 
What is the Significance?
For Davis, we need creative language "to keep the brain alive." He points out that so much of our language today, written in bullet points or simple sentences, fall into predictability. "You can often tell what someone is going to say before they finish their sentence" he says. "This represents a gradual deadening of the brain."
Davis also speaks of the possible applications for his research on other fields, such as treating dementia. "My hope is that we find ways to treat depression and dementia by reading aloud to patients."
And yet, Davis is a literary scholar first and foremost. He argues the heightened mental activity found in the brain responses to his experiments may be one of the reasons why Shakespeare's plays have such a dramatic impact on readers and audiences. What is at the heart of Shakespeare, he says, is the poet's "lightning-fast capacity" for forging metaphor that created "a theater of the brain."
Lesson:
Short of placing multiple electrodes on your scalp, simply read the four sentences below, and ask yourself which one you like best.
1. A father and a gracious aged man: him have you enraged
2. A father and a gracious aged man: him have you charcoaled.
3. A father and a gracious aged man: him have you poured. 
4. A father and a gracious aged man: him have you madded.
If the experiment worked, here are how the results should have played out: The first sentence should elicit a normal brain reaction. The brain recognizes that the sentence makes sense; unlike the second line, which the brain rejects. The third line ("charcoaled") measures both N400 and P600 responses, because it violates both grammar and meaning, and is gibberish. The fourth line is an example of functional shift, which is found in King Lear. Your brain is now thinking like Shakespeare. 
Follow Daniel Honan on Twitter @DanielHonan