Discover the peril and potential of an automated robotic world.
Photo credit: Hugo Amaral/SOPA Images/LightRocket via Getty Image
Journalist Andrés Oppenheimer, columnist and member of a Pulitzer Prize-winning team explores the cutting edge of automation.
From South Korean robot schools, Silicon valley futurist predictions and automated Japanese restaurants, this book shows us that the future of work is almost here.
Already replacing a growing number of workers while also creating new roles, the concept of employment is becoming even more dynamic.
Alarmed and somewhat intrigued by a University of Oxford study that predicted 47 percent of jobs would be replaced by robots or intelligent computers, journalist Andrés Oppenheimer set out to discover what the future of work held for the potential casualties and benefactors of this new era.
Robotics and other assorted automated processes are already radically changing the nature of what we consider work and employment. Unlike past eras of paradigmatic technological shifts, where entire workforces were able to quickly recover and evolve into new burgeoning fields — the coming age of automation isn't going to be as seamless of a transition.
In The Robots Are Coming! The Future of Jobs in the Age of Automation, Oppenheimer casts a wide net of inquiry into a broad and multidisciplinary search for the future of what's to come. The result of years of tenacious research, experiences and thrilling conversations, this book leaves no tech stone unturned.
Without devolving into a buzzword jargon fest, Oppenheimer adequately sketches out and name drops nearly every technology experts and pundits alike think will usher in the new age.
Whether it's machine learning, A.I., augmented and virtual realities or the need for a universal basic income — this book name checks the aforementioned tech and then assaults it from all fronts. Is it hype? Where are we in terms of implementation? What do the experts say and what do the detractors think? How will this affect the job market and notions of employment?
The Robots Are Coming!
What're they coming for? Everything.
Timeframes, statistics, and opinion tended to oscillate depending on who the author was talking to at the time. There were many instances cited that went against all common fears of automation displacing jobs. For example, in 2016 Amazon increased their transport robots from 30,000 to 45,000. Speculators at the time figured this would result in the loss of jobs. On the contrary, more than 100,000 new jobs were added in the next 18 months.
In our present time these types of employment increases are relatively common. But they're also equally matched with a host of jobs in all industries being lost to automation. And they're not just confined to low-level labor and service jobs. They're affecting all levels of work.
Head up to the high towers of Wall Street and you'll even see financial professionals replaced by robo-analysts using big data. These aren't displacing the lowest of the workforce, but knocking out big-time financial advisors that use to make an average of $350,000 to $500,000 a year.
Even duties in professions such as journalism and law aren't safe from being deferred to automation. Andrês remarked that in just the past few years the stunning speed of automated transcription services completely changed the way he conducted interviews. The book's interviews themselves were transcribed and largely translated by A.I. methods.
A growing force of bots are also writing a rising number of articles due to a technology called Heliograf. What would have taken hundreds of journalists covering local elections, was done with just one templating bot. In 2016 the Washington Post was able to cover over 500 local elections with this technology.
If one thing is perfectly clear, it's that automation and intelligent computers are leaving nothing behind and popping up in the least expected places. Understandably, this has got a lot of people worried.
Anders Sandberg from Oxford comically, but nonetheless genuinely, put it this way:
It's quite simple: if your job can be easily explained it can be automated, if it can't it wont.
The future of work is going to require a massive shift in skills, mindset and know-how. Soft skills, being able to work with a steady flow of interactive data and ability to make actionable insights from the data-driven world are just some of the traits of a future workforce.
For those that aren't going to make the cut, they'll need to shift their mindset on the psychological and cultural notion of work and employment in the first place. The many futurists, serious economists, and, at times, the author himself truly believe that a universal basic income needs to be implemented.
A new mindset for the future
In an interview with philosopher Nick Bostrom, there was a discussion about the importance and self-worth that so many people receive from their employment. This he believes is a new phenomenon and one of the major problems we'll have to face socially.
Bostrom mentions that at one point, the aristocratic classes of old were able to live worthy lives by engaging in pleasurable and fulfilling experiences. It's inferred from his conversation that something like this will need to take place in the mindset of a larger sect of the population. With the prospect of an entire futuristic world not needed for work, we seriously need to reconsider the human enterprise and the notions of self-worth tied to employment.
All futurist utopian ideals aside, the nature of schooling, vocational work and employment seem to be following an age-old trend – omnipotent progress always rears its head and usurps the status quo. Work will change with the times in absurdly unique ways in which even this book and any one else alive today will not be able to predict.
Oppenheimer mentions how jobs like iPhone developer, Cloud data analyst and so on emerged from our most recent inventions and innovations. Less than two decades ago these words would have been gibberish to anyone hearing them. The same will hold true for the jobs in the next few decades.
There are a number of things that no foreseeable robotic intelligence will ever be able to compete with. Forget fantasy notions of singularities and eschatological coming of days through superintelligence – these things are a different thing to worry about entirely. The reality of the situation is that new jobs are coming and a whole lot of jobs we've had for years are never going to return.
Dealing with the inability to reskill a large amount of the populace will be a major problem in the coming years.
The author sees himself as both techno optimist in the long-run, but a techno-pessimist in the short term.
If there's one final takeaway from this book it's that the threat or rather promise of automation is real and an inevitability. There's no use fighting against it. The only thing we can do is evolve alongside it.
Driverless cars are nothing short of a revolution – not a technological revolution, but a social one, that will determine how fast we can accept, adapt and trust these new systems to change our lives.
Driverless cars may be borne out of science fiction, but they are fast becoming realities on tomorrow's roadways. The transition from driver to robot is nothing short of a revolution. Not a technological revolution, but a social one, that will determine how fast we can accept, adapt and trust these new systems to change how and where we live, work, play and interact with each other.
Japan's auto giant Nissan unveils the new robotic vehicle 'Pivo 2', equippeec with in-wheel electric motors to drive all wheels independently and to pivot its cabin at the company's headquarters in Tokyo. (Photo: YOSHIKAZU TSUNO/AFP/Getty Images)
If you've sat in a new vehicle over the last decade, odds are that you've come into contact with a computer that assists in the act of driving. That assistance might have been as simple as a beep from the console that tells you when you're about to back up into a light pole -- a mundane, accessory, maybe slightly annoying tool, not what anybody would put under the banner of science fiction. But that little beep is a harbinger for a coming revolution that will change the design of our cities and neighborhoods, our fundamental relationship with technology, and the way we work and live.
When I mention autonomous vehicles to people outside of the tech and transportation worlds, I'm usually either met with near-complete incomprehension or bordering-on-overwhelming excitement. One either hasn't heard or even dreamed that self-driving cars might be imminent, and is given to imagine them as futurist babble; or else one has been exposed to news of the rapid progress by tech and automotive companies in developing autonomous vehicles, has heard tell of a timeline to have such vehicles all over the road by 2021, and so has the vague conviction that the world is going to look quite a bit more like The Jetsons in the next five years or so. 
Neither of these types has quite the right idea, although the latter, excitable viewpoint is the one closest to the truth: Self-driving cars are coming, make no mistake, but we shouldn't expect them to suddenly, explosively appear en masse on America's roads, doing away with the act of driving in one fell swoop. Instead, we might look to that modest cautionary computer beep as a way to understand how self-driving cars will make their way into our lives: the technology will not come to us in a single wave, but in small cumulative increments, increasing in frequency, adding up, finally, into a revolutionary impact.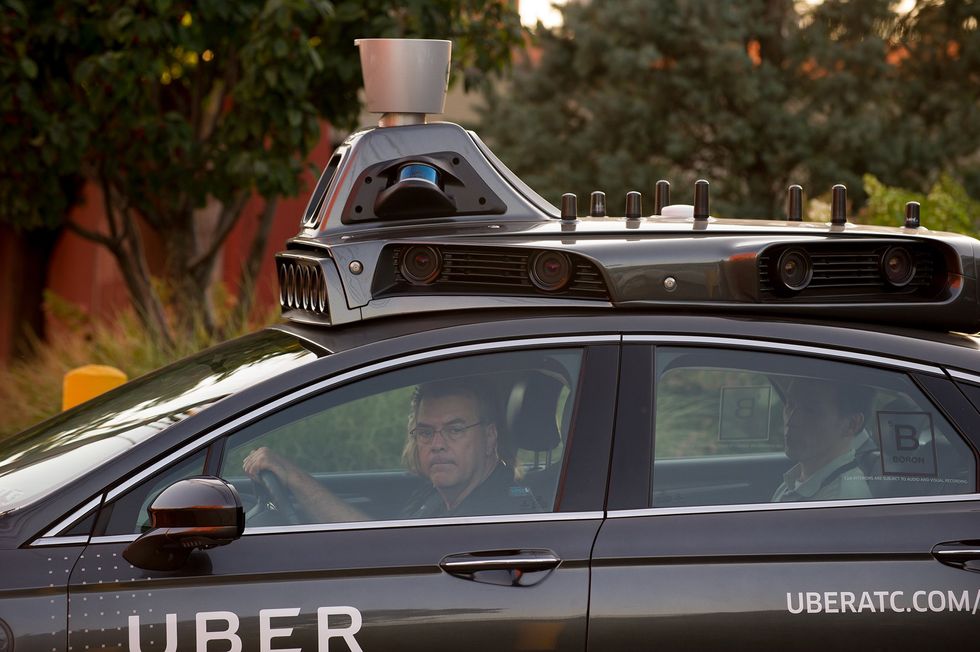 An Uber driverless Ford Fusion drives down Smallman Street on September, 22, 2016 in Pittsburgh, Pennsylvania. Uber has built its Uber Technical Center in Pittsburgh and is developing an autonomous vehicle that it hopes will be able to transport its millions of clients without the need for a driver. (Photo by Jeff Swensen/Getty Images)
Everybody is familiar with the first-ever form of driver-assistance technology. That honor goes to the automatic transmission, introduced to consumers in 1939, the same year as General Motors' "Futurama" presentation at the New York World's Fair, which brought the ideas of mass vehicle ownership, the interstate highway system, and self-driving cars into the popular consciousness, all at once. But it has taken 70 years for tech companies to view fully autonomous vehicles as a realizable goal, and with that clarion call has come a veritable slew of computerized driver-assistance tools that evolved over nearly a century, that have a dual purpose: first, the utilization of rapidly evolving information technologies to make driving safer and easier; second, and far more implicit, to help consumers grow comfortable with the idea of giving over their driving -- and their safety -- to a machine that is effectively a robot.
Here's a vague, speculative roadmap for how self-driving cars will make their way onto our roads. First, we will see (and are already seeing) the deployment of advanced driver assistance in luxury and commercial vehicles. Consequently, and perhaps counterintuitively, older drivers -- those most likely to buy high-end cars or to drive for a living -- will wind up being the first users of autonomous vehicle technologies. Next, we might expect freight and public transit networks to adopt the technology. The first fully autonomous vehicle on our streets will probably be a city bus or delivery truck.
At the same time, private companies like Uber and Lyft will be racing to develop their own autonomous fleets -- indeed, Uber is already testing the waters in Pittsburgh. It gets harder to make predictions beyond that point. Complete transition from the science fiction of driverless cars to science fact where nobody drives will be a series of transitions over time (See SAE Automation Levels) will, in fact, be a revolution that will change fundamentally how our society looks. How exactly those movements will be carried out is anyone's guess.
The thing of it is that near-fully autonomous vehicles already exist, and have already racked up hundreds of millions of miles on our roads. The technology is already here. But for it to be used to its fullest potential, and for the radical future that self-driving cars portend to become reality, we must wait for government, business, infrastructure, and all of us to become receptive to it. This slow, messy process of adaptation is where the revolution will be found, in the social rather than the technological sphere. Autonomous vehicles will bring disruptions in the labor force, in the design of our urban and suburban spaces, the idea of 'driver licensing,' our notion of trust and where we put it, in our concept of "ownership" and how we define ourselves by it, and, ultimately, the amount of mobility we enjoy.
MIT AgeLab's Adam Felts contributed to this article.
Here's an interesting crash course on computational ethics with Jerry Kaplan: