"I used to mountain climb… If I can't walk anymore, I'll crawl."
Dario Mitidieri / Getty Images

In an ever-more connected world, it would be easy to assume that loneliness was on its way out — after all, we now have unlimited opportunity to communicate with almost anyone we want at any time we please.
But, in fact, it's still rife: according to the Campaign To End Loneliness, over nine million people in the UK describe themselves as "always or often lonely." Age has an impact here, too: an Age UK report suggested that the number of over-50s experiencing loneliness will reach two million by 2025 — a 49% increase from 2016.
And with researchers suggesting that loneliness can be seen as a disease that changes the brain's structure and function, this is a significant public health issue, too. You are more likely to have high blood pressure, depression and even face an early death if you're lonely, so finding strategies with which to combat the experience is vital.
New research in Aging & Mental Health by Alejandra Morlett Paredes from the University of California, San Diego and colleagues may have some tentative answers. The team interviewed 30 adults aged between 65 and 92, all of whom lived in a senior housing community in San Diego. The community is busy: there are nearly 300 residential units, as well as a tennis court, small golf course and allotment plots. Activities like quilting and sewing sessions, card games, and theatre performances are frequently held for residents.
First, residents were asked to complete a quantitative loneliness assessment. The word "lonely" is not used explicitly in the test; rather, participants were asked to rate how frequently they felt in tune with others around them or how often they felt left out, on a scale of one to four.
They were then interviewed by the team about their experiences of loneliness. Four primary areas were explored: whether participants felt lonely, and how they'd describe those feelings; why they think others feel lonely; how they feel ageing plays a role in loneliness; and what strategies they have for combatting feeling isolated.
Ageing, as you might expect, had a big impact on participants' feelings of loneliness. The deaths of partners and loved ones was particularly difficult, while participants also commented on how loss of mobility restricted their social activities. Social skills were also identified as a risk factor: one participant noted that those without strong social skills may be more likely to suffer.
Emotionally, loneliness was (unsurprisingly) connected to feelings of emptiness, sadness and lack of meaning. One participant described herself as feeling "lost… and not having control, and sometimes it can lead you to not be able to make decisions and then it just gets worse", whilst another described loneliness as "the feeling of nothing".
But many participants also commented on strategies they used to protect against loneliness. Though ageing was a risk factor, acceptance of ageing had more positive outcomes. As one participant put it: "I used to mountain climb… If I can't walk anymore, I'll crawl. You have to learn how to be realistic and not brood about it. I know I'm getting older, but I consider life a transition." Compassion was also useful: being proactive about helping others, for example, helped some participants prevent being lonely.
Spirituality also emerged as a potentially protective trait: for some older people, faith helped them get through the losses of loved ones, and attending religious ceremonies within the community also provided them with strong social connections.
Perhaps most useful on a practical level were participants' thoughts on environments that facilitate social interaction. Numerous residents mentioned the activities and opportunities for socialising offered by their community — perhaps a good insight into the kind of social structures that need to be developed and embedded within communities to help older people connect with others.
Participants were largely middle or upper-middle class, and the vast majority were white, which means these findings may not bear out across different socioeconomic groups. Those experiencing poverty or racism, or who don't live in similar assisted living communities, are unlikely to have the same experiences
But working on both structural changes and learning about protective psychological factors may be a crucial weapon in the fight against loneliness.
– Qualitative study of loneliness in a senior housing community: the importance of wisdom and other coping strategies
Emily Reynolds (@rey_z) is a staff writer at BPS Research Digest.
Reprinted with permission of The British Psychological Society. Read the original article.
Hollywood writer's rooms are notorious boys clubs: men often outnumber the women by 8 to 1. Nell Scovell has been defying that statistic her entire career.
Hollywood writer's rooms are notorious boys clubs: men often outnumber the women by 8 to 1. TV writer Nell Scovell has defied that depressing statistic her entire career. She's written for an incredible list of shows: Friends, Late Night with David Letterman, The Simpsons, just to name a few. Here, she talks about a time in the Friends room where a lewd joke was taken a little too far — but also sparked an idea for an entire episode of the show. Nell's new book is the hilarious and illuminating Just the Funny Parts: ...And a Few Hard Truths About Sneaking into the Hollywood Boy's Club.
Recent research suggests what we thought we knew about social trust judgements may be all wrong.
Social trust, the expectation that people will behave with good will and avoid harming others, is a concept that has long mystified both researchers and the general public alike. Trust and cooperation is critical to social success, with neuroscientist Kelly Clancy suggesting that life operates by an undercurrent law of Survival of the Friendliest: evolution is about more than just rivalry, we need relationships. So, how trusting are you? Would you let a stranger borrow your phone in an emergency? Would you lend your friend money if they couldn't make rent? Have you ever been kinder to a stranger than you are to your sibling?
Many of us have undoubtedly sat in contemplation of what molds our trust in friends and strangers. What makes us inclined to give some people the benefit of the doubt, but occasionally cast a skeptical eye on others. And is there a relationship between how closely we trust people and how well we know them?
In 2016, Markus Freitag and Paul C. Bauer published their study, 'Personality Traits and the Propensity to Trust Friends and Strangers' in The Social Science Journal. Substantial research has already been conducted in the realm of social trust, however, Freitag and Bauer contend that endemic methodological shortcomings have consistently yielded inconclusive data.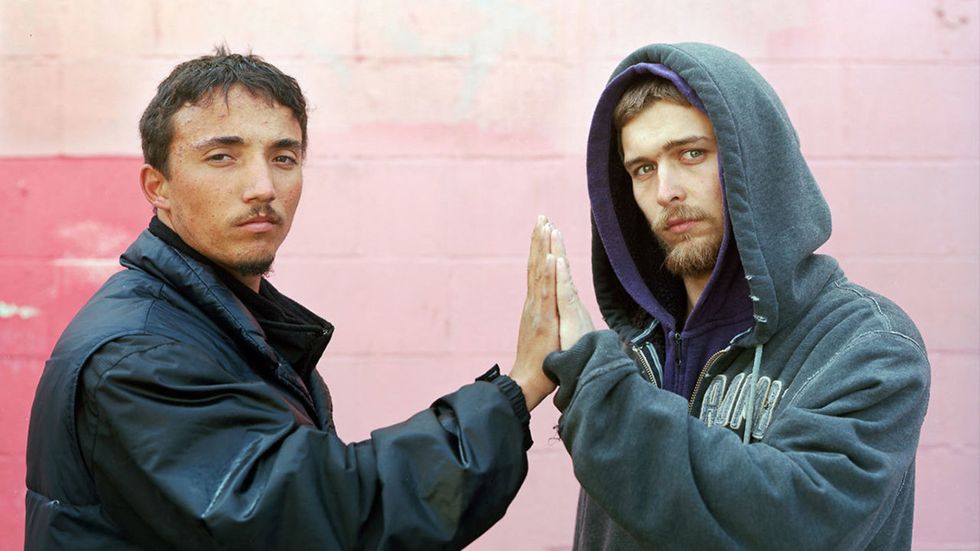 Photo by Richard Renaldi, from his 'Touching Strangers' photo project.
To avoid these recurring pitfalls and place our understanding of this phenomenon on a more empirically illuminating trajectory, Freitag and Bauer initiated an investigation which examined the role of personality on individuals' levels of exhibited social trust, rather than merely looking at environmental factors and prior experiences as drivers of social trust.
Deviating from common research designs which plied respondents with unspecific lines of questioning that often clouded the distinction between generalized trust (strangers) and particularized trust (friends, neighbors, co-workers), Freitag and Bauer implemented a process that clearly differentiated classes of trustees, posed realistic and relatable questions, asked respondents to answer using numerical probabilities, and defined personality values using psychology's "Big Five" personality traits (agreeableness, openness to experience, extraversion, conscientiousness, and neuroticism-emotional stability) which were tailored to individual respondents. Moreover, they erected controls for sex and age.
Through randomly surveying 1,157 Swiss adults via computer-assisted telephone interviews, researchers asked respondents, "Please imagine a probability scale running from 0 to 100%. 0% means that the event will certainly occur. Imagine losing your wallet (with identity card) containing, among other things, 200 Swiss Francs. On a scale from 0 to 100%, how likely is it that the wallet will be returned to you if it is found by... a friend; a stranger that you don't know?"
So what steers our trust judgements? The study results showed that people often trust total strangers more than they trust their friends. Why? Essentially because we know better. When people know the trustee they base their decisions on their prior history with that person. When people don't know the trustee, there is no bank of information to draw from, so their judgements are a reflection of their personality traits. The study indicated that of the 'big five' personality traits, conscientiousness and openness were important attributes for determining trust in both strangers and friends, but agreeability played a significant role in determining the level of trust invested in strangers. If you're generally agreeable (defined as believing the best of others and rarely suspecting hidden intents, cooperative, warm, kind, and avoid conflicts) you will assume the best in others. The authors write:
... Our empirical analyses show that the effect sizes of the personality traits are larger for trust in strangers than in the case of trust in friends. Thus, in the absence of information about the trustee, our trust judgments seem to be contingent on our personality... If we agree that personality traits are, to a certain extent, rooted in biology and that certain personality traits affect trust judgments, it also means that trust is also inherited to a certain degree.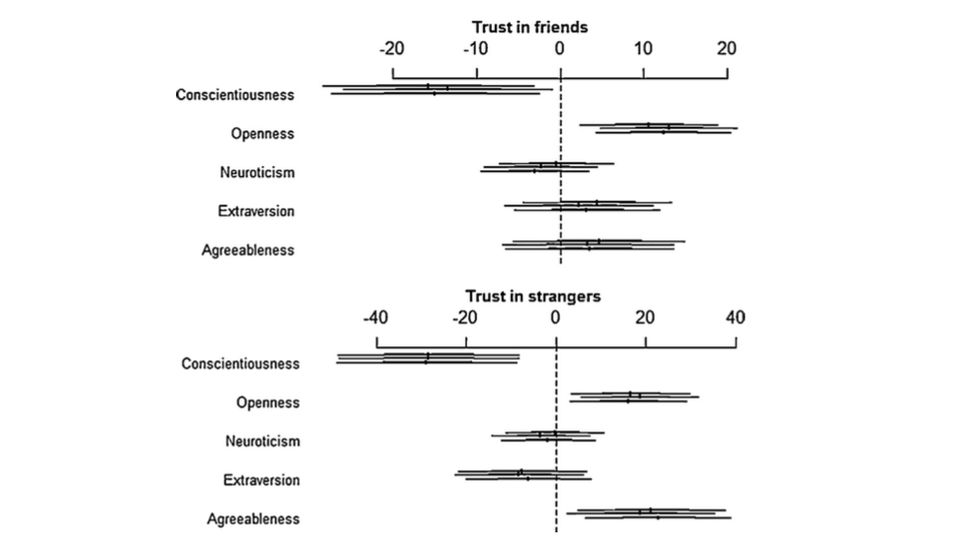 Fig.1. Regression coefficients for personality traits on trust in friends and trust in strangers (with and without controls).
Freitag and Bauer did highlight the limitations of their research. They expressly cautioned that the role of education, our networks, and our trust in institutions, matter and cannot be underestimated. Prior studies have clearly indicated that social trust correlates to corruption and crime, which demonstrates that environmental factors do indeed influence levels of social trust. To that end, the authors reiterate that their study is but an initial single nation foray into a grossly underdeveloped facet of social trust research, and that if our understanding of this societal issue is to evolve, theorems and empirical analyses need to further explore and account for personality and biological impacts.
If you want to know how a stranger might perceive you, here's psychologist Heidi Grant Halvorson on first impressions:
1 in 3 people over the age of 65 live alone in the United States, and by age 85 it's 1 in 2. Loneliness is an epidemic. Here's how to fight it.
In the United States, 1 in 3 people over the age of 65 live alone; by age 85, 1 in 2 people live alone. Those stats come from The New York Times and highlight a health problem we often ignore: loneliness is killing us.
As The Times reports, "Researchers have found mounting evidence linking loneliness to physical illness and to functional and cognitive decline. As a predictor of early death, loneliness eclipses obesity." A 2012 JAMA study confirmed these results, citing that "among participants who were older than 60 years, loneliness was a predictor of functional decline and death."
A 2015 study in the journal Cell demonstrated these effects with mice. Researchers at the Massachusetts Institute of Technology and Imperial College, London split mice into three groups: solitary, solitary with an object, and grouped. They observed the dorsal raphe nucleus (D.R.N.) region of the brain, a section often linked to depression, with each group. When mice were part of the group dopamine production was stable, meaning that because dopamine is a neurotransmitter that pumps feel-good chemicals into our brains when we're happy, these mice were content in a group. But when the mice were isolated either on their own or with an object, dopamine levels plummeted. Most interestingly, dopamine levels surged when the mice were reunited with the group, most likely compensating for the earlier lull. "This is the first time we've found a cellular substrate for this experience," said Dr. Kay Tye, senior author of the paper, to The Times. "And we saw the change after only 24 hours of isolation."
Loneliness even affects key bodily functions. Professor John Cacioppo of the University of Chicago (and Big Think alumnus) has researched this, and The Times details his findings: "Chronic loneliness… is associated with increased levels of cortisol, a major stress hormone, as well as higher vascular resistance, which can raise blood pressure and decrease blood flow to vital organs… [and] the danger signals activated in the brain by loneliness affect the production of white blood cells; this can impair the immune system's ability to fight infections." He told Big Think more about those effects here:
The best way to counter this, of course, is to spend time with friends. But it's harder to make friends now. We've told you about this before, but social media makes it harder to build friendships. As that piece explains, "With social media, we can easily keep up with the lives and interests of far more than a hundred and fifty people. But without investing the face-to-face time, we lack deeper connections to them, and the time we invest in superficial relationships comes at the expense of more profound ones."
A 2013 meta-analysis in Psychological Bulletin backs this up, stating:
Global social networks (which include your family, friends, coworkers, business acquaintances, and so on) increased up until young adulthood and then decreased steadily.
Personal and friendship networks (which include just family members, close friends, and other close confidants) decreased throughout adulthood.
The family network was stable in size from adolescence to old age.
Other networks, with coworkers or neighbors, were important only in specific age ranges.
The number of close friends we have peaks in our 20s and then steadily declines.
Those difficulties in making and keeping friendships seem to be linked to the loneliness epidemic. But you don't have to take them lying down. You can strengthen your current friendships by focusing on the ones that make you a better person. It's not easy; even William Shatner had trouble making friends – but he had Leonard Nimoy to help him:
You may not have Leonard Nimoy, but you can still have great friendships. If you're struggling to keep in touch with friends, consider blocking off a chunk of time every week to make calls or scheduling a recurring date for a specific day of the month. If you're having difficulties making friends, Lifehacker has a whole bunch of tips to help you, including:
Checkout Meetup.com for anything you want to do, from art classes and poetry readings to wine tastings and disco parties. Pick one and go!
Use Groupon or LivingSocial to find good deals on events and go meet people
Volunteer
Walk a dog (it can be your neighbor's; that way you get to meet new people and make friends with your neighbor. Win-win!)
Join a sports league
Regardless of how you strengthen your friendships, make it a priority. You're doing your future self a favor and helping to end the loneliness epidemic. You should also call your grandmother right now, or go visit an old person in your community. They'd love to hear from you. Really.