David Eagleman, neuroscientist and host of 'The Brain' on PBS, will speak at the Los Angeles Hope Festival on Sunday, May 21. The event is free but seats are limited.
Neuroscientst David Eagleman.
David Eagleman, neuroscientist and host of 'The Brain' on PBS, will speak at the Los Angeles Hope Festival on Sunday, May 21. The event is free but seats are limited. RSVP here.
David Eagleman isn't your garden-variety neuroscientist—if there is such a thing. His former neuro lab at Baylor College of Medicine built the technology to help deaf people hear through their skin:
the-secret-lives-of-the-brain-david-eagleman-live-on-big-think-2
"One of the things my lab is doing is building a vibratory vest so that we can feed in sensory information through the skin of your torso rather than through more typical sensory channels. So, for example, we're doing this for people who are deaf who want to be able to hear. We set up a microphone on the vest and then the auditory stream is turned into this matrix of vibrations on your skin, and what that does is it feeds in electrical signals into the brain that represent the auditory information.
"And if it sounds crazy that you would ever be able to understand all these signals through your skin, remember that all the auditory system is doing is taking signals and turning them into electrical signals in your brain," he says.
That vest was recently put to a very scholarly use:
I recently went to LA to film a BuzzFeed video w/our @NeoSensory VEST:
* Drake Vs. Kendrick: Which Album FEELS Better? * pic.twitter.com/sCA9JKfpSL
— David Eagleman (@davideagleman) May 5, 2017
david-eagleman-on-mass-shootings
"There's no such thing as a psycho. That's a meaningless term. What the commentator presumably means is either this person has a psychosis, something like schizophrenia where they have a disorder of cognition, or they mean this person is a psychopath which is not a disorder of cognition. Instead psychopathy is about having no empathy towards other people, not caring at all about other people, seeing other people as objects to get around. They're also known as sociopaths. So somebody can have a psychosis or somebody can have a psychopathy or sociopathy, and these are completely different things.
"An understanding of these things in the public dialogue I think would be very important; every time there's a mass shooting there are all sorts of commentators that come out and say things like, 'Well, I heard he had Asperger's' or 'I heard he had ADHD,' or, 'I heard that he wrote dark poetry,' which is, of course, true of most young teenagers. So a better understanding of the vocabulary and what are the issues that come along with these different things is something that I try to disseminate through my work in neuroscience and law."
For his talk at the Los Angeles Hope Festival, Eagleman will present ideas from his new neuro lab at Stanford University School of Medicine, presenting a framework of the brain as a team of rivals, with different networks driving different behaviors. He'll discuss how a major job of intelligent brains is simulation of the future, and he'll leverage lessons from neuroscience about how we can best steer ourselves into the future—keeping our behavior consistent with a long-term notion of the self. Tickets are free but seats are limited, so RSVP here.
Below is the full schedule for the Los Angeles Hope Festival.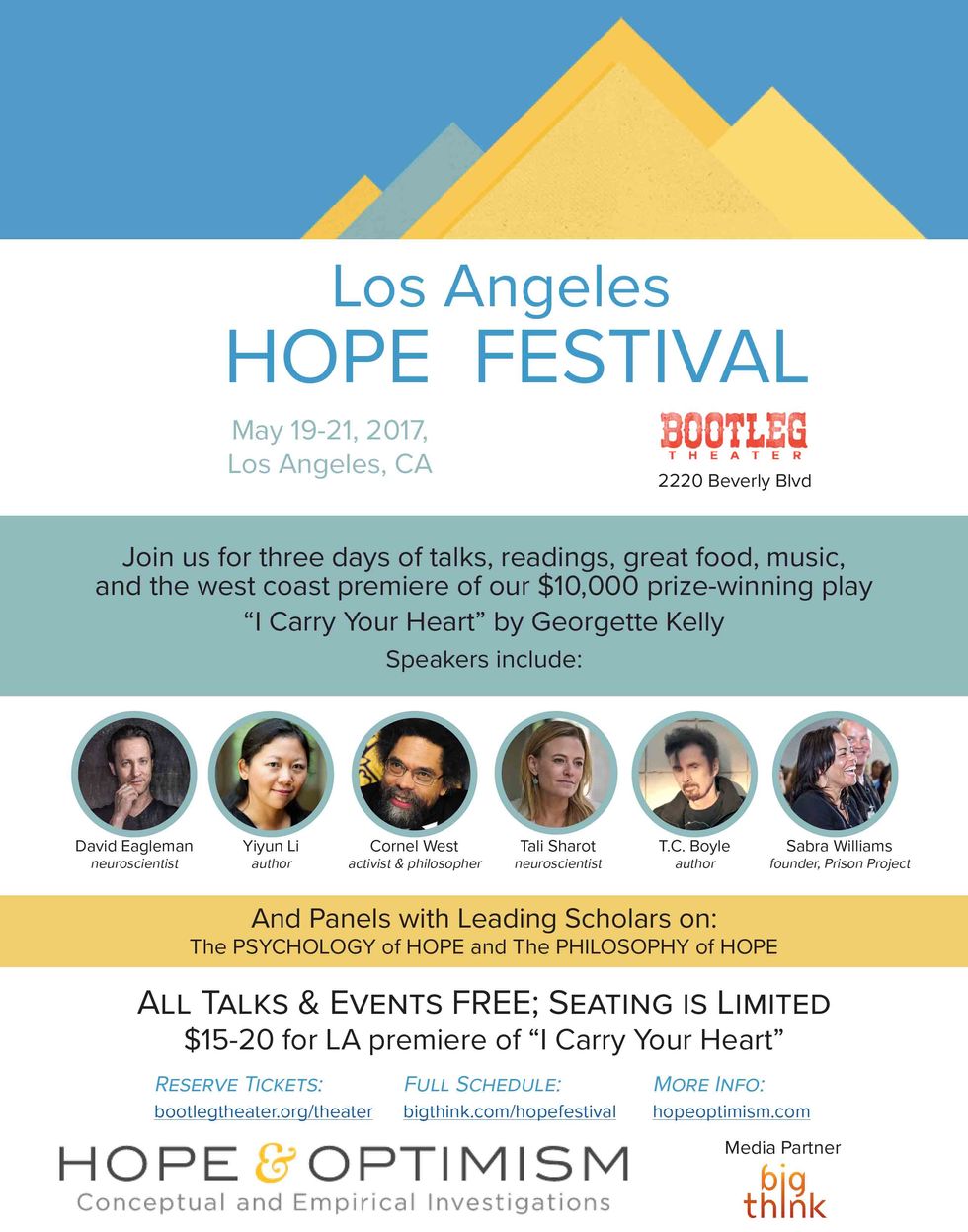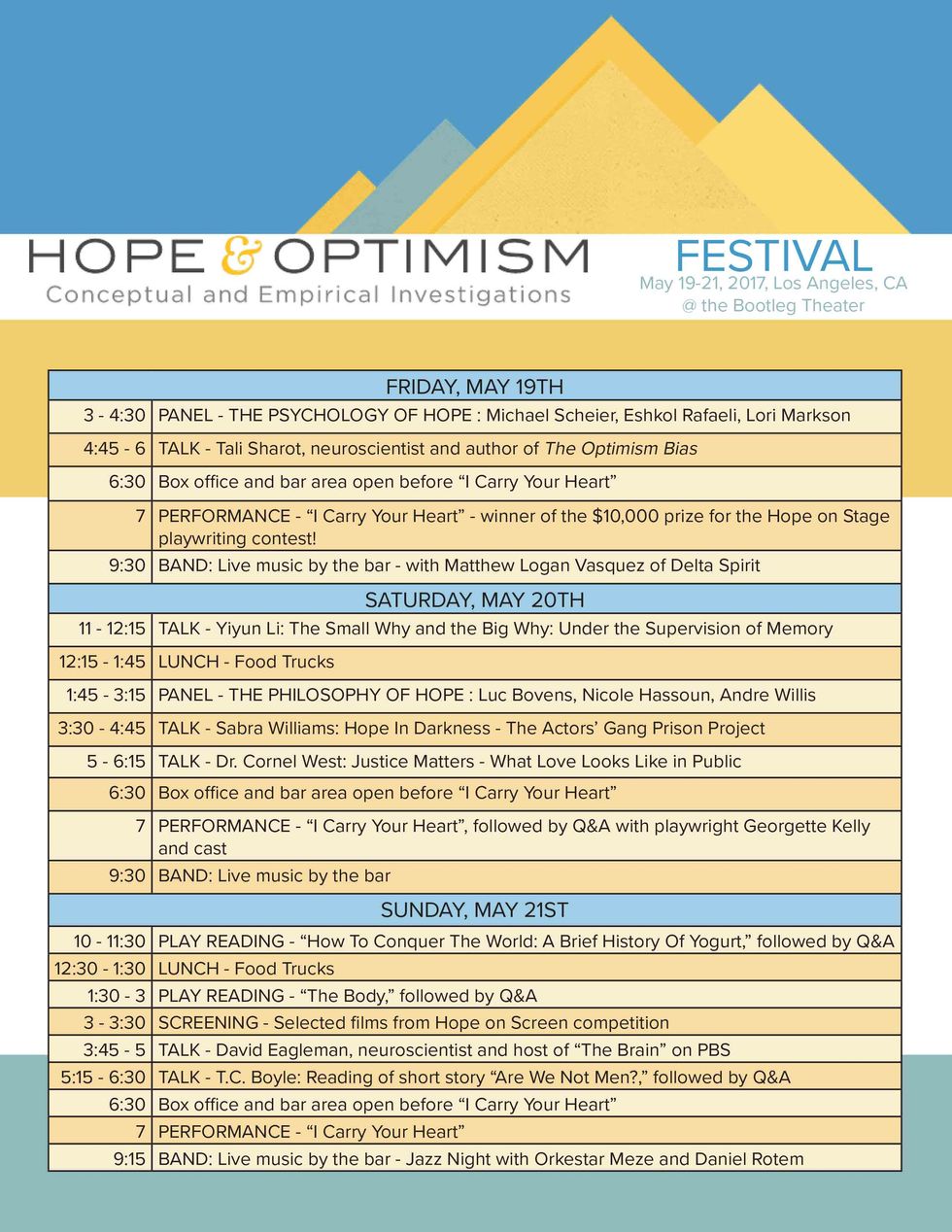 NASA will be putting most of the research it funds online for free in policy of open access to science.
NASA announced that it's making most of its publicly-funded research available online free of charge. It's using a site called Pubspace where you can search peer-reviewed papers resulting from NASA-funded research on a wide variety of topics.
Do you want or need to read studies about the origins of life on Mars? Maybe you'd like to draw your own conclusions about the "Grand challenges in space synthetic biology?" Or learn about exercising in space? Previously you would have had to pay for access to this work, but today is your day as Pubspace already has over 850 articles posted, with more to come.
NASA Chief Scientist Ellen Stofan explained the reasoning involved in releasing the papers to the public:
"Making our research data easier to access will greatly magnify the impact of our research. As scientists and engineers, we work by building upon a foundation laid by others."
NASA's move is in response to a general worldwide trend towards making scientific knowledge more available as well as a 2013 directive from the White House Office of Science and Technology Policy to increase access to their research. NASA's new policy will be to post all agency-funded research papers on Pubspace within a year of their publication.
The one big exception is any research related to national security.
In a press release, NASA Deputy Administrator Dava Newman further expounded on the far-reaching implications of the new scientific openness:
"At NASA, we are celebrating this opportunity to extend access to our extensive portfolio of scientific and technical publications. Through open access and innovation we invite the global community to join us in exploring Earth, air and space."
So if you're up for investigating the workings of "Stereoscopic Integrated Imaging Goggles for Multimodal Intraoperative Image Guidance" or have been wondering about the cardiovascular disease mortality of the Apollo lunar astronauts, you know where to go.