Using a laboratory model, scientists get a nice Jovian surprise.
Europa is continually bombarded by radiation from Jupiter.
According to new research, that radiation may make the moon glow.
The colors of the glow may help scientist identify Europa's compounds.
The Earth has a magnetosphere. So does Jupiter. But Jupiter's has a million times the volume of ours. As a result, Jupiter slams its moon, Europa, with a steady blast of high-energy radiation. This can't help but have an effect on the satellite, and new research from NASA's Jet Propulsion Laboratory has an idea what that effect is: Europa glows, in shades of green, blue, and white. The moon's night side even glows in the dark. The discovery was made by exploring the behavior of a Europa laboratory model bombarded with radiation.
The research is published in the journal Nature Astronomy.
Europa
Enhanced closeup of the "chaos terrain" that is the icy surface of Europa
Credit: NASA/JPL-Caltech/SETI Institute
Europa is believed to have an ocean of water or slush beneath its chaotically-featured water-ice surface. According to NASA, it's suspected that the moon's ice layer is 10 to 15 miles thick and floats atop an ocean 40 to 100 miles deep. Europa is just a quarter the size of Earth, but its vastness and depth may mean that it has twice as much water as all of our oceans combined.
With water considered to be a prerequisite for life, scientists' interest in Europa is obvious. NASA is sending the radiation-resistant Europa Clipper there to have a look. The spacecraft will conduct 45 flybys at different distances, ranging from 1,675 miles to 16 miles above the ice. The Europa Clipper will carry cameras, spectrometers, ice-penetrating radar, magnetometer, thermal instruments, a device for measuring gravity, and more.
NASA has previously detected what may be vapor plumes extending outward from Europa. If the Europa Clipper confirms their existence, it may be possible in the future to sample the moon's escaping vapors without needing to land or drill through the ice.
ICE-HEART
Artist's impression of Europa against a backdrop of Jupiter
Credit: NASA/JPL-Caltech
The researchers modeled Europa's response to Jupiter's radiation using a special instrument they constructed called the Ice Chamber for Europa's High-Energy Electron and Radiation Environment Testing (ICE-HEART). To blast it with radiation, they took it to the Medical Industrial Radiation Facility at the National Institute of Standards and Technology in Gaithersburg, Maryland, a high-energy electron beam facility.
Expecting that Europa's oceans would contain a mix of water and salts similar to those on Earth, they were investigating the response of various materials to radiation. They began with magnesium sulfate and sodium chloride — essentially Epsom salt and table salt — both believed to be in Europa's ice.
They weren't surprised to see some glowing caused by energetic electrons getting through the moon's ice and energizing molecules beneath it. The glow is generated when the molecules relax after exposure.
However, the variety of colored glows emitted by radiated compounds was a surprise, according to co-author Bryana Henderson. "We never imagined that we would see what we ended up seeing," Henderson said. "When we tried new ice compositions, the glow looked different. And we all just stared at it for a while and then said, 'This is new, right? This is definitely a different glow?' So we pointed a spectrometer at it, and each type of ice had a different spectrum." (Spectrometers divide light into wavelengths that can signify specific compounds.)
"Seeing the sodium chloride brine with a significantly lower level of glow was the 'aha' moment that changed the course of the research," said co-author Fred Bateman.
Both sides now
We can see our own moon because it reflects sunlight. Most spectrometer readings of Europa have thus far been derived from observations of its light-reflecting bright side.
"If Europa weren't under this radiation," said Gudipati, "it would look the way our moon looks to us — dark on the shadowed side. But because it's bombarded by the radiation from Jupiter, it glows in the dark."
This means that the moon's dark side also emits light in the form of its glow, so here come the spectrometers. Gudipati said of the research, "We were able to predict that this nightside ice glow could provide additional information on Europa's surface composition. How that composition varies could give us clues about whether Europa harbors conditions suitable for life."
He adds, "It's not often that you're in a lab and say, 'We might find this when we get there. Usually, it's the other way around — you go there and find something and try to explain it in the lab. But our prediction goes back to a simple observation, and that's what science is about."
A leading British space scientist thinks there is life under the ice sheets of Europa.
Credit: NASA/JPL-Caltech/SETI Institute
A British scientist named Professor Monica Grady recently came out in support of extraterrestrial life on Europa.
Europa, the sixth largest moon in the solar system, may have favorable conditions for life under its miles of ice.
The moon is one of Jupiter's 79.
Alien hunting is a hopeful activity and one reason behind our space programs that the public generally supports. Looking for other life is a strong incentive to be venturing out into space, despite having found none so far. Professor Monica Grady, a professor of planetary and space science at Liverpool Hope University, gave all cosmic explorers a big dose of such hope in a recent speech. She is certain there's some form of life on Jupiter's moon, Europa.
This life could be larger than mere bacteria, Grady said, perhaps with intelligence levels similar to an octopus, and is likely residing in the cold waters under the moon's sheets of ice. Grady thinks there's a great likelihood of undiscovered life somewhere in our galaxy.
She also supposes that the deeper caves and cavernous spaces of Mars could be harboring some subterranean creatures, likely bacteria, there to escape the solar radiation. They could be getting water from the ice buried deep down.
"When it comes to the prospects of life beyond Earth, it's almost a racing certainty that there's life beneath the ice on Europa," she said in a February address.
She thinks these life forms on Europa, 390 million miles from Earth, could be higher in sophistication than the Martian bacteria, possibly having "the intelligence of an octopus."

Where would the creatures live on this moon of Jupiter? Somewhere below the very thick layer of ice, which goes 15 miles deep in some places. It's possible there is liquid water beneath all that ice, keeping whatever lives inside protected against radiation and the impact of asteroids and similar smashing bodies.
The likelihood of life on Europa is bolstered by the possible hydrothermal vents on its ocean floor. Such vents are cradles of life on Earth.
Grady thinks that our solar system doesn't have to be particularly special and that statistically speaking, as we explore other stars and galaxies, we should be able to find conditions for life. "I think it's highly likely there will be life elsewhere—and I think it's highly likely they'll be made of the same elements," stated the professor.
Neil deGrasse Tyson wants to go ice fishing on Europa
Grady did not want to guess whether we would contact extraterrestrials any time soon, citing the fact that distances between us and likely aliens might be gigantic.
On the other hand, she added, if you look at a grain of sand, you "can see that most of it is made up of silicates, but it's also got little patches of carbon in it—and that carbon is extra-terrestrial, because it also contains nitrogen and hydrogen, which is not a terrestrial signature."
This tiny sample, says Grady, shows it was hit by meteorites, asteroids, and interstellar dust, pointing out "It's giving us an idea of how complex the record of extra-terrestrial material really is."
As for Europa, it has certainly figured in conversations about alien life previously. As NASA explains, scientists call Europa an "ocean world" due to decades of observations that predict an ocean under its sheets of ice.
In 2019, water vapor was confirmed there by NASA for the first time. While it might just have the right conditions for life, does this moon have little octopus E.T.s swimming about? Future studies will tell.
Water Vapor Above Europa's Surface Deteced for First Time
Everyone loves Europa, says Neil deGrasse Tyson. Why? It's a strong bet for finding life in our solar system, and it's even more amazing because it breaks all the rules.
Where there is water, there is life—and Europa's got water alright: scientists believe it has twice the volume of Earth's oceans swirling beneath its kilometers-thick ice crust. A moon in Jupiter's massive orbit, Europa has captivated astrophysicists, including Neil deGrasse Tyson, because it has completely blown open the borders in the search for life in our universe. Europa is well outside of the life-supporting "Goldilocks Zone". Tyson explains how liquid water can exist in such a frozen part of our solar system, and how engineers might approach getting through all that ice to potentially come face to face/membrane with life, whether simple or complex. It won't be too long before NASA's 'Europa Clipper' mission makes its move to investigate the habitability of the icy moon: it will head for Europa in the 2020s. Tyson's new book is Astrophysics for People in a Hurry.
NASA scientists discover what two places in the solar system might have favorable conditions for alien life.
An illustration of an image from the Cassini spacecraft of Enceladus' south pole, showcasing its icy plume. Credits: NASA/JPL-Caltech
NASA scientists announced its Cassini spacecraft found evidence that the ocean on Enceladus, one of Saturn's 62 moons, may contain all the ingredients necessary for the emergence of life.
Cassini flew through plumes of gas bursting out from under the ice covering the oceans and detected a clear presence of molecular hydrogen. This might indicate the existence of hydrothermal vents on the moon's ocean floor. Such vents would be similar to Earth's hydrothermal vents where some scientists believe life on our planet originated. 
In the new findings, described the journal Science, scientists consider the possibility of a chemical reaction called methanogenesis taking place in the moon's underwater vents. This reaction has been shown to be crucial to the development of microbial life by providing an energy source for the microbes.
The researchers cannot at this point conclusively state if methanogenesis is indeed taking place under Enceladus's ice. It is also possible that this moon may be too young to have undergone the life-creating process. 
"Although we can't detect life, we've found that there's a food source there for it. It would be like a candy store for microbes," said the study's lead author Hunter Waite of the Southwest Research Institute in San Antonio.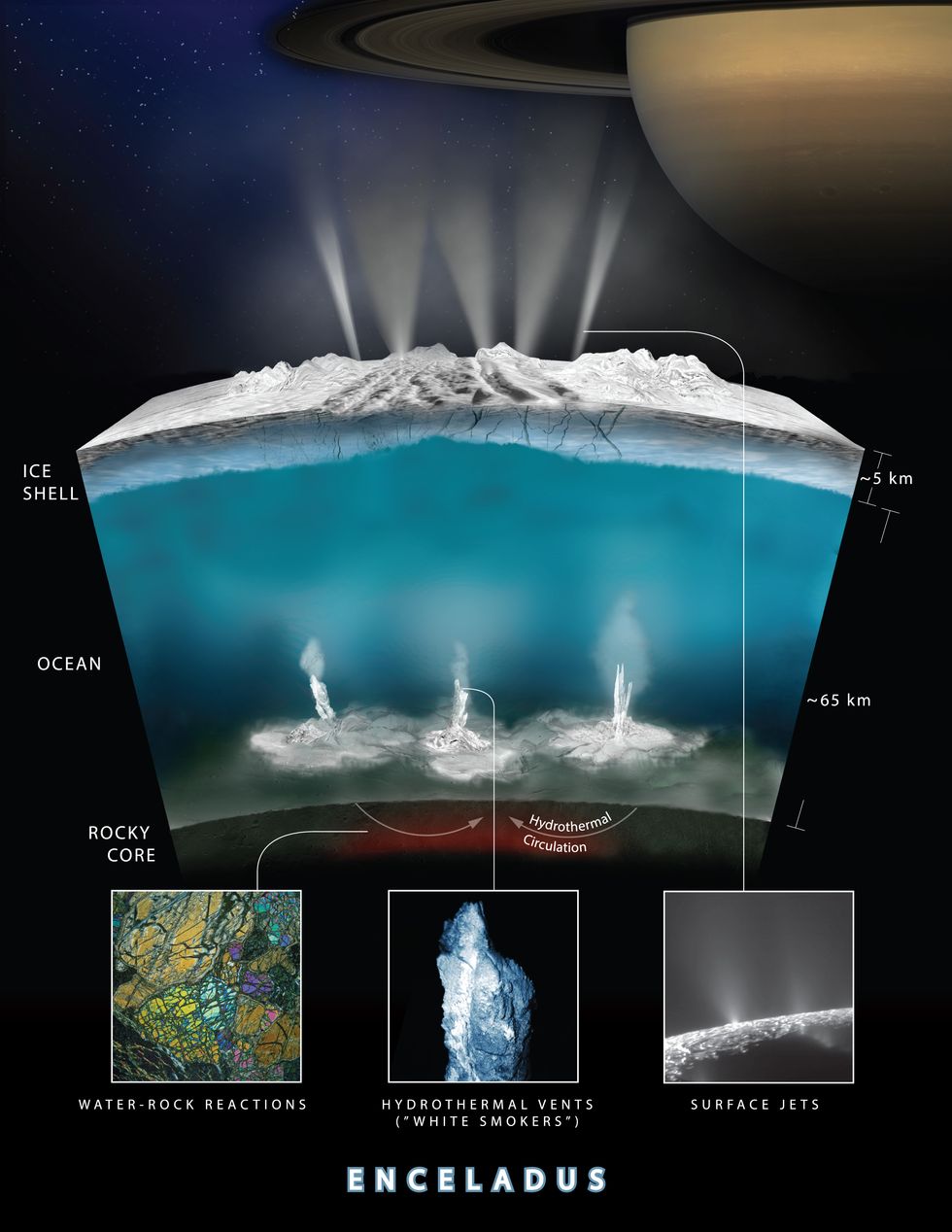 Thomas Zurbuchen, associate administrator for NASA's Science Mission Directorate in Washington, was also optimistic about the scope of Cassini's current achievement.
"This is the closest we've come, so far, to identifying a place with some of the ingredients needed for a habitable environment," stated Zurbuchen.
Since 2004, the Cassini spacecraft provided no shortage of discoveries. As its head of imaging science Carolyn Porco explained, Cassini conducted over a 100 more "close flyby maneuvers" than have been done so far in the entire planetary program. 
It has given us an unprecedented understanding of Saturn, with stunning new images, insights into its rings, atmosphere and moons. 
In 2005, the spacecraft landed the Huygens probe on Titan, Saturn's largest moon, a historic first for landing human machines in the outer solar system. The probe discovered a wealth of information, including an underground super-salty ocean. The Cassini-Huygens mission was carried out in cooperation between NASA, the European Space Agency and the Italian Space Agency.
Here's a film made by compiling imaging data from Cassini and the probe's instruments as it descended towards Titan:
Cassini also came amazingly close to Jupiter, providing us with the best photos we have of the gas giant.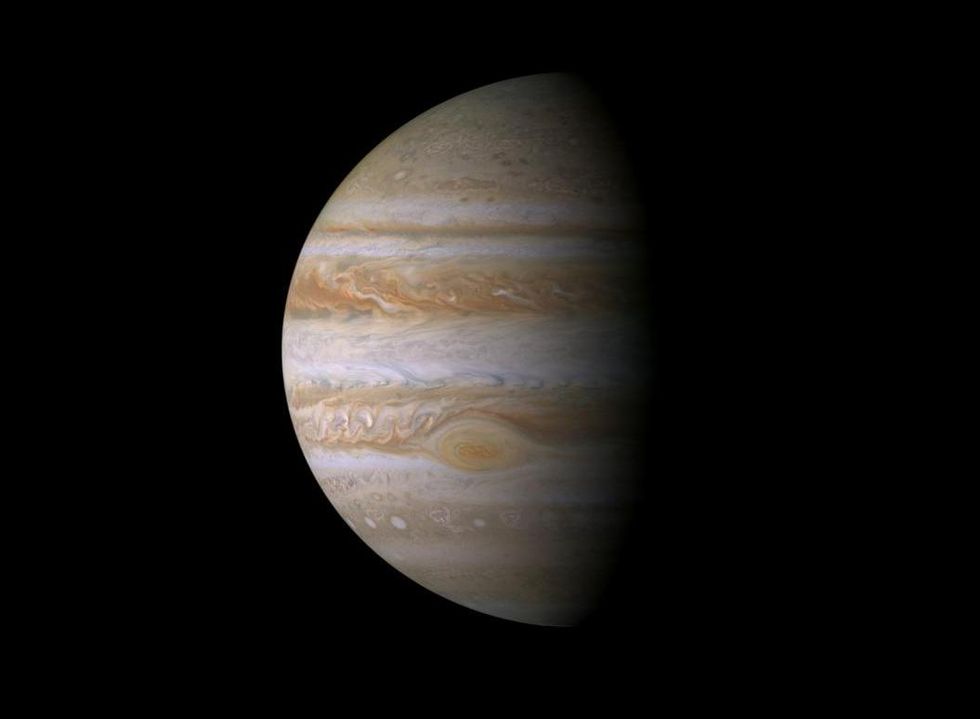 Composite photo of Jupiter, comprised of images taken by Cassini on December 29, 2000. Credit: NASA.
The spacecraft will be decommissioned on September 15, 2017 by being plunged to burn in Saturn's atmosphere. The reason for just a drastic demise lies in the fear that Cassini will soon run out of fuel and crash into one of Saturn's moons, the ones we now think may contain life. It's safer for it to burn up on entry than possibly contaminate the moons.
On its way down, the spacecraft will transmit more data and images. These will include new maps of Saturn's magnetic and gravity fields, and details on the composition of the planet's rings.
"It's inspiring, adventurous and romantic — a fitting end to this thrilling story of discovery," wrote NASA.
Watch this beautiful new film from NASA on Cassini's final journey:
Notably, another NASA team just published findings on a different ocean world that might have some form of life. Their paper on observations from the Hubble Space Telescope program showed new evidence of water vapor plumes found on Jupiter's moon Europa. In fact, they think they spotted a huge 62-mile-high plume over Europa's equator, in the same place a plume candidate was spotted in 2014. 
These warm plumes are thought to be potential hosts for life. Considering that Europa is billions of years older than Enceladus, the chances for life to have emerged there could actually be greater.
Europa. Credit: NASA
A very small person asks a very big question: why aren't the moons of gaseous planets also made of gas?
It took a very small person to ask a big question, one that planetary scientists pondered for a long time. There are four gas giants in our solar system – Jupiter, Saturn, Uranus and Neptune – but why are their moons not made of gas? They're solid, unlike the planets they orbit.
As always, Bill Nye is on standby to explain the workings of the world and universe around us. The widely accepted theory on how Earth's moon was created is known as the Giant Impact Hypothesisis. It states that a very young proto-Earth was struck by an asteroid, and in that collision both Earth and the debris that chipped off it became molten. They both cooled off, and now we have a moon; nicely spherical (although not perfectly) and solid, in orbit around us.
So why don't gas giants have gas moons? The simple answer: gravity. When Jupiter or Saturn have undergone similar collisions or events that resulted in a fragment being spun off into their orbits, those new moons were too small to sustain themselves in a gaseous state. Gravity pulled the gas down until it formed a solid sphere. A gas giant, on the other hand, stays gaseous because of its size; there is so much heat generated from its spin that it cannot cool down into a solid state. Jupiter, for example, has 67 known moons and even the bigger ones like Io, Callisto, Europa and Ganymede, have cooled off – they're non-gaseous, unlike Jupiter itself.
Much can be learned after we know the state of moons; we now know that Europa has twice as much seawater as Earth, but that the water is under a crust of ice. One day, we may find life in those oceans – they've been around for 4.5 billion years, so it's likely Europanians may be living there, says Nye.
Bill Nye's most recent book is Unstoppable: Harnessing Science to Change the World.