Why do some smart folk spout such bad ideas? Marilynne Robinson says it's because we teach them "higher twaddle." She's right, but the situation is worse than she fears.
Illustration by Julia Suits, The New Yorker cartoonist & author of The Extraordinary Catalog of Peculiar Inventions
1. We teach "higher twaddle" to our best minds, says the ever insightful Marilynne Robinson. I think she has a point—many smart folk are now educated into error—but the problem is worse than she fears.
2. Robinson's complaint that colleges teach students to "master… twaddle" and thereby "to think... badly," focus mainly on the humanities, but worse twaddle is taught in fields whose ideas are less ivory-tower quarantined.
3. STEM disciplines teach a dazzling faith in "the data" and the pretty precision their tools promise. But they also risk a method-level fall for the "McNamara Fallacy," and much math-swaddled twaddle.
4. Named for Robert McNamara's metrics-obsessed management of the Vietnam War, this disastrous recipe (aka the "Quantitative Fallacy") goes as follows: measure what data you easily can, then to handle what you can't, arbitrarily estimate, or better, declare it minor, or nonexistent. And don't adjust for exclusions, it fogs up the faux-clarity.
5. To see how far teaching and tech have spread McNamara's number-struck folly, consider these cases.
6. Experts who excel at seeing only what can be "read on a spreadsheet" often skip other plainly important factors, to the point that great "companies can be wrecked by idiots with MBAs" (Rory Sutherland).
7. Business schools preach the same spreadsheet-blinder metric-mad mentality, which can sometimes encourage "immoral profit strategies" (Duff McDonald) and the ruthless "financialization" numbers game behind "how Wall Street destroyed Main Street" (Rana Foroohar).
8. Algorithms enact McNamara-on-steroids logic, vastly amplifying techno-twaddle's reach (see Cathy O'Neil's "Weapons of Math Destruction").
9. Much economics (the world's operating system) builds on textbook McNamara-moves. Paradoxically, preferring highly precise methods, but used in a way that ensures they'll almost always be widely wrong. Economics "equation filters" away whatever won't squeeze into its algebra, then fails to adjust for exclusions (see "Few Maximize. Most Muddle")
10. Even babies know what many educated experts ignore: People aren't biological billiard balls. Toddlers use different thinking tools for objects versus agents, but many math-manacled minds use the same treasured nerd tools (algebra, stats, and data) for all pattern types.
11. Amazingly, the well-educated are taught to characterize behaviors known to be collectively self-destructive as "rational," to profit by preying on and damaging what they (and their communities) need to survive.
12. And many smart folk are educated into ignoring how communities work by "social contract" thinking, which, despite its shiny logic-like appeal, is self-evidently anthropologically incoherent. Hume called it "implausibly individualistic" (it's really more an asocial contraction than a realistic contract).
13. Examples abound, but the main point here is that seductive math-masked "higher twaddle" is worse than garden-variety bullshit.
14. Besotted logic-over-loving nerds can suffer "theory [or tool] induced blindness" that can cause great harms (e.g. when algorithm-wielding techies "disrupt" the infrastructure democracy needs).
15. It'll take many emperor's-new-clothes moments to reveal all the naked folly, math-wrapped myopia, and data-driven drivel that can parade as intelligence in these highly techno-twaddle-ridden times.
Illustration by Julia Suits, The New Yorker cartoonist & author of The Extraordinary Catalog of Peculiar Inventions
A 17-year-old British schoolboy spots an error in the data from International Space Station's radiation sensors.
The International Space Station (ISS) is seen from NASA space shuttle Endeavour after the station and shuttle began their post-undocking relative separation May 29, 2011 in space. (Photo by NASA via Getty Images)
A 17-year-old British student, Miles Solomon, spotted an error in NASA's data while working on a school physics project. What's more, the teenager figured out that radiation sensors on the International Space Station (ISS) were not working properly. The sensors were actually capturing "false data".  
Once he found the error, Solomon emailed NASA, which said it "appreciated" the feedback and even invited him to help fix the problem. 
Solomon's Tapton Secondary School in Sheffield was taking part in a project from Institute for Research in Schools (IRIS) which provided the students with real scientific data from NASA's radiation readings. The measurements were of radiation levels from British astronaut Tim Peak's stint on the ISS in December 2015, taken every 4 seconds. The students were encouraged to look for anomalies and promising patterns.
When he first got the readings, Miles right away had a plan. 
'What we got given was a lot of spreadsheets, which is a lot more interesting than it sounds,' he told BBC Radio 4. "I went straight to the bottom of the list and I went for the lowest bits of energy there were."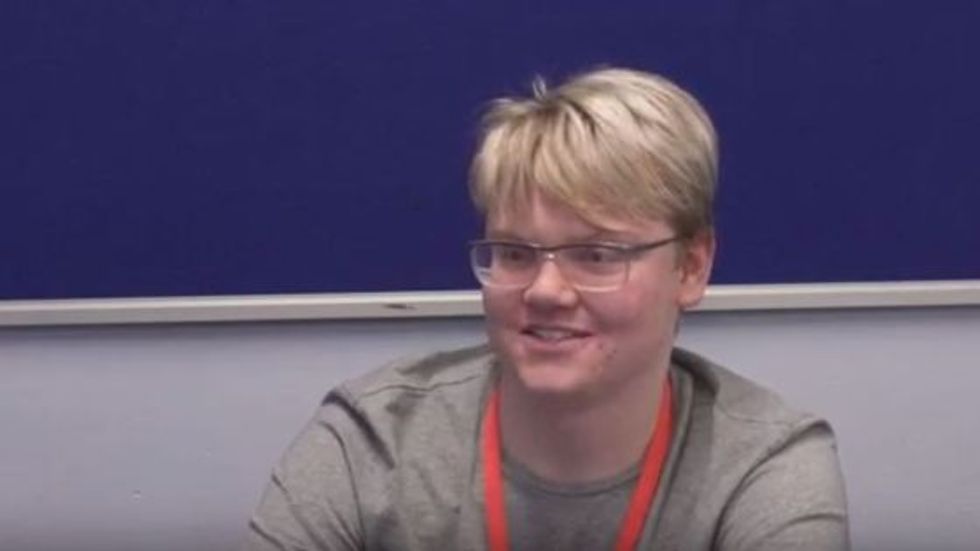 Miles Solomon. Credit: BBC
What he spotted is that on occasions when the sensors didn't detect any radiation, they instead recorded a negative reading of -1. As you cannot have a negative for energy, Solomon and his teacher got in touch with NASA. 
"It's pretty cool", said Miles. "You can tell your friends, I just emailed Nasa and they're looking at the graphs that I've made."
It turned out the teen noticed an error that NASA didn't fully see for 15 months. The space scientists said they did actually know of the error's existence but thought it happened once or twice a year rather than many times a day.
The discovery of the error was welcomed by NASA and IRIS, which created the opportunity to get "real science in the classroom". They hope this kind of cooperation can inspire students to become scientists.  
Miles is very excited, although his friends might be less enthused.
"They obviously think I'm a nerd," shared the self-deprecating student. "It's really a mixture of jealousy and boredom when I tell them all the details."
He also doesn't see the situation as a case of embarrassment for the world's premiere space program.
"I'm not trying to prove Nasa wrong. I want to work with them and learn from them," Solomon added.