Erik Verlinde has been compared to Einstein for completely rethinking the nature of gravity.
Photo by Willeke Duijvekam
The Dutch physicist Erik Verlinde's hypothesis describes gravity as an "emergent" force not fundamental.
The scientist thinks his ideas describe the universe better than existing models, without resorting to "dark matter".
While some question his previous papers, Verlinde is reworking his ideas as a full-fledged theory.
The Dutch theoretical physicist Erik Verlinde is no stranger to big ideas. His 2009 hypothesis about gravity earned him comparisons to Einstein for its complete rethinking of what gravity could be. Verlinde proposed that gravity was not a fundamental force of nature but rather emerged out of the interactions of information that fills the universe. He also didn't think there was such a thing as "dark matter" – a useful construct which is supposedly taking up 27% of the known universe (but is yet to be observed). Now, in a new interview, Verlinde reveals he is taking steps towards conceptualizing his groundbreaking ideas in a full-fledged theory.
As reported by the Netherlands Organization for Scientific Research (NWO), Verlinde understands why many had trouble accepting his original proposal. After all, the previous leading explanations of gravity have been by Newton, who saw it as an invisible pulling force, and Einstein, who conceived of it as a curvature of space-time by mass and energy.
In Verlinde's view, based on string theory, quantum information theory and the physics of black holes, gravity is an "entropic" force that comes into existence as a result of "information associated with the positions of material bodies," as he wrote in his 2011 paper. What drives gravity is the quantum entanglement of tiny bits of spacetime information.
Ten years after publishing his ideas in a paper that caused much discussion, both from admirers and critics, Verlinde shares that he is still fleshing them out, based on the research and advancements that have taken place since then.
"Over the past ten years, we have gradually learned a lot more about how you should talk about space and time information," said Verlinde to NWO. "I am seriously considering rewriting my story from 2009, but now formulated much more precisely. I think that could remove some of the scepticism that still exists.'­­
Verlinde: Gravity Doesn't Exist
In 2016, Verlinde's ideas were tested by a team from Leiden Observatory, which found that a key prediction of the physicist held up. They studied the lensing effect of gravitational fields that are far away from the centers of more than 33,000 galaxies and found the numbers to be consistent with what the Dutch scientist's theory showed. The only way to get these calculations to match under the prevalent gravitational theory would have been to invoke dark matter – a potential fudge factor more than fact at this point.
A 2017 study from Princeton University found against Verlinde's ideas, however, showing that they are not consistent with the observed data on the rotation velocities of dwarf galaxies.
While some have accused of Verlinde of publishing his thoughts too early, before they are packaged in a theory that explains all of the implications, the scientist thinks such naysayers don't really understand the way theoretical physics works. "You need to elaborate and test a new idea step-by-step," he explains, adding "We must find the correct formulations and techniques.'
Scientists like the theoretician Koenraad Schalm from Leiden University defend Verlinde, saying that "Contrary to the sceptics' opinions, Verlinde's work is definitely taken seriously". In fact, Verlinde, who is the winner of the Spinoza Prize, has been cited over 700 times by other scientists.
The physicist himself feels his overall thesis that information is the fundamental building mechanism of the universe is becoming more accepted. Perhaps his long-awaited new paper on the subject can bring it to an even stronger position amidst the main physics ideas of our time.
Dark matter and dark energy explained | Erik Verlinde
Physicist Erik Verlinde's theory successfully predicts the distribution of gravity around 33,000+ galaxies without relying on unobserved "dark matter".
Dutch theoretical physicist Erik Verlinde has been shaking up the physics world with his controversial theory of "emergent gravity", which sees gravity not as a fundamental force but rather as a force that comes into existence as a result of microscopic changes in the spacetime's structure. Verlinde came out with this theory in 2010, taking on the laws of Newton and calling gravity "an illusion". In 2016, his follow-up paper argued that there is also no mysterious "dark matter" in existence, which is supposed to (along with dark energy) make up to 95% of the universe but has so far not been detected.
Now a team of Dutch astronomers, led by Margot Brouwer from Leiden Observatory, has tested one aspect of Verlinde's theory and found that it actually worked!
Brouwer's team relied on the effect of "gravitational lensing" to test Verlinde's prediction of gravity distribution around 33,000+ galaxies. Planets closer to Earth tend to bend light that's coming from planets farther away, thus creating a lens effect. This can be used to establish a galaxy's mass.
Normally, at distances that are up to a hundred times the radius of the galaxy, Einstein's theory of gravity actually doesn't account for the strength of the force of gravity. The existence of the hypothetical dark matter is invoked to make the numbers work. But Verlinde's theory actually predicts how much gravity there would be without relying on dark matter, using only the mass of the visible matter.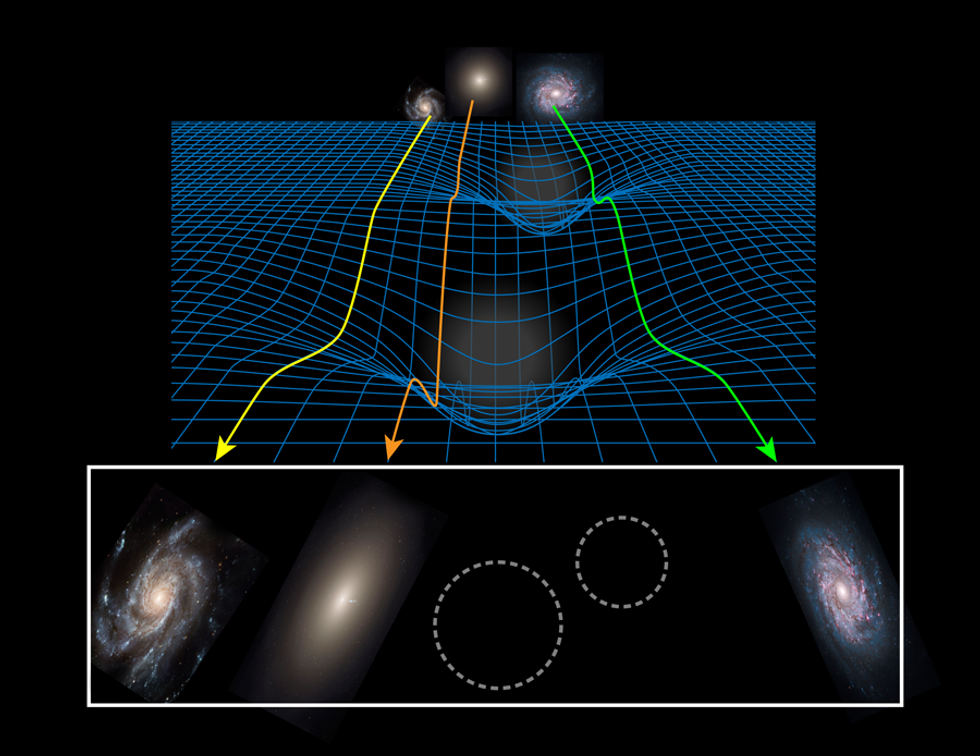 Measuring the distribution of gravity using gravitational lensing.  Credit: APS/Alan Stonebraker; galaxy images from STScI/AURA, NASA, ESA, and the Hubble Heritage Team
Brouwer used Verlinde's theory to calculate a prediction for the gravity of 33,613 galaxies and found that it compares well with the numbers from the measurements via gravitational lensing. The scientist cautions, however, that dark matter could still be an explanation for the additional gravitational force but as a free, unobserved parameter. The trouble with "free parameters" is that they can be tweaked to adjust for differences between observations and hypotheses.
"The dark matter model actually fits slightly better with the data than Verlinde's prediction," Brouwer explained to the New Scientist. "But then if you mathematically factor in the fact that Verlinde's prediction doesn't have any free parameters, whereas the dark matter prediction does, then you find Verlinde's model is actually performing slightly better.
As this test only looks at the validity of Verlinde's theory in a very specific situation, more work needs to be done to prove its worth more broadly.  
"The question now is how the theory develops, and how it can be further tested. But the result of this first test definitely looks interesting, " said Brouwer.
Watch her explain her approach and work here:
The results will be published in the Monthly Notices of the Royal Astronomical Society. You can read the paper online here.
COVER PHOTO: Former Microsoft software developer Charles Simonyi flies during a parabolic flight aboard a zero-gravity simulator, a Russian IL-76 MDK aircraft used for astronauts' training flights in weightlessness, in Star City outside Moscow, 26 February 2007. (Photo credit: MAXIM MARMUR/AFP/Getty Images)