If Arctic ice continues to melt at its projected rate, the bears will go extinct due to starvation by the end of the century according to a first-ever projected timeline.
A new report on climate change by the University of Toronto is projecting that most of the polar bear population could reach extinction in under 100 years due to starvation.
Polar bears are dependent on sea ice for hunting seals, a primary component of their diet. As temperatures rise and sea ice continues to shrink it has become increasingly challenging for the carnivores to hunt for food.
The Arctic is likely to have warmed more than double the amount of the global average this year compared to pre-industrial temperatures.
Poachers trade on a black market estimated to total $40 billion. It's impossible to stop every poacher, but new technology could bolster the efforts of conservationists by putting a set of eyes in the sky.
U.S. Military, Creative Commons
Poaching takes a brutal toll on the world's wildlife every year. By the thousands, rhinos are for killed for their horns, elephants for their ivory, and tigers for their bones and exotic pelts. To protect these animals, rangers and conservationists must monitor enormous swaths of land, day and night, looking for poachers who trade on a black market estimated to total $40 billion. It's impossible to stop every poacher.
New technology could bolster the efforts of conservationists, though, by putting a set of eyes in the sky. Air Shepherd, a conservation group, recently field tested an AI drone system that's able to automatically detect humans and animals through infrared thermal imaging. The SPOT (Systematic POacher deTector) system, developed by researchers from Carnegie Mellon, the University of Southern California, and Microsoft, can be operated on a common laptop with a wireless internet connection, allowing park rangers to get advanced knowledge of poachers' movements so they can be intercepted. It could also provide park rangers a heads-up in situations where they're heading toward a large group of armed poachers.
The researchers trained the system through deep learning, a branch of A.I. that seeks to enable computers to learn and recognize patterns in the world — images of animals and poachers, in this case. First, the SPOT system was shown a series of images in which humans had marked where the animals and humans were. Then, the system used that information to learn about what to look for on its mission. 
A paper published by the researchers in November, 2017 describes the deep-learning process in greater detail. 
The environmental legacy of this generally disgraced President is second to none.
Who was the greenest, most environmental President so far? You'll be probably surprised to learn it's Richard Nixon. Yes, that Richard Nixon, also America's most disgraced President. This Republican's record on the environment is not only second to none, it's had a profound and lasting effect. 
Some argue that Nixon was just doing what was politically expedient, cynically exploiting the mood of the time for votes, and didn't really care much for the environment. In fact, he's on record being skeptical of the true intentions of environmentalists, calling them "demagogues" and stating in secretly recorded tapes:
"They're a group of people that aren't one really damn bit interested in safety or clean air. What they're interested in is destroying the system. They're enemies of the system."
He also said that we can't have a pollution-free society or we'd have to "go back and live like a bunch of animals". 
Despite such opinions, there is agreement among historians that Nixon did push some pieces of green legislation personally and didn't stand in the way of others.
Nixon "was probably our greatest environmental president up to now," said Stephen Hess, a senior fellow emeritus at the Brookings Institution. "He was a very environmentally aggressive president, although that's not what people tend to remember about him."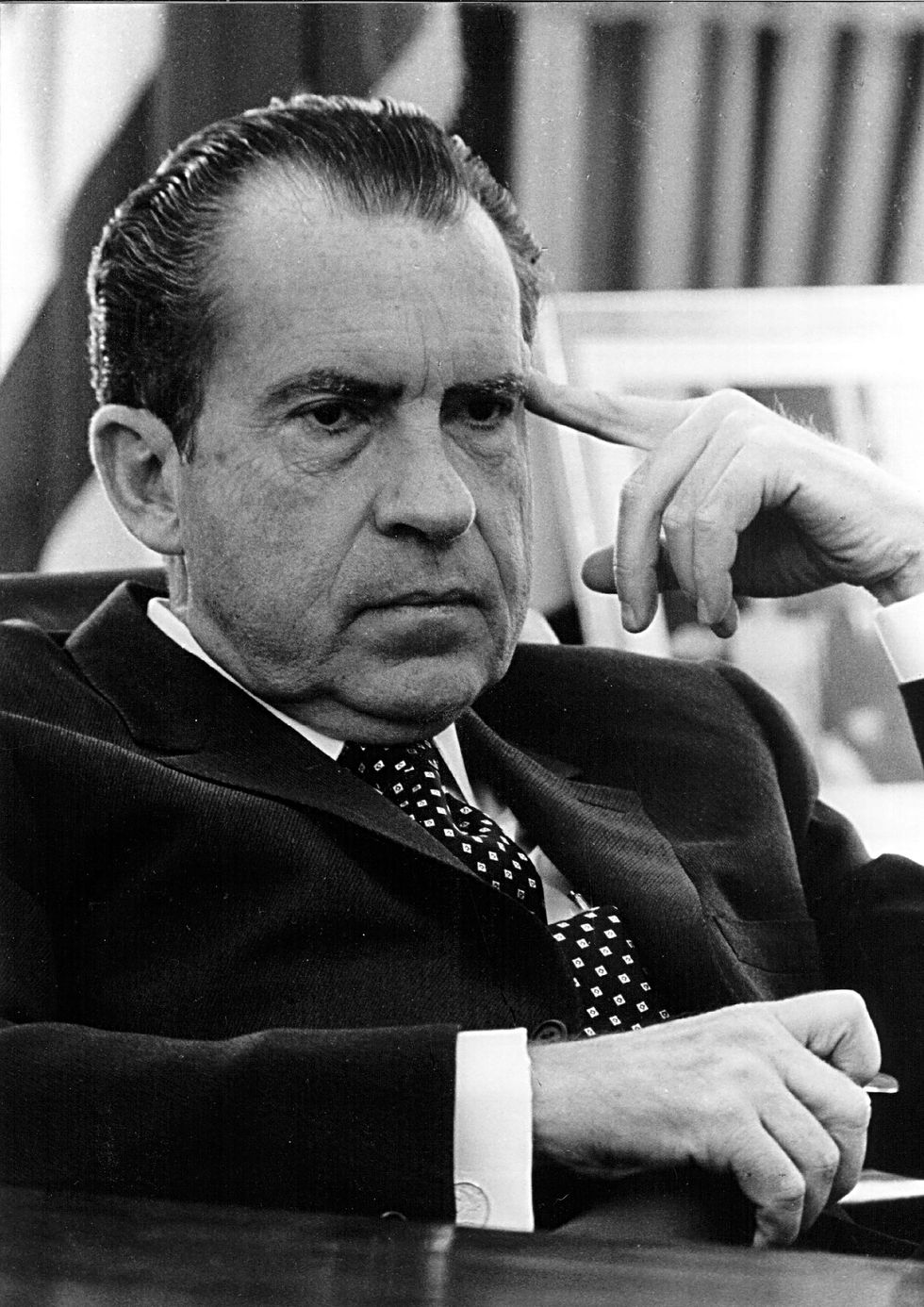 President Richard Nixon in the Oval office February 19, 1970 in Washington, D.C. (Photo by National Archive/Newsmakers)
It bears saying that perhaps this is one area where actual accomplishments are much more important than words or even intentions. And the achievements of the Nixon administration with regards to protecting the environment were plenty. In 1970 alone, he signed the National Environmental Policy Act into law, which required environmental impact statements for major new building projects, created the Environmental Protection Agency (EPA) and signed the landmark Clean Air Act, perhaps the most significant air pollution control bill in American history.
During his time as President, Nixon also created the National Oceanic and Atmospheric Administration (NOAA), approved the Clean Water Act and helped protect animals via the Marine Mammal Protection Act and the Endangered Species Act. 
Overall, Nixon signed 14 major pieces of "green" legislation into law, basically setting up the framework of the U.S. environmental policy up to now. 
Nixon's 1970 speech to Congress sounds a thoughtful and dialogue-encouraging note on the environment that resonates today:
"The fight against pollution," Nixon said, "is not a search for villains. For the most part, the damage done to our environment has not been the work of evil men, nor has it been the inevitable by-product either of advancing technology or of growing population. It results not so much from choices made, as from choices neglected; not from malign intention, but from failure to take into account the full consequences of our actions."
He was also realistic about how the environment and the economic needs of America are interconnected.
"The price of economic growth need not, and will not be, deterioration in the quality of our lives and our surroundings," said Nixon. "The destiny of our land, the air we breathe, the water we drink, is not in the mystical hands of an uncontrollable agent. It is in our hands."
Perhaps, without Watergate, history would have an entirely different opinion of Nixon. Outside of Teddy Roosevelt, another Republican President, and also considered one of the most environment-friendly leaders for his work on conservation, Nixon made probably the most significant contribution to protecting this planet (maybe of anyone ever, if you think about the influence of his office). Whatever his personal failings, his Presidency is a reminder of a time when bipartisan action on key issues like the environment was possible. The Clean Air Act of 1970 passed the Senate with just one "nay" vote. 
Cover photo: 

President Richard Nixon looks out of a window November 22, 1972 at Camp David, MD. (Photo by National Archive/Newsmakers)
Cheetahs and giraffes have been placed on the conservation "red list" due to collapsing populations.
Experts are warning that two iconic animals are nearing extinction. 
Giraffes, world's tallest animals, suffered a grave decline in their population, losing 40% of it in the last 30 years. There are about 97,500 giraffes in the world today, plummeting from 157,000.
Giraffes were added to the so-called "red list" of threatened species, compiled by the International Union for the Conservation of Nature (IUCN). They were given a 'vulnerable' status. 
Cheetahs, world's fastest land animals, are faring even worse. There are about 7,100 of them remaining in the wild, with their numbers decimated in places like Zimbabwe by 85%, according to a new study from the Zoological Society of London (ZSL) and Wildlife Conservation Society (WCS). Calls are out to change its status on the "red list" from "vulnerable" to "endangered".
"We've just hit the reset button in our understanding of how close cheetahs are to extinction," said Dr. Kim Young-Overton, from Panthera, a wild cat conservation organization. "The takeaway from this pinnacle study is that securing protected areas alone is not enough. We must think bigger, conserving across the mosaic of protected and unprotected landscapes that these far-reaching cats inhabit, If we are to avert the otherwise certain loss of the cheetah forever."
Animals go extinct for a variety of reasons, most of them having to do with human interference in their habitats. In fact, it's considered the animal kingdom is undergoing a "mass extinction". An analysis of wild creatures found that their number will be reduced by two-thirds come 2020, if compared to 1970. 
The list currently features 24,000 species at risk of extinction. Notably, the "red list" recently added 700 new bird species to its listing, 13 of which already went extinct.  
"Many species are slipping away before we can even describe them," said Inger Andersen, the director general of IUCN. "This red list update shows that the scale of the global extinction crisis may be even greater than we thought. Governments gathered at the UN biodiversity summit have the immense responsibility to step up their efforts to protect our planet's biodiversity – not just for its own sake but for human imperatives such as food security and sustainable development."
Of course, as with all things, there are naysayers, who view protecting endangered species as a waste of money that goes against survival of the fittest - a natural process.  A 2012 study estimated it would cost $76 billion per year to preserve land animals under threat. And then there are similar costs for the marine animals. Why should we spend so much money and who should be spending it? What about helping people instead?
There's also something to be said - why should we care specifically about giraffes and cheetahs? Why are they more special than, let's say, chicken? Of course, giraffes and cheetahs are more rare, but consider how many chicken are slaughtered every year - about 8-9 billion in the U.S. alone. Worldwide, this number, while probably hard to exactly estimate, is north of 50 billion.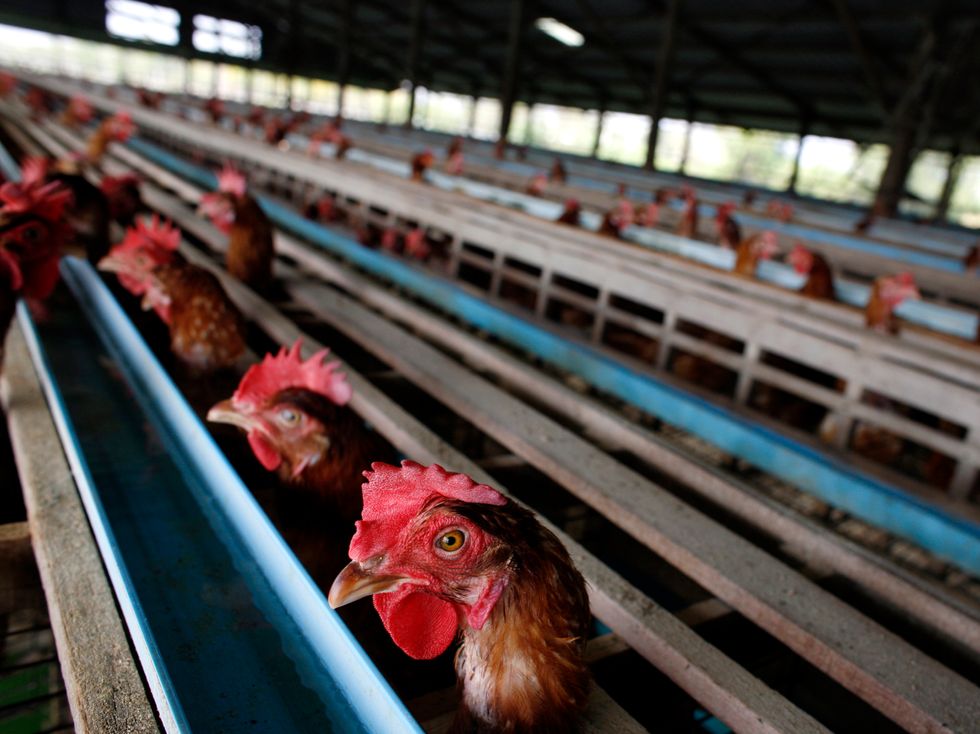 A chicken peers out from a cage at the Sanoh chicken farm January 27, 2007 in Suphanburi, Thailand. (Photo by Paula Bronstein/Getty Images)
Why do we not seem to care for the yearly extermination of a mind-boggling number of chicken? Ok, sure, they seem to be replaceable, but life is life. We value the esthetics of giraffes and cheetahs, beautiful and graceful animals, and thus exercise our choice to try to save them. What if we thought about humans that way? Only saving the pretty ones.
Against all this is, of course, the argument that biodiversity is key to preserving a healthy ecosystem, which we, humans, rely on for our own survival. Studies by ecologist Robert Constanza estimated that the benefits of conservation also have a significant economic impact. They outweighs the costs by a factor of 100. 
And certainly humans are the ones increasing the rate of extinction. It is not proceeding at a rate observed in the past. You can argue that humans are also part of nature and as such everything we do is a natural process. But that seems like a way to absolve ourselves of any free will and responsibility. 
The Endangered Species Act of 1973, an achievement of President Richard Nixon's administration,  provides a great summary argument for why saving endangered species is important, saying they "are of esthetic, ecological, educational, historical, recreational, and scientific value to the Nation and its people."  
Still, at the end of the day, should we save giraffes and cheetahs? The answer depends on how you view the world. Let's hope no one has to make such decisions about the human race some time down the line - like our future AI or alien overlords. 
Cover photos: Mashatu game reserve. Botswana. Credit: Cameron Spencer/Getty Images.