Maybe eyes really are windows into the soul — or at least into the brain, as a new study finds.
Credit: Adobe stock / Chris Tefme
Researchers find a correlation between pupil size and differences in cognitive ability.
The larger the pupil, the higher the intelligence.
The explanation for why this happens lies within the brain, but more research is needed.
What can you tell by looking into someone's eyes? You can spot a glint of humor, signs of tiredness, or maybe that they don't like something or someone.
But outside of assessing an emotional state, a person's eyes may also provide clues about their intelligence, suggests new research. A study carried out at the Georgia Institute of Technology shows that pupil size is "closely related" to differences in intelligence between individuals.
The scientists found that larger pupils may be connected to higher intelligence, as demonstrated by tests that gauged reasoning skills, memory, and attention. In fact, the researchers claim that the relationship of intelligence to pupil size is so pronounced, that it came across their previous two studies as well and can be spotted just with your naked eyes, without any additional scientific instruments. You should be able to tell who scored the highest or the lowest on the cognitive tests just by looking at them, say the researchers.
The pupil-IQ link
The connection was first noticed across memory tasks, looking at pupil dilations as signs of mental effort. The studies involved more than 500 people aged 18 to 35 from the Atlanta area. The subjects' pupil sizes were measured by eye trackers, which use a camera and a computer to capture light reflecting off the pupil and cornea. As the scientists explained in Scientific American, pupil diameters range from two to eight millimeters. To determine average pupil size, they took measurements of the pupils at rest when the participants were staring at a blank screen for a few minutes.
Another part of the experiment involved having the subjects take a series of cognitive tests that evaluated "fluid intelligence" (the ability to reason when confronted with new problems), "working memory capacity" (how well people could remember information over time), and "attention control" (the ability to keep focusing attention even while being distracted). An example of the latter involves a test that attempts to divert a person's focus on a disappearing letter by showing a flickering asterisk on another part of the screen. If a person pays too much attention to the asterisk, they might miss the letter.
The conclusions of the research were that having a larger baseline pupil size was related to greater fluid intelligence, having more attention control, and even greater working memory capacity, although to a smaller extent. In an email exchange with Big Think, author Jason Tsukahara pointed out, "It is important to consider that what we find is a correlation — which should not be confused with causation."
The researchers also found that pupil size seemed to decrease with age. Older people had more constricted pupils but when the scientists standardized for age, the pupil-size-to-intelligence connection still remained.
Why are pupils linked to intelligence?
The connection between pupil size and IQ likely resides within the brain. Pupil size has been previously connected to the locus coeruleus, a part of the brain that's responsible for synthesizing the hormone and neurotransmitter norepinephrine (noradrenaline), which mobilizes the brain and body for action. Activity in the locus coeruleus affects our perception, attention, memory, and learning processes.
As the authors explain, this region of the brain "also helps maintain a healthy organization of brain activity so that distant brain regions can work together to accomplish challenging tasks and goals." Because it is so important, loss of function in the locus coeruleus has been linked to conditions like Alzheimer's disease, Parkinson's, clinical depression, and attention deficit hyperactivity disorder (ADHD).
The researchers hypothesize that people who have larger pupils while in a restful state, like staring at a blank computer screen, have "greater regulation of activity by the locus coeruleus." This leads to better cognitive performance. More research is necessary, however, to truly understand why having larger pupils is related to higher intelligence.
In an email to Big Think, Tsukahara shared, "If I had to speculate, I would say that it is people with greater fluid intelligence that develop larger pupils, but again at this point we only have correlational data."
Do other scientists believe this?
As the scientists point out in the beginning of their paper, their conclusions are controversial and, so far, other researchers haven't been able to duplicate their results. The research team addresses this criticism by explaining that other studies had methodological issues and examined only memory capacity but not fluid intelligence, which is what they measured.
The physicist was both a gentleman and scholar.
Credit: Getty Images / Big Think
Robert Oppenheimer wrote a telling letter of recommendation for Richard Feynman in 1943.
After praising Feynman's intellectual prowess, Oppenheimer used most of the ink discussing the strength of his character.
The letter is a stark reminder of the importance of emotional intelligence.
Nothing helps as much in a job search as a letter of recommendation (except, perhaps, being related to the hiring body). Such letters are critical for getting into institutions of higher learning and landing new gigs. While politics exist in every industry, recommendations offer a person the opportunity to champion an intern or younger colleague. That is certainly the case with Robert Oppenheimer's letter written for Richard Feynman.
A legendary theoretical physicist, Oppenheimer is best known for his work as the head of the Los Alamos Laboratory during World War II. Considered the "father of the atomic bomb," he is equally famous for quoting the Bhagavad Gita after seeing the bomb's initial test run: "Now I am become Death, the destroyer of worlds."
In 1943, Oppenheimer sent a letter to Raymond Birge, head of the Department of Physics at UC Berkeley. As the letter below indicates, Oppenheimer was championing Feynman for a position in Birge's department. Feynman had already unsuccessfully applied to that very department. We all know how far blind applications tend to go.
What you'll notice is not how much Oppenheimer expresses his admiration for Feynman's intellect as much as his personality traits, the nature of his character. Today, we recognize Feynman's greatness thanks to his earnest and approachable teaching of physics as much as his humility, the man who once remarked that "it's much more interesting to live not knowing than to have answers which might be wrong."
Feynman: Knowing versus Understanding
At the time of this letter, however, Feynman was a 25-year-old learning how to stand on the shoulder of giants. Oppenheimer was happy to boost him up. Thank goodness he did: no one influenced 20th century physics like Feynman, a man who was able to step in front of large crowds to explain complex ideas in physics with ease, grace, and humor.
After explaining that Feynman is "the most brilliant young physicist here," Oppenheimer pivots to his emotional intelligence: his "engaging personality and character," a person who has a "warm feeling for physics in all its aspects." This is important, as many pit science as the cold, unfeeling counterpart to the warm fuzzies that religion offers. This assumption simply isn't true. Science is as much art as analytics, especially when dealing with theoretical physics. Thinkers who can embody this reality prove to be important educators in the gap between ideas and the public.
Oppenheimer notes Feynman's ability to work with colleagues and the "big shots" on whose shoulders the young physicist was standing on. An unfortunate reality of science (and academia at large) is the territorial nature of its elite. To be able to work with top thinkers in any discipline and not only not threaten but be embraced by superiors is a skill few accomplish. At this young age, Feynman dialed it in.
Most amusing is Oppenheimer's comparison of Feynman to Paul Dirac, an English theoretical physicist who was so brilliant and odd that Albert Einstein said of him, "I have trouble with Dirac. This balancing on the dizzying path between genius and madness is awful." Perhaps Oppenheimer was responding to Dirac's criticism of his love for both science and poetry, which Dirac claimed were incompatible. Oppenheimer states that Feynman is as brilliant a thinker, "only this time human."
This letter is an important reminder that brilliance will get you far, but not far enough. Some will be remembered for their intellect alone. To be recalled for both your brain and humanity is much rarer. By all accounts, Richard Feynman embodied this fully.
American physicist Richard Feynman stands and raises one hand, in front of some shelves at Cal Tech University, Sacramento, California, 1959.
Photo by Joe Munroe/Hulton Archive/Getty Images
Dear Professor Birge.
In these war times it is not always easy to think constructively about the peace that is to follow, even in such relatively small things as the welfare of our department. I would like to make one suggestion to you which concerns that, and about which I have myself a very sure and strong conviction.
As you know, we have quite a number of physicists here, and I have run into a few who are young and whose qualities I had not known before. Of these there is one who is in every way so outstanding and so clearly recognized as such, that I think it appropriate to call his name to your attention, with the urgent request that you consider him for a position in the department at the earliest time that that is possible.
You may remember the name because he once applied for a fellowship in Berkeley: it is Richard Feynman. He is by all odds the most brilliant young physicist here, and everyone knows this. He is a man of thoroughly engaging character and personality, extremely clear, extremely normal in all respects, and an excellent teacher with a warm feeling for physics in all its aspects. He has the best possible relations both with the theoretical people of whom he is one, and with the experimental people with whom he works in very close harmony.
The reason for telling you about him now is that his excellence is so well known, both at Princeton where he worked before he came here, and to a not inconsiderable number of "big shots" on this project, that he has already been offered a position for the post war period, and will most certainly be offered others. I feel that he would be a great strength for our department, tending to tie together its teaching, its research and its experimental and theoretical aspects.
I may give you two quotations from men with whom he has worked. Bethe has said that he would rather lose any two other men than Feynman from this present job, and Wigner said, "He is a second Dirac, only this time human."
Of course, there are several people here whose recommendation you might want; in the first instance Professors Brode and McMillan. I hope you will not mind my calling this matter to your attention, but I feel that if we can follow the suggestion I have made, all of us will be very happy and proud about it in the future. I cannot too strongly emphasize Feynman's remarkable personal qualities which have been generally recognized by officers, scientists and laity in this community.
With every good wish,
Robert Oppenheimer
--
Stay in touch with Derek on Twitter and Facebook. His next book is "Hero's Dose: The Case For Psychedelics in Ritual and Therapy."
Two meditation pioneers, Daniel Goleman and Richard J. Davidson, answer that question in their new book, Altered Traits.
People meditate during a during a mass meditation session at the DisclosureFest in Los Angeles, California on June 17, 2017. (Photo: Mark Ralston/AFP/Getty Images)
Meditation. Perhaps you've been told you need to start. Maybe you've tried, found it dumb, and moved on. Or you have no idea where to begin. You download an app, then another, switching from voice to ambient music to binaural beats in hopes of finding something that works, which all raises the question: How does meditation work?
Seeing meditation as one thing is the first problem. That's the consensus of two experts and longtime friends, Daniel Goleman and Richard J. Davidson. These men are responsible for first scanning the brains of Buddhist monks, a psychologist/journalist and neuroscientist famous for making "emotional intelligence" and "affective neuroscience" mainstream. How you're meditating — what your point of focus is while practicing — affects different neural circuitry, which changes what you get out of your sessions.
That's one of the driving ideas behind their new book, Altered Traits: Science Reveals How Meditation Changes Your Mind, Brain, and Body. While meditation is popularly presented as a panacea for the world's ailments, Goleman and Davidson have written a highly approachable work based on solid clinical evidence. Being researchers and longtime meditators themselves — both started in the seventies and have kept up a daily practice — they wanted to parse the science from the hype.
They explored six thousand studies conducted over the last few decades, deciding to use sixty for their book. Their interest is not in the "highs along the way," but "who you become" from a dedicated practice, which hints at the title. An altered trait is different from an altered state, as Goleman told Big Think:
Altered states are temporary conditions. When whatever it was that brought on the special state of awareness leaves, then the state fades. So if you get into a flow state rock climbing, when you come down from the mountain it's gone. Altered traits, on the other hand, are lasting changes or transformations of being. They come classically through having cultivated an altered state through meditation, which then has a consequence for how you are day-to-day that's different than how you were before you tried the meditation.
Unsurprisingly, the more you practice, the more altered traits appear. For Olympic-level meditators, who have practiced for more than 62,000 hours, life resembles a constant state of meditation rather than a sudden shift in brain chemistry. They're able to switch attentional focus at incredible speeds, dropping into whatever style of meditation is requested within seconds, returning to conversation equally quickly.
But what are these states? One chapter is dedicated to metta, a Pali word that translates to "loving kindness." Goleman says this practice often accompanies mindfulness, with an internal focus on someone you love or care deeply about. This could even be yourself — certain therapeutic applications are designed to quiet negative self-referential chatter. Short phrases about kindness are repeated in your head. Goleman continues,
It turns out that the repetition of those phrases is psychoactive; it actually changes the brain and how you feel right from the get go. We find, for example, that people who do this meditation who've just started doing it actually are kinder, they're more likely to help someone in need, they're more generous, and they're happier. It turns out that the brain areas that help us or that make us want to help someone that we care about also connect with the circuitry for feeling good.
Meditation is often marketed as anxiety relief. While classically the goal is to dissolve the ego, stress reduction is quite popular. Fortunately the science holds up here as well. As with other styles, the more you put in, the more benefit you receive, even though, as Goleman says, even one session has proven to help people deal with stress. The effects just won't last as long if the practice isn't continued.
This is really the sign of resilience. Resilience is measured scientifically by how long it takes you to get back to what we call your baseline that pleasant mood you're in before that thing flipped you out. The shorter that is the more resilient you are. We see this as a lasting trait in long-term meditators: they are able to bounce back from stress. Also we see that their amygdala, that trigger point for the stress reaction, is less reactive; they're calmer in the face of stress.
One of their most incredible findings concerns longtime meditators and their relationship with pain. These monks recognize what many of us think of as painful as sensations; they're able to immediately quiet the neurological stimulation and return to baseline. This is, in part, because when we think something should be painful, or are expecting something painful to occur, we start feeling pain before it begins:
Ordinarily if you bring someone into the lab and you tell them we're going to give you a burn in ten seconds—it won't cause blisters on your skin but you're going to feel it — it's going to hurt. The moment you tell them that the emotional circuitry for feeling pain goes ballistic, as though they're feeling the pain already. Then you get them the touch the hot test tube and it stays ballistic, and they don't recover emotionally.
Not so the case for longtime meditators:
The Olympic level meditators had quite a different response. You tell them you're going to feel this pain in ten seconds; their emotional centers don't do anything. They're completely equanimous. The pain comes and you see it register physiologically but there's no emotional reaction afterwards. In other words they're unflappable. Even though they experience the pain physiologically they don't have the emotional reaction.
Altered Traits is a treasure of proven benefits and styles of meditation to explore, meticulously detailing what the various practices known as mediation do and don't do. Just as jumping from task to task while awake is cognitively taxing, they don't suggest jumping from style to style. Spending months to years practicing one form of meditation appears more beneficial than trying many at once. But if you think meditation can help you, you're probably right — you need only to recognize which style you need. Then, you sit.
--
Derek is the author of Whole Motion: Training Your Brain and Body For Optimal Health. Based in Los Angeles, he is working on a new book about spiritual consumerism. Stay in touch on Facebook and Twitter.
It wasn't until after President Lincoln's death that we would discover one of his most important lessons, hidden in his desk drawer.
Want to be one of the greatest leaders of all time, with a wealth of success, power and respect? Try doing nothing for a change, says Harvard historian Nancy Koehn. This counterintuitive advice applies to moments of crisis, when the stakes are high and emotions are tense, because that is the very time when you're apt to make errors in your decision-making. Anger brings weakness, but you can conquer the trap of emotion by removing yourself from the situation, and sitting in silence to think. To prove that doing nothing in times of severe anger is a leadership skill worth developing, Koehn tells the story of the most important letter Abraham Lincoln never sent—if he had had email or twitter (i.e. quick reactions) back in 1863, the outcome of the Civil War and U.S. history may have been drastically different. It turns out you can win almost any fight if you learn how to respond thoughtfully in time, instead of reacting rashly in an instant. Nancy Koehn is the author of Forged in Crisis: The Power of Courageous Leadership in Turbulent Times .
In her new book, professor of psychology Lisa Feldman Barrett proposes a radical new theory of emotions.
Photo: Shutterstock
The classic model of emotion goes something like: You're born with an innate suite of emotions – happiness, sadness, anger, fear. You feel these emotions by perceiving a stimulus. That triggers a circuit in your brain. That then causes a bodily response, which causes you to behave a certain way.
Emotions happen to you, essentially. 
That's all wrong, says Lisa Feldman Barrett, an author and psychology professor at Northeastern University. In her latest book, "How Emotions Are Made," Barrett synthesizes research from neuroscience, biology and anthropology to construct a radical new theory of emotion. 
According to Barrett, emotions aren't reactions to the world. Rather, emotions actually construct our world. And it happens because of interoception.
Interoception is our sense of the physiological condition of our bodies. This sense monitors our internal processes and sends status updates to the brain. Those updates come in four rudimentary signals: pleasantness, unpleasantness, arousal and calmness. Emotions, Barrett claims, are formed from the brain's attempt to make sense out of this raw data. The brain does this by taking the raw data and filtering it through our past experiences – through our learned concepts.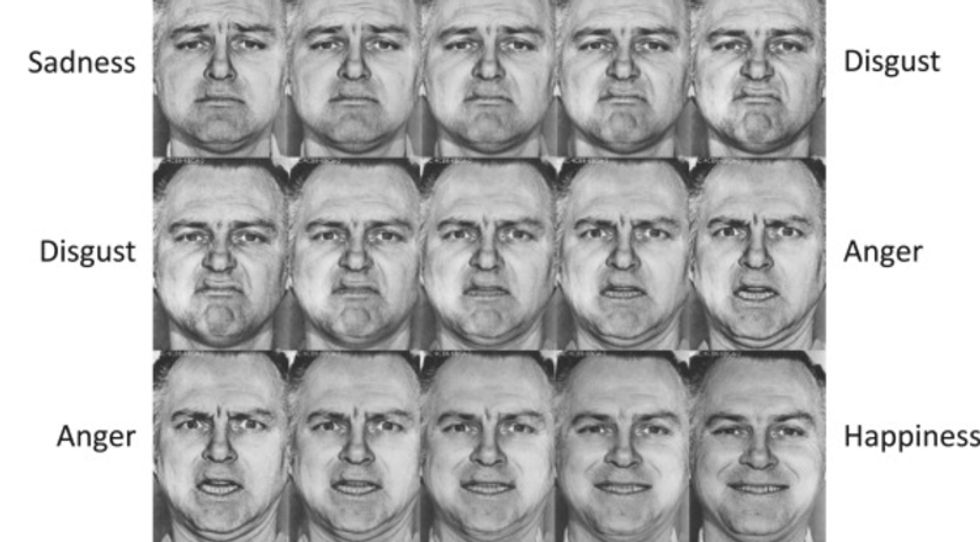 (From a study that asked participants to interpret emotions by viewing facial expressions.)
This means emotions aren't objective reflections about events in the world. Barrett elaborated in a recent episode of NPR's Invisibilia podcast:
"For every emotion category that we have in the U.S. that we think is biologically basic and universal, there's at least one culture in the world that doesn't really possess a concept for that emotion and where people don't really feel that emotion."
The same concept applies to vision, Barrett suggests, noting cases in which blind people who've had corneal damage since birth remained blind for some time after receiving transplants.
"They don't see for days and sometimes weeks. And sometimes years there are things they can't see because they don't have concepts. Their brain has no past visual experience to make meaning of the visual sensations that they receive.
...We would imagine from the classical view that they would just be able to see everything, but they don't."
The key implication of Barrett's theory is both striking and somewhat liberating: We have a lot more control and responsibility over our emotions than previously thought. The concepts we've accrued, whether consciously or not, can be learned and unlearned. According to the theory, you have the power to fundamentally change your experience of emotion.
Barrett's theory has a catch, though. If Barrett is correct, then what should society tell those suffering from, say, PTSD? To sit down and learn some new concepts? Barrett said: 
"I see the risk in what I'm saying – right? – but science is science. And we have to - I feel like it's necessary to draw people's attention to what the science has to say. And in the proper context in society, in culture, people can debate the consequences. But I think, you know, I do think that it's very dangerous to treat things as objective when they're not."
You can hear Barrett discuss her theory on NPR's Invisibilia podcast below: