Scarcely noticed in the Eden story, there lurk fruitful scientific ideas about why biology generated morality.
1. Scientist Loren Eiseley saw fruitful science in Genesis (in the exile, not the creation): "The story of Eden is a greater allegory than man has ever guessed." It can be read as being about biology begetting morality.
2. Eiseley described how through natural selection, "good and evil would enter and possess the world." He grasped how evolution generated non-genetic ethics.
3. Eiseley contrasted instinctive life versus social-learning-structured life. The former needs no meaningful morality, the later uses the logic of forbidden fruit (of "The Tree of Knowledge of Good and Evil").
4. Updating Eiseley's case, the "world of instinct" is entirely genetically programmed. All traits have fixed genetic scripts, changing only slowly, intergenerationally (phenotypes = subsets of genotypes).
5. But social non-genetic inheritances radically changed the game; in uniquely human ways behavioral and cognitive traits weren't as genetically determined (phenotypes wider than genotypes, see praxotype + cognotype).
6. Eiseley notes our social transmission-based life strategies need unique adaptive changes (e.g., postnatal brain size trebling, much longer immaturity, persisting parental bonds).
7. We're born with a first nature that needs second natures. We inherit our culture's non-genetic language, tech, and cooperative survival rules. All adaptable faster (and less blindly) than genes.
8. It's obvious how tools are adaptive, but languages and cooperation rules are non-material social tools.
9. As with tools certain cooperation rules are objectively better, i.e. more productive (see paleoeconomics, game theory = objective moral science).
10. That's the missing link to nature's moralities—no humanlike creature thrives without received knowledge and rules about "good and bad" choices. The "sapiens" in homo sapiens means wisdom, i.e. choosing well (from Latin for taste, judgement). Our key trick is acquiring the wisdom of others.  
11. Though we're discouraged from thinking this, all thinking requires received ideas (Siri Hustvedt). Cultures failing to transmit knowledge and skills can't survive.
12. So all humans face Eve's dilemma—born with behavioral freedom and curiosity into risky environments, with socially punishable received rules. Rousseau's we're "born free" but everywhere in chains is the human condition incarnate (with inalienable social chains, see "relational rationality").
13. Harold Bloom notes that the earliest Genesis texts depict humans as theomorphic ("god-shaped," in god's image as moral choosers and creators). Leon Kass agrees, deeming Eden's exile a rise, not a fall.
14. Creativity also makes us technomorphic. Tech has shaped our genes for millions of years.
15. Human nature enables nature to evade "its own limitations." Unlike nonhuman life, human nature's software permits rapidly updatable (non-genetic) logic.
16. Our culturally configurable/extendable cooperation-rule processors contrast with Richard Dawkins's view of our "born selfish," cheating-oriented "biological nature."
17. Eiseley saw unnaturally selective thinking about evolution as mirroring elite Victorian biases. Dawkins later amplified the same adamantly competition-centric view, but we're on the eve of grasping how much of life features cooperation (every I is a we, Ed Yong).
18. Darwin called unmoral humans "unnatural monsters," and out of Eden came not only "endless forms most beautiful" but also endless strategies intertwining competition and cooperation.
PS Hat Tip to Ross Andersen aka @andersen for tweeting that key Eiseley quote.
-- 
Illustration by Julia Suits, The New Yorker cartoonist & author of The Extraordinary Catalog of Peculiar Inventions
Does life work like our technology? Is life under the hood just like a car sporting souped-up complexity?
Illustration by Julia Suits, author of The Extraordinary Catalog of Peculiar Inventions, and The New Yorker cartoonist.
1. Does life work like our machines? Like cars sporting souped-up complexity? That tempting template hampers our tinkering under life's hood.
2. E. coli's single-celled life is "like a self-building, self-multiplying, self-healing race car that can run on kerosene [or] Coca-Cola," says Andreas Wagner (Arrival of the Fittest: How Nature Innovates).
3. But cells have changing parts list. They're like cars that build and recycle sparkplugs every firing cycle. Life builds umpteen temporary components, choreographing flashmob-like molecular fabricators for its transient machinery.
4. E. coli utilizes life's ~60 molecular "building blocks," its 4,000 - 5,500 genes orchestrate 1,300 densely interwoven fluctuating biochemical reaction circuits—>a dynamic complexity utterly unlike our machines.
5. Each eukaryotic cell is vastly more complex than our hottest tech. "No self-respecting human engineer" would devise such seemingly disorderly, inefficient, complexity.
6. "Nature doesn't just tolerate disorder. It needs some disorder" (Wagner). And complexity.
7. Biology lives in a region of reality that resists Occam's Razor—life needs complexity-enabled robustness.
8. Robust solutions are like streetscapes offering many routes around roadblocks. Life's biochemical circuits leverage similar re-routable-ness. Enabling E. coli to thrive on 80 different fuels (=diverse environments).
9. Why would our ~19,000 (microbiome supplemented) genes occupy ~2% of our DNA?
10. Partly because genes are like guitars, uselessly silent unless played ("mere presence of a guitar in your bedroom doesn't make you Slash"—Ed Yong). Detection ≠ usage details (≠ roles played ≠ where).  
11. Our 30 trillion cells each, millions of times daily, unpack and play thousands of genes, exactly on cue.
12. Those cues often aren't simple on-off switches, they're tuned to the logic of many signals. For instance, the gene for crystallin has 5 regulators, each with off, low, medium, and high settings.
13. And regulators can regulate other regulators forming daisy chains and cascades (twiddling "the knobs" of hundreds of genes). In this symphony each instrument can be an orchestra of genes.
14. Our 98% non-gene DNA has ~3 million control elements, ~150,000 active per cell type.
15. This mind-boggling dynamic complexity means machine-like (stable parts-listed) thinking can mislead.
16. The genes/parts usage patterns of our cells isn't known—>a "Human Cell Atlas" effort is underway.
17. Gene-editing tools like CRISPR "will supposedly hack diseases out of our DNA, but… how do we know what to edit?" In which cell types? +Gene products often ≠ monofunctional (eye-lens crystallin is active in the pancreas and nervous system).
18. Indeed, "editing is a bit of a misnomer." CRISPR is like cut-and-paste on a vastly complex dynamic polysemic text or symphony or movie, where only snippets of the plot are known.
19. An Occam-preoccupied machinelike mindset can skew research, e.g. neuroscientists seeking "a gene for psychosis" or disease "neurosignatures."
20. Few traits or illnesses are monogenetic. Few will be easily "editable." Few illnesses will likely have simple (error code) signatures.
21. We're babystep beginners at the dynamic logic and chemical semantics of biology's teeming transient molecular machinery.
Illustration by Julia Suits, author of The Extraordinary Catalog of Peculiar Inventions, and The New Yorker cartoonist.
Humans are not the most murderous creature on this planet. A recent study has laid out the rates of death and found meerkats to be the most lethal.
Meerkat staring at the camera. Photo Credit: NAPARAZZI/Flickr
The story of Cain and Abel imparts on us the evil of breaking the sacred social contract by murdering another human. Even today, it feels like we're more likely to end at the hands of our fellow person than by natural causes. But I ask you to consider the meerkat.
Yes, the meerkat, according to a recent study, has a 20 percent chance of dying at the hands of its fellow meerkat. This study looked at over 1,000 mammal species, examining the rate of violence within their own species.
Ed Yong at The Atlantic organized the study's most violent mammals into a neat little chart, and humans are nowhere to be seen.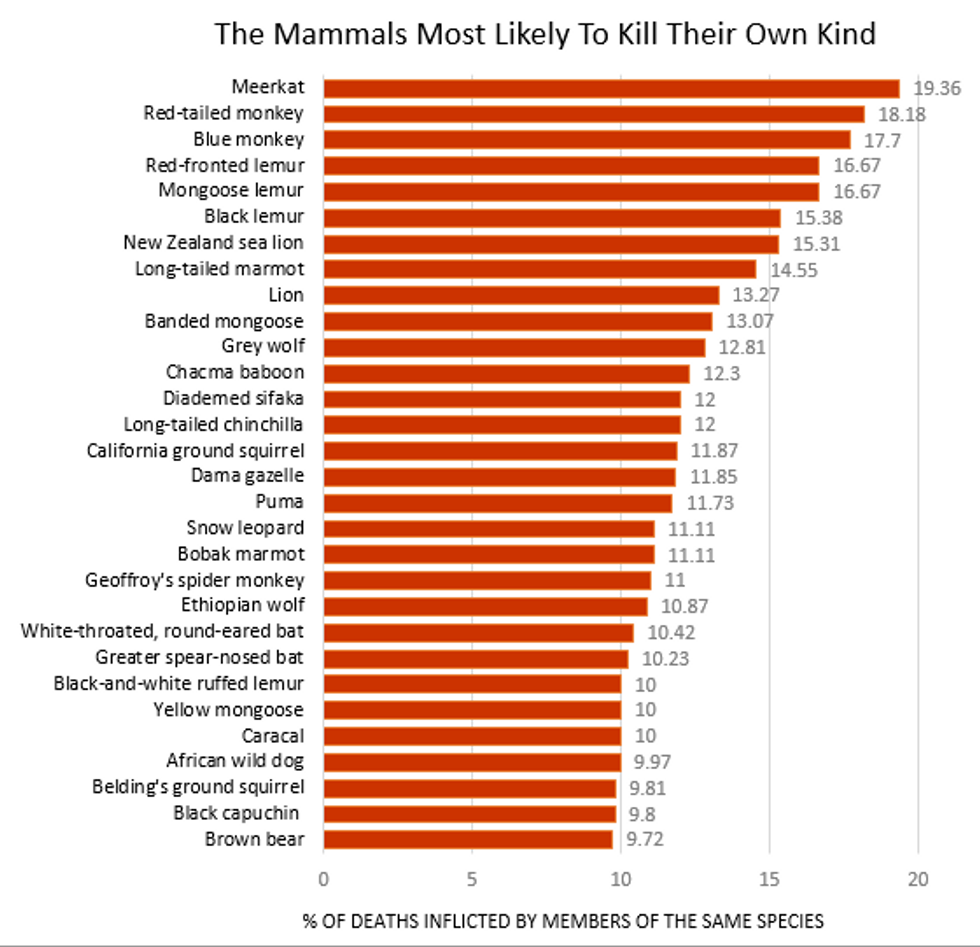 Humans are not on this list because we don't kill each other very much. LIKE IT SAYS IN THE ARTICLE. https://t.co/YgB5tbuQiY
— Ed Yong (@edyong209) September 28, 2016
Our picture of life is going through a major shift. Ed Yong's book I Contain Multitudes reveals that a genome generally doesn't contain all the genes an organism needs. Symbiosis isn't rare, it's the rule. And we're just the icing on life's vast microbial cake.
1. Your view of how life works, and of what you are, will be transformed by Ed Yong's book I Contain Multitudes. It works like a text-microscope, a device to show you what you can't otherwise see or fathom. It reveals seismic shifts are afoot in biology.
2.Life is often framed as a game of genes and genomes. Selfish genes cooperate with genome-mates, forming individual players (Dawkins's "vehicles") in evolution's "red-in-tooth-and-claw" competition.
3. Yong calls that individual-centered view "a pleasant fiction." Life takes large-scale cooperation (or partnerships) far beyond the inherited genome. For instance, human cells have ~25,000 genes but leverage ~500 times more microbial genes. Your body harbors ~30 trillion human cells and ~39 trillion microbial cells.
4. Humans and our cohabiting microbes (our microbiome) are so entangled that certain sugars in mother's milk feed her baby's gut microbes, not her baby (which can't digest them). And such cross-species metabolism is very common.
5. A genome generally doesn't contain all the genes an organism needs. Even anatomies aren't just an unfolding of inherent traits. Bodies are "continuously built and reshaped," by complex conversations with our surrounding sea of microbes.
6. By leveraging microbial genes, we can evade evolution's slowness. They're a form of fast intra-generational "adaptation," letting us add biochemical capabilities we didn't ourselves evolve. Microbiomes are like aftermarket add ons, or plug-and-play peripherals on biology's "USB" ports.
7. Yong's "we" can be one of the widest "we's" ever used—it often means all multicellular life.
8. So seismic are the shifts Yong describes, that they are shaking out new concepts, terms, and metaphors. For instance, holobiont, hologenome, horizontal gene transfer, and dysbiosis.
9. "Every natural animal and plant is a holobiont consisting of a host and diverse symbiotic microbes and viruses."
10. So symbiosis isn't rare, it's the rule. We (that wide we) have always been surrounded by teeming microbes. They arose 2 billion years before us. We plug into their biosphere. We're the icing on a vast microbial cake.
11. One species relies so heavily on symbiont services that it has no mouth, no guts, no butts.
12. Symbiotic partnerships are of many kinds. The can't-live-without-you kind. The harmless kind. The destructive/parasitic kind. They're not conflict-free, and can shift kinds. But discernible principles govern stable survivable partnerships (e.g., suppressing selfish cheating for health of the whole).
13. This new worldview pushes Yong to try many new metaphors: You're a garden, a zoo, a city, a colony, but most usefully you are multiple complex ecosystems (forearms = dry desserts, nasal cavity = moist jungles). That metaphor helps us reimagine immune systems as park rangers, not defending armies.
14. Yong feels microbes are badly branded. Most microbes aren't our enemies (pathogens = a tiny fraction). And labelling microbes as "good" or "bad" often doesn't make sense.
15. "Dysbiosis" is caused by microbiome imbalances (~like disrupted ecological webs). It's implicated in many diseases.
16. How this alters biology's big picture isn't clear. E.g., whether it's survival-of-the-fittest "hologenome" is hotly debated (see here & here, hat tip to Seth Bordenstein for that last balancing link).
17. I'd suggest enlarging Dawkins's vehicle idea. Every gene needs its vehicle-mates to thrive, but also its microbiome genes, to varying degrees, sometimes just as much (suggesting selection might operate on this new kind of group level).
18. Microbial partners are non-genetically "inherited," passed on environmentally (like constructed niches).
19. Microbes run bustling gene-trading marketplaces, horizontal gene transfer is common.
20. Yong's text skillfully zooms between biochemistry and the entire biosphere, entertainingly adjusting its depth of focus to reveal major changes. They're almost like a biological Copernican shift, correcting a myopic individual-centered mindset. Yong says, "perhaps it is less that I contain multitudes and more that I am multitudes."
Illustration by Julia Suits, author of The Extraordinary Catalog of Peculiar Inventions, and The New Yorker cartoonist.