Existentialism is great and all, but how can you really relate to the ideas if you don't think God is dead? Luckily, we've got just the thing.
Søren Kierkegaard, the man who invented the word "angst".
Existentialism remains one of the more popular philosophies for the layperson to read about, consider, and study. The questions that it asks and the problems it confronts, ones of free will, anxiety, and the search for meaning; are ones we all face in our daily lives. While the solutions it offers may not work for everyone, existentialism can have a particularly large blind spot when it tries to provide answers for the religious.

Think of it, Nietzsche declared that God was dead, Sartre, Camus, and Beauvoir were all atheists, and the related philosophy of Nihilism also denies God's existence. For the religious individual who seeks extra comfort from existential dread and the perspective of the existentialists on the problems of modern life, good answers can be hard to come by.

But there is an Existentialist who made Christianity one of the core principles of his thought. The founder of existentialism, Søren Kierkegaard.

Kierkegaard was a Danish philosopher born to a wealthy family in Copenhagen in the early 19th century. He was a prolific writer who often used pseudonyms to explore alternative perspectives. His work covers all of the areas of existential thought; anxiety, absurdity, authenticity, despair, the search for meaning, and individualism. However, unlike his atheistic successors, he places his faith in the center of the solutions to the problems of human life. Just as the death of God was key for Nietzsche, the need for God was just as important to Kierkegaard. Here are some of his insights:

On finding meaning
Kierkegaard agrees that life can be absurd and that meaning could be hard to come by. As opposed to Nietzsche, who said the death of God caused this, Søren argued that, in the present age, meaning is sucked out of concepts by abstraction and a tendency to view things with too much rationality. He lamented that he lived in an age where humans were increasingly viewed as generalizations, where the passionate man was seen as intemperate, and where most people simply went along.
He cries out for us to live passionately, and worry more about the problem of living life than trying to fit the social order. His philosophy is all about living this way, even to the point where an outside viewer will be unable to understand your motivation. 

Kierkegaard also discovered a point that was hammered in by latter existentialists; reason and science can tell you a lot of things, but they cannot give something value or meaning. You have to do that. Meaning, value, and purpose cannot be reduced to quantifiable elements, it is up to the individual acting on their own to decide what the meaning of their life is going to be. His favored solution for finding meaning is to look to God and make a leap of faith. That alone, he argued, could both offer us meaning and properly balance us as people.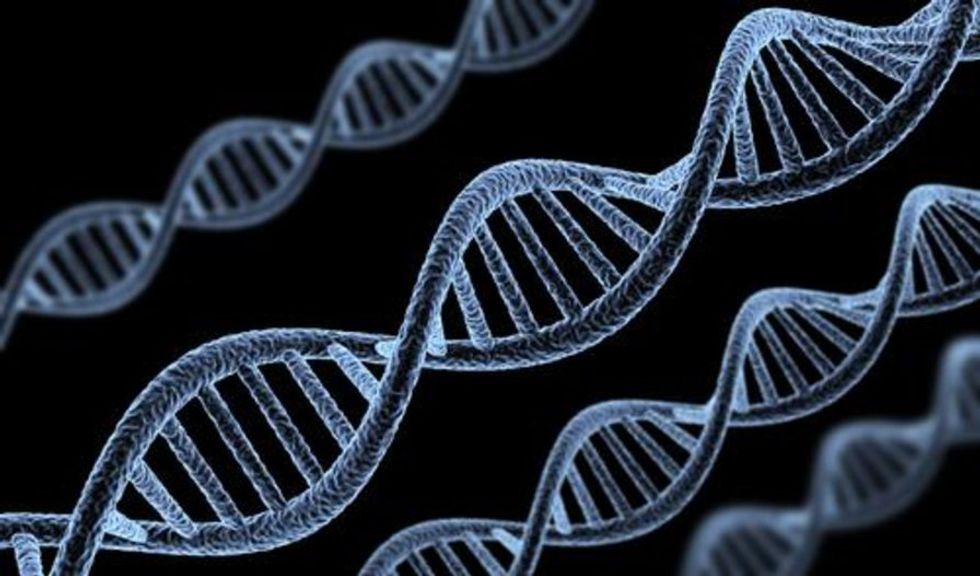 Pictured, the building blocks of life. Not pictured, the building blocks of the meaning of life. 
On living with freedom
We must face the world as individuals, so Søren tells us. However, to fully be ourselves he posits that a person must recognize the "power that constituted it". We are given the moral imperative to discover and live as ourselves, and God is a key part of that imperative. Every day, we are presented with facts of life and possibilities, and we must make choices. To not choose is also an option, but a poor one. To avoid becoming ourselves is to be in despair, which, for Kierkegaard, is to be in sin.
He warns us also of the anxiety that comes with choosing the path of our lives. While we must choose, we can never be sure that we choose correctly, as "Life can only be understood backwards; but it must be lived forwards." In the same way, we have endless possibilities before us, except for those lives we chose not to have. He articulates the anxiety of having to choose to not live out some possibilities magnificently, "If you marry, you will regret it; if you do not marry, you will also regret it; if you marry or do not marry, you will regret both; Laugh at the world's follies, you will regret it, weep over them, you will also regret that; laugh at the world's follies or weep over them, you will regret both…."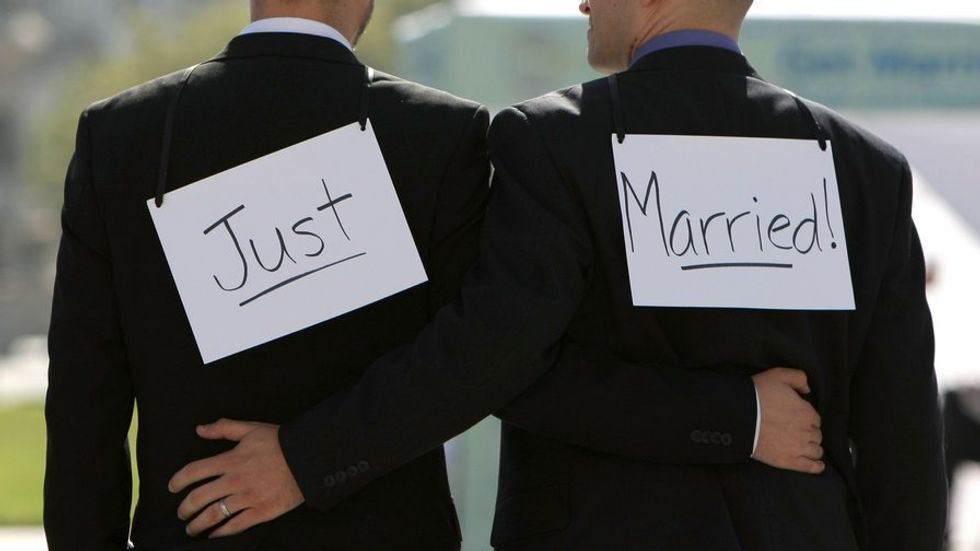 Kierkegaard says they will live to regret it, no matter what happens. 
Like Nietzsche, Kierkegaard also saw the potential use of "isms" to solve the problem of meaning in our lives. Søren focuses on the idea of an "ethical" life as an escape from deciding on meaning for yourself. By choosing a social or ethical system to latch onto we can find meaning in our relation to it; rather than by ourselves. He sees this as a possibility for many people, but not as the ideal solution to our problems. 
One of his solutions to the problem of meaning was a Christian variant of the super-individualist Ubermensch; before Nietzsche had invented it. The Knight of Faith is an individual who has moved beyond relying on external rationality or "isms" for the justification of their lives and fully dedicated themselves to a higher calling. This calling is God in the case of Kierkegaard's examples of Abraham and Mary.
They understand that the demands of God might be unethical, as the demand that Abraham kill his son was. However, they carry on past ethical concerns anyway, as to be a Knight of Faith is to be- to steal a phrase from Nietzsche- beyond good and evil.*
The benefits of Existentialism don't have to be utterly separated from the Christian notion of God. Likewise, Kierkegaard's insights do not require a dedication to Christianity to be used. He argued that the "passionate pagan" who prayed to a false idol was living better than the Christian who was worshiping out of mere habit. Even for those of us who are not Christians, it is possible to understand a little more about ourselves and the problems we all face as humans by considering the worldview of Søren Kierkegaard. A fantastic introduction to his ideas can be seen here.




*-To those of you who see a potential problem here, Kierkegaard notes in the book Fear and Trembling that some method must be used to determine who is a Knight of Faith and who is just a lunatic. Likewise, while the Knights could be divinely inspired to do horrible and bizarre things (like sacrificing children or inventing circumcision) by religious fervor, Søren posits that the typical Knight would be rather reserved and that we might never hear about them. Debate continues on if that answer is sufficient. 
Denmark's 10 Jante Laws are grim, and yet they bring so much happiness. 
Photo by Inna Lesyk (unsplash.com/@innalesyk)
The United States of America was ranked the 19th happiest country in the world in 2016 in the World Happiness Report. A part of America's unhappiness can be linked to the social structure of the country.
Being American means culturally striving to be the best and going to great pains to differentiate yourself as unique. It is not enough to be on the basketball team in high school, instead you have to be the MVP. It is not enough to get straight As, but you should also take all of the AP and IB classes, and have as many extra-curricular activities as possible at the same time. It's not enough to work at a large business, you also strive for that cozy CEO position and start that ladder-climb early.
What does that have to do with happiness? Take a look at Denmark, repeatedly voted as the world's happiest country (although it has just been knocked back to second place in the 2017 World Happiness Report). Denmark's social structure is very different to that of the US. Danes tend to believe in something called Jante Law, which has 10 rules all around the idea of accepting the average. Quartz reports that Jante Law is everywhere in Denmark, even if no one is discussing or admitting it. In online comic Scandinavia and the World, the character of Denmark has been consistent in its exemplification of Jante even though it's never named as such.
Jante persists in the culture in every way and, according to Ourhouseinaarhus, even affects the school system. There is no competitive school system, no advanced programs for gifted learners. The schools must all be equal, and the students must help each other rather than vie for 'the best.' There are no rewards program, no trophies for the students who graded better. As the blogger commented, the Danish children learn early on about Jante.
The laws themselves are simple. They all encourage the idea that you are average, and that's just fine.
1. You're not to think you are anything special.
2. You're not to think you are as good as we are.
3. You're not to think you are smarter than we are.
4. You're not to convince yourself that you are better than we are.
5. You're not to think you know more than we do.
6. You're not to think you are more important than we are.
7. You're not to think you are good at anything.
8. You're not to laugh at us.
9. You're not to think anyone cares about you.
10. You're not to think you can teach us anything.
The laws, when written out, are meant to look horrifying and quite intimidating. They come from a book written by Aksel Sandemose, and he was trying to satirize what it was like in Scandinavian small towns in his novel A Fugitive Crosses His Tracks (En Flyktning Krysser Sitt Spor). When Sandemose named that town Jante, he gave name to something that already existed in practice in Scandinavia.
While the idea of Jante Law is culturally relevant, according to Lindsay Dupuis, a therapist in Copenhagen, it's not discussed in everyday life as a conscious practice, rather it's lived out — talking about it seems redundant. Why discuss oxygen intake when you were born breathing it? It materializes like this: nobody brags when their child is named number one in their math class. They don't talk about who gave the best speech at their work function, or discuss who's been promoted most at work. This is not to say that the Danes are not ambitious, they're just as ambitious as everyone else. They just don't brag about it, or stress over doing more.
"By definition, most of us are average," remarks psychologist Madeline Levine in her Big Think discussion of the topic. By the very principle of the word average, most of society falls somewhere between worst and best, and struggling against that only leads to anxiety. It's by no means futile to try, but intentions matter — do you want to achieve something, or do you want to beat someone else at their achievement? As Alain de Botton writes in Status Anxiety: "Anxiety is the handmaiden of contemporary ambition."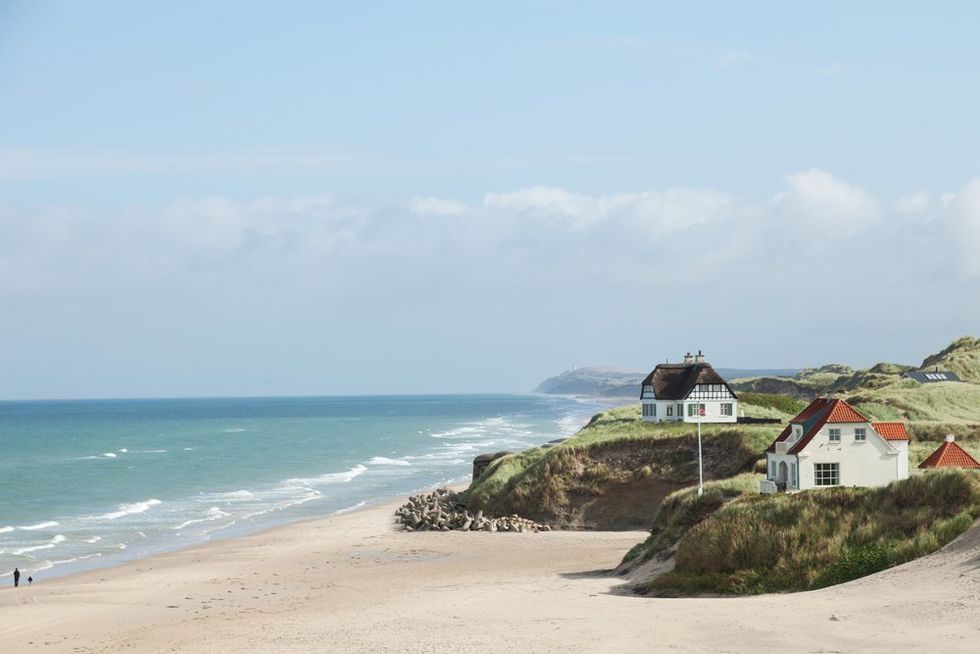 Psychologist Barry Schwartz has commented on this very thing. He's stated in his book, The Paradox of Choice: Why More is Less, that it is necessary for a person's mental health to accept the average, the 'good enough.' This is necessary because it may be impossible to know if 'the best' is ever reached, and often, perfection is unattainable. It may be impossible to know if one had the best score, but it is easily understood if the score was good enough. It is impossible to quantify if one is the best musician, but good enough is well within reach. Schwartz has pressed that psychologically speaking, this continued push to rise above average has negative consequences on mental health.
… what happens is this imagined alternative induces you to regret the decision you made, and this regret subtracts from the satisfaction you get out of the decision you made, even if it was a good decision.
This means that Jante is, psychologically speaking, a far healthier way of thinking. To accept an average life means that one would get more satisfaction from it. To accept the 'good enough' means that one would have a far better experience with it. In addition, the Danish also have hygge which is, according to The New Yorker and Oxford Dictionary, the concept of being cozy and comfortable as a way of creating the sense of health and happiness. The Oxford Dictionary even reports that hygge is a defining quality of the Danes. That, plus the 10 rules of Jante Law, all add up to the low-stress environment that is Denmark. By slipping into something a little fleecier, and lowering your expectations you will occasionally find yourself pleasantly impressed when those expectations are outdone. All it takes is a sense of being good enough to be comfortable and cozy in life: Jante and hygge.
Surveys reveal the least religious, most atheistic population centers in the world.
Whether you fervently believe in a deity or flat our reject any religious teachings, opting for an atheist mindset, chances are you would rather be surrounded by like-minded people. Outside of the extreme religious control exercised by ISIS or the state-mandated atheism of countries like North Korea, most places are somewhere in between on the religiosity scale. But if you wanted to know what is the most "godless" place you can live, where would you go?
This place is most likely a city, at least according to how some scientists have described atheists. 
"Those with no religious affiliation have been found to be younger, mostly male, with higher levels of education and income, more liberal, but also more unhappy and more alienated from wider society," said Benjamin Beit-Hallahmi, professor of psychology at the University of Haifa, about atheists in a psychological profile.
To biopsychologist and author Nigel Barber, these people are more likely to be in a major population center, and not a rural area, because cities tend to be more prosperous, and as such their inhabitants will feel less need for religion. In fact, he thinks that by 2038 most countries will have less than 50% of their populace thinking that religion is important to them, crossing what he calls "the atheist threshold". 
What are some places that have already passed this point?
In a WIN/GALLUP survey from 2015, China was declared the world's least religious country, with twice the amount of "convinced atheists" (at 61%) than any other country. Following it was Japan at 31% and the Czech Republic at 30%. In general, Western Europe was the least religious area according to the survey, with 51% of the population either not religious or decidedly atheist. Scandinavia, in particular, often leads the way in such polls, as Sweden, Denmark and Norway have large populations of non-believers. 
What about specific cities?
Berlin has been called the "atheist capital of Europe" since 60% of Berliners do not associate with any religion. 
As far as the U.K. is concerned, according to a 2011 Census, Norwich had the most people (42.5%) marking "no religion". This is compared with 25.1% for the whole of England and Wales.
In the U.S., the American Bible Society's rankings for 2016 point to Albany/Schenectady/Troy area in New York State as being the least "Bible-minded," which means only 10% of the respondents there read the Bible in the last week and lead their lives accordingly. Boston was the least Bible-minded city in the survey, with just 11% of its population having the book as a part of their lives.  
The most Bible-friendly city? Chattanooga, Tennessee. Not surprisingly, the South leads the U.S in religiosity, with cities in Tennessee, Alabama, Virginia and Louisiana topping the chart. 
In a separate survey, the 2016 Public Religion Research Institute identified Portland, Seattle and San Francisco as the least religious cities in America, with 37% of the people there practicing no religion. Boston was number 8 in their findings. 
So what is the least religious city in the world? While the numbers could surely vary based on how you define religiosity, the largest city in China, the least religious country in the world, would likely be the most atheist population center in the world. And that would be Shanghai, a city of 24 million people of whom 86.9% say they are not affiliated with any religion. That could amount to about 21 million atheists. 
Cover photo: A man flies kite at The Bund on December 5, 2013 in Shanghai, China. Heavy smog hit northern and eastern parts of China, disturbing the traffic, worsening air pollution and forcing the closure of schools. (Photo by VCG/VCG via Getty Images)
We're ranked behind Saudi Arabia and Korea in empathy. Surprised?
Map of Global Empathy. Source: Michigan State University.
Empathy is something that is measurable, and researchers at Michigan State University have done just that, for the first time.
If you had to guess, where do you think the United States ranks in empathy, worldwide? 
I'll give you a minute. 
I'll even give you a visual aide — the darker the red shading, the more empathy a country has: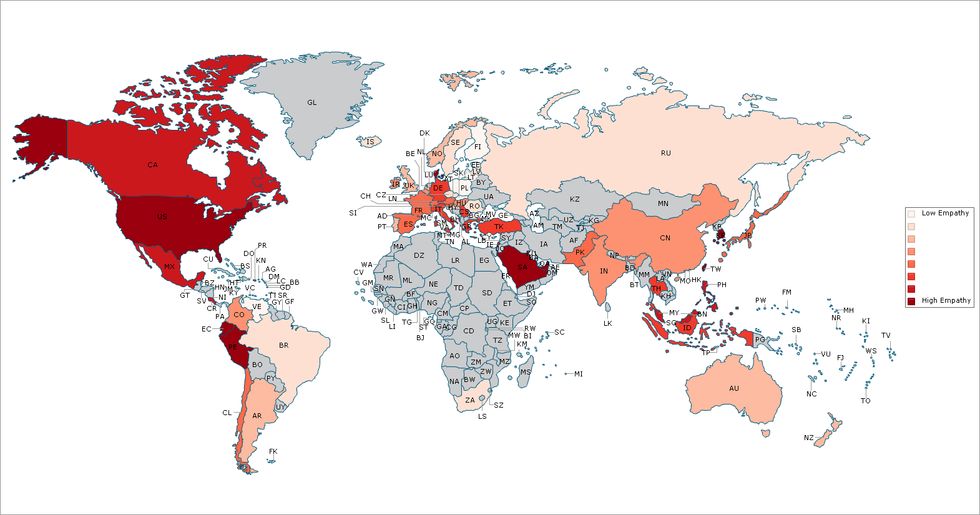 (Click map for more detail. Countries with small sample sizes were not included — hence the grey for a number of countries.)
Looks pretty high for the Good Ol' U S of A, eh? Get ready to shout, "We're number 7! We're number 7!"
That's behind Ecuador, Saudi Arabia, Peru, Denmark, United Arab Emirates, and Korea. Rounding out that top-10 list after the United States are Taiwan, Costa Rica, and Kuwait.
And we could lose even more ground, based on a number of factors. Or gain ground, depending on how things go. 
The study is based on responses from an online study that reached 104,000 people around the world and measured both compassion for others and the ability to imagine points of view of other people. 
One of the interesting things about the study is that it doesn't separate whether that empathy is for people from other countries or just people in our own. I highly suspect we'd slip even further down the list if that data were to be captured, given some of the extreme xenophobia we've seen arise over the last 18 months.
(Thumbnail via YouTube, captured from Star Trek, Season 3, Episode 12: The Empath.)