Science (and life) keep hammering nails "into the coffin of the rational individual." But rationalism and individualism still haunt and systematically mislead—even about where your mind is.
Illustration by Julia Suits, The New Yorker cartoonist & author of The Extraordinary Catalog of Peculiar Inventions
1. It may surprise many, but all "individual knowledge is remarkably shallow." So says a view-of-mind-altering book The Knowledge Illusion: Why We Never Think Alone, by Steven Sloman and Philip Fernbach.
2. Science (and life) keep hammering nails "into the coffin of the rational individual" (Yuval Harari's review), but rationalism and individualism still haunt and systematically mislead.
3. "Our intelligence resides not in individual brains but in the collective mind." This "division of cognitive labor is fundamental to the way cognition evolved and the way it works today."
4. You know how to use GPS because masses of others know things you don't (—>key human trick is to not be limited by our own brains, or our own tool-making, tech is the materialized knowhow of others).
5. Thought "extends beyond the skull"; your mind uses its brains + body + tools (physical and cognitive) + other minds + environment.
6. Hence the "mind is not in the brain. Rather, the brain is in the mind" (the "extended mind").
7. We're unaware of most information we process. "Deliberation is only a tiny part" of cognition. Per Kahneman, most cognition is fast, intuitive, subconscious System 1, not slow, deliberative System 2.
8. Many experts are exorcising "rationalist errors" (—>"theory-induced blindness") to relearn the everywhere-evident fact that people often aren't rational. But there's less progress on individualism's errors.
9. To plumb cognitive dependence's depths, consider cultures where counting, counterintuitively, isn't intuitive. Caleb Everett's Numbers and the Making of Us covers cultures that label only one, two, three, and many.
10. Language is innate but numbers need painstaking training. That such basic-seeming cognitive tools are learned suggests useful extensions to Systems 1 and 2.
11. Measurable "cognitive biases" might not be in "the machinery of cognition" (e.g., need learned numeric skills). System 0 could label invariant traits vs System 1 culture-dependent ones (—>arrow illusion). Roughly, System 0 is hardware and System 1 is low-level software (see individualism and human nature's software). 
12. And since thought depends on extra-cranial resources, there's a System 3 that encompasses our collective physical and cognitive tools (—>"social cartesian" capabilities embedded in language).
13. "You can't do much thinking with your bare brain." We evolved to acquire our culture's thinking tools with whatever biases they harbor (our first nature needs second natures, "Words Are Thinking Tools").  
14. You can't do much thinking without others. As Siri Hustvedt says "Everyone's head is filled with other people" (from before birth). And "all ideas are… received ideas" (or they build on innumerable other-built thoughts).
15. No important part of human nature exists that isn't social (we're inalienably self-deficient).
16. Harari warns that faith in rational individuals ("mythical creatures") weakens democracy and capitalism (—>"errors of the Enlightenment").
17. Harari's review is revealingly headlined: "People Have Limited Knowledge. What's the Remedy? Nobody Knows." There can be no remedy. Your knowledge can't be unlimited (—> unbounded economics folly). And you can't not need others (to think or live).
18. Only forms of (paradoxical-seeming) collective individualism can work (see "relational rationality"). Rationally, you're only as fit as the collective(s) you need.
Illustration by Julia Suits, The New Yorker cartoonist & author of The Extraordinary Catalog of Peculiar Inventions
AI is short for more than just 'Artificial Intelligence'. At this crucial stage in its design, we have to decide whether we want it to merely serve us, or to challenge and augment our many selves.
What if AI stood for 'Augmented Introspection' as well as 'Artificial Intelligence'? We've been given a precious do-over opportunity in this emergent time of AI technology, where we can choose to re-design our cities and our selves to align more closely with what we want those things to be. So -- what do we want it to be? Michael Schrage, MIT research fellow and innovation leader, thinks we need to push past the base-level notion of AI servants and assistants. What individuals need to succeed economically and personally are digital tools that can augment (or suppress) our selves — that's right, plural. Schrage's vision of AI is informed by theories of mind developed by cognitive scientists and behavioral economists like Daniel Kahneman, Marvin Minsky, Robert Kurzban and Jonathan Haidt. "According to empirical scientific research, there's no such thing as 'the self'. In fact the metaphor that many people use is that your mind is like a committee, and that depending upon time of day and your mood... One self or aspect of the self may dominate over another," says Schrage. So what aspect of yourself do you most want to enhance and what aspect of yourself do you want to mitigate? AI will help you do that. It will not, however, be a passive pushover that bends to your flaws: great AI, says Schrage, will "kick your assumptions in the groin." Take the example of an online book recommender. A truly intelligent and introspective tool will not just show you books that echo what you've read in the past, it will suggest books that are completely outside of your wheelhouse. It will not simply serve you, it will stretch your thinking. Michael Schrage's most recent book is The Innovator's Hypothesis: How Cheap Experiments Are Worth More Than Good Ideas.
You really do have to know when to hold 'em, and know when to fold 'em, and most of the time trusting your gut is a copout, says poker champion Liv Boeree.
Want to win at poker? First, understand how your mind works. In Thinking, Fast and Slow, Nobel-Prize winning psychologist Daniel Kahneman explains the mind's two thinking systems: System 1 which "is the brain's fast, automatic, intuitive approach," and System 2 which is "the mind's slower, analytical mode, where reason dominates." Champion poker player Liv Boeree explains that if you want to rake in the chips, you'll need to harness both these systems. The game requires players to make decisions in circumstances of great uncertainty, so learn to balance your mathematical reasoning with your gut instincts—however, when those two systems give you strongly conflicting messages, Boeree says the win is usually based in logic, not intuition. Your gut is valuable, and can often be the key to reading a tell or bluff, but it "isn't as reliable as you think." Find out more at www.livboeree.com.
Want to make someone an offer they can't refuse? Understand how our minds are hung up on loss aversion, says former FBI negotiator Chris Voss.
In 2002, Daniel Kahneman and Amos Tversky won the Nobel Prize in Economics for a behavioral theory they created and refined between 1979 and 1992: prospect theory. It explained how people weigh up risks in decision making, and part of its findings revealed that we are inherently loss averse, meaning we give at least twice as much decision-making weight to the idea of losses than gains. Losing $5, explains former FBI negotiator Chris Voss, feels like losing $10, and the prospect of gaining $5 will feel joyless coompared to the fear of losing $5. This can be leveraged in negotiations simply by pointing out what is going to be lost if a deal isn't made, or something isn't done. The "crazy mathematics" we do in our heads isn't rational, but understanding it will give you an upper hand in your next negotiation. Chris Voss's book is Never Split the Difference: Negotiating as if Your Life Depended On It.
Chris Voss's book is Never Split the Difference: Negotiating as if Your Life Depended On It.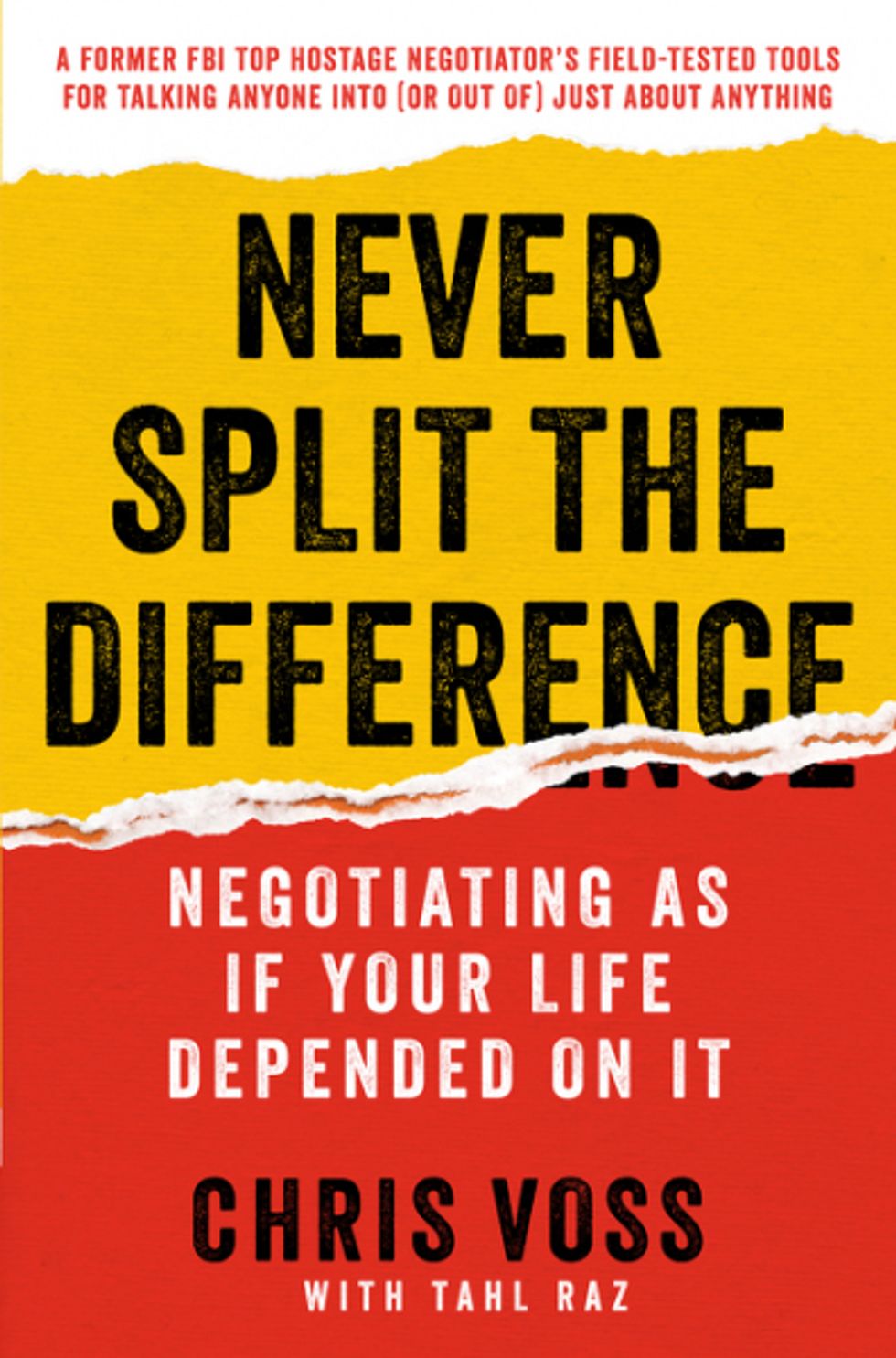 It's not by burning people's pictures and wearing the flag as a cape, but by understanding ourselves better, and understanding the person beside you.
Three Ways America Can Be United Again - Through Decision-Making
3 Ways We Can Make America Great Again – Through Decision Making
Looks Like We're Making America Great Again. Here Are 3 Ways to Contribute.
Boy Scout Anthony Tucker holds up an American Flag during the nation's largest Veterans Day Parade in New York City on November 11, 2016 in New York City. (Photo by Spencer Platt/Getty Images)
On January 20, 2017 Donald J. Trump will be sworn in as the President of the United States. All of us, whether we voted for him or not, have to do our part to "Make America Great Again." Here are three ways we can do that, which starts with understanding how we got here.
The first way is by understanding bounded rationality. Bounded rationality is the idea that decisions are limited by the information and cognitive ability of the decision maker – or "making the best possible call in light of the available information," as Reuters explains. Basically, people have a hard time making good decisions because they only see the problem in the present. All the media hype about the 2016 presidential election being the worst ever? It's a perspective that ignores our nation's history of bad elections. Nobel Prize-winning psychologist Daniel Kahneman explains it this way:
People tend to frame things very narrowly... They look at the problem at hand and they deal with it as if it were the only problem. Very frequently it's a better idea to look at problems as they will recur throughout your life and then look at the... class of problems.
The second way is by understanding heuristic reasoning. Heuristic reasoning is decision-making based on experience rather than factors, and "relies on simplistic, often patently invalid rules of thumb to form electoral attitudes and decisions," reports Reuters. In short, heuristic reasoning is a shortcut. It's making a gut decision instead of engaging in "deep thinking and the analyzing of facts and figures," as this definition puts it. With this election, voters were overwhelmed by messages exploiting their fears of what the other candidate would do to their country, overriding deep critical thinking and prompting experiential, gut responses. That's not necessarily a bad thing; our intuition emerges from our gut, and it has merit. But heuristic reasoning runs the risk of not seeing or understanding the full consequences of a decision. Professor Glenn Cohen of Harvard explained it to us here:
The third way is by understanding accessibility dynamics. Accessibility dynamics involve how we recall information. According to this 1994 study, the act of remembering something prompts us to forget older, more complex information. In short, accessibility dynamics tends to "give priority to "top of the head" ideas while disregarding long-known, potentially superior, information," according to Reuters, which goes on to say: "unfortunately, accessibility is driven by frequency of or recent exposure to ideas, rather than their value or coherence. Its actual impact, therefore, can undermine or bias decisions." Basically, whatever information your memory can easily access determines your decision -- not facts or instinct. In the case of the 2016 election, the information most accessible to voters was rooted in personal attacks and slander instead of campaign issues or policies. Cyberpsychologist Mary Aiken broke it all down for us:
Why are bounded rationality, heuristic reasoning, and accessibility dynamics so important? Because they're all our brain can handle in decision making. "At any given moment, attitudes and opinions are based on a subset of information available in our memory," Reuters explains. The information in our memory determines the decisions we make. The more we remember, the better our decisions tend to be. In the case of this election, with its increasing amounts of scandal and ceaseless amounts of mudslinging, our ability to remember anything beyond the past spectacle was impeded. That's unfortunate -- but we can fix it. We can correct memory overwhelm by employing ideas to improve our recall. Psychologist Maria Konnikova explains one used by Sherlock Holmes -- and its modern Google-friendly equivalent -- here:
You can also improve your memory by monotasking, as we've mentioned before, and getting a good night's sleep. A 2008 Harvard study showed that, "people are 33 percent more likely to infer connections among distantly related ideas [ie - remember things] after sleeping." You can even learn a new skill to create neural pathways in your brain to improve your memory, as this 2007 Columbia University study discovered. And, as we've just learned, improving your memory improves your ability to make decisions, without being overwhelmed by political propaganda.
Understand biases in yourself will help you to understand others, and that is absolutely the first step towards healing what has been a divisive 18 months in the US. Now that we know how we got here, we have an idea of how to move forward. Let's make it happen, America.