Partisanship can now be seen in brain scans.

Credit: Gorodenkoff on Adobe Stock
A new study shows brain activity differs between liberals and conservatives when they watch political videos.
Brain activity differed between partisans when words tied to emotions, morality, or threats were used.
The findings could help us understand how partisans process information, perhaps leading to new ways to bridge the divide.
People are somewhat politically polarized these days. While the United States' polarization gets most of the press, increasing polarization is also causing problems in the United Kingdom, Turkey, Poland, Brazil, India, and a variety of other countries around the world. Attempts to understand why are endless, with hypotheses being offered from various schools of sociology, political science, and philosophy.

Recently, scientists investigating partisanship have peered into the neurological basis for our partisan alignments, if any. Their discoveries suggest that partisans' brains may process information differently than those of non-partisans or members of another group.
Adding evidence to this way of thinking is a new study out of UC Berkeley, which finds that liberal and conservative brains react differently to political trigger words.
The study, published in the Proceedings of the National Academy of Sciences, compared the stated political opinions of three dozen test subjects to their brain wave patterns while they watched videos about immigration policy.

The researchers, led by Dr. Yuan Chang Leong, determined the participants' ideologies by asking them how much they agreed or disagreed with proposed legislation. Each response was given a score, with lower values attached to stances considered liberal in the United States.
One such question was: "Would you support legislation that funds a wall along the US-Mexico border to reduce illegal immigration?" Those who strongly agreed were given a high score while those who strongly disagreed got a low score. The scores earned over six questions were used to place the participants on a scale from left to right. The questions had previously been tested on 300 people who identified as liberals, conservatives, or centrists to assure their accuracy.

The test subjects then watched the previously mentioned political videos.

While the parts of the brain dedicated to collecting sensory information reacted similarly for all of the test subjects, the dorsomedial prefrontal cortex, a part of the prefrontal cortex that deals with matters of identity, narratives, and morality, of liberals and conservatives reacted at different times.
Using an fMRI, the researchers saw that neural responses differed between liberals and conservatives as the videos' messages changed. More specifically, the brain's activity was stimulated by its response to messages concerning morality, emotions, or threats. The reactions to these terms were the points of greatest divergence.
A morality based message might be something like, "What are the fundamental ethical principles that are the basis of our society? Do no harm, and be compassionate, and this federal policy violates both of these principles." A threat-based statement might resemble, "I think it's very dangerous, because what we want is cooperation amongst the cities and the federal government to ensure that we have safety in our communities, and to ensure that our citizens are protected."

Participants were asked to rate how much they agreed with each video and how likely they were to change their mind on anything after watching them. Curiously, the closer the subject's brain activity was to that of the "average" liberal or conservative of the study, the more likely they were to report that a video supporting those policies could make them change their mind.
Dr. Leong summarized the findings by saying:

"Our study suggests that there is a neural basis to partisan biases, and some language especially drives polarization. In particular, the greatest differences in neural activity across ideology occurred when people heard messages that highlight threat, morality and emotions."
This study suggests that partisanship impacts how our brains process specific terms and that political messaging relying on threat-based or ethics-based language cause partisans to interpret the message in very different ways. This processing also means that people with similar brains to other partisans are likely to be convinced by similar messages.

The location of the differences in brain function, in the later, higher-level processing department of the brain rather than in the earlier, sensory detecting department, implies that polarization does not affect sensory processing. Additionally, the results do not imply that these effects are hardwired in our brains.
How does it interact with what we already know?
These findings can be added to the list of studies that show that our political alignments might have something to do with how our brains process information. Non-partisans, often suggested to not be a real group of people, have measurably different brain activity than partisans. Brain scans show Democrats and Republicans used different parts of their brains when playing a gambling game.

Dr. Leong hopes to use this information to build better models of how the brain processes political information. Perhaps someday, these models can help us understand how to talk to each other without using these trigger words.

Politics is becoming increasingly polarized in several countries all around the world. The causes for it are still up for debate, and ways to help narrow the gaps between people are still being investigated. An increasing number of studies suggest that some of it comes down to how our brains function.
While the idea of polarization being tied to how our brains work probably won't come as a comfort to most people, the ability to identify precisely what is happening when people have polarized reactions is a step forward, as it offers a chance to understand what the other side is doing when we disagree. Perhaps someday soon, this will translate to better ways to reach across the aisle and more productive conversations informed by neuroscience.
The Middle Ages see a resurgence of interest among the alt-right and some conservative thinkers.
Of all the political and intellectual surprises that come at us every day now, one of the more unusual is the strange resurgence of the Middle Ages as an influence on our times.  A number of conservative thinkers have proposed that as modernity and liberalism led humanity to a dead end, we should look to the medieval period for inspiration on how to remake our world. This idea has been expressed through memes and writings of the alt-right and has found its way all the way up to Presidential advisors. 
One reason for the appeal of the Middle Ages can be seen in popular memes spread through alt-right online forums. They feature the Crusader battle call "Deus vult!" which basically translates to "God wills it". It is used as a Christian version of "Allahu akbar" - a call to action for the Western civilization in its supposed war against Islam.
Another way that the Middle Ages fascinate people has been proposed by a number of conservative blogs and thinkers - they are newly seen as a time of traditional values that celebrated god, masculinity, homogeneity instead of diversity, and traditional gender roles. 
The "Middle Ages" is generally considered to be the period of history that goes from the fall of the Roman Empire in the West in 476 CE to the fall of the Eastern Roman Empire in 1453, when Constantinople was sacked. Another way to mark the end of the medieval period is the beginning of the Renaissance in the 14th century.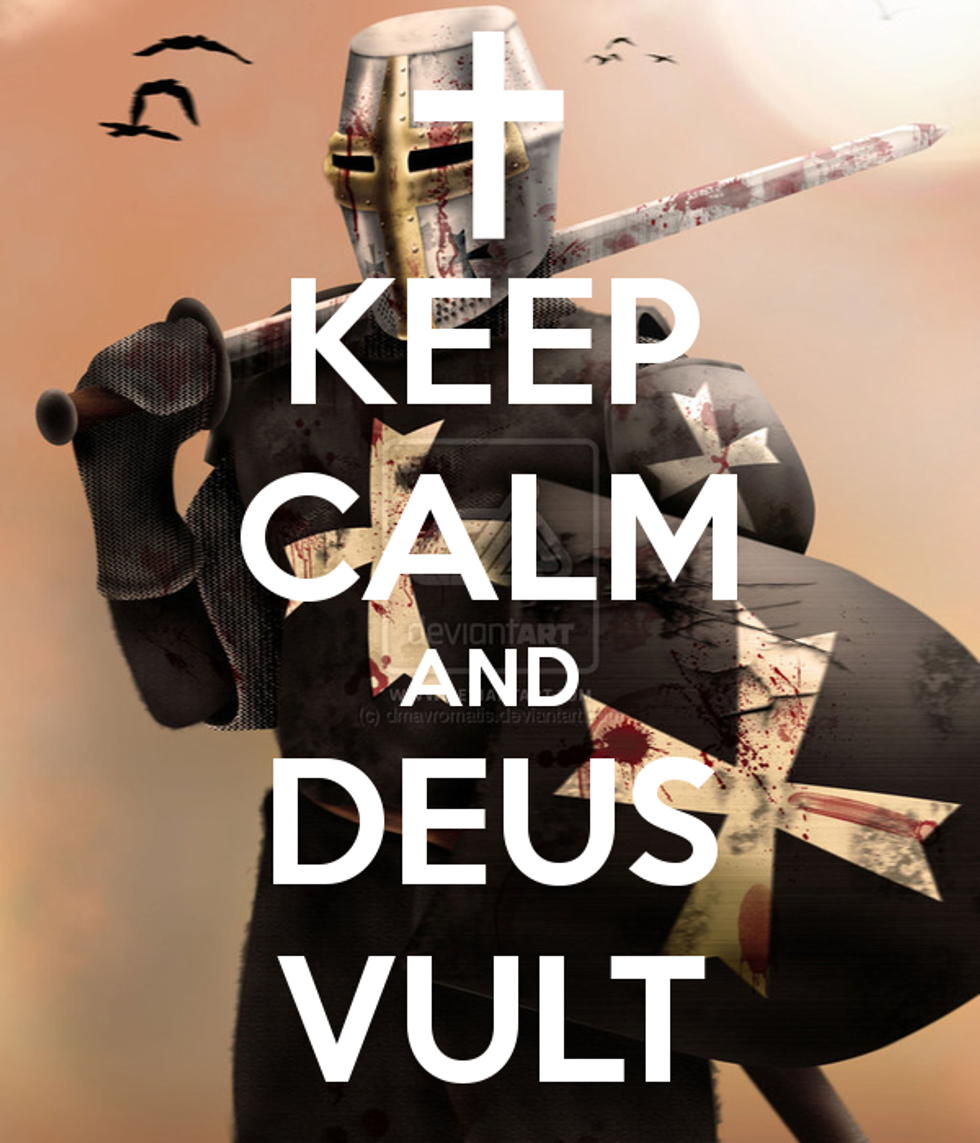 A Deus Vult meme image.
It's common to regard the Middle Ages as a dark period in human history, without many accomplishments. The historian Edward Gibbon, who wrote the "Rise and Fall of the Roman Empire," called the period full of "barbarism and religion". This historical time is also associated with the terrible epidemic of "Black Death" - the bubonic plague that killed 20 million people in Europe, 30% of its population at the time, in the middle of the 14th century.
This negative point of view on the Middle Ages has been challenged of late, with new scholarship pointing out that the era had some achievements, like the majestic Romanesque and Gothic Cathedrals that sprang all over Europe, leading to architectural and artistic innovation. The period also saw the eventual transformation of feudalism due to factors such as agricultural inventions, leading to increased population in city centers.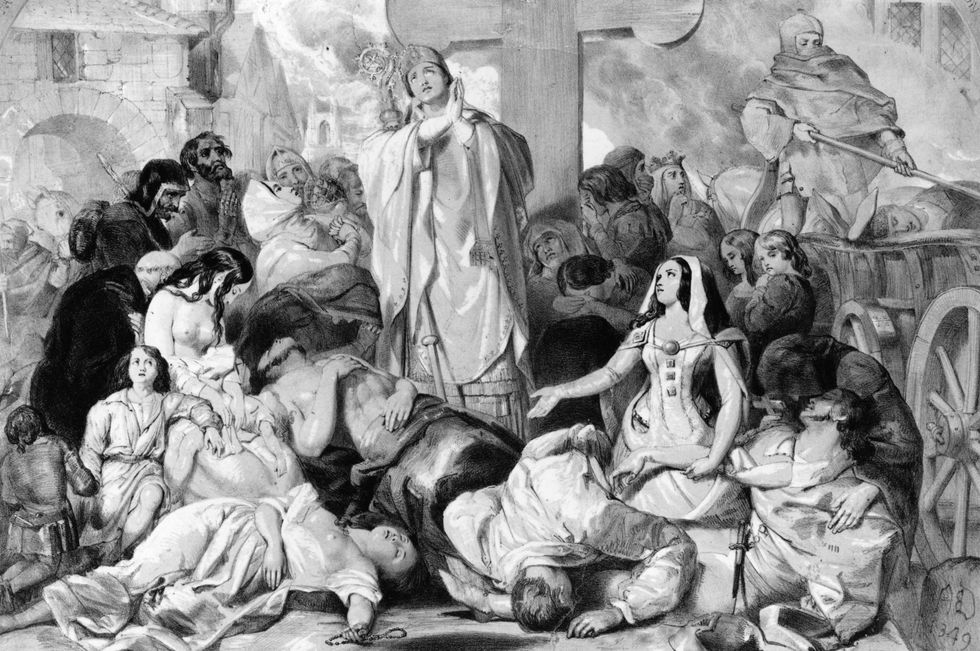 People praying for relief from the bubonic plague, circa 1350. Original Artwork: Designed by E Corbould, lithograph by F Howard. (Photo by Hulton Archive/Getty Images)
The Middle Ages were also a period of great growth of Islamic power. Muslim armies conquered the Middle East, with the Islamic world becoming three times as big as the Christian one during the height of its influence. The intellectual life that was missing from Europe was thriving in cities like Cairo, Baghdad and Damascus.
The spread of Islamic control resulted in the Catholic Church launching a series of Crusades - military expeditions to rescue the Holy Land from "infidels".  The Crusades were first began in 1095 AD, with Pope Urban II issuing the infamous "Deus Vult!" battle cry for Christians to raise an army and fight Muslims.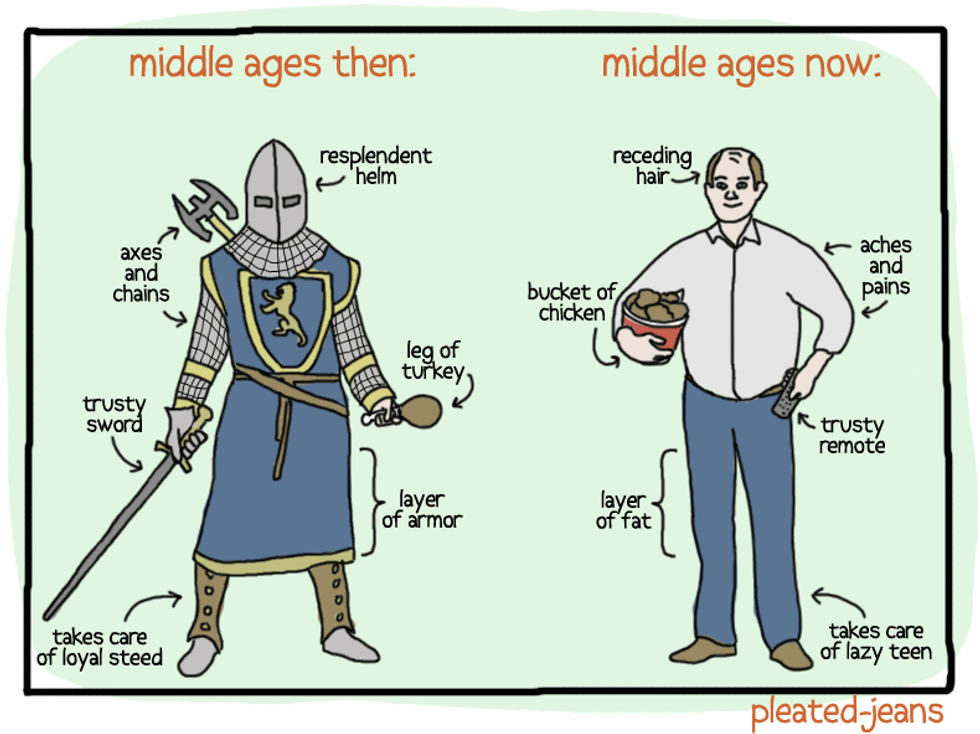 The "Deus Vult!" memes that spread through alt-right communities on 4chan, reddit and other social media harken back to the Crusader story. They are essentially calling for a modern-day Crusade against Islam.
The allure of the Crusader narrative is not only demonstrated by the alt-right Crusader memes, but is echoed in conservative intellectual circles.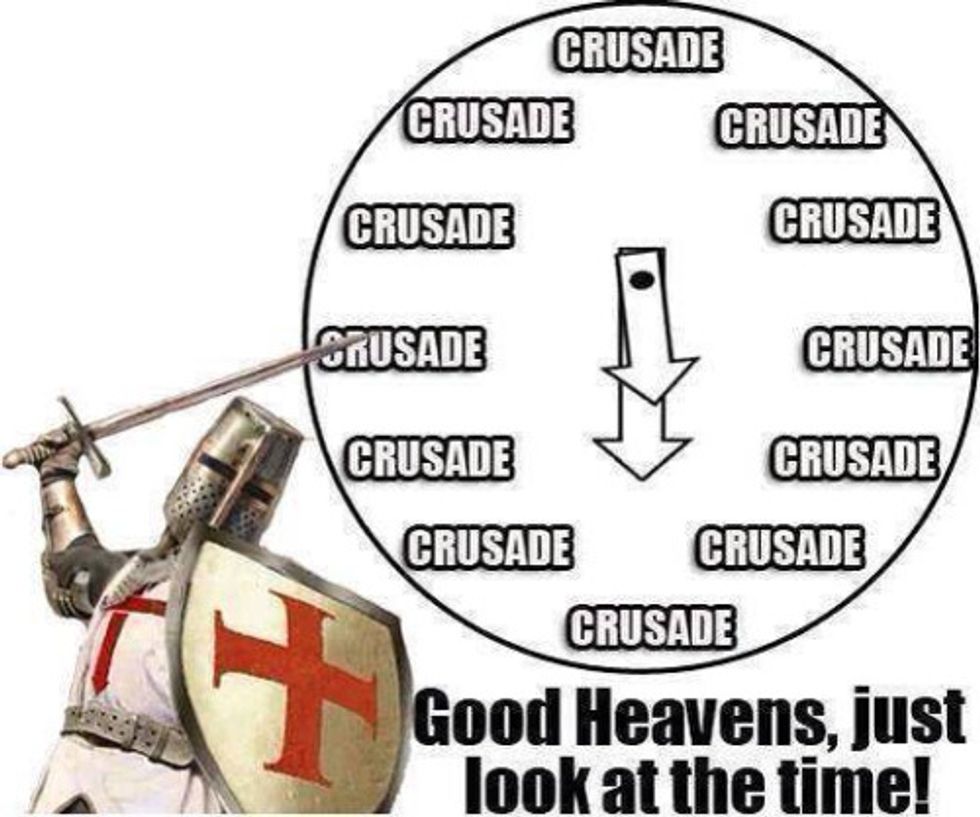 A Crusade meme image.
Having embraced the alt-right while at Breitbart, President Trump's chief strategist Steve Bannon has at times expressed apocalyptic rhetoric that seems to be anticipating a coming religious and class war. It is hard to really know all the nuances of what Mr. Bannon thinks as this somewhat reclusive figure rarely weighs in on events and issues publicly. But considering the access and intellectual heft Mr. Bannon is said to bring to the ear of the President, discerning his views is a very telling endeavor.
To that end, Mr. Bannon has spoken of the current period of time as a point of crisis, with capitalism and Judeo-Christian values under attack, especially from radical Islamists.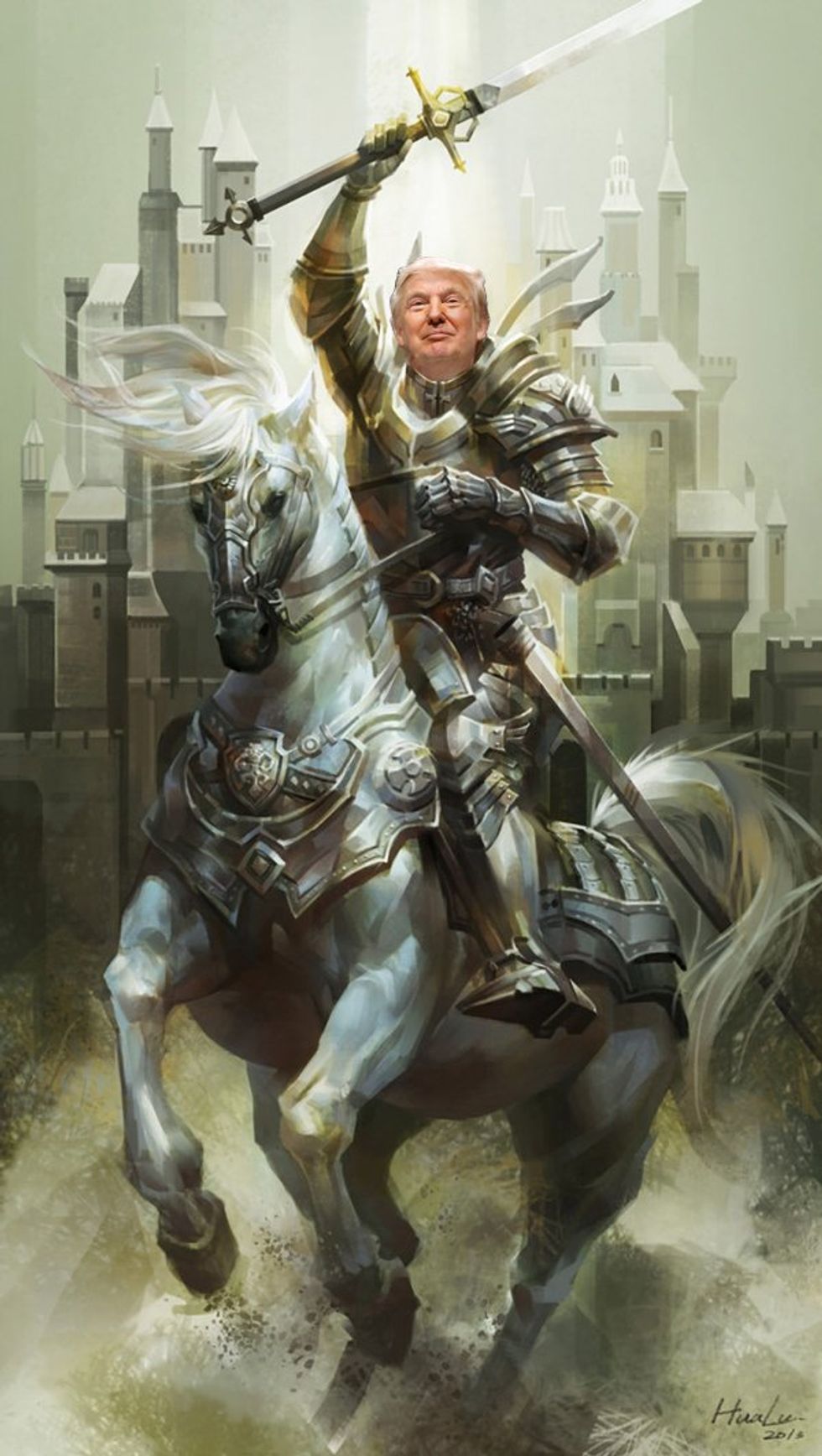 Trump Crusader meme.
Bannon's seemingly strong feelings on this subject were on display during his 2014 talk at the Vatican.
"And we're at the very beginning stages of a very brutal and bloody conflict, of which if … the people in the Church do not bind together and really form what I feel is an aspect of the Church Militant, to really be able to not just stand with our beliefs, but to fight for our beliefs against this new barbarity that's starting, that will completely eradicate everything that we've been bequeathed over the last 2,000, 2,500 years," said Bannon.
This certainly sounds like Crusader talk. He suggests that the Judeo-Christian idea is facing a grave enemy that can only be fought by armed Christians. Interestingly, in the same speech, he also paints the current age as the Dark Ages, another way the Middle Ages are described.
Bannon also spoke about the appeal of Putin, linking it to the Russian leader's support of "traditionalist" values, especially as he's advised by Alexander Dugin, a philosopher who follows the work of the controversial Italian thinker Julius Evola. Bannon's remarks seemed to indicate that while he does not support Putin's kind of government, there was some merit in his approach.
"We the Judeo-Christian West really have to look at what he's [Putin] talking about as far as traditionalism goes — particularly the sense of where it supports the underpinnings of nationalism — and I happen to think that the individual sovereignty of a country is a good thing and a strong thing," said Bannon.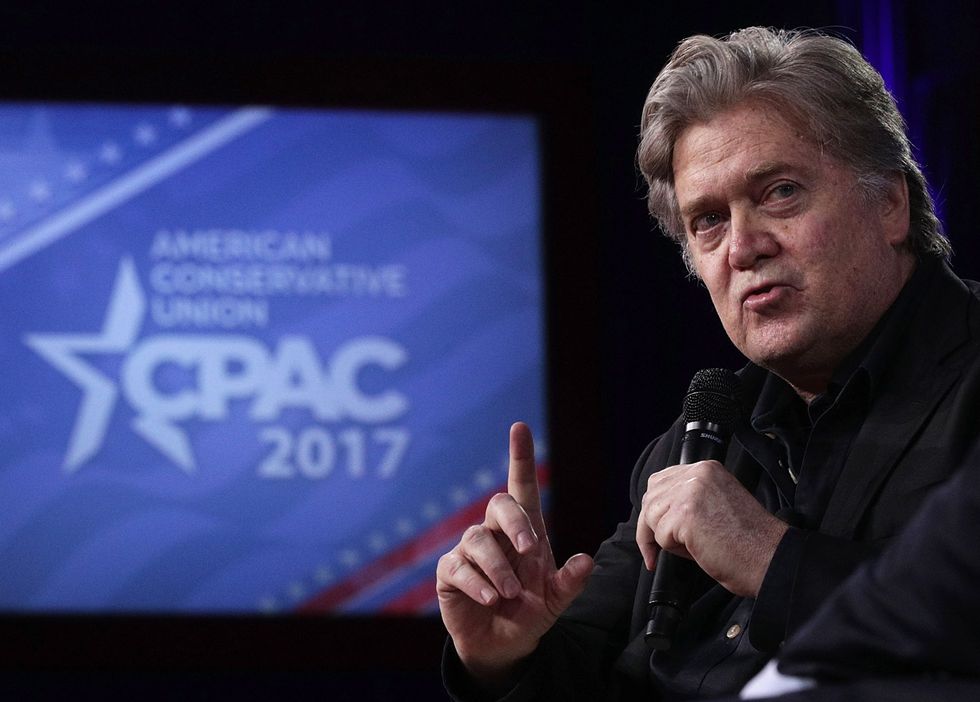 White House Chief Strategist Steve Bannon participates in a conversation during the Conservative Political Action Conference at the Gaylord National Resort and Convention Center February 23, 2017 in National Harbor, Maryland. (Photo by Alex Wong/Getty Images)
Julius Evola was considered a leading proponent of Traditionalism, a philosophy that sees the idea of equality-oriented liberalism and "progress" as mistaken, advocates traditional gender roles and seeks a return of hierarchical social structures like castes. Evola saw European feudalism during the Middle Ages as a great example of such a society.
Anti-Semitic and sexist Evola is known for inspiring Italian fascists, including Benito Mussolini himself, modern neo-Nazi and nationalist parties in Europe, as well as the far right movements in the United States.
"Julius Evola is one of the most fascinating men of the 20th century," said the white nationalist leader Richard Spencer. 
Mr. Spencer also found it very significant that Mr. Bannon knew who Evola was. 
"Even if he hasn't fully imbibed them and been changed by them, he is at least open to them," he said. "He at least recognizes that they are there. That is a stark difference to the American conservative movement that either was ignorant of them or attempted to suppress them," said Spencer. 
If you think knowing about Evola is not the same as supporting his ideas, an article by Breitbart from when it was run by Bannon listed Evola as one of the foundational thinkers of the alt-right movement. It was co-written by another alt-right standard bearer - Milo Yiannopoulos.
Alexander Dugin, another philosopher mentioned by Bannon at the Vatican, is called by some "Putin's Brain." He is a Russian thinker known for his close associations with the Kremlin. Dugin espouses an Evola-influenced philosophy that also ties into Traditionalist values, seeing the Renaissance and everything that followed, including technological progress, as a debasement of human nature. His goal would be to return to the values of the Middle Ages and restore a Eurasian empire on the basis of the former Soviet Union, with Russia at the head.
"Returning to the Middle Ages or turning to them to look for inspiration, and I am not speaking of merely reproducing – that's impossible to do. But we have stood on the path of modernity. We've stood on the path of modern totalitarianism regardless of whether of the first, second, or third theory. We've exhausted all of their possibilities, built all three models. We've built liberal civilization, communist civilization as part of such an experiment, and we've even built fascism. We can now compare everything before us. And if all of this does not satisfy us, this means that the most important mistake was made not in the 20th century and not even in 1991," said Dugin in an interview.
While history is always important to study, what does one make of this unexpected brew of racist and sexist ideologies inspired by fascist and radical Russian thinkers combined with American Christian white nationalism? Sounds like an explosive cocktail.
If you don't have enough Crusader spirit, here's a video that can get you into just such a state:
Cover image: Circa 1250, A crusader is shot by a Muslim warrior during the Crusades. (Photo by Hulton Archive/Getty Images)
The ranking of empathy from highest to lowest goes liberals, conservatives, libertarians. But the difference is minor, says Paul Bloom. Typically the debate isn't all over whether or not to empathize – it's over who to empathize with.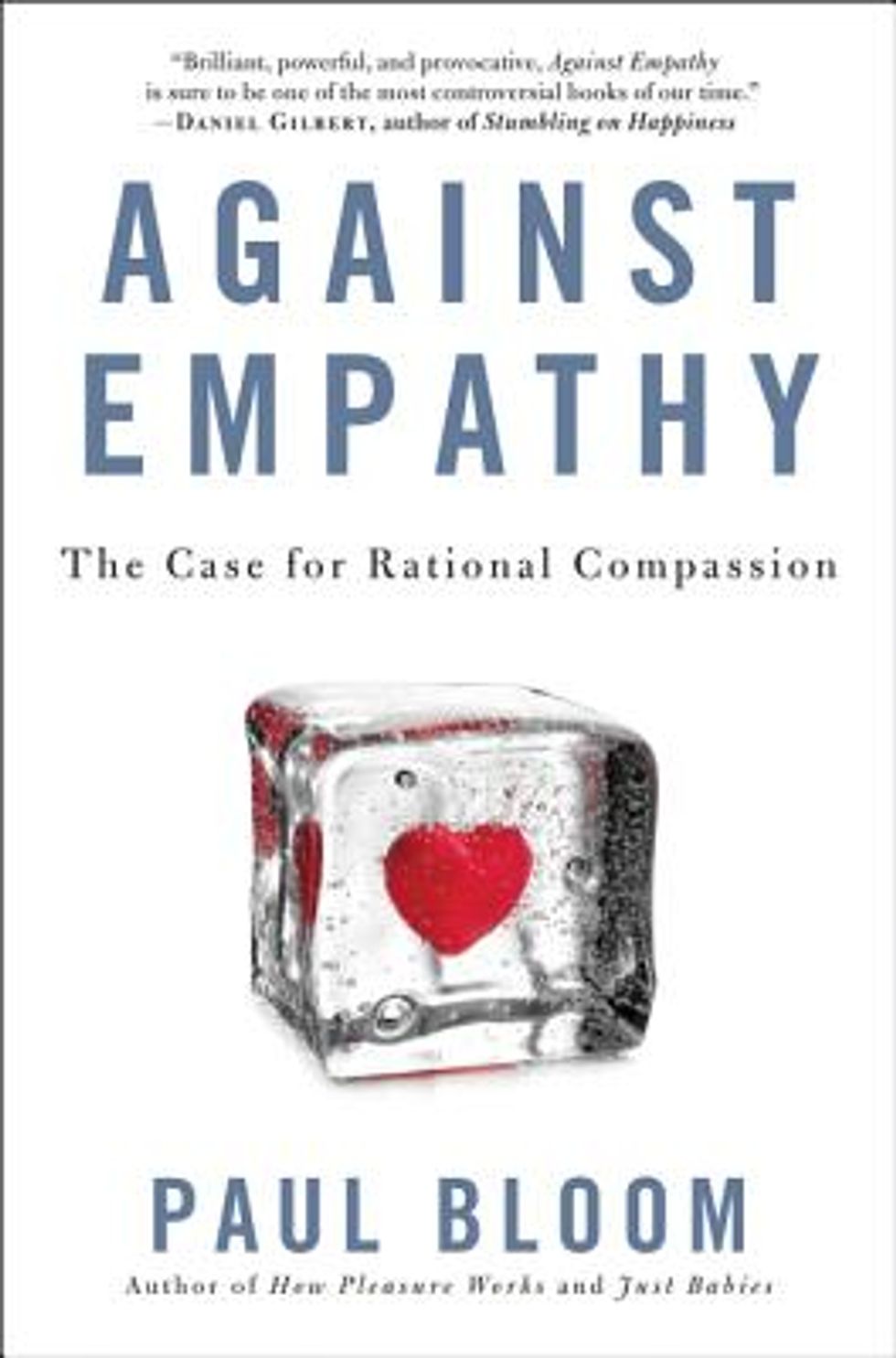 The title of Paul Bloom's latest book may ruffle a few feathers; it's called Against Empathy. Empathy has come into its own of late, held on a pedestal as one of the most glorified emotional skills – but Bloom argues that at times it can cloud our judgement. When it comes to political debates, typically the debate isn't all over whether or not to empathize, it's over who to empathize with, he says. There are some political issues, such as climate change and free speech, in which empathy favors one side of the issue, and encourages inaction over action.
The UK government is discussing legislation that would require all internet service providers to block websites with "adult content", specifically those without age verification.
Hands off. (Photo credit TIZIANA FABI/AFP/Getty Images)
When asked if five dollar pornography on the street corner was too high a price to pay for free speech The West Wing's President Bartlet, as played by Martin Sheen, replied, "No... On the other hand, I think that five dollars is too high a price to pay for pornography".
The notion of how much access to pornography people should be allowed to have is a moral question that has been a bother for ages. Today we have, perhaps, the simplest and most extensive access to it we have ever had. The supply of free pornography on the internet is so great that even Playboy magazine has abandoned showing frontal nudity, on the grounds that it cannot compete in the new market.
In response to the unfiltered access to such media online, the government of the United Kingdom has proposed legislation which would require all internet service providers to block websites with "adult content", specifically those without age verification. The proposal will be added to the upcoming Digital Economy Bill 2016-17.
While the manner of how the internet will be regulated exactly if the bill is passed and how it will be applied in law is new and specific to this case, the question of the morality of pornography and the attempt to control its distribution is nothing new.
In the United States, the Comstock laws prevented the mailing of pornography, contraceptives, personal letters of a sexual nature, or any information relating to said items via the postal system. These laws, passed in 1873, remained in effect until 1957. The law was so broadly defined that anatomy textbooks were occasionally unable to be sent by mail. For his part, Mr. Anthony Comstock, for whom the laws were named, was a radical moral activist both loved and loathed. He was later lampooned in BioShock Infinite, with the puritanical villain taking his name.
Ethically, there are many ways to view the question of the availability of pornography in society. For some it is an issue of temperance; others see it as an issue of purity. There are still others who find it objectionable, but see the idea of the state interfering with access to be anathema. In this case, the issue is tied to "how free is too free" speech, as the stated goal is to make it more difficult for children to access such images.
While this bill is geared towards fixing a hole in British internet law. The wording of it has a few proponents of free speech alarmed. In particular, they are concerned that the wording of the bill and its use of the term "adult content" is too vague and could lead to censorship beyond that of the original intention.
Jim Killock, Executive Director of the Open Rights Group, said about the bill:
"This could lead to tens of thousands of websites being blocked, despite their content being perfectly legal. In no way should this proposal be legislated for in this bill. There has been no thought or consultation, and the government has not even begun to define how blocking might be attempted. They have no idea if it would work well or badly, or whether there is serious enough harm to justify such a massive restriction on UK adults access to legal material."
On the other hand. Karen Bradley, Secretary of State for Culture, Media and Sport claimed in response:
"The Government is committed to keeping children safe from harmful pornographic content online and that is exactly what we are doing. Only adults should be allowed to view such content and we have appointed a regulator, BBFC, to make sure the right age checks are in place to make that happen. If sites refuse to comply, they should be blocked." 
At the time of writing, the bill is still being discussed. The question of if it passes or not is still up in the air. The actual ability of the British government to regulate such traffic remains in question, as a simple image search can produce some remarkably risqué images if requested. In any case, the question of free speech vs public morality rages on, and will continue to do so.
The polls are in, and what will be the deciding factor in the 2016 U.S. Presidential election is something a little more human.
"This is what we say to Hillary Clinton. And education." (Photo by Scott Olson/Getty Images)
Education is not the main difference between supporters of Hillary Clinton and Donald Trump.
A survey of reader comments in The New York Times found that the ideological divide between voters is more complicated. For starters, while people with more education usually vote for liberal policies, that does not guarantee they'll vote for Clinton. That first bit of news comes from a Pew Research poll taken earlier this year. The common wisdom is that "highly educated" voters, or people who have obtained at least a college degree, "are far more likely than those with less education to take predominantly liberal positions across a range of political values." That seems proven true by polls like this one:
But that doesn't mean they always do. Look at that chart: while "more than half of those with postgraduate experience (54%) have either consistently liberal political values (31%) or mostly liberal values (23%)," according to Pew, there are just as many mostly conservative voters with a college degree as there are without one. The total amount of conservative voters in that chart is incredibly close among voters with all kinds of education. That means that education alone is not a factor for changing voter preference -- even though it does lean very heavily toward liberal.
More impressively, the people with the least amount of education vote for a mixed platform far more often than any other group. As Pew explains, "Larger shares take a mix of liberal and conservative positions: Roughly half of those with no more than a high school education (48%) are ideologically mixed, along with 36% of those with some college experience. By contrast, only about a quarter of more educated Americans have ideologically mixed views." Given the increasing polarization of voter ideologies, this makes this voting demographic arguably the most centrist.
On the other hand, people are voting more consistently with their ideology than they ever have before, according to a 2014 Pew Research Report on political polarization. And it's only getting worse:
"Much of the growth in ideological consistency has come among better educated adults," Pew explains, "including a striking rise in the share who have across-the-board liberal views, which is consistent with the growing share of postgraduates who identify with or lean toward the Democratic Party." However, as with the previous chart, that consistency works both ways. "Among postgrads and college graduates, the shares expressing consistently conservative views have also grown since 2004, from 4% to 10% among postgrads and from 4% to 11% among college graduates. But among both groups, consistently conservative views are at about the same levels as they had been in 1994." Regardless of how much education voters have, voters of both ideologies are voting more consistently with their party line than they have in the last 20 years.
But not in this election.
Race and gender complicate the usual tendencies of the educated voter demographic. While Bloomberg reports that, "Clinton leads by an average of 12.3 percentage points among white college graduates," according to its poll data, she suffers with less educated white voters:
Credit: The New York Times
Those numbers might appear to support Pew's numbers from earlier, but they don't tell the whole story. "A TargetSmart/William & Mary poll released Tuesday showed 28% of early Florida voters picked Clinton over GOP nominee Donald Trump," reports The Hill. If voters are voting along party lines more than ever, according to Pew, then why such a dramatic split? Especially in a state where votes are historically evenly split? The change is unprecedented -- but it may be explained by personality. 
Clinton and Trump are the most unlikeable presidential candidates in modern memory. While conservative voters of all demographics are not warm to Clinton – especially given her inability to meaningfully apologize for the Benghazi email scandal that, like the zombie apocalypse, will never die. But they are voting for her. High-profile Republicans are endorsing Clinton all over the country. Why? They fear Trump. Donald Trump is quite possibly the most divisive candidate ever and, according to poll company Gallup, has the highest unfavorable rating among voters of all demographics ever recorded.
While education may not be a critical factor in this election, personality certainly is.