In 2017, conflict was stronger between red and blue than it was between black and white.
Wikicommons: Ferguson, MO Riots
In 2017, conflict was stronger between red and blue than it was between black and white.
A new Pew Research Center survey shows that 86 percent of Americans said conflicts between Democrats and Republicans are strong or very strong. In comparison, just 65 percent of Americans said the same for race relations between black and whites, while 60 percent reported strong conflicts between the poor and rich.
The respondents didn't, however, report feeling nearly as strong of a conflict between rural and urban Americans – a dichotomy that some suggested played a role in the election of President Donald Trump – with only 37 percent saying there were strong or very strong conflicts between the groups.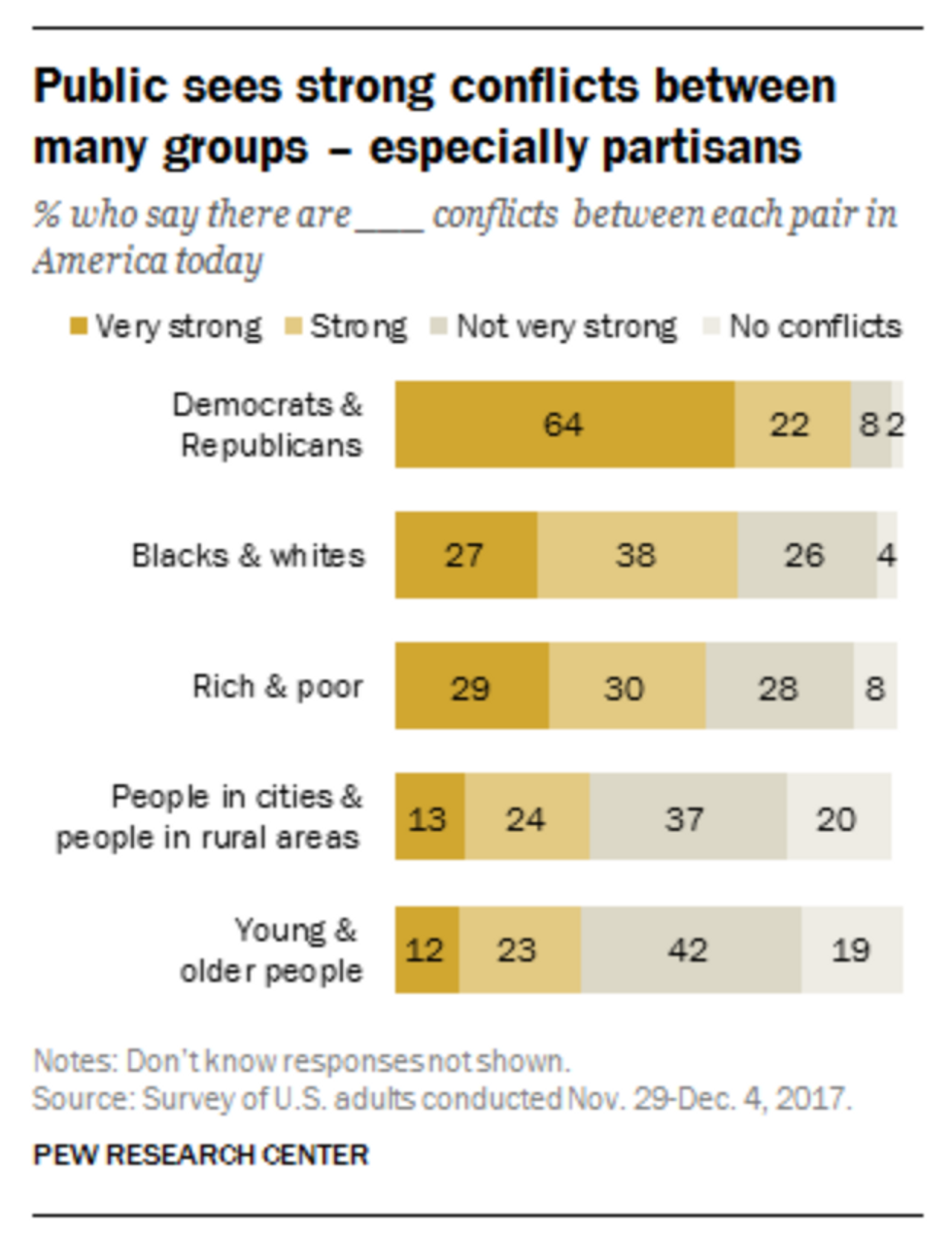 Both conservatives and liberals felt the discord: 90 percent of Democrats and 86 percent of Republicans reported a sense strong or very strong conflicts, representing a higher total rate than Pew Research Center recorded for 2016 or 2012. And the two parties appear to be more divided than ever when it comes to fundamental political issues. Pew Research Center reports that:
On 10 questions that the Center has asked in surveys since 1994 through summer 2017, the average gap between Democrats and Republicans has risen from 15 percentage points to 36 points. This gap is now much wider than the average gap on the same questions between people of different races, ages, educational backgrounds and other demographic factors.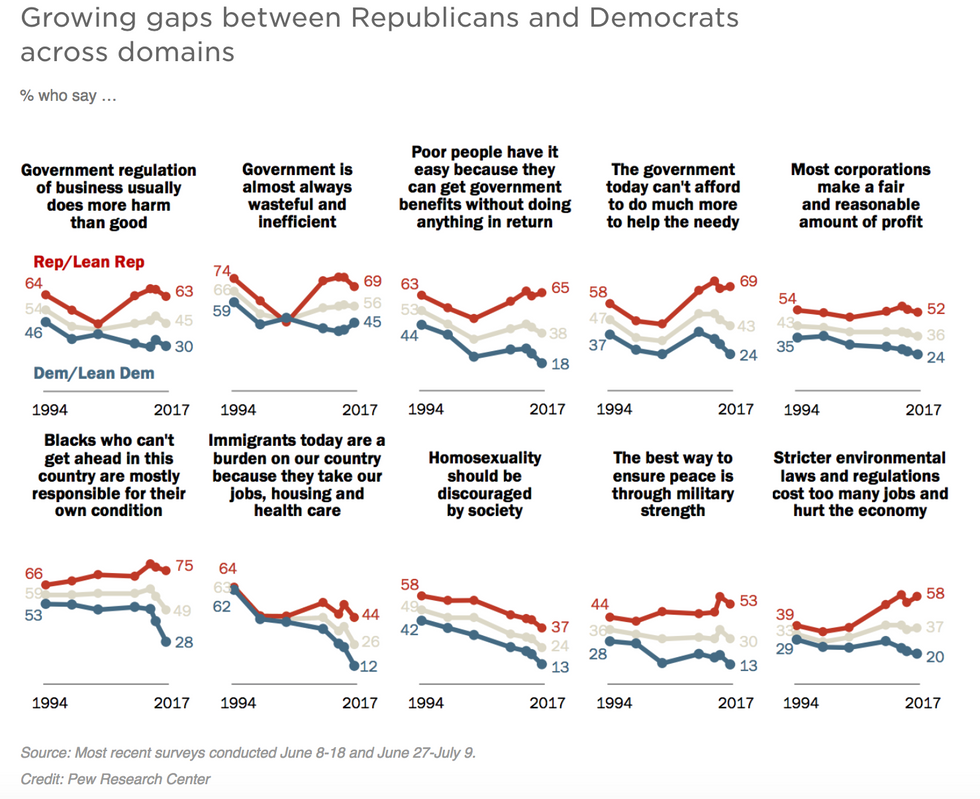 Interestingly, Democrats were more likely than Republicans to perceive the presence of strong conflict between every set of groups listed in the survey: rich and poor, white and black, rural and urban, and Democrat and Republican. Similarly, blacks were more likely than whites to perceive conflicts between every group measured.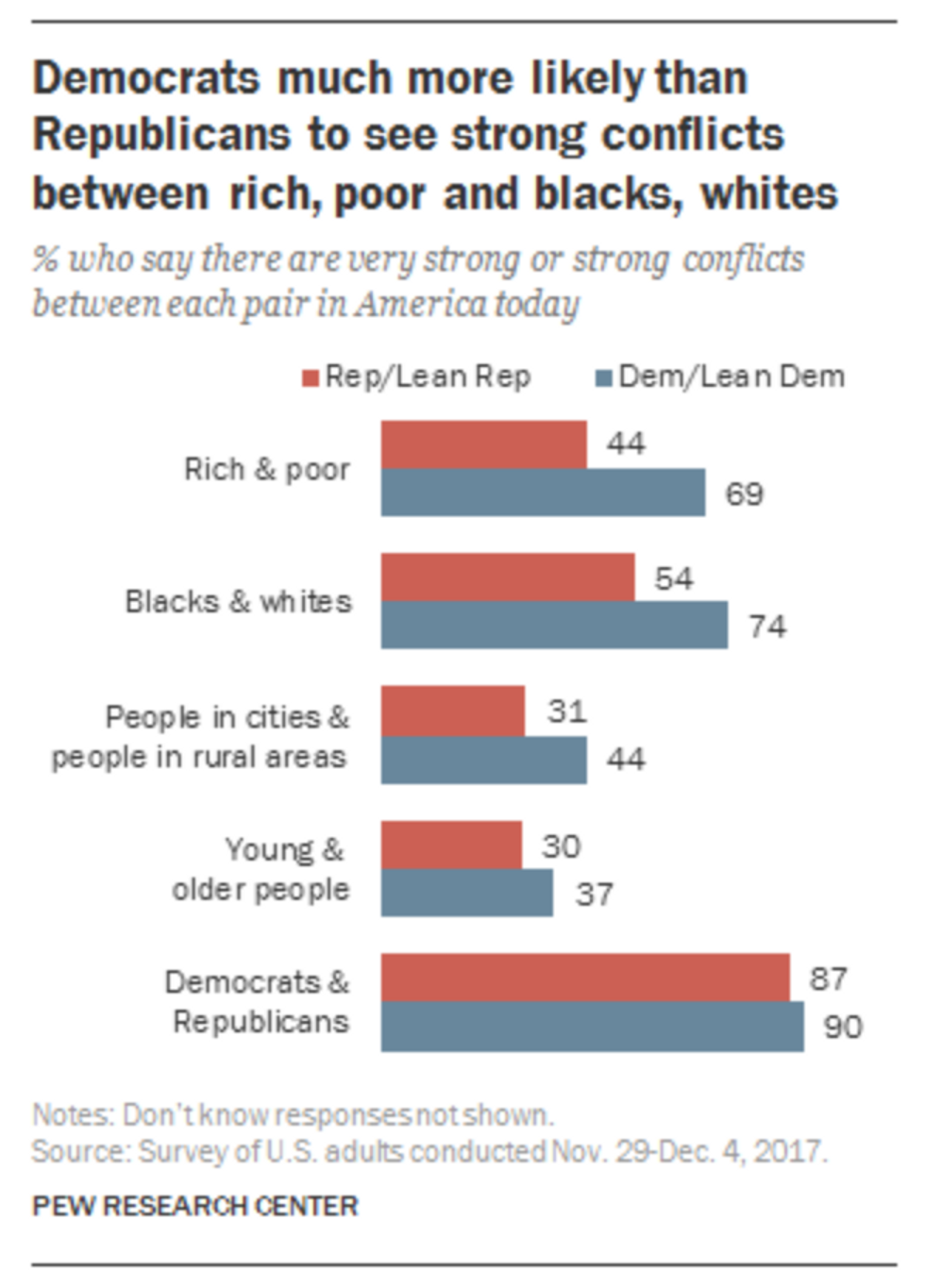 Making matters more complicated is the division and infighting within the two parties. In October 2017, the Pew Research Center published a report that describes the subgroups that have taken shape within each party in the wake of President Donald Trump's election. 
On the left:
Solid Liberals – "Largely white, financially comfortable and highly educated (most are college graduates and nearly a third have postgraduate degrees), Solid Liberals overwhelmingly express liberal attitudes on virtually every issue."
Opportunity Democrats "Agree with Solid Liberals on major issues. But Opportunity Democrats are less affluent, less politically engaged and less liberal – both in their attitudes on issues and in how they describe themselves politically."
Devout and Diverse "[this group] faces even tougher financial hardships than Disaffected Democrats. Devout and Diverse also are the most politically mixed typology group (about a quarter lean Republican), as well as the least politically engaged."
Disaffected Democrats "have very positive feelings toward the Democratic Party and its leading figures. Their disaffection stems from their cynicism about politics, government and the way things are going in the country. This financially stressed, majority-minority group supports activist government and the social safety net, but most say government is 'wasteful and inefficient.'"
And on the right:
Core Conservatives – are "in many ways the most traditional group of Republicans" and are "financially comfortable, male-dominated group overwhelmingly supports smaller government, lower corporate tax rates and believes in the fairness of the nation's economic system."
Country First Conservatives – represent a "much smaller segment of the GOP base, are older and less educated than other Republican-leaning typology groups. Unlike Core Conservatives, Country First Conservatives are unhappy with the nation's course, highly critical of immigrants and deeply wary of U.S. global involvement."
Market Skeptic Republicans – "support raising tax rates on corporations and large businesses. An overwhelming share (94%) say the economic system unfairly favors powerful interests, which places the view of Market Skeptic Republicans on this issue much closer to Solid Liberals (99% mostly unfair) than Core Conservatives (21%)."
New Era Enterprisers – "are fundamentally optimistic about the state of the nation and its future. They are more likely than any other typology group to say the next generation of Americans will have it better than people today. Younger and somewhat less overwhelmingly white than the other GOP-leaning groups, New Era Enterprisers are strongly pro-business and generally think that immigrants strengthen, rather than burden, the country."
Check out more about the subdivisions within each party in Pew Research Center's exhaustive report.
Why do people have the same fights, over and over again? That's the repetition compulsion, a deeply ingrained psychological phenomenon—but not so deep that it can't be beaten.
Sigmund Freud initially thought humans operated on the 'pleasure principle'—that we run toward pleasure and run away from pain. However, this didn't quite align with what he saw in his office. There, he worked with people who escaped abusive relationships only to end up in a new relationship with the same dangerous dynamic. Many of us have the same fight with a coworker or a loved one, in different forms, over and over again. This led Freud to a turning point in his theory: he dubbed this phenomenon the repetition compulsion, a psychological trap where we repeat the same dysfunctional behavior or fall into the same traumatic circumstances, over and over again. In the video above, Harvard professor Dan Shapiro explains that there is a way to break this cycle of dysfunction and have healthier relationships. It's not easy, but it's worth doing to live a happier and less stressful life. As Sam Harris describes in his book, Waking Up: "My mind begins to seem like a video game: I can either play it intelligently, learning more in each round, or I can be killed in the same spot by the same monster, again and again." Understanding the way that you fight, and what your conflict triggers are, will stop you living the same destructive patterns on a loop. Dan Shapiro's latest book is Negotiating the Nonnegotiable: How to Resolve Your Most Emotionally Charged Conflicts.
Dr. Gottman, a psychologist who studies relationships, explains the 5:1 rule.
A couple argues – Photo: geralt via pixabay
Everyone knows couples break up when they fight too much. But what if they don't fight enough?
Dr. John M. Gottman, a psychologist who's studied marital stability and relationships for decades, is known for finding that the "magic ratio" of positive and negative interactions in successful relationships is about 5 to 1. That is, couples who stay together tend to compensate for every negative interaction with five times as many positive ones. Gottman calls this his balance theory of relationships.
So, too much fighting leads to breakups. That's obvious. But what's interesting about the theory is it implies that one sign of a doomed relationship could be not enough negativity. An article on one of Gottman's websites elaborates this idea.
This balance theory implies the unusual point of view that negativity is important in healthy relationships. Negativity plays many prosocial functions — for example, culling out interaction patterns that don't work, renewing courtship over time, etc. Thus, couple therapy should not declare war on negativity. On the contrary, we submit the idea that a relationship without negative affect would be lifeless and boring.
The idea is that because people and environments are always changing, partners must provide one another with enough corrective feedback so they can be "on the same page."
Of course, it's not just about the quantity of fighting in a relationship. The style is also important. Gottman and his colleagues found that couples who remained stoic during conflicts actually tended to fare worse than couples that were more "volatile".
Another negative, dysfunctional pattern that emerged from our longitudinal research was both the absence of escalated negative affect during conflict, and also the absence of any positive affect during conflict. There was a marked lack of affection, shared humor, question-asking, active interest, excitement, joy, support, and empathy.
Conversely, volatile couples who get into lots of heated fights aren't necessarily doomed to split up. These couples exert a healthy amount of influence on one another, both positively and negatively. But as long as their interactions favor the positive, they tend to enjoy relatively stable relationships over the long term.

The 5:1 ratio also seems to ring true in the business world. Past research has examined the ways in which successful business leadership teams deliver criticism. The results showed that the most successful teams made an average of 5.6 positive comments per every negative one, while the average ratio among the lowest performing teams was just 0.36 to 1.

Jack Zenger and Joseph Folkman interpreted the results in the Harvard Business Review
"So, while a little negative feedback apparently goes a long way, it is an essential part of the mix. Why is that? First, because of its ability to grab someone's attention. Think of it as a whack on the side of the head. Second, certainly, negative feedback guards against complacency and groupthink."
Folkman and Zenger went on to add one final point that could apply to any area of life: Negative feedback can prevent you from driving off a cliff.
For a realistic look at what it takes to stay in love, here's Dr. Helen Fisher:
Slavoj Žižek examines the situation out of which refugees are created, and criticizes conservatives and liberals alike for their "conspiracy theories".
How did we get to this refugee crisis? Newton's Third Law. For every action there is an equal and opposite reaction. It's something we may not consciously clock as we hear news and see devastating photographs of migrants crossing dangerous waters in crowded boats, fleeing for their lives. Why is this happening? If you rewind the history of these countries, tracing political event to event, you'll find the firestarter – and more often than not, it's a long arm that has reached past its own border to interfere in another country.
In this spirited and frenetic address, Slovenian philosopher Slavoj Žižek talks about refugees, anti-immigration populism, and cultural incompatibility, bringing to light just how complex and tangled the dominant issues of our times are. Who is responsible for them? It's a messy question.
One clear thread that swims beneath everything Žižek says is the concept of backlash. The wave of refugees coming to Europe from Syria and north Africa were displaced by previous military and political intervention. Hitler and Nazi Germany arose as a reaction to the West post WWI. Government-sanctioned homophobia and the oppression of women's rights across Africa are a reaction against colonialist ideals. Everything is a pushback, and there are a million reactions firing off all over the geopolitical landscape.
Žižek argues that the only way out is transparency. We have many responsibilities when faced with the world's problems, but the greatest one is to not be avoidant. We must ask and debate unpleasant and difficult questions, especially regarding immigration and the cultural clashes that will emerge – and already are. We are doomed, says Žižek, if we keep these issues at a distance.
Slavoj Žižek's most recent book is Refugees, Terror and Other Troubles with the Neighbors: Against the Double Blackmail.