Research points to many social-cognitive, emotional, behavioral and biological benefits that marriage seems to bestow on its participants.
Photo: Justin Sullivan/Getty Images
Scientists have long observed that there are many potential benefits of married life. One of their most popular findings perhaps pertains to the longevity advantage married people, and particularly men, have over their never married, divorced or widowed peers.
Studies point to many social-cognitive, emotional, behavioral and biological benefits that marriage seems to bestow on its participants. For example, being married is related to improved cancer survival. Being married has also been linked to better cognitive function, a reduced risk of Alzheimer's disease, improved blood sugar levels, and better outcomes for hospitalized patients.
Now a new meta-analysis led by psychiatrist Andrew Sommerlad from University College London and published in the Journal of Neurology, Neurosurgery & Psychiatry, has found that single people were 42 percent more likely overall to develop dementia than married individuals. The risk for widowed people was 20 percent higher while, interestingly, researchers found no evidence for an increased risk of dementia in divorced people.
Dementia is a rising global public health problem. There were an estimated 50 million people with dementia in 2017 and according to the World Alzheimer Report, this number will almost double every 20 years, reaching 75 million in 2030 and 131.5 million in 2050.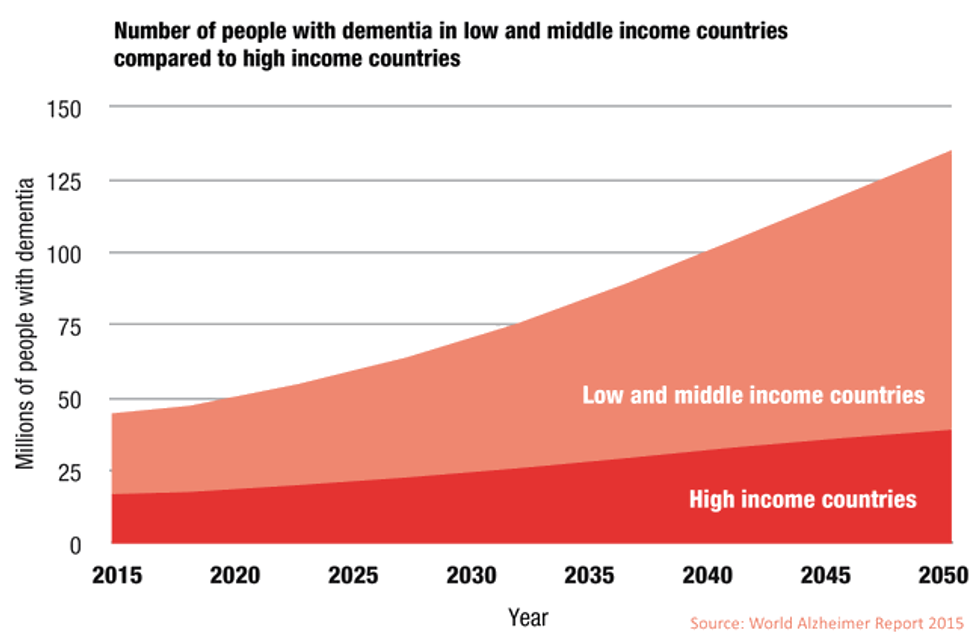 By studying the relationship between dementia and marital status, the scientists are hoping to find modifiable risk factors that could decrease individuals' likelihood of developing the disease. In their analysis the researchers conducted a systematic review of the literature including studies with a total of 812, 047 participants.
One factor that married life provides, and that seems to alleviate the risk for dementia, is increased social interactions. Social interactions could improve the individuals' cognitive reserves and enable them to better deal with neuropathological damage via compensatory mechanisms. More frequent social contact is also associated with reduced harmful lifestyle behaviors.
Having a marital partner seems to also influence people to make better lifestyle choices. The reverse is true for unmarried people who are more prone to adverse health behaviors and poorer health outcomes.
Laura Phipps from Alzheimer's Research U.K. points out another aspect of marriage that may be relevant:
"People who are married tend to be financially better off, a factor that is closely interwoven with many aspects of our health. Spouses may help to encourage healthy habits, look out for their partner's health and provide important social support."
Social norms may also contribute to the statistics. The scientists hypothesize that developing dementia could be related to underlying cognitive or personality traits that may have prevented people with smaller lifelong cognitive reserve to get married. As unmarried life becomes more common in modern cultures, single people born in the latter half of the 20th century have fewer unusual cognitive and personality characteristics leading to a tendency for reduction in the risk of dementia in single people in more recent times.
As with this and other observational studies, it is difficult to say which aspects of married life lead to its associated health benefits and whether these aspects can be replicated in other types of close relationships like those with friends or family.
Loneliness has been shown to be a health risk in itself, but while people living with unmarried partners tend to fare better than those living alone, living with a spouse seems to give you the best health of all.
A new study shows that addressing the ADHD epidemic may require a dose of physical activity, so kids can refocus and learn effectively in a classroom.
Gym programs – and the underfunding of them – may be as important as math or reading to learning. A new study shows that addressing the ADHD epidemic may require a dose of physical activity, so kids can refocus and learn effectively in a classroom.
Study, after study have given enough reason to think there may be a causal effect in addressing ADHD symptoms with physical activity. Researchers from another study published in the medical journal Pediatrics said they were able to "demonstrate a causal effect of a physical program on executive control, and provide support for physical activity for improving childhood cognition and brain health."
The image below shows the results from a group of 221 kids between the ages of eight and nine who were randomly selected to participate in the two-hour FITKids after school PE program, and those who didn't. The program lasted for nine months and the differences in cognitive health, focus, and physical well-being were noticeable.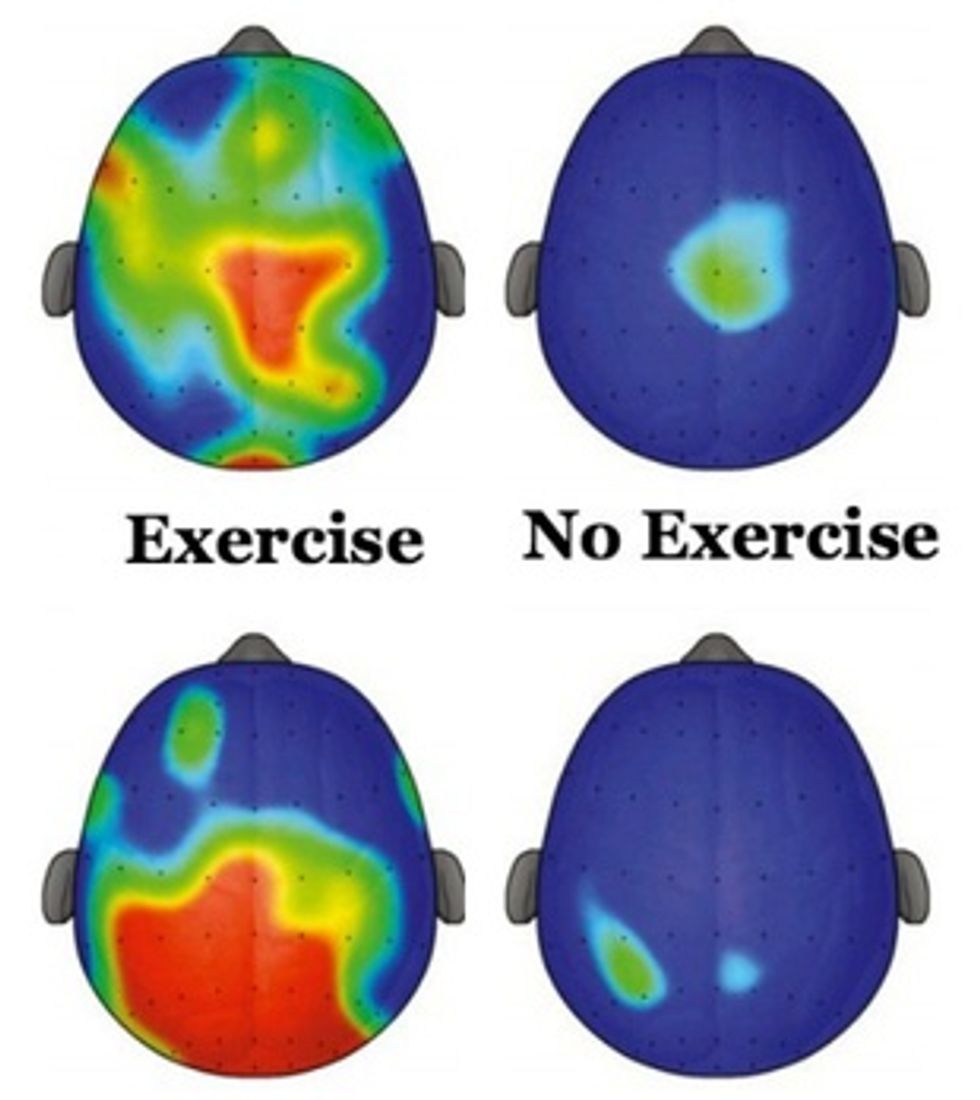 These electrophysiological plots represent the brain's processing capacity and mental workload (P3 amplitude) during cognitive tests, which requireed executive control. The red represents the greatest amount of executive control and blue represents the lowest.
(Hillman et al, Pediatrics/The Atlantic)
The researchers make a plea to policymakers and schools to consider their results, writing, "Given the rapid decline in [physical activity] opportunities for children at school, the dissemination of our findings is particularly important… Specifically, policies that reduce or replace [physical activity] opportunities during the school day (eg, recess), in an attempt to increase academic achievement, may have unintended effects."
The measures put in place to prepare kids for tests in the future may actually be putting them at a severe disadvantage. It's important to put this in perspective — our children are our future, after all. They will dictate the successes in this country and in their own lives.