A 50-year study reveals changing values children learned from pop culture.
Credit: Adobe Stock
A new study tracked changes in values tweens (8-12 years old) get from popular culture.
The researchers compared 16 values over a 50-year-period.
The report was created by the UCLA's Center for Scholars and Storytellers.
A new report from UCLA's Center for Scholars and Storytellers focused on values espoused by television programs that were popular with children 8-12 between over half a century, between 1967 to 2017. The researchers looked at how 16 values changed in importance during that span.
The most important value in 2017, the last year the study looked at, was achievement, with self-acceptance, image, popularity, and belonging to a community in the top five.
Another interesting find charted the value of fame, which used to rank at the bottom for nearly 40 years (ranking 15th until 1997), then skyrocketed to No. 1 as a value in 2007. By 2017, it went down to No. 6.
Why was fame so important in 2007? The scientists tie it to the growth of social media platforms like Facebook (launched in 2004) and YouTube (launched in 2005). Teens quickly adopted these mediums and many content-creators from that first decade of the 2000s made "fame-focused tween shows," concluded the researchers. These platforms "which for the first time allowed anyone and everyone to seek a large audience, were brand new and seemed an essential part of the zeitgeist," they wrote in the paper.
Studies have also shown that this rise in fame-seeking corresponded to a rise in narcissism, while empathy decreased.
Change in values from tween television.
Other values, like community feeling and benevolence, also fluctuated in significance through the years, according to the study. The changes in value importance were directly correlated to changes in the culture at large. The importance of community was number one or two in four of the decades but fell to 11 in 2007. Being kind and helpful was in the second spot in 1967 and 1997, but only 12th in 2007. Now it's up to number 8.
Psychology professor Yalda Uhls, the report's author as well as founder and executive director of the Center for Scholars and Storytellers, remarked on the trends:
"I believe that television reflects the culture, and this half-century of data shows that American culture has changed drastically," said Uhls. "Media plays an important role as young people are developing a concept of the social world outside of their immediate environment."
One big value shift the study pointed out has to do with the kinds of messages kids get from reality shows (evaluated since 2007) and fictional shows that are scripted.
The most popular shows among tweens in 2017, based Nielsen ratings, were "America's Got Talent" and "American Ninja Warrior." Among scripted shows, the top two were "Thundermans" and "Girl Meets World." The values conveyed by the scripted shows were self-acceptance, community belonging and being kind. While in reality TV, values like fame, self-centeredness and image were promoted.
Reality shows, which are created for a wide audience, but watched frequently by tweens, tend to center on competition and the value of being the winner at something. They also celebrate tactics like bullying and cheating in order to win.
Most watched tween TV shows from 1967-2017 in the U.S.
The report's lead author, Agnes Varghese, a fellow of the center and a UC Riverside graduate student, explained how shows influence the kids:
"If tweens watch, admire and identify with people who mostly care about fame and winning, these values may become even more important in our culture," shared Varghese. "Reality television shows continued to reflect the same trend we saw in 2007, with self-focused values such as fame ranking highest."
Researchers also point out that shows, whether scripted or reality, are misleading in that they don't really reveal the value of hard work that it takes to achieve fame, especially for an average person. This is a crucial shortcoming, considering that tweens form lifelong belief systems during these years based on what they perceive as desirable to achieve in the future.
Check out the full report here: "The Rise and Fall of Fame: Tracking the Landscape of Values Portrayed on Television from 1967 to 2017" (PDF).
Infants can learn a lot about the world—if adults know the right ways to encourage them.
Infants come equipped with higher learning skills—it's up to adults to encourage their development, and foster their natural sense of agency. So what's the best way to do that? Help them create their stimuli, not just consume it, says parenting expert Janet Lansbury. Screens are a fact of life for the modern infant, following them everywhere they go in their parents' hands or pockets. How does screen-based learning affect their development? Mobile devices aren't the devil, but understanding how an infant's mind is developing can help you choose the best toys for the kid in your life. Screens, even small ones, can be incredibly overstimulating. Babies are soaking in their environment constantly, and their senses are stimulated by the movement of hair, light coming through the window, a small noise—they are all mysteries a baby tries to solve. Screens are entertaining, but their mystery is too complex and it doesn't adequately demonstrate the cause and effect needed for learning. Lansbury explains how to choose the toys that will help kids become active learners—exercising their creativity and analytic mind— rather than being passive learners. Janet Lansbury is the author of No Bad Kids: Toddler Discipline Without Shame and Elevating Child Care: A Guide to Respectful Parenting
A new study shows that addressing the ADHD epidemic may require a dose of physical activity, so kids can refocus and learn effectively in a classroom.
Gym programs – and the underfunding of them – may be as important as math or reading to learning. A new study shows that addressing the ADHD epidemic may require a dose of physical activity, so kids can refocus and learn effectively in a classroom.
Study, after study have given enough reason to think there may be a causal effect in addressing ADHD symptoms with physical activity. Researchers from another study published in the medical journal Pediatrics said they were able to "demonstrate a causal effect of a physical program on executive control, and provide support for physical activity for improving childhood cognition and brain health."
The image below shows the results from a group of 221 kids between the ages of eight and nine who were randomly selected to participate in the two-hour FITKids after school PE program, and those who didn't. The program lasted for nine months and the differences in cognitive health, focus, and physical well-being were noticeable.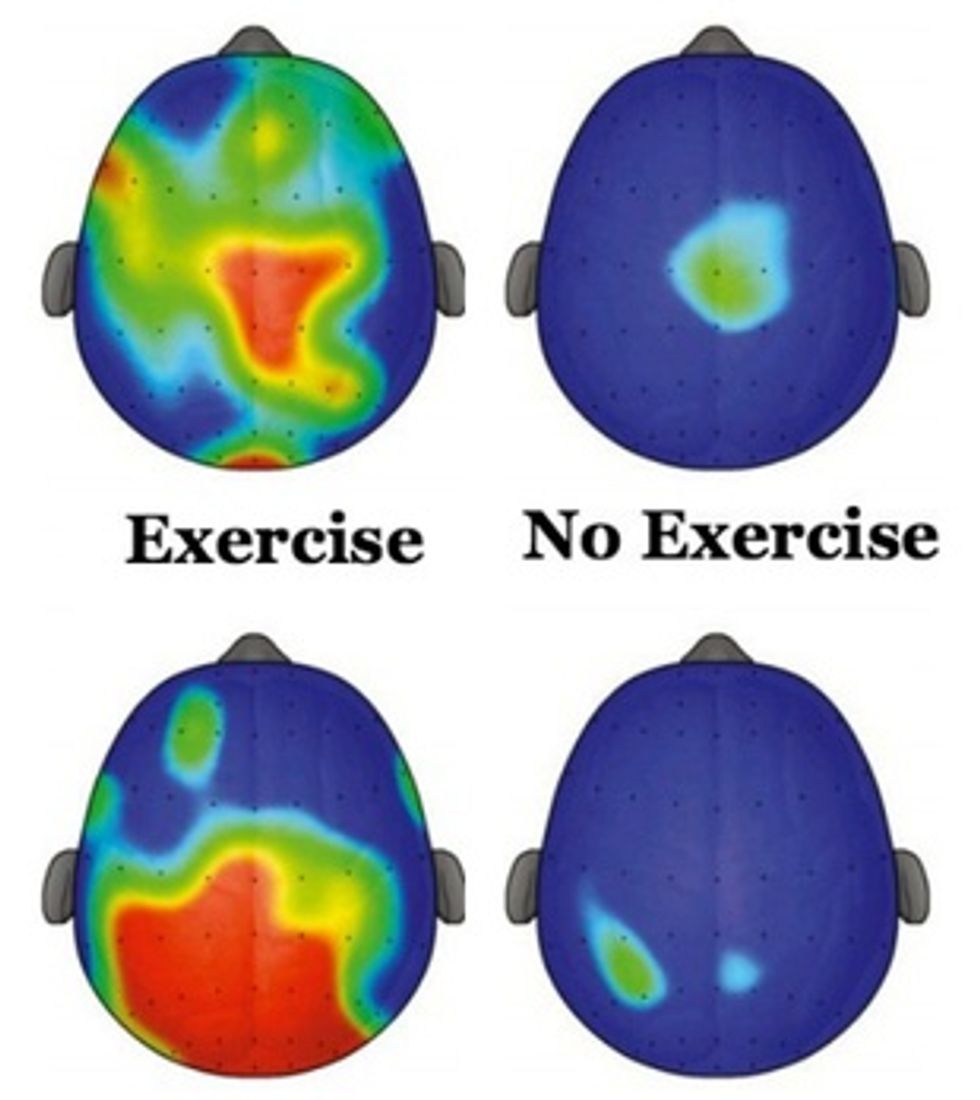 These electrophysiological plots represent the brain's processing capacity and mental workload (P3 amplitude) during cognitive tests, which requireed executive control. The red represents the greatest amount of executive control and blue represents the lowest.
(Hillman et al, Pediatrics/The Atlantic)
The researchers make a plea to policymakers and schools to consider their results, writing, "Given the rapid decline in [physical activity] opportunities for children at school, the dissemination of our findings is particularly important… Specifically, policies that reduce or replace [physical activity] opportunities during the school day (eg, recess), in an attempt to increase academic achievement, may have unintended effects."
The measures put in place to prepare kids for tests in the future may actually be putting them at a severe disadvantage. It's important to put this in perspective — our children are our future, after all. They will dictate the successes in this country and in their own lives.