A larger vocabulary can be a confidence booster for children and make adults better communicators.
Credit: thebarrowboy / Flickr
There are many benefits to developing one's vocabulary beyond just sounding smarter.
A stronger vocabulary can boost confidence, improve comprehension, and make you a better communicator.
The entire family can learn and practice new words with these fun games.
From STEM kits to fashion dolls, these creations all came from the minds of female inventors and designers.
You love the games and toys they made, but do you know their names?
The women behind these products are engineers, CEOs, and accomplished designers.
Learn about the creators while adding their toys to your holiday shopping list.
Most people have heard of major toy and game companies including Mattel, Hasbro, and Parker Brothers and have, for generations, purchased their products. Unfortunately, not as many people know the names of the individuals behind those board games, playsets, and action figures. Being an inventor is often a thankless job, especially for historically marginalized groups. While many creators have already been forgotten to time, the women on this list don't have to be.

From an iconic doll introduced in the 1950s, to a popular building block game, to new STEM kits designed to inspire young girls to become engineers, what the toys and games in this gift guide all have in common is that they were first designed (and often prototyped) by creative women. Some of them became entrepreneurs and still run their own successful toy companies, while others never got the credit and compensation they truly deserved. In honor of the brilliant minds that made them, here are 7 of the best toys and games invented by women that you should consider adding to your holiday shopping list.
Born in Tanzania and raised in West and East Africa, Leslie Scott was inspired to create Jenga after reflecting on her childhood. The game was based on one that Scott's family played using wooden blocks. Scott wanted a strong name that would become synonymous with the game. She chose Jenga, which comes from the Swahili word kujenga, meaning "to build."
Debbie Sterling created GoldieBlox to give young girls a curious female engineer character to look up to. With maker kits ranging from an inventor's mansion to this smartphone projector, girls can learn to build and customize their own fun toys and objects. Major companies wouldn't back Sterling's vision because they said that girls would not be into engineering play, so Sterling launched her own Kickstarter campaign and successfully launched GoldieBlox as an innovative and independent toy company.
Monopoly as we know it was introduced in the 1930s, but Elizabeth Magie's "The Landlord Game" dates back to around 1903. Magie originally created two sets of rules for the game: one that rewarded players for creating monopolies, and another that rewarded everyone for creating wealth. The game was not a cash cow for Magie, but a man named Charles Darrow was able to hijack her idea and sell his version for millions to the Parker Brothers. Controversial past aside, the game is an undisputed classic that has divided and delighted families for generations.
LittleBits building block kits include magnetic modular "bits" that can be configured and reconfigured to perform various functions. The color-coded pieces teach builders about electronic circuitry in a way that is fun and easy to understand. LittleBits CEO and founder Ayah Bdeir told Entrepreneur.com that her company's kits are designed for boys and girls and that "accessibility helps everyone to unleash creativity and instill a love of STEAM through the cycle of inventing."
While recovering from polio in a hospital in San Diego in 1948, a retired teacher named Eleanor Abbott created a board game to keep young patients entertained during their long and often painful treatment cycles. Candy Land was well-received by the sick children, so Abbott decided to pitch it to Milton Bradley the following year. The sugary-themed game was bought and quickly became the company's best-selling title. Five and a half decades later in 2005, Candy Land was inducted into the National Toy Hall of Fame.
The idea for the Moonlight Storybook Projector came from Natalie Rebot's bedtime ritual of making shadow puppets with her daughter using the flashlight on her smartphone. After building a prototype and launching a successful Kickstarter campaign, Rebot left her career at Google and turned Moonlight into a full-fledged company. There are now story reels available for the projector from Disney and other major publishers.
Mattel co-founder Ruth Handler debuted the first Barbie doll at the New York Toy Fair in 1959. Named after her daughter, Handler was inspired to create the fashion icon after watching how young Barbara played with her paper dolls. Barbie has since had over 180 different careers and has spawned a pocket universe of friends, family, pets, vehicles, and structures. This doll in particular, designed by Caroline DeMersseman, commemorates the figure's 60th (diamond) anniversary and features an elegant ball gown with silver earrings.
When you buy something through a link in this article Big Think earns a small affiliate commission. Thank you for supporting our team's work.
Kick off your next game night with these Mensa-recommended board and card games.
Mensa members judge an annual competition to determine which games are the best on the market.
Hundreds of board, card, and party games are considered each year but only a select few can win.
These 10 top games are available to purchase and play right now.
Grabbing a controller and getting lost in an open world video game is amazing, but nothing beats a good old-fashioned board game night with family and friends. You'll find classics like Monopoly or Clue in every household, but there are new games hitting shelves all the time that are worth purchasing. To eliminate some of the guess work for gamers, members of the high-IQ association Mensa meet once a year to judge the best of the best. Making the list is an honor, but getting to play the games is the real win.

Each year Mensans consider hundreds of submissions across numerous genres during a multi-day event called Mind Games. Aesthetics, instructions, originality, play appeal and play value are the criteria that the judges consider when rating the new titles. The top five games are given a literal seal of approval and join the list of Mensa Select Games. Mensa members also choose worthwhile runners up for its Mensa Recommended Games list. Whether you're into whodunnits starring mischievous cats, or you're looking to play a game as a colorful invertebrate, there is something for everyone. Here are 10 games from the lists that you can add to cart and purchase right now.
Set at the end of the Carolingian Empire, Architects of the West Kingdom is a 1-5 player tabletop game designed by Shem Phillips and SJ Macdonald, with art by Mihajlo Dimitrievski. The objective is to end the game with the most victory points, which are earned by building various structures and making progress on the Archbishop's Cathedral. Along the way, players must hire apprentices, collect materials, and make deals that advance their efforts, but the wrong decisions could prove detrimental. Architects of the West Kingdom was one of five Mensa Select winners for 2019.
Designed by Phil Walker-Harding, Gizmos is a 2-4 player card game centered around building machines for the Great Science Fair. As you play, you use energy marbles to purchase new parts for your creation and amass victory points. What makes a great machine? You'll have to play this Mensa Select game to find out.
Designed by Urtis Šulinskas with art by Sabrina Miramon, Planet is a tile placement strategy game that gives players the power to cultivate a world from scratch. How the ecosystem is built (elements, regions, etc.) determines which animals can live there, which in turn earns cards for the world builder. The game is rated ages 8+, was designed for 2-4 players, and is a 2019 Mensa Select title.
Wreak havoc across Europe while collecting parts for your weapons of destruction and sabotaging your fellow bad guys in "Victorian Masterminds." The Secret Service is on your tail, so don't get caught! Yet another Mensa Select winner, the game was designed by Antoine Bauza and Eric M. Lang, features art by Davide Tosello, and can be enjoyed by 2-4 masterminds at a time.
This fast-paced game challenges players to clean up space trash and keep it from cluttering up their planet. Included on 2019 Mensa recommended list, this family board game is designed for space cadets ages 6 and up.
The better you are at predicting what others players are going to say, the more points you'll score. This Mensa-recommended game can accommodate up to 8 players so get a group together and bring your best words.
According to Amazon, over 50 million copies of Cat Crimes have already been sold. That's because everyone loves cats, even when they're criminals. With innocent names like Pip Squeak and Sassy, which of the 6 suspects will you choose? There are 40 crimes to solve, so you can bet that this single-player game will get a lot of use.
This strategy game asks players to work together to launch a rocket before the floating platform they are on is struck by lightning. It sounds very stressful but also super fun and challenging. C. B. Canga provided the art for this set, while Matt Leacock is credited as its designer.
Draw and connect train routes and exit points while avoiding natural disasters. Easy right? Railroad Ink: Blazing Red Edition is designed by Hjalmar Hach and Lorenzo Silva with art by Marta Tranquilli,
The name tells you all that you need to know. In this abstract strategy game by designer Emerson Matsuuchi and artist Chris Quilliams, you are a living reef that can grow and change colors. If that's not enough to sell you, then maybe give the previously mentioned games a chance?
When you buy something through a link in this article Big Think earns a small affiliate commission. Thank you for supporting our team's work.
Hasbro is releasing a Cheaters Edition Monopoly that encourages players to get ahead in any way they can.
The Cheaters Edition Monopoly is out in fall 2018.
The classic board game Monopoly has undergone countless special editions over the years, with themes ranging from Star Wars to World War II. Every one of these iterations has been built on the assumption that players will be honest and follow the rules. But that's over.
This fall, Hasbro will release a Cheaters Edition Monopoly that encourages players to get ahead in any way they can: by skipping spaces, stealing extra bills from the bank, dodging rent payments, or removing another players' hotel when they're not looking.
If the news alone doesn't make you ask "is nothing sacred?" then listen to how Hasbro got the idea to create the new edition:
"A recent study conducted by Hasbro revealed that nearly half of game players attempt to cheat during Monopoly games, so in 2018, we decided it was time to give fans what they've been craving all along—a Monopoly game that actually encourages cheating," Jonathan Berkowitz, senior vice president of Hasbro gaming, told INSIDER.
The goal of the game is still the same: crush your opponents and end up with the most property and cash. But the new game structure required upending some of Monopoly's long-standing rules.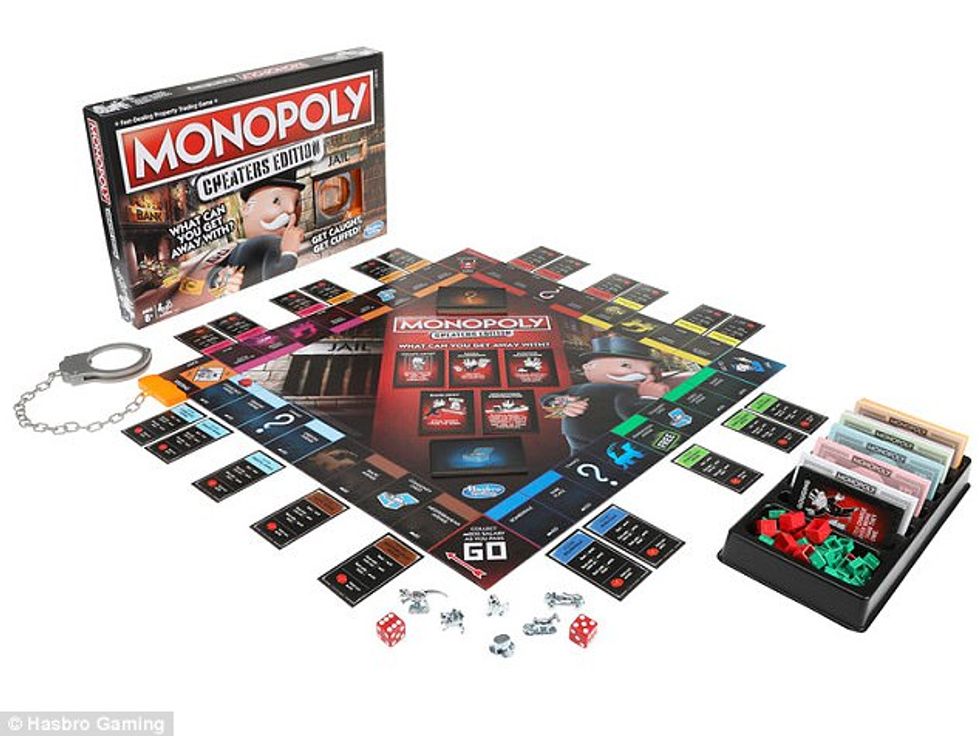 "For the first time in Monopoly history, there is no designated Banker," Berkowitz told Insider. "Players are in control of the Bank on their turn, and pass it to the next player when their turn is over, making it easier to pull of "cheats" such as a the Bank Heist."
But with great vice comes great consequence: cheaters who get caught have to fork over cash or even get chained to the board game with the pair of plastic cuffs that comes with each set.
"We've finally decided to embrace our less-than-honest fans by encouraging them to partake in those iconic (yet sometimes unspoken) Monopoly moments that occur during family game nights," Berkowitz told Insider. "We're excited to see what fans can get away with and how they'll react to the new sneaky twists in the game."
The game will sell for $19.99 this fall.
Monopoly's secret history
Cheating runs deep in Monopoly—and not just in the game, but arguably right down to its creation.
At the beginning of the 20th century, when board games were becoming increasingly popular, a left-wing feminist and teacher named Lizzie Magie spent years infusing her political observations and ideology into a board game she called the Landlord's Game.
"It is a practical demonstration of the present system of land-grabbing with all its usual outcomes and consequences," she wrote in a political magazine. "It might well have been called the 'Game of Life', as it contains all the elements of success and failure in the real world, and the object is the same as the human race in general seem[s] to have, i.e., the accumulation of wealth."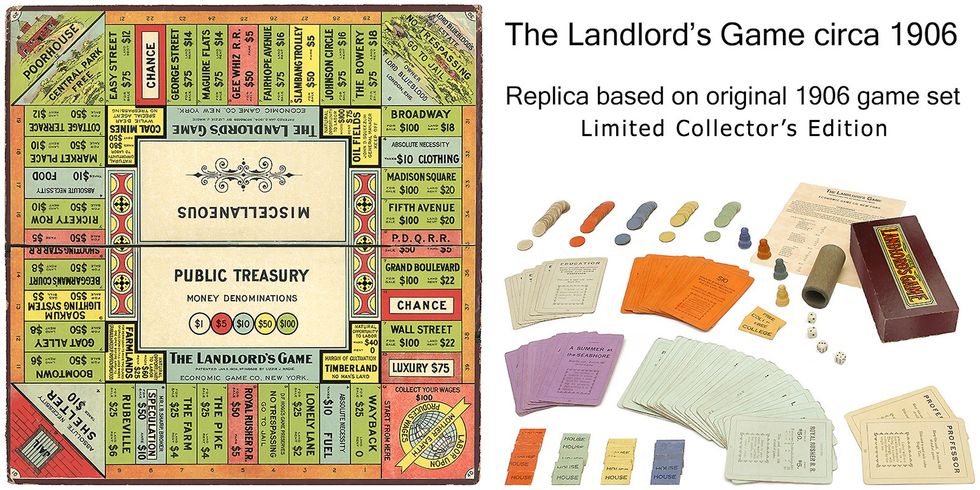 She patented the game and it became popular over the following decades, especially in left-wing academic circles, who perhaps saw it as a somewhat satirical commentary on wealth inequality and the competitive nature of capitalism.
A man named Charles B. Darrow eventually discovered a modified version of the game and brought it to Parker Brothers, the toy manufacturer that was eventually purchased by Hasbro. The company bought Magie's patent and two of her other game ideas for $500, a figure which probably didn't cover the costs of developing and patenting the Landlord's Game.
Hasbro went about tweaking and repackaging the game, which would become a worldwide hit in the years to come. For introducing the game to Hasbro, Darrow would go on to make a fortune from Monopoly through royalties that lasted the rest of his life.
It wasn't until years later that Magie realized she had lost the real-world game of capitalism by making a bad deal. But it's arguably in legacy where she was cheated.
On the Hasbro website, a history of Monopoly begins in 1934 when Darrow "presented a game called MONOPOLY to the executives of Parker Brothers." Magie's name is never mentioned.
When The Guardian asked Hasbro about Magie's role in creating the game, the toy company responded with a brief comment: "Hasbro credits the official Monopoly game produced and played today to Charles Darrow."
In an interview with the Washington Post about her short-end deal from Hasbro, Magie said "There is nothing new under the sun."
Here's Ta-Nehisi Coates on how formative Dungeons and Dragons was for him: