The Brazilian government has been trying to answer this very question in its ever-growing prison population, which has doubled since the year 2000.
The Brazilian prison population has doubled since 2000. (Photo: Mario Tama/Getty Images)
In 1953, long before shots of ayahuasca were paired with cacao elixirs at Burning Man Decompression parties, William Burroughs traveled around South America in search of the mystical beverage called yagé. Though Burroughs is remembered predominantly as a heroin junkie, he documented not only the hallucinogenic qualities of ayahuasca, but also the scientific possibilities of this intriguing blend of vines and leaves. 
Ayahuasca was first "discovered" by Western science in 1851, when the Victorian naturalist Richard Spruce made his way around the Amazon (Burroughs later read his work). It would take the "father of ethnobotany," Richard Evans Schultes, to bring ayahuasca to mainstream awareness. Ironically, perhaps, Burroughs and Schultes, both Harvard graduates, ran into one another in Colombia in 1953 while documenting yagé. 
Burroughs never achieved the scientific results Schultes did. While the Beat writer focused on a book (eventually downgraded to an article) on the science, he was known for dramatic statements like, "NO ONE IN HIS SENSES WOULD EVER TRUST 'THE UNIVERSE.'" A powerful observation in his letters to pal Allen Ginsberg, but not getting him published in Nature anytime soon. 
Interestingly, when traveling through the Putumayo region of Colombia, Burroughs predicted a global ayahuasca boom. Today eco-luxe tourism is rampant in the Amazon, with rock star shamans grappling with sexual abuse accusations. In Los Angeles, yoga teachers who've drank the brew feel justified in labelling themselves "plant medicine shamans" after circumventing the rigorous dieta and apprenticeship process. With so much spiritual capitalism occurring around this drink, what benefits can actually be gleaned? 
The Brazilian government has been trying to answer this very question in its ever-growing prison population, which has doubled since the turn of the century. In 2013, volunteer therapists working with Acuda, a prisoner's rights group based in Port Velho, began integrating yoga, reiki, and ayahuasca ceremonies as part of a wide-scale rehabilitation effort to help the half-million-plus inmates scattered across the nation.
While the brew is less studied than other entheogens, early reports are positive. One small study in Brazil saw a meaningful reduction in depression in volunteers. A larger follow-up saw a 64 percent success rate in treating depression. Another study focused on its potential application in treating addiction and other "diseases of civilization." Some speculate that ayahuasca might have even wider-ranging applications: 
The plant has shown potential to help people recover from trauma, PTSD, addiction and depression, as well as cancers and other afflictions.
The larger question of ayahuasca's scientific and spiritual applications was entertained in the 2010 documentary, DMT: The Spirit Molecule, which has been viewed millions of times on Netflix, Youtube, and other streaming services (and which I served as music supervisor for). Parsing credible science from anecdote is always challenging, yet the transformative effects of ayahuasca are well documented. 
Context matters. Last week I wrote about how mindfulness meditation might be dangerous for prisoners, but thus far ayahuasca seems beneficial for helping prisoners reflect on their crimes and, by extension, reducing recidivism rates.
This treatment is not universally welcome. One Brazilian resident, whose daughter was killed by one such prisoner, wonders how the murderer is allowed to enter the jungle to drink sacred medicine. The bigger question here involves the role prisons play in society: punishment or rehabilitation? 
This question is particularly pertinent in the United States, which holds more prisoners than any other nation. While no one is advocating that prison should be pleasurable, some view it as an opportunity to prepare inmates for reintegration into society. Many facilities accomplish the opposite: 
Prisoners in supermax units experience extremely high levels of anxiety and other negative emotions. When released—often without any "decompression" period in lower-security facilities—they have few of the social or occupational skills necessary to succeed in the outside world.
Others believe prison serves one purpose: justice. One libertarian argument even states that punishing prisoners is more merciful than trying to rehabilitate them: 
Justice requires punishment, punishment must be deserved, and just desert requires a punishment in proportion to the crime committed—neither too much, nor too little. This is far preferable to the senselessly draconian sentences and the perpetual monitoring and post-imprisonment sanctions subject to the whims of a grimly humanitarian state.
The latter argument is more nuanced than that singular quote, though that sentiment does conclude the writer's overall idea, which boils down to this: Are we trying to help criminals or keep them as far away as possible? Do we turn the other cheek or demand an eye, a head, an entire body for an eye? The prison system is broken. Do we want to try to fix it, or let it continue on the corporatized retributive path it's been leading for decades? 
At least in terms of ayahasuca, I can respond thus: on the three occasions I've sat for ceremony I've left recharged, reflective, and grateful. Though the most intense psychoactive experiences I've had—more so than psilocybin, LSD, MDMA, mescaline, and peyote—I never felt anxious. The ceremony provides an opportunity to reflect over your life; if you don't like what's simmering below the surface, chances are the ritual might result in existential duress. 
But coming to terms with what's inside of you is more transformative than ignoring it, which is, from my studies, conversations, and experiences, the true power of ayahuasca. That this brew might help alter the course of a life gone astray is enough incentive to integrate it into the prison population. The medicine is social, spiritual, and therapeutic, but most importantly, it provides a human approach to aiding others. If the science continues leading in this direction, we should follow it. 
--
Derek is the author of Whole Motion: Training Your Brain and Body For Optimal Health. Based in Los Angeles, he is working on a new book about spiritual consumerism. Stay in touch on Facebook and Twitter.
It's the 1st observed psychedelic-caused molecular changes inside human neural tissue.
Neural organoid or "mini-brain." Credit: Johns Hopkins Bloomberg School of Public Health.
Yet, little is actually known about them from a scientific standpoint. The CIA conducted experiments in the mid-20th century to find out if psychedelics could make hypnosis easier, or help a soldier better withstand "privation, torture, and coercion."
Ken Kesey, author of the classic One Flew Over the Cuckoo's Nest, was one such test subject. The influence of the experience helped him and others birth the counterculture movement of the 1960s, which ultimately stood against the very system that had tested them in the first place.
There was a short window in the late '50s and early '60s where psychedelics were used in the psychiatric community to help patients overcome certain disorders. Iconic Hollywood actor Cary Grant is known to have undergone 100 such therapy sessions.  
Since the '60s, psychedelic drugs have become taboo and highly illegal. It's feared they cause psychosis, despite little actual data suggesting so. In recent years, a small but growing number of studies have returned to the pre-counterculture outlook—that they might help treat certain disorders. LSD, ayahuasca brew (containing DMT), and MDMA have all been shown to exhibit anti-inflammatory and antidepressant properties.
Did ancient shamans of North and South America know something that science is only catching onto? DMT, sometimes called the "spirit molecule," has been a part of shamanic traditions for hundreds of years. The chemical used in this study is a variant of DMT.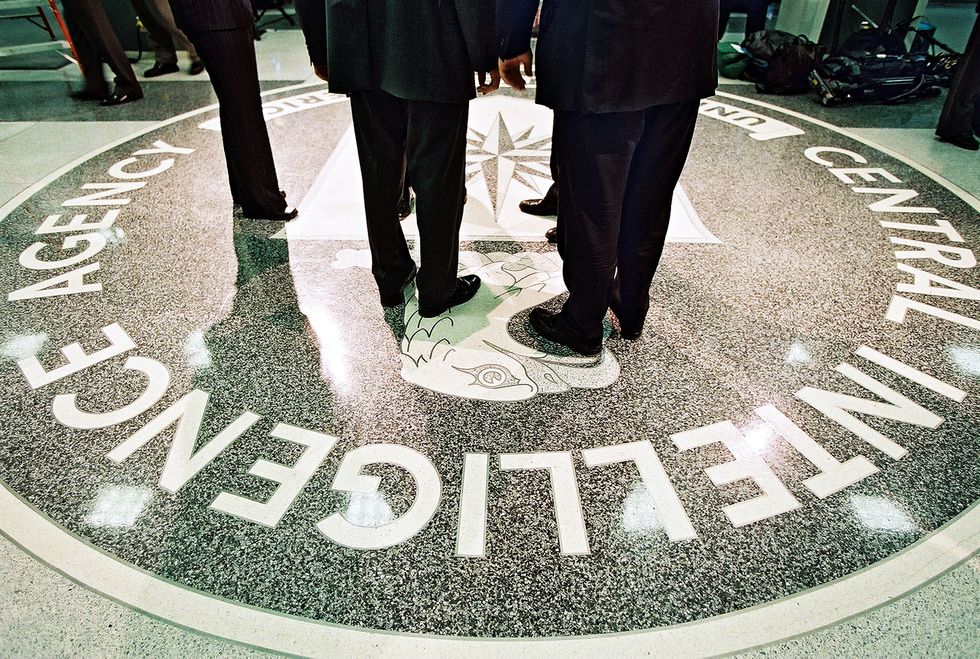 The CIA tested psychedelics on unsuspecting subjects to try and gain an edge during the Cold War. Credit: Getty Images.
So what's the breakthrough? Brazilian researchers have identified the signaling pathways that DMT takes in order to engage neuroplasticity (or changes inside the brain). The results of the study were published in the journal Scientific Reports.
Overall, scientists try to uphold things like research ethics. Plus, it's illegal to smoke DMT inside an fMRI machine. Or anywhere. So instead, investigators observed the effects the psychedelic had on so-called "mini-brains." These cerebral organoids are made up of 3D cultures of neural cells. They're grown from stem cells. Each mimics a brain inside a human fetus.
These neural organoids were first developed last year at Johns Hopkins University. Since they're lab grown, there aren't any thorny ethical issues to deal with. After dosing the mini-brains with DMT, scientists identified the neural pathways the chemical traveled which were later found to be associated with neurodegeneration and inflammation.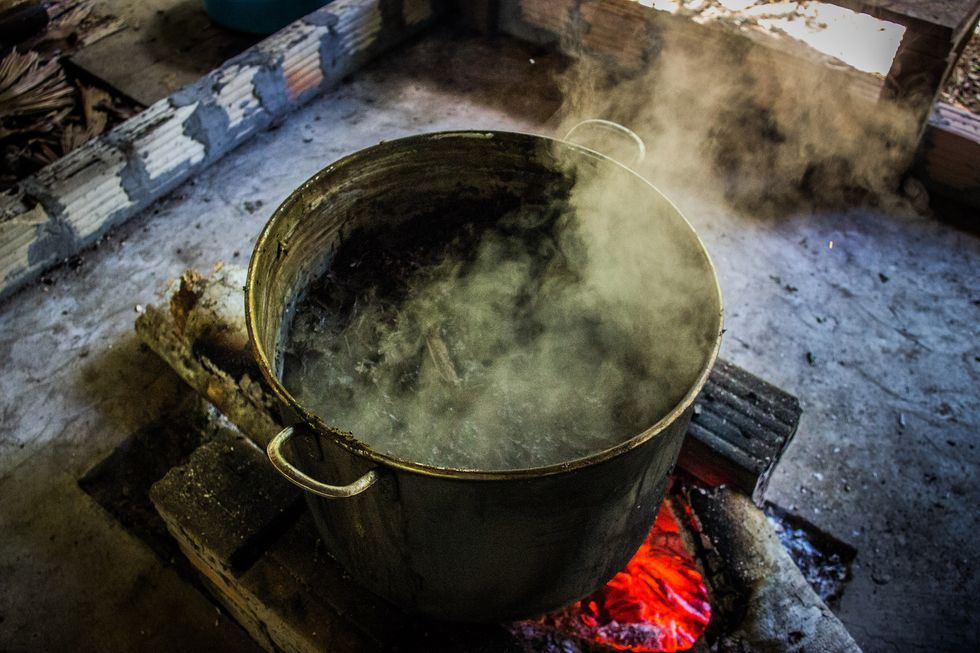 Many Westerners today are seeking out shamans to produce ayahuasca tea for their own psychological benefit. Science may back this up. But there could still be dangers. Credit: Apollo. Flickr.  
Researchers at the D'Or Institute for Research and Education conducted the study. They were led by Stevens Rehen, a professor at the Federal University of Rio de Janeiro (UFRJ). Prof. Rehen said, "For the first time we could describe psychedelic-related changes in the molecular functioning of human neural tissue."
He added, "Our study reinforces the hidden clinical potential of substances that are under legal restrictions, but which deserve attention of medical and scientific communities." Identifying these pathways has been a priority in the study of psychedelics. A lack of understanding exactly how these substances affect the brain has stunted the field, thus far.
Each mini-brain was given a single dose of the psychedelic 5-MeO-DMT. This compound comes from the dimethyltryptamine family. One might ingest it after licking a certain kind of toad, Incilius alvarius.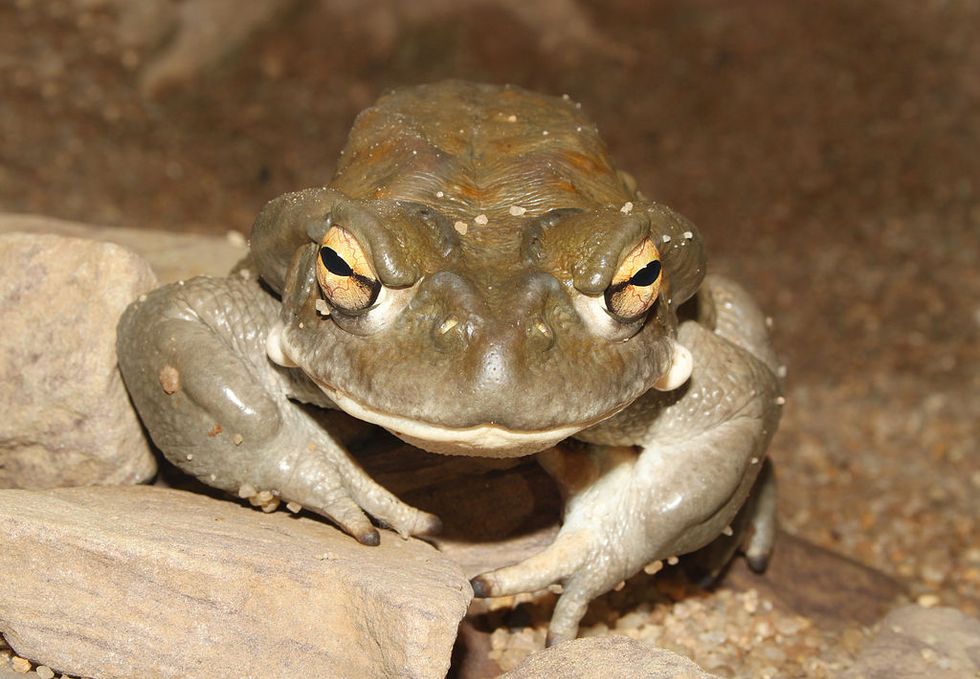 Colorado River toad toad (Incilius alvarius). Credit: H. Krisp [CC BY 3.0], via Wikimedia Commons.
Researchers used a technique known as mass spectrometry-based proteomics to analyze the mini-brains, once dosed. Nearly a thousand proteins were altered by the chemical, they found. Some were upregulated while others were downregulated. Then the scientists took these proteins and traced them back to what role they play inside the brain.
Prof. Rehen and colleagues found that this psychedelic may ward off brain lesions and inflammation, and inhibit neurodegeneration. This suggests it would be helpful as an antidepressant. Sidarta Ribeiro was a co-author on the study. He's the director of the Brain Institute at the Federal University of Rio Grande do Norte (UFRN). Ribeiro said, "Results suggest that classic psychedelics are powerful inducers of neuroplasticity, a tool of psychobiological transformation that we know very little about."
We still don't know enough about these substances, however. So no one should take them on their own, as they may have other downsides we just aren't privy to yet, and affect each person differently. More research is required before we can fully understand how these substances change the brain.
Given the high rate of depression these days, new treatment options are sorely needed. Perhaps someday a psychedelic, a derivative of one, or a synthetic based on one, will help patients overcome certain psychiatric disorders.
To learn more about science's rejuvenated interest of psychedelics, click here:
As medicine's interest in psychedelic drugs increases,will a shamanistic brew join your therapist's list of go to prescriptions?
As we have mentioned on Big Think before, psychedelic drugs are currently enjoying a surge of new interest in medicine. Psilocybin (the compound in magic mushrooms) is showing potential in the treatment of anxiety, and LSD shows promise against alcoholism. While some of these drugs were used previously for therapeutic purposes, their association with the counterculture proved dangerous to their legality. As such, only now are their potential benefits being reconsidered.

A recent study shows yet another psychedelic to have potent and potentially therapeutic effects. The drug is Ayahuasca, a concoction consisting primarily of the chemical DMT, with other elements added to aid in the absorption of the drug. DMT is incredibly powerful; users often report the sensation of being in a different world, and when brewed as Ayahuasca the length of a trip goes from five minutes to several hours. Ayahuasca is therefore regarded, justly, as one of the most extreme psychedelic drugs in existence.
The study by José Carlos Bouso and others examined the brains of 22 long-term users of Ayahuasca. When their brains were measured for thickness in the posterior cingulate cortex it was found that they had reduced levels of brain activity in that region. This isn't as bad as it sounds; this part of the brain is associated with anxiety and depression. The size of this region is also negatively associated with working memory performance. 
The users also scored higher on tests of self-transcendence and self-reported a reduced usage of alcohol and cocaine later. While correlation cannot prove causation, it does suggest that use of the drug leads to structural changes in the brain, ones that may assist people who have issues with anxiety, depression, and substance abuse, along with the typical effects of psychedelic usage.
An example of those typical effects.
It's not only Ayahuasca that has that brain-changing effect. Meditation can also reduce the area of the brain associated with anxiety and depression, and can do so without the side effects of extreme vomiting, apocalyptic diarrhea, and having to interact with potentially shady shamanistic hacks that take advantage of Ayahuasca's increasing public interest. Similarly, the studies are still new and more research is needed before the facts can be called settled. A single study of 22 people is no reason to go out and try it yourself.
We are living in a time when the potential therapeutic uses of psychedelic drugs are being seriously reconsidered. Ayahuasca, the drink of choice for the discriminating shaman, may prove to be another tool in the psychologist's arsenal. Much more research is needed before a conclusive answer can be given. The potential, however, is clear and intriguing. Our fear of psychedelics must not inhibit our ability to study their possible therapeutic effects, likewise we must be sure our hope for therapeutic effects does not inhibit our ability to do proper research.