The pizza giant Domino's partners with a Silicon Valley startup to start delivering pizza by robots.
Nuro
Domino's partnered with the Silicon Valley startup Nuro to have robot cars deliver pizza.
The trial run will begin in Houston later this year.
The robots will be half a regular car and will need to be unlocked by a PIN code.
Would you have to tip robots? You might be answering that question sooner than you think as Domino's is about to start using robots for delivering pizza. Later this year a fleet of self-driving robotic vehicles will be spreading the joy of pizza throughout the Houston area for the famous pizza manufacturer, using delivery cars made by the Silicon Valley startup Nuro.
The startup, founded by Google veterans, raised $940 million in February and has already been delivering groceries for Kroger around Houston. Partnering with the pizza juggernaut Domino's, which delivers close to 3 million pizzas a day, is another logical step for the expanding drone car business.
Kevin Vasconi of Domino's explained in a press release that they see these specially-designed robots as "a valuable partner in our autonomous vehicle journey," adding "The opportunity to bring our customers the choice of an unmanned delivery experience, and our operators an additional delivery solution during a busy store rush, is an important part of our autonomous vehicle testing."
How will they work exactly? Nuro explained in its own press release that this "opportunity to use Nuro's autonomous delivery" will be available for some of the customers who order online. Once they opt in, they'll be able to track the car via an app. When the vehicle gets to them, the customers will use a special PIN code to unlock the pizza compartment.
Nuro and its competitors Udelv and Robomart have been focusing specifically on developing such "last-mile product delivery" machines, reports Arstechnica. Their specially-made R1 vehicle is about half the size of a regular passenger car and doesn't offer any room for a driver. This makes it safer and lighter too, with less potential to cause harm in case of an accident. It also sticks to a fairly low speed of under 25 miles an hour and slams on the breaks at the first sign of trouble.
What also helps such robot cars is "geofencing" technology which confines them to a limited area surrounding the store.
For now, the cars are still tracked around the neighborhoods by human-driven vehicles, with monitors to make sure nothing goes haywire. But these "chase cars" should be phased out eventually, an important milestone in the evolution of your robot pizza drivers.
Check out how Nuro's vehicles work:
The driverless car is coming – but what will *you* being doing in your self-driving car? Robotic cars will give rise to a new ridership economy of on-the-go services and experiences.
The ridership economy is coming.
Discussions of autonomous vehicles have become so commonplace that by the time driverless cars are widely available, the public's excitement may be long over. Robotic cars have become as ubiquitous a feature on the evening news as the "incredibly cute pet" story. It is time to ask what might be the impacts of autonomous vehicles on business and society? And if driving is left to the robots, will we also be inventing a new ridership economy from the hours we gain being no longer at the steering wheel?
What will you be doing in your self-driving car? The Auto Insurance Center recently conducted a survey that asked that very question. While this is clearly not the first such study, and most assuredly will not be the last, the findings present some interesting data. 
Here is the top ten list of activities that 2,000 drivers from around the world said they will do when they are freed from the wheel:
1. Read a book
2. Catch up with friends and family via phone
3. Get work done outside of the office
4. Watch a television show
5. Watch a movie
6. Eat
7. Play video games
8. Sleep
9. Engage in sexual activity
10. Pray
Apparently, carsickness is not enough of a problem to keep people from wanting to read in the car. A 2015 study showed that 72% of Americans reported reading at least one book over the previous year, – perhaps accounting for why reading is the number one activity future riders envision themselves doing during their robotic ride. 
The survey suggests that talking to friends and family on our phones will increase when in self-driving cars. Furthermore, because it allows passengers the luxury of being able to take their eyes off the road, the car is set to become an entertainment hub for gamers and movie watchers. Instead of fuel economy or horse power, 'our screen is bigger than their screen' may become a new compelling measure by which to compare relative car value. Volvo jumped to the front of the in-vehicle entertainment line last year by announcing a venture with Ericsson to integrate the next 'killer app' to stream HD video to the car, giving the movie theater business one more competitor to putting 'butts in seats'.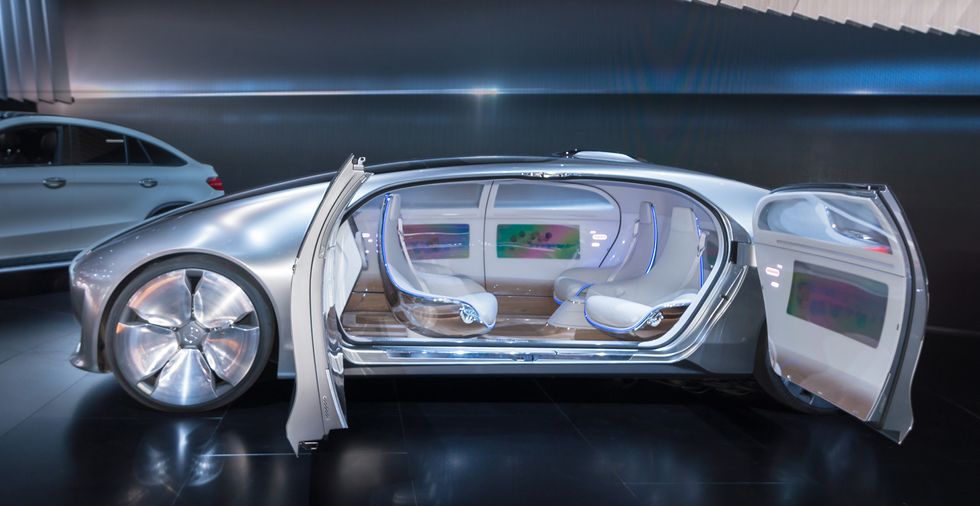 The drive-thru and fast casual restaurant businesses may also see market growth arising from the driverless car. Eating while driving has always been a common activity (note the ever growing number of coffee cup holders in new cars). Now imagine no longer having to hold the wheel with your hand (or even with a well-placed knee). This new freedom will likely result in vastly expanded menus with plated foods on easy to use vehicle trays and storage units. Food on-the-go may even get healthier. Breakfast, in particular, is likely to get a boost putting Starbucks, McDonalds, and others on notice that food behind the wheel is no longer a constrained luxury that must be a sandwich or in a cup.
A few of the listed activities lead to a chuckle, or stimulate some vivid imagery (note activity number 9). "Praying" made the list as #10. It is unclear as to whether praying onboard is due to a newly developing religious fervor or the amount of trust future riders have in the artificial intelligence powering their robotic chauffeur.
What the list does show is a distinct lack of imagination by tomorrow's 'riders.' This is not an indictment of the survey respondents, but rather an indication of the amazing opportunity for business to create new rider experiences that are likely to become novel revenue streams for both service providers and the emerging autonomous vehicle industry.
How much would any business pay to have access to a consumer that has high-speed wireless connectivity but trapped for at least one hour a day? (note the average journey to work commute time in the US is about 30 minutes) Here are five services that will make it to a new top 10 list when autonomous cars, filled with connected, credit card carrying, strapped in consumers, flood the streets creating a new ridership economy.
On-Road Shopping – Online shopping just got a boost. Amazon's Echo (a.k.a. Alexa) is already being integrated into Ford and Volkswagen. "She," along with competing robotic assistants, will have a permanent spot on your dashboard capturing your imagination and newly found online shopping time. Brick and mortar may win as well – location based marketing for retailers will no longer be limited to tracking your smart phone at the mall, but may scoop you up from the road as well. Imagine Target, Nordstrom, or The Home Depot sending you personalized GPS-based marketing content to that in-vehicle widescreen compelling you to ask your autonomous car to take a hard turn to the store you overlooked only moments ago.
Smarter in 30 Minutes – Online education is growing, but the time available to learn is not. Get ready for MOOCS or Massive Open Online Courses to find a way into your car distilling classes into 25-minute learning sessions. Think credit-on-the-go that will be offered by for-profit education companies, such as Capella University, and leading non-profit university giants on edX. Pick up a certificate or an entire degree just by using the time going to work and back home again.
Me Time – All of us have seen (and probably have done) self-care behind the wheel. Self-care at high velocity already occurs – just think of the woman you passed putting on makeup at 60 mph or the reckless male with eyes glued to the mirror and shaving while merging into a traffic circle. Will Procter & Gamble or Estée Lauder, along with their retail partners, such as CVS and Walgreens, move your bathroom mirror and cabinet into the car? Always stocked, always ready, your branded self-care car console may replace your steering wheel – helping you get ready for work the morning or to freshen up for a Friday evening.
The Doctor is In…Your Car – While we are discussing self-care, why not healthcare? Given developments in the Internet-of-Things, and the growing capacity for tech devices to measure nearly every physiological function, the car might someday be able to serve as the site of a daily checkup. New partnerships between telecommunications firms, health service providers, and even insurers may provide nutrition consultations while you ride or possibly collect your weight, blood pressure, heart rate, and other factors that could indicate your overall wellness, level of stress, or fatigue. Rather than a frustrating commute, your car may become a platform of wellness services on wheels.
Home Work – After a day at the office, most people come home to another day of work. Cooking, cleaning, doing laundry. Why not get a jump-start on these tasks from the car? Designers have envisioned putting a washer and dryer in Ford Windstar minivans to meet the needs of supercharged soccer parents that wanted to do the wash while sitting on the sidelines. Seamless connectivity may make it possible for your autonomous car to connect to your smart house to warm up the oven or to even start dinner long before you arrive home. 
While the vision of the driverless car is being promoted as a promise of unprecedented safety and seamless mobility, it will also free up trapped time for consumers to do other things. New technologies and creative business partnerships will deliver service innovations inside the vehicle producing an entirely novel platform of experiences that will transform how we connect with the world – this is the new ridership economy.
Driverless cars are nothing short of a revolution – not a technological revolution, but a social one, that will determine how fast we can accept, adapt and trust these new systems to change our lives.
Driverless cars may be borne out of science fiction, but they are fast becoming realities on tomorrow's roadways. The transition from driver to robot is nothing short of a revolution. Not a technological revolution, but a social one, that will determine how fast we can accept, adapt and trust these new systems to change how and where we live, work, play and interact with each other.
Japan's auto giant Nissan unveils the new robotic vehicle 'Pivo 2', equippeec with in-wheel electric motors to drive all wheels independently and to pivot its cabin at the company's headquarters in Tokyo. (Photo: YOSHIKAZU TSUNO/AFP/Getty Images)
If you've sat in a new vehicle over the last decade, odds are that you've come into contact with a computer that assists in the act of driving. That assistance might have been as simple as a beep from the console that tells you when you're about to back up into a light pole -- a mundane, accessory, maybe slightly annoying tool, not what anybody would put under the banner of science fiction. But that little beep is a harbinger for a coming revolution that will change the design of our cities and neighborhoods, our fundamental relationship with technology, and the way we work and live.
When I mention autonomous vehicles to people outside of the tech and transportation worlds, I'm usually either met with near-complete incomprehension or bordering-on-overwhelming excitement. One either hasn't heard or even dreamed that self-driving cars might be imminent, and is given to imagine them as futurist babble; or else one has been exposed to news of the rapid progress by tech and automotive companies in developing autonomous vehicles, has heard tell of a timeline to have such vehicles all over the road by 2021, and so has the vague conviction that the world is going to look quite a bit more like The Jetsons in the next five years or so. 
Neither of these types has quite the right idea, although the latter, excitable viewpoint is the one closest to the truth: Self-driving cars are coming, make no mistake, but we shouldn't expect them to suddenly, explosively appear en masse on America's roads, doing away with the act of driving in one fell swoop. Instead, we might look to that modest cautionary computer beep as a way to understand how self-driving cars will make their way into our lives: the technology will not come to us in a single wave, but in small cumulative increments, increasing in frequency, adding up, finally, into a revolutionary impact.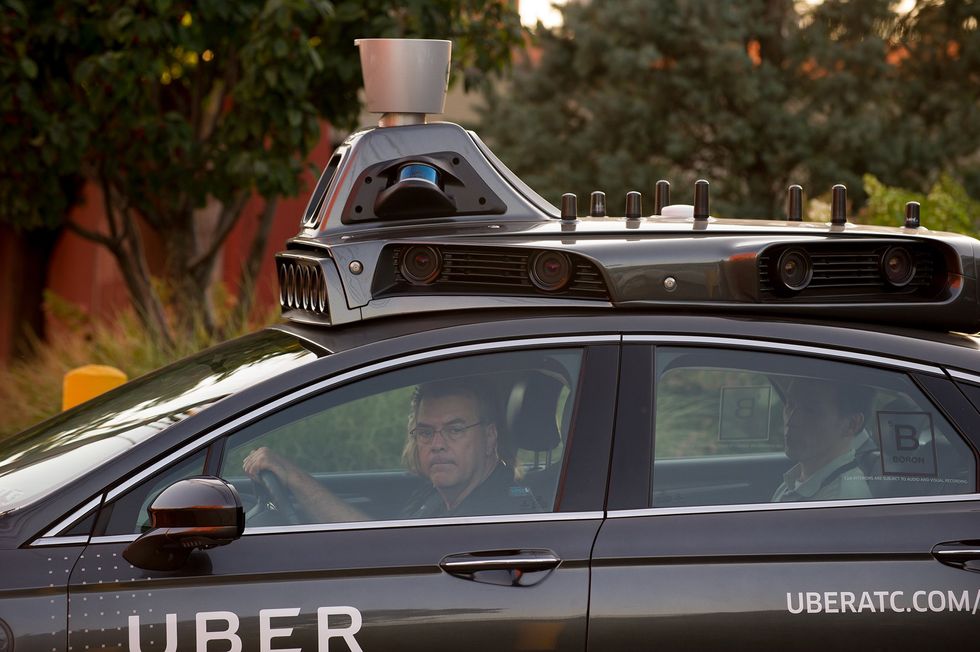 An Uber driverless Ford Fusion drives down Smallman Street on September, 22, 2016 in Pittsburgh, Pennsylvania. Uber has built its Uber Technical Center in Pittsburgh and is developing an autonomous vehicle that it hopes will be able to transport its millions of clients without the need for a driver. (Photo by Jeff Swensen/Getty Images)
Everybody is familiar with the first-ever form of driver-assistance technology. That honor goes to the automatic transmission, introduced to consumers in 1939, the same year as General Motors' "Futurama" presentation at the New York World's Fair, which brought the ideas of mass vehicle ownership, the interstate highway system, and self-driving cars into the popular consciousness, all at once. But it has taken 70 years for tech companies to view fully autonomous vehicles as a realizable goal, and with that clarion call has come a veritable slew of computerized driver-assistance tools that evolved over nearly a century, that have a dual purpose: first, the utilization of rapidly evolving information technologies to make driving safer and easier; second, and far more implicit, to help consumers grow comfortable with the idea of giving over their driving -- and their safety -- to a machine that is effectively a robot.
Here's a vague, speculative roadmap for how self-driving cars will make their way onto our roads. First, we will see (and are already seeing) the deployment of advanced driver assistance in luxury and commercial vehicles. Consequently, and perhaps counterintuitively, older drivers -- those most likely to buy high-end cars or to drive for a living -- will wind up being the first users of autonomous vehicle technologies. Next, we might expect freight and public transit networks to adopt the technology. The first fully autonomous vehicle on our streets will probably be a city bus or delivery truck.
At the same time, private companies like Uber and Lyft will be racing to develop their own autonomous fleets -- indeed, Uber is already testing the waters in Pittsburgh. It gets harder to make predictions beyond that point. Complete transition from the science fiction of driverless cars to science fact where nobody drives will be a series of transitions over time (See SAE Automation Levels) will, in fact, be a revolution that will change fundamentally how our society looks. How exactly those movements will be carried out is anyone's guess.
The thing of it is that near-fully autonomous vehicles already exist, and have already racked up hundreds of millions of miles on our roads. The technology is already here. But for it to be used to its fullest potential, and for the radical future that self-driving cars portend to become reality, we must wait for government, business, infrastructure, and all of us to become receptive to it. This slow, messy process of adaptation is where the revolution will be found, in the social rather than the technological sphere. Autonomous vehicles will bring disruptions in the labor force, in the design of our urban and suburban spaces, the idea of 'driver licensing,' our notion of trust and where we put it, in our concept of "ownership" and how we define ourselves by it, and, ultimately, the amount of mobility we enjoy.
MIT AgeLab's Adam Felts contributed to this article.
Here's an interesting crash course on computational ethics with Jerry Kaplan: